Best Accommodation Bellarine Peninsula [2022]
Looking for the best accommodation Bellarine Peninsula has in 2022? We can help you with that.
As locals, The Bellarine is one of our favourite places in the world and we want to make sure you have the best holiday possible so you can love it as much as we do.
Just a short drive from Melbourne, The Bellarine has been a popular holiday destination for more than a hundred years.
This is completely understandable when you think of all the wonderful things you can do here.
From fun water sports, historic forts, museums, and galleries, to cool-climate wineries and bay and ocean beaches, the region has proven popular with families and couples alike.
The Bellarine Peninsula has a feast of festivals and events for visitors to enjoy.
Whether you're into sport, eating, drinking, dancing, or simply love a good market, there's bound to be something to keep you entertained.
This article may contain compensated links. For more information read our disclaimer here.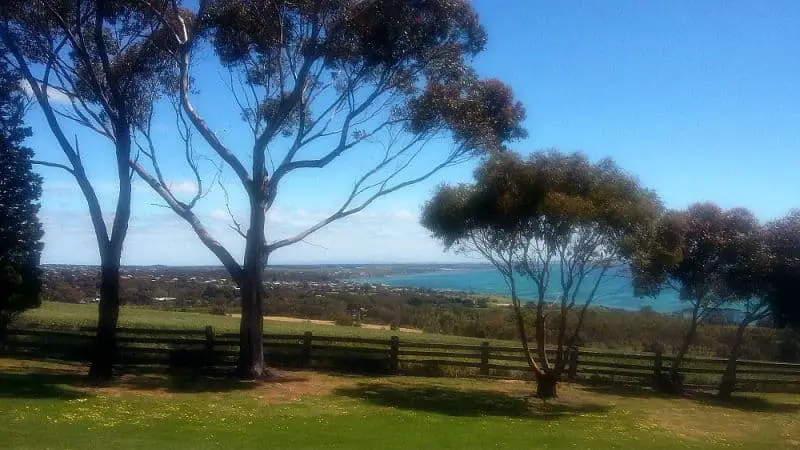 Bellarine Peninsula accommodation is continually growing and there are some great places to stay in a range of locations throughout the area.
Visitors can choose from gorgeous historic hotels and guesthouses, unique private rooms, traditional bed and breakfasts, self-contained accommodation, pet-friendly holiday houses, and luxurious couple's retreats.
Click here to see the best Bellarine accommodation now!
In this article, we list all the best Bellarine accommodation from a range of towns throughout the peninsula.
We've placed them into a handy comparison chart, so you can quickly compare the price and location, before sharing an in-depth review of each place to stay.
In addition to this, there's also a Bellarine Peninsula map with the location of each accommodation option.
This way you can see where each place is located and choose the best option for your travel plans.
So keep reading to find your best Bellarine Peninsula accommodation to book right now so you're all set for a fantastic Bellarine getaway.
Let's start!
Where To Stay: Bellarine Peninsula Towns
There are 6 main tourist towns on the Bellarine Peninsula that you're likely to consider for your trip.
Although the townships are reasonably close together each one is unique offering a completely different experience.
When deciding where to stay, it's a good idea to think about what your interests are.
But, no matter whether you prefer beaches, wineries, gourmet food, history, or even golf we're sure you'll find your perfect place to stay.
Comparison Chart Of The Best Bellarine Peninsula Accommodation
Best Accommodation Bellarine Peninsula List
Drysdale Accommodation
Located smack bang in the centre of The Bellarine, Drysdale sits amongst rolling hills, fertile farmlands, and outstanding wineries.
It's the ideal base for visitors who are looking to explore the region's best wineries and fabulous gourmet foods.
The town's main centre has good shopping and a pub, as well as some cute cafes and restaurants.
323 On Jetty offers family-friendly modern motel style accommodation.
There are 10 comfortable rooms with huge ensuite bathrooms featuring walk-in showers.
Each unit has a kitchenette with tea and coffee making facilities, a toaster, and a microwave oven.
A highlight of this value for money motel is the heated outdoor pool and spa that can be used year-round.
Click here for more information. 
Other features include outdoor furniture, barbecue facilities, free private parking, and complimentary Wifi.
All rooms have a small outdoor terrace with a table and chairs.
323 On Jetty is located less than a kilometre from the Q Train and it's a good option for those who are looking for a place to stay after dining aboard the train.
Best Things?
The heated pool and spa. Helpful staff and owners who will provide transport to nearby venues.
Worst Things?
It's hard to find fault with this property. Everything is of a high standard especially at this price and for motel style accommodation.
Summary
Top-quality family-friendly motel style accommodation with a pool and spa at a reasonable price.
Click here for the latest prices.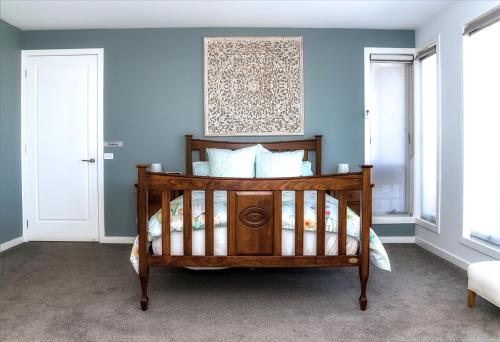 Bellarine Getaway offers new purpose-built Bellarine Peninsula holiday accommodation that's just a 10-minute walk from the beach.
The tastefully decorated studio apartment has an open plan living/dining area with a well-stocked kitchenette, as well as a modern bathroom with a huge soaking bathtub, a spacious shower, and a double vanity.
Other features include an outdoor barbecue area, a delightful balcony, a smart TV with Netflix, and free wifi.
Click here for more information
If you'd like to bring your furry friend along then this pet friendly accommodation on the Bellarine Peninsula is a great choice.
House trained pets are allowed inside, there is a fully fenced pet courtyard, and dog bowls, towels, pet bags, a kennel, and a raised dog bed are all provided.
Best Things?
The immaculate presentation and huge tub that's perfect for a relaxing soak. Pet friendly.
Worst Things?
It's not located in Drysdale proper.
Summary
A perfect couple's retreat especially if you're looking for dog friendly accommodation Bellarine Peninsula options.
Click here for the latest prices.
Ocean Grove Accommodation
Situated on the southern coast of the Bellarine Peninsula, Ocean Grove offers golden sand surf beaches as well as sheltered swimming near the mouth of the Barwon River.
It's the largest town on the peninsula with a vibrant cosmopolitan shopping area, and lots of delicious dining options, as well as a few bars.
It has a busy beach town vibe that's popular with families and will suit anyone who loves the beach and surf.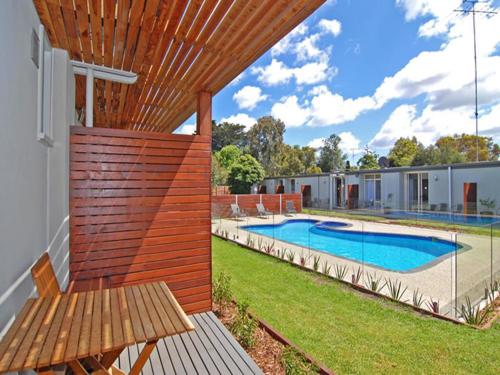 If you're looking for an affordable motel on the Bellarine Peninsula that has a pool, then the Riverside Motel is an excellent choice.
There are two types of accommodation for you to choose from; motel style rooms or family-size holiday cabins.
The fully self-contained holiday cabins can accommodate up to 5 people in two bedrooms.
Features include a fully equipped kitchen, European style laundry, an open plan living and dining area, and best of all a private outdoor deck with a barbecue.
Situated around the sparkling pool are a variety of motel rooms including queen, twin, triple, family, and luxury spa rooms.
Click here for more information.
All the rooms have a sliding glass door that leads to a lovely deck that overlooks the pool and gardens.
This Ocean Grove accommodation on the Bellarine Peninsula is situated in a quiet area about 1 kilometre from the beach and town centre.
Free wifi and onsite parking are available and the nearby Bowls Club is a great option for dining out.
Best Things?
The swimming pool and outdoor decks. The immaculate rooms are bright and airy.
Worst Things?
The walk into town is uphill.
Summary
A comfortable and affordable accommodation option. A good choice for families.
Click here to see the latest prices.
If you're looking for coastal holiday rentals close to the beach, then Ti-Tree Village could be for you.
Ti-Tree Village has twenty self-contained cottages that are suitable for families with kids, small groups, and romantic getaways.
There's a children's playground, and books, board games, puzzles, and DVDs to keep the kids amused. And a communal barbecue area in the lush grounds.
Click here for more information.
Each cottage has a well-stocked kitchen, excellent balcony, free wifi, and a flat-screen TV.
Most of the cabins also have a two person spa and an open fire to keep you toasty warm in winter.
The Village is superbly located within easy walking distance of the beach, river, and local shopping strip.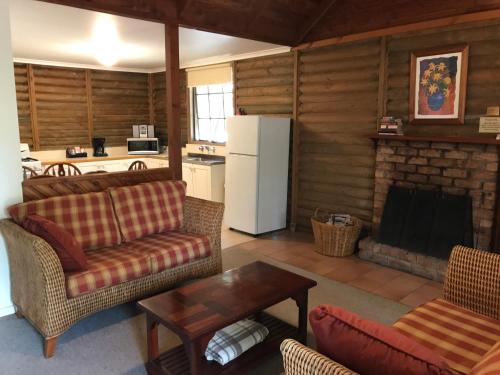 Best Things?
The fantastic location and easy relaxed atmosphere.
Worst Things?
The cottages are a bit dated.
Summary
Ti-Tree Village offers fully self-contained cottages within a two-minute walk of the beach.
Click here for the latest prices.
Barwon Heads Accommodation
Separated by the Barwon River from its twin coastal town of Ocean Grove, Barwon Heads has a mix of gentle estuary, rocky coastal headland, and ocean beaches.
The village has a small coastal town feel that's great for a relaxing holiday away from big city life.
It's a favourite with Geelong locals who drive down to enjoy Sunday brunch at one of its fabulous cafes and to shop at hip boutiques.
Fun Fact: The ABC television series Seachange was filmed in Barwon Heads. 
Situated within the prestigious 13th Beach Golf Links complex, Barwon Heads Resort offers self-contained apartment style accommodation.
The modern 1 and 2 bedroom suites have separate bedrooms, a lounge, and kitchens equipped with fridges, cooktops, ovens, and microwaves.
Other amenities include tea and coffee making facilities, LED TVs with DVD players, and free wifi.
Suitable for families and groups of 4-6 people, the apartments feature either a balcony or terrace with lovely views of the golf course.
Click here for more information.
Guests also have access to an outdoor swimming pool, a tennis court, and a gym. An onsite day spa offers a range of health and beauty treatments including massages.
At weekends (depending on the season) the Rough Restaurant serves modern Australian cuisine for breakfast and dinner.
Direct access to the beach is provided via a walking track.
Best Things?
The resort facilities and clean modern rooms. Balconies with golf course views. Walk to the beach
Worst Things?
It's too far to walk into town.
Summary
Luxury resort-style accommodation within walking distance of the beach that's suitable for groups and families.
Click here for the latest prices.
Seahaven Village offers guests a range of Bellarine holiday rentals that are suitable for both couples and small families.
Guests can choose from light filled studios, luxury spa suites, two-bedroom apartments, and a three-bedroom townhouse that's perfect for families.
Click here for more information.
All options have a modern and fresh design with cooking facilities, fridges, wifi, reverse cycle air-conditioning, and a lovely outdoor deck area.
Barbecue facilities are available and the Village is situated opposite a park with a playground and skatepark.
Seahaven Village is a ten-minute walk from shops, cafes, beaches, and the river. The hosts are super helpful, friendly, and well-organised.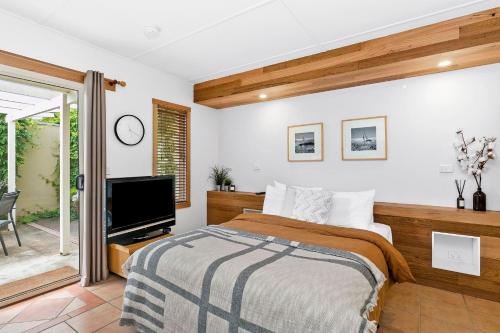 Best Things?
The great outdoor living areas and quiet peaceful location.
Worst Things?
The small car spaces can be tricky for large vehicles.
Summary
Seahaven Village offers modern self-contained accommodation just a short walk from the town and beaches.
Click here for the latest prices. 
Queenscliff Accommodation
Queenscliff is the perfect holiday destination for lovers of history and quiet sophistication.
The seaside village has a rich history and offers heritage streetscapes, beautiful Victorian-era hotels, and quaint fishermen's cottages.
Many of its 19th-century buildings have been turned into guesthouses, bed and breakfasts, restaurants, and art galleries.
Queenscliff is home to a historic fort, two lighthouses, a pier, a harbour, and the Queenscliff to Sorrento ferry.
The Vue Grand Hotel is a beautiful Victorian era hotel located in the centre of Queenscliff.
Built in 1881 the stunning heritage-listed building has an imposing foyer, staircase, and Grand Dining Room.
There are a variety of rooms on offer.
Guests can choose from classic colonial style rooms, rooms with balconies and spa baths, or luxury suites with freestanding tubs and bay views.
Click here for more information. 
Perched at the very top of the hotel is the Turret Suite, where guests are treated to panoramic views of Swan Bay and Port Phillip Heads.
Featuring lavish decor this luxury retreat has a king-size bed, leather lounge and bar area, and a terrific spa bath with water views.
There's even a telescope for guests to view the stars and watch the ships passing through the heads.
The boutique hotel offers seasonal fine dining in the Grand Dining Room and more casual fare at the Pekish Street Bar on the outdoor terrace.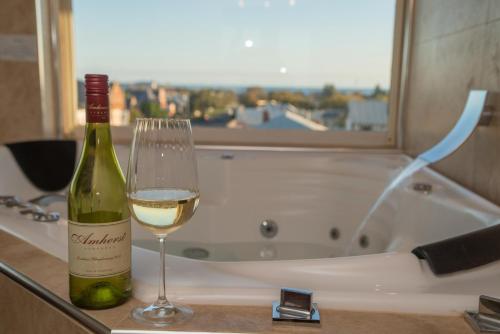 Best Things?
The magnificent grand old heritage building and glorious views.
Worst Things?
Car parking is not available.
Summary
A heritage listed boutique hotel in a central location that has a variety of rooms and suites to choose from.
Click here for the latest prices.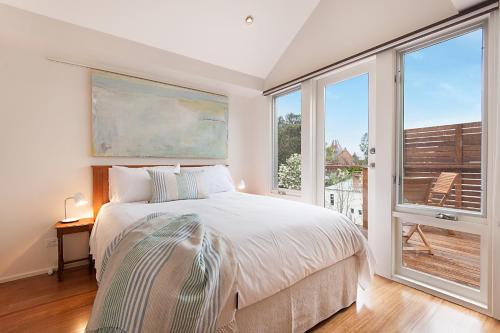 Salt Loft is a delightful couple's retreat in the heart of Queenscliff just a few minutes stroll to the town's main street.
Its elevated position treats guests to expansive water views across the town's rooftops.
This beautifully appointed self-contained Bellarine accommodation is close to Queenscliff restaurants and tourist attractions.
Click here for more information. 
A fab feature of the property is the sun-drenched balcony where guests can enjoy a relaxing glass of wine in the late afternoon sun.
Other features include a fully equipped kitchen with euro appliances, a pod coffee machine, a barbecue, and a luxury bath.
The host is very welcoming and easy to communicate with and guests are treated to a lovely welcome basket.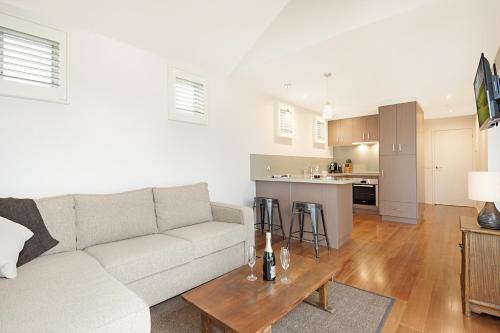 Best Things?
The location, fabulous balcony, and secure off-street parking.
Worst Things?
Some people may have difficulty with the stair access.
Summary
For couples looking for quality peninsula holiday rentals, Salt Loft is a perfect choice.
Click here for the latest prices.
Point Lonsdale Accommodation
Neighbouring Queenscliff, Point Lonsdale is a delightful township that's terrific for family getaways. Its grassy foreshore features a playground and barbecue area and stretches down to a lovely swimming beach.
Overlooking the whole area is the main shopping strip that offers cafes, specialty stores, guesthouses, and a wonderful little wine bar.
Point Lonsdale highlights include a stunning lighthouse (with tours), a fishermen's pier, and panoramic views of the notorious Rip.
The warm and friendly Point Lonsdale Guest House has been providing accommodation to travellers for over 100 years.
Built in 1884, the guest house is just a stone's throw from the iconic Point Lonsdale Lighthouse and within easy walking distance of shops, local eateries, and the beach.
You can between the old world charm of the guest house or more modern motel accommodation. Both options have excellent amenities and some rooms come with seating areas and balconies.
All rooms have their own bathroom, a television, a fridge, tea and coffee making facilities, and free wifi.
Click here for more information.
This spacious property boasts an outdoor pool and spa, a tennis court, barbecue facilities, an expansive lawn with outdoor tables, chairs, and umbrellas, and ample off street parking.
Guests are welcome to use the communal kitchen and laundry facilities or to relax with a drink in the cosy lounge.
The highly recommended Flouch's Restaurant operates onsite Wednesday to Saturday nights.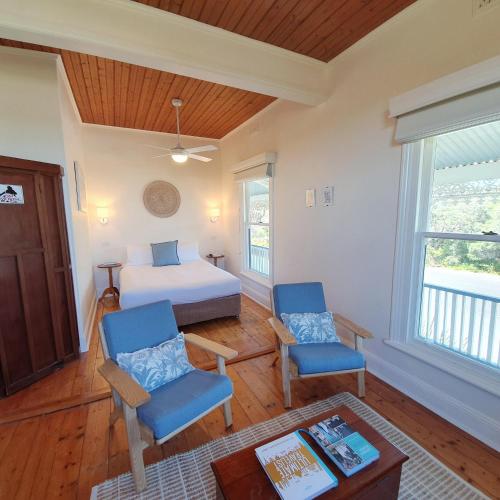 Best Things?
The charming old world character. The location and good value for money.
Worst Things?
Some of the rooms are small
Summary
Old style budget guest house accommodation in a good location with a pool and lots of character.
Click here for the latest prices.
Portarlington Accommodation
Located on the northeastern tip of the peninsula, Portarlington has uninterrupted views across the bay toward Melbourne and the You Yangs.
Portarlington is famous for its Australian Blue Mussels that are grown offshore and is host to a number of local events including the National Celtic Festival.
It has a beautiful foreshore with grassy slopes, sheltered swimming, and picnic and barbecue areas. There's also a long pier that's home to the Docklands to Portarlington ferry.
The tiny hamlet has a strip of shops with cafes and bakeries, as well as an impressive heritage hotel.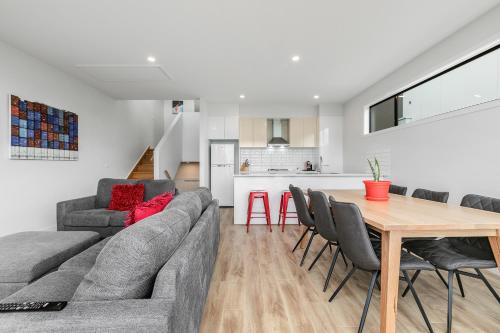 Waterline Property offers brand new self-contained apartments in the heart of Portarlington.
Within walking distance, you'll find the beach, pier, and ferry, as well as shops, cafes, restaurants, and supermarkets.
There are 2 and 3 bedroom units to choose from most have amazing water views, especially the penthouse apartments.
This bright and airy accommodation offers luxury decor, cosy beds and all the creature comforts you need to keep you comfortable.
Click here for more information
The air-conditioned units feature an open plan living, dining, and kitchen area with a coffee pod machine, a dishwasher, and full cooking facilities.
Guests will also enjoy the relaxing private balconies with a barbecue and outdoor furniture.
Other amenities include laundry facilities, undercover parking with a security camera, and free wifi.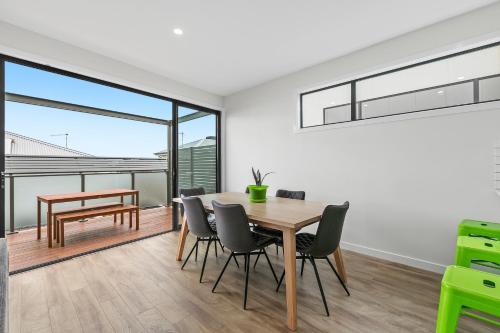 Best Things?
The location that's close to shops and the beach, the balconies and views. It's brand new!
Worst Things?
The stairs may not suit those with mobility issues.
Summary
Brand new 2 & 3 bedroom apartments with balconies and water views. This property ticks all the right boxes.
Click here to see the latest prices.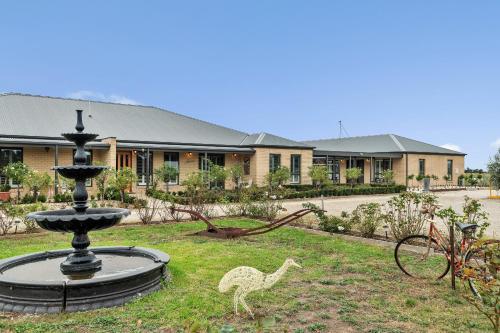 Embrace the country life at Oxley Estate Bed And Breakfast. Set on ten acres the property has a rose garden, orchard, and olive grove, as well as sheep, pigs, goats, and chickens.
There are four luxury guest rooms each with a large corner spa bath and a fifth room that sleeps four.
Guests can make use of a fully equipped communal kitchen, laundry facilities, and a great barbecue area.
Click here for more information.
A highlight of the estate is the sparkling outdoor solar heated pool – a favourite on hot days.
Guests are treated to a continental breakfast and afternoon tea on arrival.
The estate is situated 500 metres from the beach and opposite the Portarlington Golf Course.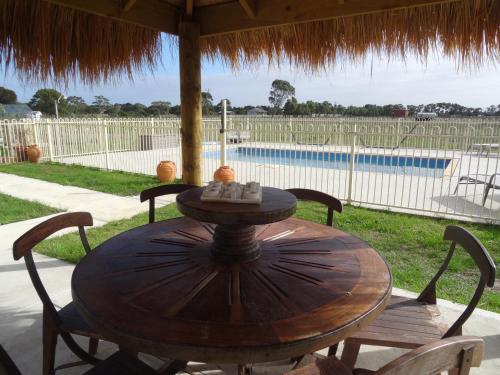 Best Things?
The peaceful country atmosphere and sparkling pool.
Worst Things? 
The rooms are a tad small.
Summary
The Oxley Estate Bed And Breakfast has a peaceful country setting, rooms with ensuite spa baths, and an inground pool.
Click here for the latest prices.
Luxury Bellarine Peninsula Accommodation
Starhaven Retreat is easily the best luxury accommodation Bellarine Peninsula has.
Featured on Foxtel's Lifestyle Channel on Grand Designs Australia, the retreat is the perfect 'decadent weekend' away.
This luxury grand designs bed and breakfast has a stunning beachside location with incredible views across the bay to Melbourne.
All accommodation options feature a balcony with gorgeous sea views and private ensuite bathrooms.
Click here for more information.
There are separate living spaces on each level including a games room and bar lounge.
And it's easy to find a cosy private nook to relax in or you can join in the conversation as the mood takes you.
Movie buffs will enjoy the grand cinema room that comes with full service including popcorn and ice cream!
Starhaven Retreat also boasts free Wifi, a sumptuous breakfast, and a spa area with a jet stream swim spa and sauna.
Best Things?
Everything.
Worst Things?
Nothing.
Summary
A truly standout luxury bed and breakfast retreat in a stunning beachside location.
Click here for the latest prices. 
Find our full guide to Geelong luxury accommodation by clicking here.
Bellarine Peninsula Accommodation Map
If you are looking for more accommodation options click here for our list of top Queenscliff accommodation, here to read about places to stay in Ocean Grove, or click here to find the best Portarlington accommodation.
For more information about the Bellarine Peninsula click here.