11 Must-Have Beach Tents Australia [2022]
Beach tents and shelters are useful for all ages when you want to spend a day by the sea.
From beach baby tents to those that are large enough to accommodate a number of adults, this guide will help you find the best beach shelter in Australia to suit your lifestyle.
If you want to source a good pop up beach tent available in Australia you're in the perfect place. We also list more open, canopy style shelters and cabanas too.
This article may contain compensated links. For more information read our disclaimer here.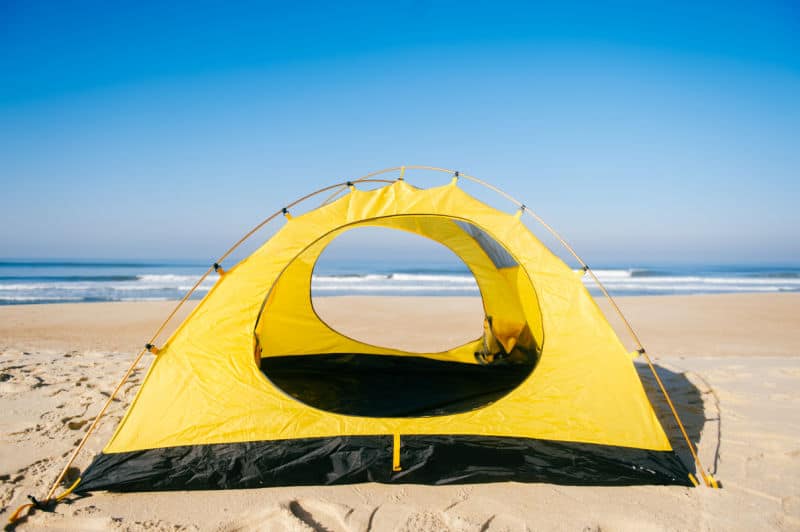 From beach sun shades in Australia with open sides to the best beach shelters available in Australia in terms of privacy and protection, we've listed and reviewed 11 of the best beach tents for babies, older kids, and adults alike.
Click here to view the best beach shade in Australia right now!
Our pick of the kids' beach tents even includes the cutest little baby paddling pool to keep the youngest member of the family happy for hours!
If you don't want to waste any time and simply want the top option of the best beach tents Australia has on offer, this is what we recommend!
We like this Pacific Breeze easy pop up beach canopy because it's sleek, stylish, and made to last. Simple to put up it comes with a one-year warranty and offers plenty of space for your family and belongings.
Continue reading if you want to find the ideal beach canopy tent for your family outings and holidays at the coast.
Only products with the best features, reviews, and prices have been included, saving you hours of trawling through all the big and small beach tents to be found online.
Before getting to the details of each product, we provide a quick reference comparison table so you can see the main benefits at a glance.
Towards the end, we outline what to look for when choosing the perfect canopies, cabanas, or pop up beach tents in Australia.
So, let's start!
Best Beach Tents Australia Comparison Chart
This at-a-glance guide shows you all the key features of each option, as well as the size, brand, and type. To check the latest prices or read recent reviews, just click on the appropriate link.
Brand
Image
Size
Style
Key Features
Price
Oilers
4 person
Tent
XL size, quick & secure set-up,
UV & water resistant
Click Here!
Zomake
3-4 person
Tent
Hydraulic set-up, great storage,
eco-friendly fabric
Click Here!
Pacific Breeze
3-4 person
Tent
1-year warranty, stylish looks
storage hooks & pockets
Click Here!
Sun Ninja
4 or 8 person
Canopy
2 sizes, 1-year warranty,
shovel & stakes incl.
Click Here!
Lightspeed
4 person
Tent
Kid & dog friendly,
4 pockets, great value!
Click Here!
Coleman
4 person
Tent
Great price, top brand,
integral screen
Click Here!
FE Active
3-4 person
Tent
Water resistant, low price
sleek & stylish
Click Here!
Neso Tents
4-6 person
Canopy
18 colours!
reinforced corners
lightweight
Click Here!
Skytower
2-3 person
Tent
Lightweight,
pops up easily,
metal stakes incl.
Click Here!
Ammsun
4 person
Cabana
Privacy wall,
tropical style,
storage hooks
Click Here!
Pekdi
Baby or todddler
Tent + Pool
Integral pool, 
easy set-up,
UV protection
Click Here!
 Australian Beach Tents Reviews & Recommendations
Specifications:
Size: 4 person
Set-Up: pop-up
Style: tent
SPF: 50+
This is one of the most generously sized pop up beach tents on the market.
According to the manufacturer it can be set up in less than a minute, and product reviews from current owners do back this up, while also mentioning that it offers a good level of wind resistance.
The listing also includes full set-up instructions that you can refer back to.
The attractive orange shade is easy to spot if you need to find your family or friends on a busy beach, while the aqua trim calls to mind the colour of the ocean.
A solid design incorporates guy ropes, stakes, and thick fibreglass poles to ensure stability all day long. Sand pockets are also built into the design for added security.
Click here for more information.
Inside there's lots of space for up to four people, so it's perfect for families.
The awning provides even more shade and there are two mesh windows to allow for maximum air circulation and ventilation. These have roll-up covers.
There's even an interior storage pocket that's perfect for sunscreen, sunglasses, or other essentials you need quick access to.
The strong material offers superior UV protection and also has a water resistant coating to ward off sea spray or rain showers.
A carry case with a shoulder strap is also included as part of the package, making this one of the best beach shelters in Australia.
Pros:
Extra large capacity
Quick and easy set-up
UV and water resistant finish
Cons:
Heavier and bulkier than some
Click here for the latest prices.
Specifications:
Size: 3-4 people
Set-up: pop-up
Style: tent
SPF: 50+
This is a serious contender as best beach cabana in Australia, going by the number of high ratings and reviews it receives.
Again it can be put up in seconds, and Zomake has even placed an instruction video on YouTube to make sure no one gets stuck. It also comes with directions that are printed on paper.
Made from an eco-friendly silver coated material, this top pick among family beach tents offers a good level of UV protection and has also been designed so there is no strange smell – even when it's brand new.
You could also use this as a play tent in the garden or at the park, or for fishing trips.
Click here for more information.
Three people can fit inside when lying down, with room for another while sitting.
This tent also has various pockets, including two storage compartments and sandbags for anchoring it down.
There is also a roll-up door and roll-down windows for improved interior ventilation.
With a handy hook inside, an innovative hydraulics system for putting it up and a foldable, portable design, this is one of the finest beach shades available in Australia.
Pros:
Eco-friendly odourless fabric
2 storage pockets plus hook
Hydraulic set-up system
Cons:
May not be water resistant
Click here for the latest prices.
Size: 3-4 people
Set-up: pop-up
Style: tent
SPF 50+
If you want to find a stylish beach cabana in Australia, this Pacific Breeze product has upmarket looks.
It also features an innovative hub system to make life easy when setting it up or taking it down.
Good ventilation is assured by three extra large windows and the breathable polyester fabric.
This material is also water repellent to keep you well sheltered from the ocean spray or rainy weather.
The PE floor is also water resistant. To guard against wind, it comes with 4 stakes as well as 5 integral sand bags.
This product is quite possibly the best beach tent available in Australia in terms of storage too.
Click here for more information.
It has a series of mesh pockets plus hanging hooks, so you can keep all your beach or surfing gear off the floor.
A one-year warranty is provided with this product, making it a low risk investment for those days spent by the sea.
The front awning also gives added shelter and it comes with a matching carry bag.
Happy owners from Australia to the US and the UK love it – and so do we.
Pros:
Stylish looks
One year warranty supplied
Several mesh pockets and hooks
Cons:
No set-up instructions online
Click here for the latest prices.
Specifications:
Size: 4 to 8 people
Set-up: pop-up
Style: canopy
SPF 50+
Among the best beach tents in Australia listed so far, this one stands out as it's a little different.
Rather than being shaped like typical beach shade tents, this one is more like a large canopy to provide shade and shelter from the sun.
You can pick between aqua and dark blue with this one, and the material is designed to offer water and wind resistance as well as SPF 50 plus UV protection.
This product is basically a large canopy which you can shelter beneath, supported by 4 fabric-covered poles that end in sand pockets.
Click here for more information.
Stakes and even a sand shovel are also supplied, and it all comes in a carry bag which is surprisingly compact and lightweight.
You can pick between two sizes, each of which can accommodate up to 4 or 8 people.
With triple overlock stitching, sturdy wind anchors, and the peace of mind provided by a one year warranty, this Sun Ninja item might be the top pop up beach cabana available in Australia.
Pros:
12 month warranty included
Stakes and shovel supplied
Larger size suits 8
Cons:
Limited shelter compared to a tent
Click here for the latest prices.
Specifications:
Size: 4 person
Set-up: pop up
Style: tent
SPF: 50+
If you're searching for cheap beach tents, take a look at this Lightspeed one – it's around half the price of some others.
While it may not be built to last as long as more expensive options, it's a great bet within its price range.
The pop up hub system makes it easy to erect to take down, and the poles are pre-threaded so you don't have to fiddle around with those.
Like other beach canopy tents listed in this guide, it offers SPF 50 plus protection from the strong Australian sunshine.
Click here for more information.
A tough PE floor can cope with kids or the family pet, and the design means that you get great views over the beach even when sitting inside.
It also comes with guy lines, sand pockets, and sand stakes in their own pouch, plus a carry bag with a shoulder strap to keep everything in.
There are four mesh storage pockets inside, giving each person one of their own to use.
For the price, this is definitely one of the best tents for families – even those with pets.
Pros:
Good value for money
4 interior storage pockets
Child and dog-friendly design
Cons:
Less shelter than provided by others
Click here for the latest prices.
Size: 4 person
Set-up: pop-up
Style: tent
SPF: 50+
From one of the most reputable outdoor brands around comes this Shoreline beach tent.
Coleman is firmly established worldwide as one of the market leaders when it comes to outdoor lifestyle products. So their products are understandably popular across Australia.
The set-up takes around one minute and there are pre-attached poles to make this simpler – a feature found on many of Coleman's larger tents for camping.
Click here for more information.
The extending floor gives you a bigger area with a softer, smoother surface to sit on and this can be converted to a privacy screen as required.
A window provides ventilation and this can be opened instantly whenever a cooling breeze would be welcome.
At the end of each day, it can all be folded down into the included carry bag for transportation and storage.
This is a simple but effective design from a leading brand and is available at a very impressive price.
Pros:
Leading outdoor brand
Good value for money
Extending floor converts to a screen
Cons:
Limited ventilation may make it hot inside
Click here for the latest prices.
Size: 4 person
Set-up: pop-up
Style: tent
SPF: 50+
Designed in California, this beach tent from FE Active is one of the sleek child, adult, and baby beach tents around.
It folds down into its own carry bag, and once you reach the beach sets up pretty quickly into a half-dome shape. It can take a little longer to set up than others, however.
In striking shades of white, blue, and grey this is one of the best beach tents to spot among others on the sand. And the pale colours also help to reflect sunlight.
Click here for more information.
With 600 mm of water resistance, this product also offers superior rainproofing as compared to similar items.
A great feature is the large extending floor that can be used to keep you and your beach gear off the sand.
FE Active also make a range of complementary outdoor items that all go together very nicely, including chairs, a table, a hammock, and a dry bag.
This is one of the most simple yet stylish beach tents for kids, adults, and even pets to use and the price is incredibly attractive.
Pros:
Very affordable
Sleek and stylish
Good water resistance
Cons:
Set-up not as fast as some
Click here for the latest prices.

Specifications:
Size: 4-6 person
Set-up: classic
Style: canopy
SPF: 50+
Available in a whopping 18 colours and patterns, this Neso Tents product is certainly one of the top sun shelters in Australia when it comes to style.
Whether you prefer hot pink, cool camo, vintage stripes, tropical florals, or plain black, there are plenty of options to choose from.
This product is designed in Southern California, where they also know a thing or two about sunshine and beach life.
Compact anchor bags are integrated into the design, to be filled with sand or rocks to make sure your canopy stays firmly in place.
Click here for more information.
The rust-resistant aluminium poles are over two metres high, giving ample headroom for even the tallest Australians.
Reinforced corners also ensure this product is built to last.
At under 3 kilograms, this is one of the lightest products around, and the compact size means you can even slide it into a carry-on for those trips away.
The sun canopy is water repellent to keep you dry even during showers and offers SPF 50+ UV protection.
Neso also provides an instruction video for customers to use, which also includes tips for setting up when it's windy at the coast.
Pros:
18 colours and patterns
Ultra-lightweight and compact
Reinforced corners
Cons:
Limited shelter provided by the canopy
Click here for the latest prices.
Specifications:
Size: 2-3 person
Set-up: pop-up
Style: tent
SPF: 50+
Skytower is another manufacturer that provides an instructional video on YouTube for setting up the tent. And in our experience this can really help you get it right from the start.
The pop up design is simple though, so you might well find you don't need any guidance at all.
This tent is smaller than many, so it's ideal for a couple or a family of three. It's also less heavy and bulky than other options, weighing in at just over a kilo.
Click here for more information.
Silver coated fabric helps to defend you from the sun, and this material also offers a good level of rain resistance.
The tent comes complete with 6 metal stakes, plus bags for them and the tent itself.
It also has an extending floor built into the design to provide you with extra sand free space.
As it is smaller in size and also stain resistant, this is one of the best beach tents for people with babies and younger kids.
Pros:
Simple pop up design
Compact and lightweight
6 metal stakes included
Cons:
Not the most robust option
Click here for the latest prices.
Specifications:
Size:4 person
Set-up: classic
Style: cabana
SPF: 50+
If you like the look of the Sun Ninja and Neso Tents canopies listed above but aren't so keen on their completely open-walled design, check out this cabana.
Made by Ammsun – a make whose products we featured several times within our beach umbrellas guide – this canopy comes with the addition of a side wall for added protection and privacy.
The colourful, floral design brings to mind the tropics, and the tough fabric offers good resistance to both water and UV rays.
Click here for more information.
With 4 iron poles and sand bags to the corners, it is also made to withstand coastal winds.
Being detachable, the side wall can be left at home if you don't need to take it with you.
The set-up is classic rather than pop-up, but it is said that it can be set up in a matter of minutes. All poles are adjustable, so you can set them at the right height for the level of shade you want.
A handy set of hooks fitted around the central pole means there is a place for everything you take to the beach – such as towels, bags, and other items that can be hung up out of the way.
Pros:
Tropical style design
Detachable privacy wall
Central hooks for storage
Cons:
Heavier than most other products
Click here for the latest prices.
Specifications:
Size: baby
Set-up: pop-up
Style: tent
SPF: 50+
Those seeking beach tents for a baby may be delighted to find this product.
These small beach tents for babies are ideal for sunny days down by the sea, as they supply not only shade and sun protection but also have a little pool built into the design.
To use this, just dig out a circular hole in the sand, position the tent over that and fill the centre with water.
The silver coated waterproof material defends young kids against both the sun and the rain, and the tent is easy to set up and fold down into its included carry bag.
Click here for more information.
4 pegs are provided for securing it in place.
A mesh roll up window ensures good ventilation and helps prevent overheating, while the storage pockets inside are ideal for those small plastic beach toys kids love.
This is such a cute and clever idea, and the little pool that you can fill with water from the ocean could keep kids happily occupied for hours.
Just make sure they are supervised at all times, as babies and toddlers can drown even in the shallowest of pools.
Pros:
Built-in baby pool
Good UV protection
Simple set up
Cons:
Child rather than family sized
Click here for the latest prices.
Choosing The Best Beach Tent In Australia
Size
The size is likely to be the first thing you think about when picking out a canopy or pop up beach shelter in Australia.
How many people do you go to the beach with, and will they all want to sit inside or under it at any point?
Options detailed in this guide range from beach tents for babies with UV protection – and a pool – to large canopies that can fit up to 8 people beneath them.
On average, 4 people can be seated, but sizes do vary – as does each manufacturer's reckoning of how many each can accommodate.
Setting It Up
The next thing to consider is putting the tent up. Is it a simple pop up style?
The tent type products featured here tend to offer this, while the open-sided canopies need to be put together with their poles.
Some makers have provided YouTube videos or clear instructions on the product listing of their website.
This can be very helpful if you're the kind of person who has limited patience when it comes to to figuring out how things work!
Sun Protection
One of the main benefits of using an adult, child, or baby beach tent in Australia is the sun protection factor.
Rates of skin cancer here are some of the highest on the planet, so young skin in particular needs to be safeguarded.
While you do still need to apply sunscreen, buying a beach tent with a good SPF rating gives added peace of mind.
All products listed here provide SPF 50+, although of course this only applies when you're fully shaded by the fabric.
Weather Resistance
It's not only the sun we sometimes need to worry about – coastal areas in particular are prone to the most windy weather, especially in states such as Queensland.
Whether you live in the tropical north of the country or down here in Victoria, your area may also experience frequent rain at certain times of the year.
Good wind resistance can be provided by items like stakes and sand bags that secure the tent to the sand.
The best beach tents for wind come with metal stakes, or you can buy these separately.
Doors and windows can also ensure airflow, so that wind can escape rather than lifting the tent up like an upturned umbrella.
Ventilation
Whether you're looking at small, medium, or big beach tents, ventilation can also be very important.
No one wants to sit inside a tent that is hot and stuffy inside, and windows or doors can also help clear odours when you're using the tent for eating or as a baby changing area.
If you're going to be using yours during very hot weather, a canopy style product could be the best beach gazebo in Australia for you, but it depends on other factors too.
Other Useful Features
Other helpful features that come with some products may include storage facilities that are provided as hooks or pockets.
If you tend to spend a lot of time in very busy areas, it may also be useful to have a tent that will stand out visually – particularly when family members are returning with food and drinks or after a toilet break!
All the best beach tents for families, couples, and kids come with their own storage bags, but it's also worth taking a look at this to see if you like the style and it looks comfortable to carry.
An extending floor that converts to a privacy screen comes with some products, providing you with a larger sand free area – as well as the option of closing it up when you need to change your clothing or the baby's nappy.
The style might also be important to you – and if that encourages you to take it along, then why not!
Some beach shelters come in a range of colours, or have a particularly upmarket look to them, and these are ideal for those who want to look as good as possible.
Which Is The Best Beach Tent In Australia For You?
Hopefully, this guide has helped you pinpoint the best classic or pop up beach shelter in Australia to suit your needs.
Whether you want a simple baby beach tent or a large canopy for the extended family, buying beach sun shelters in Australia can really help you make the most of our fabulous coastline – while staying dry, comfortable, and out of the burning sun.
Click here to see our top pick beach tent in Australia.
Our other guides can also help you live your best beach life in Australia. If you enjoyed this guide to the best pop up beach tent in Australia, why not take a look at our posts on the best sand free towels, top picnic baskets, or finding the best Esky?
Disclaimer: As an Amazon Associate we earn from qualifying purchases.