Top 8 Best Beach Umbrellas Australia [2022]
With our sunny climate, investing in a strong beach umbrella in Australia is a must.
These tilting umbrellas for outdoor use can protect kids and adults from harmful UV rays while providing you with a shady spot in which to shelter.
They can be used for sports, fishing, picnicking and in the garden, as well as when at the seaside.
This article may contain compensated links. For more information read our disclaimer here.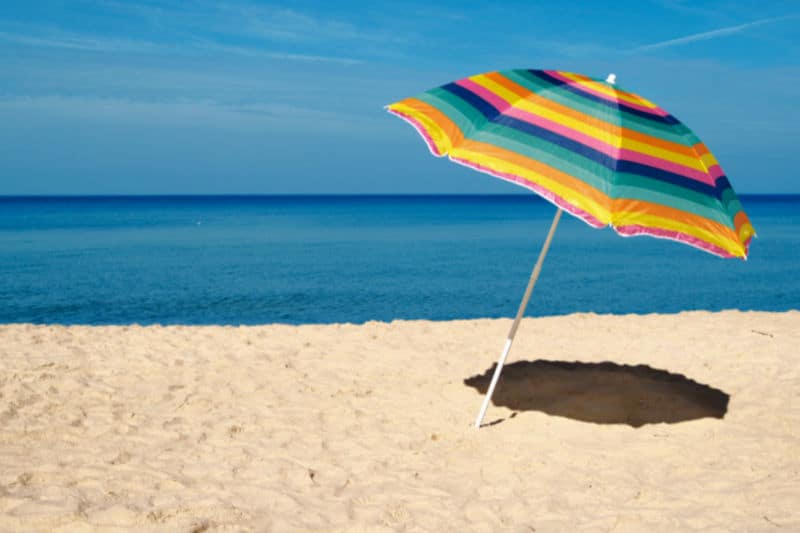 This guide is here to help you find the ideal parasol for your lazy beach days.
Whether you're looking for colourful beach umbrellas, cool beach umbrellas or beautiful beach umbrellas that look a bit different.
Or you may already know you want to buy a Tommy Bahama umbrella in Australia, in which case you can skip straight to the relevant product.
If you don't want to waste any time and just want the top option for the best beach umbrella, then here is our recommendation.
This Ammsun tropical beach umbrella is our top pick because of the beautiful and colourful design, anti-UV coated fabric, air vents and sand anchor.

It comes with a carry bag and receives high ratings from its current owners.
Click here to view our favourite beach umbrella overall.
The best quality umbrellas are all covered here, so you can sit back in your deckchair because we've taken the hard work out of finding the ideal product to suit your lifestyle.
From small beach umbrellas in Australia to cheap beach umbrellas available in Australia all the good beach umbrellas you could ever need are included.
So read on to discover the right one for you!
Best Beach Umbrellas Australia Comparison Chart
This quick reference table allows you to compare all the options at a glance. To view a product and its price, you can also click the link in the column on the right-hand side.
This is ideal whether you want to find cheap umbrellas in Australia or premium beach umbrellas.
Other complementary items including bases, anchors and a parasol table are also included in the last three rows of this comparison chart.
| Brand | Image | Size | Key Features | Price |
| --- | --- | --- | --- | --- |
| Ammsun Tropical | | 2 metres | SPF 50+, Carry Bag, Sand Anchor & Vent | Click Here! |
| Sunny Days | | 2 metres | Wooden Pole, Moisture Wicking, Carry Bag | Click Here! |
| Ammsun Floral | | 2.1 metres | Carry Bag, Larger Size, Lightweight & Portable | Click Here! |
| Tommy Bahama | | 2.4 metres | Good Value, Vented Canopy, Screw Fixing | Click Here! |
| Ammsun Striped | | 2 metres | Push Button Tilt, Aluminium Coated | Click Here! |
| Nycuabt | | 1.8 or 2 metres | Great Ventilation, Open Canopy, 360 Degree Tilt | Click Here! |
| Lazy Days | | 1.8 metres | Great Value, Waterproof, Carry Bag | Click Here! |
| Sport-Brella | | 2.4 metres | Side Flaps, 2 Windows, Heavy Duty Stakes | Click Here! |
| Ammsun Table | | 43 centimetres | Cup & Snack Holders, Universal, 1 YR Warranty | Click Here! |
| Beachbub Base | | N/A | Lifeguard Approved, No Digging, Improves Safety | Click Here! |
| Ammsun Sand Anchor | | N/A | Heavy Duty, Lighweight, Protects Parasol | Click Here! |
Australian Beach Umbrella Reviews & Recommendations
Specifications:
If you want to find a fringed beach umbrella in Australia, take a look at this one from Ammsun.
With a 2 metre – or 6.5 feet – diameter, this generously sized product is certainly one of the most colourful large beach umbrellas around.
Click here for the latest prices.
Even on a windy day by the sea, this tropical style umbrella will stay in place, as it has a sand anchor plus a top vent to make sure it's secure.
Thanks to a 60 degree tilt it will also shade you from the sun all day long, offering SPF 50+ protection.
This is one of the best options for those seeking a beach umbrella for wind in Australia and it also comes complete with a carry bag.
Pros:
UV coated fabric
Vent & sand anchor
Carry bag included
Cons:
Only one colour available
Click here to see this large beach umbrella in Australia.
Specifications:
If you'd like to find a boho umbrella in Australia then check out this one from Sunny Days, one of our favourite brands.
It's also ideal for those looking for striped or fringed beach umbrellas in Australia.
Click here for the latest prices.
The strong central pole is made from wood and splits into two sections for easier carrying. While the fabric of the umbrella is moisture-wicking so it can cope with an unexpected spell of wet weather.
This large beach umbrella will protect you from sun, rain or spray from the ocean so you can enjoy beach days in a cooler, more shaded spot.
It also comes with its own Sunny Days branded carry bag.
Pros:
Wooden 2 section pole
Moisture-wicking fabric
Comes with a carry bag
Cons: 
Click here to view these big beach umbrellas.
Specifications:
This is the second of the Ammsun brand umbrellas featured in this guide and we love the teal and white design with a central flower.
At 2.1 metres, it's a little bigger than the other products for extra coverage.
Like the first Ammsun umbrella this one also has a vent and carry bag, though it comes without a sand anchor. This is available separately if required.
Click here for the latest prices.
Weighing 2.6 kilos, it's not too heavy to carry from your car to the sand.
The tilting pole means it can be adjusted easily as the sun moves across the sky during the course of the day.
Pros:
Larger in size
Lightweight & portable
Complete with a carry bag
Cons:
Sand anchor sold separately
Click here to see these portable beach umbrellas.
Specifications:
Another of the most popular umbrellas brands is Tommy Bahama, who makes all kinds of beach products like chairs as well as parasols.
This one features a multicolour stripe design printed with the brand logo. Lots of useful features can be found on this.
Click here for the latest prices.
It's one of the best beach umbrellas for wind as it has a sand anchor to hold it firmly in place plus a vent to allow the wind to blow through the canopy.
These Tommy Bahama umbrellas are easy to fix into place thanks to an innovative screw-style pole and handles to hold on to, and also comes with a great value price tag.
Pros:
Good value for money
Screw type fixing system
Vented canopy
Cons:
Click here to view these cheap umbrellas by Tommy Bahama.
Specifications:
Ammsun offers some cool umbrellas in Australia and this sturdy one is no exception.
Rather than a floral or tropical print, this features a multicolour stripe design for that coastal look.
The canopy has a special aluminium coating beneath to offer improved protection from harmful UV rays, and the pole is powder coated to guard against corrosion.
Click here for the latest prices.
When in the included carry bag it weighs only 2.1 kilograms, making it one of the more lightweight options.
A vent in the top improves airflow, thus helping you keep cool while allowing wind to escape. The push button makes it simple to adjust the angle or tilt during the day too.
Pros:
Aluminium coated material
Light in weight
Push button tilt adjustment
Cons:
Click here to see these beach umbrellas on Amazon.
Specifications:
Another option for those seeking beach umbrellas that are windproof is this product that's ideal for fishing, picnics, sports, and camping as well as beach days.
The package includes a sand anchor and three wind plugs as well as the parasol and carry bag.
Click here for the latest prices.
With a more open design than many and integral air vents, this one is made to withstand more windy weather.
As ventilation is multi-directional it also keeps you cooler when conditions are hot and sunny.
The pole is fully tiltable so you can follow the sun as it travels overhead and this is made from fibreglass for strength.
Pros:
Multi-directional ventilation
More open canopy
360 degree tilt
Cons:
Less coverage than others
Click here to see these more compact umbrellas.
Specifications:
If you're searching for umbrellas that are compact, this one by Lazy Days is a good bet.
It's also waterproof and thus as good for keeping you dry during wet days as it is at keeping you cool when it's hot.
With a very affordable price tag this one offers great value for money.
Click here for the latest prices.
A branded bag comes with it for storage and transportation and it can be tilted to suit the position of the sun.
There are two designs to choose from – one featuring a blue and white geometric pattern and the other which has tropical style leaves in green and brown on a blue background.
Pros:
Great value price
Waterproof fabric
Branded carry bag
Cons:
Click here to see these compact umbrellas. 
Specifications:
Our final contender for those who want sun umbrellas in Australia is a little different from the others featured, as it comes with side flaps in addition to the main canopy.
There are also two zippered windows, and it is set up like a beach tent.
These windows also improve airflow for better ventilation and complement the wind flaps that have also been built into the design.
Click here for the latest prices.
With an SPF 50+ rating, this Sport-Brella also blocks 99.5% of UV rays.
This product is also waterproof and comes complete with heavy-duty stakes to secure it firmly to the ground.
It's easy to put up, comes with a carry bag, and offers very good value for money too.
Pros:
Side flaps
Two zip-up windows
Heavy-duty stakes included
Cons:
Not a traditional parasol
Click here to view these sun protection umbrellas in Australia.
Accessories To Complement Outdoor Umbrellas In Australia
Even designer beach umbrellas in Australia can be made better – and safer – when you buy the right accessories to go with them.
Options covered here include a small table with cup holders, a sand anchor and a strong base for your new parasol.
If you want to sit and enjoy a drink and snack under the cover of your beach parasol, this handy little table is perfect for this purpose.
In addition to 4 cup holders, it has indented sections for holding snacks or other essentials like books and sunglasses.
With a universal fit, this beach umbrella table is compatible with various parasols, as long as the pole is 3.8 centimetres or less in diameter.
Click here for the latest prices.
The drain holes mean it dries out quickly during or after wet weather, and it's also simple to install.
A one year warranty gives peace of mind when buying this product and it's ideal for picnics, sports, camping, and the garden as well as the beach.
It's also great for keeping your food, drinks, and other items away from the sand.
Pros:
Cup and snack holders
Universal fit
1 year warranty
Cons:
Click here to see this beach parasol table.
Even the best beach umbrellas for wind can be made more secure when you use a suitable stand, and with great ratings, this one is our pick of the bunch!
It's also been designed to avoid you having to dig holes in the sand.
The American Lifeguard Association have even given their seal of approval to this product as they recognise how it contributes to coastal safety.
Click here for the latest prices.
Once filled the weight is almost 55 kilograms, so it keeps your parasol nice and secure.
Australia's coastline can be subjected to unexpected winds from time to time, making this beach umbrella base an investment in everyone's safety.
Despite its weight when filled, it's less than 500 grams when empty and folds down to the size of a paperback novel.
Pros:
American Lifeguard Association endorsed
Saves digging holes in the sand
Keeps beaches safer
Cons
Not compatible with screw anchors
Click here to view this heavy-duty beach umbrella base.
This beach umbrella sand anchor from Ammsun is a heavy-duty product that can withstand wind speeds approaching 100 kilometres per hour.
Yet as it weighs only 55 grams it's easy to carry around.
Use one of these whenever you head to the beach and you won't have to jump up because your brand new boutique beach umbrella as toppled over.
Click here for the latest prices.
The simple smooth design makes it easy to screw into the sand too.
There are handles to each side to help with fixing and a top plate so you're sure how deep down to go.
Again this is a product that improves safety while protecting your pretty beach umbrella.
Pros:
Withstands 100 km per hour winds
Lightweight to carry
Protects your umbrella
Cons:
Click here to see this Ammsun umbrella sand anchor.
Finding The Best Beach Umbrella In Australia
When looking for a great beach umbrella there are several factors to consider.
These include the size, level of sun protection, and wind resistance, as well as other helpful features.
Size
The size is one of the key considerations when choosing between the top beach umbrellas.
The smallest listed here is 1.8 metres in diameter, and the largest is 2.4 metres. Around 2 metres is the average size.
Really it depends on whether you're seeking a personal beach umbrella in Australia or one to cover the whole family.
Sun Protection
Protection from damaging and ageing UV rays is one of the major benefits of owning and using a beach parasol.
Most products come with an SPF rating of 50 plus, and some feature fabric that has been coated with aluminium or some other substance to boost protection even further.
Just don't forget to slip, slop, slap!
Wind Resistance
Some beach parasols stand up to wind better than others.
Features that help with this include vents so that trapped air can escape, and a sturdy anchoring system to keep it in place.
Whichever you buy, we do recommend investing in a heavy-duty umbrella base or sand anchor, as it's much safer and also prevents your umbrella from being blown away.
We've given our recommendations up above.
Other Features
Our top pick beach umbrella comes with a sand anchor, which means you may not have to buy one separately.
Most include a carry bag for storing and carrying your parasol, and some are made using waterproof fabric.
A warranty can also give peace of mind when buying.
Which Is The Best Beach Umbrella In Australia For You?
We hope this gude to quality umbrellas in Australia has helped you choose the right modern or retro beach umbrella in Australia to suit your needs.
The sun protection and coolness offered is ideal for days at the park, as well as other activities such as sports matches and fishing.
Whatever you go for, we hope you love your new beach umbrella so much that you even want to set it up in the back garden!
Click here to see our number one beach umbrella in Australia.
While you're here, why not check out some more of our guides, such as those that will help you find the top beach tent, the best sand free towels for the beach, the top picnic basket for sunny days out and the cutest boho picnic rugs to go with it.
Disclaimer: As an Amazon Associate we earn from qualifying purchases.