Best Esky Australia: 11 Top Coolers [2022]
A great Esky cooler is a must for any family here in Australia.
With the hot weather we experience during the southern summer and all year round in more northerly states keeping food and drinks cool can be a big priority.
Whether you're heading out for a picnic or are hosting an impromptu barbie at home with the neighbours, having access to an Esky on wheels or one that you can easily carry ensures you have cool beers, wine, or soft drinks for the entire day or evening.
This guide is here to help you find the best Esky for your needs whether you require the best Esky Australia has for camping, a small lunch Esky, the coolest Esky, or a retro Esky.
Or maybe you'd just rather read a range of Esky reviews to help you narrow down the options.
This article may contain compensated links. For more information read our disclaimer

here.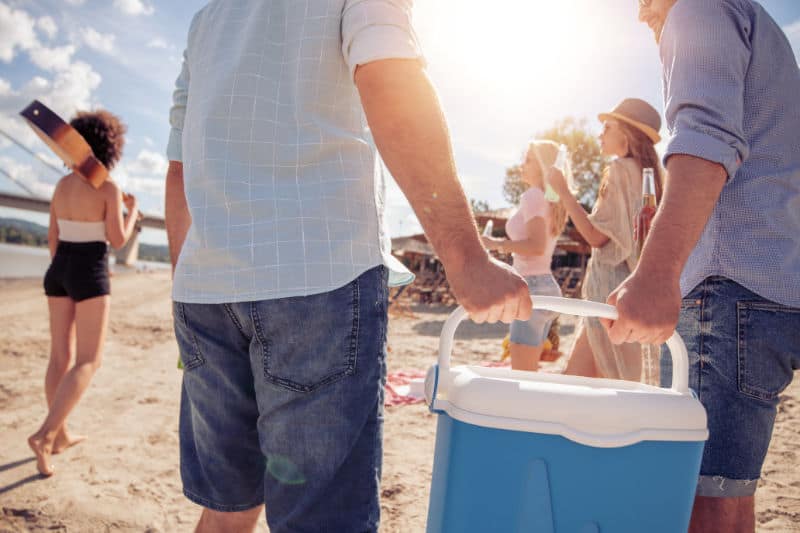 If you don't want to muck around and simply want the best esky in Australia then:
Click here to view our top choice Australian Esky
This is our pick as the best Esky in Australia overall because it has a generous capacity, and is easy to move around thanks to a telescopic handle and heavy duty wheels. It even has four drink holders built into the lid.  
One of the factors to think about is the type you require.
Do you want a large 60 litre Esky box on wheels, for instance, or a small Esky bag that's lightweight and comfortable to carry?
A cool bag that resembles a laptop briefcase is even detailed here.
How much does style matter? Do you picture yourself using a classic blue Esky, for example?
Would you like to use the Esky lid as a table? Or do you simply want to know what sort of Esky sizes there are to choose from?
If you like, check out this useful helpful comparison table before reading our Esky reviews, as you can see the main features of each option at a glance.
Below the table, we also break down what to look for when choosing the best Esky to buy.
Best Esky Australia Comparison Chart 
Compare all the best Esky cooler contenders simply and quickly with this helpful table.
It makes it so much easier to see what each Esky has to offer, so you can work out which might be best for you.
Name
Type
Capacity
Key Features
Buy!
Coleman Extreme
Wheeled Cooler

Wheeled cooler box
47 Litres
Holds 68 cans, integral drink holders, telescopic handle
Click Here!
Igloo Marine
Ultra Cooler

Cooler box with handle
28, 34, 45, 51, 68 or 88 Litres
6 different sizes, marine grade materials, comfort handles
Click Here!
Arctic Zone Titan

Hardbody cooler with strap
9, 16, 30 or 48 cans
'Backsaver' strap, zip free lid, removable inner shelf
Click Here!
Mammoth Cruiser
Cooler

Cooler box with handle
14 Litres
Lifetime warranty, 3 colours, tough construction & insulation
Click Here!
DeWalt Roto
Molded Cooler

Cooler box with handle
9.5, 23.5, 42.5 or 61.5 Litres
Ultra tough, premium brand, integrated bottle opener
Click Here!

Esky Hard Chilla



Cooler box with handle
10 Litre
Great value, original brand, simple user-friendly design
Click Here!
4 Piece Esky
Combo Set

Jug, bag & 2 boxes
2, 4, 8 and 50 Litres
Complete set of 4 coolers, inc drink jug & ice pack storage
Click Here!
Coleman Classic
Blue Cooler

Cooler box with handle
27 Litres
Classic design, easy to clean, chills for up to 2 days
Click Here!
Forich Backpack
Cooler

Cooler backpack
30 Litres
6 colours, wine bottle pockets, easy to carry
Click Here!
Hap Tim
Soft Sided Cooler

Cooler bag
40 Cans
Collapsible & soft sided, leak-proof, bottle opener
Click Here!
Red Suricata
Slimline Cooler

Cooler Bag
10 cans
Looks like laptop bag, freezer packs included, slimline
Click Here!
Best Esky Reviews And Recommendations
Description:
Wheeled cooler
47 litre capacity
This Coleman cooler available in Australia is our top choice overall for several reasons.
At 47 litres, it has a generous storage capacity, and the locking telescopic handle and heavy duty rolling wheels make it easy to move around.
If you're looking for an Esky table this product also fits the bill, as it has four Esky water bottle, mug, or beer bottle holders built into the lid.
Click here to see this Coleman cooler on wheels.
With a smooth flat surface, you could also place food or other items in the centre, within easy reach of everyone at the campsite, park or picnic ground.
From a leading outdoor and Esky brand, this Coleman Esky trolley should stand the test of time, yet offers great value for money.
The hinged lid can be opened with one hand, and closes securely to make sure your food and beverages stay cool. It's even designed for easy cleaning too.
Pros:
Locking telescopic handle and rolling wheels
Chills up to 68 cans
4 drink holders built into the lid
Cons:
Bulkier and heavier than some
Click here to see the latest prices.

Description:
Cooler box with handle
28, 34, 45, 51, 68 or 88L
If you want a boat Esky then this is the one for you.
As the name suggests, it's made using marine grade materials, so it can easily stand up to saltwater and resist sun damage.
This Esky comes in six different sizes too, ranging from a compact 28-litre model to a sizeable 88-litre cooler.
Click here to view this Igloo Marine cooler box with handle.
Inside, this Igloo Esky available in Australia has an odour and stain-resistant lining.
This ensures food doesn't absorb unpleasant smells, and that the Esky looks clean within even after continued use.
The Ultratherm insulation in the walls of the lid and main body keep items chilled, even during hot weather.
With rust-resistant stainless steel hardware, UV inhibitors and comfort grip handle, this Esky is tough, corrosion proof and comfortable to carry.
Happy reviewers even say that this one has successfully kept food frozen over a prolonged period of time.
Pros:
Marine grade materials
UV inhibitors
Comfort grip handles
Cons:
Click here to see the latest prices.
Hardbody zip-free cooler
9, 16, 30 or 48 cans
This is perhaps the ideal beach Esky, with a hard body construction and a robust fabric outer.
For fast access to the contents, it has a zip-free lid plus an insulated front pocket.
The 'Deep Freeze' design of this Arctic Zone cooler available in Australia acts as a barrier against heat infiltration, deflecting the heat away.
Click here to see this Arctic Zone Titan cooler.
Something of a hybrid between being a hard and soft Esky cooler, this product also includes a detachable 'Smart Shelf' inside so you can organise the contents more easily.
Its lining is leak-proof and simple to clean and has been treated with Microban to protect against odour and stain absorption.
For carrying, this Esky by Arctic Zone boasts an ergonomically designed 'Backsaver' shoulder strap with padding.
Its outer is also stain and water-resistant, and can be wiped clean if required.
Pros:
Zip-free lid for easy access
Leak, stain, water and odour proof
'Backsaver' padded carry strap
Cons:
Click here to see the latest prices.
Cooler box with handle
15 litre capacity
This is one of the smaller of the best ice boxes in Australia, so it's ideal for day excursions and picnics.
With a moulded double-wall construction, extra thick insulation and a freezer grade gasket, this one will keep food fresh even in the height of summer.
As with all Mammoth coolers, this product from one of the best Esky brands comes with the reassuring backup of a lifetime warranty.
Click here to view the Mammoth MC15T cooler. 
You can also choose between some cool colours, as it comes in white, seafoam green or classic tan.
With enough space for a 12-pack of cans, this Mammoth product could be the best Esky for fishing trips, picnics or evenings on the beach.
Other great features include thick non-slip rubber feet, a rotating metal handle with padding for comfort when carrying and a user-friendly hinge system.
Pros:
Lifetime warranty
3 stylish colour options
Tough construction and thick insulation
Cons:
Click here to see the latest prices.
Cooler box with handle
5, 23.5, 42.5, or 61.5L
You might expect to see this brand name on drills or other tools rather than as an option among Esky reviews in Australia, but this manufacturer is renowned for their tough and ultra-reliable products.
In fact, this could be the best Esky brand to invest in, as this cooler is designed to cope with sitting in the sun all day when working on a building site or attending a sports match.
Click here to see this DeWalt Esky in various sizes. 
It's also a contender as the best icebox for camping, or if you go for the 9.5 litre (10 quart) option, the best small Esky.
The Roto Mould design can withstand even intense heat and being knocked about, while the smooth heavy duty handle makes it easy to carry.
This DeWalt Esky even has a built-in bottle opener and integrated storage area for your ice packs.
The smallest one makes a great lunch box, while the biggest can cope with catering for a party.
Pros:
Super tough construction
Integrated bottle opener
Premium brand
Cons:
Click here to see the latest prices.
Cooler box with handle
10-litre capacity
Have you ever wondered why your portable Esky fridge is called that?
Because of all Esky brands available in Australia, Esky is the original one.
Thus we had to include one of their products in this list of the best Esky cooler options!
The design of this item is typical of Esky coolers in Australia it's super simple, robust and does exactly what you want it to.
In other words, it's a classic.
Click here to view the Esky Hard Chilla 10L.
This particular one is perfect for those who want a compact option that can carry 10 litres' worth of food and drinks.
Offering great value for money, the Hard Chilla from Esky comprises a simple navy blue cooler with a white plastic lid and carry handle.
It's the kind of product that every home should have, and if taken care of, is likely to last a lifetime.
Pros:
Great value for money
Simple, user friendly design
Original Esky brand
Cons:
Click here to see the latest prices.
Set of 4 items
2, 4, 8 and 50L coolers
If you're not sure whether to buy a small, soft Esky bag for workdays or the best ice box in Australia for an extended camping trip, why not invest in this set so you have several to use for different purposes?
The set includes the best soft cooler to use for a packed lunch plus two ice boxes.
One has an 8 litre capacity and is great for days out, while the larger 50 litre one is one of the best ice boxes for camping.
Click here to see this Esky set of 4 coolers.
There is also a 2-litre jug, so you can carry water or other cold drinks separately.
This leaves more space inside the Esky for food.
All four items come in classic blue and white. The large cooler box has dedicated ice pack storage inside the lid.
This is a simple but very effective set that could supply all your Esky needs in one pack.
Pros:
2 cooler boxes, 1 bag & a jug
Separate drinks storage
Integral ice pack storage in lid
Cons:
May be more than you need
Click here to see the latest prices.
Cooler box with handle
27-litre capacity
We've already listed one Coleman product, but this one is ideal for those who don't want the best Esky on wheels.
This classic Esky in blue with a white lid and carry handle is a hot pick as the top cooler box in Australia, from one of the most respected outdoor brands in the business.
This Esky is designed to be really easy to use and keep clean.
Click here to view this Coleman Cooler in classic blue.
It can be opened and closed with one hand, yet the lid always shuts securely to keep contents chilled.
The top is smooth and thus easy to wipe with a cloth in the event of a spillage.
Coleman reckon this cooler can keep food and drinks cold for up to two days when used with ice packs, so it's ideal for beach days, picnics or overnight camping trips.
Overall, this 27-litre model is a good compromise between weight and size versus portability.
Pros:
Classic design in blue
Super easy to clean
Chills for up to 2 days
Cons:
Click here to see the latest prices.
Description:
Cooler backpack
30 can capacity
The first in our list of the best cooler bags in Australia is a backpack that can carry up to 30 cans.
It comes in three colour options, so whether you prefer a neutral shade like grey, navy or black, or would like to stand out with a brighter orange or pink bag, there should be one to suit you.
There are two handy mesh compartments to each side, and these can hold up to 4 bottles of wine in total.
Click here to see this Forich cooler backpack now.
With that plus the main chiller compartment, there's plenty of scope for a day at the park or beach with family or friends.
Other handy features include robust leak-proof fabric, a range of pockets and compartments, a breathable mesh back panel and even an attached bottle opener on the outside.
The thick insulating material is also simple to wipe clean.
If you're seeking a wine bottle cooler bag in Australia, this might be the one to go for.
Pros:
Very easy to carry
Outer wine bottle pockets
Choice of 6 colours
Cons:
May be heavy when fully loaded
Click here to see this Forich cooler backpack
Cooler bag
40 can capacity
If the best cooler bag for you is a soft-sided one, shaped more like a cool box than a backpack, take a look at this Hap Tim product.
It has a large 40 can capacity, so it's one of the best bag coolers around for family or group outings or garden parties.
One of the features that sets this apart from other soft cooler bags in Australia is the helpful velcro fastening flap on the top.
Click here to view these Hap Tim ice cooler bags.
This means you can access the contents without opening the whole thing, which helps with maintaining a low interior temperature.
Even when you want the best cooler for car travel this one might fit the bill as it's easier to squeeze into a gap than a hard-sided product.
Ideal if you're heading to the beach with a lot of kit to carry or are going grocery shopping!
Pros:
Soft-sided, flexible cooler bag
Easy access top flap
Collapsible for storage
Cons:
Not as strong as a hard-sided box
Click here to see the latest prices.
Cooler bag
10 can capacity
If you just want to grab the beers and go, this is surely the best cooler bag in Australia for you.
With a similar shape to a laptop bag, you can even take this one to the office without causing heads to turn.
Ideal when you're heading out straight after work.
Click here to see these slimline ice cooler bags.
The flat shape also makes it a good bet for lunches, especially if you're going out with the kids and need to carry a number of sandwiches or other edibles.
Even the chocolate bars won't melt in the heat if you pack them into this.
A 12-month guarantee is offered by the manufacturer for peace of mind, and the bag comes complete with two slimline ice packs included.
With strong ripstop polyester construction and a food grade aluminium lining, these are the best cooler bags in Australia to use for small quantities or when you want to keep the contents a secret.
Pros:
Looks like an office bag
Ideal for lunch, soft drinks or beers
Compact, slimline design
Cons:
Click here to see these slimline ice cooler bags
Finding The Best Esky In Australia 
There is a list of considerations when you're searching for the best cooler box or Esky backpack out there.
These include the type of Esky, its capacity, and how easy it is to transport and clean it as well as some other useful features.
Type
The first factor to consider is what type of Esky you want and this depends on the intended purpose.
Are you searching for the best camping Esky, for example? In this case you'll probably want a bigger one.
An Esky for a traveller, on the other hand, would need to be as lightweight and portable as possible.
If you're going to carry it often rather than in the car, you might want to look for the best soft Esky instead of a hard-sided product.
Maybe you'll need more than one. If this is the case, make sure you take a look at the great value 4 piece set listed!
Capacity
Next, think about how much you want to carry.
Do you want a small lunch Esky that can hold only a few litres, a medium-sized 20 litre Esky or a cool box that can chill 50 litres or even more?
Some Esky products state the capacity in cans, which can make it easier to visualise the contents.
An Esky for a single person or couple would generally be smaller than one for a family.
Or perhaps you want a party Esky, so you can hand out chilled beers to your friends all evening long?
Carrying
How will you transport your Esky?
Some may want the best esky with wheels which can be rolled around the garden or campsite but remember that wheels may not work as well on sand.
Many of the Eskys in this guide have some sort of carry handle instead.
The final few products covered include a backpack cooler bag available in Australia, a soft-sided cool bag and a slimline cooler that's even suitable for taking to work without anyone knowing what's hidden inside.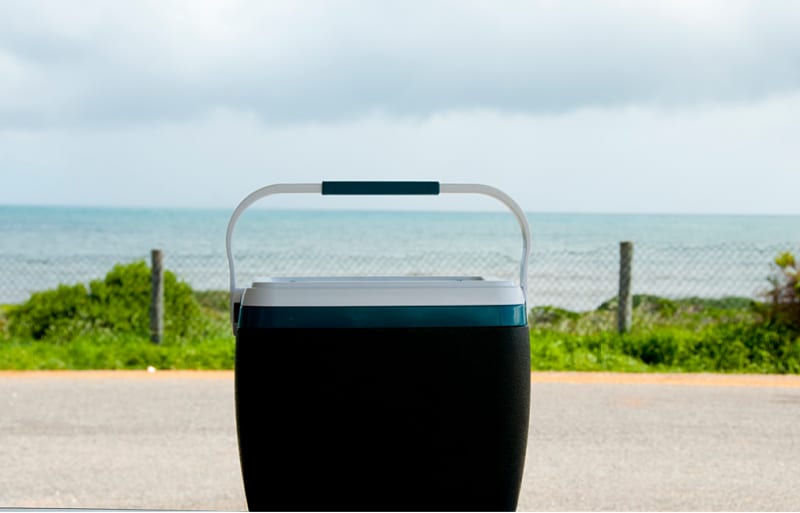 Cleaning
Making sure your Esky has as long a life as possible means frequent cleaning.
How easy is the interior to access and wipe clean? Our list of contenders as best Esky in Australia have been chosen with easy cleaning in mind.
When reading each best Esky review, it's worth paying attention to whether or not the manufacturer seems to have factored cleaning into the design of each model.
Features like smooth flat surfaces can simplify cleaning. Some are also treated so they are stain and odour resistant.
Waterproofing and leak resistance can also help to repel spills.
Other features
What other features can you expect from an Esky? These are not necessities as such but can be very nice to have.
Check out the best Esky reviews below to see what each product has to offer.
Additional features we've come across include one-handed opening, which can be particularly useful for busy parents.
One Esky is specifically designed for boating life, with features like rust-proof materials, while another has a 'Smart Shelf' to help you organise the contents.
Some of the coolers have a dedicated space for storage of ice packs, which can also be helpful.
A bottle opener is included in some of these cool boxes and bags.
This may seem like a small thing, but imagine getting you where you're going, all stocked up for a few beers with your friends, and then you can't actually get into those stubbies or longnecks? Disaster!
You may also care about how the Esky looks. If this is the case, some include a choice of colours.
A certain product may also have aesthetic appeal due to its shape, while others are fairly basic in terms of design.
We've only included one Esky with wheels here, and we've made sure it's one that has heavy duty, smooth rolling wheels.
It also has a long telescopic handle for user comfort when it's being moved around.
The same model also has four drink holders built into its lid. These features have contributed to it being chosen as our top pick overall.
But it's your Esky.
What would be useful for you, given your lifestyle?
These extra benefits could make all the difference when deciding which is the best Esky on the market for your exact needs.
Which Is The Best Bag Cooler Or Cooler Box In Australia For You?
We hope this guide is useful when choosing the best hard or soft Esky for your needs.
Ice boxes in Australia are so practical, as they can provide you with fresh food and chilled drinks either when you're hosting a sausage sizzle at home or when you're away for the day or overnight.
From a great value Esky on wheels available in Australia or beer cooler bags to the best cooler backpack Australia has to offer, there are lots of options for keeping your food and drinks chilled. Cheers!
Why not check out our other guides to outdoor living, including how to buy the best boho picnic blanket, the best beach tents, or top picnic basket or backpack for your days out or camping trips?
Disclaimer: As an Amazon Associate we earn from qualifying purchases.