There are some fabulous cafes in Ocean Grove to choose from when you're spending time in town.
Whether you're after brunch, lunch, or breakfast in Ocean Grove, or have a craving for something decadently, deliciously sweet, the Ocean Grove food scene always has plenty to offer.
From the best coffee in Ocean Grove to a one-stop shop where you can pick up deli goods and pre-prepared meals to take home, this guide will show you where to get the finest food and drinks in town. As well as in Wallington, if you fancy a place with a more rural feel.
Why cook when you could enjoy a delicious lunch at an Ocean Grove cafe? The menus at the following places all offer something you've probably never tried before.
If you're hankering after more traditional breakfast dishes, these places can satisfy those cravings too.
Read on to find your new favourite eatery in Ocean Grove!
Looking for somewhere to stay? Read our guide to Ocean Grove accommodation here.
Best Cafes In Ocean Grove Reviews
1) Driftwood Cafe Ocean Grove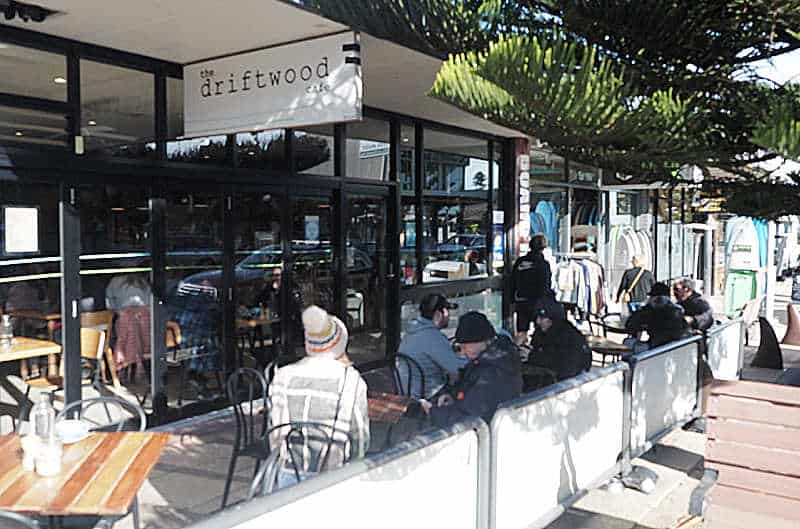 The Driftwood Cafe in Ocean Grove is positioned on The Terrace in the heart of town.
Large, charcoal-framed windows facing the street let in lots of light, while natural wood panelling, tables, and chairs combined with a green feature wall, and tiled flooring give the cafe a fresh feel.
You can expect great coffee with service to match and a good range of expertly-prepared dishes at Driftwood in Ocean Grove.
There's a firm focus on locally produced ingredients, and wherever possible or applicable these are seasonal, free range, and organic.
The cafe is also involved in community life, supporting local schools both financially and on a more practical basis.
The breakfast menu is served all day, and includes sweet offerings like homemade banana bread, porridge, pancakes, or a red smoothie bowl as well as savoury staples such as pulled pork hash, huevos rancheros, eggs florentine, and yummy garlic mushrooms.
For lunch, there are various burgers, salads, wraps, and other light meals. Tempting picks served between 11.30 am and 3 pm include arancini, a salt and pepper calamari salad, a vegan burger, lamb fettuccini, or pumpkin gnocchi.
Driftwood Cafe

Where: 64D The Terrace, Ocean Grove

When: Sun – Thu: 7 a.m – 3 p.m, Fri – Sat: 7 a.m – 9 p.m

Phone: (03) 5255 1832
2) Kyosk Cafe Ocean Grove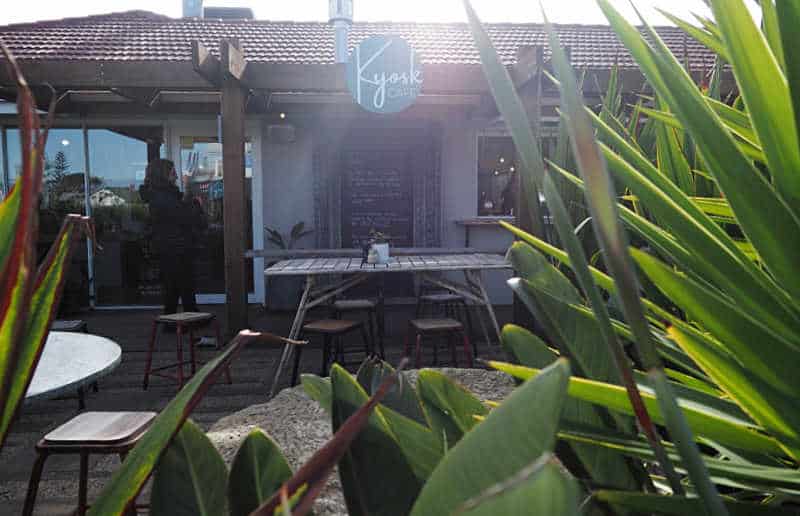 Another of the best places to eat in Ocean Grove is Kyosk Cafe. This one can be found on The Parade, also in the centre of this seaside town.
It's a place to come whether you need a caffeine hit or a wholesome feed, and the fresh juices and smoothies are delicious, refreshing and packed with nutritional benefits.
Proud Mary coffee and modern Australian cuisine are features of the food and drinks menu at Kyosk Cafe in Ocean Grove.
An attractive Asian-style wooden pagoda at the front means you cannot miss this place, and inside this eatery is packed with character.
There are wooden ceiling beams, scuffed wooden floorboards, and an interesting array of trinkets from around the world. There's even part of a tuk-tuk displayed on one of the walls.
Kyosk takes walk-ins only, so do get in early if you want to secure a table. The food menu is packed with wholesome goodies, with lots of fresh fruit and vegetables, whole grains, and organic produce.
An all-day menu offers kids' dishes, sides, and mains such as buckwheat bread with berry and chia jam or organic peanut butter, chia spiced granola, a tofu chilli scrambled, eggs Benedict with pulled beef, or Korean-style bao baps with pickles.
Kyosk Cafe

Where: 91 The Parade, Ocean Grove

When: 7 a.m – 4 p.m 7 Days, Kitchen closes at 3 p.m.

Phone: 0403 811 273
3) Garage Cafe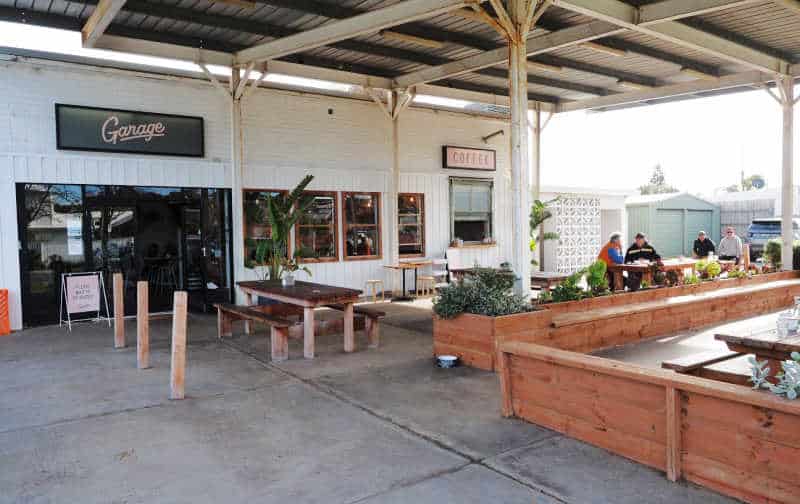 If you're wondering why the Garage Cafe in Ocean Grove is so called, it's because it was once a refuelling stop for local motorists.
Now the petrol station has been transformed into a slick cafe, serving breakfast, brunch, and lunch to residents and visitors.
The Garage in Ocean Grove can be found on Lelean Street, a block back from the Barwon River. Though the canopied courtyard hints at the building's former purpose, plenty of white paint, natural wood, potted plants, and pretty wallpaper have given the place a new lease of life.
In fact, the former courtyard is now used to provide guests with a spacious seating area, and this makes it one of the most pet-friendly eateries in town.
As a cafe, the Garage accepts walk-ins only, and the kitchen closes at 2.30 p.m (2 p.m on Sundays). It's closed on Mondays.
Menus are seasonal and therefore include more warming dishes in winter such as the soup of the day with hot buttered toast. Though meat is a feature and there are juicy, beefy burgers, it's far from the sole focus.
Bacon is an optional extra with the Garage breakfast, for instance – a platter packed with halloumi, avocado, and ciabatta as well as the more traditional eggs, mushrooms, tomato, and hash browns.
Garage, Ocean Grove

Where: 15 Lelean Street, Ocean Grove

When: Tue – Sat: 7 a.m – 3 p.m, Sun: 8.30 a.m – 2.30

Phone: 0419 923 124
4) The Paddock Cafe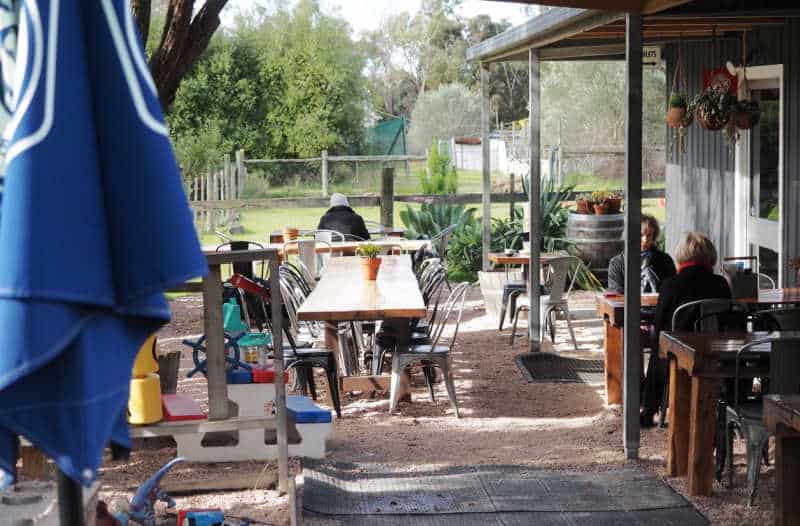 You'll have to head out of town a little to visit the Paddock Cafe, as it's located in Wallington on the northeast side of Ocean Grove's centre.
This more secluded spot gives this cafe a rural feel, and on warm days you can sit outside at long, polished wooden tables decorated with plants in terracotta pots.
It's like escaping to a local farm without heading too far from town. The place does indeed seem much like a paddock, albeit one dotted with beer kegs.
Inside The Paddock in Wallington, the rustic theme continues, freshened up by cool grey floor tiles, pendant lighting, and a service area that's a study in industrial chic.
The Wallington cafe is open from Wednesday to Sunday and is a laid-back eatery that welcomes kids and dogs as much as adults.
There are several menus, including the all-day breakfast and all-day waffles selections. Kids' drinks and lunch menus complete the list.
More unusual picks offered at The Paddock include zucchini and halloumi fritters, breakfast gnocchi, and Asian congee.
The all-day waffles come with berries and ice cream, chocolate, and butterscotch, or are served Canadian style with maple syrup, bacon, and egg.
The Paddock Cafe

Where: 420 Wallington Road, Wallington

When: Wed – Fri: 8 a.m – 2.30 p.m, Sat – Sun: 8 a.m – 3.00 p.m

Phone: (03) 5250 6056
5) The Beach Terrace Cafe
Soup, milkshakes, sandwiches, and coffee are all favourites with customers of the Beach Terrace cafe in Ocean Grove.
It's located on The Terrace in town rather than by the beach, and the colourful, shabby chic wooden tables outside make it an easy one to spot.
The cafe is open between 7 a.m and 4 p.m daily, so it's good for an early Ocean Grove breakfast or a long, lazy late lunch.
In fact, it's BYO so you can linger with friends or your loved one over your own choice of something chilled and delicious.
Main meals here are substantial and the portions are hearty. The Oreo milkshake is a hit with kids, while older diners prefer a fruity burst of goodness delivered in the form of a mixed berry, banana and malt, or mango smoothie.
The length of the menu here is well-judged – there's plenty of choice without the assortment being overwhelming.
From fruit toast, avocado smash or cajun chicken focaccia to shakshuka, a salmon patty, steamed dumplings, or crumbed calamari, there's something at the Beach Terrace for everyone.
The Beach Terrace Cafe

Where: 1/85 The Terrace, Ocean Grove

When: 7 a.m – 4 p.m Daily

Phone: (03) 5255 3220
6) Groove Cafe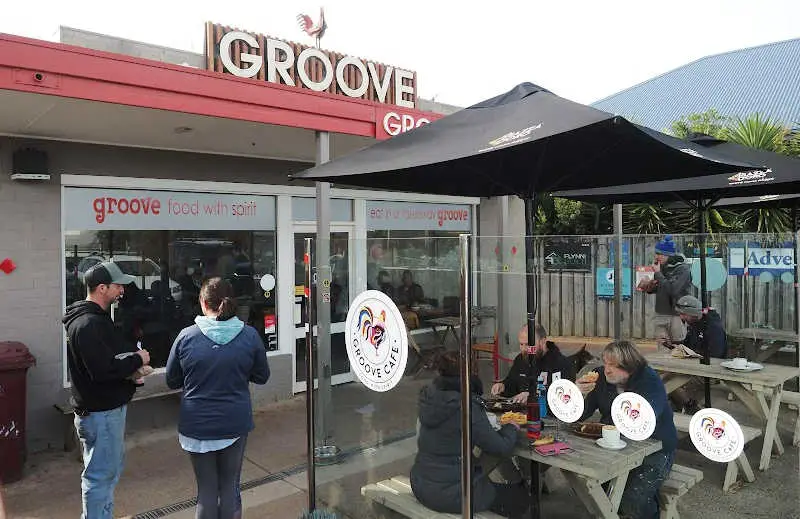 The Groove Cafe is positioned close to Ocean Grove golf club, as Wallington Road heads out of town.
With a rooster perched atop a glittering sunburst sign and red lettering, it's not hard to spot. There are several pub-type tables with umbrellas out the front too.
Inside this cafe is surprisingly spacious, and is a light, bright, airy space in which to settle down for a tasty Ocean Grove lunch, brunch, or breakfast. Or simply for an excellent cup of coffee.
The baristas certainly know what they're doing here – if you're lucky your brew will be a real work of art.
You'll need your tastebuds at the ready as much as your camera here. Especially for those with a sweet tooth, as there's a fridge filled with tempting treats such as coconut hedgehog and jelly slices, plus classic and macadamia brownies.
This place is also famous for its mouthwatering selection of freshly-baked pies, sausage rolls, and cakes. When you're craving a carb hit, the choices here will hit the spot.
Groove Cafe

Where: 56 Wallington Road, Ocean Grove

When: Mon – Fri: 6.30 a.m – 5 p.m, Sat – Sun: 6.30 a.m – 4 p.m

Phone: (03) 5256 3094
7) Hello Birdie
If you're looking for great Ocean Grove coffee, brunch, or simply a child-friendly spot, Hello Birdie cafe in Ocean Grove ticks all the boxes and then some.
It's situated a little further from town than other local cafes, on Grubb Road between Kingston Park and the nature reserve.
The outdoor play area here is paradise on earth for kids, so it's the ideal stop on a family day out.
Here young ones will find a small play hut decorated with pastel-coloured bunting, the sweetest, yellow-painted lemonade stand, and a large assortment of toys.
Inside it feels spacious, airy, and more grown up, albeit with various features that appeal to children. There's a large outdoor yard which is ideal for dogs too, not least because it's safely fenced off.
Menus are available on an all day basis, and include several Tex-Mex inspired dishes such as the burrito bowl with pulled chicken, an avocado quesadilla or the cowboy beans with ham hock.
If you fancy something filling, you could go for a brekky wrap, bacon and egg pie, or the schnitzel burger.
Lighter options, meanwhile, include the house salad, a savoury muffin, and homemade granola with fruit coulis.
Hello Birdie Cafe

Where: 52 Grubb Road, Ocean Grove

When: Mon – Fri: 6.30 a.m – 2.30 p.m, Sat: 7 a.m – 2.30 p.m

Phone: 0427 297 422
8) The Olive Pit Delicatessen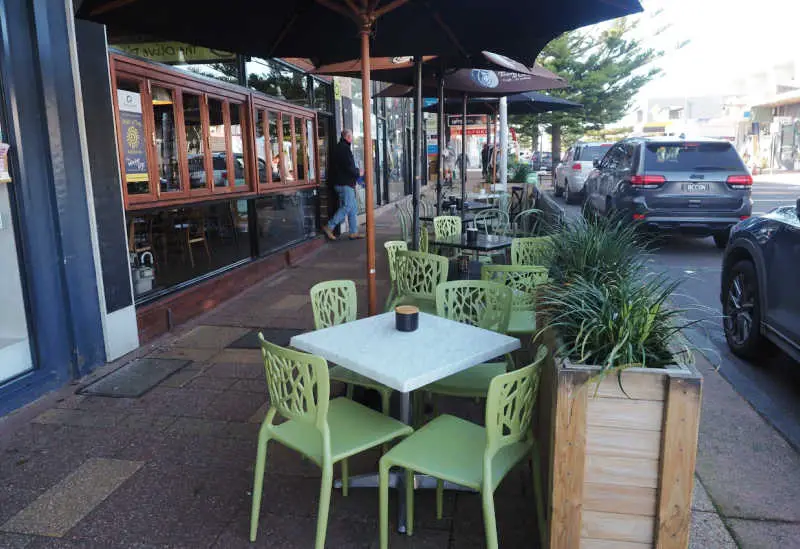 Located centrally on The Terrace, the Olive Pit in Ocean Grove is a popular pitstop in the heart of town. It's exactly the sort of cafe you can pop into for anything from a quick coffee to a full meal.
Plus how many Ocean Grove places to eat also offer you the chance to shop for irresistible cheeses and other savoury or sweet treats?
Portions here are generous. Order salmon with avocado and poached eggs for instance, and you'll get a good serving of fish, two eggs, and a whole fruit to fill your belly.
In fact, why cook later in the day, when you can take home a perfectly prepared soup or curry for dinner?
As for the deli, it stocks a glorious range of cheeses, plus plenty of salty cured meats, and antipasti to accompany them.
When dining in, you can sample New York style bacon, philly, or salmon bagels, a ham and cheese toastie, or croissant, the house-made muesli, or a one-eyed Jack sourdough roll.
The Olive Pit Delicatessen

Where: 71 The Terrace, Ocean Grove

When: 7 a.m – 5 p.m daily

Phone: (03) 5255 1511
9) White Hart Cafe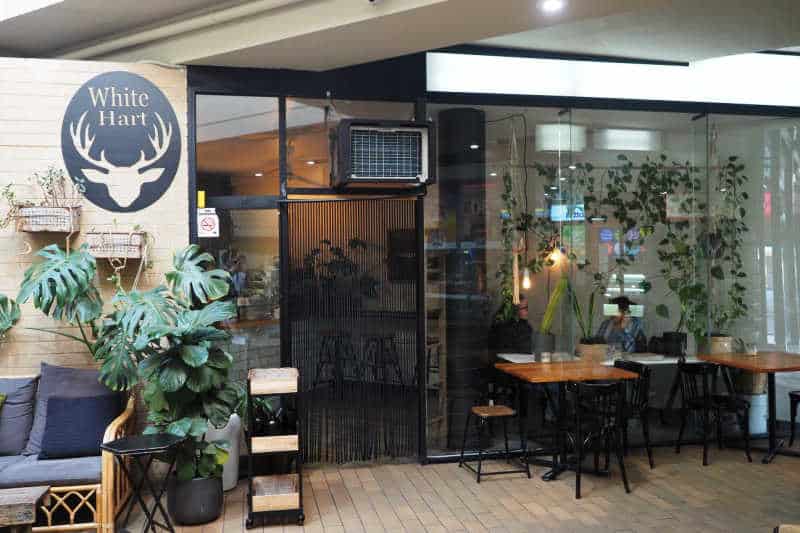 The White Hart is a smart coffee bar that can also be found on The Terrace in central Ocean Grove.
Inside, the decor is ultra-contemporary with lots of deep charcoal, glossy metro tiles, slick grey flooring, white painted brick walls, and bare bulb lighting.
Some say the White Hart cafe serves up the best coffee in town, and again this is so artfully presented that you may be unable to resist snapping a shot.
It's Padre coffee that's used to make each brew, roasted up the road at their Melbourne branch.
The service here is every bit as professional as the presentation of the coffee shop's social media pages, and some of the more attention-grabbing pictures feature fruit-topped English muffins sprinkled with walnuts, freshly-baked sweet pastries, and a beautiful bowl of delicious-looking soup.
White Hart Cafe

Where: 5/73 The Terrace, Ocean Grove

When: Mon – Fri: 7 a.m – 3 p.m, Sat: 7 a.m – 2 p.m
10) JB's Cafe
JB's Cafe claims to serve up the very best burgers on the Bellarine Peninsula – can they live up to that bold claim?
It's certainly worth checking out this cafe, bakery, and takeaway joint on Sunset Strip to find out.
The menu offers an appealing mix of modern favourites and traditional milk bar treats. There are weekly specials to keep things interesting, and it's a child-friendly place for parents to gather or for socialising on Fridays after work until 8 p.m.
This place is licensed too, so you can order a Queenscliff Brewery beer, a Victorian wine, or a Flying Brick cider to sip alongside your food.
Whether that's fish and chips, pulled pork sliders, Thai fish cakes, or one of the ubiquitous burgers.
Tall milkshake glasses, surfboards, and duck egg blue paintwork give this place a feel that effortlessly blends the coastal, the retro, and the modern.
Best Ocean Grove Cafes Map
Below we've included a map that shows the exact location of each Ocean Grove cafe we've listed and reviewed here.
Best Ocean Grove Cafe | Final Word
If you wanted to find the best cafe in Ocean Grove, then we hope this guide has left you spoiled for choice!
The great selection of Ocean Grove cafes means every kind of diner is catered for – even those who want toys to play with or a yard to around in.
Why not take a look at some of our other articles for food fans? Such as our guides to Torquay's best restaurants, the top Indian eateries in Geelong, or the coolest bars and cafes on Little Malop Street.
Related Posts: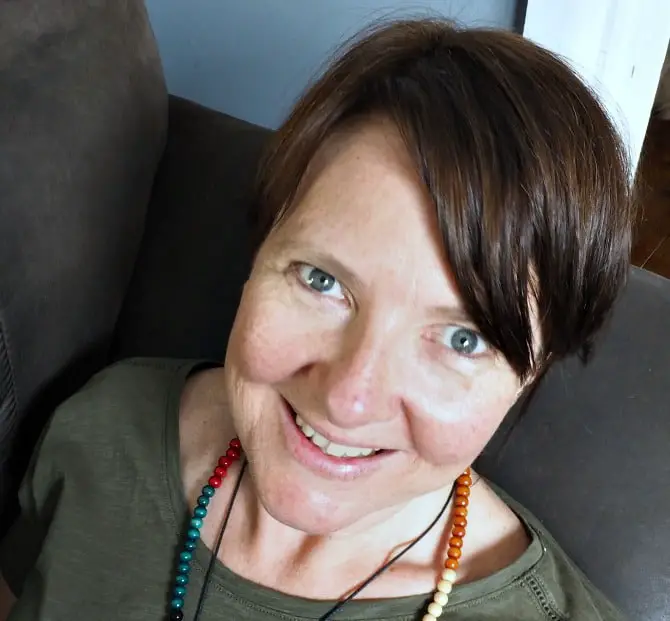 By Audrey Chalmers
Audrey is the principal blogger behind See Geelong. Book Lover | Breakfast Nut | Geelong Gal | She's Usually Craving Coffee.