Best Camera Bag Australia Guide [2022]
If you're looking for the best camera bag Australia offers, this guide will help you find the right one.
Photography is a fun and rewarding hobby or it may even be your bread and butter.
Either way camera equipment is expensive. So making sure you can take it where you want to while keeping it protected is important.
Whether you want a Canon or Nikon camera bag or wish to carry a Mavic drone or 15 inch laptop, we've tracked down all the best camera backpack, case, and bag options out there.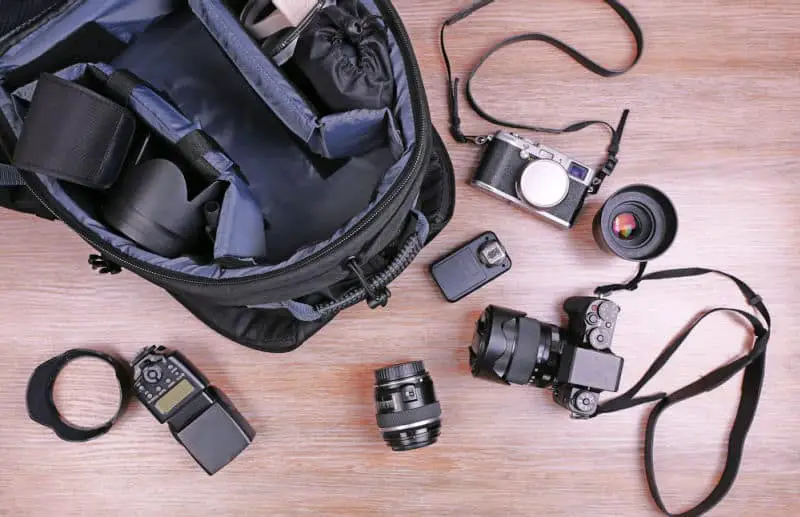 This article may contain compensated links. For more information read our disclaimer here.
Products include a top branded backpack from Lowepro, a convertible backpack that can also be used as rolling luggage, a stylish genuine leather cross body bag, and messenger bags in various sizes.
Click here to see our number one choice from all the best camera bags in Australia now!
If you're seeking the best camera backpack for travel or everyday use, look no further.
This post lists all the top camera cases in Australia, from designer camera bags made from leather to a rolling camera hard case and a Lowepro camera backpack from a leading brand.
Before getting to the details of each bag and backpack we provide a handy comparison table so you can see the benefits of each product at a glance.
Towards the end, we outline what to look for when choosing the ideal camera bag that suits you best.
Read on to find the perfect camera bag design and price to suit your preferences and budget whether that's a fully waterproof camera case, a softer DSLR backpack or a camera handbag that doubles up for everyday use.
Let's start!
Our Pick For The Best Camera Bag Australia [2022]
If you don't want to waste any time and simply want the top choice best camera bag Australia has on offer, this is what we recommend.
We love this Mosismo camera bag because it offers plenty of storage for your camera and equipment, it's comfy, waterproof, has an anti-theft outer pocket, and comes with a one-year warranty. It's hard to find fault with this bag!
Click here for the latest prices and more information.
Before you begin to read the in-depth reviews, take a look at the handy comparison table below.
That way you can save time by narrowing down the contenders for best camera backpack in Australia.
Best Camera Bags Australia Comparison Chart
This camera case comparison chart lists all the best camera bags in Australia in a quick reference table.
You can quickly look at the size and key features of each one, or click the link to check their latest reviews and prices.
| Brand | Image | Type/ Size (approx) | Key Features | Price |
| --- | --- | --- | --- | --- |
| Mosiso | | Backpack, 41 x 21 x 3 cm | 1 year warranty, multiple pockets, holds laptop or drone | Click Here! |
| Manfrotto | | Backpack, 47 x 30 x 24 cm | Multiple access points, ergonomic, flexible storage | Click Here! |
| Lowepro | | Backpack, 47 x 30 x 18 cm | Top brand, long shoulder strap, weather-resistant shell | Click Here! |
| Neewer Pro | | Backpack, 36 x 31 x 24 cm | Holds quadcopter or GoPro, anti-theft lock | Click Here! |
| BagSmart | | Backpack, 40 x 31 x 14 cm | Removable dividers, clothing compartment, 5 colours | Click Here! |
| Neewer 2-in-1 | | Backpack or rolling case, 54 x 14 x 12 cm | 2-in-1 design, detachable inner, lots of storage | Click Here! |
| Endurax | | Backpack, 53 x 32 x 23 cm | Holds drones, long lens cameras & laptops | Click Here! |
| K&F Concept | | Backpack, 43 x 27 x 15 cm | Lots of pockets, 840D nylon, padded waist belt | Click Here! |
| MegaGear | | Leather Bag, 21 x 18 x 9 cm | Stylish looks, cross body strap, various colours | Click Here! |
| Besnfoto | | Small messenger bag, 19 x 15 x 11 cm | Lightweight, compact, belt loop, tough build | Click Here! |
| Neumora | | Large messenger bag, 38 x 28 x 12 cm | Great value, stylish & spacious, waxed canvas | Click Here! |
| Unho | | Backpack, 48 x 32 x 21 cm | Bargain price, spacious, decent padding | Click Here! |
Best Bags For Cameras Reviews [2022]
Features:
Type: Hardshell Backpack
Colour: Black
Waterproof: Yes
Size: 40.61 x 22.83 x 2.54 cm
Weight: 64 grams
Compatibility: Canon, Nikon & other DSLRs DJI Mavic drones, 16 inch laptop
This camera backpack from Mosiso attracts very high ratings indeed, and given all its features that's not at all surprising!
As well as plenty of space for your DSLR, it has a laptop compartment as well as a tripod holder.
The laptop sleeve can accommodate most leading devices, like Air and Pro MacBooks up to 16 inches in size.
There are many pockets and compartments inside and out for all your other kit too. These provide storage for lenses, flashes, power banks, and cables.
An anti-theft outer pocket gives you a safe place to keep a phone, wallet, or purse, while there is a side compartment for a water bottle or umbrella.
Click here for more information.
To the front, the waterproof outer keeps everything dry and beneath this, there is a padded layer to guard equipment against damage from knocks, scrapes, and so on.
A cushioned rear and shoulder straps, meanwhile, add to comfort when carrying.
The shoulder straps are adjustable for a perfect fit and there is also an attached clip strap that items like sunglasses and towels can be hung from.
In addition to the shoulder straps, there is a grab handle and a trolley strap for transportation around the airport.
This top pick among camera bags for DSLR models works well with popular brands like Nikon and Canon and can also hold the DJI Mavic drone.
With a one year warranty provided and so much convenient storage, it's pretty much impossible to find fault with this piece of useful luggage.
A great bonus is the waterproof finish, as this prevents moisture from entering sensitive pieces of equipment.
It also means this backpack is suitable for use in all weather conditions.
Pros:
Holds DSLRs, laptops or a drone
Multiple useful compartments
1 year warranty
Cons:
Click here for the latest prices.
Features:
Type: Backpack
Colour: Black with red trim
Waterproof: Rain cover provided
Size: 47 x 30 x 24 cm
Weight: 1.4 kg
Compatibility: DSLRs
This Manfrotto DSLR camera bag looks like a standard and very smart backpack rather than a camera bag, so no one will have a clue what you're carrying inside.
It's one of a range of camera cases made by this brand.
Other options include a larger 310 version of this 110 Pro-Light Redbee as well as soft and hard-sided camera luggage offering the ultimate level of protection for your precious equipment.
Some are also more spacious.
Inside the bag there are flexible dividers, making it easy to find just what you're looking for.
This can be accessed from the back of the pack. To the side, there is a dedicated space for attaching a tripod.
Although this pack has a less waterproof finish than the Mosiso model detailed above, it does come with a rain cover for added peace of mind during inclement weather.
Without this, the bag is water-resistant rather than waterproof.
Click here for more information.
In addition to the flexible storage dividers, there are zippered mesh compartments inside for keeping items separate.
The pack can hold a couple of camera bodies, plus the usual accessories such as lenses, straps, batteries, and more.
Again this backpack is padded for user comfort and camera protection, and multiple access points at the back, side, and front mean you can grab what you want without delay.
A chest strap allows it to fit more snugly and ergonomically too.
This is another great all-rounder among backpack camera bags, and if you check this one out, you can also take a look at the other camera pouch and products Manfrotto offers at the same time.
Pros:
Access via front, back & side
Comfortable & ergonomic
Flexible interior dividers
Cons:
Water resistant not waterproof
Click here for the latest prices.
Features:
Type: FormShell Backpack
Colour: Black
Waterproof: All weather AW cover
Size: 30 x 18 x 47 cm
Weight: 2.1 kg
Compatibility: DSLRs, DJI Mavic drones, 13 inch laptops
If it's Lowepro camera bags you're looking for, this product from the reliable outdoor brand will not disappoint.
It's offered in a larger size the ProTactic 450 AW II as well as this Pro Tactic 350 AW II.
In fact, you can buy other pouches and bags to match your Lowepro camera bag if you want to, including a phone case, laptop bag, and smaller cases.
If your laptop is 13 inches or under in size, it will also fit inside the CradleFit compartment inside this pack.
There are four points of access on this relatively small camera bag, so you can grab what you want really quickly perhaps before your subject slips out of view!
Another feature making it easy to access what you need, is the long shoulder strap that means you can keep everything right to hand, rather than on your back or the ground.
There is also a grab handle on the top.
Click here for more information.
Lowepro's FormShell construction is designed to give superior yet lightweight protection for all sensitive equipment.
Inside the pack, there are various zippered compartments and flexible dividers to help you stay organised.
At over 2 kilos it's a little heavier than some other bags, but this extra weight is accounted for by the armour-like protection the pack offers for your kit.
This helps guard against rain, sand, and dust as well as knocks.
The rugged looks of this bag should appeal to keen outdoor types, while the ActivZone back panel ensures it stays comfortable to wear.
Compatible with other Lowepro ProTactic products, this backpack is one for those who like to capture their adventures on camera.
Pros:
Top brand
Tough all-weather cover
Long shoulder strap for easy access
Cons:
Click here for the latest prices.
Features:
Type: Backpack
Colour: Black with red trim
Waterproof: Rain cover provided
Size: 36.07 x 30.99 x 23.88 cm
Weight: 2.24 kg
Compatibility: DSLRs, GoPro, quadcopter
If you want a quadcopter or GoPro bag, this Neewer product might just be perfect for you. As it can be used to store and carry a GoPro or DJI Phantom copter.
It's also compatible with various cameras from makers such as Sony, Canon, Olympus, and Pentax.
Being fitted with an anti-theft combination lock, this bag also offers added security, while the padding protects even delicate kits and pieces of equipment.
The back has a breathable ergonomic design to ensure you remain cool and comfortable no matter what the day brings.
Click here for more information.
Inside, the dividers can be placed to create up to eight sections for all your gear.
An outer pocket is ideal for storing essentials like cash, cards, or a mobile phone, while this bag's neutral look means you could also use it for travel, work, college, or hiking as well as photography.
On the outside, there are spaces for a tripod and umbrella, plus the waist belt also has a pair of small, zippered quick-access pockets.
Pros:
Compatible with a quadcopter or drone
Anti-theft combination lock
Useful outer pockets
Cons:
Click here for the latest prices.
Features:
Type: Backpack
Colour: 5 options
Waterproof: Rain cover provided
Size: 39.8 x 31.5 x 13.9 cm
Weight: 1.42 kg
Compatibility: DSLRs, 15 inch laptops
These BagSmart bags for DSLR cameras have several features making them stand out from the crowd.
For a start, they come in a choice of five colours, so if you want something other than black this one is ideal.
These DSLR camera bags have more compartments than average, making this product perhaps the best camera bag for travel when you have more than just your camera and accessories to carry around.
Whether you pick grey, olive green, light pink, denim blue, or black, this pack has sufficient space inside for a 15 inch laptop, plus there is a designated compartment for clothing.
Which is great when you need to layer up for changeable weather conditions.
There are flexible, removable dividers inside too so you can store and separate whatever size camera or kits you want to take along.
If you need to take a camera, laptop, lenses, and an extra layer, this pack has space for everything.
Click here for more information.
The laptop compartment and dividers are also padded, offering protection for your costly photographic and computer equipment.
By taking out the dividers you can also convert this into a regular laptop bag.
Tripods, umbrellas or water bottles can be accommodated within the two outer side pockets, and you can access the interior from the side as well as the front.
To prevent theft, the zippers can also be locked with a suitable padlock (not supplied).
A chest strap makes this pack more comfortable to carry and can also be attached to a trolley case when you're using rolling luggage.
Generous padding to the back and straps also make this an ergonomic choice.
Pros:
5 Colours
Clothing compartment
Removable interior dividers
Cons:
Light colours may show dirt
Click here for the latest prices.
Features:
Type: Backpack trolley case
Colour: Black with dark pink trim
Waterproof: Rain cover provided
Size: 54.1 x 14.48 x 12.45 cm
Compatibility: DSLRs, 15 inch laptops
If you'd prefer to find a rolling camera bag, check this one out. It has backpack straps so you can carry it that way, but also doubles up as a camera bag on wheels.
This gives you the choice of transporting your gear either way, depending on what is more convenient at the time.
The entire inner section comprises a series of dividers to keep your kit organised.
One of the best features of this stylish camera bag is the fact that this interior divider can be detached, instantly converting your compact camera case into luggage that's suitable even for business travel.
Inside you can store one or two cameras as well as lenses and other accessories, plus a laptop of up to 15 inches can also be accommodated.
When you're not using them, the telescopic pull handle and backpack straps can simply be tucked away out of sight and out of the way.
A top grab handle also means you can grasp the bag immediately as required.
A side strap is available for securing a tripod, light stand, or monopod, and there's a practical front pocket for storing items you may need quick access to.
Click here for more information.
Wide rolling wheels mean it moves smoothly over the floor, while the high-density nylon construction resists water as well as bumps and scrapes.
A rain cover is also supplied.
To keep you comfortable, the back features a fully breathable design and the bottom is anti-slip to avoid tipping over.
This bag makes a great carry-on, and when you remove the interior dividers this also frees up extra space.
When you're looking for a two-in-one case that can be carried as a backpack or rolled along like luggage, this one ticks both boxes.
It can hold up to 60 kg and is a well-made bag that should see you through many trips. With or without the camera.
Pros:
Lots of compartments
2-in-1 backpack and rolling case
Detachable inner for use as regular carry-on
Cons:
Much heavier than a camera backpack
Click here for the latest prices.
Features:
Type: Backpack
Colour: Black with red trim
Waterproof: Rain cover provided
Size: 53.34 x 31.75 x 22.86 cm
Weight: 2.95 kg
Compatibility: DSLRs, drones, 17 inch laptops
If you need a larger camera bag backpack, this extra-large one by Endurax is bigger than most.
It provides room for a 17 inch laptop as well as all your camera equipment or a drone.
When you want to carry a long lens such as the Sigma or Tamron 150-600 mm lenses, this pack provides plenty of space.
There is also a generous amount of padding, which protects your kit while making the pack more comfortable to carry.
The protective, armoured layer also works with various drones, and the pack is compatible with Mavic series models including the Mavic Spark, Mavic Air, DJI Mavic 2, Mavic Pro, and Maic Pro Platinum.
Every divider inside this bag is also detachable, so you can customise the inside to suit your needs perfectly.
You can also take these out when you want to carry something else or if you simply don't need them at all.
Click here for more information.
There are lots of pockets and compartments in this bag to make life easier too, including outer mesh pockets for tripods and water bottles, laptop and tablet sleeves, and a side pocket that flips out for those items you may want to get hold of quickly.
A zip-around design to the front means quick access to the main compartment, while for drones a propeller storage pad is also provided.
Padded shoulder and waist straps also help to spread the load evenly.
This pack also comes with a rain cover, plus the backup of a one-year warranty from the manufacturer.
Pros:
1 year warranty
Suitable for camera with long lens
17 inch laptop & 10 inch tablet sleeves
Cons:
Bulkier and heavier than others
Click here for the latest prices.
Features:
Type: Backpack
Colour: Blue-grey
Waterproof: Water repellent nylon
Size: 27 x 15.01 x 43 cm
Weight: 1.21 kg
Compatibility: DSLRs, 13 inch laptop
The capacity of this weatherproof camera bag means you can carry two cameras, an assortment of lenses and a 13 inch laptop all at once.
A tough finish resists water as well as knocks and scuffs too.
There is a specially designed holder on the side for monopod, tripod, or umbrella, plus smaller pockets for essential accessories you may need when shooting.
An ergonomic design incorporates a waist belt plus shoulder harness that are comfortable enough to wear for hours on end.
And, at just over 1.2 kilos this one is lighter than many of its competitors.
Click here for more information.
The inside dividers can be folded in half or removed completely so the bag can easily be used for other everyday purposes.
When fitted, they divide the contents up so it's really simple to find the accessories you require.
If you're only carrying one camera, there's enough space for some clothing or other items as well, plus there are sleeves for a laptop and stationery like an A4 notebook.
A little outer pouch is also perfect for memory cards, lens cloths and such.
For those who prefer a more casual look, another more relaxed style is also available from K&F Concept.
Pros:
840 denier nylon outer
Waist belt for added comfort
Lots of inner & outer pockets
Cons:
Only takes a small laptop
Click here for the latest prices.
Features:
Type: Leather bag
Colour: 6 options
Waterproof: Water repellent leather
Size: 17.5 x 8.51 x 20.5 cm
Weight: 535g
Compatibility: DSLRs, small tablet
A leather camera bag looks so stylish and looks smart enough for any occasion too, whether it's a work day or the weekend.
This camera sling bag can be worn cross-body style or over the shoulder, depending on how you adjust and position the long strap.
Genuine Italian leather has been used in the manufacture, and these sling camera bags are available in a range of colours including a rich brown, a deep black, and a denim-like shade of blue.
As well as an instant, DSLR, or mirrorless camera you can carry a little electronic device like a smartphone or small tablet plus items such as a notebook and your usual cash, payment cards, and keys.
Click here for more information.
Despite its sleek looks, this leather bag for cameras has a shockproof build and can thus stand up to knocks, bumps and other accidents that could cause damage.
The shoulder strap can also be detached for storage.
This is one of the most stylish camera bags Australia has to offer right now, so if you're in the market for a designer camera bag this one is worth giving serious consideration to.
Pros:
Choice of colours
Smart leather finish
Can be worn cross body style
Cons:
Click here for the latest prices.
Features:
Type: Messenger bag
Colour: Blue or green
Waterproof: Water repellent canvas
Size: 19 x 15 x 11 cm
Weight: 372g
Compatibility: Mirrorless or digital camera
When you only carry a compact camera, why take a big, bulky bag?
This digital or mirrorless camera bag may allow you to take along all that you need and nothing that you don't.
With a water-resistant canvas finish plus strong zippers and stitching, these little camera bags for women or men are tougher than their initial appearance might suggest.
Retro looks are complemented by a denim blue or olive green finish with contrasting black trim and strap.
As well as your camera you can also carry a spare lens, plus the usual small items like a smartphone, keys, cards, and cash.
These and little accessories such as memory cards can be kept separately in the front section.
Click here for more information.
Your camera is protected by a double zipper design plus PE foam padding to ensure the bag is as shockproof as possible.
There is a top grab handle in addition to the long detachable shoulder strap for carrying.
A loop at the back also allows you to hook it onto a belt.
The fact that the bag is compact is actually pretty reassuring when you think about it, assuming you have a smaller camera.
There's not enough room for items to rattle around inside, reducing the risk of damage.
These compact camera sling bags are compatible with major brands like Panasonic, Fuji, Canon, Nikon, and Olympus, and a one year warranty is provided for peace of mind.
If you want to travel light without paying a lot, this is ideal for a smaller camera.
Pros:
Ultra lightweight & compact
Good construction quality
Belt loop
Cons:
Click here for the latest prices.
Features:
Type: Leather bag
Colour: 6 options
Waterproof: Waterproof waxed canvas
Size: 38 x 12 x 28 cm
Weight: 1.3 kg
Compatibility: DSLRs, laptop
Those who want waterproof camera bags but are seeking something other than a photography backpack might like this camera messenger bag from Neumora.
With a canvas and leather design and lots of space, it's a good alternative to the usual camera and laptop backpack.
Customers can choose between brown, green, and black, and at this great value price, you might even feel like stretching to two!
Since the camera bag insert can be taken out, it's also a multi-purpose product suitable for day-to-day use.
The bag can accommodate a small laptop or tablet within the sleeve provided, plus a DSLR camera with lenses and other accessories.
Click here for more information.
There is also space for items like pens, notebooks, and a phone.
A mesh pad comes with the shoulder strap to make carrying it more comfortable, and there is also an integral grab handle to the top of the rear section.
With a waterproof finish and buckle fastenings, this bag is both durable and stylish.
An inside zip helps keep cameras and kit safe, while a magnetic clasp makes access easier.
The waxed canvas fabric gives this bag a timeless look, striking just the right balance between classic and contemporary.
Pros:
Great value price
Spacious & stylish
Waxed canvas & leather
Cons:
Not as protective as some
Click here for the latest prices.
Features:
Type: Backpack
Colour: Black
Waterproof: Rain cover provided
Size: 48 x 32 x 21 cm
Weight: 1.5 kg
Compatibility: DSLRs, 12 inch laptop
Backpacks make some of the best camera bags for travel and the final product in this guide marks a return to this style.
The price makes it an absolute steal compared with some DSLR camera bags in Australia, and if you don't mind the plain looks, it has lots of other things going for it.
Two cameras plus accessories can easily be fitted inside this DSLR camera backpack, and you can also take along a monopod and tripod if you wish, thanks to the dedicated outer spaces for these.
Click here for more information.
If you're not carrying two cameras, the additional space can be used for storing more layers of clothing or other useful items.
The backpack comes with a rain cover for added protection on top of the tough high-density fabric finish.
Dense, closed-cell foam is used to cushion your belongings against shocks like bangs, knocks and scuffs, and the waist, chest, and shoulder straps are also padded for extra comfort.
If you love a bargain buy, you may find it hard to resist this camera backpack, available in Australia at a great value price.
Pros:
Bargain price
Space for two cameras
Protective & comfortable padding
Cons:
Click here for the latest prices.
Top 12 Cameras Bags Australia List
Here is a quick recap of the best camera bags available in Australia right now see our tips for choosing the perfect bag below.
Mosiso Harshell Camera Backpack
Manfrotto Pro-Light Redbee 110 Backpack
Lowepro ProTactic 350 AWII Backpack
Neewer Pro Camera Case Backpack
Bagsmar DSLR Camera Bag Backpack
Neewer 2-in-1 Rolling Camera Backpack Trolley
Endurax ShellX P01 Extra Large Camera Backpack
K&F Concept Business Style Camera Backpack
MegaGear Torres Genuine Leather Camera Messenger Bag
Besnfoto Mirrorless Camera Shoulder Bag
Neumora Vintage Canvas & Leather Camera Messenger Bag
UNHO Camera Backpack Bag
Choosing The Best Cameras Bag In Australia
So what should you look out for when choosing the best camera bag?
Features that can really make a difference include the type of bag, the equipment it can carry, the size and weight, and whether or not it's waterproof.
It's also worth taking a look at the storage.
Type Of Bag
The first thing to think about is how you want to transport the case. Would you like a camera shoulder bag or a backpack?
How about rolling luggage, which may be ideal if you spend a lot of time at the airport.
There are also some stylish camera bags in the style of a messenger bag, available in small or larger sizes.
Compatibility
Do you need a Nikon or Canon camera bag, for example, or would you like to carry a drone or laptop?
Accessories are important too it's no good buying one of the best camera bags on the market if there's not enough room for the lenses, flashes, or other items you want to take along.
Many of these options can be used as a tripod bag, for instance, thanks to spaces on the outside designed specifically for this purpose.
Size & Weight
Size matters and weight perhaps even more so.
There's no reason to lug around a pack or bag that's heavier and bulkier than you need it to be when a small, lightweight camera bag will suffice.
Click here to view the best overall camera bag in Australia now!
Waterproofing
A waterproof camera bag means not having to worry about the weather at least when it comes to avoiding equipment damage.
Some products come with a rain cover supplied, which may offer added protection.
This could also be fiddly to fit when it's pouring down, though, so a fully waterproof option could be better.
Compartments
Lots of pockets, compartments and sleeves provide a place for everything and make it simpler to stay organised.
It also means you know just where to look at that moment when you want to find a lens, battery, or flash stored within these travel camera bags.
Other Uses
Some of the mentioned travel camera bag products have removable dividers, which can be perfect when you want to use your case for other purposes too.
For instance, as a laptop backpack, a hiking camera backpack, or a carry-on when travelling.
Which Camera Bag Do You Like Best?
Whether you'd prefer a small camera backpack or a trendy camera bag, we hope this guide has helped with your search for a waterproof, canvas, or leather camera bag in Australia.
Now all you need to do is choose, then you can get on with deciding what to capture on camera next!
If you found this guide helpful, why not look at some of our other product guides?
You may be interested in, for example, cross body bags, duffel bags, or picnic baskets for carrying more of your kit.
Disclaimer: As an Amazon Associate we earn from qualifying purchases.