12 Best (& Cutest!) Crossbody Bags Australia [2022]
Looking for the best crossbody bags Australia has to offer right now? Terrific! We can help you with that.
There are lots of options available, but with our complete guide you'll be able to narrow down your search and find the best crossbody bag for you.
Whether you're searching for cheap cute crossbody bags, a crossbody bag for travel, a crossbody sling bag, or crossbody bags small options, you're sure to find the perfect crossbody bag Australia has to suit your needs.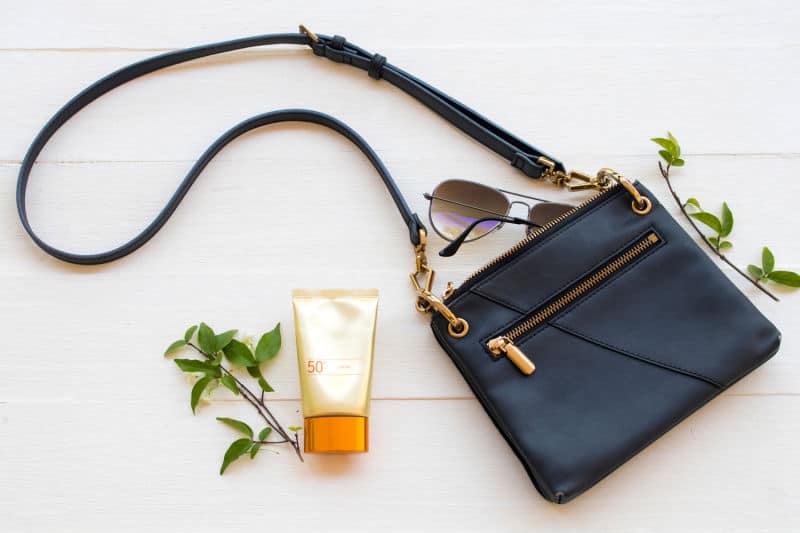 This article may contain compensated links. For more information read our disclaimer here.
Mens' and ladies' crossbody bags are very popular here in Australia, and there are lots of reasons to recommend them.
Bags that go across your body can help protect your back, joints, and muscles from strain as it spreads weight across your torso.
It's also easier to access the contents of a large crossbody tote bag or crossbody small bag than it is to get into a backpack while you're wearing it.
Using this type of bag leaves your hands free just as a backpack does, but the difference is you can get to your phone, keys, purse, or wallet instantly.
Crossbody handbags in Australia are often used by busy mums, who need to keep their hands free for dealing with the needs of little ones. And cheap crossbody bags can make an ideal alternative to the usual nappy bag.
Click here to see the best cross body bag in Australia now.
Whether you're seeking men's or women's crossbody bags, this guide goes through eleven of the very best options in all sizes, price ranges, and from a variety of brands.
The assortment includes a couple of crossbody Fossil and Kipling options, plus products from Travelon, Calvin Klein, Pacsafe, and other makes.
Read on to discover the best crossbody travel purse or larger bag for you – whether you're headed to the city, the beach, the bar, or the airport.
First off our quick reference table allows you to compare all the options, then we get down to the nitty-gritty of the individual product reviews before going through what to look for when choosing a great cross over bag.
Our Pick For Best Crossbody Bag Australia [2022]
In a hurry and just want to buy a great crossbody bag right now? Terrific. This is our top pick.
Click here for the latest prices.
Crossbody Bags Australia Comparison Chart
This comparison table makes clear the key features of every fabric or leather crossbody bag product in this guide. To see the current price or read the latest reviews, just click the link in the right-hand column.
Brand
Image
Size
Fabric
Features
Price
Kipling
Gabbie S
Small
Crinkle Nylon
Key clip, various outer pockets, 8 colours
Click Here!
Fossil Fiona
Small
Eco Leather
Smart looks, tough materials, neutral colours
Click Here!
Travelon Bucket
Bag

Medium
Slash Resistant
RFID blocking, tablet sized, lots of storage
Click Here!
Fossil Gigi
Small
Eco Leather
Upmarket & distinctive style, plenty of pockets
Click Here!
Calvin Klein
Medium
Tough Nylon
Designer label, go-anywhere style, comfortable
Click Here!
Saddler Purse
Clutch
X small
Real leather
Gift boxed, genuine leather, 1 year warranty
Click Here!
Kipling Keiko
X Small
Strong Canvas
Ultra lightweight, tough finish, monkey charm
Click Here!
Vaschy Hobo
Tote

Large
PU Leather
Great value, waterproof finish, lots of space
Click Here!
Herschel Cruz
X Small
Canvas or Corduroy
17 designs, lighweight & compact
Click Here!
Augur Satchel
Bag

X Large
Tough canvas
Very spacious, good value, robust fabric
Click Here!
Tiding Messenger
Bag

Medium
Full Grain Leather
Quality leather, 1 year warranty, fits 10" tablet
Click Here!
Pacsafe
Anti-Theft
Bag
Large
Slash Proof Canvas
Fits laptop, theft proofing, wear back or front
Click Here!
Best Cross Body Bag Australia List
Here's a handy reference list – see all crossbody bag reviews below!
Kipling Gabbie S Women's Crossbody Bag
Fossil Fiona White Crossbody Bag
Travelon Anti Theft Crossbody Bag
Fossil Gigi Crossbody Bag With Zipper
Calvin Klein Crossbody Tote Bag
Saddler Crossbody Wallet Bag
Kipling Keiko Crossbody Shoulder Bag
Vaschy Crossbody Leather Bag
Herschel Cruz Cross Body Bag
Auger Crossbody Messenger Bag
Tiding Real Leather Tablet Bag
Pacsafe Anti Theft Crossbody Sling Bag
Cross Body Bags Australia Reviews 
Specifications:
Colours: 8 plain
Material: Canvas
Size 29 x 15 x 22 cm
Weight: 422 g
Along with Fossil, Kipling is one of only two brands whose products feature twice in this guide. That's because they make some of the best crossbody travel bags around.
The Gabbie S reives incredibly high scores from satisfied customers, so we simply had to include it among the top options.
These small crossbody handbags come in a nice range of bright, pastel, and neutral shades and have a range of features to make carrying all your stuff really easy.
Click here for more information.
There's a key clasp and several zipped compartments on the outside for things you need to grab on the go. While inside there's a little slip pocket as well as the main area.
The crinkled fabric adds interest, while the Kipling signature monkey is a fun touch that will delight younger family members.
This is a practical and beautiful choice and certainly one of the best crossbody bags for travel or everyday use.
Best Things?
Lots of pockets
Kipling monkey key clip
Crinkled fabric is available in 8 colours
Worst Things?
Not a waterproof material
Click here for the latest prices.
Specifications:
Colour: White & brown
Material: Faux leather
Size: 25 x 25 x 19 cm
Weight: 390g
If you want to find a leather cross body bag in Australia it's worth adding the Fiona crossbody Fossil bag to your shortlist.
This one features a fairly structured shape so it's perhaps more suitable for smarter occasions than a fabric equivalent.
The Fossil Fiona in white, taupe and brown wouldn't look out of place when used to complement your office wear or when worn for an evening out.
Click here for more information.
With a pebbled eco leather finish, it's also more tough and water resistant than the average canvas crossbody bag tends to be.
Fossil are renowned for producing upmarket style goods at a fraction of the price of what designer crossbody bags Australia or elsewhere would normally cost.
An outer zip pocket plus several inner compartments also make this a practical choice.
Best Things?
Formal structured shape
Tough eco leather & brass fixtures
Neutral colour scheme
Worst Things?
Click here for the latest prices.
Specifications:
Colours: 7 plain or patterned
Material: Slash proof fabric
Size: 35 x 10 x 25 cm
Weight: 426g
This crossbody bag with water bottle holder from Travelon ticks a fair few boxes.
RFID crossbody bags like this are favoured by travellers because they are slash resistant and therefore deter thieves.
If you're going to major cities, crowded places, or anywhere else crime levels may be high, this kind of bag is well worth the investment as it gives you peace of mind.
Click here for more information.
The main compartment can be locked and both the shoulder strap and bag section are slash resistant.
To the outer, there are two expandable pockets for items like a water bottle and umbrella, plus several other zipped and slip compartments.
Being a little bigger than average this Travelon Crossbody Bucket Bag will also suit anyone looking for large crossbody bags.
You can also choose between a range of colours including a plain purple (above), midnight blue, or a black crossbody bag, plus a range of patterned prints.
Best Things?
RFID blocking & slash proof
Larger size holds a tablet
Plenty of storage
Worst Things?
Click here for the latest prices.
Specifications:
Colour: Brown & black
Material: Faux leather
Size: 30 x 6 x 23 cm
Weight: 595g
Again Fossil come up with the goods when you want to find a leather crossbody bag in Australia.
With its upmarket looks, the Gigi is one of those crossbody handbags from Fossil that could take you anywhere.
There are zipped compartments to the front and back, plus a buckle fastening section to the front that's ideal for helping you organise items that you need quick access to.
Click here for more information.
Not only that, but it gives this bag a distinctive style too. The strap is adjustable, so you can wear it as high or low down as you like.
This is another top quality choice amongst the range of crossbody bags from Fossil.
Best Things?
Upmarket styling
Distinctive design
Plenty of pockets
Worst Things?
Structured and inflexible
Click here for the latest prices.
Specifications:
Colours: 3 plain or patterned
Material: Canvas
Size: 29 x 8 x 27 cm
Weight: 481g
When you want a black, navy, or brown crossbody bag with a designer label, the Belfast from Calvin Klein is a solid choice.
It's made from tough nylon with a thick, strong cross body strap, and features an understated but smart design that could take you from beach to bar to boardroom.
Click here to see this black crossover body bag.
There is a zippered pocket on the outside, plus another inside, as well as two interior slip compartments.
Like the Travelon bag, this is ideal for anyone searching for large crossbody bags in Australia or a crossbody bag for iPad, since it's more spacious than some other options.
Calvin Klein's signature clean, minimalist look is very much in evidence here. This bag looks good, is comfortable to wear and offers plenty of storage for everyday essentials.
Best Things?
Designer brand
Go-anywhere looks
Comfortable to wear
Worst Things?
Click here for the latest prices.
Specifications:
Colour: Red, Ultraviolet, Blue
Material: Real leather
Weight: 198g
If ultra compact and lightweight is what you want then check out this Saddler sling bag.
It's a top choice for thos seeking leather cross body bags in Australia, as this one is the real deal.
This bag comes gift boxed and is therefore ideal for giving as a Christmas, birthday, Mother's Day, or Valentine's present.
Click here for more information.
Saddler also offer a 12 month warranty to give customers peace of mind when ordering. Although with a century of experience in the leather trade they're unlikely to go far wrong.
The difference with real leather grows clear over time, as it becomes softer and more supple with wear.
Being one of the smaller options listed here, this one is made more with the minimalist in mind, so if you only carry the essentials it should be perfect.
Best Things?
Gift boxed
Genuine leather
12 month warranty
Worst Things?
Among the smaller options
Click here for the latest prices.
Specifications:
Colours: 5 plain colours including metallic
Material: Canvas
Size: 25 x 4 x 21 cm
Weight: 170g
This Kipling bag is great for anyone wanting a compact crossbody wallet bag that can hold everything you need without leaving any excess storage space.
At only 170 grams it's incredibly light, and it comes in 5 great colours including a silvery shade with a metallic finish.
There are two zipped sections on the front plus a key clip, and this time the trademark Kipling monkey comes in a matte or metallic shade to match the bag.
Click here for more information.
Since it's fairly simple in design, this one is smart enough for all but the most formal of occasions, while the robust canvas fabric will last the distance.
Whether you want a boho crossbody bag for trekking in Nepal, are looking specifically for canvas crossbody bags in Australia, or want an all-purpose kind of crossbody purse that's good for both workday and weekend wear, the Kipling Keiko is an excellent ultra lightweight and compact pick.
Best Things?
Ultra lightweight
Strong canvas fabric
Colour-coded monkey charm
Worst Things?
Click here for the latest prices.
Specifications:
Colour: 3 plain
Material: Faux leather
Size: 33 x 13 x 29 cm
Weight: 770g
If your idea of decent leather crossbody handbags is something a bit bigger, this Vaschy bag that can be carried as a tote may be perfect for you.
It's very affordable too and comes in grey, brown, or black faux leather.
It's a smart piece, yet details like tasselled zippers and the neat sectioned stitching keep it looking far from dull.
Click here for more information.
The two main divided compartments inside are large enough to accommodate A4 sized books and a large tablet.
There are plenty of zipped and slip pockets both inside and out, including an anti-theft rear pocket and two side ones.
The leather effect material has a waterproof finish, while smooth zippers make it simple to get to just what you need.
It's heavier than other bags listed in this guide, but the value for money and space provided are outstanding.
Best Things?
Great value for money
Multitude of compartments
Waterproof finish
Worst Things?
Heavier than other options.
Click here for the latest prices.
Specifications:
Colours: 17 plain or patterned
Material: Canvas
Size 18 x 5 x 14 cm
Weight: 150g
These Herschel crossbody bags come in canvas – or in one case, corduroy.
If you like crossbody bags that are small and you like picking from a range of different colours and designs, this could be the product for you.
Click here for more information.
Granted, it's not going to hold a lot more than your smartphone, keys, a payment card, some lip balm, and spare tissues, but these mini crossbody bags weigh around the same as a large bar of chocolate.
The range of designs is really cute.
You can choose between abstract, floral, checkered, camo, and cartoon style prints, or go for one in plain shades like apricot, highlighter yellow, dusky rose, coral, or black,
There is also a denim tone and one made from plum pinstriped corduroy.
Best Things?
17 designs
Incredibly lightweight
Ideal size for essentials
Worst Things?
Click here for the latest prices.
Colour: 2 plain
Material: Canvas
Size: 35 x 8 x 26 cm
Weight: 662g
A messenger back makes a great alternative to a backpack.
If you want instant access to the contents then it makes things simpler, and as it's worn to the side you can keep more of an eye on it.
If it's crossbody computer bags you're researching then this one has lots of inside space for your laptop as well as textbooks and other essentials like an umbrella, sunglasses, a water bottle, pencil cases, and notebooks.
Click here for more information.
This is one of the top crossbody bags for men and women who are studying, working while on the move, or need to carry a lot of paperwork around with them.
The tough canvas fabric doesn't scratch or show other signs of wear easily, and if you'd like to find crossbody bags that are cheap this one can tick that box too.
Best Things?
Good value price
Space for laptop & textbooks
Strong canvas fabric
Worst Things?
May be much bigger than required
Click here for the latest prices.
Specifications:
Colour: Dark brown
Material: Real leather
Size: 28 x 8 x 24 cm
Weight: 1 kilogram
Crafted from full grain genuine leather, this is a bag that will improve over time becoming softer and shinier on the surface with every use.
If you want crossbody bags for an iPad or tablet then this is purpose made, as it can fit a 10-inch device inside.
The leather and the hardware are ultra-thick and tough, meaning it is built to last. This does of course add weight, but it also reflects the quality of this top-notch bag.
Click here for more information.
Tiding also provides a one year warranty to back up your purchase.
This brand has in fact been specialising in making men's leather bags for several decades.
Their classic crossbody bag in real leather is one of their most versatile products, and could be used 7 days a week.
Best Things?
Full grain real leather
Compatible with a 10-inch tablet
1-year warranty
Worst Things?
Click here for the latest prices.
Specifications:
Colour: 2 plain
Material: Slash proof fabric
Size: 40 x 8 x 23 cm
Weight: 560g
Our final contender as best crossbody shoulder bag is the Pacsafe Vibe, a product with a very neutral look that can take you all over the world while keeping your stuff secure.
This is because it's made from a slash proof fabric and also features lockable zippers and an RFID blocking pocket.
Click here for more information.
Despite a slimline appearance, these crossbody bags for travel can fit a laptop inside and the theft deterring design will ensure your expensive equipment stays safe at all times.
The bag can be worn on the back or the front, so you can wear it whichever way suits the circumstances best – or the way you prefer.
If you buy a padlock you can also secure this bag to a chair or table leg to prevent opportunistic theft.
It's the ideal choice when you need to carry around the likes of a pricey laptop or camera, but are concerned about venturing into crowded areas while doing so.
Best Things?
Slash proof & RFID blocking
Laptop fits inside
Wear to either front or back
Worst Things?
Click here for the latest prices.
Tips For Choosing The Best Crossbody Bags 
Whether you're comparing crossbody ladies bags, looking at those for men, or searching for a classic crossbody bag, there are various factors to bear in mind.
These include the size, materials, weight, and style of the bag, as well as extras such as anti-theft features.
Size
The first concern is how much space you need. What are you carrying around? If all you take out with you on a daily basis is items like a payment card, small purse, keys, and smartphone, then even the smallest crossbody phone bag listed in this guide should suffice.
At the other end of the scale are larger options, such as a crossbody messenger bag that can hold a computer as well as A4 sized books – along with lots of other items.
Do you want one bag that suits all your needs, or are you happy to invest in separate products for work, weekend, and travel use, for example?
Materials
What is the bag made from? The options detailed here tend to be made from either fabric or leather.
Some of the latter are crafted from real leather, while others use eco-friendly – and cheaper – alternatives. Both are normally tough, but a leather finish will often be more water resistant.
The trade off is that leather tends to be heavier – especially where top quality full grain leather is concerned.
If there is a layer of anti-slash material inside the fabric of the bag, then this will be a little bulkier and heavier than a typical crossbody zipper bag that comes without this.
Style
For some, crossbody bags that are designer are the only way to go, while others are more concerned with practicality.
If you have to love it to use it, then do go for one that you really rate the style of, otherwise you might well end up replacing it when something you prefer comes along!
Whether it's a blue crossbody bag, a crossbody Calvin Klein bag or simple cute crossbody bags that come cheap, picking one you like means it will cost you less per wear if it means using it more frequently.
Weight
The bags listed in this guide range from 150g to a kilo – which is quite some range!
In general a small crossbody wallet bag will weigh less than a much larger crossbody men's bag that holds it all.
This does vary, though, according to the materials used and the features. For example, you could expect RFID leather crossbody bags to weigh more because the leather and the extra layer of protection add to the overall mass.
Styling the Travelon Bucket Bag.
Storage
Lots of compartments and pockets can make your things much easier to organise – and to find when you want them.
Hidden and zippered pockets are good from a security point of view, while outer pockets mean you can grab what you want while on the go.
If you need a specific type of storage for an item like a tablet or laptop, do make sure that the luxury crossbody bag you like the look of can actually accommodate that.
Other Useful Features
The other main features to look out for include anti-theft protection such as RFID blocking. This stops criminals from reading your card details remotely.
Slash resistant fabric can also be a good bet if you carry costly equipment like a tablet, laptop, or camera into busy areas where thefts can be common.
Final Word – Cross Body Bag Australia [2022]
We hope this guide has shown that there are lots of stylish crossbody bags Australia options for travel and everyday use on the market.
Whether you're seeking cute crossbody bags, Travelon crossbody bags for added security, or simply want to see a range of the best crossbody bags for women and men, we hope this article has led you to your perfect choice.
Click here for our top cross body bag in Australia now! 
While you're here why not check out our other guides to help you make the most of your travels? If you liked this, we think you'll love the posts on choosing the ideal duffel bag, esky cooler, or picnic basket.
Disclaimer: As an Amazon Associate we earn from qualifying purchases.