12 Top-Notch Duffle Bags Australia [2022]
Are you searching for the perfect duffle bag Australia has that best suits your needs?
Then you're in the right place!
This guide is chock full of all the information you need to find the best duffle bag for you.
Whether you want to see a selection of wheeled duffel bags or already know that you would like a good quality leather duffle bag, we're here to help you track down the best women's and men's duffle bags Australia has for you to choose from.
This article may contain compensated links. For information read our disclaimer here.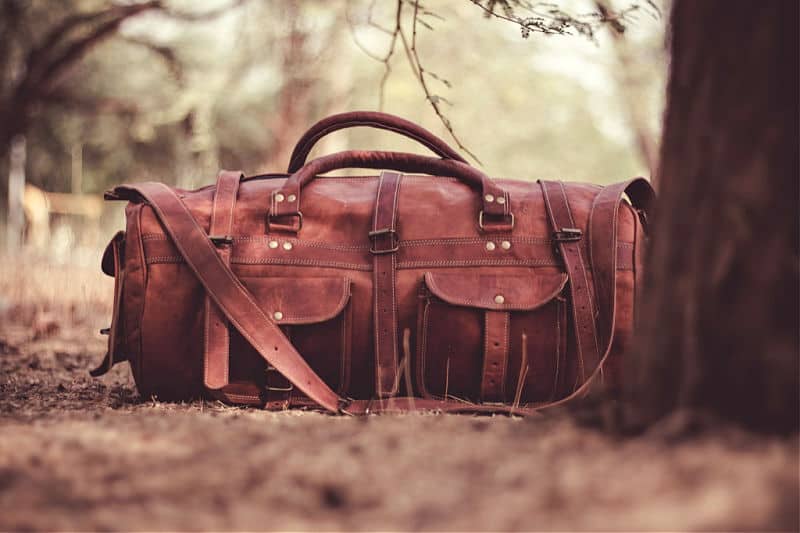 Why a duffle bag and not a spinner suitcase or a backpack? Well for a start there are so many types to choose from.
Whether you intend to travel by train, car, long distance bus or plane, the range of duffle bags available in Australia suits every need.
Their simple design means it's easy to access your belongings when you want to, which can certainly be a bonus when you need to grab something on the go.
Click here to see the best duffle bag in Australia right now!
From canvas duffle bags or a duffle bag on wheels to duffle bags for women and men, we detail all the top products on the market, including ideal weekender duffle bags as well as large duffle bags for long trips.
What are duffle bags used for?
The list is long. Many owners use them on a daily basis for gym trips or sports matches, while others might reserve theirs for travel use only.
Choosing A Great Duffle Bag
Things to think about when choosing the best duffle bag include its capacity – do you require, for example, a large duffle bag with wheels for interstate travel or international holidays where you need to take enough gear for a fortnight?
Or would you like to find a cabin duffel bag to use as a carry-on? Will you use it on a day-to-day basis?
What about its looks – do you hanker after, for instance, cute duffle bags for women or perhaps luxury duffle bags for men?
The material also matters – a high quality leather duffle bag available in Australia may cost more, but it could last a lifetime.
Pick a black duffle and perhaps you won't have to worry so much about it showing scuffs and stains as it ages.
Other helpful features may include its compartments and how you can move it around.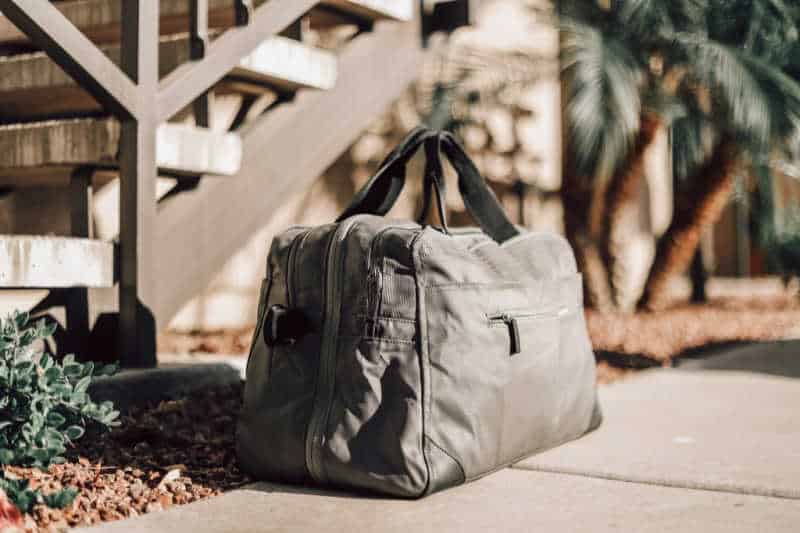 Do you want, for example, to see the top wheeled duffle bags in Australia, or do you want a duffle bag with backpack straps or a duffle bag that has a shoulder strap?
We even include a couple of complimentary products here to help you get organised, in the form of packing cubes and travel shoe bags.
Whichever describes you, here they are!
These are all the best men's and women's duffle bags available in Australia right now – as well as two must-have accessories to go with them.
Whether you want a canvas duffle bag or to choose between cheap duffle bags, this guide should help you find the right large, small, or medium duffle bag to suit your travel needs.
Our Top Pick For The Best Duffle Bag Australia Right Now!
Just want to get the best buy duffle bag in Australia right now? No worries. Here is our top pick!
Overall, this High Sierra Product has been chosen as our top duffle bag luggage available in Australia because it comes in various sizes and is ultra tough. It also has backpack straps as well as grab handles and roller wheels, plus plenty of pockets.
Best Duffle Bags Australia Comparison Chart
Compare all the backpack, tote, and rolling duffle bag options with this quick reference comparison table, where you can see at a glance the key features of each contender.
Name
Type/Capacity
Key Features
Price
Jaald Buffalo
Leather Duffel

Tote with shoulder strap & grab handles. Carry-On
Genuine leather, ultra-tough, each bag is unique
CLICK HERE!
Amabilis
Heavy Duty Duffel

Freestanding duffel with shoulder strap & grab handle. Weekender
Ultra tough, waterproof finish, remains upright
CLICK HERE!
Tricolour
Cowhide Duffel

Tote with shoulder strap & grab handles. Carry-On
Distinctive genuine cowhide, zipped inner pocket
CLICK HERE!
Vaschy Canvas
& Leather Duffel

Tote with shoulder strap & grab handles. Carry-On
Shoe section, 1 year warranty, 46 L capacity
CLICK HERE!
Kakadu Traders
Waxed Canvas Duffel
Tote with shoulder strap & grab handles. Weekender
Australian brand, heavy duty, waxed canvas
CLICK HERE!
Jadyn Floral
Duffel Bag

Tote with shoulder strap & long handles. Weekender
Floral fabric, shoe compartment, interior pockets
CLICK HERE!
Jaald
Goat Leather Duffel

Tote with shoulder strap & grab handles. Carry-On
Hand polished, genuine leather, 3 outer pockets
CLICK HERE!
Samsonite Rewind
Wheeled Duffel

Roller duffel with telescopic & grab handles. Check-In
Top brand, tough construction, rolling wheels
CLICK HERE!
Antler Headigley
Trolley Duffel
Roller duffel with telescopic & grab handles. Check-In
Leading brand, super strong, very spacious
CLICK HERE!
High Sierra
With Backpack Straps

Roller duffel with handles & backpack straps. Various sizes
Backpack straps, lots of pockets, range of sizes
CLICK HERE!
Kathmandu Shuffle
Backpack/Duffel

Convertible duffel with tote & backpack straps. 40L
Very versatile, good capacity, Australian brand
CLICK HERE!
Carry-On
Tote Style Duffel

Tote with shoulder strap & long handles. Carry-On
Compact, great value, waterproof lining
CLICK HERE!
Eagle Creek Specter
Travel Cubes

2 packing cubes - small & medium. 6L & 13L
Compresses contents, water & stain proof
CLICK HERE!
HRX Shoes Bags
For Travel

2 Shoe Bags. 1 pair per bag
Waterproof, use for clothes, shoes, or toiletries
CLICK HERE!
Top 12 Best Duffle Bags Reviews 
Features:
Carry-on size
Shoulder strap and grab handles
Brown leather
This duffle bag in leather is an incredibly versatile bit of kit that can be used as a weekender and for sports as well as being the ideal duffle bag travel luggage for shorter trips.
It meets most airlines' carry-on size criteria, and the tough leather construction means it looks rugged yet stylish and is made to last.
Ideal for use as a women's or men's leather duffle bag in Australia, this product features a top-grade leather outer, a strong cotton lining, waxed thread, and high-quality brass hardware.
Click here to see these stylish duffle bags for men or women.
In terms of compartments, there is a laptop section as well as two side zipped pockets that can be quickly accessed.
Two padded grab handles and an adjustable shoulder strap make the bag easy and comfortable to carry, while the full-grain leather finish ensures each bag has a unique look.
It will also develop an attractive patina as it ages, thanks to the hand polishing with vegetable oil that each bag is treated to.
Pros:
Top grade genuine leather
Tough construction
Every bag is unique
Cons:
Features:
Various sizes
Telescopic and grab handles plus backpack straps
Tough fabric
Can't decide whether to opt for a duffle bag with backpack straps, grab handles or a trolley style handle?
Then tick all 3 boxes with these High Sierra wheeled duffle bags with backpack straps.
This versatile bag can be used any which way you like and also has various compartments for organisation.
There's a large zip-around exterior pocket with a mesh zipper inside, plus smaller, concealed outer rapid access.
Click here to see our favourite rolling duffel bag.
The beauty of this bag is the fact that you can roll it around the airport, yet hoist it on to carry as a backpack once you've reached your destination.
It also comes in a range of colours and sizes to fit your precise requirements, so if you want a duffle bag with a 100L capacity or more this one is perfect.
Pros:
Various colour and size options
Backpack straps and rolling wheels
Multiple compartments
Cons: 
Click here for the latest prices.
Features:
Weekender size
Shoulder strap and grab handle
Water resistant tarpaulin
This is one heavy duty duffle bag in a medium size that suits weekend, gym, or even daily use.
If you're seeking waterproof duffle bags here in Australia, this could be the right product as it's made for use even in wet weather.
It has a definite military look that may please men seeking a duffle bag in particular.
Purchasers can choose between 3 colours, all with names that call to mind the ADF – stealth black, battleship grey, or military green.
Click here for more information.
There is an area on the outer for adding a flag or logo patch if you wish to.
This bag attracts very high ratings from satisfied owners and the top loading design is ideal for locker storage due to the fact that it remains upright.
Built to last, this duffle is made from armour-plated fabric and waterproof tarpaulin.
It has a grab handle and shoulder strap, plus exterior and interior pockets for the safe storage of valuables or wet garments.
Pros:
Waterproof, armour plated materials
Top loading design remains upright
Ultra heavy duty build
Cons:
Click here for the latest prices.
Features:
Weekender size
Shoulder strap and long handles
Tricolour cowhide
If you want a brown leather duffle bag in Australia but would prefer something stylish, then this cowhide duffle will make you stand out from the herd.
It features three panels made from brown, black, and white cowhide, and each is separated by the long handles that you can grab when ready to go. It also has a shoulder strap.
Click here for more information.
There's a main compartment plus a zipped pocket inside, so you can store valuables, documents and smaller items in a separate section from larger contents such as shoes, clothing, and a washbag.
The size of this duffle bag in leather for men or women is great for long weekends away or weekly gym trips alike.
The eye-catching design makes it ideal for those seeking something a little bit different from the norm.
Pros:
Stunning cowhide design
Separate inner compartment
Genuine Cowhide materials
Cons:
Click here for the latest prices.
Features:
Carry-on size
Detachable shoulder strap and grab handles
Canvas and leather
Our first pick among canvas duffle bags in Australia is this blue or black one with a smart brown leather trim.
With genuine leather handles, this relatively long duffle bag has a generous 46-litre capacity. So it's large enough for carry-on use, yet is compact enough to take to the gym or sports club too.
Click here for more information.
A key feature of this casual duffle bag is the integral shoe compartment.
This is built into the bottom of the bag and is ideal for a pair of trainers or those smarter shoes that you want to pack for evenings out.
As the footwear is stored separately, the rest of your clothing and other items remain clean.
Vaschy offers a one year warranty on these canvas duffle travel bags for added peace of mind. 
With a casual yet stylish appearance, this is a solid choice for those who want an all purpose men's or ladies' duffel bag.
Pros:
Shoe compartment
46 litre capacity
1 year warranty
Cons:
Click here for the latest prices.
Features:
Weekender size
Detachable shoulder strap and grab handles
Canvas fabric
If you'd like to buy a product that's proudly Australian, then take a look at this canvas tote.
This ultra-tough item comes from one of our very own duffle bag brands and features the Kakadu Traders distinctive kangaroo logo in black on the outer.
There is an outer security pocket with a zip fastening so you can keep your valuables close to you and easy to access.
Click here for more information.
Although the canvas construction is heavy duty, the bag is also surprisingly lightweight and thus a pleasure to carry.
Whether you take it to the beach, college or the gym, save for weekends away or use it for both everyday and travel purposes, this well-made duffel bag should see you through.
With its 100% cotton lining, rivet enforcement and cowhide trim this duffle bag design ensures it's built to last.
Pros:
Proudly Australian
Tough, heavy-duty construction
Waxed canvas fabric
Cons:
Click here for the latest prices.
Features:
Weekender size
Detachable shoulder straps and long handles
Floral fabric
If you are less than impressed by the plainer designs preceding this list, then check out this pretty floral pattern.
This women's duffle bag available in Australia makes a refreshing and more feminine change from all those masculine looking designs in solid colours.
You can also choose between list grey and denim blue shades.
Like the Vaschy canvas and leather duffel, this one also has a dedicated space for shoe storage, and footwear can be accessed directly from the side.
Click here to see these cheap duffle bags Australia [2022].
Inside, there are 3 mesh pockets plus a zipped section for simple yet effective organisation of the contents.
This duffle bag for ladies comes with two longer handles plus a detachable and adjustable shoulder strap.
If you're seeking cheap duffle bags for women that are also attractive and practical, this could be a great choice.
Pros:
Pretty floral fabric
Separate shoe section
Interior organiser pockets
Cons:
Click here for the latest prices.
Carry-on size
Detachable shoulder strap and long handles
Goat leather
Made from full grain goat leather, this is ideal for those seeking the look and durability of more expensive duffle bags.
As large duffle bags for travel go this one's good for carry-on use as well as daily trips to the pool, gym, or college. 
It will fit within the cabin bag size restrictions of most airlines.
Like the Jaald leather bag listed earlier, this one is also made with tough hardware, waxed thread, and full grain leather. It also has a strong canvas lining for added durability and luxury.
Click here for more information.
There are zipped compartments to each end of the bag, and an additional pocket with a buckle fastening to one side.
Padded grab and shoulder straps make this bag easy to pick up and carry, while the use of genuine, cruelty-free goat leather ensures every item is unique.
These affordable yet fancy duffle bags are also hand polished with vegetable oil to ensure they look even better as the years go by.
Pros:
Full grain goat leather
Three outer pockets
Hand polished finish
Cons:
Click here for the latest prices.
Features:
Medium check-in size
Telescopic and grab handles
Tough fabric
Looking for a duffle bag with wheels in Australia?
This one comes from one of the top brands in the luggage business and can hold enough for the average one week trip away.
A duffle bag with wheels is ideal for frequent flyers, as it's a cinch to roll around when you're at the airport.
Click here to see these rolling duffle bags in Australia.
There's a telescopic handle for easy transportation when you're using the wheels, while padded grab handles to the top and sides mean it's not a problem when you're not.
Side compression straps allow you to make the duffel as compact as possible, while corner guards protect it from the knocks and scrapes of rough handling.
If you want duffle bag roller luggage, then this Samsonite medium-size one is an ultra reliable option.
Pros:
Top travel brand
Rolling wheels
Telescopic and grab handles
Cons:
Click here for the latest prices.
Features:
Large check-in size
Telescopic and tote-style handles
Polyester fabric
Almost named for the English cricket ground (but not quite, thankfully, due to the missing 'n'), the Antler Headigley is a generously sized check-in bag with ample space for everything.
With two wheels and a trolley type telescopic handle, this duffle bag is not small, yet it is easy to manoeuvre.
A great feature of this Antler duffel is the fact that it also has twin grab handles, which means it can be used as a tote or rolling luggage.
Click here to see this wheeled duffel bag.
In smart and ultra tough grey polyester, the style is equally suited to business and leisure travel.
A range of end, front and interior pockets make organisation simple, while the strong polyester fabric is wear and tear resistant to ensure a prolonged product life. 
Just as you'd expect from a leading luggage brand.
Pros:
Leading brand
Two wheels plus tote handles
Ultra tough polyester
Cons:
May be too large for some
Click here for the latest prices. 
Features:
40L capacity
Tote-style handles plus backpack straps
Tough fabric
It may not be for you if you want cheap duffle bags with wheels, but the Kathmandu Shuffle is otherwise a very versatile travel bag.
With backpack straps and a range of other handles and straps, it can be carried however you please.
In cool grey with black trim or solid black with blue accents, this is a smart yet rugged bag that can see you through all sorts of adventures. 
Click here to see this Kathmandu three way travel bag.
Its 40 litre capacity makes it the ideal choice for trips of around a week, although if you travel light or have access to laundry facilities it could easily last for longer.
A U-shaped zip to the top makes it simple to grab what you need just when you need it. The zippers are also lockable for added security.
There is a side pocket to the outer while inside you'll find a mesh pocket plus dual compartments.
Pros:
Use as a backpack, duffel, or shoulder bag
Leading Australian brand
Versatile 40 L size
Cons:
Not the most ergonomic carrying system
Click here for the latest prices.
Features:
Carry-on size
Shoulder strap and long handles
Tough fabric
As one of the most affordable options around, this carry-on sized tote bag is great for everyday use as well as shorter trips away.
It's ideal for those on the go, with a padded laptop section and side and bottom compartments.
The latter can be used to keep dirty, damp items away from clean and dry items, or as shoe storage.
This bag also has some handy little pockets for items like pens, water bottles, and keys. 
Click here to see this compact carry-on duffel bag.
There is also a detachable mesh pouch to keep important items safe and close to hand when travelling.
If you're also taking a case with a telescopic handle, this particular bag is ideal as it can slide down over the trolley handle for hands-free carrying.
You can choose between black, and dark or light grey, and it even has a waterproof lining.
Pros:
Compact and lightweight
Great value for money
Waterproof lining
Cons:
Click here for the latest prices.
Duffel Bag Travel Accessories
Features:
Two packing cubes
Compression design
Water resistant repstop nylon
Our final two listings in this guide comprise products that can complement your chosen duffel bag perfectly.
The first is a set of packing cubes. 
These have soared in popularity in recent times as users discover how easy they make organisation – while maximising all available space.
As many duffel bags have one main compartment, using these Eagle Creek packing cubes means you can separate items by type. 
Click here to see this Eagle Creek packing cube set.
The pack includes a small 6 litre cube and a larger 13 litre cube. You could use them for dividing clean and dirty clothes, or main garments plus underwear and socks.
There are 5 colours to choose from, and the fabric is both stain and water resistant.
Grab handles make them easy to access, and you can see the contents without opening up each cube.
Pros:
1 small and 1 large cube
Water and stain proof fabric
5 colour options
Cons:
Click here for the latest prices.
Features:
Two shoe bags
Water resistant fabric
If you don't want to choose between duffels with integral shoe compartments, then buying this two-pack of travel shoe bags gives you the benefits of that in a more versatile option.
They're designed to be used inside all kinds of luggage including duffle bags, but a grab handle on each also means they can be used independently.
While these are primarily designed for shoes, of course there aren't any rules regarding their use.
Click here to see this HRX travel shoe bag two-pack.
You could store toiletries inside one waterproof bag so spills won't matter, or place wet items inside them to keep them separate from dry clothing.
This is ideal when you want one last beach day or swim before a later flight.
As they're lightweight and foldable, you can take these shoe bags along with you even when you're not sure when or if you might need them.
They can also be used on an everyday basis when at home – for trips to the gym, beach, or swimming pool.
Pros:
Two shoe bags per pack
Use for wet clothing, footwear, or toiletries
Can be used alone or inside luggage
Cons:
Click here for the latest prices.
Finding The Best Duffle Bag In Australia
There are various considerations to bear in mind when seeking the best duffle backpack, wheeled duffle, or duffle tote bag.
The best duffle bags for travel are the ideal ones for your needs in terms of size, capacity, durability, and style.
Some products may also have useful features that you think are worth paying extra for too.
Size And Capacity
Are you looking at large duffle bags with wheels for longer trips away, or a 40L duffle bag for shorter breaks?
Whether you want duffle bags as carry on luggage or to check in as hold baggage is probably the first factor to consider.
For a quick idea of the available options, check out the table above. Or you can see the size directly beneath the heading for each review below.
If you do want a carry-on, be sure to check the exact restrictions with your airline before buying as they do vary according to carrier.
Transportation
How will you move your duffel bag around, when you're at the airport or you've just arrived in the city?
A duffle bag with roller wheels can be ideal for flights, but a duffle bag backpack may be easier to carry around once you're at your destination.
It all depends on the type of travel you do.
If you take business trips, tote duffle bags can be a good compromise between those backpacks and roller duffle bags available in Australia, as they look smarter than the former but are easier to grab than the latter.
Click here to see our number one travel duffle bag in Australia!
Durability
Strength can be key, especially when you want a bag check in.
It's also important when you require a rolling duffle bag in Australia, as the durability of the wheels may determine how long the bag lasts for.
The fabric can matter here too, as duffle bags that are cheap are not likely to stand up to the test of time as well as those made from pricier materials.
These are more likely to be made with toughness in mind – especially when a leading brand name's reputation may be at stake.
Style
If what you really want to see is designer duffle bags for men and women, don't discount how the bag looks.
It can make packing so much more of a pleasure when you truly love the style of your chosen luggage.
When you're investing in something that's made to last, it's best to go for an item you will really enjoy using.
That way, you won't be so easily tempted to replace it in the near future.
Complementary Items
We've also detailed a couple of complementary products in this guide.
A set of Eagle Creek compression packing cubes or shoe bags can help you organise the interior while making the most of the space available.
Once you're at your destination, they can make it much easier when you want to locate a specific item too.
Which Is The Top Duffel Bag In Australia For You?
We hope this post has given you some guidance when picking the best duffel bag for travel or everyday use.
From a duffle bag with a shoe compartment to a rolling duffle or one with backpack straps, there are some excellent duffle luggage options to choose from – in all sorts of designs and sizes.
Read our guides to the best crossbody bags in Australia and the perfect Esky. Or check out our posts on where to stay by the Geelong waterfront, and the top accommodation options in Lorne. 
Disclaimer: As an Amazon Associate we earn from qualifying purchases.