Australia is famous for its sun, surf, and sand, so it's no surprise to discover there's a whole host of beautiful Geelong beaches to enjoy.
With its diverse coastal landscapes, the beaches in Geelong offer something for everyone from world-class surfing to sheltered family-friendly bays.
So no matter whether you're looking for the best surf beaches in Victoria, a quiet untouristed beach, or the most beautiful beaches in Australia, you're bound to find something you love.
There are plenty of choices for the best beach in Geelong and locals can spend hours debating the point! But really, it depends on your own personal taste and needs.
This article may contain compensated links. For more information read our disclaimer here.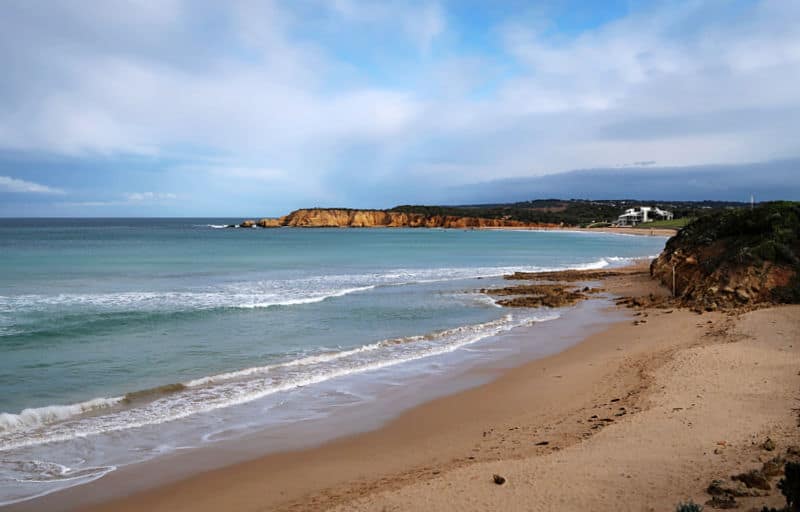 In this best beach Geelong review we've included a variety of options including, a top Geelong surf beach, the best kid-friendly beaches Geelong has, and there's even a Geelong nude beach.
We start with the best beaches in Geelong City before moving on to the best beaches near Geelong Victoria.
And at the end of this article, you'll find a map with the location of each beach listed so you can see exactly where they are.
So let's go! Here is our best beaches Geelong list!
Always swim between the red and yellow flags and never swim at un-patrolled beaches.
Our Picks For The Best Geelong Beaches:
Beaches In Geelong City
1) Eastern Beach Geelong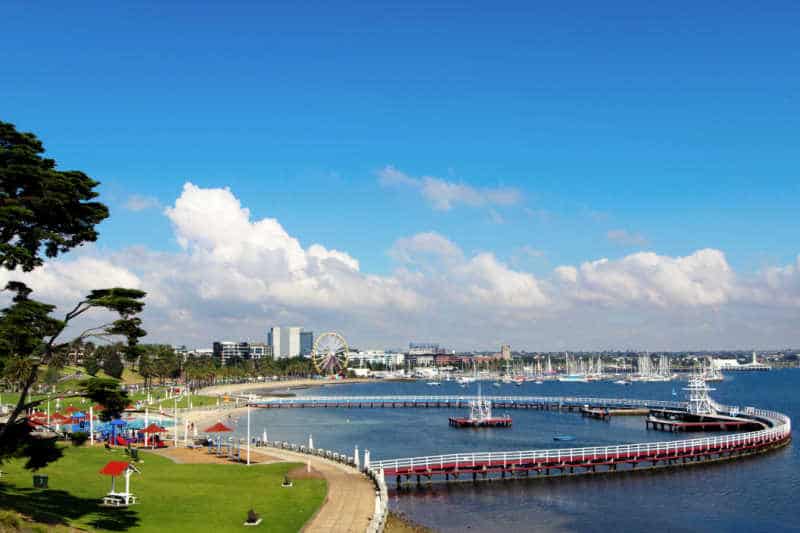 Located at the eastern edge of the Geelong Waterfront, the stunning Eastern Beach is a favourite destination for both locals and out-of-town visitors.
Known as the 'people's playground' it's one of the best beaches in Victoria for families. Here you'll find barbecue and picnic facilities, a children's playground, and wide expanses of lush lawn perfect for a game of cricket.
There's a beautiful art deco pavilion that houses toilets, change rooms, and showers, and a gorgeous new cafe and kiosk. Nearby is the fenced children's pool with a fun fountain in the middle that's great for the littlies.
Older kids (and grown-ups!) love the huge swimming enclosure that's surrounded by the historic promenade and shark-proof fence. The whole area is designed for fun water play with floating islands, platforms, slides, and a dive tower.
Lifeguards are on duty in the summer months, so pack up the kids and head to Geelong, Eastern Beach for a day to remember.
The Vue Apartments are conveniently located right on Eastern Beach and have stunning views.
Click here for the latest prices.
2) Rippleside Geelong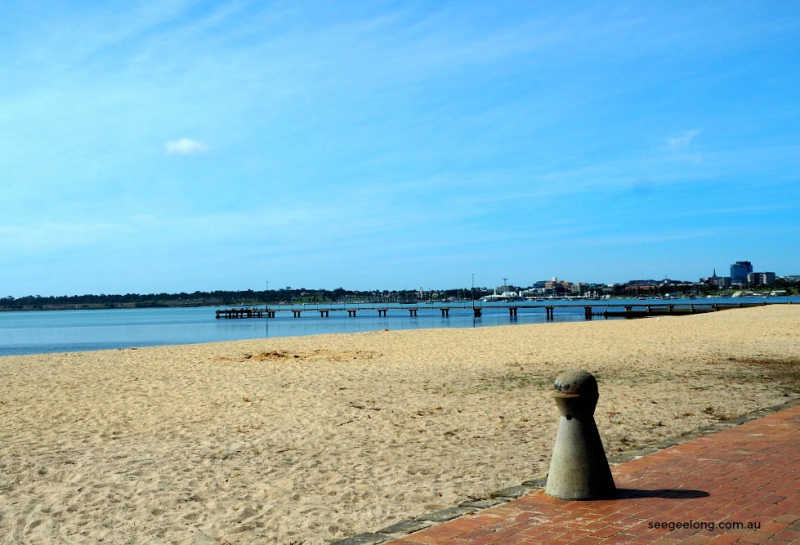 Nestled in a pocket of Western Beach, Rippleside Beach is often overlooked by visitors who drive straight past on their way to the more touristed areas. But it's well worth a stop, especially if you want to avoid the crowds.
This is a small beach with calm water, a floating marina, and a tiny jetty where you can swim or dangle a line. There's also a great walking track where you can take a stroll and snap a selfie with one of the famous Geelong Bollards.
Sitting adjacent to the beach is Rippleside Park, a grassy reserve with vast open spaces for kids to run wild and a terrific fort style children's playground. Other amenities include picnic and barbecue facilities and toilets.
Overlooking the bay and Geelong foreshore is the Number 42 cafe. Stop by for a coffee or meal while you soak up the view from its huge windows.
Rippleside Park Motel is a great budget motel and it's just a 5-minute walk to Rippleside Beach.
Click here for the latest prices.
3) North Shore (Vic) Beach Geelong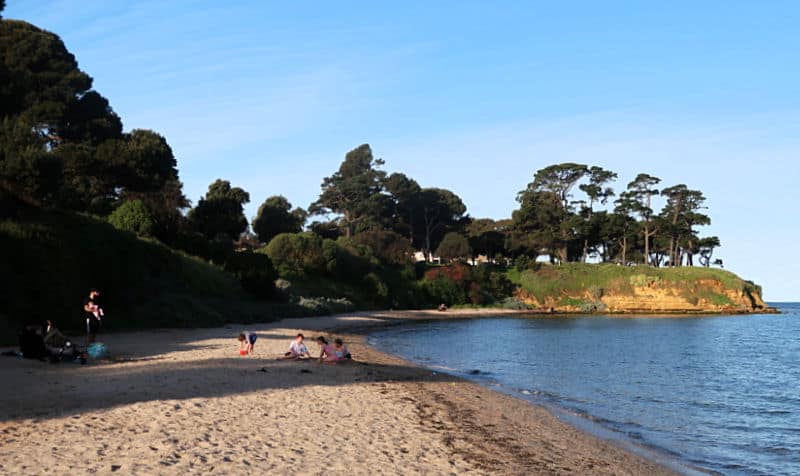 If you're looking for a beach that only the locals know about, then tiny North Shore beach is for you. Located in North Shore Geelong, you'll find it at the corner of The Esplanade and Seabeach Parade.
Also known as Moorpanyal Beach, the golden strip of sand faces south-east and is backed by 15 metre high cliffs. There's a cliff-top path where you can take a stroll and soak up the scenery.
Set on the bluff above the beach and offering wonderful bay views, is the well cared for Moorpanyal Park. Here you'll find a modern children's playground, a barbecue, tables and chairs, shady trees, and a toilet block.
This is a great beach for eating fish and chips and there's a milk bar with takeaway nearby in Seabeach Parade. There are also fast food outlets on Melbourne Road.
Fun Fact: A free swimming event, the Moorpanyal 1000, is held here every year. Organised by the local North Shore residents' group, it's the city's only regular open water swim.
Click here to find the best places to stay in Geelong City.
Beaches Near Geelong Australia
With its close proximity to the Great Ocean Road and Bellarine Peninsula, Geelong makes a great base for exploring some of the best beaches in Australia.
Here are just a few.
4) Ocean Grove Victoria Beach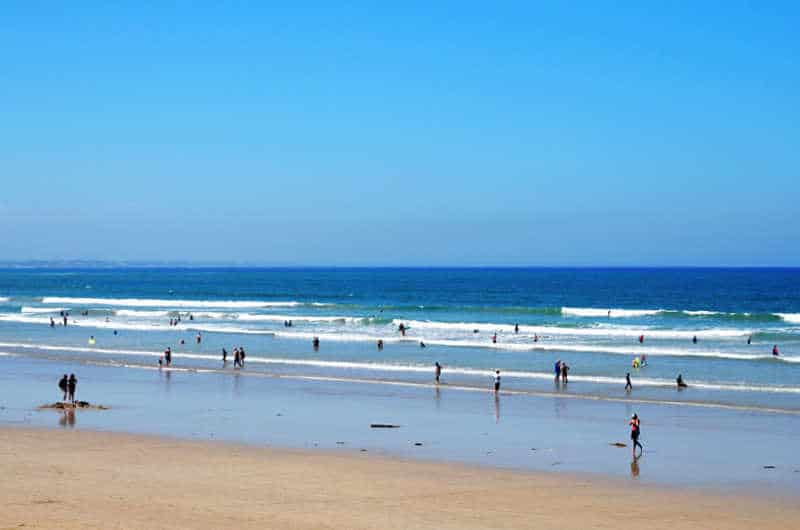 Ocean Grove Beach is a family-friendly surf beach that's popular with locals and holidaymakers alike.
Situated on the southern coast of the Bellarine Peninsula, this Ocean Grove Surf Beach has slightly smaller waves with swells averaging around 1.4 metres.
The enticing beach has a wide expanse of soft sand so there's plenty of room to spread out and find your own quiet spot. It's perfect for a game of cricket and at low tide, kids have fun exploring the rock pools for marine life.
The fabulous Dunes, Ocean Grove Cafe is located on the foreshore, and the Ocean Grove Surf Lifesaving Club patrols the beach during the busy summer season.
There's a good-sized car park, toilets, and showers, and this Ocean Grove dog beach allows dogs on and off-leash at various times of the year.
Click here to find the best places to stay in Ocean Grove.
5) Barwon Heads Beach & Thirteenth Beach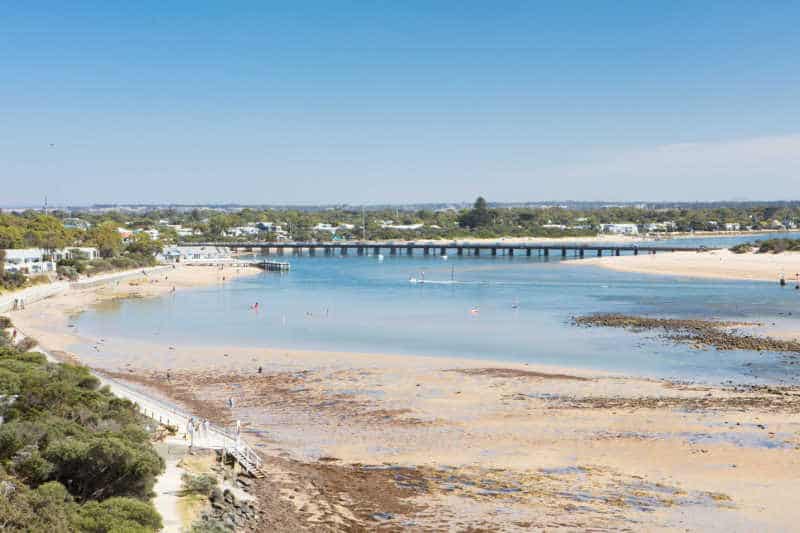 Tucked in between the mouth of the Barwon River and the pounding surf of Thirteenth Beach, Barwon Heads offers a mix of safe swimming along the sandy river foreshore and more challenging ocean beaches.
Made famous by the Sea Change television series, Barwon Heads Victoria still retains a laid back charm. The beaches along the river are safe and popular swimming spots, while over the bluff 13th Beach is considered one of the best surf beaches in Victoria.
There's a lovely clifftop walk connecting the two with views of the rugged coastline. It's an easy walk with plenty of lookouts and seats along the way.
13th Beach Barwon Heads is popular amongst locals who want a patrolled beach without the crowds. It's a magical stretch of coastline but there can be strong undercurrents and rips.
Said to be for the "true surfer" Thirteenth Beach has a solid swell that's enjoyed by both beginner and advanced surfers.
Trivia: Thirteenth Beach Barwon Heads was so named because of its close proximity to the 13th hole of the Barwon Heads Golf Course.
Click here to find the best places to stay in Barwon Heads.
6) Point Lonsdale Beach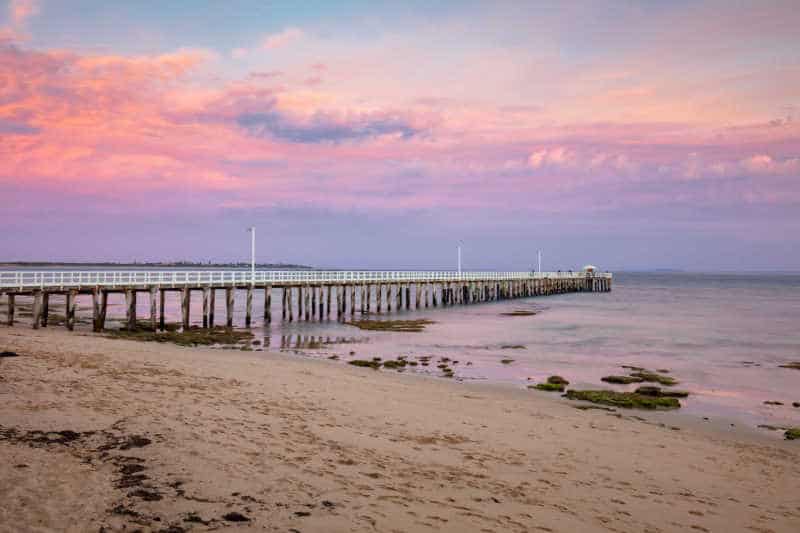 Found at the south-eastern end of the Bellarine Peninsula, Point Lonsdale Vic has long been a favourite with holidaymakers.
It offers a protected bay beach that's perfect for swimming and families with kids, as well as a back beach that's popular with surfers. At low tide, the beach opens up to reveal hundreds of rock pools where you can search for crabs, mollusks, and an octopus or two!
Besides swimming and surfing, there are lots of other things to do in Point Lonsdale.
There's a walking track that stretches all the way to historic Queenscliff, and a beautiful old lighthouse overlooking The Rip that offers half-hourly tours on Sundays. The views are sublime.
Fishing is popular on the pier, and no visit is complete without a walk along the jetty for fantastic views of the lighthouse and surrounding coastline.
The grassy beachfront reserve has an excellent children's playground, barbecues, picnic tables, and lots of shady trees. Across the road are cafes, bars, a supermarket, and gift shops.
Click here to find the best places to stay in Point Lonsdale.
7) Portarlington Beach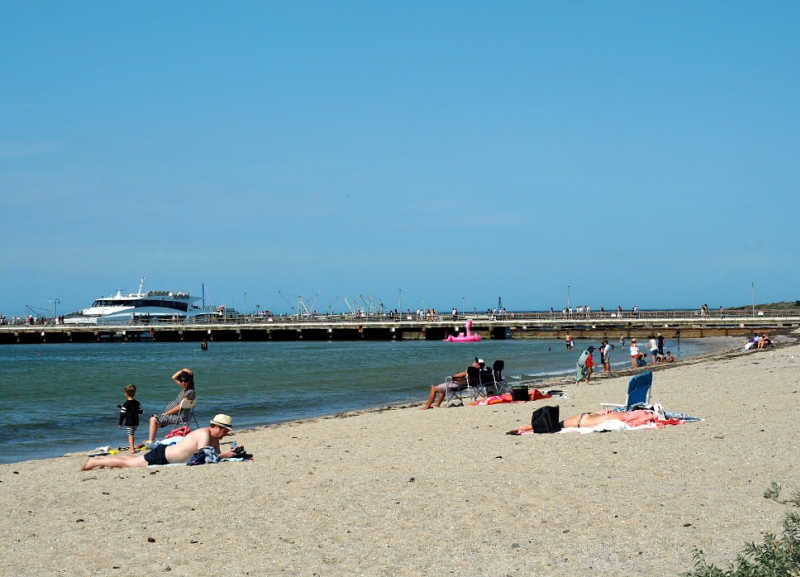 Sitting on the north-eastern corner of the Bellarine Peninsula, Portarlington Beach offers calm shallow waters that are perfect for families with young children.
The waters at Portarlington Vic are often like glass so leave your surfboard at home and pack your stand-up paddleboard instead.
This is a long wide beach that's suitable for all the usual beach activities. It has an attractive foreshore with towering cypress trees, large grassy expanses, and picnic, and barbecue areas.
A standout feature of the Portarlington foreshore is its long pier and the many fishing boats that can be seen here.
Popular with recreational anglers, underneath the pier, snorkelers can find barnacles, mollusks, mussels, and the occasional stingray.
The Port Phillip Ferry docks here and if you're visiting from Melbourne it's the best way to arrive.
Jump onboard enjoy a coffee and just over an hour later you'll be able to feel the sand between your toes.
Click here to find the best places to stay in Portarlington.
8) Torquay Beach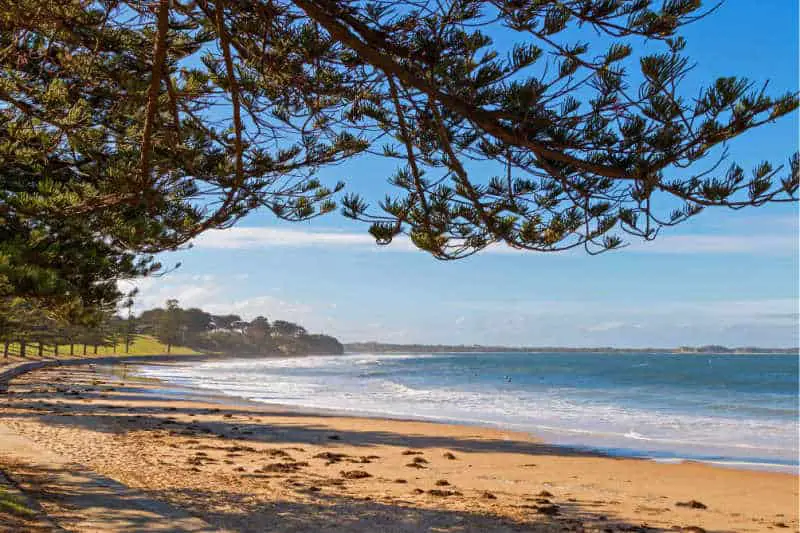 Located on the Surf Coast Victoria, Torquay is the official start of the Great Ocean Road.
Locals worship the beaches here and Torquay is arguably the state's surfing capital. After all, Torquay Australia is where the iconic surf brands Rip Curl and Quicksilver started life.
Torquay front beach often has no surf, just friendly little waves so it's great for families, swimmers, and stand-up paddleboarders.
It has terrific facilities including toilets and change rooms, barbecue facilities, picnic tables, water fountains, and a playground.
And if sand isn't your thing there are lovely grassed slopes overlooking the beach to sit on.
If you're looking for a Torquay surf beach then head to the back beach. It's more protected than some of the other nearby surf beaches and it's great for beginner surfers.
Often considered the best beach in Torquay, crowds flock here during the summer holidays. The beach is patrolled by the Torquay Surf Lifesaving Club during peak periods.
Besides the beach, there are plenty of other Torquay attractions to see and do.
Click here to find the best places to say in Torquay Victoria.
9) Bells Beach Victoria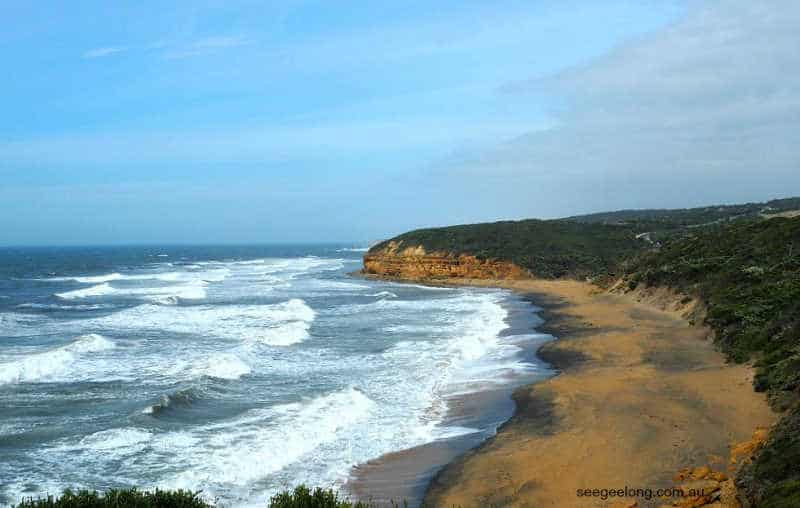 Bells Beach Australia is one of the best beaches in the world for surfing. The waves here can rise as high as 5 metres, although 3-4 metres is the average.
The outstanding Bells Beach surf is created when the big Southern Ocean swells slow down and steepen over the reef strewn shallows.
This surfing mecca is home to the world's longest-running surf carnival, the Bells Beach Rip Curl Pro.
Held over the Easter long weekend, the event has a special place in surfing folklore and only the world's best surfers compete for the treasured Bells Trophy.
This is a truly spectacular beach with soaring cliffs that create a natural amphitheatre. The beach itself is surprisingly small with limited facilities.
However, it's well worth a visit if only for the views from the clifftop lookout and the ability to say "I've been to Bells".
Click here to find the best places to stay in Bells Beach Australia.
Nude Beaches In Geelong Victoria
If you are looking for a nude beach in Geelong then you have two options. Located on the Surf Coast both Point Impossible and Southside Beach have been deemed "Clothing Optional" by the Shire.
Point Impossible Beach is a quiet beach with a one-kilometre optional clothing section. The sheltered Southside Beach is a flat wide stretch of sand just past Bells.
You can find more nude beach Geelong information by clicking here.
Geelong Beach Map
Find the location of your top Geelong beach pick on this map. Use the + and – to zoom in and out.
What's your pick for the best Geelong beach?
Can't decide between all these amazing Geelong beaches? Then go to the beach that's most convenient for you. You'll have a great time!
Read our top guides to Geelong here or find out what to do on The Bellarine Peninsula here.
Related Posts: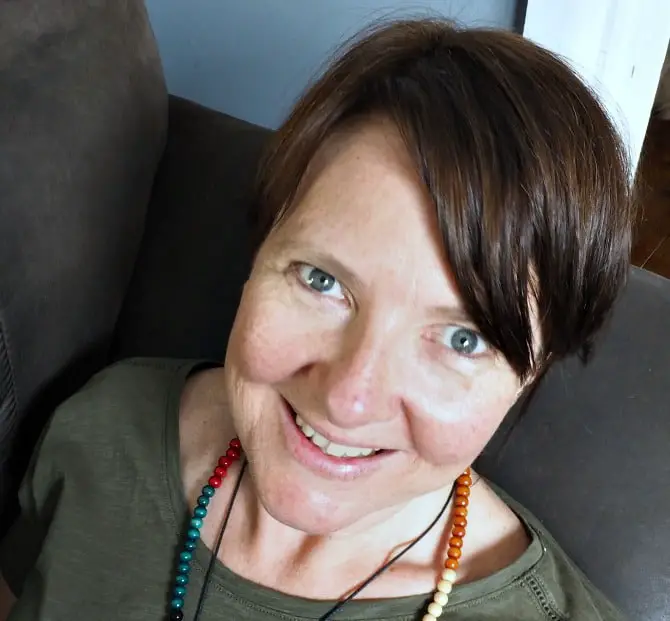 By Audrey Chalmers
Audrey is the principal blogger behind See Geelong. Book Lover | Breakfast Nut | Geelong Gal | She's Usually Craving Coffee.