Wondering what to do in Geelong and looking for the best Geelong attractions? Then check out the delightfully unique Geelong bollards.
Made out of old timber pylons from the demolished Yarra Street pier, these remarkable works of art are a much loved Geelong attraction.
Each bollard tells a story about the incredible people who played a part in Geelong's history, from the original indigenous inhabitants to explorers, opera singers, and lifesavers.
They are a visual history of the city and add a playful cheekiness to the Waterfront precinct that visitors love.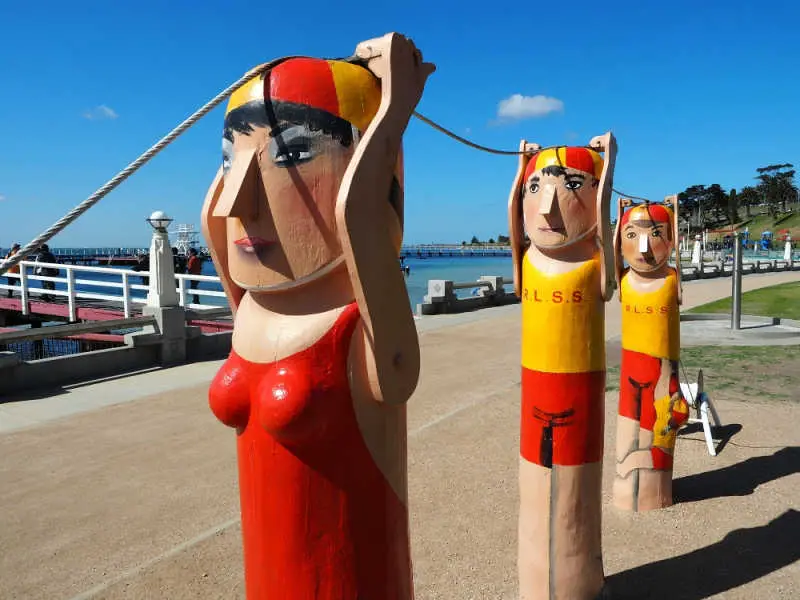 Over 100 of these colourful characters line a 3-kilometre walk along Corio Bay from Limeburners Point all the way to Rippleside Park.
Known as the Geelong Baywalk Bollards Trail, the walk features 48 different sites and 103 bollards.
One of the best free things to do in Geelong is to pop on your walking shoes and explore the bollard trail. It takes around 2 hours one-way and there are heaps of Geelong tourist attractions to see en route.
The trail is perfect if you're looking for Geelong things to do that suit the whole family. Geelong kids love hunting for the painted figures and parents appreciate the history and the artist's quirky sense of humour.
Not to mention the restaurants, cafes, and bars you pass along the way!
Below you'll find our guide to the Geelong Bollards with everything you need to know about this top tourist attraction in Geelong city.
We've included the history of the bollards and how they came to be, how they were made, as well as photos and information about different sites along the trail.
We've even linked to a smartphone app for a more interactive experience. So keep reading!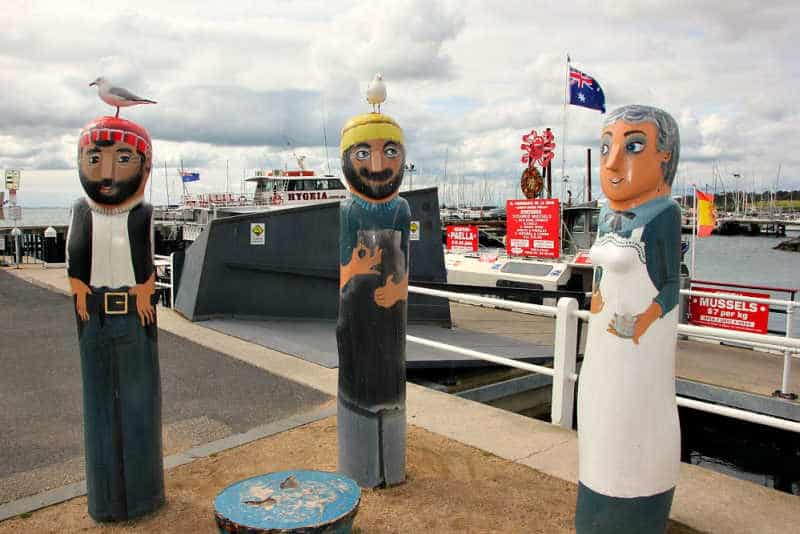 Geelong Bollards History: Jan Mitchell
The work of local artist Jan Mitchell, it's impossible to talk about the Geelong waterfront bollards without paying homage to their creator.
Melbourne born, for 20 years Jan worked overseas as a graphic artist with the Irish National Television Network. She returned to Australia in 1984 and freelanced in illustration and design, before developing a successful career in limited edition fine art printing.
In 1990, Jan created her first bollard series in Barwon Heads as part of an 'Artists in Schools' project. It was designed to encourage children to walk to school with a  trail of bollards leading the way.
In 1994 she presented Geelong Commissioners with the idea of creating a similar trail of bollards along the Geelong foreshore. They agreed to her proposal and the Baywalk Bollards became a key part of the revitalisation of the Geelong Waterfront.
The bollard project took 5 years to complete (1999) and for more than 20 years they've been one of the most popular things to see in Geelong.
In 2000 Jan Mitchell received an Order Of Australia Medal for her contribution to Geelong's waterfront transformation.
Sadly she passed away in 2008.
A year later to honor Jan the Geelong Wool Museum held a commemorative exhibit that paid tribute to her vision, craftsmanship, and the mesmerising bollard walk.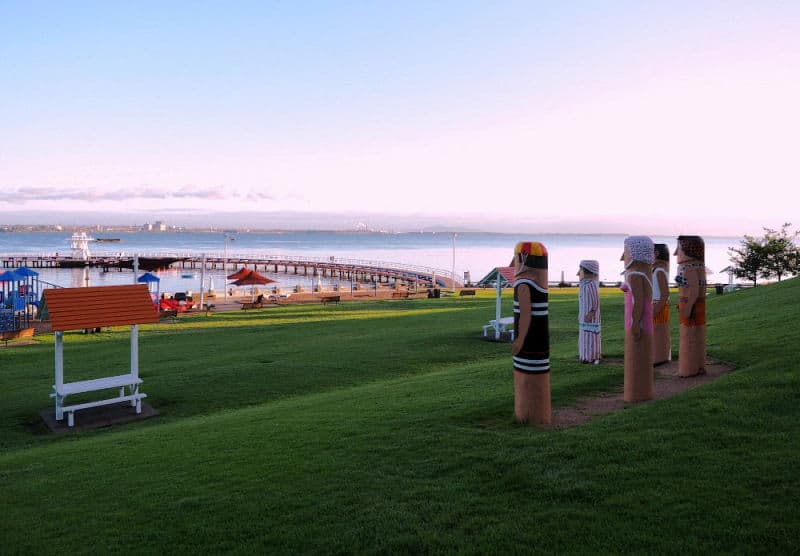 How The Geelong Bollards Were Made.
Created on the Waterfront in a huge old wool store close to Cunningham Pier, the timber for each bollard was chosen from either Australian red ironbark or turpentine hardwood.
The bollards were first sculpted and shaped by carver and prop maker Pieter Roos. They were then painted by Jan and her assistant John Starr using the trompe l'oeil (three-dimensional illusion) technique.
Additional fixtures and adornments were made from industrial components.
The fun figures stand at over 2 metres tall and are designed to be tactile and interactive.
You can't visit Geelong without hugging a bollard!
Jan had a cheeky sense of humour which can be seen in many of her creations. For instance, the Tram Conductress doesn't wear a wedding ring but she's knitting baby bootees – quite scandalous by 1940's standards.
One of the fun activities in Geelong for kids (and grown-ups!) is to spot the rabbits lurking around the bollard's feet. They represent the introduction of rabbits to Australia on Christmas Day in 1859.
Australia's wild rabbits are descended from 10 pairs imported by Winchelsea farmer Thomas Austin through the Port of Geelong.
Little did he know of the havoc they would wreak on the country's natural ecosystem.
Many of the figures from this era sport hidden rabbits at their toes and kids love trying to find them.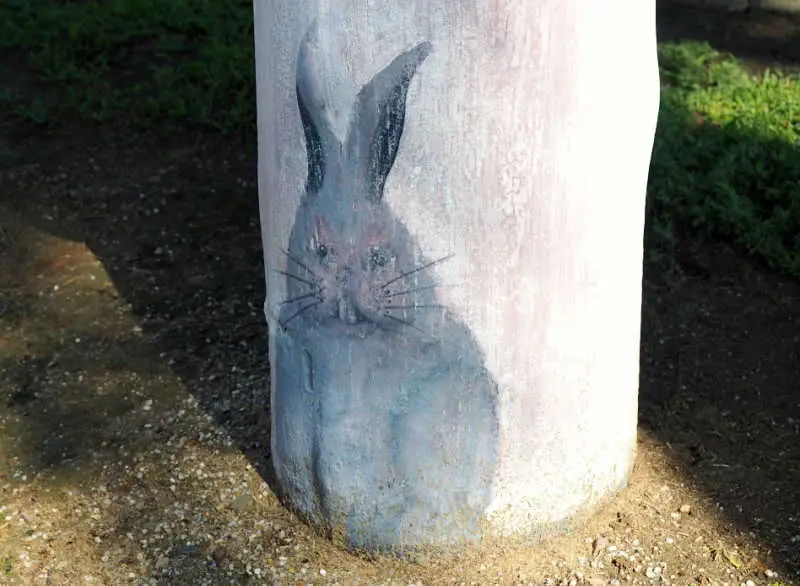 The Geelong Baywalk Bollards
The Geelong Waterfront Bollards add another dimension to the already fabulous foreshore precinct.  They're the most photographed faces in town and each one tells a story from the city's past.
They represent a whole spectrum of local characters from the Sisters of Mercy and Nancy Natty Knickers, a Koori family, and Ian McDonald the city surveyor who drew plans for the Eastern Beach complex.
Below you'll find information and photos of the bollard attractions in Geelong. Be sure to add them to your things to do Geelong list.
A booklet about the Baywalk Bollards is available for purchase from the carousel on the Waterfront.
Bathing Tableau
These five delightful figures display the changing styles of swimming costumes throughout the years.
There are two women from the 1890s and 1940s, a man from the 1920s and a 1930s lifesaver. Then there's Pam from the 1950s wearing a pink petal bathing cap that was made from wing nuts.

Western Beach Sea Bathing Co.
The Western Beach Sea Bathing Company was established in 1872.
The 'swimmers' are also portraits of politicians Gordon Scholes, Nipper Trezise, Jeff Kennett, and a young Sir Hubert Opperman.
Former Prime Minister John Howard is depicted wearing glasses that are tied on with knicker elastic!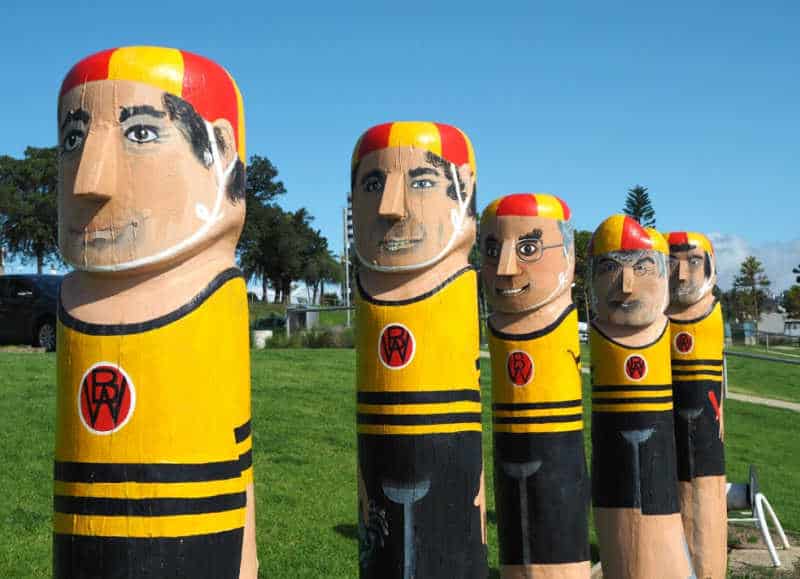 Early Geelong Footballer
Formed on the 18th of July 1859, the Geelong Football Club is one of the oldest football clubs in the world.
About 100 years ago the area around this statue was used as a practice ground until the footy players were asked to move on and it became Transvaal Square.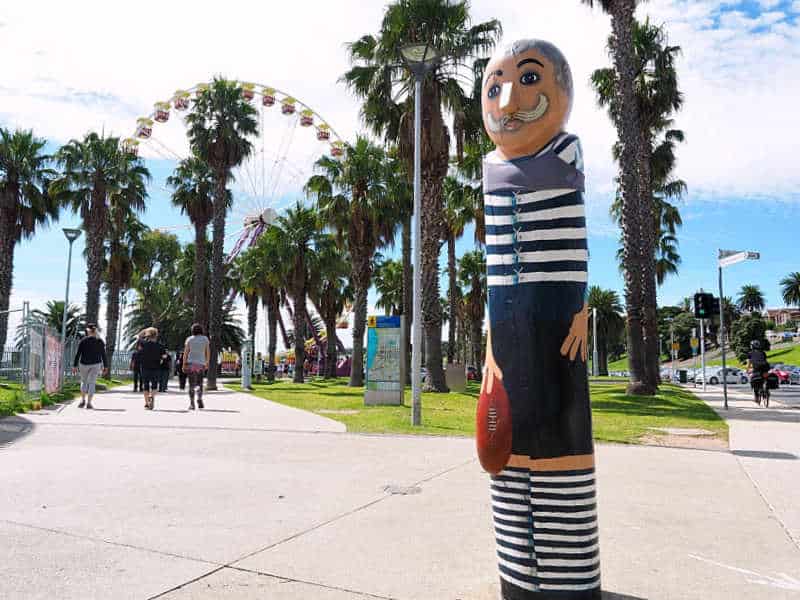 Fireman Bollard
In 1869 a public fire service was established in Geelong when a clipper loaded with wool and tallow was struck by lightning and the town's privately-employed firemen banded together to put out the blaze.
This bollard is a memorial to the five firemen who died in the 1998 Linton bushfires.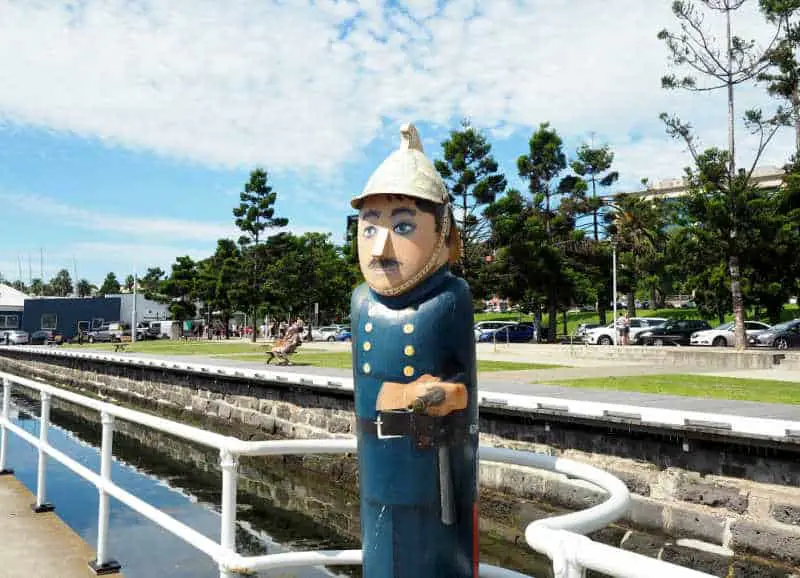 Bathing Beauties
These beautiful busty ladies are a throwback to a time when beauty pageants were held at Eastern Beach.
Today these types of pageants are frowned upon but records show how much the huge crowds enjoyed them.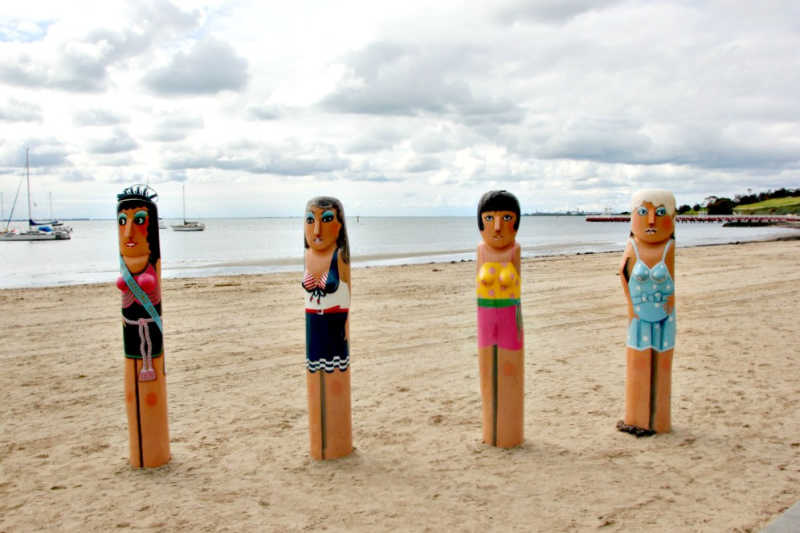 Nancy Natty Knickers
This active lady represents Geelong's engineering heritage which began at the nearby Western Foundry in 1869. The foundry manufactured velocipedes like the one seen here.
It was quite daring for women to wear trousers in the late 1800s. Natty Knickers is the name given to the breeches that lady cyclists wore when they rode these velocipedes.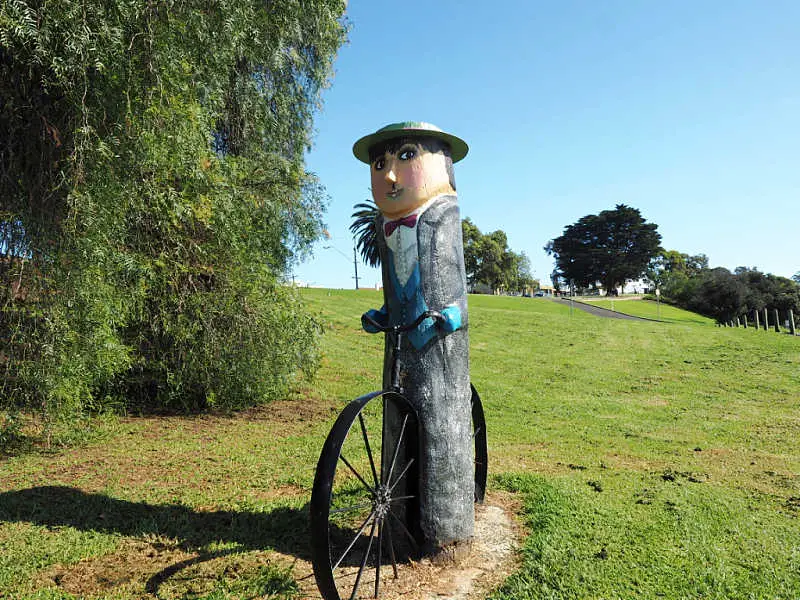 Geelong Activities App: Activate Geelong
One of the fun things to do in Geelong is to explore the bollard trail using the Activate Geelong App on your smartphone.
This augmented reality app brings the bollards to life and allows visitors to learn more about their stories. There are six activation sites where you can watch the bollards singing, dancing, and moving.
The app also allows you to take photos and videos that you can keep or share with friends. A perfect souvenir of your time in bay city Geelong.
There's also a handy easy-to-follow map within the app so there's no need to worry about missing any of them.
Just download the free Activate Geelong App either in the App Store or Google Play and you're good to go.

Geelong Bollards Further Afield
As well as the Waterfront bollards there are characters in other locations. You'll find them at the Geelong Botanical Gardens, in Barwon Heads, and even at Melbourne and Avalon Airports.
Geelong Botanic Gardens
There was much rivalry amongst the young ladies of Geelong who liked to collect rare blooms for their flower presses.
They particularly liked Sturt's Desert Pea shown here clasped behind the pretty lady's back. The gentleman accompanying her is the garden's founder Daniel Bunce.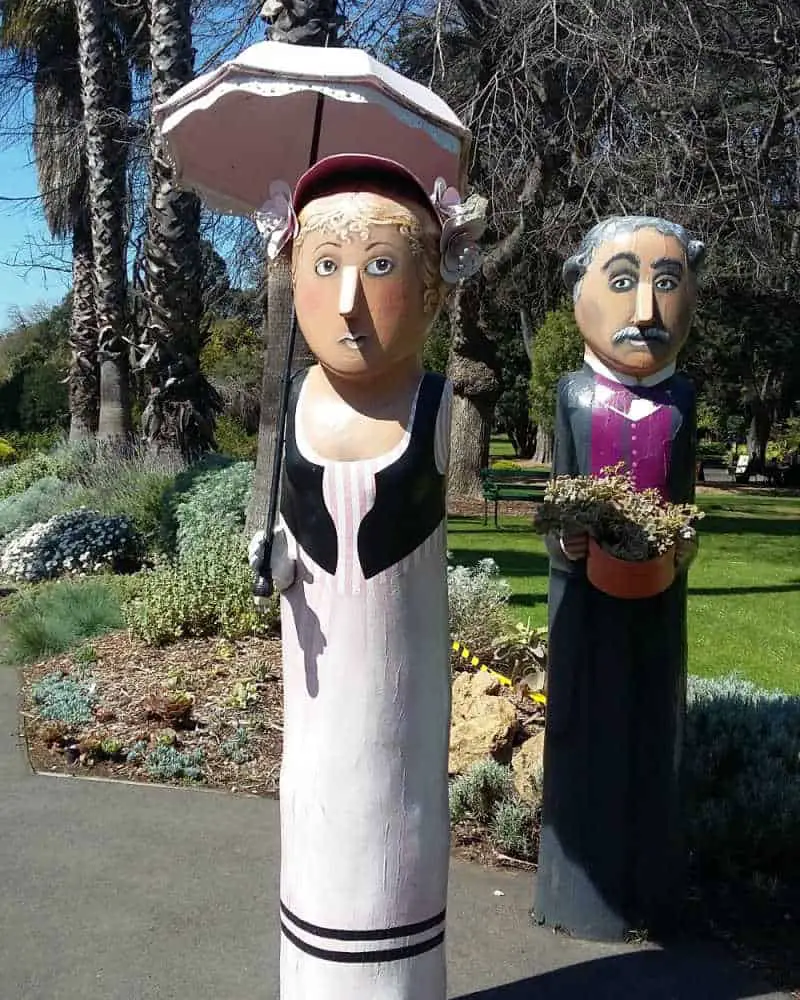 Barwon Heads
The bollards at Barwon Heads were created before the Geelong Bollards and feature a troop of marching soldiers. You can find them on the main road in Barwon Heads on The Bellarine.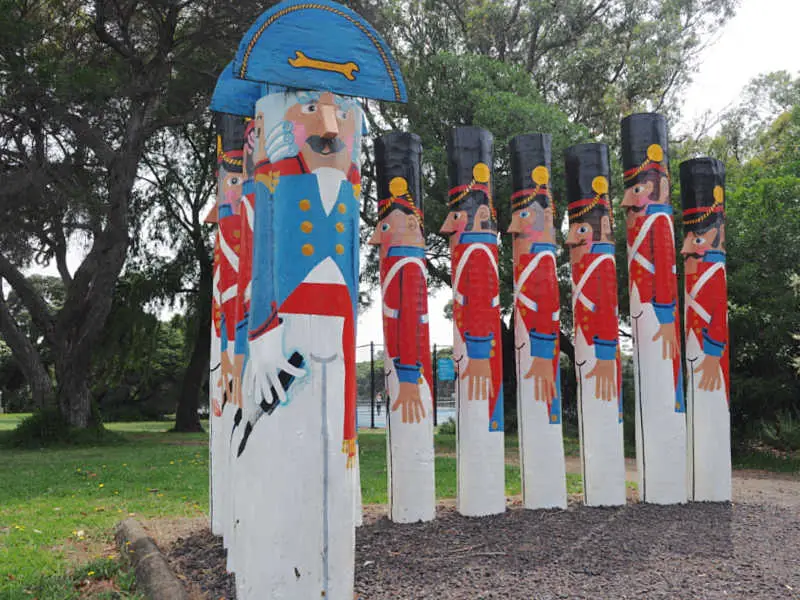 Final Word
The Geelong Bollards are a highlight of Geelong and a must-see when you visit the city.
The magical Baywalk Bollard trail is perfect if you're looking for the best free things to do in Geelong.
And for families, hunting for the bollards' rabbits is one of the many fun kids' activities Geelong has to offer.
Be sure to bring your camera!
Click here to find all our guides to Geelong.
Staying overnight? You can find all the best places to stay by clicking here.
Related Posts: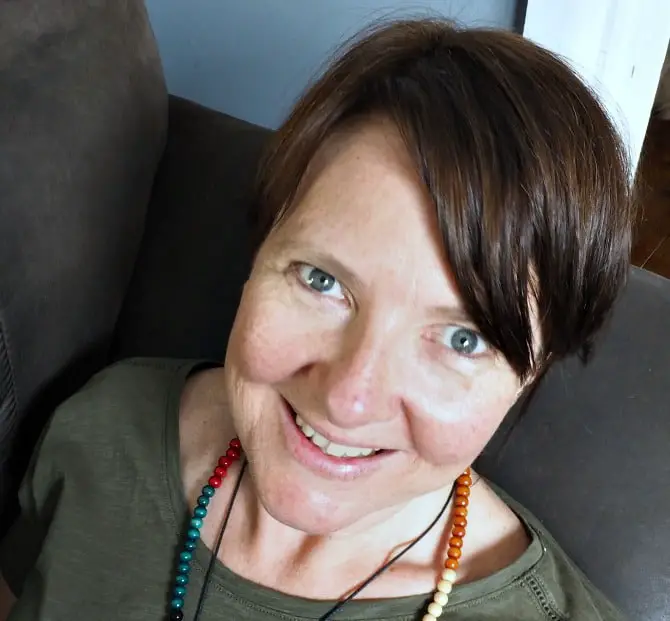 By Audrey Chalmers
Audrey is the principal blogger behind See Geelong. Book Lover | Breakfast Nut | Geelong Gal | She's Usually Craving Coffee.