Travelling to Geelong and looking for some great Geelong Waterfront accommodation? Excellent choice!
The waterfront is Geelong's most popular attraction with lots of activities and loads of bars, cafes, and restaurants, so you'll have everything right at your fingertips.
In this article, we give you all the best options for waterfront Geelong accommodation to suit all travelling styles.
Whether you are looking for Geelong luxury accommodation or something more budget-friendly, you're bound to find your perfect place to stay.
This article may contain compensated links. For more information read our disclaimer here. 
In addition to an accommodation Geelong waterfront list, we've also included a comparison chart to help you quickly compare prices, reviews, and star ratings.
At the end, you'll find a map of each listed accommodation in Geelong waterfront so you can check their exact locations.
If you are someone who doesn't want to muck around and simply wants the best Geelong waterfront hotel, book the Novotel Hotel Geelong now.
Otherwise, let's start!
Here are your best waterfront accommodation Geelong options!
Geelong Waterfront Accommodation Comparison Chart
In this table, you will find a comparison of all the top choices for the best accommodation in Geelong waterfront.
Best Accommodation Geelong Waterfront List
Below you will find all the best options whether you are looking for Geelong waterfront apartments, Geelong 5 star accommodation, Geelong Eastern Beach accommodation, or the top hotels Geelong waterfront has to choose from.
For visitors looking at Geelong waterfront hotels, we recommend the Novotel Geelong Hotel.
It sits in a great spot right across from Steampacket Gardens, close to popular attractions like the Carousel, Cunningham Pier, and Eastern Beach.
Just steps away you'll find bars, cafes, and restaurants, and it's just a short walk to Westfield Shopping Centre.
This modern hotel offers 109 newly refurbished guest rooms with cosy king-size beds and comfy pillows.
You can choose from a variety of rooms including superior, deluxe, accessible, and suites.
The best rooms at Novotel Waterfront Hotel Geelong have wonderful water views.
Click here for more information.
Each room features a chaise lounge, a work desk, a smart TV, and complimentary Wifi.
One of the best things (besides the gorgeous water views!), about the Novotel Geelong Waterfront Hotel is that every room has its own private balcony with outdoor furniture.
It's always nice to be able to relax outside with some fresh air when staying in a hotel room.
This is a full-service hotel with 24-hour reception, in-room dining, laundry and dry cleaning services, a restaurant, bar and lounge.
Other facilities for you to enjoy include an indoor heated pool (great when it's cold outside!), In Balance Fitness Centre, and a steam room. All open 24 hours a day.
Car parking is available.
Best Things?
The stunning views of Corio Bay, fab balconies, and excellent facilities make this one of the best Geelong waterfront hotels.
Worst Things?
You have to pay for car parking.
Summary
This is the perfect choice for travellers who are looking for Geelong hotels waterfront accommodation.
Simply cross the road to enjoy all that the waterfront has to offer.
Click here to see the latest prices.
On the hunt for the best waterfront apartments Geelong has to offer? Then the Vue Apartments could be just what you're looking for.
Located on the edge of the CBD in Bellerine Street these stylish apartments have balconies with superb views over Eastern Beach, Austin Park, and the city.
Comprising 60 self-contained apartments, you can choose from studio and one and two-bedroom options.
Click here for more information.
These Geelong serviced apartments come with award-winning King Koil beds for a cosy night's sleep, fully equipped European style kitchens, and for coffee lovers Nespresso machines.
Private onsite parking is available.
Best Things?
The Vue Geelong Apartments are in near new condition. The fantastic housekeeping keeps everything in tip-top shape for you.
Worst Things?
There is an additional surcharge for parking.
Summary
The Vue Apartments Geelong offers some of the best self-contained accommodation Geelong has to offer. Great location. Great views. Comfy beds. And stylish rooms.
What more could you ask for?
Click here for the latest prices.
Another great self contained accommodation Geelong option, the R Hotel Geelong is a stunning new apartment hotel.
Located just 300 metres from Eastern Beach, it's ideally located for any trip to Geelong.
Nearby you'll find cafes, restaurants, bars, the Carousel and Skywheel, as well as shopping centres, and the Geelong Botanical Gardens.
The eye-catching building dates back to the 1850s and has been redeveloped into a 9 storey hotel offering serviced apartment style accommodation.
There are 128 rooms and apartments for you to choose from including hotel rooms, 1 and 2 bedroom apartments, and dog-friendly ground floor Loft Apartments.
Most rooms have balconies with views of Austin Park, Corio Bay, and the Geelong CBD.
Click here for more information.
The spacious rooms are light and airy with modern decor, soundproof windows, keyless access technology, and daily housekeeping service.
While the open-plan apartments have a living, dining and kitchen area, and feature espresso coffee machines, reverse cycle air conditioning, and laundry facilities.
Car parking at R Geelong Hotel is available and you can stay online with the fast free Wifi.
One of the great things about this Geelong holiday accommodation is the onsite cafe "Le Cafe" which serves great coffee and light breakfasts.
Best Things?
Everything about these Geelong accommodation apartments is top-notch.
Worst Things?
R Hotel is located on a side street so it's not suitable for visitors wanting Geelong beachfront accommodation.
Summary
Stunning brand new Geelong accommodation near the beach with balconies, views, and an onsite cafe.
Click here for the latest prices.
Located on the western edge of the waterfront the Quest Apartments Geelong sit one street back from the foreshore.
The CBD, restaurants and cafes are within walking distance, and Western Beach is just 2 minutes away.
There are 35 serviced apartments including studios, and 1, 2, and 3 bedroom apartments.
The apartments are ideal for visitors looking for Geelong family accommodation with 2 bathrooms, a bathtub, and laundry facilities.
A fully equipped kitchen featuring an oven, cooktop, full-size fridge, and dining table gives you the option of cooking your own meals.
Click here for more information.
While the private balcony lets you step outside for some fresh air.
The studio rooms complete with kitchenettes are a nice alternative to a hotel room.
Other amenities include onsite reception, Foxtel cable television and Netflix, free wireless internet connection, complimentary secure underground parking, and an onsite property manager.
Housekeeping service is provided Monday to Saturday, excluding public holidays.
Best Things?
Clean and well maintained. Has everything you need. Handy to shops and eateries.
Worst Things?
Not all rooms have views.
Summary
Lovely and fresh refurbished 1, 2, and 3 bedroom apartments with balconies on the western edge of the waterfront.
Great for families.
Click here for the latest prices.
Looking for budget Geelong accommodation that's close to the bay?
Then Rippleside Park Motor Inn Geelong is a solid choice.
This cheap Geelong motel accommodation offers a value-for-money no-fuss place to stay that exceeds visitors' expectations.
Here you'll find large clean practical rooms with cosy beds and comfortable pillows.
Click here for more information.
Each room comes with a microwave, fridge, iron and ironing board, and tea and coffee making facilities.
There's plenty of free onsite parking, as well as complimentary Wifi, and luggage storage.
The welcoming hosts of Rippleside Motor Inn will make you feel right at home at this no-frills Geelong accommodation waterfront motel.
A tasty breakfast can be delivered to your room for a small fee.
Best Things?
The ideal mix of value, comfort, and convenience.
Worst Things?
It's not within walking distance of the main waterfront precinct. Not right on the Geelong foreshore.
Summary
Geelong Rippleside Park Motor Inn is a no-fuss traditional motel on the edge of the waterfront that's best suited to budget travellers.
Click here to see the latest prices.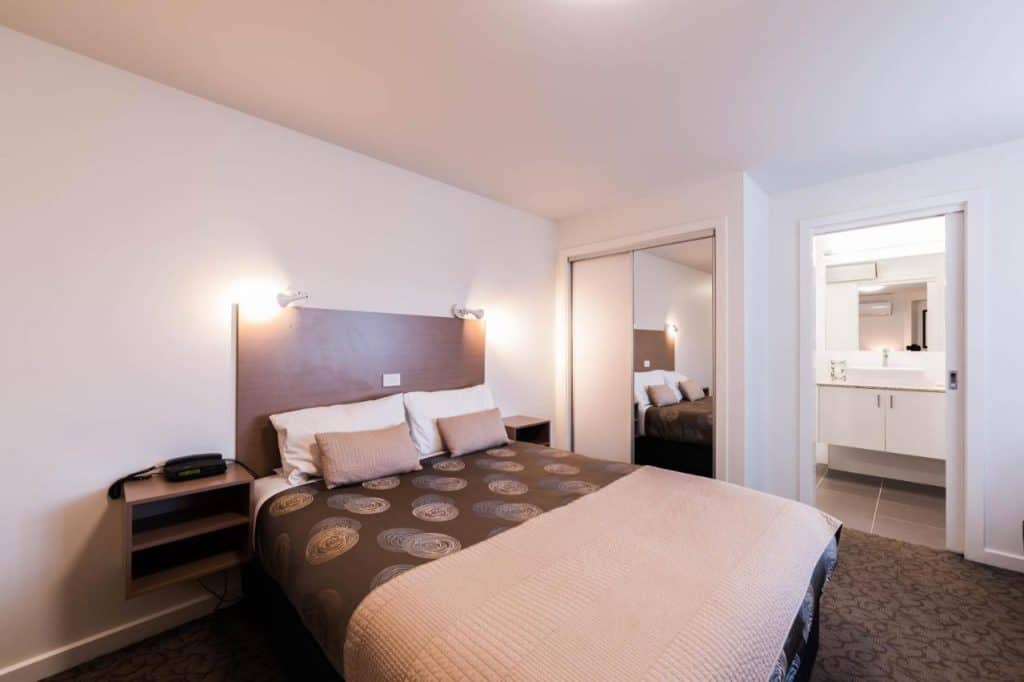 If you're looking for cheap motels in Geelong waterfront then it's worth taking a look at Eastern Sands City Centre.
Located just one street back from the waterfront this budget motel allows easy access to Eastern Beach and all the fantastic waterfront attractions.
As an added bonus there's an excellent Indian restaurant right next door serving up delicious dishes.
Click here for more information.
Eastern Sands is one of the smaller motels Geelong waterfront has to offer.
There are 25 well-appointed standard and deluxe rooms, each one features air-conditioning, tea and coffee making facilities, a fridge, a microwave oven, a flat-screen TV, and a DVD player.
Guests can also enjoy free Wifi, Austar cable television, and complimentary off-street parking.
The deluxe rooms are recommended as they have wonderful views of the bay and Giant Sky Wheel.
Best Things?
For the price you won't get a better location than this Geelong waterfront motor inn. The views from the deluxe rooms.
Worst Things?
The decor is dated and in need of an upgrade.
Summary
Budget accommodation near Eastern Beach Geelong that offers bay views from its best rooms.
Click here for the latest prices.
Sitting on Eastern Beach Road this luxury Geelong accommodation offers spectacular water views and easy access to nightlife, restaurants, cafes, shopping, and popular attractions.
This self-contained accommodation Geelong apartment has 3 bedrooms with queen size beds, a designer kitchen with a fridge and microwave, and a European style laundry.
The spacious open plan living and dining opens out onto a decked balcony with magnificent bay views.
Click here for more information.
Other facilities include free Wifi and a rooftop garden with barbecue facilities.
As an added extra you will have full use of the Novotel's facilities including the heated indoor pool, fitness centre, and steam room.
While the complimentary secure parking gives you peace of mind.
Best Things?
The unbeatable location, the balcony, and incredible views.
Worst Things?
Check-in takes place in a different building.
Summary
A spacious designer penthouse apartment with 3 bedrooms, a balcony, and stunning views. Perfect for those who enjoy a bit of luxury.
Click here to see the latest prices.
The location doesn't get any better than this!
Situated on Eastern Beach Road, The Beach House Apartment is tucked in at the top of Geelong's iconic "Spanish Staircase" and offers views across the bay from its windows.
Right outside your front door, you'll find the Eastern Beach Promenade, sea baths, children's pool and playground, and the fabulous Beach House Cafe.
The Geelong Botanical Gardens are just a 5-minute walk around the corner and in the other direction is the busy main Waterfront Precinct.
Click here for more information.
This art deco Eastern Beach Geelong accommodation has two bedrooms with 1 queen and 2 single beds, a lounge, kitchen, dining, bathroom, and laundry.
Filled with brand new furniture, the light filled apartment has been tastefully decorated and is the perfect place to relax.
Outside is a lovely garden with a small single garage.
It has everything you need for a comfortable stay in Geelong, including free Wifi to keep you online.
Best Things?
The incredible location. Walk out your front door straight onto Eastern Beach.
Worst Things?
Some aspects of the property are a little dated.
Summary
For a comfortable and affordable beachfront accommodation Geelong option, this is hard to beat.
Click here to see the latest prices.
Located within the Pier Point Waterfront Apartments building, PierPoint 401 is a terrific choice for visitors who like to be centrally located.
Situated across from Cunningham Pier, the self-contained apartment is next to Deakin University and just a 2-minute walk to the Carousel and Steampacket Gardens.
A Mexican restaurant is located on-site but there are plenty of restaurants and cafes just steps away.
The modern two-bedroom apartment has a lovely balcony with views toward Cunningham Pier.
Click here for more information.
Its roomy open plan design is immaculately presented with quality furnishings and comfort.
Features include a fully equipped kitchen with an espresso coffee maker, a laundry, flat-screen TV, free high-speed internet connection, and complimentary underground parking.
But it's the thoughtful little extras like games, magazines, DVDs, extra toiletries, and hair straightener that make PierPoint 401 stand out.
And the excellent host makes your stay here enjoyable and stress-free.
Best Things?
The top location, immaculate presentation, and fabulous host.
Worst Things?
Obscured water views. Noise on busy Saturday nights.
Summary
Quality two bedroom waterfront Geelong apartment accommodation with a balcony.
Click here for the latest prices.
Also found within the Pier Point apartment complex, Pier Point 105 offers stunning views of the Carousel, Steampacket Gardens, and the Royal Geelong Yacht Club.
The light-filled apartment is comprised of two bedrooms with one double bed and two singles, and an open plan kitchen, living, and dining area.
A sliding door provides access to a balcony with a clear glass balustrade that ensures unobstructed waterfront views.
Click here for more information.
Eating in is easy with a kitchen that comes equipped with a full-size fridge, a stovetop, an oven, and a microwave.
The apartment has a European style laundry with a washing machine and dryer.
Free onsite parking is available.
Best Things?
The incredible views from the balcony. The great location.
Worst Things?
Needs a freshen up.
Summary
A modern two bedroom waterfront apartment with a balcony and fantastic views.
Click here to see the latest prices.
**Currently not available as undergoing redevelopment**
Located in a quiet residential area along the esplanade, Quality Bayside Hotel Geelong Waterfront is just a minute's drive from the city centre and a 5-minute drive from Eastern Beach, the Geelong Botanic Gardens, and Cunningham Pier.
Also known as the Quality Inn Geelong, it offers superior hotel-style rooms and 1 and 2 bedroom self-contained apartments for you to choose from.
All accommodation options have flatscreen TVs with Google chrome cast, wireless internet, heating and cooling, tea and coffee making facilities, and an iron and ironing board.
While apartments also feature a full kitchen, laundry facilities, and spacious living and dining areas.
Many have gorgeous bay views and feature a private balcony or courtyard.
A highlight of the property is the sparkling heated pool and decked outdoor area.
Other amenities include complimentary parking, 24-hour reception, and an onsite restaurant serving breakfast Monday to Friday.
Best Things?
The pool and outdoor area, balconies and views.
Worst Things?
Parts of the hotel could do with some freshening up.
Summary
The Bayside Quality Hotel Geelong is a fantastic choice if you are looking for a relaxing hotel accommodation Geelong waterfront option.
Provides excellent short term accommodation in Geelong.
Click here to see the latest prices.
Map Of The Top Waterfront Geelong Accommodation
I hope you found this guide to the top Geelong waterfront accommodation useful. And that you found the best Geelong accommodation to suit your needs.
For more information about the Geelong Waterfront click here. Find the best Geelong things to do here and our Geelong guides here.
Related Posts: