Looking for the best Geelong Waterfront restaurants?
Then you're in the right place, in this Geelong waterfront restaurant guide we list ALL the top options for you!
Whether you're looking for a fine dining Geelong option, the best seafood restaurant Geelong has, or are hankering for some awesome fish and chips we've got you covered.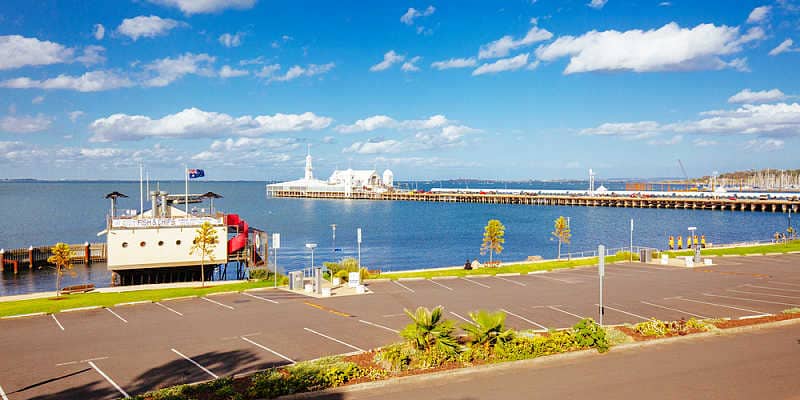 Some of the best restaurants in Geelong are located along the waterfront precinct.
Taking full advantage of the city's position they offer dazzling views, hip vibes, and mouthwatering menus.
You can choose from a variety of cuisines; get your taste buds going with Asian fusion, fancy French, or the freshest seafood.
Below is our list of the 10 best waterfront restaurants in Geelong.
First, we review and detail all the top Geelong foreshore restaurants, then at the end, you'll find a handy map so you'll know exactly where each restaurant is.
In no particular order let's start!
Looking for a waterfront cafe? Read our guide to the best cafes on the Geelong Waterfront here.
11 Top Geelong Waterfront Restaurants
1) Fishermen's Pier Geelong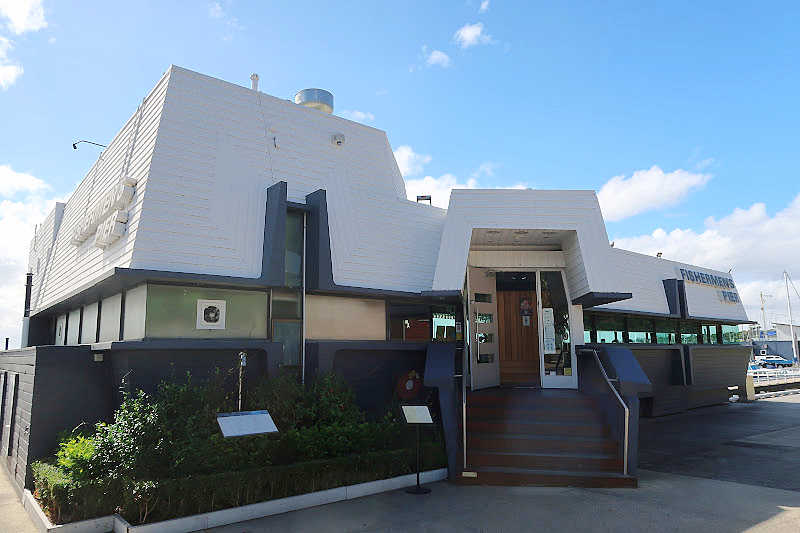 Fishermen's Pier restaurant (also mistakenly called Fishermans Pier Geelong), is Geelong's premier seafood restaurant, having won several awards since it opened in 1971.
Serving up fresh local produce cooked to perfection, this Geelong fine dining restaurant, is the 'go to' place for a seafood feast.
Enjoy tasty delights such as lobster ravioli, whole baby barramundi, or a sumptuous seafood platter.
Although the menu's focus is on fish and seafood, there are meat and vegetarian options available – the eye fillet steak is top-notch.
Sitting over the water, the building's unusual clamshell design makes it something of a landmark on the foreshore.
Inside, the clever design makes use of the different flooring levels and huge windows so that everyone can enjoy the incredible views.
Fully Licensed

Mains: Start at $38.00

Where: Bay end of Yarra Street

When: 7 Days: 12 p.m – 2.30 p.m, 5.30 p.m – 8.30 p.m

Phone: (03) 5222 4100
2) Sailors Rest Geelong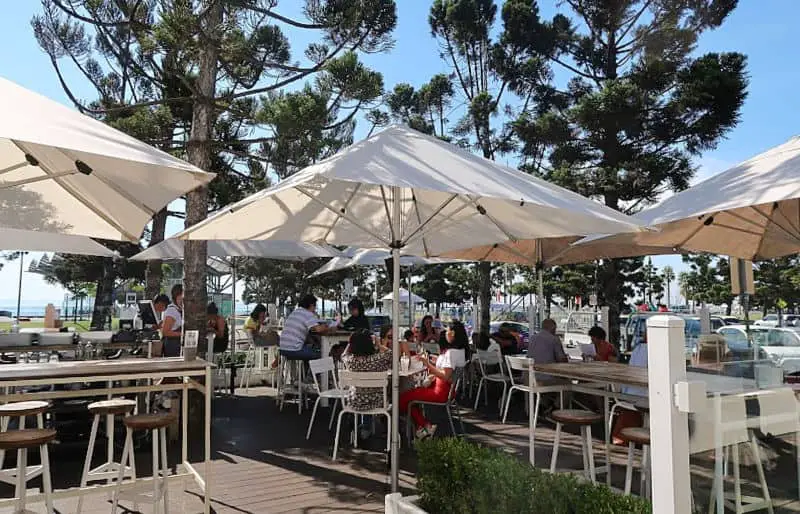 Judging by the queues of people who line up for a table, Sailors' Rest is one of the best places to eat in Geelong.
An all-day breakfast cafe, restaurant, and bar, the service here is fast and professional and the food is always top-notch.
Serving modern Australian cuisine the menu offers a mix of sharing plates, seafood, and pub classics like chicken parmigiana and porterhouse steak.
Parents love the unusual kids' menu that serves crispy fresh diced fruit and vegetables with every meal – apples, strawberries, carrots, and celery.
Sailors' Restaurant is housed in a beautifully renovated heritage building that sits next to the lush Customs Park lawn.
Offering stunning views of the park and across the bay, it's the ideal place to relax and enjoy some fabulous Geelong waterfront dining.
You can choose to sit inside the cosy restaurant, on the fabulous enclosed verandah, in the beer garden, or on a sunny day in the alfresco dining area.
The restaurant welcomes walk-ins but it's a good idea to book ahead to avoid those queues. Add it to your Geelong best restaurants list.
Fully Licensed

Mains: Start at $26.00

Where: 3 Moorabool Street

When: Mon – Wed: 10 a.m – 4 p.m, Thu – Fri: 10 a.m – late, Sat: 9 a.m – late, Sun: 9 a.m – 4 p.m

Phone: (03) 5224 2241
3) The Wharf Shed Geelong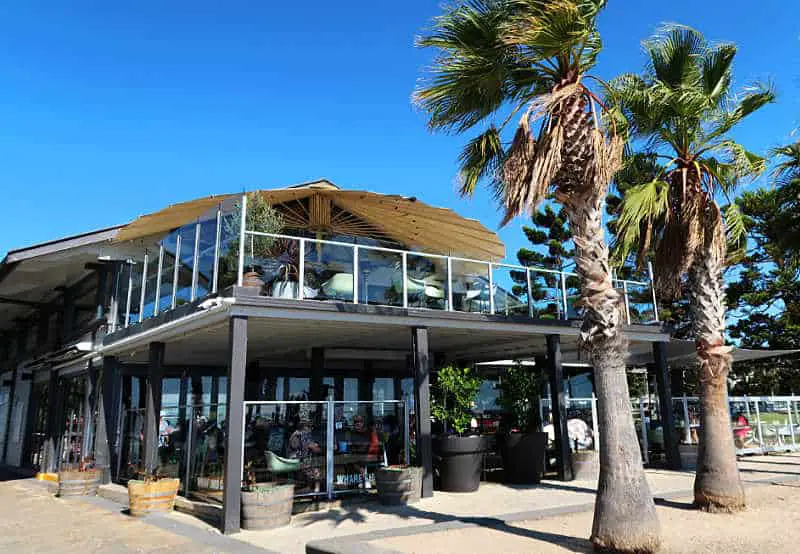 Another one of the more popular Geelong places to eat, the Wharf Shed offers casual dining right on the water's edge.
The bright and spacious building's sheltered outdoor terraces and huge windows take full advantage of the superb water views.
While the open-plan indoor dining areas allow plenty of room between tables.
The contemporary menu offers something for everyone from platters to burgers, traditional fare, and international cuisine, as well as vegetarian, vegan, and gluten free options.
All made with the best Victorian and local produce.
Tuck into a ploughman's platter, slurp down Pacific oysters either natural or with added zest, or get stuck into a grass fed porterhouse steak cooked just the way you like it.
Please Note: The Wharf Shed does not offer full table service – you have to order at the bar. If that bothers you choose another option from this restaurants on Geelong waterfront list.
Fully Licensed

Mains: Start at $28.50

Where: 15 Eastern Beach Road

When: 7 Days 9 a.m – 8.30 p.m

Phone: (03) 5221 6645
4) Wah Wah Gee Geelong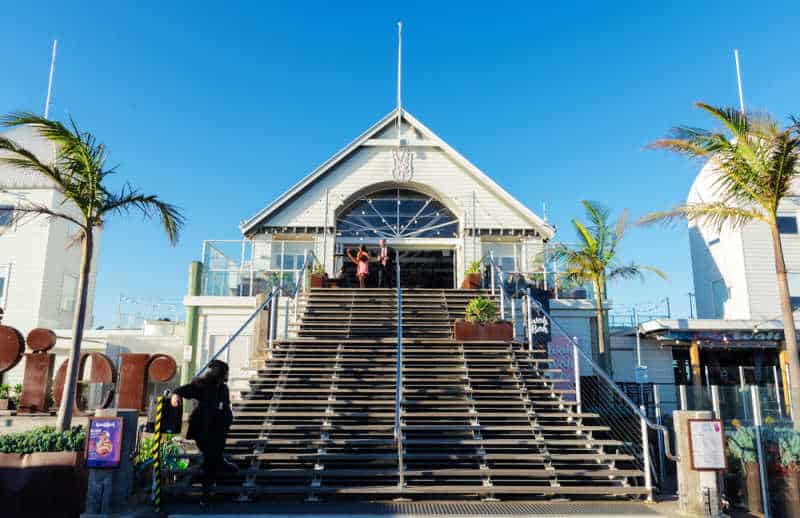 Serving up Asian inspired dishes made to be shared, Wah Wah Gee is a fun restaurant with a funky vibe.
This Geelong pier restaurant has unrivaled views over the western side of the bay and the marina.
It's a great place to go for a night (or day) out with friends and family to enjoy delicious food and amazing scenery.
Enjoy everything from steamed buns to slurpy dumplings, fiery curries, poke bowls, and crispy fried chicken.
If you have trouble choosing between all that deliciousness, then the 'Feed Me' option will get you all the chef's favs.
Once you've had your fill you can head upstairs to the Wah Bah for cocktails and tunes.
Fully Licensed

Mains: Start at $22.00

Where: End of Cunningham Pier

When: 7 Days 12 p.m – Late

Phone: (03) 5222 6377
5) The Edge Geelong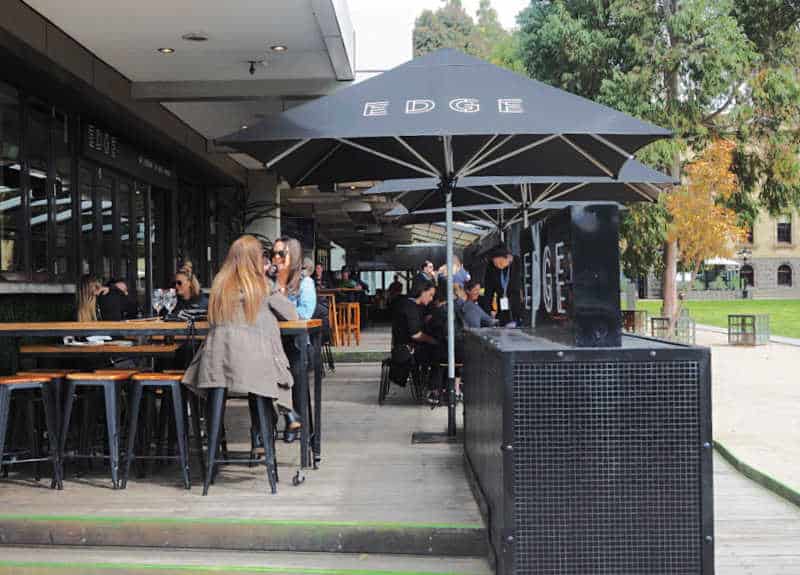 If you're looking for Geelong lunch restaurants then Edge is a great option.
This local favourite amongst Geelong foreshore restaurants is a great place to dine whether it's day or night.
Located opposite Steampacket Gardens and sitting on the 'edge' of Customs Lawn, the north-facing eatery gives patrons a wonderful view of blue Corio Bay.
The outdoor deck is a great place to relax on a sunny day while in winter, inside the cosy fire keeps everyone toasty warm.
Edge's contemporary menu contains an enticing list of bowls, tapas, and classic favourites made with the freshest of ingredients from local suppliers.
Treat your taste buds to lemon pepper calamari, crispy skinned Atlantic salmon, or an Angus beef burger.
Open for breakfast, lunch, and dinner, at around 9 or 10 p.m Edge waterfront Geelong restaurant turns into an awesome bar.
Fully Licensed

Mains: Start at $25.00

Where: 6-8 Eastern Beach Road

When: Mon – Wed: 9 a.m – 10 p.m, Thu – Fri: 9 a.m – Late, Sat – Sun: 8 a.m – Late

Phone: (03) 5222 2666
6) Justin Lane Geelong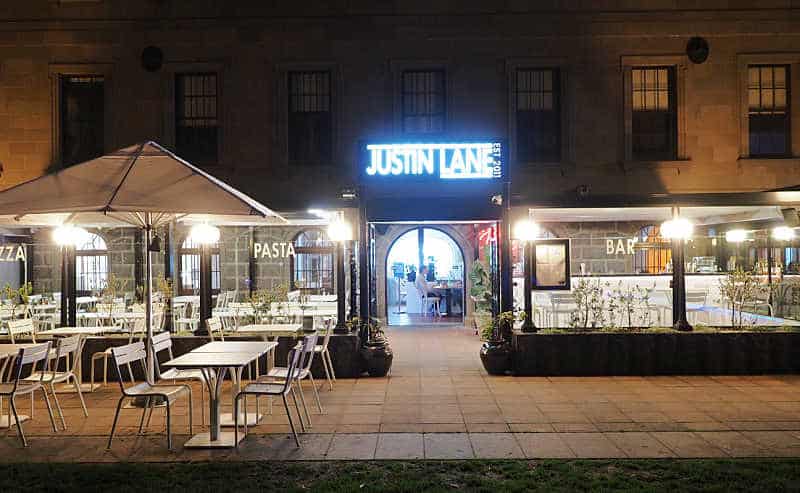 You've gotta love a restaurant whose motto is "Eat, Drink, and Be Messy".
If you think you've heard this saying before then you probably have since it's the catchcry of Justin Lane in Burleigh Heads – and now Geelong.
This popular bar and pizza restaurant has set up shop on the waterfront in the old customs house building behind the Edge and Sailors' Rest.
Justin Lane's pizzas are made using a sourdough base (apparently it's better for your digestion as well as being tasty) and their pasta is all handmade.
Everything is made in-house with a focus on simplicity and top-quality ingredients.
The menu includes all the classic JL favourites from the original eatery such as the James St Deli pizza and Justin's carbonara spaghetti with pork belly.
The drinks list includes signature cocktails and a curated selection of wines and beers.
Fully Licensed

Mains: Start at $23

Where: 57 – 59 Brougham St (Customs House Lawn)

When: Sun, Mon, Wed, & Thu 12 p.m – 10 p.m, Fri & Sat 12 p.m – late
7) La Cachette Geelong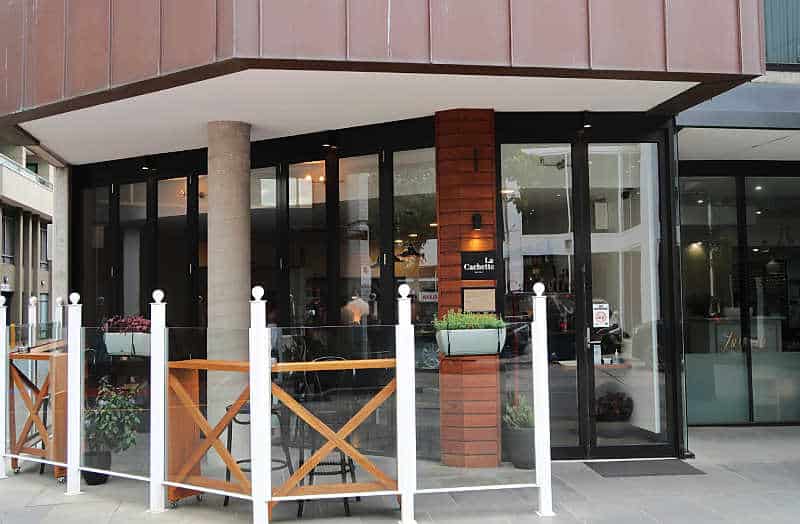 La Cachette is one of the newest restaurants on Geelong waterfront, opening its doors in June 2021.
Its name translates to 'the hiding place', which is fitting as this lovely little restaurant is tucked away from the hustle and bustle of the main strip.
The 25 seat bistro offers contemporary French dining in a warm and relaxed environment without any of the stuffiness that some French restaurants have.
Using only the best seasonal produce the fixed price 3 or 4 course menu changes every 3 weeks.
Attention to detail is given to every dish to bring you stunning food like grilled octopus with potato, saffron, and grapes, aged breast and leg of duck, and rhubarb and buttermilk sorbet.
La Cachette is an unexpected treat just steps away from the busy tourist strip. Try it and see for yourself.
La Cachette Restaurant Geelong

Fully Licensed

Fixed Price: 3 courses: $85.00, 4 courses: $110.00

Where: Steampacket Place

When: Lunch: Fri – Mon 12 noon – 2 p.m, Dinner: Thu – Sun 5.45 p.m – Late

Phone: 04785 22996
8) King George Fish And Chips Geelong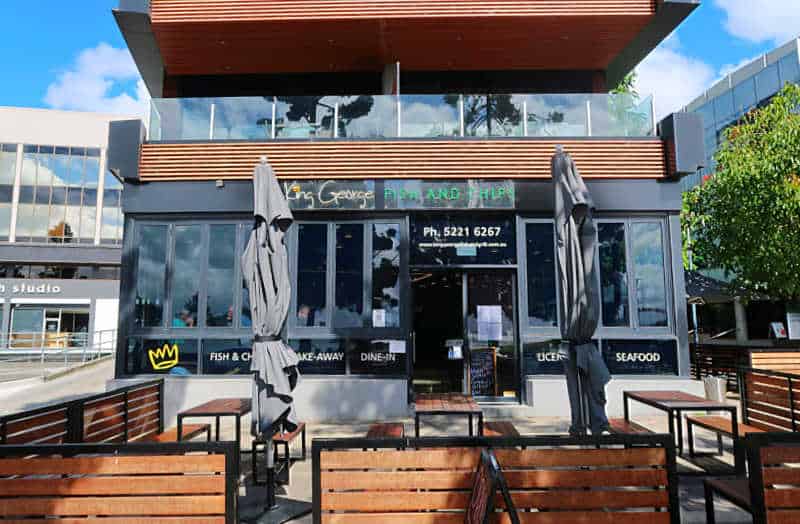 If you're hankering for a fry up then King George is a contender for the best fish and chips Geelong has to offer.
Formerly known as King George Fish and Grill, this is not your average fish and chip shop being fully licensed with an extensive menu and top-notch service.
Dishing up beautiful high quality seafood the menu also features burgers, tacos, souvlaki, and a range of different sides.
The restaurant also caters to dietary requirements but you don't need to be vegan to enjoy the southern fried popcorn cauliflower with vegan chipotle aioli.
There's ample seating both inside and out to relax, eat, and enjoy the bay views, but take-away is available too.
Fully Licensed

Main: Packs start at $18.00

Where: 100 Western Beach Road

When: Tues – Sun 11.30 a.m – 8.00 p.m

Phone: (03) 5221 6267
9) Bo Thai Restaurant Geelong Waterfront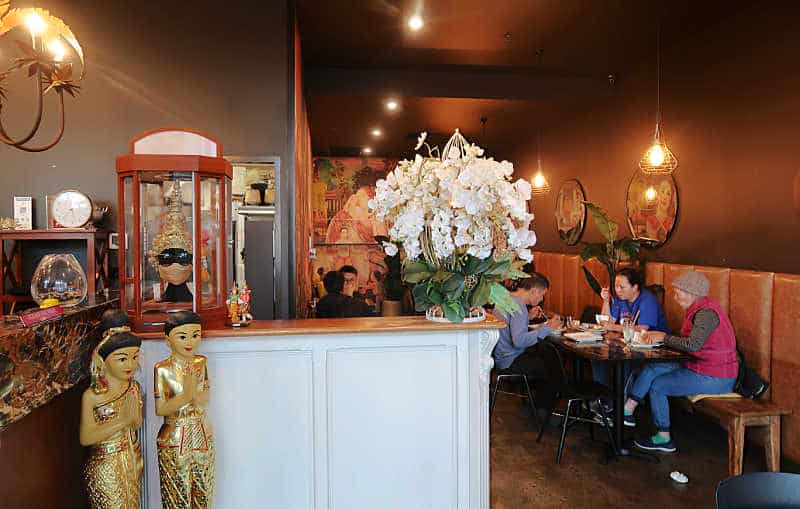 Tucked in amongst the strip of Geelong restaurants on the waterfront Bo Thai brings a little piece of Thailand to Geelong.
The family-run business takes pride in its attentive service and the staff are super helpful with great recommendations.
The menu features all your classic Thai favourites as well as some house specialties, and each dish is made to be fragrant, fresh, and full of flavour.
Transport your tastebuds to 'The Land of Smiles' with crispy pork belly, barbecue squid salad, or some hearty drunken noodles. The pad thai (possibly Australia's favourite Thai dish) receives rave reviews too.
You can dine inside or out – the outdoor tables have views of the foreshore.
Fully Licensed

Mains: Curry starts at $25.00

Where: 6-8 Eastern Beach Road

When: Tue – Wed: 5 p.m – 8.30 p.m, Thu – Sun 11.30 a.m – 8.30 p.m

Phone: (03) 5221 5449
10) Eastern Spice Geelong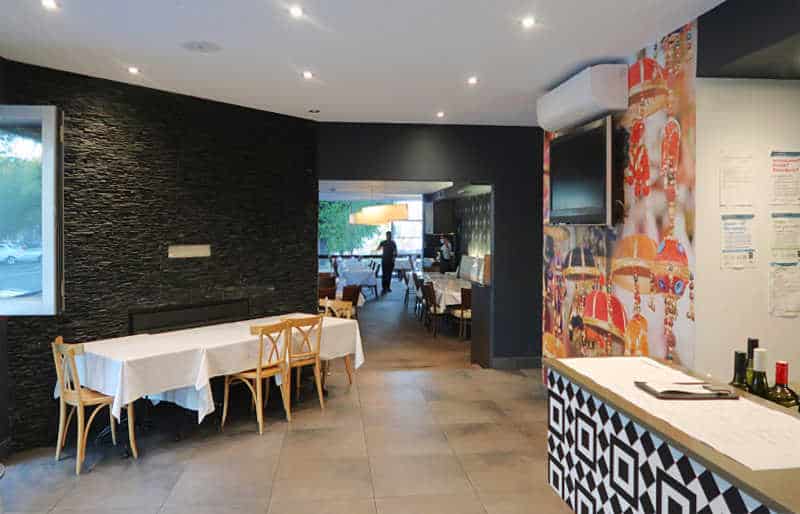 Eastern Spice waterfront restaurant Geelong, not only offers terrific food, but also fantastic views across Austin Park to the Skywheel and Corio Bay beyond.
Located just a hop, skip, and a jump from Eastern Beach this fabulous Geelong Indian restaurant offers mouthwatering dishes served in a modern and (slightly) fancy setting.
The service is more formal than what you usually find at an Indian restaurant and the decor is bright and spacious with seating for up to 90 guests.
The yummy menu offers a selection of traditional curries, street food, and treats from the tandoor, all made with the freshest ingredients and attention to detail.
Pull up a window seat and watch the sun set over the bay while feasting on chicken tikka, a fiery vindaloo, and garlic naan.
Eastern Spice Indian Restaurant Geelong

Fully Licensed 

Mains: Curry starts from $17.00

Where: 1 Bellerine Street

When: Mon, Wed, Thu, Sun: 5 p.m – 9.30, Fri – Sat: 5 p.m – 1000, Closed Tuesday

Phone: (03) 5221 9544
11) The Geelong Boat House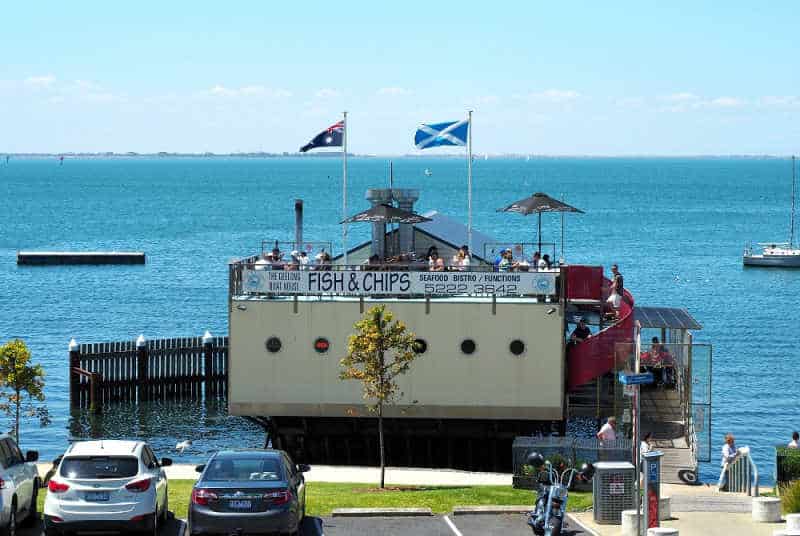 The Boat House is another great option for Geelong waterfront fish and chips.
Housed in a 100-year old barge that was once used to dredge the Yarra river, this is one of the more unusual Geelong beach restaurants.
The venue isn't flashy but it is authentic, and the barge sits out over Corio Bay taking full advantage of its waterfront views.
Diners can sit at tables on the gangplank, grab a chair upstairs on the bridge deck, or borrow a picnic blanket and laze on the grassy banks.
The simple menu has all your favourites from the classic fisherman's basket to calamari and lemon pepper squid.
A range of burgers is also available for people who don't like eating things from the sea.
You can finish off your feast with a scrumptious cafe-style cake and a piping hot coffee.
Beer and wine are also available.
Fully Licensed

Main: Seafood basket: $17.90

Where: 50 Western Foreshore Road

When: 7 days from 10 a.m

Phone: (03) 5222 3642
Waterfront Restaurants Geelong Map
Find your perfect restaurant with this map of all the best places to eat Geelong waterfront has to offer.
I hope you found this best restaurants, Geelong waterfront guide useful, and that you found your perfect place to eat.
For more information about the Geelong foreshore click here.
Find all our Geelong guides here, or learn about the Bellarine Peninsula here or the Surf Coast here.
Related Posts: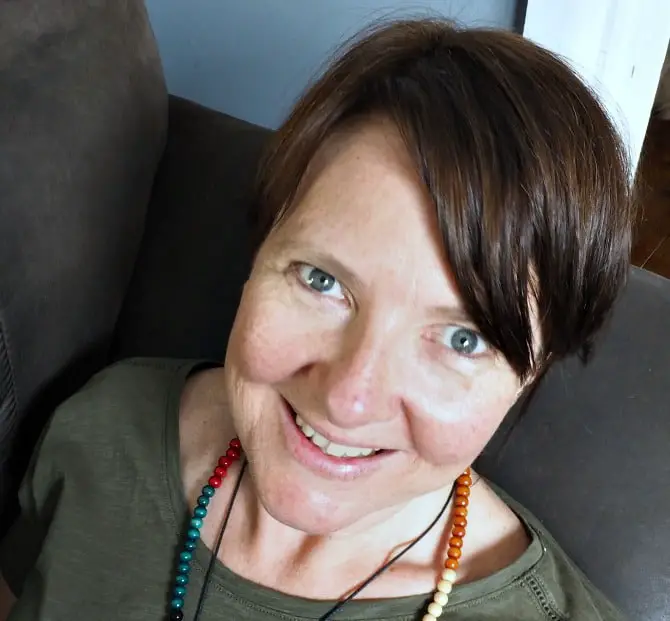 By Audrey Chalmers
Audrey is the principal blogger behind See Geelong. Book Lover | Breakfast Nut | Geelong Gal | She's Usually Craving Coffee.