Top 10 Best Queenscliff Accommodation
Heading to Queenscliff Victoria? Yay! This is a great place to visit with fascinating historical attractions, excellent food, and awesome natural beauty.
Once you decide to go, the next step is to book your Queenscliff accommodation.
There's plenty of great value accommodation in Queenscliff Victoria and it can be hard to decide what is the most suitable for you.
The good news is that much of the accommodation Queenscliff has is found in beautiful heritage buildings. So you can really soak up the town's historic atmosphere.
This article may contain compensated links. For more information read our disclaimer here.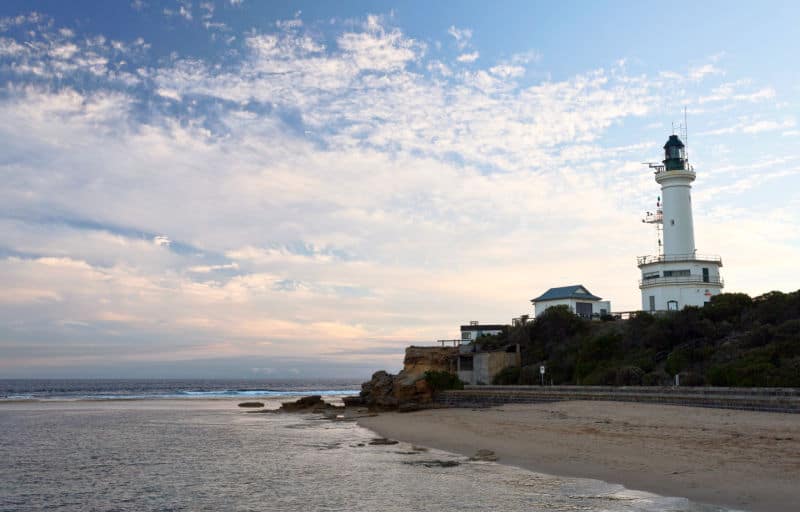 If you are looking for a Queenscliff hotel or Queenscliff caravan park, we list these along with options for a fab Queenscliff bed and breakfast.
So whatever the style or price range you prefer, we have you covered in this list of top accommodation at Queenscliff Victoria.
We start by comparing each accommodation in Queenscliff in a handy comparison chart before delving deeper with full reviews of each option.
If you don't want to waste time click here to book the best Queenscliff accommodation now.
Comparison Of The Best Accommodation Queenscliff Victoria
Best Queenscliff Accommodation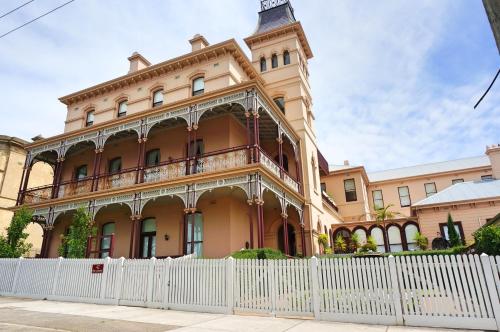 Located in a former Queenscliff hotel the Ozone Tower is the luxury top floor penthouse of the Ozone Apartments.
It's perfect for that special getaway with family and friends and it's our choice for best accommodation in Queenscliff.
The Ozone is situated in the centre of town allowing easy access to shops, restaurants, and galleries. It boasts four large bedrooms with soaring ceilings and wonderfully comfortable beds.
A highlight of the property is the tower itself, where guests can curl up on the super comfy couch, escape, and enjoy the panoramic views across the bay.
Alternatively, guests can fire up the barbecue on the outdoor deck while soaking in the views across the parklands to the ocean.
The Ozone Tower has a kitchen, dining and living area, hydronic central heating, a large split system air-conditioner, and free private parking.
Click here for more information.
This fabulous Queenscliff accommodation also has a shared ground level amenity with a lush grassed area shaded by a magnificent old gum tree.
Best Things?
The tower and deck. The incredible views. Or the quality furnishings. Take your pick.
Worst Things?
The bedrooms don't have air-conditioning although the fans work well.
Summary
The Ozone Tower is a fully self-contained apartment that offers some of the best accommodation Queenscliff Vic has.
Click here to see the latest prices.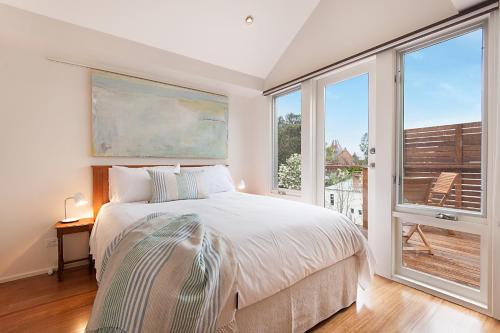 If you're looking for accommodation that's close to Queenscliff restaurants and tourist attractions then Salt Loft could be just what you're looking for.
Situated in an elevated quiet location in the heart of Queenscliff, the Loft is a perfect couples retreat.
Offering expansive views across the town's rooftops this beautifully appointed self-contained apartment is just a few minutes stroll to Queenscliff's main street.
Guests are treated to a lovely welcome basket, quality furnishings, and off-street parking.
A highlight of the property is the sun-drenched balcony area that's ideal for relaxing after a hard day's sightseeing!
Click here for more information.
The host is very welcoming and easy to communicate with. And guests appreciate thoughtful touches like sherry on arrival and local tips and information.
Best Things?
Definitely the location and balcony. The off-street parking provides peace of mind too.
Worst Things?
It's hard to find fault with this property. The only downside is that Salt Loft is a bit small and not suited to families or groups.
Summary
Salt Loft is the perfect choice for couples looking for a quality private retreat in the heart of Queenscliff Australia.
Click here to see the latest prices.
As Queenscliff's oldest operating guesthouse, Athelstane House is the perfect mix of old and new.
Each of the ten rooms has its own ensuite bathroom – eight with large corner spa baths. The cosy rooms are equipped with an efficient split system that keeps the temperature just right.
This fabulous Queenscliff bed and breakfast is perfectly located just off the centre of town and it's within walking distance to most attractions.
Guests enjoy complimentary wifi and shared tea and coffee making facilities. As well as a beautiful communal lounge area where you can mingle with other guests in front of the warming open fireplace.
Click here for more information.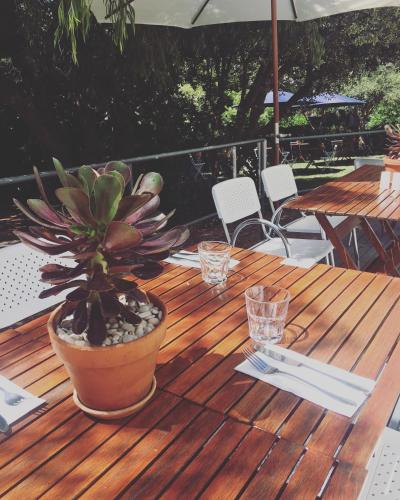 The unique heritage-listed property has six different sitting areas inside and out, as well as a restaurant and fully licensed bar. Room rates include a hearty a la carte breakfast chosen from the guest menu.
Best Things?
The corner spa with rain shower is a luxurious touch. The restaurant serves excellent meals.
Worst Things?
Some rooms are tiny with just enough room for a double bed. They are priced accordingly but be sure to check before booking.
Summary
Athelstane House is a well located quality guesthouse with a restaurant and bar. Guests can choose rooms from a variety of styles and sizes.
Click here to see the latest prices. 
Benambra Bed And Breakfast has been hosting guests for more than 130 years.
It's a lovely old guesthouse that has been fully restored and renovated with all the mod cons. Yet it still manages to retain a lovely old-world charm.
There are eight tastefully decorated rooms. Seven of the rooms have ensuites and one has a private bathroom across the hall. All have reverse cycle air conditioning.
Benambra has two living rooms for guests to relax in, one of which features an open fire for cold winter evenings. There's also a pretty flower garden where guests can enjoy sunny afternoons.
Click here for more information.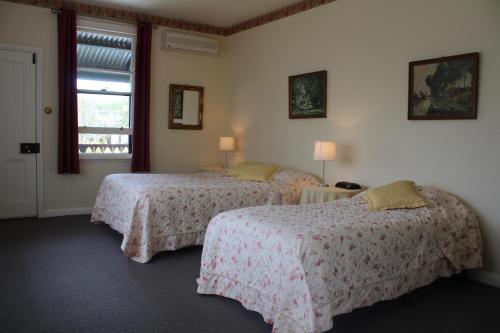 The helpful hosts are very knowledgeable about the area. And guests are treated to a sumptuous cooked breakfast.
Best Things?
The welcoming friendly atmosphere and tasty breakfast.
Worst Things?
No tea and coffee making facilities in the rooms. Benambra is not suitable for families as children are not allowed.
Summary
Benambra is a tastefully decorated period-style B&B that serves a good breakfast and has clean and comfortable rooms.
Click here to see the latest prices.
Delightful Cottage is a Queenscliff holiday rentals gem. The enchanting cottage exceeds guests expectations with its timber floors, quality furnishings and beautiful lush garden.
The cottage includes three bedrooms, a private bathroom, and two toilets. One of the bedrooms has two single beds and two trundles making it perfect for families with kids.
There are two living areas, kitchen and dining area as well as laundry facilities. Outdoor seating is provided for guests to sit and enjoy the cottage's garden and barbecue facilities.
Dogs are welcome at Delightful Cottage, either inside or in the fully enclosed backyard. Two kennels, two baskets and bowls are provided to make your pooches feel right at home.
Click here for more information.
This home away from home is located just 500 metres from the beach and is a short walk from the main street. Guests have access to free Wifi and the kitchen pantry includes condiments and other essential items.
Best Things?
The lovely outdoor garden and barbecue area.
Worst Things?
The front rooms can be a bit noisy during busy times. The open fireplace is not available for use.
Summary
Delightful Cottage offers quality family accommodation in Queenscliff with everything you need. You can even bring your dogs!
Click here to see the latest prices.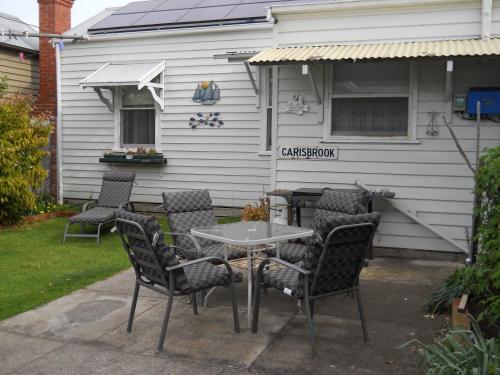 Carisbrook Cottage is a lovely two bedroom self-contained Queenscliff holiday house.
With a queen-sized bed in one room, two singles in the other, and extra children's bedding available, Carisbrook is a great option for families.
The cottage features a lounge/dining area with a TV, DVD player, dining table, couches, gas heater, and air conditioning.
Parents will appreciate the washing machine, clothesline, and shower with a small children's bath.
Rounding out the property is a delightful garden area with a barbecue and outdoor setting.
Click here for more information.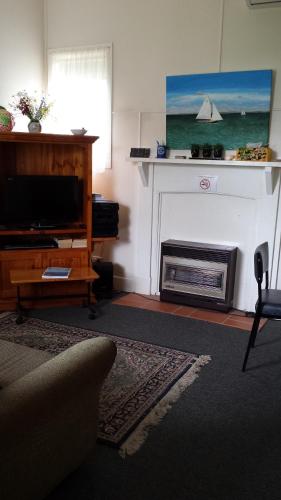 This value for money accommodation has everything you need and includes a complimentary basket with breakfast provisions.
Best Things?
Guests feel well taken care of with a well stocked kitchen and attentive hosts. It's an excellent location for easy access to the Blues Train.
Worst Things?
This is an older style property and some people might prefer a more stylish option.
Summary
Carisbrook Cottage is a good option for groups and families. And is the best cheap accommodation Queenscliff has to offer.
Click here to see the latest prices.
Twomey's Cottage is a super cute 1880's fisherman's cottage, that has been transformed into a self-contained holiday house.
Period pieces are found throughout the house and it has a lovely historic ambience. Wooden floorboards and timber panelling add warmth and character.
This two bedroom Queenscliff beach house sleeps up to five people. It offers a separate dining area, kitchen and lounge room, a cosy open fireplace and an outdoor courtyard.
Twomey's Cottage has a quiet central location just steps away from the beach and Queenscliff's main street.
Click here for more information.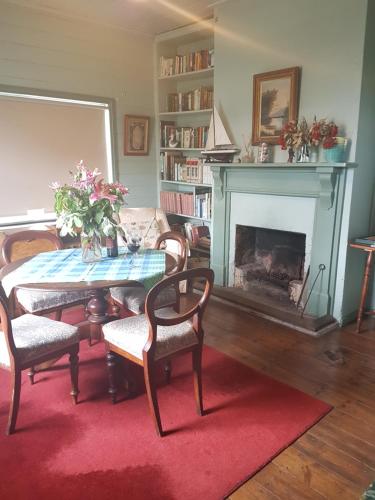 Twomey's offers pet friendly accommodation in Queenscliff. Guests will need to inform their hosts prior to arrival and pay a small fee.
Best Things?
The comfortable beds and lovely historic ambience that infuses the whole property.
Worst Things?
The hosts only accept cash payments and there are extra charges for linen and firewood.
Summary
Twomey's Cottage is a self-contained historic holiday cottage in the heart of Queenscliff that accepts guests with pets.
Click here to see the latest prices.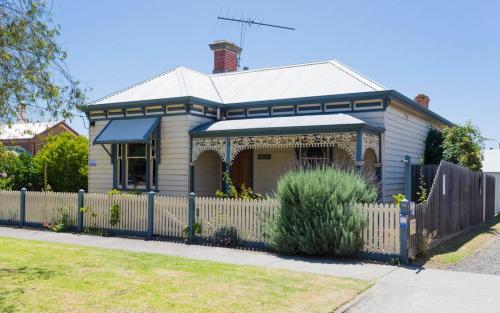 The beautiful three bedroom Abaleen House is conveniently located in the heart of Queenscliff.
Less than one kilometre from the busy Queenscliff Harbour it's just minutes from restaurants, shops, cafes and the beach.
The cottage has been extensively renovated with quality fixtures and fittings. And it's the perfect blend of mod-cons and comfortable furnishings with gorgeous antiques.
Modern comforts include Wifi, a fabulous spa bath, heating and cooling, a washing machine and a well-equipped kitchen with a dishwasher and microwave oven. Guests can also enjoy the undercover barbecue and garden patio that's surrounded by lush greenery.
Click here for more information.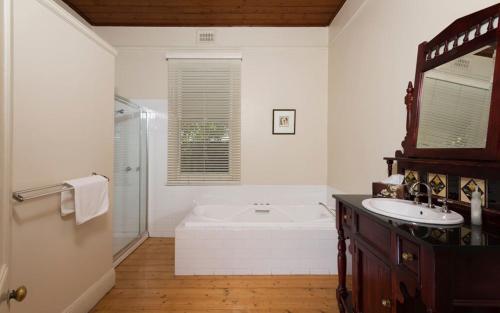 Pets are welcome at Abaleen House, and the property features secure off-street parking for two cars.
Best Things?
The period features, fabulous spa bath and outdoor entertaining area.
Worst Things?
As Queenscliff is a seaside village the Wifi can be patchy.
Summary
Abaleen House is a comfortable three bedroom Victorian-era cottage with a spa bath and outdoor barbecue entertaining area.
Click here to see the latest prices. 
Best Queenscliff Hotel
The Vue Grand Hotel is an iconic heritage listed hotel in the centre of Queenscliff.
Built in 1881, it's a stunning Victorian era building with an imposing foyer, staircase, and Grand Dining Room.
Guests at the Vue Grand have the option of choosing classic colonial style rooms, rooms with balconies and/or spa baths, or suites with freestanding tubs and bay views.
Sitting at the very top of the hotel is the Turret Suite. This luxury retreat has breathtaking 180 degree panoramic views of Swan Bay, Port Phillip Heads and Hesse Street.
The suite also features lavish decor, king-size bed, leather lounge and bar area and a spa bath with water views. There's even a telescope for you to watch the ships passing through the heads.
Click here for more information.
The boutique hotel's Grand Dining Room offers seasonal fine dining. Guests can also enjoy a casual meal on the outdoor terrace at the Pekish Street Bar.
Best Things?
The grand old heritage building and breathtaking views.
Worst Things?
Car parking is not available.
Summary
A boutique hotel set in a heritage-listed building in a central location. There are a variety of rooms and suites to choose from, some have balconies, spa baths and water views.
Click here to see the latest prices.
Queenscliff Caravan Park

Big 4 Beacon Resort sits at the entrance to Queenscliff just across the road from the beach.
Set amongst native gardens this well-maintained Queenscliff tourist park offers extensive year-round facilities. Kids will love the daily kids' club, giant jumping pillow, indoor and outdoor playground, go-karts, as well as the indoor pool.
While adults will enjoy the day spa, yoga and pilates classes and the 24-hour gym. It's even possible to have a barista-made coffee delivered right to your door!
This Queenscliff Big 4 has a variety of accommodation options to suit all budgets and holiday styles. Guests can choose from luxury one, two and three-bedroom villas, modern apartments, self-contained cabins, plus caravan and camping sites.
Click here for more information.
The customer service is outstanding at Beacon and the staff are only too happy to assist from the biggest requests to the smallest.
Best Things?
The fabulous kids' entertainment that keeps them busy for hours.
Worst Things?
Pets are not allowed.
Summary
Big 4 Beacon Resort is a well maintained holiday resort that offers affordable family friendly accommodation.
Click here to see the latest prices.
We hope you found your perfect choice of Queenscliff accommodation.
For more options read this list of the best accommodation in Portarlington. 
If you would like to find out more about the things to do in Queenscliff, then read this post. 
You may also find this list of Geelong Winery Tours useful.