The Amazing Surf Museum Torquay
The Surf Museum Torquay (officially known as the Australian National Surfing Museum Torquay) is an interesting and popular attraction in Torquay.
It's an ideal Torquay tourist attraction for anyone who likes surfing or is interested in surfing history and culture. It's also a great option if you're wondering what to do in Torquay on a wet winter's day.
As the world's first fully accredited surfing museum the Torquay Surf Museum has some impressive credentials with the International Surfing Association calling it "one of the most significant centres of surfing heritage in the world".
This article may contain compensated links. For more information read our disclaimer here.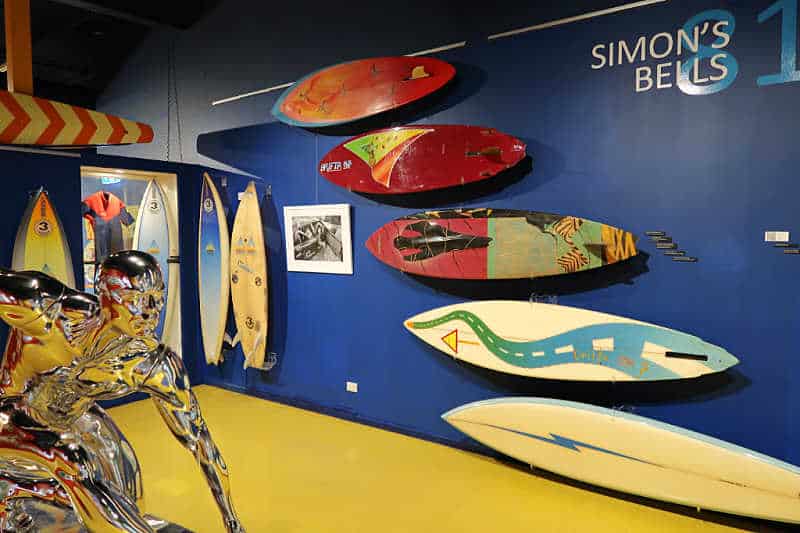 The museum is loaded with information and remarkable artefacts and it's easy to see why a visit here is one of the top things to do in Torquay Victoria.
Even if surfing isn't your jam it's worth dropping by just for the nostalgia alone. We aren't surfers but we got a kick out of the displays that sent us on a trip down memory lane.
In this post you'll find all the information you need to help you decide if you would like to visit this iconic Torquay attraction.
Surf Museum Torquay
Australia is one giant island with thousands of kilometres of epic coastline. Naturally, surfing is part of the nation's identity as well as being one of the country's favourite past-times.
Australia has played an important role in the development of surfing culture around the world, contributing to surfboard design, clothing, and accessories, and competition.
Nowhere does that ring truer than at Torquay Bells Beach home to the Rip Curl Pro the world's longest running surfing competition.
Torquay is also where the famous surf brands Rip Curl and Quicksilver were founded. So it's no surprise that the Australian Surfing Museum came about through the vision of Torquay surfers.
Friends Peter Troy, Vic Tantou, and Alan Reid came up with the idea which was supported by Surfing Australia, the Geelong Regional Commission, and the Torquay surfing industry.
Working together the museum became a reality and it opened its doors in December 1993.
The Australian Surf Museum is now a top Torquay tourist attraction. Be sure to add it to your list of Torquay things to do!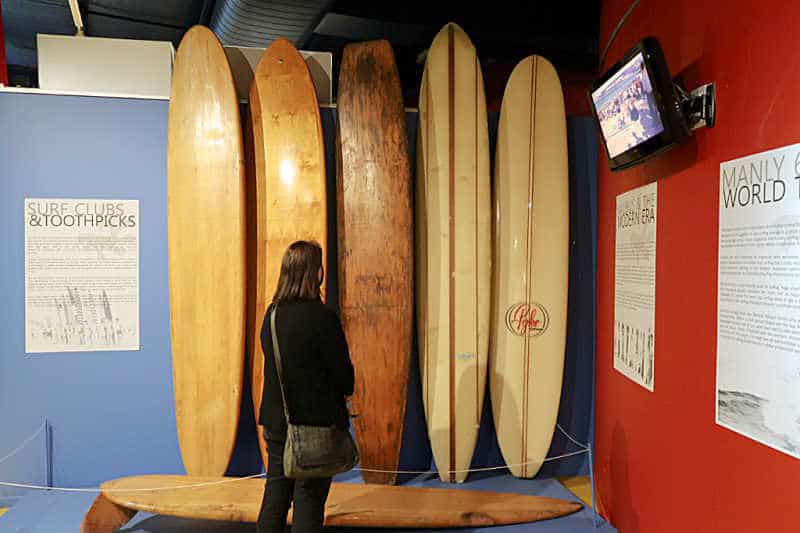 From the beginning, the Torquay museum has been a place to commemorate Australian surfers, their achievements, Australia's contribution to surf culture, and the heritage of wave-riding.
The collection documents over 100 years of the Australian surfing story using surfboards, historical photographs and images, clothing, surf movies, and even vehicles.
The first exhibition pays homage to Simon Anderson, winner of the 1981 Bells Beach Classic, and creator of the three fin "Thruster" design.
The three fin set up was considered the biggest advancement in surfboard design since polyurethane foam. To this day most of the world's elite surfers ride three finned surfboards.
This display features surfboards, black and white photographs, written explanations, and a fantastic video of Simon telling his story.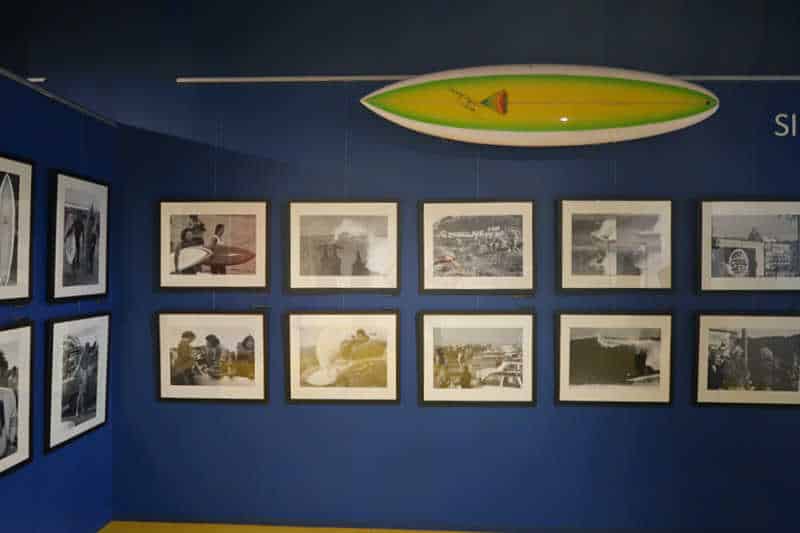 Surf Culture
There is a well-curated collection of artefacts spread throughout the museum, including trophies, artworks, books, and wetsuits reflecting different eras from the past one hundred years.
There is loads of information and it's extraordinary to learn of the true impact surfing has had on our way of life.
For instance, I was surprised to learn that surfers invented skateboards (news flash) to give them something to do when there were no rideable waves.
Along with its permanent displays, the Torquay museum also features temporary exhibitions. We were lucky enough to visit while the "Waves and Wheels – A Celebration Of Surfaris" exhibit was showing.
This fun exhibition celebrates the wave-chasing adventures of surfers up and down our coastline, and the iconic "Surfmobiles" they drove.
In an effort to cash in on the surfing craze car manufacturers released surfing-themed vehicles such as the (now iconic) Sandman and Sundowner panel vans decorated with outlandish graphics and advertising.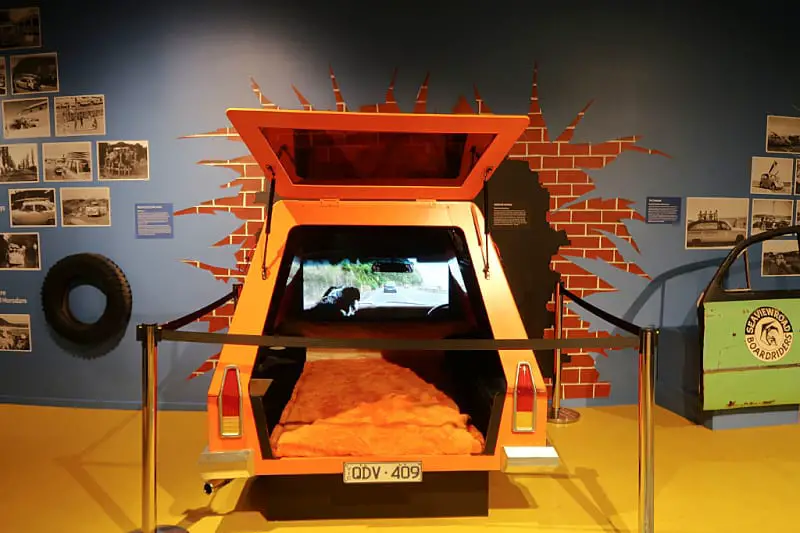 The Board Room
The exhibition known as the "Board Room" details the evolution of surfboard designs and materials.
The showroom is well thought out with surfboards displayed to their best advantage on a curved wall and a wooden walkway to view them from.
On show are historic century-old solid timber boards, hollow plywood "toothpicks", balsa and fibreglass Malibu-style surfboards, modern-day, and futuristic composite pieces.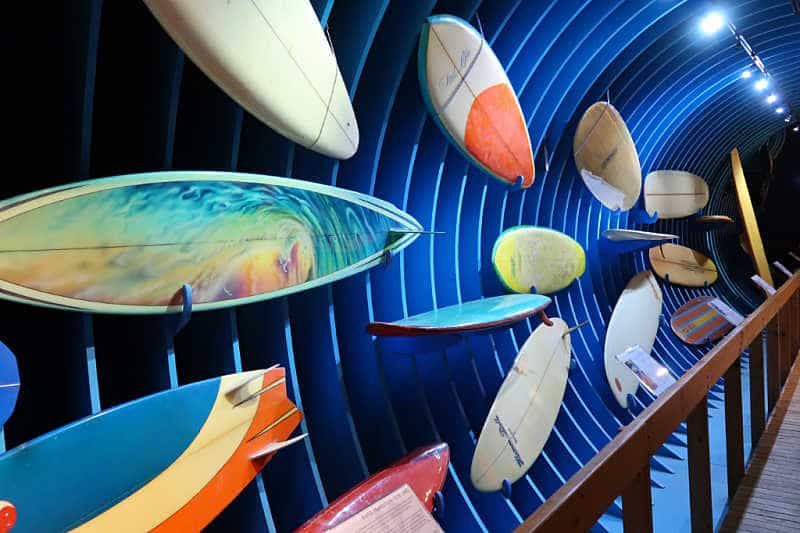 Shaping Bay
A wonderful feature of the museum is the glassed workshop where you can watch master craftsman Eiji Shiomoto shape boards.
Eiji has been working on surfboards in Torquay for 30 years. Here you can see him shaping boards from traditional malibus to high-performance shortboards.
Eiji wasn't in the day we visited but we could still see all his equipment, tools of the trade, and the board he was shaping.
Feeling hungry? Read our guide to the best Torquay restaurants here.
Surfboard Art
An amusing highlight of the museum is a cheeky set of decorated surfboards.
The creation of local artist Gordon Stammers, the surfboards are painted with hilarious letters from teenagers to their parents.
One notable surfboard has been shaped with a huge shark bite taken out of it!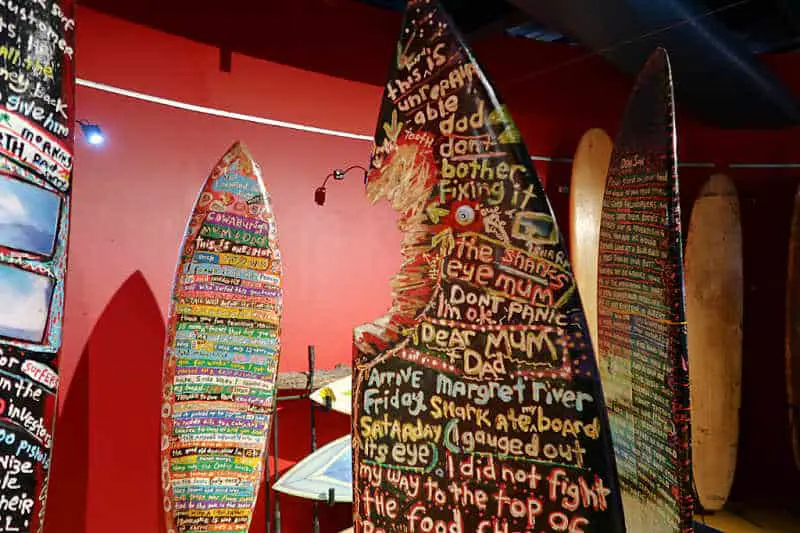 Australian Surfing Hall Of Fame & Theatre
Rounding out the museum is the Hall Of Fame that honours significant figures and great champions from Australia's surfing history.
Replicas of boards ridden by each surfing master have been embedded with a biography detailing highlights from their wave-riding career.
Museum visitors can relax in the theatre room surrounded by these surfboards while watching classic surf movies on the big screen.
Keep an eye out for Layne Beachley's board, not much bigger than an ironing board it shows how talented a surfer she was.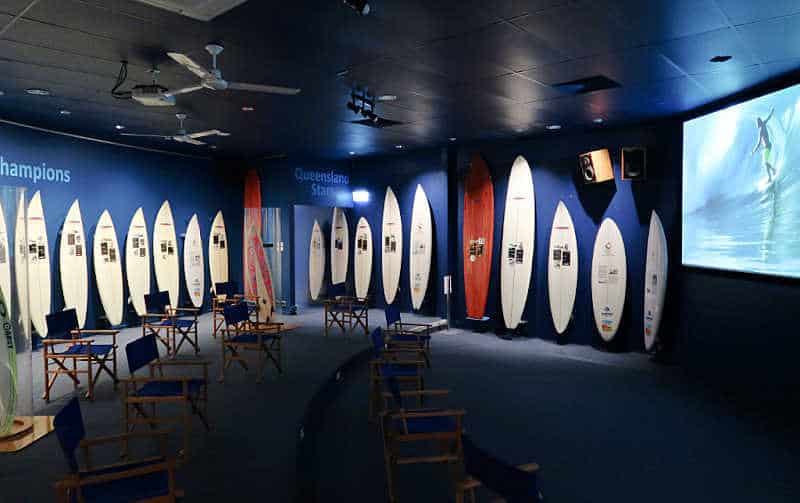 AUSTRALIAN NATIONAL SURFING MUSEUM TORQUAY ESSENTIAL INFORMATION:

Address: 77 Beach Road, Torquay Vic (Inside the Torquay Visitor Information Centre)

Phone: 03 5261 4606

Surf Museum Opening Hours: 9 am – 5 pm, 7 Days A Week, Closed Christmas Day

Surf Museum Ticket Price: Adult $12/Kids $8/Concession $8/Family $25
Final Words
If you're looking for fun and interesting Torquay attractions then the Torquay Surf Museum is a great choice.
It's one of the best things to do and see in Torquay and for anyone who loves surfing or nostalgia, it's sure to be a hit.
Click here to read about more things to do in Torquay or here for more guides and information about the Surf Coast.