Heading down the coast and want to know all the things to do in Anglesea Victoria?
Lucky you! Anglesea is a magical town with pristine beaches, beautiful scenery, and nature galore.
It makes a perfect weekend getaway with heaps of fun Anglesea things to do, great places to stay, and excellent food.
The town has a relaxed family vibe, especially when compared to the more flashy Lorne and Torquay, and it has a lot to offer visitors.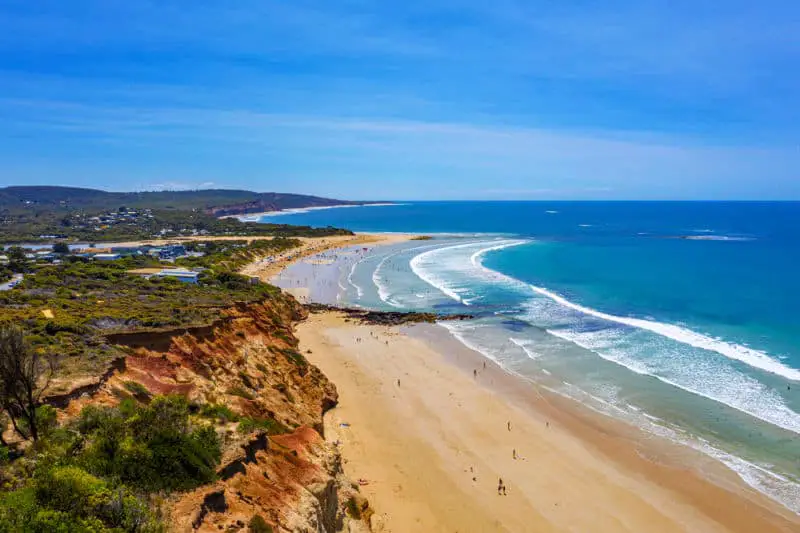 This article may contain compensated links. For more information read our disclaimer here.
Located on the Surf Coast along the Great Ocean Road, Anglesea is just a 40-minute drive from Geelong and 90-minutes from Melbourne.
It's close enough for a day trip, but with so many things to do around Anglesea we recommend staying a night or two.
Find our top Anglesea accommodation pick here.
Below you'll find our guide to all the best Anglesea attractions. So if you're wondering what to do in Anglesea Australia, keep reading!
Best Things To Do In Anglesea
1) Head To An Anglesea Beach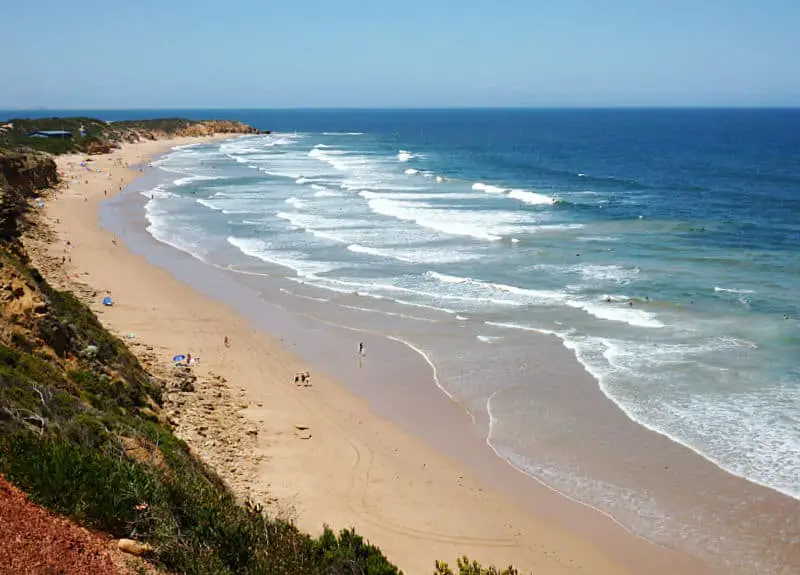 What better way is there to kick off your Anglesea trip than to head to the beach?
No matter whether it's hot or cold, the beach is always a magical place.
This stretch of coastline is home to some of Australia's best beaches and Anglesea is no exception.
So don't forget your beach towel, umbrella, or sunshade, and have a fabulous day at the beach.
Tucked in next to the mouth of the Anglesea River, Anglesea Main Beach is the perfect spot for some 'R & R'.
Its pristine shoreline stretches 400 metres along the stunning coastal cliffs and its shallow waves are ideal for swimming and beginner surfers.
Anglesea Beach is patrolled at peak times and it's super handy to the town and shops.
Nearby Point Roadknight Beach is also a favourite and one of the safest beaches in the Anglesea area.
This sheltered beach averages waves of less than a metre and is patrolled by lifeguards during the Christmas holiday period. (See more below)
Soapy Rocks Beach also known as Slippery Rocks sits between Anglesea Surf Lifesaving Club and Point Roadknight Beach.
The 700-metre beach gets its name from the rocks at the top of the bluff and on the shore that become super slippery when wet. So take care when accessing the beach.
Although this beach is sheltered by Point Roadknight the waves at either end are suitable for surfing.
2) Explore The Rock Pools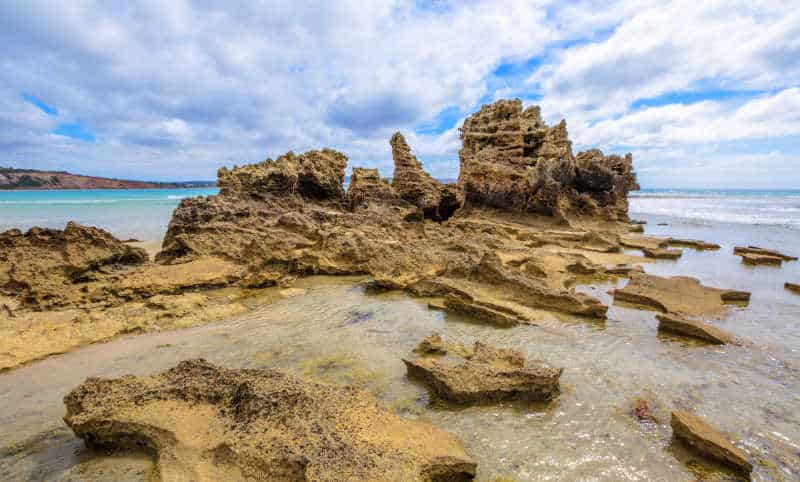 Not only is Point Roadknight, Anglesea a great beach for swimming it also has some amazing rock formations to explore.
If you're looking for fun things to do at Anglesea with kids, then these rock pools should do the trick.
Kids spend hours exploring the area hunting for hidden treasures, paddling their feet, building sandcastles, and burning off energy.
The beach has toilets, showers, and barbecue facilities and the nearby cafe serves excellent coffee and sandwiches.
Be sure to check the tides before venturing down.
3) Learn To Surf, Anglesea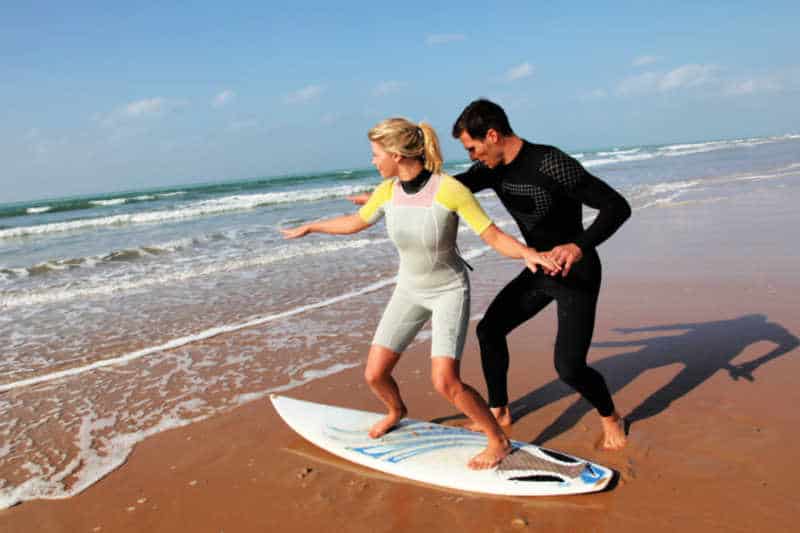 One of the most popular things to do in Anglesea Australia is surfing, after all this is the Surf Coast!
If you've never tried surfing but always wanted to, or even if you just need to brush up on your skills, check out Anglesea Learn To Surf.
Run by Go Ride A Wave, this well-respected surf school, will have you up and riding the waves in no time.
Lessons are conducted in waist deep water for safety and include all the equipment you need.
The 2-hour Introductory Lesson is perfect for beginners where the main objective is to have fun and get you standing up on your surfboard.
If you would like to take your surf experience even further the Surf Course will give you the confidence to surf on your own.
This gives you 3 lessons and 12 online modules that teach you the fundamentals of surfing.
Stand-Up-Paddleboard classes are also available, and a wide range of surf gear is available for hire including soft learner G Boards, wetsuits, paddleboards, kayaks, and bodyboards.
Click here to book your tickets.
4) Enjoy Some Anglesea River Fun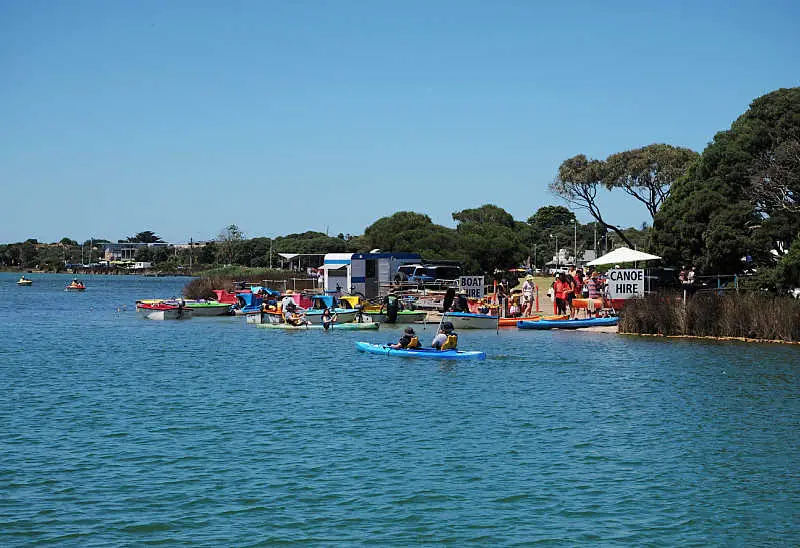 The tranquil Anglesea River flows through the town centre and links 16 hectares of parkland with the ocean.
Offering visitors the chance to enjoy some fun water activities the river is one of the main Anglesea tourist attractions.
Just about everyone takes a stroll along the river at some stage during their stay.
It's a nice easy walk with well-maintained paths, lots of vegetation, and many species of water birds native to the area.
If you're feeling energetic hire a paddleboat or canoe and explore the area from the water.
The sheltered estuary is easy to paddle and canoes can be taken further upstream.
Cute mini motorboats are also available and are a super fun activity for all ages.
Where: Anglesea Paddle Boats are located on the riverbank next to the bridge.
When: Daily from 10 am
Cost:
Canoe – $40 for 1 hour
Motor Boats – $35 for 15 minutes
Paddle Boats – $30 for 15 minutes
5) Zip Through The Trees At Live Wire Park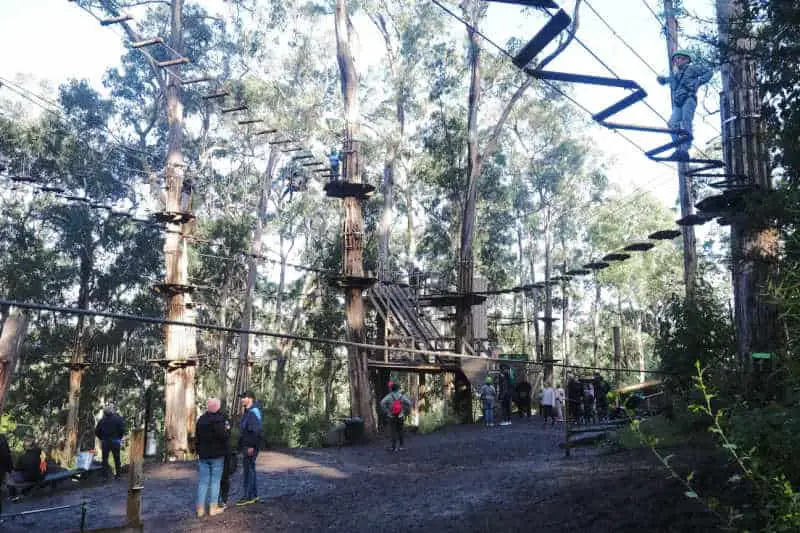 Outdoor adventure lovers should head to Live Wire Park in Lorne for some high-action fun amongst the trees.
This park is one gigantic adventure playground where you can climb, jump, scramble, swing and fly through the trees.
There are a variety of courses to choose from ranging in difficulty levels from low, to mid, and high intensity.
Testing your balance and problem solving skills the most popular courses are the Super Circuit for adults and the Short Circuit for kids.
Other circuits include the Canopy Circuit which is a suspended wooden walkway amongst the trees, and the Spring Circuit a series of elevated trampolines to bounce around on.
A highlight of any visit is the Shockwave Zip Coaster. Said to be the most extreme zip line in Australia it will have you flying through the trees at lightning speed.
Where: 180 Erskine Falls Road, Lorne
When: Daily 9:45 am – 5 pm
Cost: Adults: $20.00, Kids: $16.00
Entry to the park includes the Spring and Canopy Circuits. All other circuits cost extra.
Click here to book the Short Circuit: Best for young kids
Click here to book the Super Circuit: Best for kids over 10 and adults
Click here to book the Shockwave Zip Coaster
6) Soak Up The Views At Loveridge Lookout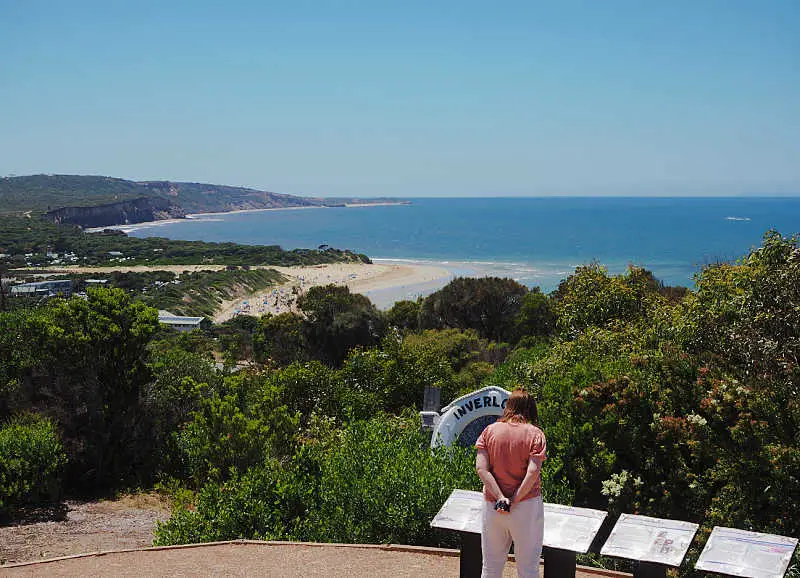 Loveridge Lookout was built in 1938 by Bertha Loveridge as a memorial to her husband James.
Located near the family's property "Anglecrest", Bertha chose the site as it was James's favourite place to view the coastline.
It's not hard to see why he loved this spot as it offers some of the most scenic views in the area.
The lookout has an interesting history serving as a Volunteer Air Observers Corps observation post during WWII.
Between 1942 and 1945 local residents manned the post 24 hours a day, recording aircraft movements and relaying the information to Geelong by phone.
Loveridge Lookout is well worth a stop, seats and shelter are provided and there are plaques with information for visitors to read.
The site has been added to the Victorian Heritage Register.
Where: 2A Harvey Street, Anglesea 3230
When: Open 24 hours
Cost: Free
7) Picnic At Coogoorah Park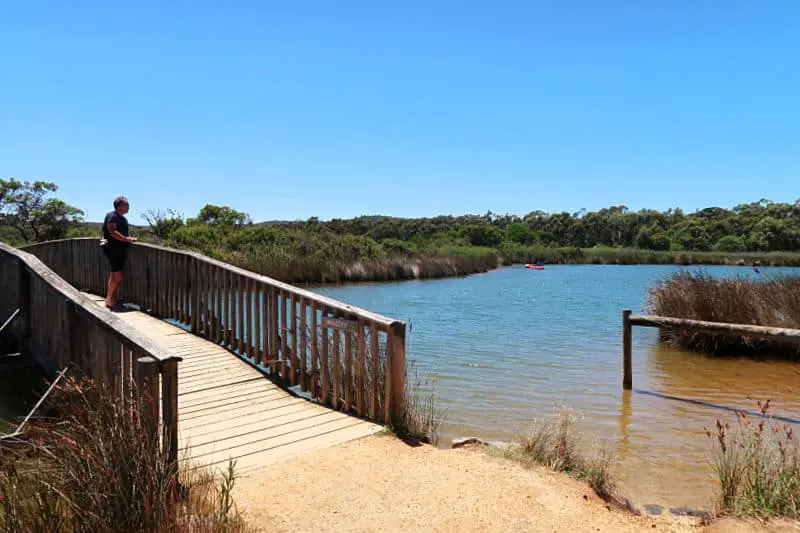 Tucked away along the river in central Anglesea, Coogoorah Nature Reserve covers 17 hectares of estuarine and woodland habitat.
It was created when the peat that the area was covered in, caught fire during the 1983 bushfires and couldn't be extinguished.
In an effort to put the fire out it was decided to flood the area and turn it into a recreational reserve for the community to use.
It's a quiet, peaceful spot that sees more locals than visitors, and Coogoorah Park is a great option if you're looking to escape the summer tourist crowds.
The park is covered in walking and cycling tracks that wind their way amongst reeds, over bridges, and through bushland.
It's a bird lovers paradise with over 150 species of birds to be found. And there are lots of jetties available for fishing.
Coogoorah Reserve is ideal for families with two playgrounds for the kiddies.
One of which features a wooden pirate ship with hidden treasure inspired by the 'Inverlochy' that was wrecked off the coast in 1902.
There are sheltered barbecue facilities, picnic tables, toilets, and a good sized car park.
Where: 21 River Reserve Road, Anglesea
Cost: Free
8) Climb Split Point Lighthouse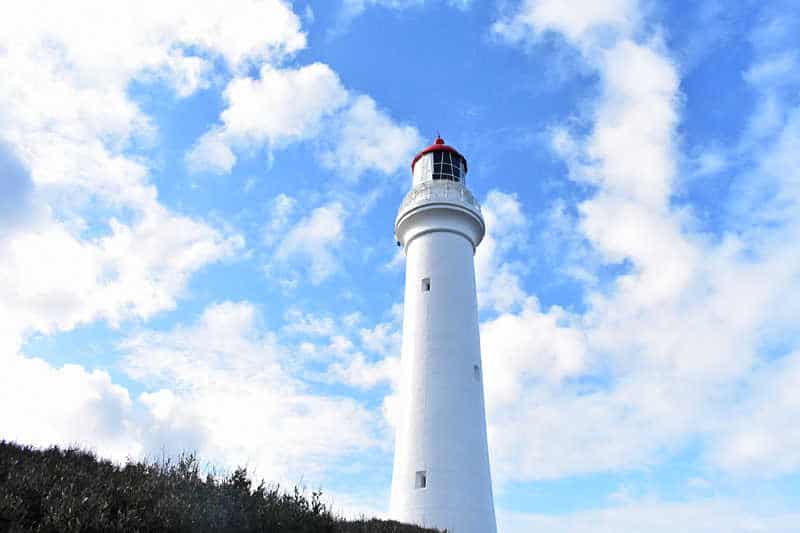 Almost impossible to miss as you drive the Great Ocean Road, Split Point Lighthouse is one of the must-see things to do near Anglesea.
As beautiful as it is, this part of the coastline is the site of hundreds of shipwrecks and many deaths.
Split Point Lighthouse has been helping ships to navigate these treacherous waters since 1891.
To this day it remains a vital signal for shipping vessels and it still operates every night by an automated system.
Open daily for tours it's a fantastic place to dive into the history of the region. Memorabilia lines the walls as you climb the stairs and guides share information about the lighthouse operations and stories of its keepers and their families.
Even if you're not interested in maritime history it's worth a visit for the incredible 360 degree views up and down the coast.
Tours can fill up during peak times so it's best to book ahead.
Fun Fact: Split Point Lighthouse, nicknamed the White Lady, was used as the backdrop for the classic children's show Round The Twist.
Where: Federal Street, Aireys Inlet 3231
When: Daily from 10 am to mid-afternoon
Cost: $10.00
Click here to pre-book a tour.
9) Meet The Anglesea Golf Course Kangaroos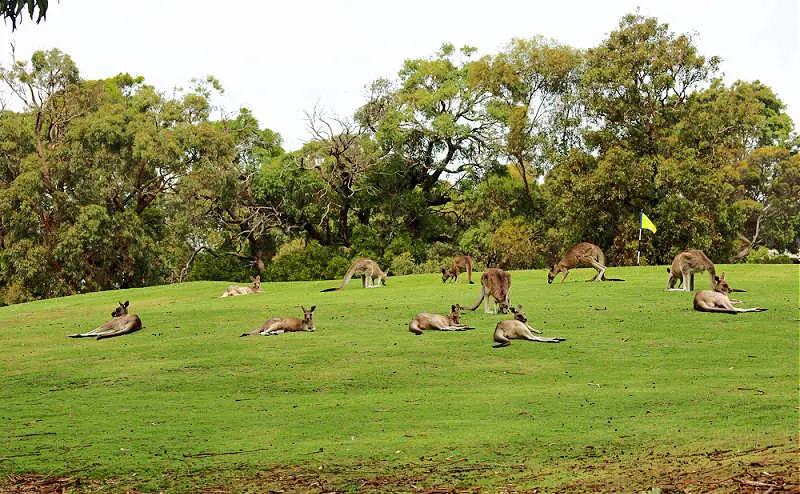 Meet the local resident marsupials at Anglesea Golf Course!
This course is home to around 300 Eastern Grey Kangaroos whose ancestors lived in the area long before the course was built.
Now well adapted to human activity the kangaroos live in harmony beside the golfers and tourists who throng to the course to see them.
In 2015 the club decided to host Kangaroo Tours to manage the large number of tourists who would wander onto the fairways and greens in search of these iconic Australian animals.
The tours are conducted by volunteers from the club in open-air electric vehicles that take you to favourite locations where the roos love to graze and rest.
The guides are full of information and you'll learn about the life cycles and habits of these fascinating creatures.
Tours take around 30 minutes and you'll be given the opportunity to 'hop' out and take photos.
You might even spot a tiny joey peeking out from its mother's pouch!
Where: Anglesea Golf Club, 1 Golf Links Road Anglesea 3230, Phone: 5263 1582
When: Daily in peak season
Cost: Adults – $12.50, Child under 12 – $5.00, Family of 4 – $30.00
10) Have Bouncing Fun At Jumpz Anglesea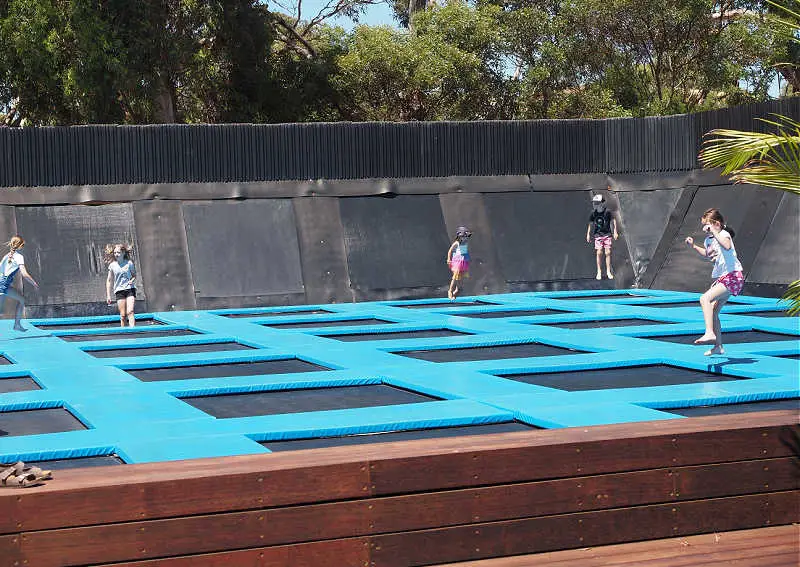 Jumpz Anglesea is a fun outdoor trampoline play park where kids can literally jump off the walls.
A series of trampolines are interconnected to form one big play area with trampoline lined walls that kids can bounce off.
Hidden away at the back of the Great Ocean Road Resort, Jumpz can be a little hard to find, but it's a great place for families to spend a few hours.
Kids can jump, bounce, and flip until they drop while the grown-ups watch on drink-in-hand from the shady deck.
Pizzas, share plates, beer, and cocktails are available, and the kiosk has ice creams, snacks, coffee, and other tasty goodies on offer.
Where: 105 Great Ocean Road (within the Great Ocean Road Resort)
When: Daily 10 am – 8 pm
Cost: 60 minutes $15.00, Day Pass $25.00
11) Hike The Surf Coast Walk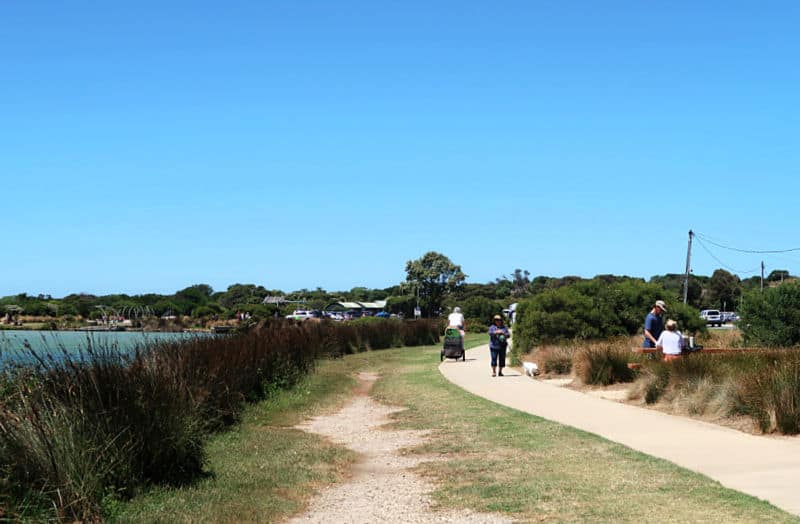 The Surf Coast Walk is a 44 kilometre long walking trail between Torquay and Aireys Inlet that takes you through some of the gorgeous coastal towns along the Great Ocean Road.
Along the way hikers experience clifftop walks, panoramic ocean views, eucalyptus forests, and local wildlife.
The walk is adaptable to all fitness levels as it has 12 individual trails each with their own start and end point.
You can choose to hike for several days or for a couple of hours, or you might just want to take a short stroll.
Anglesea is the mid point of the Surf Coast Walk and it's where sections 6, 7, and 8 begin.
The Anglesea Riverbank Walk (S7), is an easy family friendly walk that passes the paddleboats and a playground, and finishes at the beach.
If you'd like to stretch your legs further the Anglesea to Point Roadknight Walk (S8) offers panoramic views back toward the town, river, and ocean.
If you are reasonably fit the Anglesea Heath Walk (S6) between Point Addis and Anglesea is a really lovely hike.
This more challenging 7 kilometre trail showcases nature at its best and includes beach walking, hills, and rugged steps.
You can find an interactive map and more details about these and other walks here.
12) Find A Bargain At An Anglesea Market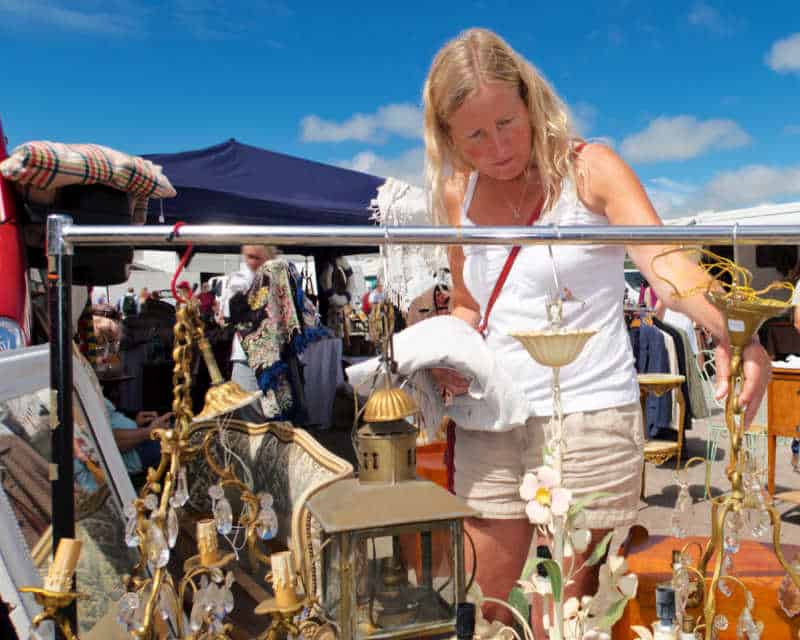 One of the fun things to do in Anglesea is to wander the markets in search of a bargain.
Loaded with atmosphere and lots of local goodies the Anglesea markets offer unique arts and crafts, tasty treats, fresh organic produce, clothing, and live entertainment.
Anglesea Riverbank Market
Raising funds for local organisations the much-loved Anglesea Riverbank Market has over 100 stalls offering a treasure trove of wares.
Set on the banks of the Anglesea River, visitors can enjoy a stroll along the river while browsing arts and crafts, jewellery, toys, books, clothing, and plants.
There's also great food and coffee and plenty of family entertainment.
Six markets are held over the summer months,- please bring your own carry bag as this is a Waste Wise event.
Where: Anglesea Riverbank
When: Click here for the latest dates.
Anglesea Twilight Market
There's something magical about a twilight market on a warm summer's evening.
Especially when that market takes place in a small seaside village like the Anglesea Twilight Market does.
An Anglesea Community House initiative this fabulous farmers' market supports local producers and growers.
Tempting bargain hunters with crusty bread, fresh eggs, jam and honey, crisp veggies, as well as cheese, beer, and gin(!), this Anglesea market is a great place to spend a relaxing evening.
Food trucks offer mouthwatering treats and local artists create a wonderful atmosphere with their live musical entertainment.
Where: Anglesea Community Precinct car park – enter via McMillan Street
When: 1st & 3rd Friday of the month between November and March, 4.30 pm – 8.30 pm
13) Treat Yourself At The Great Ocean Road Chocolaterie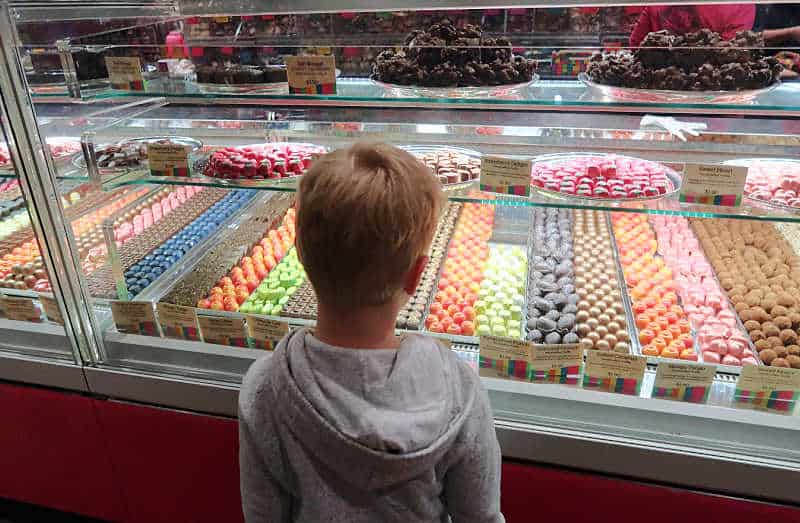 Is there anything better in this world than a shop full of wall-to-wall chocolate?
For chocolate lovers, the Great Ocean Road Chocolaterie & Ice Creamery is a real treat.
Located between Torquay and Anglesea, this Great Ocean Road chocolate factory has a huge showroom filled with an eye-popping array of chocolates.
Not only can you stuff yourself full of chocolate and ice cream but you can watch the sweet treats being made through giant viewing windows.
There are daily tasting sessions available, special events, and chocolate-making workshops for those who'd like to learn more about the craft.
The Chocolaterie sits on 15 acres of beautifully landscaped grounds with a great lawn for the kids to run around on, a veggie garden and orchard, and scattered benches for relaxing.
The onsite cafe serves hot meals, toasties, pastries, and desserts, as well as decadent hot chocolates.
This is a great option on a rainy day or if you're looking for things to do in Anglesea in winter.
Where: 1200 Great Ocean Road, Bellbrae. Ph: (03) 5263 1588
When: Open 9 am – 5 pm every day except Christmas. Daily Tastings: 11 am, 1 pm, 3 pm.
Cost: Tastings are $3.00 per person. Entry is free.
14) Play Mini Golf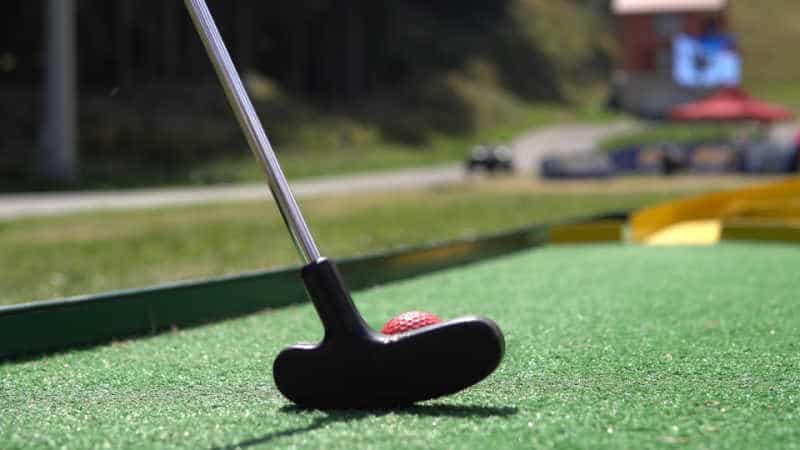 Set within beautiful gardens filled with local indigenous plants, Great Ocean Road Mini Golf, invites people of all ages to experience their unique courses.
There are two fun, custom-built courses that are both challenging and entertaining.
Every hole is different with a distinctive feature including replicas from the region like the Split Point Lighthouse, shipwrecks, and the 12 Apostles.
The Shipwreck Coast course has 18 holes and takes a minimum of 45 minutes to complete. While the Twelve Apostles course features 12 holes and only takes around 30 minutes.
This Aireys Inlet mini golf course is well-maintained, has friendly staff, and is a lot of fun for the whole family.
There is a large clubhouse filled with old-fashioned games and refreshments. And a state-of-the-art virtual golf simulator where you can challenge yourself to one of 22 courses or practice teeing off.
Where: 73 Great Ocean Road, Aireys Inlet
When: Saturday-Sunday 10 am – 5 pm, Every day during the school holidays
Cost: Both Courses (30 holes): Adult $ 21.00, Junior $16.00, Family $64.00
15) Burn Energy At The Anglesea Bike Park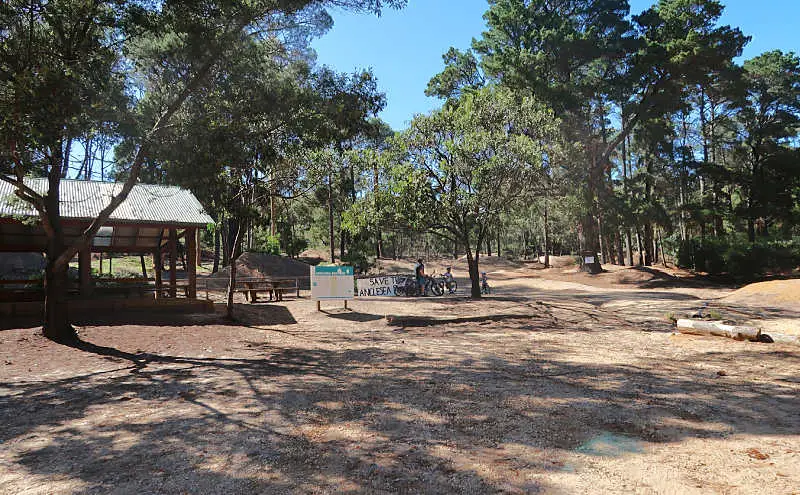 Set into a hill and surrounded by soaring pine trees, the Anglesea Mountian Bike Park is a great spot for families with energetic kids.
This much-loved bike park was designed by the respected trail builder Glen Jacobs and was the state's first professionally designed 4X track.
It consists of 400 metres of mountain cross and jump tracks, well-designed mounds, rollers, jumps, and tabletops, as well as a dirt jump area and a single track with long rides.
Suitable for a range of skill levels there are enough challenges for both novice and experienced riders to have hours of fun.
The park is maintained by a group of volunteers who ensure the park and facilities are clean and in good condition.
There is a toilet, as well as a shelter and picnic area.
Note: The Surf Coast Shire leases the land the bike park sits on from Alcoa who plans to sell the property which will most likely mean the end of the park. There's a movement to try and save the park and a 5,000 signature petition has been presented to Alcoa with little effect so far.
When: Daily
Where: 80 Camp Road, Anglesea
Cost: Free
16) Taste Wine At Bellbrae Estate Winery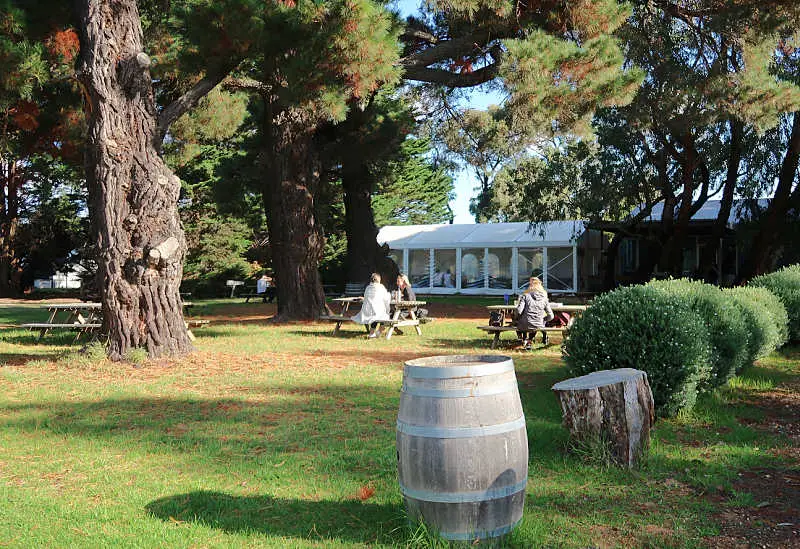 Just a short drive from Anglesea down the Great Ocean Road, Bellbrae Estate Winery is tucked in amongst the beautiful rolling hills of the Surf Coast.
Established in 1999, this family owned boutique winery and cellar door is a 5-star Halliday rated winery.
The estate makes full use of the regions cool, maritime climate producing top-notch wines such as Pinot Noir, Shiraz, Sauvignon Blanc, and Chardonnay.
Its cellar door offers simple wine tastings or you can choose a more elaborate Wine Tasting Experience that pair wines with locally made cheeses, chocolate and other produce.
Wood-fired pizzas, cheese platters, and chocolate platters featuring tasty delights from the Great Ocean Road Chocolaterie are also available. Yum!
During the warmer months, live music sessions are held on Sunday afternoons. These popular events are a great way to relax on a summer's day with a glass of wine while enjoying the gorgeous views.
It's a good idea to book in advance.
Where: 520 Great Ocean Road, Bellbrae
When: Wednesday – Sunday 12 pm – 5 pm
17) Explore The Anglesea Heath & Great Otway National Park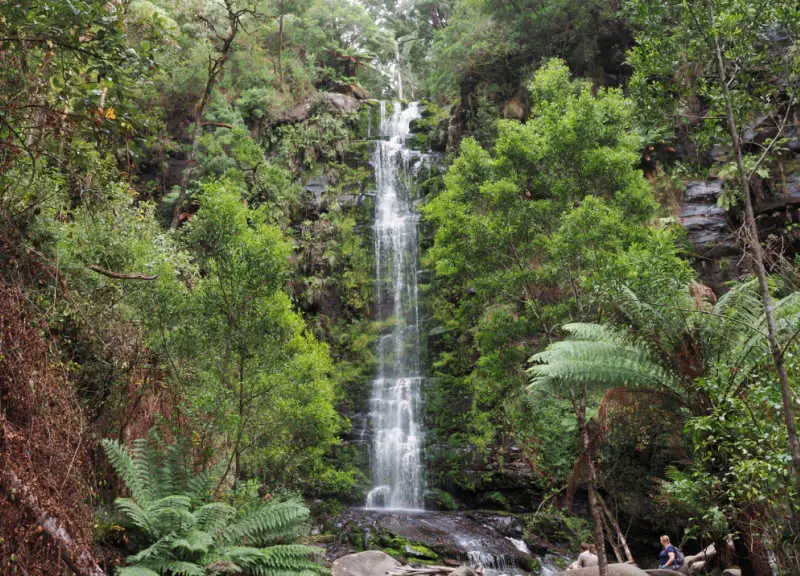 One of the best things to see in Anglesea is the Great Otway National Park.
Stretching from Torquay to Princetown, and up through the Otway hinterland towards Colac, the park boasts some of the country's best rainforest scenery.
Visitors are rewarded with soaring trees, ancient plant life, lush ferns, and cascading waterfalls as well as unique Australian wildlife, stunning birds, and even glow worms.
Discover the region on horseback, 4 wheel drive, or by mountain bike along marked trails.
Or simply enjoy one of the many Anglesea walks and see the dainty orchids and wildflowers that grow in the heathlands around Anglesea.
The area is said to have the richest and most diverse vegetation in the state. It's also home to many species of birds, mammals, reptiles, and insects.
Alternatively, you can walk amongst the giant tree ferns at Maits Rest, gape at the towering Californian Redwoods hidden within the ranges, or see the glow worms at Melba Gully.
The waterfalls near Anglesea are tucked away in the lush rainforest of the Otways, from Erskine Falls to Triplet Falls and the Cora Lynn Cascades there are heaps of delightful waterfalls for you to explore.
You can find out more about the Anglesea Heathlands here.
18) Experience Otway Fly Treetop Walk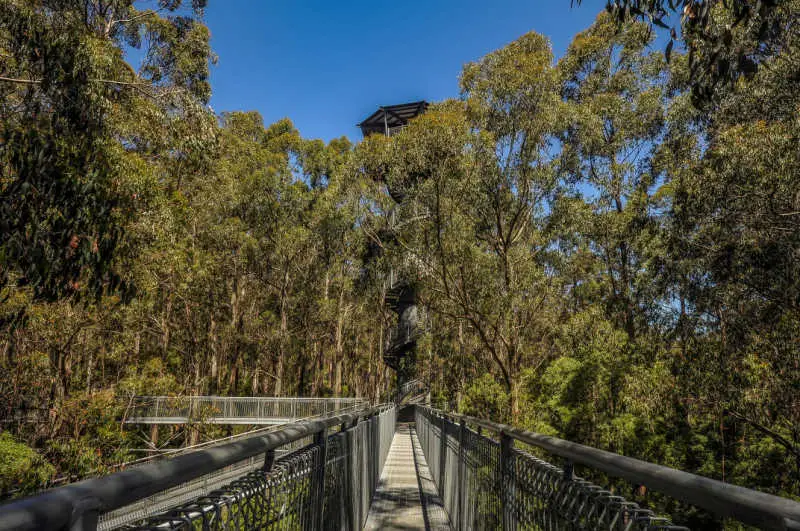 If you're looking for an alternative way to experience the Otway National Park, then the Otway Treetop Walk could be just what you're looking for.
This elevated 25-metre high walkway lets you immerse yourself in nature while enjoying a bird's eye view of the rainforest below.
A highlight of the Treetop Walk is the not-to-be-missed 47 metre tall Spiral Tower and cantilever that sways with the rainforest canopy – a truly bizarre feeling!
If this isn't thrilling enough then you can whizz through the trees on the Otway Fly Zipline suspended 30 metres above the forest floor.
Taking 2 1/2 hours to complete there are 8 cloud stations, 6 flights, and two suspension bridges.
There is an excellent information centre onsite as well as a gift shop and a cafe with indoor and outdoor seating.
Where: 360 Phillips Track, Ferguson
When: Every Day 10 am – 5 pm
Booking online is essential, click here.
19) Drive The Great Ocean Road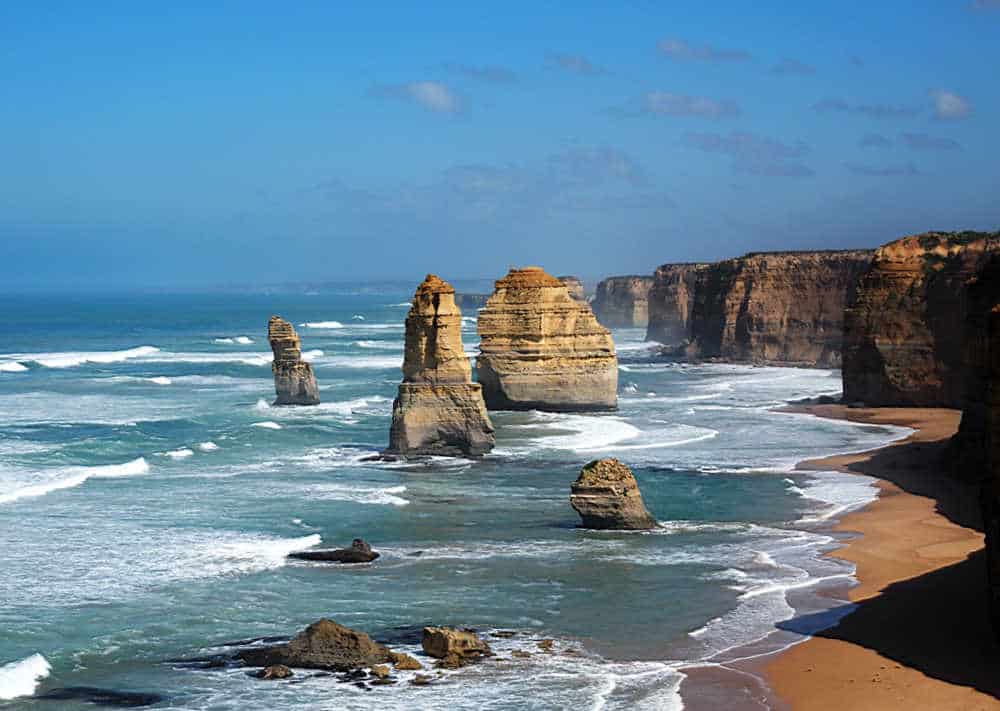 Anglesea sits at the start of the Great Ocean Road so if you arrived here from Geelong or Melbourne or anywhere else that didn't involve driving along it, then you really should set aside some time to make the journey.
One of the world's most famous road trips this spectacular road winds along dramatic cliffs offering travellers jaw-dropping views of the powerful Southern Ocean below.
From Anglesea, it takes just under 4 hours to drive to the end at Allenford. The return journey via the inland route is just over 2 hours so you'll want to start early and set aside an entire day.
There are heaps of places to stop along the way including the iconic Great Ocean Road Memorial Arch and the must-see 12 Apostles pictured above.
If this seems too far or you don't have the time then the drive to Apollo Bay is particularly spectacular and will take you through the Memorial Arch and Lorne.
Things To Do Anglesea Map
Find all the Anglesea Victoria things to do listed here on the map of Anglesea below.
Best Anglesea Accommodation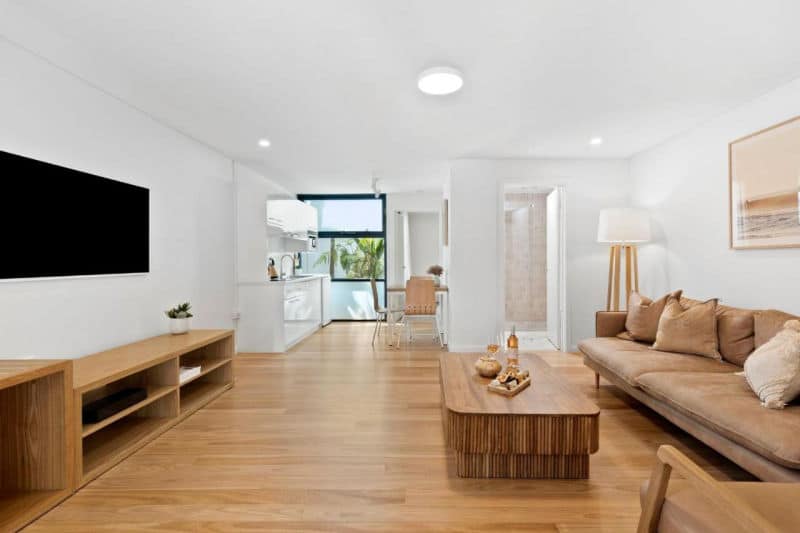 Overlooking the Anglesea River, the Great Ocean Road Resort's great location, excellent facilities, and high-rated service make this hotel our top choice.
This 4-star Anglesea resort spa is close to shops, cafes, and restaurants, and Anglesea Beach is just a quick 5 minute walk away.
Accommodation options include private rooms, 1 and 2 bedroom apartments, spa suites, and luxury waterfront apartments with riverside views.
The good sized rooms are all air-conditioned and feature a kitchenette, satellite television, cosy beds, and a lovely outdoor area
. Click here for more information.
Onsite facilities at this Anglesea spa resort include a fitness centre with a steam room, an indoor heated pool (perfect in winter), a tennis court, and a relaxing full-service day spa.
Guests can also make use of the barbecue facilities, free wifi, a business centre, and complimentary parking. Children are kept entertained by the kiddies pool, trampoline park, and playground. 
This is a great choice if you're looking for top-rated resort-style hotel accommodation in Anglesea.
Click here for the latest prices.

As its name suggests the Anglesea Riverside Motel is located on the Great Ocean Road opposite the river and is close to shops, eateries, and the beach.
Built in the 70's, this Anglesea motel style accommodation offers 16 newly refurbished spacious rooms.All rooms feature comfy queen beds, split system heating and cooling, digital HD TVs, tea and coffee making facilities, microwaves, toasters, and a bar fridge.
A 3 bedroom fully self-contained apartment is available that's perfect for families and groups of up to 6 adults.
This ground-floor apartment has 2 king bedrooms, one twin bedroom, a full kitchen, and a dining/lounge room. 
Click here for more information.
Onsite amenities include free wifi, complimentary parking, and an outdoor swimming pool.
One of the great things about this Anglesea motor inn is that you have complimentary use of the Great Ocean Road Resort's facilities.
This means within walking distance you have free access to an indoor heated pool, a tennis court, fitness centre, and trampoline park.
Anglesea Riverside Motel is a solid option in a good location with a few perks thrown in.
 Click here for the latest prices.

If you're looking for family friendly accommodation in Anglesea then the Big 4 Anglesea Holiday Park is a top pick.Designed with families in mind the park is super-fun for kids with a huge range of activities to keep them entertained.
Features include a fantastic heated indoor water complex with a waterslide, waterfall, and wet play area, a new adventure playground, jumping pillow, a cinema room, a games room, a toddler playroom, and there's even a giant chess set!
Click here for more information.
The holiday park has a variety of fully self-contained accommodations to choose from including 2 and 3 bedroom cabins, luxury spa and suite cabins, as well as safari and bell tents.
The beautiful property is kept in tip-top shape and is home to grazing kangaroos, kookaburras, and other wildlife.
It's less than 10-minutes walk to the Anglesea River and has barista-made coffee on site. What more could you ask for?
Click here for the latest prices.
Final Word
Anglesea is a wonderful little seaside town that has everything you need for an unforgettable getaway.
I hope you found this list of what to do in Anglesea Victoria helpful and that you've now got plenty of ideas for your trip.
I'm sure you're going to love this little pocket of Australia as much as we do. If you're looking for more things to do in the area check out our Surf Coast guides here. 
Find out more about Geelong here or the Bellarine Peninsula here.
Related Posts: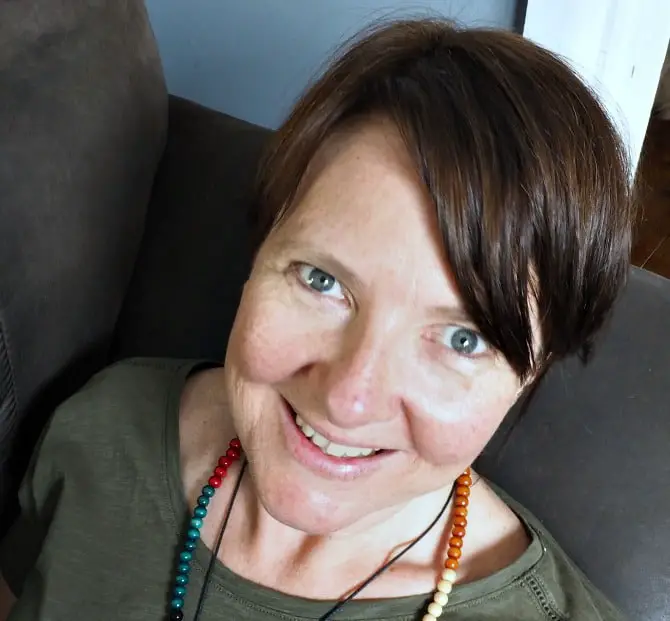 By Audrey Chalmers
Audrey is the principal blogger behind See Geelong. Book Lover | Breakfast Nut | Geelong Gal | She's Usually Craving Coffee.