15 Epic Things To Do In Lorne
Heading down the Great Ocean Road and want to know all the best things to do in Lorne? Then you're in the right place!
Below you'll find our guide to all the top Lorne things to do including the best things to do in the surrounding area.
Located on the Surf Coast this pretty seaside town is one of the most popular stops along the Great Ocean Road.
It's always a great idea to spend time here and there are plenty of attractions in Lorne to keep visitors busy.
There are heaps of fab things to do near Lorne as well.
This article may contain compensated links. For more information read our disclaimer here.
Within a short distance, you'll find cascading waterfalls, stunning ocean vistas, Australian wildlife, and the incredible Otway National Park.
Lorne is one of our favourite Great Ocean Road towns and we visit often from Geelong sometimes staying a night or two.
See our top Lorne accommodation pick here!
We've put together this complete list of what to do in Lorne whether you're visiting for the day, a weekend, or as part of a bigger exploration of the southern coastline.
You'll also find suggestions for places to stay in Lorne, as well as a handy map of the things to do around Lorne that we mention here.
We're sure with this list, you'll have an amazing time on your Great Ocean Road Lorne trip.
So let's start! Here are all the top things to do Lorne has to offer!
Best Things To Do In Lorne Victoria
Here are the best Lorne attractions. Read through and select the ones that are best suited to your interests and time frame.
1) Lorne Beach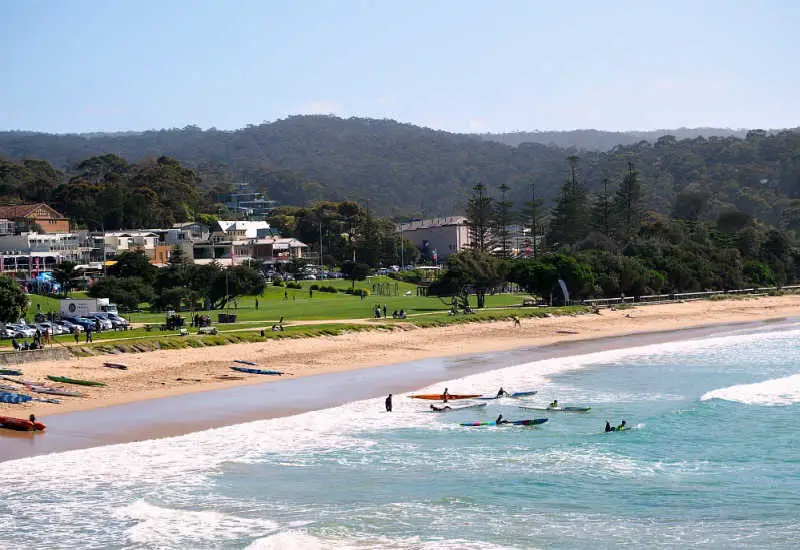 Overlooking the stunning Loutit Bay, you can't visit Lorne Great Ocean Road without heading to the beach.
There are a number of beaches in the Lorne area but Lorne Main Beach in front of the Surf Life Saving Club is the safest and most popular beach for swimming.
The surf isn't as powerful as in Torquay and other Surf Coast beaches and the sheltered bay is ideal for swimming and beginner surfers.
It's the perfect place to spend a summer's day. Laze on the sand, splash amongst the waves, and if you still have energy to burn take a stroll along the water's edge.
The Lorne foreshore reserve separates the road and main shopping strip from the beach. It has large expanses of lush green lawn with picnic and barbecue facilities, toilet and shower blocks, and a terrific children's playground.
Be sure to add Lorne Beach to the top of your things to do in Lorne Victoria list.
Find our best beach umbrella guide here or read top Australian beach tent reviews here.
2) Teddys Lookout
Offering a bird's eye view of the Great Ocean Road from its 113-metre high platform, Teddy's Lookout is one of the top things to see in Lorne.
On one side there are views of the Saint George River mouth and Southern Ocean, and on the other side, you can see valleys and gorges surrounded by lush rolling hills.
Below is Lorne Scenic Beach a beautiful hidden beach that's popular with sand artists who draw images in the sand that can be seen from the lookout. If you're lucky you might spot some artwork before it gets washed away by the tide.
It's believed that the lookout gets its cute name from a ranger who stumbled across the area when he was rounding up stray cattle. Apparently, he was so impressed with what he saw he decided to give it a name and called it Teddy's Lookout.
Teddy's Lookout Lorne is located at the southern end of George Street on the outskirts of town.
It's just a short walk from the car park to the main viewing platform but if you're up for a bit of a hike there are more challenging walks available.
Be sure to keep an eye out for koalas, kangaroos and other wildlife.
Fun Fact: People claim to have seen the Aurora Australis (Southern Lights) from here.
Find your perfect camera case here.
3) Otway Fly Treetop Adventures
The Otway Fly Treetop Walk is one of the top Lorne things to do and see.
Here you can whizz through the trees on the Otways Fly and enjoy breathtaking views of the Great Otway National Park as you stroll the treetop walkway.
The Otway Treetop Walk is an hour long rainforest walk that includes a 25-metre high elevated walkway, a cantilever, and a 47-metre tall Spiral Tower.
This is a truly lovely walk where you can listen to the birds, immerse yourself in nature, and breathe in crisp clean air.
Adrenaline junkies can catch glimpses of greenery as they zip from tree to tree on the Otway Fly. 
This high tech flying fox sits suspended 30 metres above the forest floor and includes 8 cloud stations, 6 flights, and 2 suspension bridges.
Facilities at Otway Fly Treetop Adventure Park include an excellent information centre, a gift shop, and an onsite cafe with indoor and outdoor seating.
Otway Treetop Adventure Park: 360 Phillips Track, Ferguson, Vic 3237
4) Lorne Sea Baths
Looking for fun things to do in Lorne with kids?
The Lorne Sea Baths is a great place for the whole family to spend the day.
Sitting right on the foreshore it has an amazing range of health, fitness, and recreational activities on offer.
Keep the kids entertained with bumper boats, some pool time, mini-golf and the ever popular inground trampolines.
While the adults in the group can soothe their worries away with hydrotherapy, salt therapy, yoga, and massage.
There's an onsite kiosk where you can quench your thirst and refuel with a treat or light snack.
Lorne Sea Baths: 81 Mountjoy Parade, Lorne (03) 5289 2077
5) Great Ocean Road Heritage Centre
When you visit a new place it's always worthwhile to learn a bit about its history.
One of the best places to visit in Lorne to do that is the Great Ocean Road Heritage Centre.
Located at the Lorne Visitor Centre the permanent exhibition 'The Great Ocean Road Story' highlights the road's remarkable history.
Famous throughout the world for its spectacular views and unique natural wonders, the Great Ocean Road's incredible history is not well known.
For instance, do you know the Great Ocean Road was built as a memorial in honour of the lives lost in World War I?
Here you can learn about the returned soldiers who built the road battling sheer cliffs, wild weather, and impassable terrain to connect the isolated seaside villages together – changing the region forever.
The heritage centre is open daily between 9 a.m and 5 p.m entrance is free.
Lorne Visitor Centre: 15 Mountjoy Parade, Lorne (03) 5289 1152
6) Lorne Pier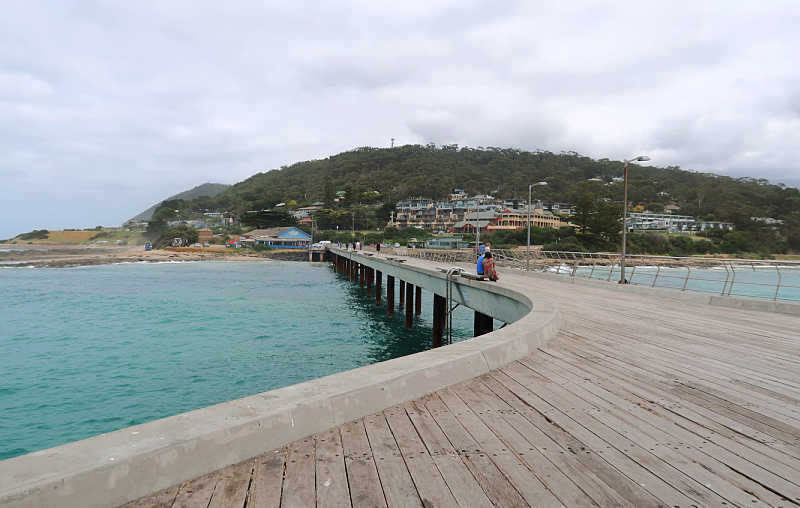 Best known for the Pier to Pub Lorne swimming event, Lorne Pier dates back to the 1880s.
It was always admired for its 'shapely' beauty and the modern-day version still lives up to its reputation.
The new pier has a vintage feel with a traditional boardwalk running its full length. However, instead of the usual pier 'L' shape, Lorne Pier boasts a unique curve.
Beautiful at any time of day it really shines at sunrise and sunset. At night lights run down the side creating a lovely ambience.
The pier is one of the iconic Lorne places to visit and a stroll along its boards is a must-do.
Offering a unique view of the Lorne shoreline, it's not unusual to see seals and stingrays playing amongst the pier's pylons.
If you're visiting between May and September you might even spot whales in the bay.
Sitting next to the pier in a bright blue building is the Lorne Pier Seafood Restaurant. Known for its tasty food and generous portions, this Lorne Pier restaurant is a good option if you're feeling peckish.
7) Wine Tasting
The rich soils of the hinterland and Otway foothills coupled with the fresh salt air make ideal conditions for premium grape growing.
Throughout the region, you'll find some delightful family-run boutique wineries creating outstanding cold climate wines.
The closest and easiest Lorne winery option, however, is St Anne's Winery whose beachfront cellar door offers full sea views.
They have an amazing range of wines to sample from delicate crisp dry whites to full-bodied reds and luscious muscats.
Tastings are free and you can relax with a yummy cheeseboard or choose from the amazing chocolate products on offer.
If you're looking for things to do in Lorne in winter (or any time really), what could be better than snuggling up with a cheese board while taste testing delicious wine?
St Anne's Winery Lorne: 150 Mountjoy Parade Lorne, (03) 5289 1500. Open Daily.
8) Lorne Swing Bridge Cafe
The swing bridge and its cafe are two of the most-loved attractions in Lorne.
Built in 1934 and restored in 2013 the bridge itself is an iconic landmark that just begs to have its photo taken. However, it's the cafe that sits beside it that draws people in.
Housed in a simple weatherboard building on the beach at the mouth of the Erskine River the cafe has a lovely rustic beach vibe.
Its unique location away from the hustle and bustle of the main street, excellent coffee, great food, and chilled vibes makes this one of the most popular cafes in Lorne.
Swing Bridge Cafe serves breakfast, morning tea, and lunch from 8 am to 3 pm – sometimes they close early.
Swing Bridge Lorne Cafe: 40 Great Ocean Road, Lorne 0423 814 770
9) Qdos Lorne Art Gallery
Qdos Art Gallery is a carefully curated art space that plays host to 10 solo exhibitions each year.
It has a lovely native bush setting and with its 'Monet' style pond, the gallery is one of the more peaceful attractions in Lorne.
There's always something of interest to see and a wander in the garden reveals delightful outdoor sculptures that enhance the natural surrounds.
Qdos Gallery has a fabulous onsite cafe serving seasonal treats, share plates, house-made cakes, and excellent coffee.
Most of the food is created using organic produce from their own "happy hens" and hothouse.
You can dine inside the light-filled cafe or on a sunny day outside on the patio and balcony.
Qdos Arts Lorne: 35 Allenvale Road, Lorne. (03) 5289 1989, Thursday – Sunday 9 am – 5 pm
10) Great Ocean Road Sign
One of the top things to do in Lorne Australia is to tick off a bucket list item by taking a selfie with the Great Ocean Road sign.
Also known as the Great Ocean Road Memorial Arch this iconic attraction (along with the 12 Apostles) is easily the most photographed object along the Great Ocean Road.
It was built on the site of the original toll gates in honour of the 3,000 returned soldiers who worked on the road.
A sculpture of two men performing the back-breaking work sits at its foot and there are several commemorative plaques scattered around.
People often mistakenly believe the arch signals the start of the Great Ocean Road when it actually begins in Torquay 30 kilometres away. 
Great Ocean Memorial Arch: 721 Great Ocean Road, Eastern View, Surf Coast Shire
11) Live Wire Park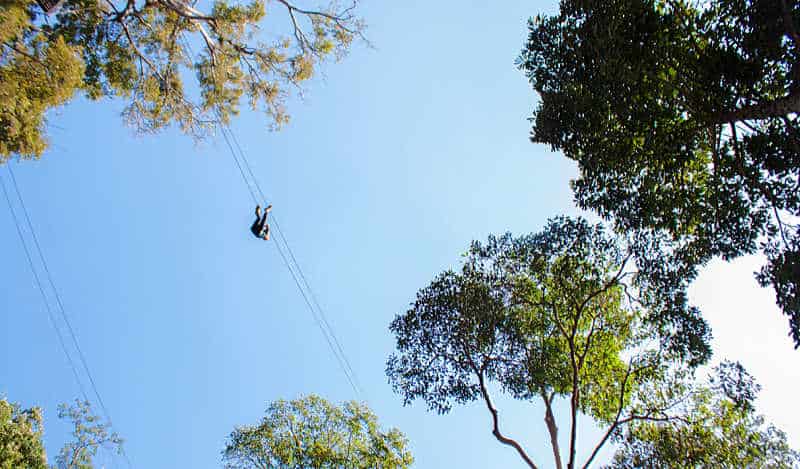 There are plenty of activities in Lorne to keep adrenalin junkies happy and one of the best places for thrillseekers to visit is Live Wire Park.
Offering mind-blowing outdoor experiences amongst the Otway treetops, the park is one gigantic adventure playground where you can climb, jump, scramble, swing, and fly through the trees.
If you're looking for activities to do in Lorne for high energy kids then this is ideal. There are a variety of courses to choose from ranging in difficulty level from low, to mid, and high intensity.
Safety is a priority here and there's plenty of friendly staff available to help guide you.
One of the great things about Live Wire Park is that it's Australia's first completely off-grid elevated adventure park.
Designed to have as little environmental impact as possible, it's fuelled by solar power and water is collected, treated, and used on site.
Live Wire Park, Lorne: 180 Erskine Falls Road, 1300 548 394
Admission: Adult $18.00, Child $14.00
The Canopy Circuit and Spring Circuit are included in the general admission price.
All other courses are extra.
12) Lorne Surf Lessons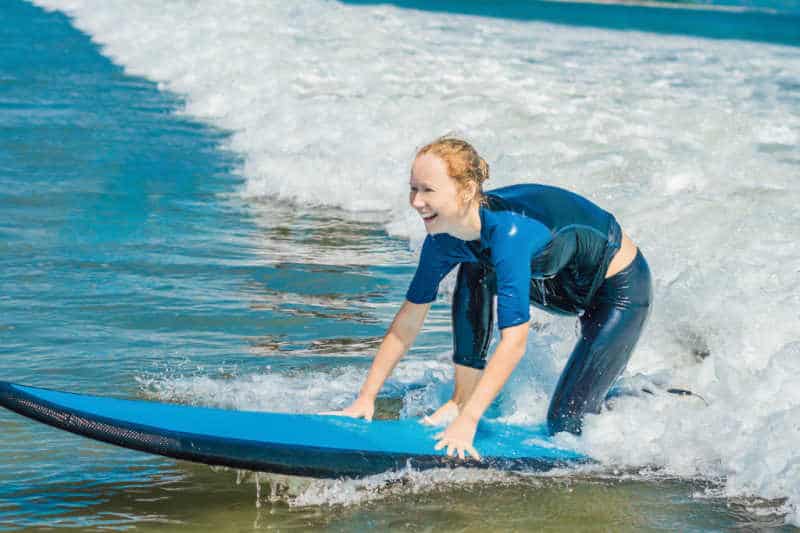 If you're looking for fun things to do at Lorne why not have a surfing lesson?
Lorne's beautiful flat beach and gentle waves make it the perfect place for beginners to learn how to surf.
While it's possible to hire your own surfboard and try to teach yourself it's much easier and faster to have a lesson with a qualified professional.
Go Ride A Wave has been teaching people how to surf for over 30 years. Specialising in beginner surfers they'll have you up and standing in no time!
All lessons are held in waist deep water to keep everyone safe and both group and private sessions are available.
Lessons can be booked online and include a full-length Quiksilver wetsuit and a soft beginner surfboard.
Go Ride A Wave: Cnr Grove Rd and Cypress Avenue, Lorne. 1300 132 441
13) Kennett River Koala Walk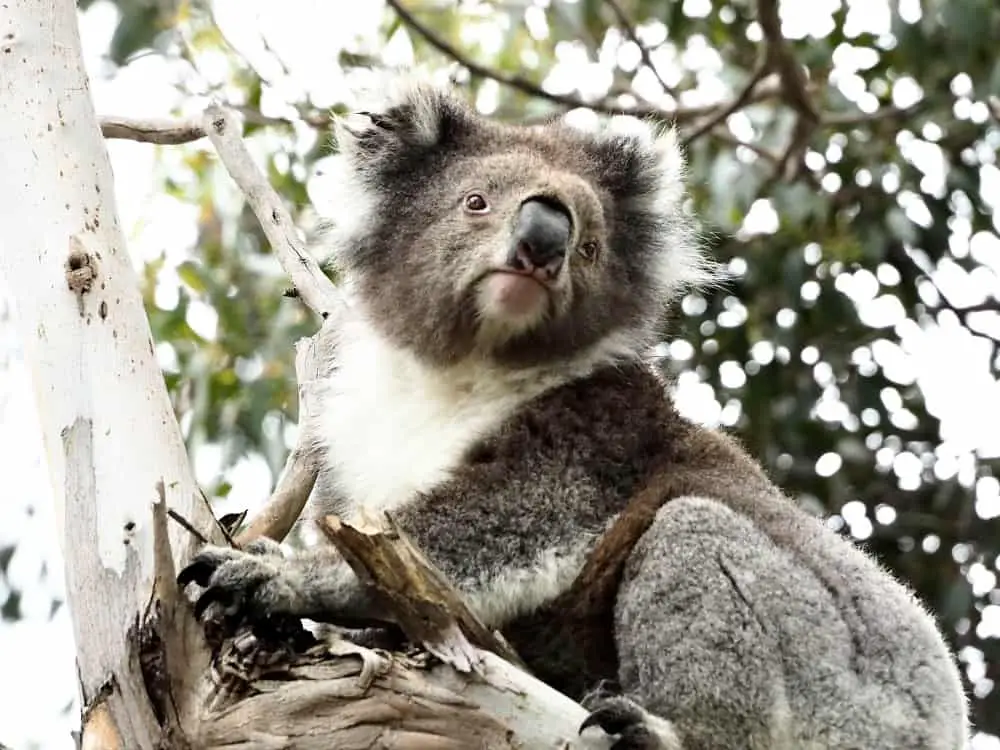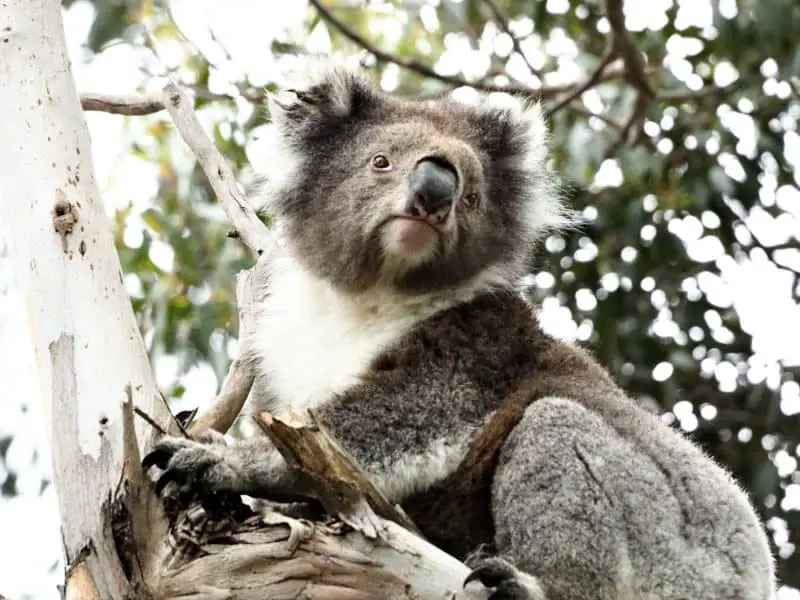 There's a common belief that koalas can be seen everywhere across Australia but that isn't entirely true.
And while it's possible to see koalas at just about any zoo or animal sanctuary in Australia, there's nothing quite like seeing one in the wild.
If you're visiting Lorne on the Great Ocean Road you're in luck! One of the best things to do near Lorne Victoria is to see the Kennett River Koalas.
The Grey River Road at Kennett River, Great Ocean Road is also known as the Kennett River Koala Walk.
The road is surrounded by a beautiful eucalyptus forest that's home to a large population of wild koalas that eat and sleep in the soaring trees not really caring about what is going on below.
Visitors can walk (or drive) along the road scouring the trees for koalas. 
They can be a bit tricky to spot at first as they are camouflaged amongst the leaves and branches. But, once you've spotted a few you'll find it much easier to see them curled up in the trees.
So take your time and keep looking up!
Kennett River is situated along the Great Ocean Road about 35 minutes from Lorne towards Apollo Bay.
14) Lorne Waterfalls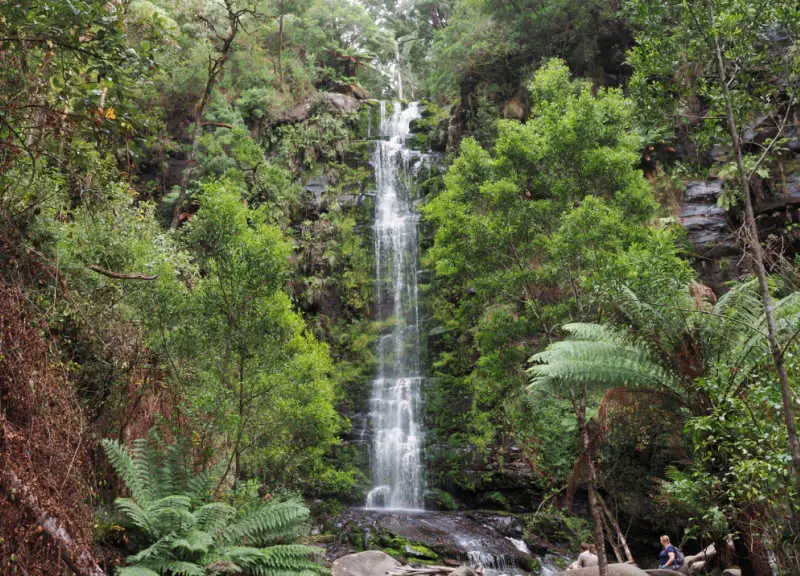 One of the best things about Lorne is its diverse landscape that's filled with natural wonders just waiting to be explored.
If you can drag yourself away from the coast and venture inland, you'll be rewarded with sparkling rivers, lush rainforests, and crashing waterfalls.
In fact, there are an amazing 10 waterfalls near Lorne, all within 10 kilometres of the town.
These all-year-round Lorne tourist attractions offer a shady respite from the summer heat and are spectacularly overflowing in the cooler months.
Each of the waterfalls in Lorne is accessed by a range of easy to moderate walking tracks that take you through magical forest settings.
Along the way, you'll discover enchanting eucalyptus trees, weird fungi, rocky gorges, magnificent ferns, and cute Aussie wildlife.
Keep your eyes peeled for kangaroos, koalas, wallabies, echidnas, and stunning native birds.
Waterfalls Lorne List:
Erskine Falls
Sheoak Falls
Phantom Falls
Cumberland Falls
Cora Lynn Cascades
Won Wondah Falls
Henderson Falls
Upper & Lower Kalimna Falls
Swallow Cave
Straw Falls
Read our complete guide to the best waterfalls in Lorne by clicking here.
15) Falls Festival
The Falls Festival Lorne event has been a favourite with music lovers since 1993.
Held over New Year's Eve people travel from all over the country to celebrate at this iconic end of year 4-day musical spectacular.
It was originally held on private farmland where a local lad used to host an annual New Year's Eve party with family and friends.
He decided to expand it into something the whole community could enjoy charging $20.00 for the one night event.
Called Rock Above The Falls, it was a huge success with an unexpected 11,000 people showing up – requiring the use of neighbouring properties.
Falls Lorne is now one of Australia's longest running, and most popular, boutique music events with festivals held in four locations across the country.
If you are heading to Lorne over the New Year break what better way to celebrate than at one of Australia's greatest music festivals.
Click here for more information.
Best Accommodation Lorne Victoria
There is a good range of Lorne accommodation options for you to choose from.
However, accommodation in Lorne can fill up fast in busy times like over summer and in school holidays so it's a good idea to book early.
The following are some great picks for your best Lorne Victoria accommodation.
The Cumberland Resort is perfect for people looking for mid-range accommodation with excellent amenities.
It has everything you need for a fantastic getaway including an indoor pool, sauna and spa, a tennis court, games room, and lovely manicured gardens.
Located across from Lorne main beach the Cumberland has breathtaking ocean views.
There are a variety of rooms to choose from including opulent penthouses and one and two bedroom apartments with fully equipped kitchens, laundry facilities, and balconies.
Other amenities include free Wifi and complimentary parking.
Click here to see the latest prices.
Lorne World offers chic studio-style accommodation in a great location.
Situated just a 3-minute walk from the foreshore, this stylish accommodation is close to shops, restaurants, and cafes.
There are 11 self-contained studios featuring a lounge and dining area, a kitchenette, and comfy king size beds.
Some studios also have spa baths and balconies with sea views, while others feature courtyards with outdoor seating.
Other amenities include free parking, laundry facilities, and boogie boards are available for use.
Lorne World is best suited to couples and adults with a young child.
Click here for the latest prices.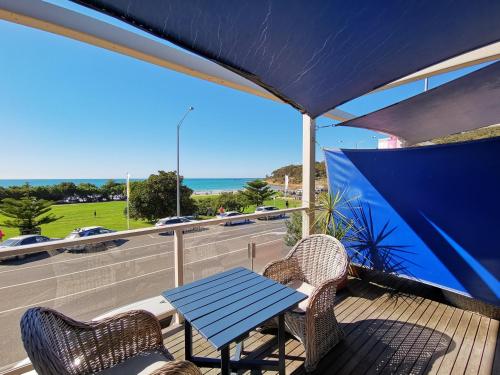 For holiday accommodation that's both affordable and convenient, you can't go past the Lorne Sandridge Motel.
Located in the heart of town, this value-for-money motel sits directly across from the beach, and shops, cafes, and restaurants are just steps away.
There are a variety of accommodation options for you to choose from including standard, deluxe, bay view, and executive rooms.
All rooms feature cosy queen beds with electric blankets, tea and coffee making facilities, a bar fridge, microwave oven, and a toaster.
The best rooms have balconies with outdoor seating and water views.
As an added bonus guests also have access to free wifi and complimentary parking.
Click here for the latest prices. 
Things To Do Lorne Map
Final Words Of The Best Lorne Things To Do
Lorne is a fabulous place to visit on its own or as part of a bigger trip along the Great Ocean Road.
It's a beautiful easy place to be with some awesome things to do in Lorne and its surrounding area.
I hope you found this list of places to see in Lorne useful and that it has answered the question of "What to do in Lorne Vic?".
We always have a great time in Lorne and we're sure you will too!
Find more guides to the Surf Coast by clicking here, to the Bellarine Peninsula here, or Geelong here.