Looking for things to do in Portarlington? We've got you covered!
Below you'll find our guide to all the top Portarlington things to do for your ultimate holiday.
While many tourists visit Portarlington as a day trip, with a range of excellent accommodation, it's also the perfect place to relax for a few days.
As in addition to its fabulous beach, there are many Portarlington attractions, including some amazing festivals and wineries, and a whole host of great family activities.
What's more, if you have a car, there are plenty of things to do around Portarlington as well.
In this article, we walk you through what to do in Portarlington, Australia. We've included everything you need to know about the best places to visit, as well as the best Portarlington accommodation so you can plan an amazing trip.
Let's get to it!
This post may contain compensated links. For more information read our disclaimer here.

Best Things To Do In Portarlington
Here are the 10 best things to do in Portarlington, in no particular order. Read through and choose the ones that best suit your interests and time frame. We hope you have a ball!
Find the best places to stay in Portarlington by clicking here.
1) Relax At Portarlington Beach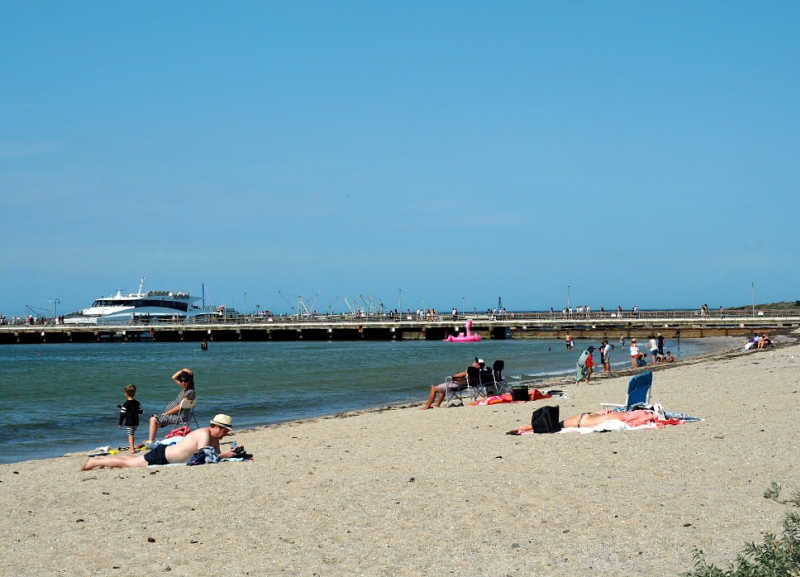 Offering uninterrupted views of Melbourne and the You Yangs, in summer the north-facing Portarlington Beach is a haven for tourists.
It's a beautiful, long wide beach with calm shallow waters that are ideal for families with children. It's also a great option for adults looking for an alternative to the rugged coastline on the other side of the peninsula.
Here you'll find sandbars, hardly any rocks, and almost no waves making it perfect for blow-up beach toys and beginner stand-up paddleboarding.
Portarlington Beach also offers an attractive foreshore with tall cypress trees, large grassy areas, picnic and barbecue facilities, and public toilets.
A highlight of the beach is the recently updated pier, where the Portarlington ferry from Melbourne docks.
2) Stroll The Portarlington Pier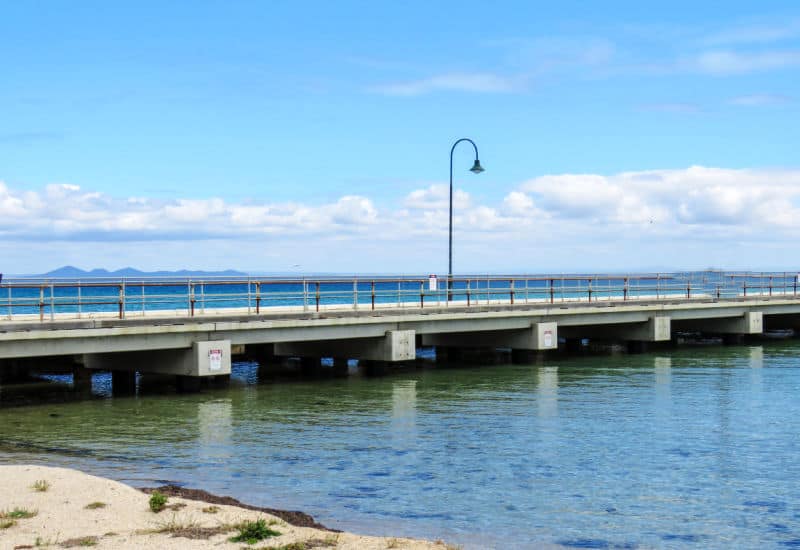 The historic Portarlington Pier (1859) is a fairly long pier that's popular with local anglers and the home of commercial fishing vessels.
It's also where you'll find the Melbourne Docklands to Portarlington ferry. And if you catch the ferry to Portarlington from Melbourne (a great idea) this is where you'll disembark.
The original pier has been deemed dangerous so a new pier has been built that runs alongside the old one. It stretches way out into the bay and a walk along the pier is one of the must-do Portarlington activities for tourists.
The pier forms an "L" shape with the rather bland concrete making way for a more characterful wood-planked boardwalk. There's also a cute vintage covered bench seat where you can sit and enjoy the view back into Portarlington harbour and out into the bay.
3) Visit Portarlington Wineries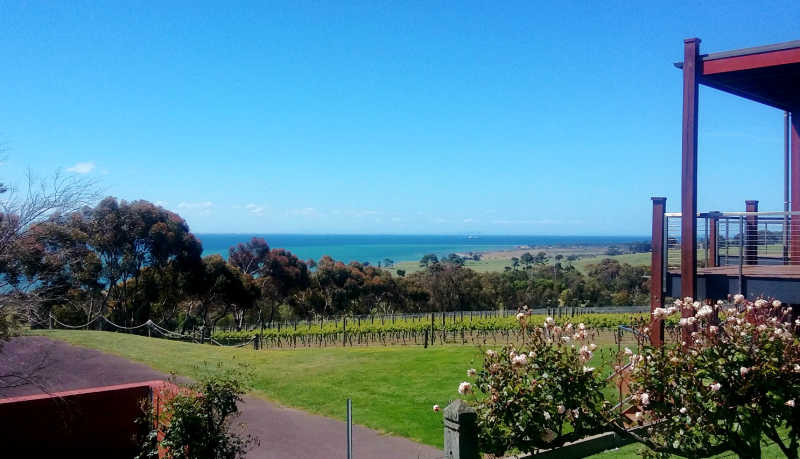 Take a drive or join a tour on a 'grape' escape into one of Australia's best-kept wine tourism secrets. Home to an eclectic mix of boutique family-owned wineries the Bellarine Peninsula is one of the country's lesser-known wine regions.
Here you'll find specialist winemakers producing top quality cold climate wines. Each vineyard has its own unique growing environment and the grapes are carefully hand pruned and hand-picked for the best result.
But it's not just about the wine, many of the wineries Portarlington and the Bellarine have, offer scrumptious dining and sweeping bay views. And it's worth visiting at least one Portarlington winery during your stay.
Here are a few for you to choose from.
Scotchmans Hill
Address: 190 Scotchmans Road
Phone: 03 5251 4431
Bennetts On Bellarine
Address: 2171 Portarlington Road
Phone: 03 8751 8194
Terindah Estate
Address: 90 McAdams Lane
Phone: 03 5251 5536
Jack Rabbit
Address: 85 McAdams Lane
Phone: 03 5251 2223
4) Step Back In Time At The Portarlington Mill
Tucked into a court just 300 metres from the Portarlington beachfront is the historic Portarlington Mill.
Built in 1857, the beautiful 4-storey building has been made using locally quarried stone. Its original purpose was to make flour from crops grown throughout the peninsula and it's one of the few remaining Victorian flour mills.
The mill closed in 1874 and it was then used as a brickworks and factory, and much later as flats for holidaymakers.
Now part of the National Trust Register, it houses a number of interesting artefacts including memorabilia from the steamship Edina which brought holidaymakers to the seaside village.
If you're here on a Sunday it's well worth dropping by to check out this wonderful slice of Portarlington history.
Address: Turner Court  

Open: September – May, Sunday 12 pm – 4 pm

Adults: $5.00 Children: $3.00

Family: $12.00 Concession: $4.00
5) Chow Down At The Portarlington Mussel Festival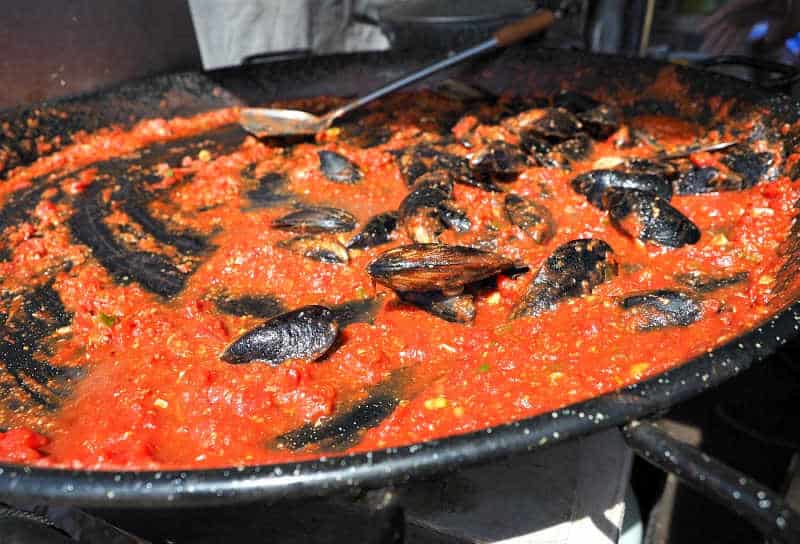 Portarlington is best known for the beautiful blue mussels that grow in its waters.
Popular with foodies these tasty little morsels feature on restaurant and cafe menus right across the region. But the best way to enjoy Portarlington mussels is at the Portarlington Mussel Festival.
It was originally created in 2007 as a street festival to help promote the local mussel industry.
Since then the festival has grown to become one of the most popular Portarlington events with a whopping 30,000 patrons devouring ten tonnes of plump mussels!
Even if you're not a mussel fan it's a great day out, with live music, kids' activities, cooking demonstrations, and over 200 stalls to browse through.
Add it to your calendar for a fun-filled day by the bay.
Mussel Festival , Portarlington 

9 January 2021,

$5.00 cash donation. Kids are free
6) Dance At The Portarlington Celtic Festival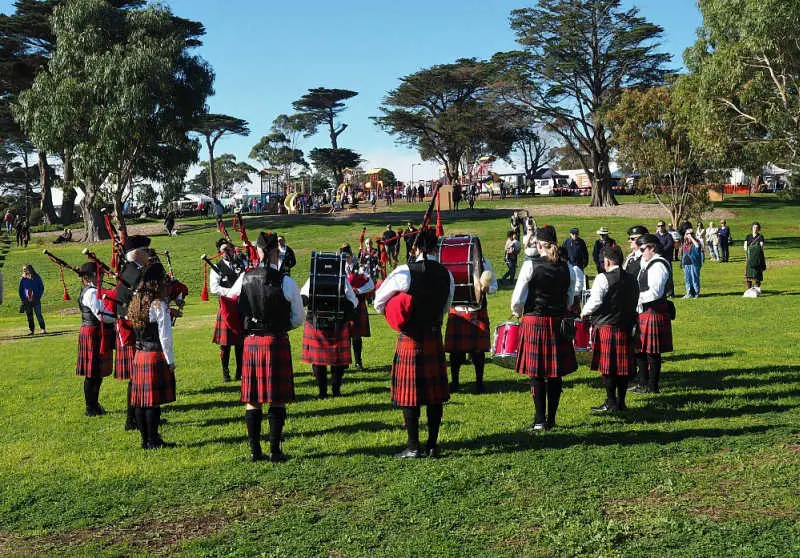 Each winter the peaceful Portarlington village bursts into life when the National Celtic Festival comes to town.
Considered Australia's premier Celtic Festival, over 18,000 people arrive from all over the country to celebrate all things Celtic.
The 4-day event is held at a range of venues throughout the town, including community halls, churches, cafes, and the Portarlington Pub.
Festival-goers can enjoy concerts, workshops, dancing and acoustic performances, competitions, markets, and scrumptious food.
This is a ticketed event, but it's free to wander around the markets and outdoor areas, including the stage.
For more information about this and other events around Geelong click here.
National Celtic Festival Portarlington

King's Birthday Long weekend in June
7) Play A Round At Portarlington Golf Club
Whether you're a mad-keen golfer or just like to play on the odd occasion, you'll no doubt enjoy a round of golf at Portarlington Golf Course.
The award-winning 18 hole course is considered to be one of the best on the Bellarine.
It's a challenging tree-lined course with a variety of golf holes and pure putting surfaces. And thanks to the town's stormwater the grounds are beautifully maintained all year round.
Green fee players are welcome. Booking ahead is advised.
Portarlington Golf Club

130 Hood Road, Portarlington

Reception: 03 5259 2492

Pro Shop: 03 5259 3361
8) Treat Yourself At Daniel's Donuts
A Portarlington holiday is not complete without a trip to Daniel's Donuts.
Offering row upon row of deliciously decadent doughnuts, it's unlike any other doughnut store you've ever seen.
Doughnut lovers drive for miles to devour these melt-in-your-mouth fluffy treats, and it's not uncommon to see people lining up outside the door.
The huge range has just about every doughnut you can imagine, including such delights as Nutella, Cookies And Cream, Cheesecake, and my personal favourite the Golden Gaytime.
Pies, sausage rolls, cakes, and slices are also available, as well as vegan and gluten-free options.
Dine-in or sit outside and enjoy the beautiful view across the park and out to Corio bay.
$15.00 for a box of 6
Daniels Donuts Portarlington

64 Newcombe Street

Phone: 03 5259 2845
9) Browse The Portarlington Market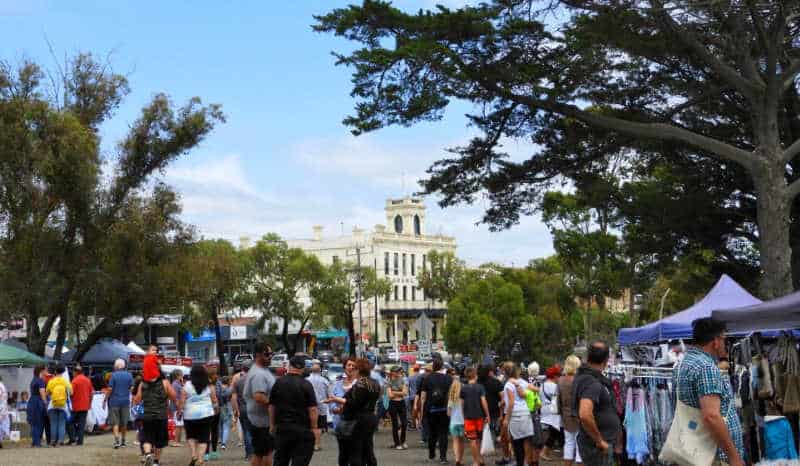 The Portarlington Market is a great place to wander around, meet the locals, and most importantly, score yourself a bargain.
Run by the Lions Club, this vibrant community market is a much-loved fixture on the Bellarine markets circuit.
Its prime location has smashing views and the stalls are jam-packed with awesome goodies.
Market-goers can browse through fresh local produce, handmade soaps, gifts, and homewares, as well as specialty items like jam and honey.
Portarlington Market

W.G. Little Reserve, Newcombe Street

Last Sunday of the month September – April

9.00 am – 2.00 pm
10) Ride The Portarlington Miniature Railway
Kids can enjoy the magic and charm of a miniature train ride at the Portarlington Mini Railway.
Set amongst native parklands overlooking Port Phillip Bay, this hidden gem is great value for families on The Bellarine.
The facility offers a kilometre of track with railway signals, a vintage railway station, a signal box, and an undercover platform.
There's also a kiosk serving light refreshments, a playground, undercover barbecues, and picnic tables.
Portarlington Bayside Miniature Railway

Cnr Pt Richards and Boat Roads

Every Sunday 11 am – 4 p.m September – April

Mini Train Ride: Singles $4.00, Family Day Pass $35.00
Accommodation In Portarlington
Even though Portarlington is a tiny seaside fishing village, there are still some fabulous places to stay.
Below I've listed a few different options for you to choose from, but if you don't want to waste any time click here to book the best Portarlington accommodation now.
Catering to the adult market, the Pelican Sands B&B offers traditional bed and breakfast style accommodation in a beautifully renovated old house.
There are 5 luxurious rooms each one with its own individual theme. Guests can choose from such delights as the Moulin Rouge Room, Romance Room, or the Arabian Nights Room.
All rooms feature spacious corner spa baths, air conditioning, tea and coffee making facilities, and other standard amenities.
A highlight of the guesthouse is the relaxing balcony with views across the bay.
Click here for the latest price and to read more reviews for the Pelican Sands Bed And Breakfast.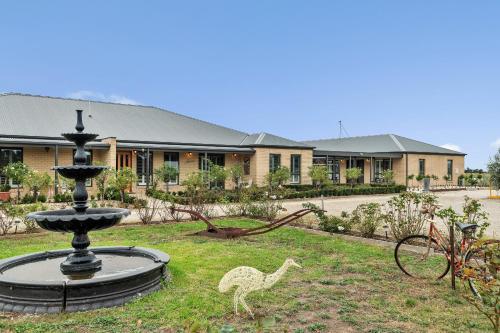 If you're looking for a weekend of relaxation, then the Oxley Estate Bed & Breakfast is the perfect place for you to recharge your batteries.
Set on 10 acres, guests can enjoy an orchard and olive grove, lush gardens, and delightful farm animals like goats, sheep, and alpacas.
This is a great option for both couples and families, with 4 luxury guest rooms each with a corner spa bath and a family room to choose from.
The estate also features an inground pool, communal kitchen, laundry facilities, and barbecue area.
Click here for the latest price and to read more reviews of the Oxley Estate.
Offering affordable motel style accommodation, the Portarlington Motel is in a great location within walking distance of the village, beach, and pier.
Guests can choose from a variety of rooms featuring free wifi, a fridge, microwave, flat-screen TV, and DVD player.
Other amenities include an inground pool, picnic and barbecue facilities, and children's play equipment.
Click here for the latest price and to read more reviews for the Portarlington Motel.
To see all our recommendations for the best place to stay in Portarlington click here.
Final Words
For those looking to escape the busy city, Portarlington is the perfect place. This is a delightfully quiet seaside town with an excellent beach and plenty of attractions to keep you entertained.
Whether you visit on a day trip or stay a bit longer, you're bound to have a great time in Portarlington, Victoria.
You can discover more things to do on the Bellarine Peninsula here.
Related Posts: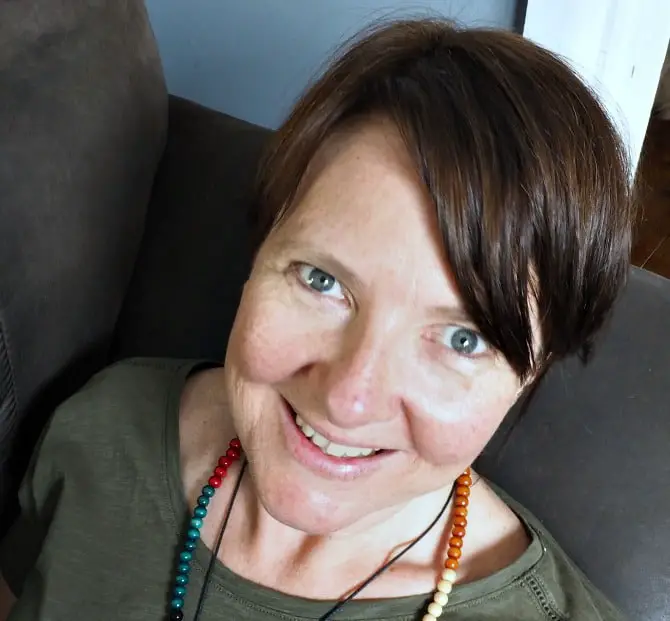 By Audrey Chalmers
Audrey is the principal blogger behind See Geelong. Book Lover | Breakfast Nut | Geelong Gal | She's Usually Craving Coffee.