A Must-Have Guide To Bellarine Wineries
Heading to the Bellarine Peninsula? Love a glass of top-notch wine?
Then you're in for a treat!
Bellarine Peninsula is filled with boutique vineyards that produce outstanding handcrafted cool-climate wines.
One of the things that makes Bellarine wineries special is that they are all family-owned and operated.
You won't find any corporates here.
So you'll have a more personal experience when you visit the Bellarine Peninsula wineries, as more often than not the people you meet are the people who make the wine.
This article may contain compensated links. For more information read our disclaimer here.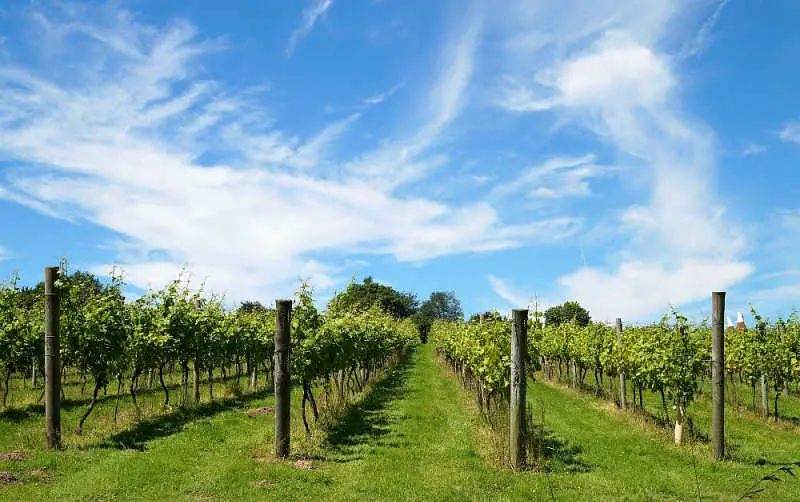 Many of the wineries have jaw-dropping bay views, as well as cafes and restaurants, and cellar doors where you can taste tantalizing artisanal wine.
The best way to make the most of your day is to take one of the fantastic Bellarine winery tours that are available.
That way you can relax and unwind with your family and friends with peace of mind that someone else is handling the driving.
The best Bellarine wine tours will have an in-depth knowledge of each winery and manage all the planning so all you have to do is sit back and enjoy a wonderful day.
Click here to book your Bellarine Peninsula winery tour.
Below you will find our Bellarine Peninsula wineries guide containing all you need to know for the ultimate trip to the vineyards of the Bellarine Peninsula!
You will also find a best wineries Bellarine Peninsula map with all the places mentioned here, suggestions for the best accommodation, and details on how to get to the Bellarine Peninsula Victoria.
So let's start!
If you'd like to learn about wineries in Geelong then click here.
Bellarine Wine
The Bellarine has its own unique growing environment that's described as being like the wine-growing regions of Burgundy and Bordeaux in France.
Originally planted by Swiss settlers in the 1840s it was once one of the largest grape-growing regions in Victoria.
These days the peninsula's rich basalt soil produces a raft of award-winning wines that are regularly listed in James Haliday's 'best of the best' list.
The region has a cool maritime climate with moderate to low rainfall and long slow ripening periods.
The result is low yields and high-quality fruit that makes rich Bellarine wines of distinction, most notably Pinot Noir, Shiraz, and Chardonnay.
Bellarine Wineries Guide
Bellarine Peninsula Wineries:
Here is our top Bellarine Peninsula wineries list. The wineries have been grouped according to location rather than from best to worst.
In other words, the last winery listed is not necessarily the least popular. (Hint: it's definitely not).
Wallington
Oakdene Winery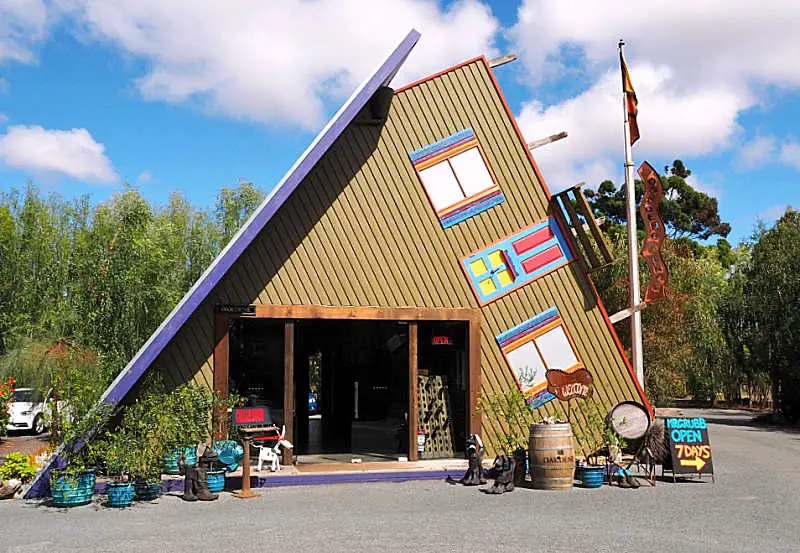 Nestled on stunning coastal farmland Oakdene Vineyards is a unique family-owned Bellarine winery in Wallington.
Its quirky "Upside Down House" cellar door is staffed by locals who have an in-depth knowledge of their award-winning wines.
Oakdene wines are developed in limited quantities and are described as elegant and complex, and reflect true varietal character.
Their handcrafted wines include Chardonnay, Pinot Noir, Shiraz, Pinot Gris, Merlot, Cabernet Franc, and Cabernet Sauvignon.
Inside the 1920s homestead is the Oakdene restaurant "Marty @ Oakdene" whose menu is inspired by the seasons and showcases local and regional produce.
Alternatively, hidden amongst the birch trees is the Oakdene cafe 'Mr Grubb @ Oakdene' which offers a more relaxed setting.
While you're here be sure to set aside time to wander the winery's garden that's filled with eclectic artworks.
Oakdene Vineyards Restaurant & Cellar door offers Bellarine winery accommodation in 3 beautifully themed rooms.
Click here for more information about Oakdene Winery accommodation.
Oakdene Winery

255 Grubb Road

Wallington 3222

Ph: (03) 5256 3886

7 Days 10 am – 4 pm
McGlashans Winery Wallington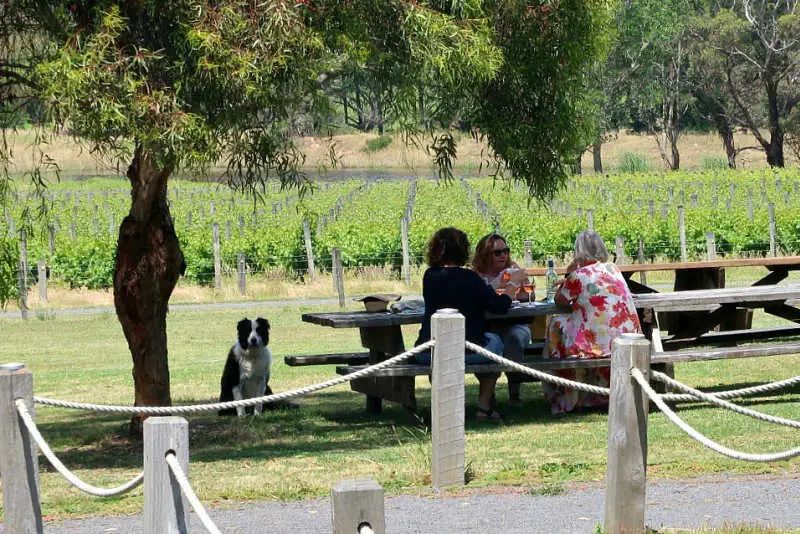 McGlashans Estate Winery is a small boutique winery offering visitors a more casual and relaxed experience.
Its award-winning wines are matured in French Oak for 12 months before bottling and have received a Five Star rating in the James Halliday Australian Wine Companion.
Cellar door tastings at McGlashan Estate are friendly and informative and include Sparkling, Pinot Grigio, Chardonnay, Rose, Pinot Noir, and Shiraz.
Gourmet platters that showcase local produce are available for pairings and at weekends wood oven pizzas are added to the menu.
On show is an eclectic mix of maritime and automotive memorabilia as well as a classic car display. A bit random I know, but car enthusiasts love it.
Wild-caught and aquaculture abalone products are available for purchase along with a variety of local goods.
McGlashans Wallington Estate

225 Swan Bay Road

Wallington 3222

Ph: (03) 5250 5760

Thursday – Sunday 11 am – 5 pm

Open every day in January
Yes Said The Seal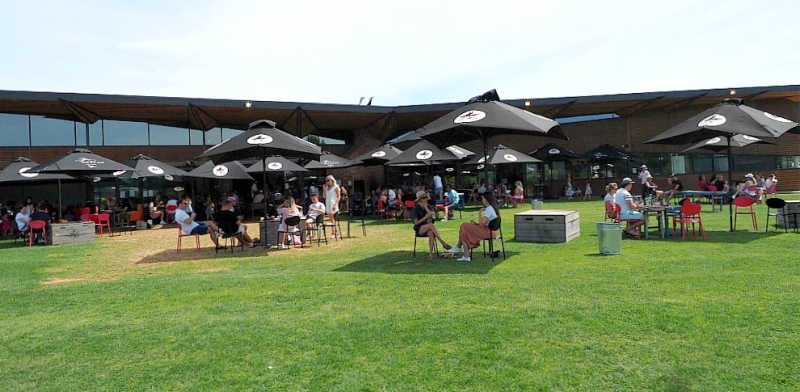 Located onsite at the fabulous Flying Brick Cider House, Yes Said The Seal is a relative newcomer to the Australian wine scene.
Offering an exclusive collection of limited release cool climate wines, Yes Said The Seal went straight into Halliday's Australian Wine Companion as a 5-star rated winery in its first year of release.
Described as 'graceful and complex yet inherently cutting edge' the wines are created from the finest Bellarine Peninsula fruit including the vines that surround the cider house.
Yes Said The Seal's wines include Reserve Sparkling Blanc de Blanc, Sauvignon, Chardonnay, Rose, Pinot Noir, and Shiraz.
Visitors can enjoy a guided tasting of their full stable of wines at the tasting bar, or a tasty meal at The Cider House restaurant.
Yes Said The Seal

1252 – 1269 Bellarine Hwy

Wallington 3222

Ph: (03) 5250 6577

7 Days a week from 10 am.
Curlewis
Leura Park Estate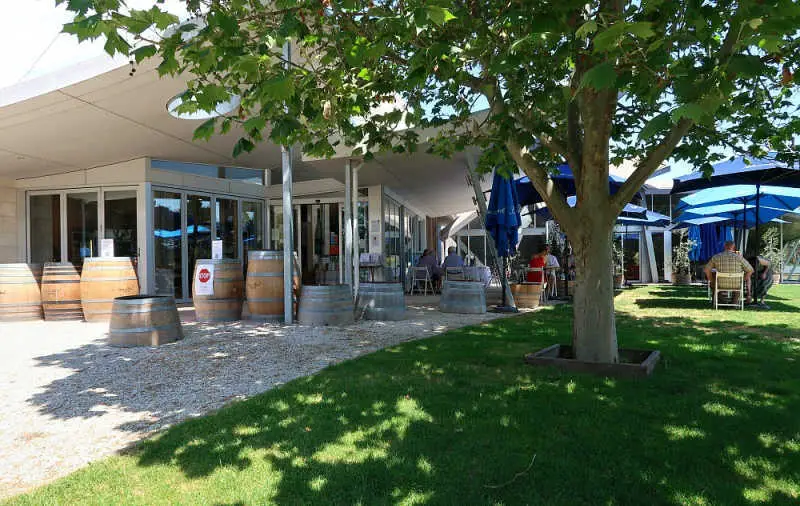 Leura Park Winery is a renowned producer of 100% estate grown and mostly hand-picked premium cool maritime climate wines.
Its stable of wine includes Sparkling Pinot Chardonnay, Sparkling Blanc de Blanc, Sauvignon Blanc, Riesling, Pinot Gris, Chardonnay, Pinot Noir, Shiraz, and Cabernet Sauvignon.
The chic cellar door features a lush grassy outdoor dining area and an architecturally built 'Opera House-esque living art compound'.
Here you can chow down on stone-based pizzas, sharing platters, cheeses, and a line up of specials featuring fresh local fare.
Drop by on a Sunday and soak up the live music featuring local musicians who play all your favourite hits.
Leura Park Winery

1400 Portarlington Road

Curlewis 3222

Ph: (03) 5253 3180

Thursday & Friday 11 am – 4 pm

Saturday & Sunday 11 am – 5 pm

7 Days From December 1st – January 30th
Curlewis Winery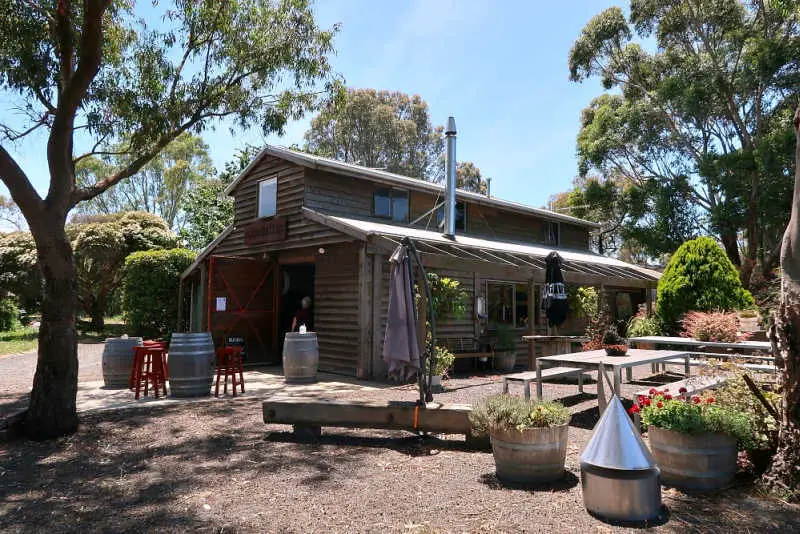 The artisanal family run and owned Curlewis Winery is one of the smallest wineries on the Bellarine Peninsula. Despite this, the estate has some of the oldest vines in the region that date all the way back to the 1980s.
Curlewis wines consist of Chardonnay, Pinot Noir, Syrah/Shiraz, and Charneis a blend of the Italian varietal Arneis with Chardonnay.
The wine is handmade with minimal intervention using traditional French winemaking principles and regularly feature on the best wine lists in the country.
The cellar door and tasting room 'Appellation' offers delicious sharing platters of premium charcuterie and cheeses, as well as delectable pizzettas.
In winter you can relax inside by the cosy fire or when the sun is shining, outside in the tranquil garden.
Curlewis Winery

55 Navarre Road

Curlewis 3222

Ph: (03) 5250 4567

Saturday & Sunday 11.30 am – 5 pm
Oneday Estate Winery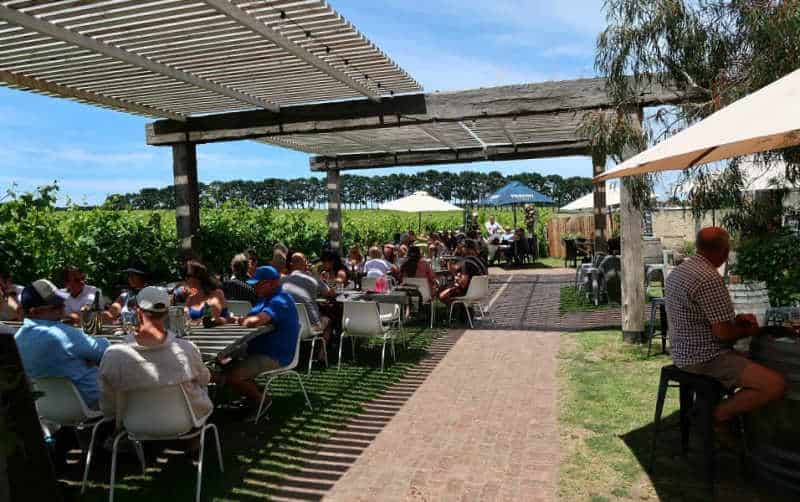 The Oneday Estate cellar door has been carefully crafted from recycled materials that give it a lovely rustic atmosphere. Most of its bricks, timbers, doors, and beams have been salvaged from the peninsula's demolished landmark buildings.
Oneday's wine is created with just as much care as its cellar door. The vineyard is tended to by hand while the fruit is handpicked to ensure only the best is used.
Wines include Sparkling Cuvee, Sparkling Reisling, Reisling, Rose, Pinot Noir, and Shiraz.
Oneday Estate opens its doors on Sunday afternoons for visitors to enjoy a meal with a glass of wine and to relax while listening to live music.
The tasty food matches the environment with country-style woodfired pizzas, juicy burgers, and platters.
Oneday Estate

45 Curlewis Road

Curlewis 3222

Ph: 0419 300 281

Sunday Sessions 12 pm – 5 pm
Drysdale
Scotchmans Hill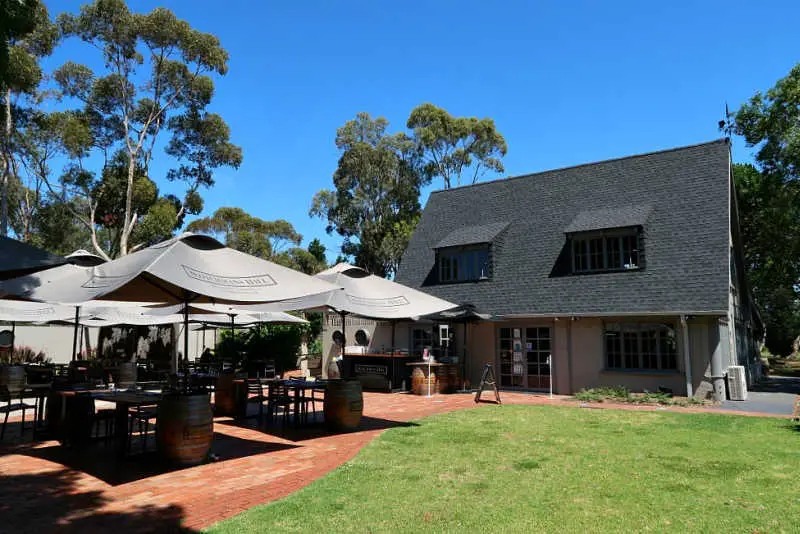 Scotchmans Hill Winery is immaculately maintained with lush lawns and gardens and it has a cute French provincial farmhouse cellar door.
The iconic winery produces wine that is instantly recognisable and it's rated among James Halliday's Top 100 Australian Wineries.
Tastings are provided by knowledgeable staff and the full range of estate-grown wines are available including the exclusive single vineyard Cornelius wines.
Visitors can enjoy lunch and a glass of wine in the bistro or the courtyard that has fabulous views of the picturesque vineyards.
Scotchmans Hill

190 Scotchmans Road

Drysdale 3222

Ph: (03) 5251 4431

7 Days From 11 am – 4 pm
Bellarine
Terindah Estate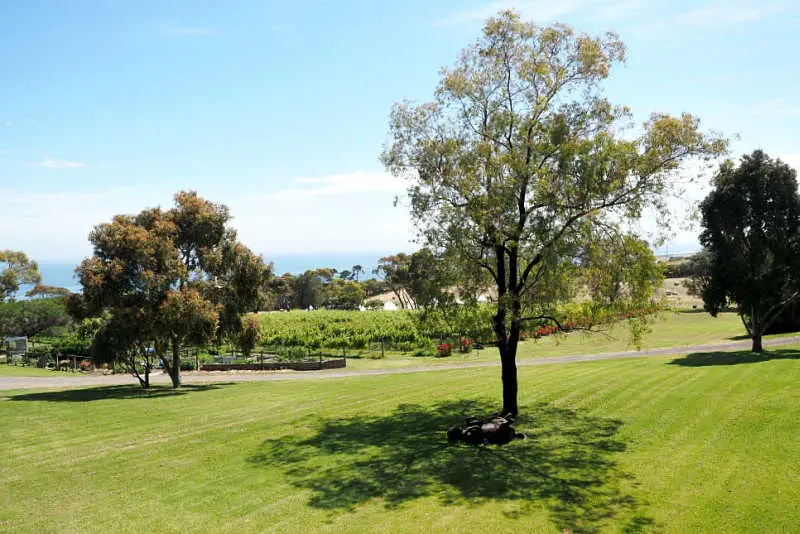 Terindah is Indonesian for 'most beautiful' and this gorgeous winery certainly lives up to its name.
Overlooking the Bellarine coast the 100-acre property offers cellar door wine tastings and a restaurant with floor to ceiling windows that showcase the stunning views.
A verandah known as 'The Deck' wraps around the building and with its comfy couches it's the perfect spot to enjoy a glass of wine on a sunny afternoon.
Visitors can also take a wander through the orchard of quince, fig, and citrus trees or amongst the verdant vines.
Terindah Winery produces Sparkling, Pinot Gris, Chardonnay, Pinot Noir, Shiraz, and Zinfandel. Its cellar door offers local produce for sale along with cheese platters to share.
Terindah Estate

90 Mc Adams Lane

Bellarine 3222

Ph: (03) 5251 5536

The Deck is open for lunch Friday – Monday

Cellar Door 7 days 10 am – 4 pm
Jack Rabbit Winery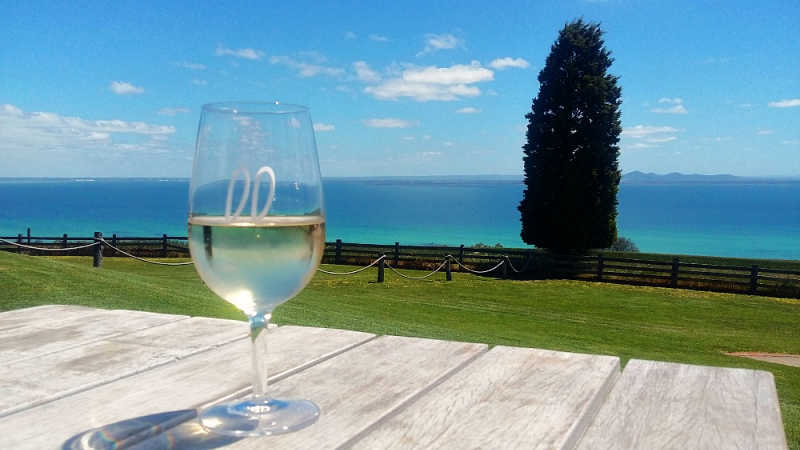 A trip to the Bellarine Peninsula wouldn't be the same without dropping by Jack Rabbit Vineyard.
Offering unrivalled views across the bay, a visit here is one of the top Bellarine Peninsula things to do.
The House Of Jack Rabbit cafe and cellar door opens onto an alfresco deck and a sprawling lawn that's perfect for lazing with a glass of wine while watching the passing ships and mussel farmers.
For something more fancy, the award-winning Jack Rabbit Restaurant offers fine dining with food and views that are in a class of their own.
The winemaking is all about minimal intervention and retaining the characters of each varietal, and the vines are heavily culled to ensure low yields and to maximise the intensity of flavour.
Jack Rabbit wines include Sauvignon Blanc, Reisling, Chardonnay, Pinot Noir, Pinot Gris, Cabernet Sauvignon, and Shiraz.
Jack Rabbit Winery

85 McAdams Lane,

Bellarine Vic 3221

Ph: (03) 5251 2223

Open 7 Days From 10 am
 Bennetts On Bellarine Winery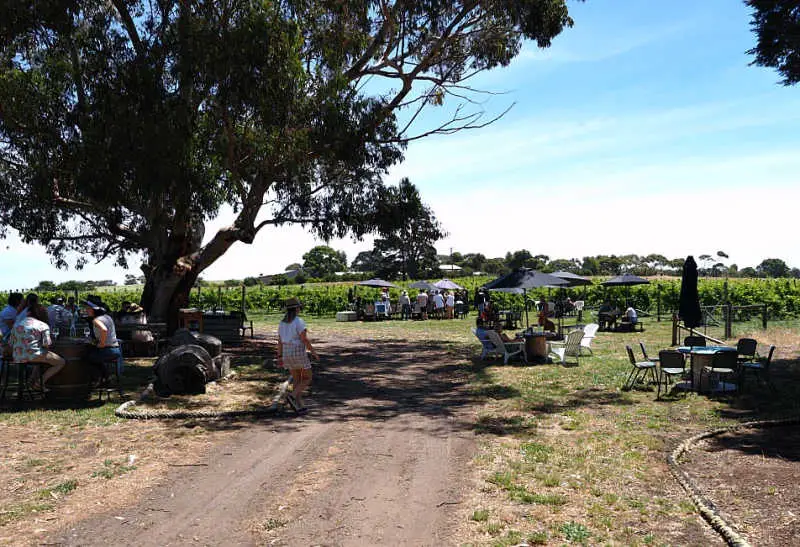 The delightful Bennetts On Bellarine is a true family-run vineyard.
The owners are personally involved in all aspects of the business to ensure quality grapes and wine as well as fantastic hospitality.
The cellar door is a rustic 100-year-old milking shed that has a laid-back country atmosphere and pretty views across the vines to the You Yangs.
It's a great place to stop for a bottle of wine and a cheese board or pizza while relaxing under the sugar gums.
The Bennetts Tasting Board is a popular choice, spread over two hours patrons can enjoy 8 scrumptious wine and food pairings that highlight the best local produce.
At weekends there's live music for entertainment.
Bennetts Estate wines include Chardonnay, Semillon, Sauvignon Blanc, Sparkling, Shiraz, Pinot Noir, and Rose.
Bennett Winery

2171 Portarlington Road (Cnr McAdams Lane)

Bellarine 3222

Ph: (03) 8751 8194

Open Thursday – Monday From 1045

Live Music Saturday and Sunday 2 pm – 5 pm
Bellarine Winery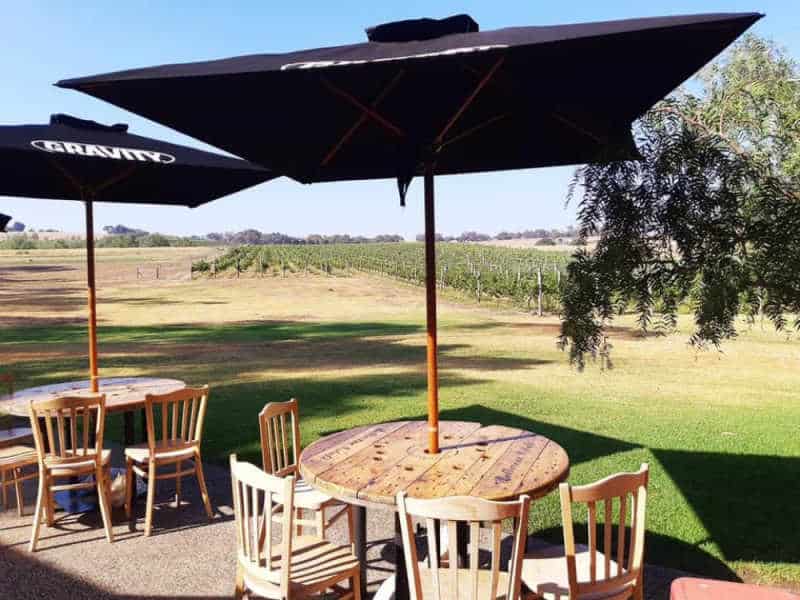 Tucked away in the hills between Drysdale and Portarlington, Bellarine Estate is a prominent family-run winery.
Their wine is sold under two labels Bellarine Estate and Portarlington Ridge.
Bellarine Estate label wines are made using fruit exclusively from their own vines. While the Portarlington Ridge wines are created in collaboration with other growers in the region.
Every aspect of the winemaking process right up to the bottling takes place on the property.
Specialities include Chardonnay, Pinot Noir, Shiraz, Viognier, and Sparkling Rose.
Tastings are available at the estate's cellar door or you can enjoy a meal at the Bellarine Estate Winery restaurant 'Bouchon' that has a French provincial style menu.
Bellarine Winery

2230 Portarlington Road

Bellarine 3222

Ph: (03) 5259 3310

Sales 11 am – 4 pm

Bouchon At Bellarine:

Friday from 6 pm, Saturday 12 pm – 6 pm, Sunday Lunch from 12 pm
Lethbridge @ Hat Rock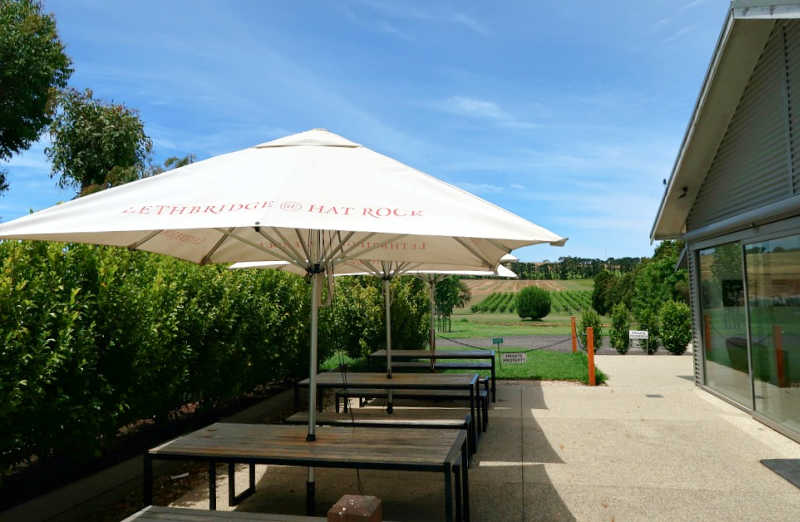 Named for the hat-shaped rocky outcrop on the Corio Bay shore, Lethbridge At Hat Rock is Lethbridge Wine's second cellar door.
This little gem is hidden amongst the bigger, more well-known wineries and offers a relaxed and informative tasting experience.
The cellar door provides outdoor picnic tables in a pretty garden setting and features a communal tasting table that encourages conversation.
Visitors can enjoy wine by the glass with a cheese and charcuterie board, or 'build a picnic' to have on the grounds.
There's also an onsite provedore with a range of local and international products available for purchase.
Lethbridge @ Hat Rock

2330 Portarlington Road

Bellarine 3222

Ph: 0490 344 635

Wednesday – Sunday 11 am – 4 pm
Marcus Hill
Banks Road Winery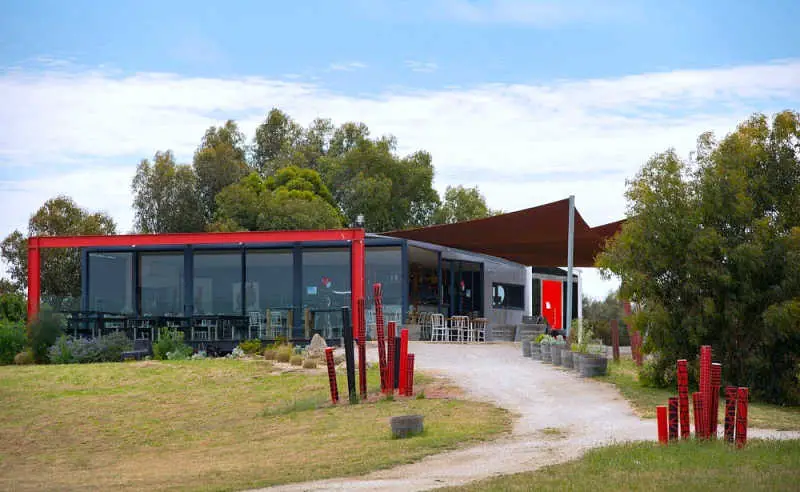 Banks Road Winery is a small family-run vineyard and winery in Marcus Hill.
All Banks Road Estate wine is made onsite from grape to bottle with minimal intervention. Wines include Pinot Noir, Shiraz, Chardonnay, Pinot Gris, and Sauvignon Blanc.
Visitors can try all the current release Banks Road vintages at the relaxed cellar door and cafe. Here you can enjoy a glass of wine and local seasonal dishes surrounded by a vista of odd lawn sculptures.
The vineyard was awarded 5 star status in the 2020 James Halliday Wine Companion.
Banks Road Vineyard

600 Banks Road

Marcus Hill 3222

Ph: (03) 5258 3777

Saturday – Sunday 12 pm – 4 pm
Marcus Hill Winery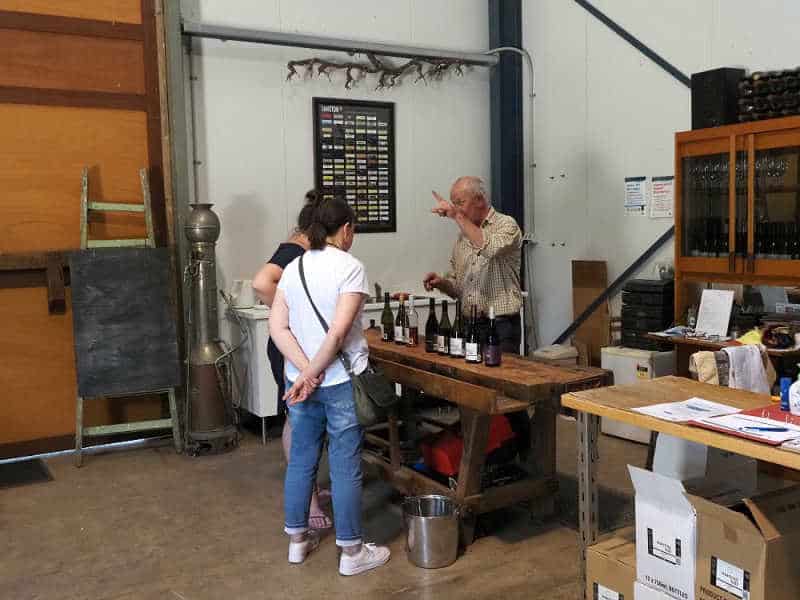 Marcus Hill Vineyard grows top-quality grapes in an environment that encourages natural balance.
The grapes are handpicked in small lots and indigenous trees and shrubs are used to attract birds and other wildlife who provide natural pest control for the vines.
Marcus Hill wine is made with minimal intervention, handling and processing principles and includes Pinot Noir, Shiraz, Rose, Sauvignon, Chardonnay, and Pinot Gris.
A simple cellar door provides wine tasting from November to Easter.
Marcus Hill Winery

560 Banks Road

Marcus Hill 3222

Ph: 0421 728 437

Saturday – Sunday 11 am – 4 pm
Swan Bay
Basils Farm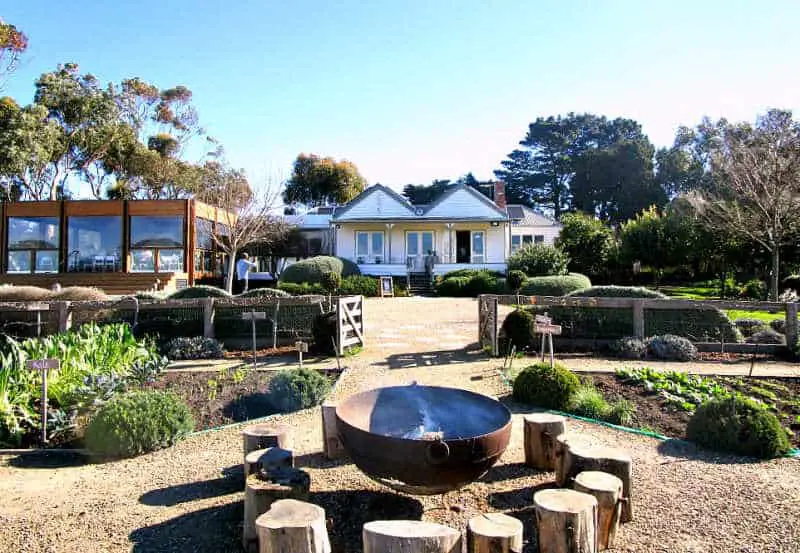 The outstanding (and a personal fav) Basils Farm is home to a vineyard, cafe, cellar door, produce gardens and farm animals.
Embracing traditional winemaking principles the wines are made with minimal intervention and include Pinot Noir, Shiraz, Chardonnay, Rose, Pinot Gris, Sauvignon Blanc, and Sparkling.
Visitors to the cellar door will also find seasonal produce, housemade preserves, and local honey and olive oil available for sampling and purchase.
The farmhouse cafe creates scrumptious housemade dishes using produce from their organic gardens and orchard.
Patrons can sit inside the cafe or the pavilion overlooking Swan Bay or take in the view from the expansive lawns.
Basils Farm is a great spot for people with children as there's a sandpit and space to run around, and kids love the resident Llamas and Babydoll Sheep.
Basils Farm Winery

43 – 53 Nye Road

Swan Bay 3225

Ph: (03) 5258 4280

Thursday, Friday, Monday 12 pm – 4 pm

Saturday and Sunday 11 am – 5 pm
Other Bellarine Peninsula Wineries
Baie Wines: 
120 McDermott Road Curlewis 3222.
Ph: 400 220 436
Cellar door twice a year for the Shiraz Festival in July and Toast to the Coast on the first weekend in November
Mermerus Vineyard:
60 Soho Road Drysdale 3222
Ph: (03) 5253 2718
Cellar door Sundays October – June 11 am – 4 pm
Barrgowan Vineyard:
30 Pax Parade
Curlewis 3222
Ph: (03) 5250 3861
Cellar door by appointment only and it generally includes a tour of the winemaking facility.
Kisaan Estate Winery
1452 Barwon Heads Road
Connewarre 3227
Ph: 0499 987 878
Cellar door Tuesday, Thursday, Friday 11 am – 5 pm
Sunday 12 pm – 5 pm.
Bellarine Peninsula Accommodation
The best way to make the most of your visit is to stay for a night or two. That way you can check out all the other awesome things to do on the Bellarine Peninsula.
Below are our three top choices for best Bellarine accommodation for a trip to the wineries in the Bellarine Peninsula.
There is a full range of best places to stay on the Bellarine Peninsula Victoria here.
Catering to the adult market Pelican Sands Bed & Breakfast offers luxury accommodation in a beautifully renovated federation style house.
There are 5 individually themed rooms each with a spacious corner spa bath.
Other features include a superb balcony with bay views and a communal lounge with a fireplace that's perfect for relaxing with a glass of Bellarine Peninsula wine.
Click here for the latest prices and to read more reviews.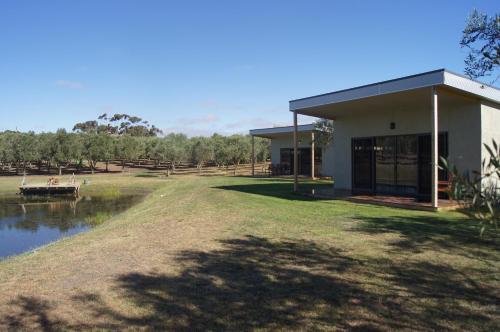 Tucked away amongst the trees Manzanillo Villas gives the Tuscan feel of life in a working olive grove.
There are 3 villas (one is pet friendly) containing a king-size bed, double shower and bath as well as a self-contained kitchen.
A key feature is an outdoor deck that overlooks the olive trees and a large pond.
Manzanillo Olive Grove is situated less than 15 minutes from 12 award-winning wineries and all that The Bellarine has to offer.
Click here for the latest prices and to read more reviews of the Manzanillo Villas.
The stunning Terrace Lofts Apartments can accommodate up to 4 people and are conveniently located close to the beach, shops, and restaurants.
There are 4 beautifully furnished apartments featuring free Wifi and Netflix, a well-equipped kitchen, and a private courtyard and deck.
Each apartment has a luxurious corner spa bath that's perfect for relaxing after a day amongst the vines.
Click here for more information and to read more reviews of the Terrace Lofts Apartments.
How To Get To The Bellarine
To get to the Bellarine Peninsula from Melbourne it's an easy one hour drive along the Princes Freeway to Geelong, then it's another 15 minutes along either Portarlington Road or the Bellarine Highway.
The Bellarine Highway will take you to Queenscliff via Leopold passing Yes Said The Seal at the Flying Brick Cider House, and the wineries at Wallington and Marcus Hill.
While Portarlington Road will take you all the way to Portarlington passing the wineries at Curlewis, Drysdale and Bellarine.
It's also possible to get to the peninsula by ferry boat.
Port Phillip Ferries has daily services between Melbourne Docklands and Portarlington.
Searoad Ferries operate car and passenger ferries between Sorrento on the Mornington Peninsula and Queenscliff. Ferries leave on the hour from both Sorrento and Queenscliff daily.
Winery Bellarine Peninsula Map
Below we've included a Bellarine winery map that shows exactly where each vineyard is so you can easily plan your Bellarine Peninsula wines itinerary.
Final Words
Blessed with a rich natural beauty the Bellarine Peninsula has an abundance of stunning wineries. They are all different and each one has its own individual ambience and atmosphere.
So whether you're looking to chill out with wine, pizza and live music, or prefer something a little more sophisticated you're bound to find a winery to suit you.
One of the great things about the region is how close the wineries are to each other. And with the new Drysdale Bypass they are all within a few minutes drive of each other.
I hope our best wineries Bellarine Peninsula guide has helped you plan your next trip, and that you have as much fun visiting the Bellarine Peninsula wineries as we do.
For more things to do in Bellarine Peninsula read our guides by clicking here.