The Geelong Waterfront is one of the most popular places to visit in Geelong. It's the number one Geelong tourist attraction and all visitors to the city end up visiting Waterfront Geelong at some point during their trip.
It's the perfect place to start your Geelong sightseeing as no matter whether you're an adult or a family, the Geelong foreshore will give you hours of fun.
Many Geelong attractions are located here as well as excellent accommodation and some of the best places to eat in Geelong.
Below you will find our Geelong Waterfront guide with everything you need to know for a fabulous visit. We've included Geelong Waterfront cafes, the best accommodation in Geelong Waterfront, and the top things to see in Geelong.
This post may contain compensated links. For more information read our disclaimer here.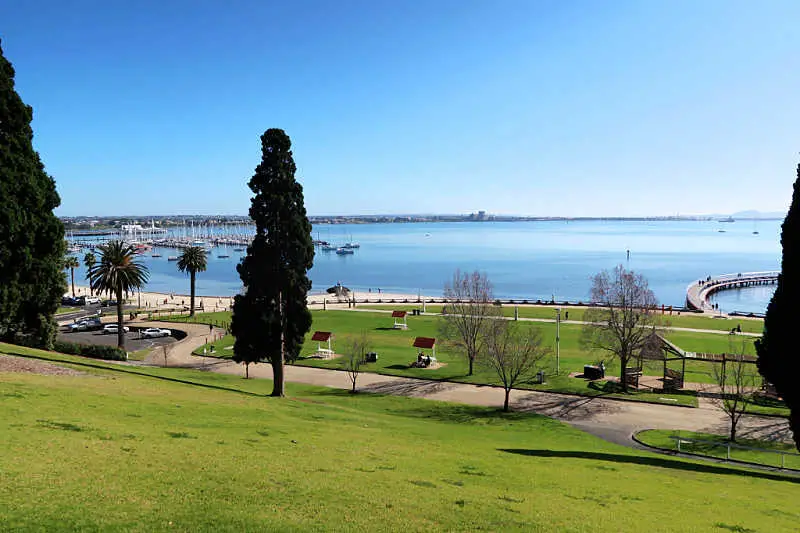 We start with some of the area's history before sharing all the fun things to do in Geelong Waterfront, as well as where to eat, and some really amazing Geelong accommodation.
At the end, we've added a handy map so you can see exactly where everything is.
With this guide, we're sure you'll have a ball when you visit Geelong Waterfront!
Planning to stay a few days? Find the best accommodation in Geelong Waterfront here.
Waterfront Geelong Guide: 
Waterfront Geelong History
The Geelong Waterfront has been an integral part of the city's economic and social community for over 150 years. Without it, Geelong would not be the magnificent city it is today.
And what you see as you stroll its beautiful boulevards is the result of over 100 years of vision, focus, and dedication.
In the early years, Geelong was an official port for the exportation of gold. Its location was ideal for miners as they could avoid travelling through Melbourne and it was closer to the Ballarat Goldfields.
In 1868 the first wool mills opened in Geelong and massive wool sheds sprung up along the foreshore. Most of the Waterfront was dedicated to the wool trade and for a time the city was known as 'the wool centre of the world'.
By the turn of the 20th century, Geelong was a major agricultural trading port. And by the 1940s wool was the second largest export commodity out of the port.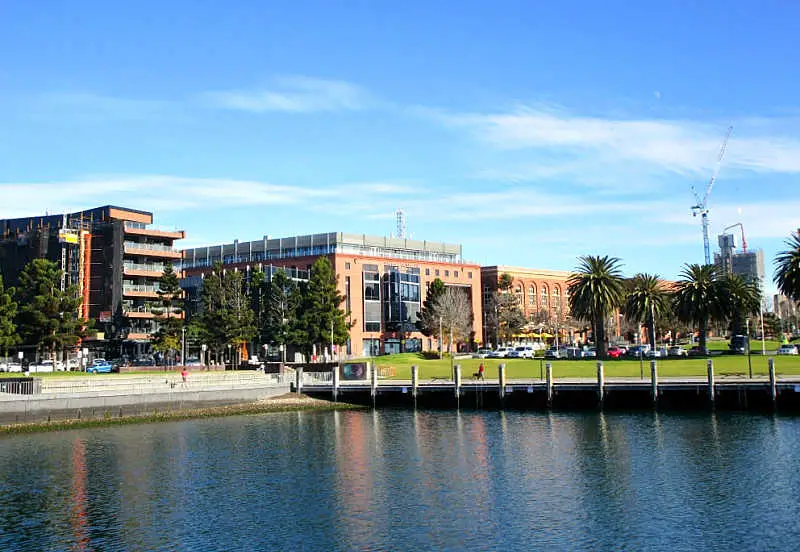 Stage 1 of the city foreshore beautification plan began in the mid-1980s and involved landscaping the Corio Bay Crescent between Rippleside and Limeburners Point.
In 1995 a partnership was formed between the Victorian State Government and the City Of Greater Geelong to redevelop and beautify the area.
A major goal was to transform the waterfront into a local and tourist destination capable of drawing traffic from the highway en route to The Bellarine and Great Ocean Road – Victoria's busiest tourist route.
They've well and truly achieved that goal and the Geelong Waterfront is now a major Victoria tourist attraction with hundreds of thousands of visitors a year.
Here are just some of the things you can see and do when you visit.
Geelong Baywalk
The Geelong Baywalk allows ease of movement between the different bayside areas.
Considered critical to the success of the Waterfront, the path allows people to move safely and without interruption along the foreshore from Limeburners Point to Rippleside Park.
The walk is quite magical in the early mornings and evenings and there are plenty of seats and stopping points along the way.
One of the many highlights you'll see are the bollards that make up the Geelong Baywalk Bollard Trail.

Geelong Baywalk Bollards
Made from old timber pylons from the demolished Yarra Street pier, the Geelong Bollards are a visual history of the city.
Created by local artist Jan Mitchell, over 100 of these colourful characters line the 3-kilometre path along Corio Bay.
Each bollard tells a story about the people who played a part in the city's history.
If you would like to know more about the Geelong Bollards you can read our full guide by clicking here.

Eastern Beach Geelong
One of the best and most loved Geelong places to visit is Eastern Beach.
Located at the eastern end of the Waterfront, it's the city's favourite spot to play, and it's one of the great places in Geelong for families with kids.
Here you'll find the iconic promenade, a kiddies pool, and a shark-proof swimming enclosure.
Kids love the playground, water activities, and the Giant Skywheel, and adults enjoy the lush lawns, barbecues, and nearby cafe.
You can read our full guide to Eastern Beach by clicking here.

Geelong Ferris Wheel
A trip to the Geelong Waterfront isn't complete without a ride on the Giant Sky Wheel.
Offering spectacular views of the Geelong beachfront and Corio Bay, the Ferris Wheel is the largest in the southern hemisphere.
At night it lights up in a kaleidoscope of colour with over 24 dazzling light patterns – a Geelong must-see.
The Sky Wheel visits Geelong for six months of the year (Oct-March). You'll find it perched beside the Geelong Yacht Club.
Rides last between 7-10 minutes.

Royal Geelong Yacht Club
The Royal Geelong Yacht Club is one of Australia's leading yacht clubs with an impressive history that goes back more than 160 years.
Playing host to many major yachting events the club plays an important role in attracting visitors from around the country and across the globe.
Two of the most popular events are the biennial Wooden Boat Festival Of Geelong, and the Festival Of Sails the largest keelboat regatta in the southern hemisphere.
Tucked in behind the club is the Yot Cafe & Bistro offering lovely views of the moored yachts. The food here is simple and the service can be slow, but if you're not in a hurry it's a lovely spot for a relaxed coffee and sweet treat.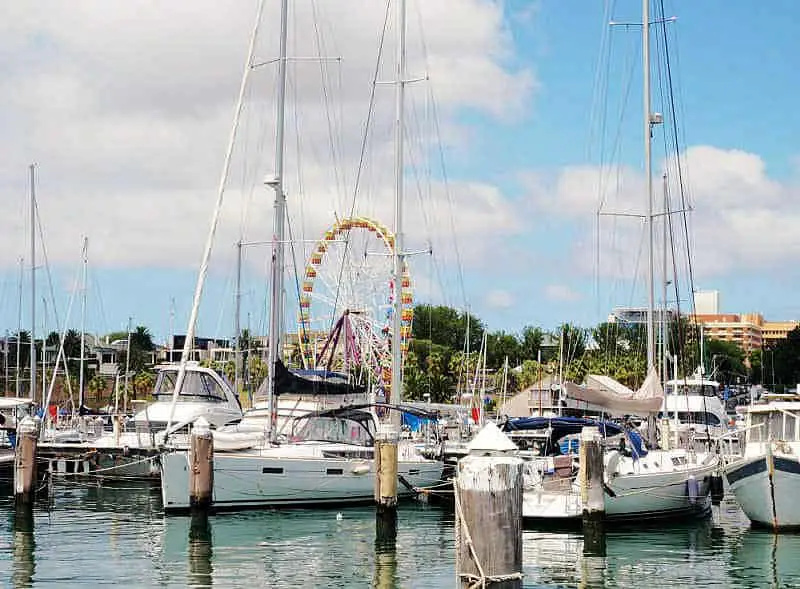 Steampacket Gardens
Located right beside the water Steampacket Gardens Geelong is a big rectangle of lush lawn that's perfect for a relaxing picnic or a game of frisbee.
A path on the northern edge connecting the gardens to the bay has seats where you can enjoy the sea breeze and watch the nearby helicopter toing and froing.
On the eastern side you'll find the Wharfshed Cafe serving yummy meals and to the west sits the delightful historic carousel.
There are some interesting art sculptures dotted around the park. Be sure to check out the Volunteer Rifle Band bollards and The Buoys sculpture, a group of former channel buoys that have been turned into a powerful piece of artwork.
The Geelong Waterfront Makers and Growers market (Steampacket Market) is held here on the first Sunday of each month. This popular market offers local produce, beautiful art and handicrafts, and lots of tasty treats.
You can read about other popular Geelong markets here.

Geelong Helicopter Rides
Geelong Helicopters specialises in scenic flights, private charter, aerial photography, and tours.
This is a wonderful way to see Corio Bay, the Geelong CBD, Barwon River, Torquay, and the famous Bells Beach.
Operating daily from the Yarra Street Pier, flights start at $59.00 pp for 5 minutes.
Wangim Walk Wave Attenuator
Named after the Wadawarrung language for boomerang, Wangim Walk signifies a major milestone in the Geelong Waterfront Safe Harbour Precinct Project.
It was originally built to provide safe harbour to the Royal Geelong Yacht Club, but it has also become a popular Geelong tourist attraction.
The 440 metre long wave attenuator stretches out over Corio Bay and offers superb views back to the city skyline and yacht club.
Fishing is permitted and there's a safety gate that closes off the walk when the weather turns nasty.
Unfortunately, there isn't any seating and some people do find the 880 metre walk out and back difficult.
Opening hours: 6 am – 10 pm weather permitting.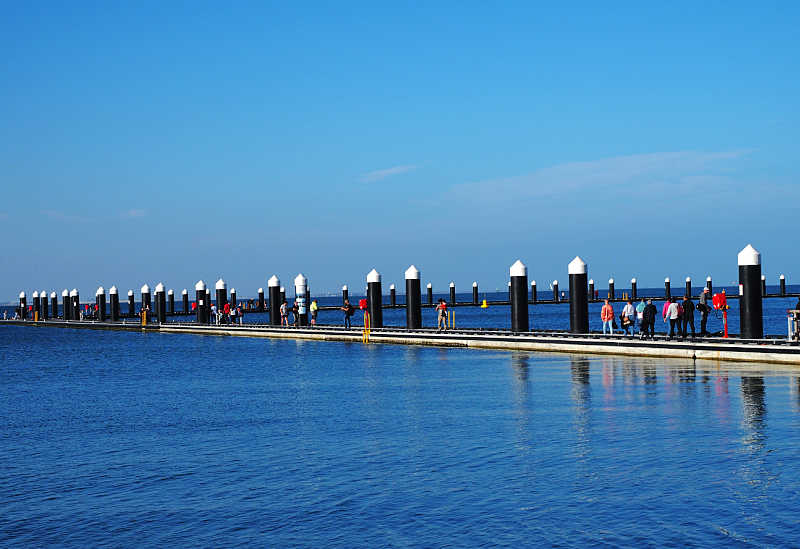 Geelong Carousel
The Carousel Geelong is a rare 1892 Armitage-Herschell hand-carved wooden carousel.
One of only a few in the world this beautifully restored carousel is considered by many to be the best that's still in use today.
Housed in a modern steel and glass enclosure the pavilion has an old-world carnival atmosphere that's enhanced by a pipe organ playing Dixieland melodies.
A ride on this enchanting carousel is a magical experience for children of all ages and abilities, with a mobility lift that assists wheelchairs onto the attraction.
Entry into the pavilion is free. Tickets to ride the Carousel are $5.00.

Geelong Waterfront Train & Bungy Trampolines
If you're looking for fun things to do with kids in Geelong, then the Waterfront is the perfect place for you.
Along with the kids' activities we've already listed here, kids get a buzz out of the Waterfront train and Four Bay Bungy Trampoline.
The train runs return trips from the Carousel to the Eastern Beach pools. The ride takes around 20 minutes and leaves every half hour (every quarter-hour in peak season).
Kids can somersault and jump 7 metres high (!) at the Bungy Trampoline. Located near the Carousel, there's a 5-minute jump guarantee (longer when there's no queue).
Open weekends, school, and public holidays from September to May.

Cunningham Pier Geelong
Cunningham Pier is one of the most recognisable structures on the Geelong Waterfront.
Opening in the mid-1850s it was originally known as Railway Pier. It was an important part of the Geelong Port and you can still see the train lines that were used to transport cargo to the end of the pier.
The pier stretches 250 metres out over Corio Bay and its bright white building is a standout feature of the foreshore.
The two-storey weatherboard building houses the Wah Bar and Asian food restaurant (bao buns!), Wah Wah Gee. The Pier Geelong function centre is also located here.
A large part of this Geelong pier is dedicated to car parking and a convenient covered walkway provides shelter as you walk along the train tracks.
Cunningham Pier fishing has always been popular and in keeping with tradition, local anglers continue to use it.

The Poppy Kettle Playground
This Geelong playground was inspired by a children's book written by local author Robert Ingpen.
The story focuses on a group of miniature people from Peru, who set sail in an old tea kettle to find the land 'beyond the horizon' and eventually come to rest in Geelong.
Bronze statutes of the Poppy Kettle people are scattered around the park giving it a fairy tale quality.
Other features include an interactive water fountain, a sea dragon, an awesome slide and climbing tower, and a terrific pyramid climbing net.
There's plenty of lush grass to picnic on, public toilets, and there's usually an ice-cream and hot jam donut van parked nearby.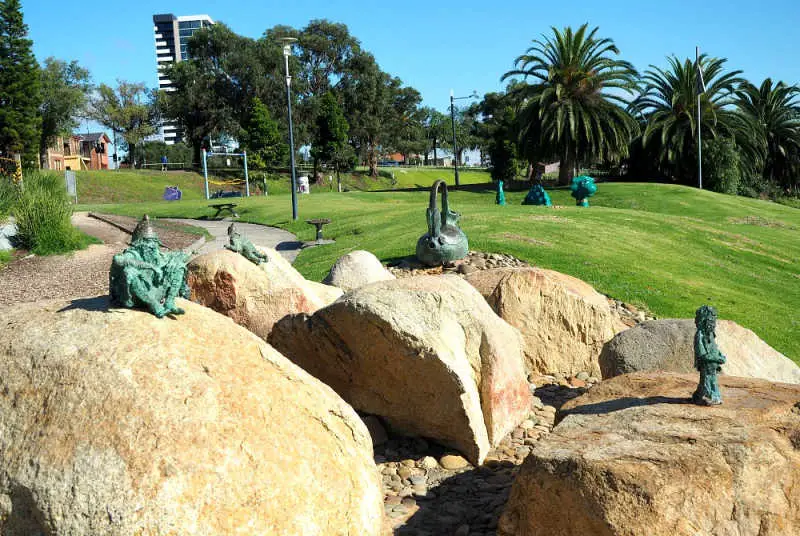 Geelong Skatepark
Geelong is heaven for skaters as there are more skate parks in Geelong per capita than any other district in the country.
And there's no better location for a skate park than right beside the bay at Waterfront Geelong.
The Youth Activities Area to the west of Cunningham Pier is an outdoor plaza-style park. It has a variety of street obstacles including ledges, stairs, rails, and bank ramps.
The park also features a basketball ring, bench seating, open-air performance areas, and stereo music.
Events designed for young people are held here throughout the year, many of them are free.

Western Beach
People have been swimming, boating, fishing, and playing at Western Beach Geelong since the 1840s.
In those days there was an unwritten rule designating Western Beach for men's bathing and Eastern Beach for women. But some 'dastardly gentlemen' would disregard the agreement scaring respectable women away.
Today the area is rarely used for swimming, but it's still a popular stretch of foreshore connecting Rippleside to the rest of the Waterfront.
Here you'll find the Boat House restaurant (Geelong's best spot for fish and chips), the Poppykettle Playground, a designated fishing area, and the marvelous Western Beach Boardwalk.
Curving out over the water the boardwalk has well-placed seats where you can sit back and watch the sea birds duck dive for fish. In the early morning, it's perfect for watching the sun come up over the bay.
Rippleside Park
Located on the western edge of the Waterfront, Rippleside Park Geelong is a pretty grass-covered foreshore reserve.
Popular with locals, Rippleside is less well-known to tourists who drive past en-route to more popular areas.
The park has magnificent bay views and is particularly appealing to families with young children who love the adventure playground.
The huge wooden structure has ramps, walkways, steps, and plenty of nooks and crannies to explore.
When the kids tire of the playground the reserve has wide-open spaces to run around in. Don't forget to bring your footy!
Tucked in next to the reserve is tiny Rippleside Beach where you can bask in the sunshine or splash around in the water.
Overlooking the whole area is the bright and spacious No. 42 cafe. This stunning waterfront cafe serves excellent coffee and has huge windows with to-die-for water views.
Other amenities include picnic and barbecue facilities, toilets, and plenty of car parking spaces.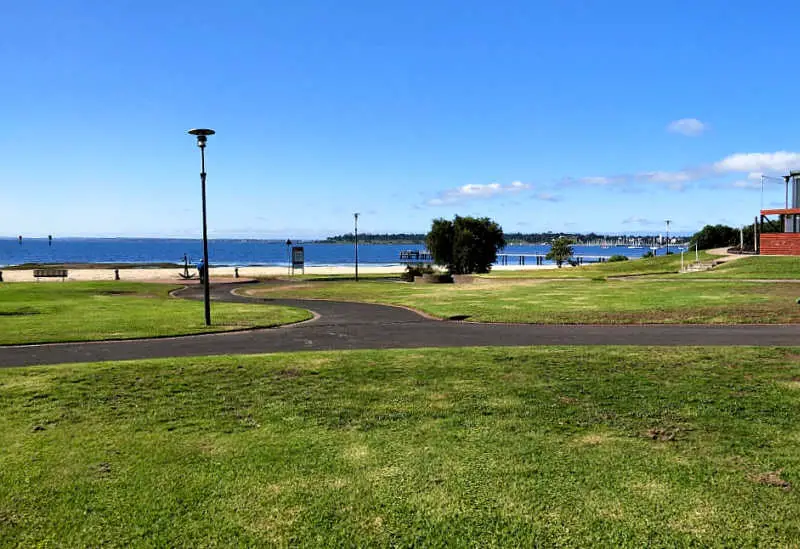 Geelong Art
The Geelong Waterfront is chock full of public art.
From huge impossible-to-miss sculptures, light installations, statues, and hidden whimsical pieces, visitors can enjoy an impressive mix of artistic interpretations.
Here are just a few of the unique artworks you'll see as you walk around the foreshore. Be sure to keep your eyes peeled!
North: Located at the bottom of Moorabool Street, this distinctive sculpture is made up of 7 earth coloured structures. Designed to look like it's floating on water when viewed from higher up the street, no two pieces are placed on the same axis.
The Buoys: This striking piece of artwork features a group of channel buoys. Found at Steampacket Gardens this huge sculpture is a favourite with tourists who love to have their photo taken with The Buoys!
Grassy Knoll: Found at Transvaal Square this unusual (weird?) sculpture is often likened to the holocaust memorial in Berlin. It's an interactive piece that visitors can walk amongst and play with to gain different perspectives.
The Cargo Boxes: These metal and glass boxes hold examples of the cargo that arrived at the Geelong Port. You'll find them dotted around the Customs House lawn.
The Barcode Fountain: Also on the Customs House lawn beside Sailors' Rest is this unusual water feature. The shallow fountain has stainless steel panels that are etched with the Noddy's Softdrink barcode. Noddy's was a Geelong icon for generations.
Paving Splats: Easy to overlook, the Paving Splats are 'splattered' around the central Waterfront precinct. They're made from stainless steel and have inlays that show imported and local objects. The Splats are found in the pavement, so keep your eyes cast downwards.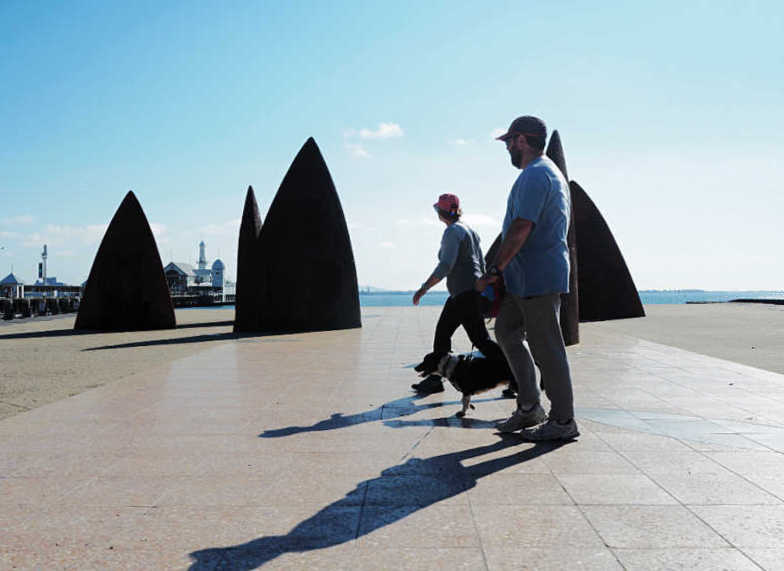 Geelong Christmas Tree
The Geelong Waterfront Christmas Tree is Australia's tallest and only floating Christmas tree. At 25 metres high it's an incredible sight that attracts visitors from far and wide.
The tree is covered with 11,000 reflective discs that sparkle and shimmer in the sunlight. While at night a music and light show wows visitors with a stunning symphony of colour and sound.
You'll find the Geelong Christmas Tree at Steampacket Quay from late November to early January.

Waterfront Geelong Events
From world-class sporting events and holiday celebrations to community festivals and markets, the Geelong Waterfront plays host to loads of festivities all year round.
One of the best things is that most of these events are free to attend. Why not time your visit to coincide with a festival for a jam-packed weekend of fun?
Festival Of Sails: Enjoy exhilarating yacht races and action-packed water activities at the largest keelboat regatta in the southern hemisphere.
Cadel Evans Road Race: Paying tribute to Australia's only Tour de France winner this race attracts the world's top cyclists. Cyclists ride from the Waterfront to Barwon Heads and Torquay and back again.
Geelong Revival Motoring Festival: Watch classic and exotic cars and motorbikes sprint down Ritchie Boulevard at this action-packed motoring festival.
Other great Waterfront events include the Wooden Boat Festival, Steampacket Gardens open-air cinema, the Triathlon Half-Ironman, Carols By The Bay, and the New Year's Eve Fireworks.
For more information about events in Geelong read our post here.

Where To Stay: Geelong Waterfront Accommodation
There is a great range of accommodation in Geelong from luxury apartments to cheaper options. You can read our complete guide to the best Geelong accommodation by clicking here.
This modern hotel is right on the Waterfront close to all the attractions, including Eastern Beach and Steampacket Gardens as well as restaurants and nightlife.
There are 109 newly refurbished rooms the best with to-die-for water views. On-site facilities include a heated indoor pool, fitness centre, relaxing steam room, and free Wifi.
This is a great full-service hotel and our top pick on the Waterfront.
Click here to check the latest prices and to read more reviews for the Novotel Hotel.
Located on the Esplanade close to Western Beach this lovely hotel has a selection of accommodation options to choose from.
Guests can elect to stay in economy, executive and family, or apartment-style rooms.
Added amenities include an outdoor heated pool, free high-speed wireless internet, and complimentary onsite parking.
The Quality Inn Geelong is perfect for those looking for a relaxing place to stay on the Waterfront.
Click here to check the latest prices and to read more reviews for the Quality Hotel Geelong.
Rippleside Park Motor Inn is a great budget option on the Waterfront.
This no-fuss motel is located close to Rippleside Park and Corio Bay. All rooms have a microwave, fridge, ironing equipment and tea and coffee making facilities.
Other features include free onsite parking, luggage storage, and complimentary Wifi. As an added bonus a tempting breakfast can be delivered to your room for a small fee.
This motel is the perfect mix of comfort, value, and convenience.
Click here to check the latest prices and to read more reviews for the Rippleside Park Motel.
Geelong Waterfront Restaurants
Wondering where to eat in Geelong Waterfront?
There's no shortage of options to choose from and the Waterfront has some of the best places to eat in Geelong.
From seafood to Asian food and the humble fish and chips you're bound to find a Geelong Waterfront restaurant to suit you.
Here are just a few for you to choose from.
Sailors' Rest: This stunning restaurant and bar, has the only rooftop bar on the Waterfront overlooking the bay.
The Edge: Offering sea views and a contemporary menu Edge is a favourite amongst locals and visitors alike.
Wah Wah Gee: With its stellar location on Cunningham Pier there's no better place to enjoy Asian food. Try the bao buns.
The Wharf Shed: Located just a few steps from the water this newly refurbished restaurant and bar has something for all taste buds.
Fishermen's Pier: A seafood restaurant that markets itself as fine dining. Not a cheap option.
The Mussel Boat: Offers paella, calamari, and mussels cooked and served straight from the boat. This is take away only.
You can find a great waterfront restaurant by reading our complete guide here. or a cafe by clicking here.
How To Get To Geelong Waterfront
Geelong is located 75 kilometres south-west of Melbourne. It's relatively easy to get to with a few main options for tourists to reach the Waterfront.
By car: Driving from Melbourne to Geelong is quite simple as it's freeway all the way. There are no tolls and plenty of signs to show you the way.
By Train: All Geelong bound trains leave from Southern Cross Station in Spencer Street. The journey takes around an hour. It's just a few minute's walk from Geelong Station to the foreshore.
By Ferry: The best and most fun way to arrive at Waterfront Geelong is on board the Port Phillip Ferry. Operating daily services the ferry leaves from the Docklands. For more information click here.
By Air: Geelong is served by Avalon and Melbourne Airports which provide domestic travel within Australia. Avalon Airport is located just 20 minutes from Geelong. To find out how to get to Geelong from Melbourne Airport (and Avalon) read our guide here.
Waterfront Geelong Map
Waterfront Geelong is a top-notch destination and I hope this guide has given you some inspiration for your next getaway.
Ask any questions you may have about what to do at Geelong Waterfront on our contact page and we'll get back to you.
For more information about what to do in Geelong click here. You can find our full travel guide to Geelong by clicking here.
Related Posts: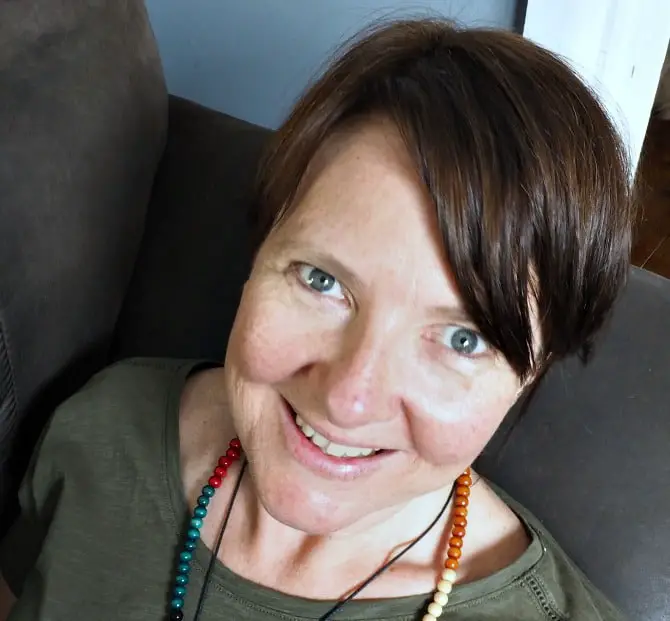 By Audrey Chalmers
Audrey is the principal blogger behind See Geelong. Book Lover | Breakfast Nut | Geelong Gal | She's Usually Craving Coffee.