Visitors travelling from Melbourne Airport to Geelong have a variety of transport options to choose from.
Deciding which one is right for you is a matter of budget and convenience, as all options are safe and comfortable.
We've made it easy for you to decide which one is best for you, so you can enjoy all the wonderful Geelong attractions without feeling stressed.
Below you will find an overview of Melbourne Airport transport options to Geelong Victoria.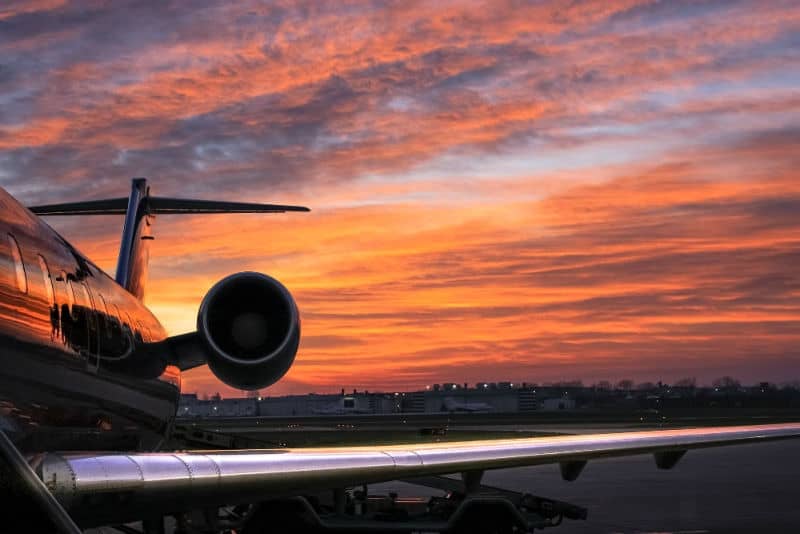 This article may contain compensated links. For more information read our disclaimer here.
About Melbourne International Airport
Melbourne International Airport was built in the 1960s and is known locally as Tullamarine Airport or "Tulla" for short.
It was built in the Melbourne suburb of Tullamarine but the airport now has its own suburb and postcode – Melbourne Airport, Victoria 3045.
Melbourne Tullamarine Airport is Australia's second busiest airport and surprisingly, operates the world's second most travelled passenger air route – Melbourne to Sydney.
The airport has four terminals; one international terminal and three domestic terminals.
Terminal 1(T1): Domestic – Qantas
Terminal 2 (T2): International – All Flights
Terminal 3 (T3): Domestic – Virgin
Terminal 4 (T4): Domestic – Jetstar, Tiger Air, Rex, Air North
How To Get From Melbourne Airport To Geelong
Considering the distance from Melbourne Airport to Geelong is only 82 kilometres, driving is the easiest and most convenient way to make the trip.
If you have access to a car this option is a safe and simple way to get between the two locations.
The road between Melbourne and Geelong is one of the best in the country and with a travel time of only around an hour hiring a vehicle and driving yourself is the fastest, most hassle-free way to get there.
The other options in this list are either more expensive or involve an extra step to get you directly to your door.
Hiring a car is more economical for a group or family and means you can drive straight to your destination without having to hang around waiting for the bus.
It's also highly likely you'll need a car once you arrive in Geelong to get around the city and to visit the sights.
Below we've provided detailed directions on how to get the Geelong from Melbourne Airport for your added convenience. Of course, you can use Google Maps too!
The airport has six car rental companies; Avis, Budget, Europcar, Enterprise, Hertz, and Thrifty.
They are all located on the airport's ground floor, directly opposite Terminal T2, International Departures and Arrivals.
To find the best car rental deals click here.
Directions From Tullamarine Melbourne To Geelong
Driving from Melbourne Airport to Geelong is not difficult as it's freeway all the way.
There are no tolls and to make it even easier there are lots of signs to make sure you don't get lost.
The trickiest part is in the first 5 kilometres but if you follow our directions you'll be fine.
From the airport take the Melbourne exit onto the Tullamarine Freeway.
Take the first turn off on the left at the Mickelham Rd exit and stay in the right-hand lane.
Then take the right fork which is signposted Geelong, this leads into the Western Ring Road.
Stay on the Western Ring Road until you reach the Geelong exit to the Princes Highway (M1).
Then it's a 45-minute drive to Geelong.
The Gull Bus
The Gull Melbourne Airport to Geelong bus isn't convenient for everyone's flight. The bus leaves every hour during the week and the service finishes around midnight.
If the timing doesn't work you could find yourself hanging around the airport for an hour or more.
You could be in Geelong by then!
However, it is reliable and comfortable transport from Melbourne Airport providing up to 198 regular Melbourne Airport transfers every week.
The trip from Tullamarine to Geelong takes about 1 hour and 15 minutes depending on traffic.
It does not stop at Melbourne Avalon Airport.
It's best to book in advance but it's possible to buy a ticket from the driver if spare seats are available.
Melbourne Airport Pick Up & Drop Off: 
The first island opposite Virgin Australia (Terminal 3)
Gull Bus Geelong Drop Off & Pick Up:
Corio Village Bacchus Marsh Service Road
Geelong Train Station
Head Office at 45 McKillop St Geelong
The Gull Melbourne Airport bus runs from Geelong to Melbourne Airport and back every day except Christmas.
Gull Airport Service Ticket Prices: one way/return
Adult – $38.00 / $70.00
Children (3-17 years) – $25.00 / $46.00
Australian Seniors – $35.00 / $66.00
Phone: 03 5222 4966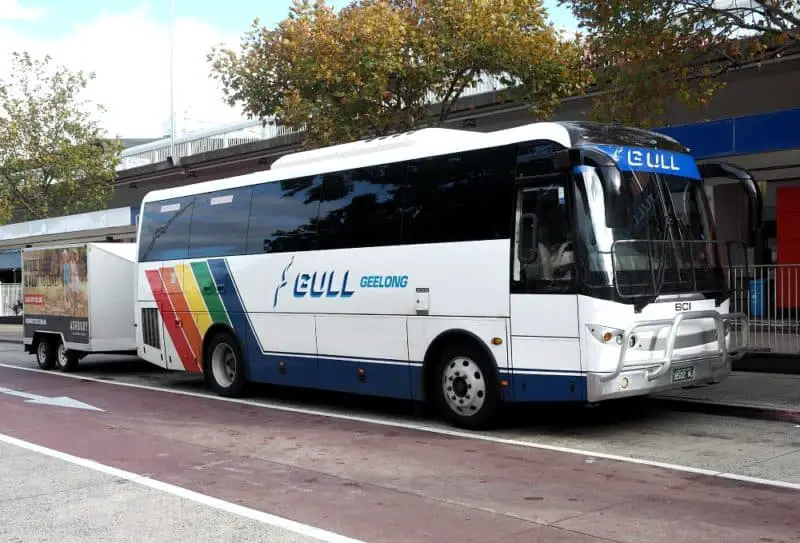 Taxi From Melbourne Airport
Another option would be to use a Melbourne Airport taxi service.
Taxi ranks are located outside the Melbourne Airport arrivals hall.
An access fee of $4.50 applies to all pick-ups from an airport taxi rank. This is paid by the passenger to the driver and is included in the fare.
Pre-booked taxis can be used to pick you up from the airport. The taxi will be ready to collect you in the outdoor section of At Terminal T123 car park.
Phone: 131 008
Rideshare drivers pick up passengers from two locations:
Qantas International and Virgin Australia passengers from Lane 3 of the forecourt
Jetstar, Tiger Air, Rex and Air North passengers from Level 2 inside the Ground Transport Hub.
There is a rideshare access fee of $4.54 per trip.
Scheduled rides are not available for pickups at the airport. Rideshare operates a virtual queue and accepts bookings on a first in first out basis.
Use the mobile app to make a regular Uber booking which has a regular supply of Uber vehicles to pick you up.
Chauffeur-Driven Luxury Vehicles
Start your holiday in the best possible way with luxury hire car services.
Chauffeured hire cars must be pre-arranged as there are no service desks at the airport. Drivers will meet you inside any of the terminals and assist you with your luggage.
Melbourne Airport private transfers are available 24 hrs 7 days a week.
Click here for more Melbourne Airport limo transfer information.
Melbourne Airport Train
Unfortunately, there is no rail link to or from Melbourne International Airport.
However, it's still possible to get from the airport to Geelong by train, although it's the least convenient option.
The best way to do this is to catch the Skybus Melbourne Airport shuttle to Southern Cross Station in Melbourne's city centre.
From there you can catch the Vline Melbourne to Geelong train.
The Skybus Melbourne City Express picks passengers up kerbside at Melbourne Tullamarine Airport Terminals, T1, T3 and T4.
For more information about Skybus Tullamarine Melbourne click here.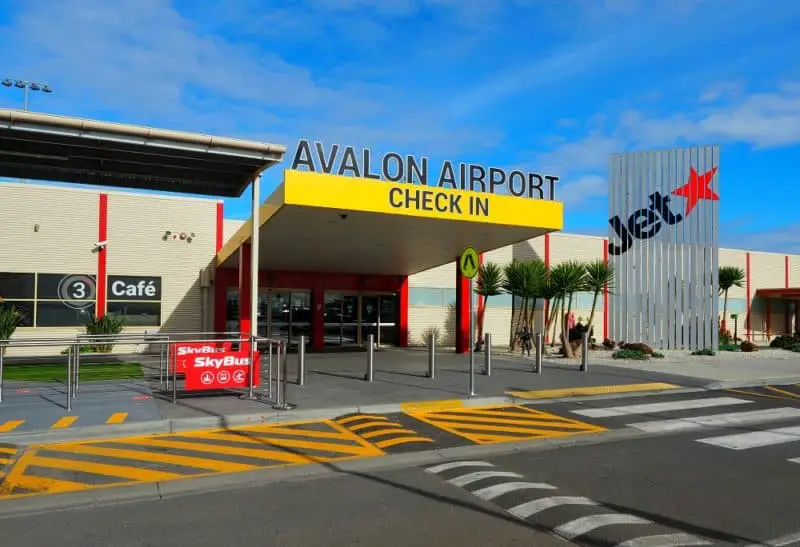 How To Get From Avalon Airport To Geelong
Where is Avalon Airport?
Surrounded by farmland, Melbourne Avalon Airport appears to be in the middle of nowhere, but it's actually only 20 kilometres from Geelong's CBD.
It's in a great position for anyone wanting to visit Geelong, the Bellarine and the Great Ocean Road.
Geelong is an easy 25-minute drive along the Princes Freeway from Avalon Australia.
Avalon Airport Car Rental is simple to arrange from any of the companies located in the main terminal.
The airport is serviced by Budget, Avis, Hertz and Europcar.
You can pre-book your car hire online or make arrangements at the airport service desk.
For more information and the best car hire deals click here. 
Skybus Avalon Victoria
Update: There is no longer a Skybus service to Geelong
The Skybus Avalon Airport Bus is a comfortable and convenient way to get to Geelong – they even have free Wifi.
And at only $10.00 for singles, it's easily the cheapest Avalon Airport transport option.
They have amazing family deals too.
You can book the Skybus Avalon Airport Shuttle online or from the booth in the terminal.
Taxis are available directly outside the terminal. Fares to Geelong are around $50.00.
You can call 13 CABS on 13 2227 or book online here.
Uber has official pick up bays to the left as you leave the terminal.
Avalon Airport has a $3.00 fee for all commercial vehicles accessing the airport to pick up passengers.
Final Word
There are a variety of options for getting to Geelong from Melbourne and Avalon Airports.
The easiest and most convenient way is to here a car and drive yourself.
Other options include the bus, by taxi, ride share, or chauffer-driven vehicle.
Find the best car rentals here
Wondering where to stay in Geelong? You can find the best Geelong accommodation here.
These posts will have you eating and drinking at Geelong's best cafes and the top Geelong pubs.
For things to do, you can read about the Geelong Wool Museum and Narana Aboriginal Cultural Centre. Or check out our guide to the best events in Geelong.
Related Posts: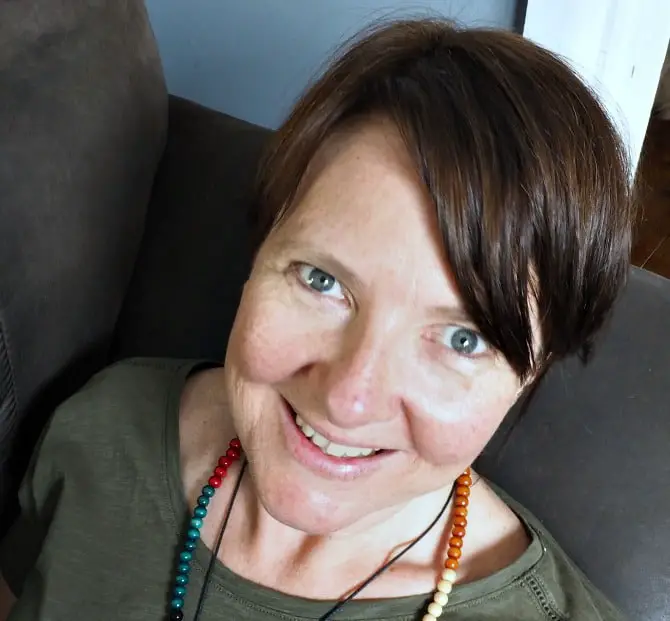 By Audrey Chalmers
Audrey is the principal blogger behind See Geelong. Book Lover | Breakfast Nut | Geelong Gal | She's Usually Craving Coffee.