I love anything old and have visited countless museums around the world. But I have to admit the Geelong Wool Museum didn't hold much appeal for me.
Because, you know, it's about wool. And sheep.
However, Andrew and I recently visited the National Wool Museum as we wanted to see a photography exhibition that was held there.
It turned out to be much better than the stuffy yawn-inducing wool museum I thought it would be. And I can see why it's one of the top Geelong tourist attractions.
Don't you love it when things turn out like that?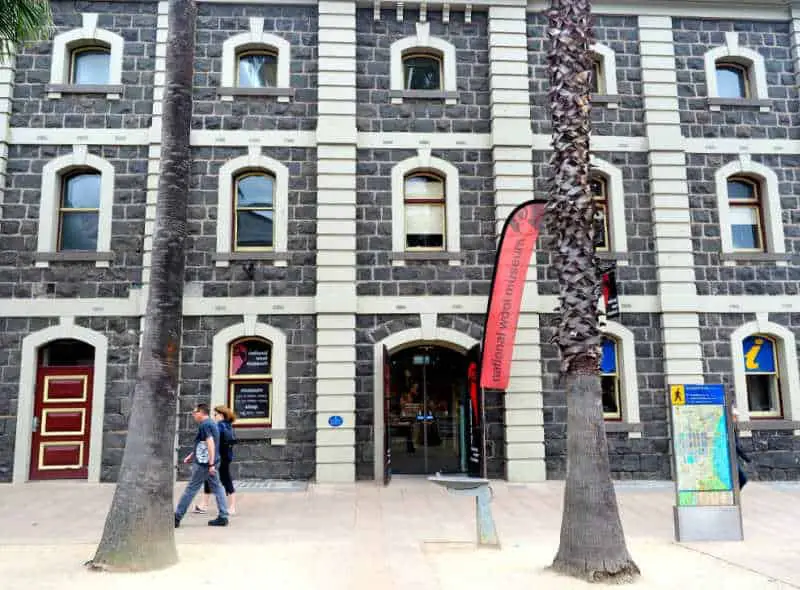 Located in the heart of Geelong Australia, the museum is housed in a gorgeous old bluestone wool store. Built in 1872, it's been beautifully restored and it's worth a visit just to see this marvelous building.
This Geelong museum could easily be described as an Australian history museum, as it tells the Australian story of wool, fibre, and textiles.
It also shows the impact the wool industry had on the Australian culture.
Inside you'll find contemporary exhibitions, agricultural displays, and special events including sheep shearing days!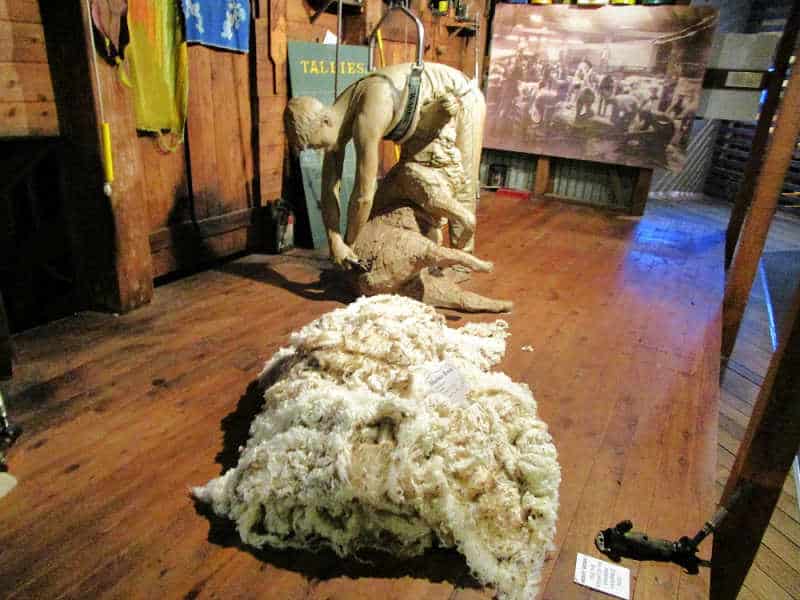 Geelong History
Wool has dominated the Australian economy and agriculture since sheep arrived with the First Fleet in 1788. And the country developed a reputation around the world as a quality wool-growing nation.
Geelong's close proximity to the farmlands of the Western District and its great port made it perfect for shipping Australian wool to the rest of the world.
In 1868 the first wool mills opened in Geelong Victoria and wool soon grew to be the town's major trade. The industry boomed and the city's identity became synonymous with wool and the wool industry.
And for a time Geelong was known as the "wool centre of the world".
Most of Geelong's Waterfront was dedicated to the wool trade and massive wool stores sprung up along the foreshore and Brougham Streets.
Sadly, the woollen mills are now gone but many of the wool stores have survived and been transformed for modern day use.
Deakin University's Waterfront Campus, the Westfield Shopping complex, and the National Wool Museum Geelong are all housed in historical wool stores.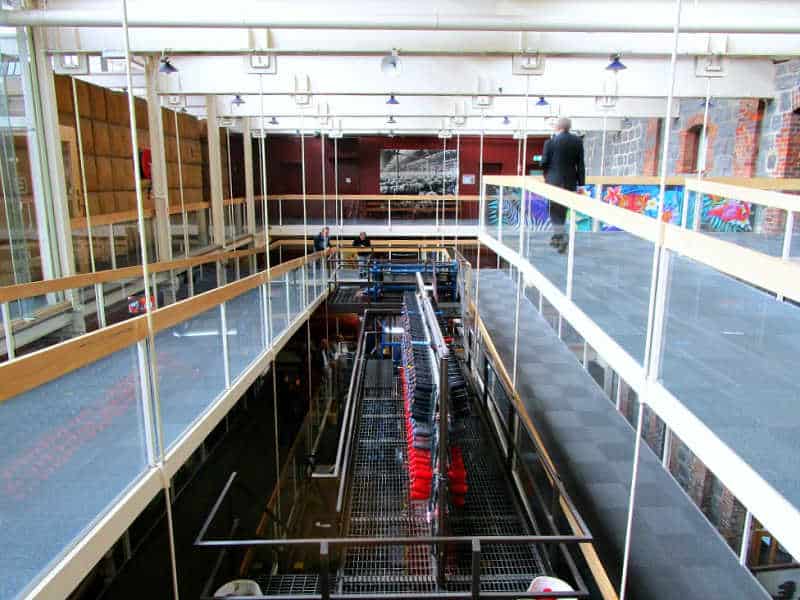 Geelong Wool Museum
The Wool Museum is unique in that it's able to bring history, science, fashion, handcrafts, and art together in an incredible display that showcases the Australian wool industry.
It was established in 1988 as Australia's only comprehensive museum of wool. Visitors are transported back in time with historical accounts of the hardships and challenges faced by farmers over the years.
It's one of the best places to visit in Geelong to learn about our culture and national identity. And if you're looking for activities in Geelong for kids, a visit to the wool museum won't disappoint.
Axminster Jacquard Carpet Loom
A focal point of the museum is the magnificent 1910 Axminster Jacquard Carpet Loom. It was originally built by Brintons in England and was operating in Geelong from 1960 until it was superseded in 1975.
The Loom eventually found its way to the National Wool Museum where Brinton's engineering staff restored it to full working condition.
Skilled carpet weavers hold demonstrations that show how the loom works while making the museum's own Manor House Rug.
The rugs were exclusively designed for the Geelong museum by Brinton's Carpets in 1990. They are made from 80% wool and 20% nylon – the preferred blend for a high-quality, long-lasting carpet.
Manor House Rugs are available for purchase from the National Wool Museum Shop.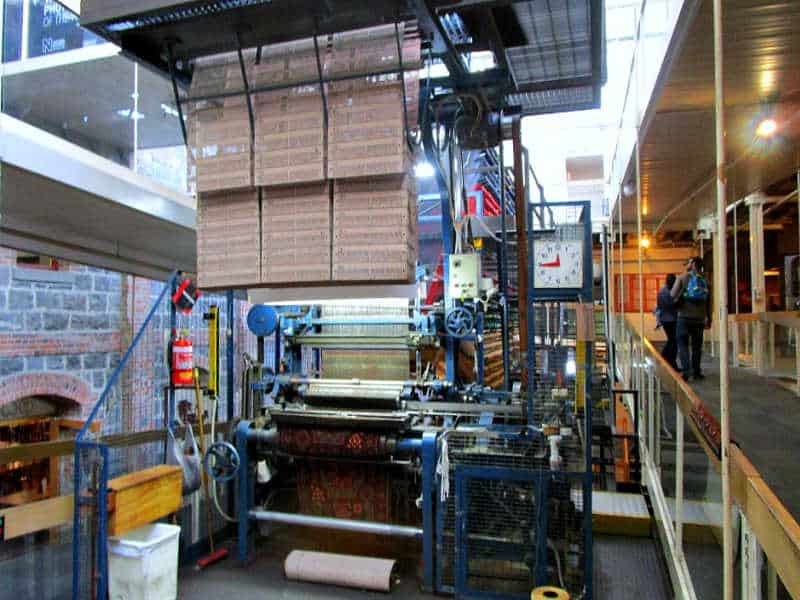 Gallery Hall One: "The Wool Harvest"
Gallery One is where visitors learn about sheep farming through a variety of interactive displays.
Life on the farm comes alive. And there are many stories of the hardships faced by Aussie farmers over the last 200 years.
A recreated shearer's hut is the most interesting exhibit. As it shows how tough life was back then for those working in the shearing industry.
While a film of sheep being shorn demonstrates what back-breaking work shearing is.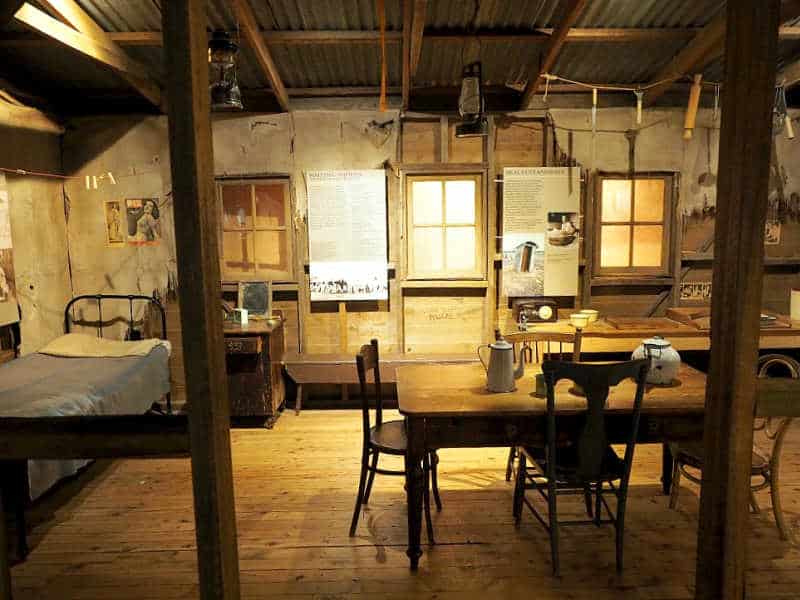 Gallery Hall Two: "From Fleece To Fabric"
Anyone with a fascination for machinery will enjoy Gallery Hall Two. On display are working knitters, looms, and all kinds of machinery used in the production of fabric.
In this gallery, visitors get to see and feel wool as it's transformed from greasy fleece into the finished product.
Try your hand at carding, weaving, or machine knitting. And watch the vintage Komet Knitter turn-out socks – it takes seven minutes per sock.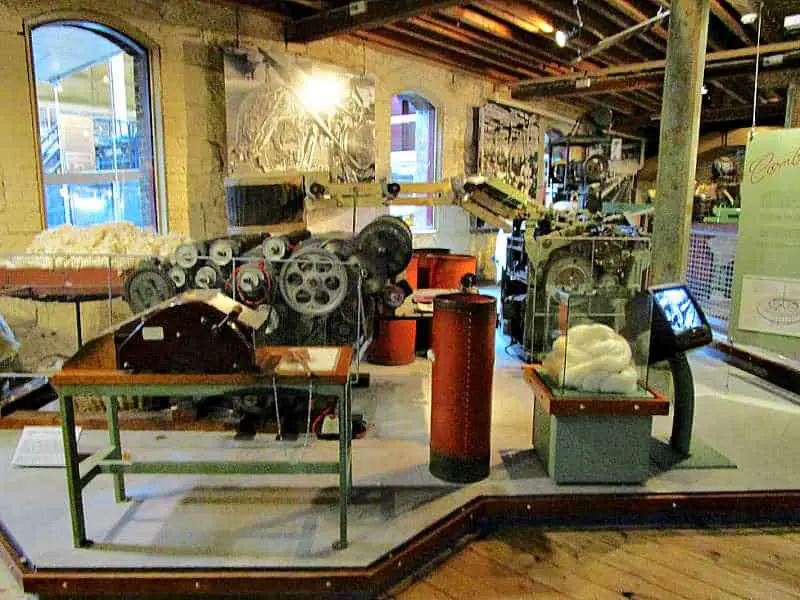 The Reminiscence Cottage
This award-winning exhibit is designed specifically for individuals living with dementia and their care partners.
It's a safe and familiar environment that encourages reminiscence about days gone by.
But a visit to the cottage is not just for the elderly and their carers. It's also one of the fun things to do in Geelong for families.
The cottage recreates Australian home life from the 1930s and 40s. And kids love exploring all the nooks and crannies. A favourite is the "wireless" that plays old-time music.
Don't you love the floral carpet?
Tip: Keep an eye out for Story Cards in the kitchen and on the bookshelf. They give explanations about different objects scattered throughout the cottage.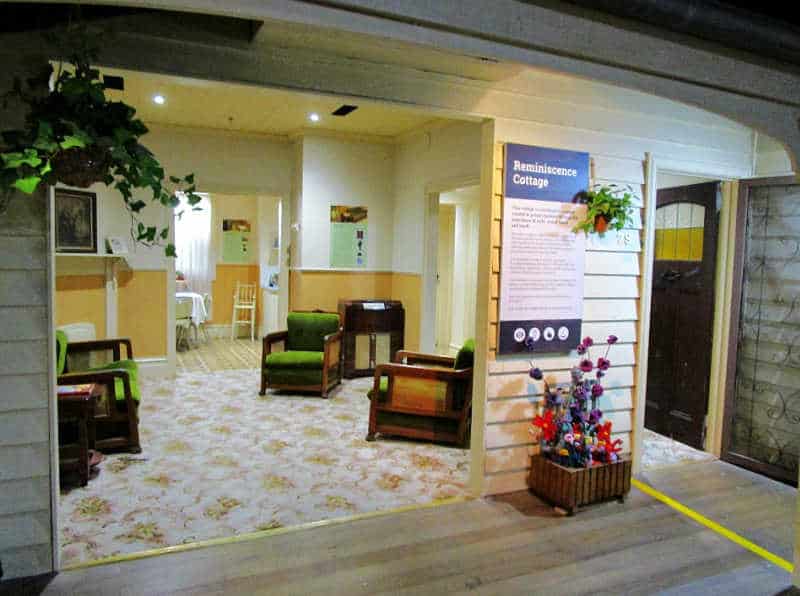 Geelong Wool Museum: Temporary Exhibits
One of the best things about the Geelong National Wool Museum is the temporary exhibitions.
The wide variety of exhibits and programs brings vibrancy and zest to the museum it might otherwise lack.
It has something for everyone including kids, with extra programs in school holidays.
Our favourite presentation is the Wildlife Photographer Of The Year display. These extraordinary images are on loan from the Natural History Museum in London.
And it says something about the wool museum that it plays host to such a prestigious exhibition.
Museum Cafe: Dennys Kitchen
After your museum tour stop in at the cafe for a lazy lunch in a comfy relaxed atmosphere.
Denny's Kitchen is a traditional Italian restaurant serving "peasant style" food. Chow down on handmade pasta, wood-fired pizzas, and fresh seasonal plates.
The 2 for $25.00 deal is exceptional value.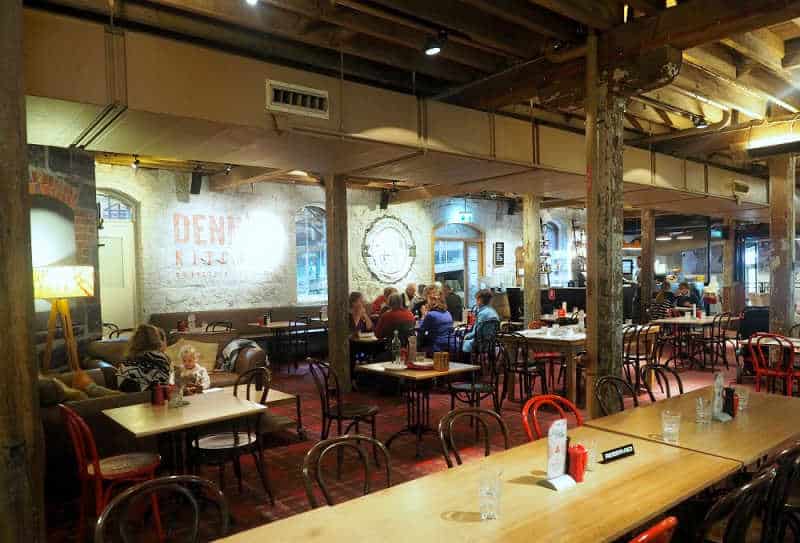 National Wool Museum Shop
The National Wool Museum shop sells unique souvenirs made from two of the museum's exhibits.
You can keep your tootsies warm with a pair of socks knitted on the museum's own Komet Sock Knitter.
Or for something truly special treat yourself to a Manor House rug produced on the museum's Axminster carpet loom.
A Geelong Information Centre is conveniently located inside the shop.
National Wool Museum Visitor Information

Museum Opening Hours: Mon – Fri 9.30 a.m – 5.00 p.m, Sat-Sun 10.00 a.m – 5.00 p.m

Shop Opening Hours: Mon – Sun 9.00 a.m – 5.00 p.m

( The museum and shop are closed Christmas Day, Boxing Day, and Good Friday)

Entrance Fees: Adults $10.00, Concession $8.00, Child $6.00, Family $30.00 – 2 adults and up to 4 children

Location: The museum is located on the corner of Moorabool and Brougham Streets one block back from the Waterfront.

Parking: On-street parking is limited around the museum. So we recommend parking in Westfield Shopping Centre across the street.
Make sure you add the Geelong Wool Museum to your list of Things To Do In Geelong.
Want to learn more about Australia's history? See our post about Narana Aboriginal Cultural Centre or take a road trip and visit the Torquay Surf Museum.
Related Posts: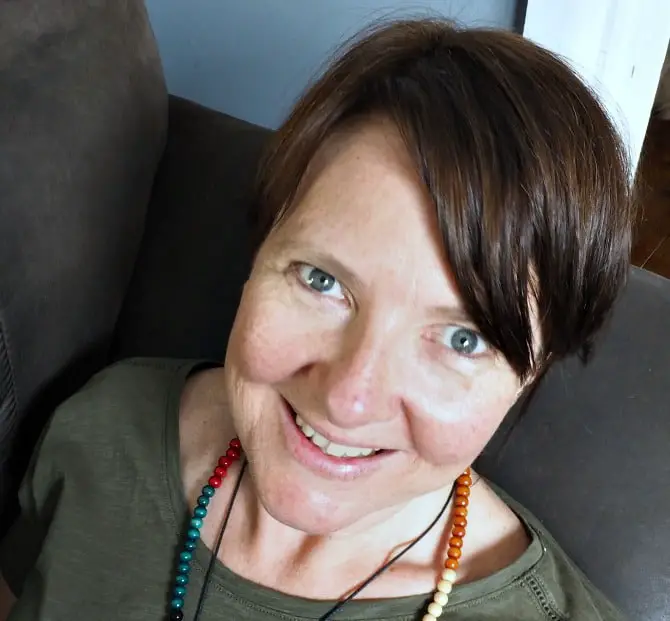 By Audrey Chalmers
Audrey is the principal blogger behind See Geelong. Book Lover | Breakfast Nut | Geelong Gal | She's Usually Craving Coffee.