Geelong Travel Page
Geelong Australia (or G-Town as us locals call it), sits on the shores of beautiful Corio Bay just 73 kilometres south-west of Melbourne.
It's bounded by the Moorabool Shire, Borough of Queenscliffe, Golden Plains Shire, and the Surf Coast Shire.
The town's enviable location is within a short drive of the seaside villages of the Bellarine Peninsula and the world-renowned Great Ocean Road, which starts just south of Geelong at Torquay on the Surf Coast.
Known as the 'City By The Bay', Geelong's commercial centre extends down to the lively Waterfront Precinct. It's Victoria's second-largest city however, Geelong still retains a friendly, laidback country town vibe.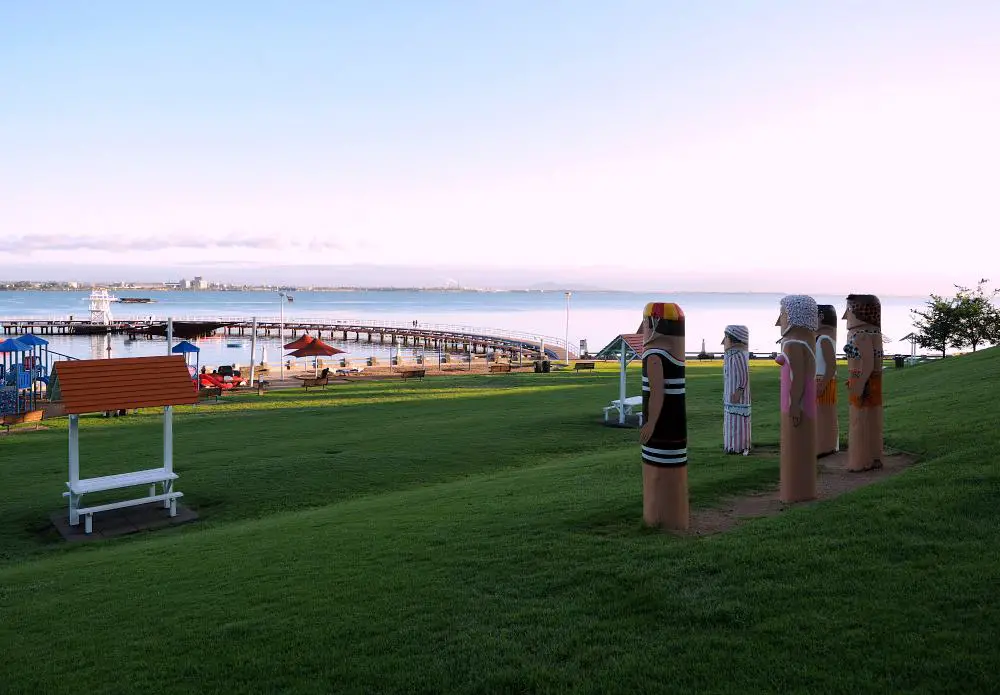 The city's natural attractions, vibrant foodie scene, and award-winning wine region, have really established Geelong as a quality tourist destination.
Here visitors can enjoy elegant Victorian architecture, the beauty of Eastern Park and the Geelong Botanical Gardens, the seaside charm of the Waterfront and Eastern Beach, Australian cultural heritage at the National Wool Museum and Narana Aboriginal Centre, galleries and public artworks, festivals, and events, and the Little Malop Street nightlife.
The city's multicultural heart can be found along Pakington Street in Geelong West. Home to the dynamic Pako Festa, here you can dine at restaurants and cafes featuring food from around the globe before browsing the street's specialty shops.
Walkers and bird lovers will enjoy the Barwon River with its beautiful old river gums and natural wildlife.
Below you'll find our best guides to Geelong so you can have the best possible time in this outstanding region.
We first share a little of the history of Geelong, some fun facts as well as information about how to get here.
If this isn't your cup of tea just keep scrolling until you reach our guides. Enjoy!
History Of Geelong Australia 
For 25,000 years the area has been occupied by the Wathaurong people, the Traditional Custodians of the lands that span the coastline from the Werribee River to Lorne and inland toward Ballarat.
The Wathaurong people are a recognised tribe that forms part of the Kulin Nation of Aboriginal people. Prior to European settlement, there were 25 individual clans each with a clan headman who was called an Arweet.
Geelong was proclaimed a town in 1838 and land sales commenced a year later. In 1840 the Geelong Advertiser established a weekly paper, and it's now the state's oldest morning newspaper.
The city's first industries were made up of flour mills, lime kilns, soap works, tanneries, and ropeworks. The first wool mills opened in 1868 and wool became the town's major trade.
Industry boomed in the 20th century in Geelong, which saw the opening of Ford's first Australian motor-car plant, International Harvestor begin manufacturing agricultural equipment, the establishment of Pilkington glass factory, Shell build an oil refinery, and Alcoa open an aluminium smelter.
Now, in the 21 st century most of these companies have either closed or moved on. Many of the industrial buildings have been repurposed as hip bars, cool cafes, and trendy accommodation.
Fun Facts About Geelong
Geelong is Australia's first UNESCO City of Design.
The Hills Hoist rotary clothesline was invented in Geelong by Gilbert Toye in 1911.
Most of Australia's decimal currency coins were designed by Geelong goldsmith Stuart Devlin.
The first public automatic telephone exchange in Australia was installed at Geelong in 1912.
Geelong people were once called "Pivotonians".
The Ford Ute was created in Geelong after a farmer's wife asked for a vehicle that families could use to go to church on Sunday and take the pigs to market on Monday.
The first commercial refrigerator was invented in Geelong Australia by newspaper editor James Harrison in 1851.
Many Geelong street and place names are versions of Wathaurong words such as Moorabool, Gheringhap, Geelong, Corio, and You Yangs.
How To Get From Melbourne To Geelong
Visitors travelling from Melbourne to Geelong have a variety of transport options to choose from. Picking which one to choose is a matter of personal choice and circumstance as each option is safe and comfortable.
If you have access to a car Geelong is an easy one hour drive along the Princes Freeway. For those without a car, the VLine Melbourne to Geelong train has regular services leaving from Southern Cross Station.
A fun alternative is to catch the Melbourne to Geelong ferry. Port Phillip Ferries cruise the bay between the Docklands and Cunningham Pier. The journey takes around an hour and travellers are welcome to make use of the onboard cafe and free Wifi.
Melbourne Airport To Geelong
If you are travelling from either Melbourne Airport or Avalon Airport to Geelong then this article has all the information you need.
Spirit Of Tasmania Geelong
With the Tasmania ferry now docking at Spirit Of Tasmania Quay in North Geelong, visitors from Tasmania have easy access to Geelong, the Bellarine Peninsula, the Surf Coast, and Great Ocean Road.
The easiest way to explore this region is by car, and having the convenience of being able to bring your own vehicle onboard the Spirit of Tasmania saves you the expense of hiring a car.
The journey from Devonport to Geelong takes anywhere from 10 – 12 hours depending on the day and number of crossings.
In winter between June and September, only night sailings are offered departing at 06.45 p.m.
From September to April there is an additional day sailing. Ferry schedules can vary during this time.
What To Do In Geelong
There are many wonderful places to visit in Geelong. Below you'll find our guides to all the best things to see and do in Geelong.
Accommodation In Geelong
There's a terrific range of accommodation in Geelong, from luxury hotels to cheap motels and caravan parks and every price point in between.
Read our guides below to book the perfect place to stay for your trip.
Places To Eat And Drink
For information about the Bellarine Peninsula click here and for the Surf Coast click here.