Aussie pubs played an important role in Australian identity and cultural history.
And just like pubs in other parts of the country, Geelong pubs were an essential part of the community.
They were places to meet and discuss the issues of the day, to socialise, and served as cheap Geelong accommodation.
Not much has changed in that regard. Geelong hotels are still popular meeting places to catch up, spend time together, and enjoy a drink!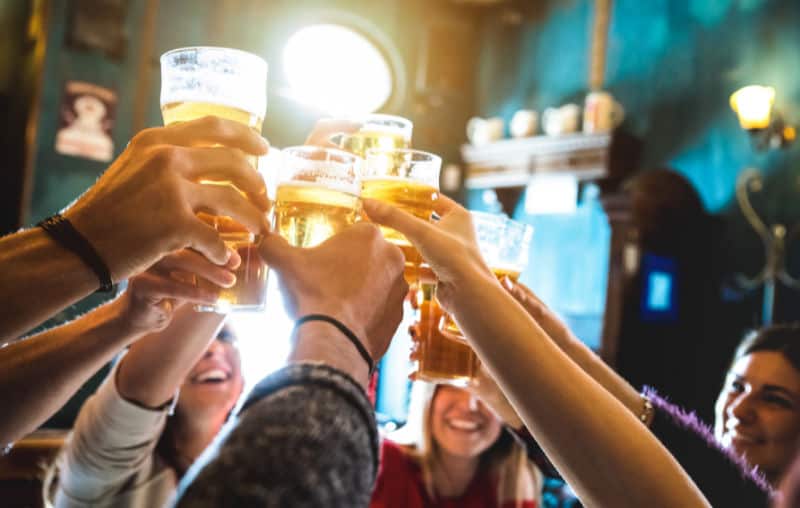 One thing that has changed however is the venues.
Once dingy, smoke-filled places with sticky floors, the pubs in Geelong have undergone a transformation in recent years. Now they're bright modern spaces serving chic cocktails, craft beer, and foodie delights.
Many have live music acts and DJs, and rooftop bars with stunning views over the city. The traditionalists needn't fear though as there are still some classic old-style hotels in Geelong Vic.
Pubs are as individual as the people who frequent them and finding one that ticks all your boxes can be tricky.
But fear not.
Whether you're looking for Geelong nightlife, places to eat in Geelong, or Geelong entertainment, there's a Geelong pub to suit your needs.
Below you'll find all the information you need to decide which is the best hotel in Geelong for you.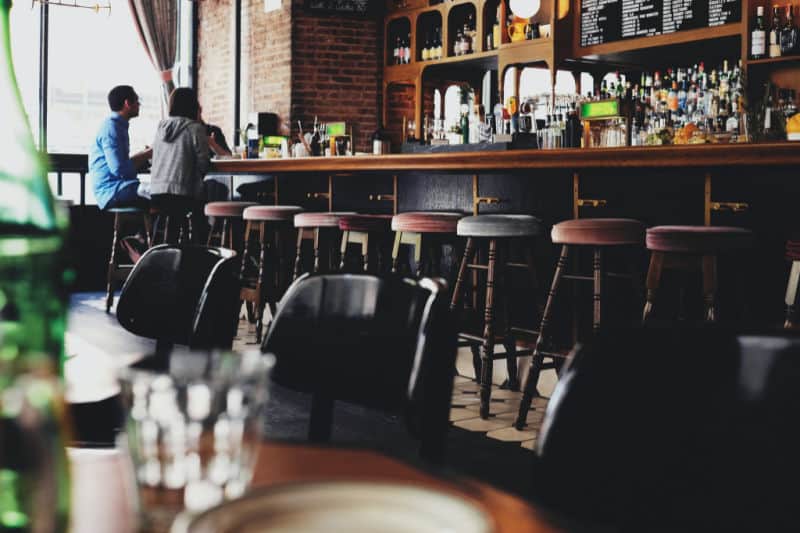 But first, let's talk about the difference between bars and pubs.
Although the terms are often used to refer to the same thing there is a difference between pubs and bars. This is mainly due to their different origins.
Bars come from the "shopfront tradition", and the phrase is usually taken to mean any business that primarily serves alcoholic drinks. The customer orders and pays at the bar before downing their drinks on the premises.
Pubs, on the other hand, come from the "dwelling house" tradition where the building was usually the proprietor's home.
Before there were liquor licensing laws anyone could open the front room of their home and sell alcohol to the public. When licensing laws were introduced in the 1830s these establishments became known as Public Houses – hence the term pubs.
Public Houses were required to provide accommodation, and a dining room for meal services, and the owner had to reside on the premises.
Pubs are often found on suburban street corners and many have the word hotel in their name, likely due to the accommodation aspect of the law.
If you're looking for a great bar you can read our post about the best Geelong bars for more information.
15 Cracking Geelong Pubs
Relaxing in a pub with friends and family is one of life's simple pleasures. And for holidaymakers, visiting Geelong pubs and bars is one of the top things to do in the city.
So keep reading to discover all the awesome pubs Geelong has on offer.
Pubs Geelong – City
1) The Inn Geelong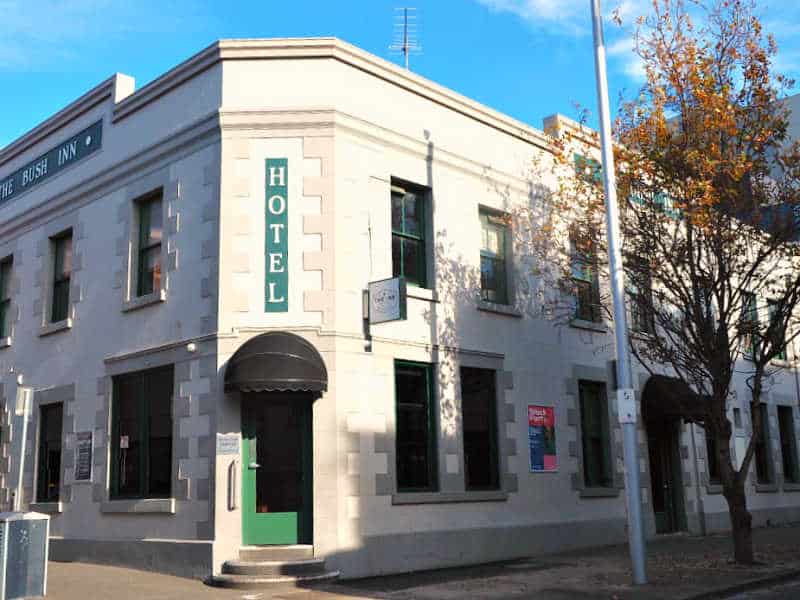 Tucked away in a small side street, the Inn Hotel Geelong has been serving drinks since 1852.
In 2016 the Inn was bought by former Geelong AFL player Corey Enright and three of his mates. They gave the hotel a much-needed facelift and it now has an industrial-style interior with wooden furniture and luscious green plants.
Their goal was to provide a fun social space for people to relax, and with its fine food, fab drinks, and fantastic music we think they've succeeded.
Friday night sees the beer garden come alive with live acoustics from Geelong's best musicians. While inside patrons can enjoy R & B tracks played by the resident DJ.
The coolest thing about the Inn Hotel is its special events. Especially its famous car park parties where you can dance till you drop to nationally acclaimed DJs, producers, and musicians.
Tip: Don't miss the $10 house cocktails every Friday between 9 and 11 pm.
The Inn Geelong:  58 Corio Street, Geelong

Tues – Thur 1130 am  – 11oo pm, Fri – Sat 1130 am – 100 am

Phone : (03) 5221 5273
2) Centra Geelong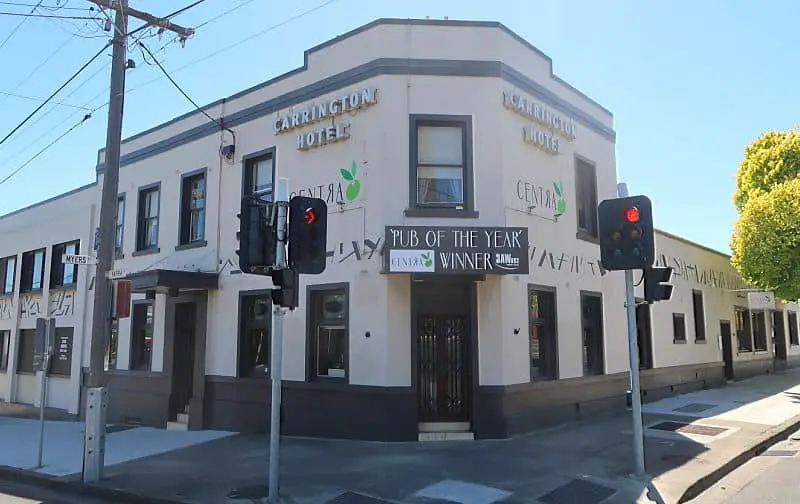 Established in 1854, Centra has also been known as the Shakespeare, the Haymarket, and the Carrington Hotel Geelong.
Today Centra Hotel Geelong still retains its traditional facade but inside it's a food-focused modern-day pub.
Described by its owner as a "gastropub" the Centra restaurant serves scrumptious Italian food that's delicious and authentic. But it's the professional service staff that makes Centra more than a simple pub bistro.
It has an ambient and lively atmosphere with a pretty courtyard that's perfect for drinks with friends on a Saturday afternoon. Choose from the comprehensive international drinks list or enjoy local beer and wine.
Tip: Try the pumpkin tortellini it's divine!
Centra Geelong: 131 Yarra Street, Geelong

Tue – Sun from 12 pm

Phone (03) 5224 1515
3) National Hotel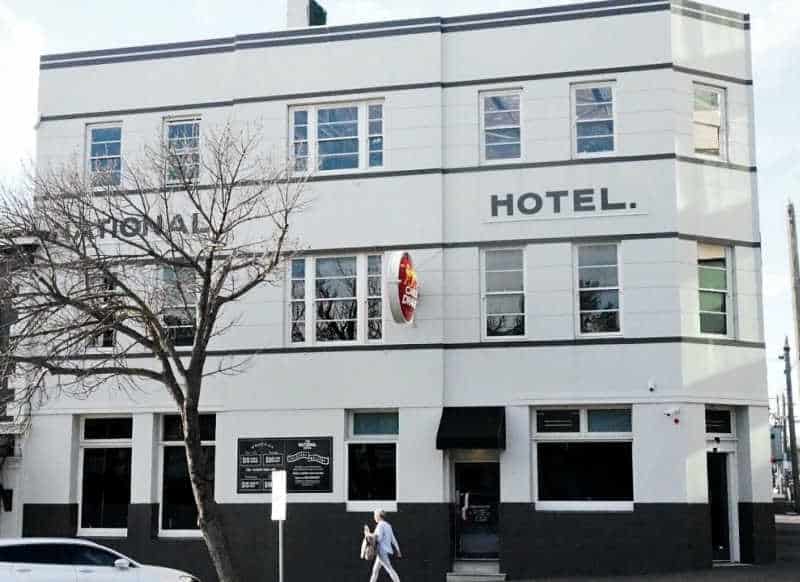 Built in 1856 the National Hotel Geelong is affectionately called The Nash.
Once known (and loved) for its sticky carpet and live music scene, The Nash has been revamped into something truly special.
The hotel has been divided into three unique levels.
The public bar offers casual dining, craft beer, wine, and spirits. While the second-floor dining room is a more intimate dining experience with its open fireplace and views of Geelong.
But it's the rooftop terrace and its retractable roof that make The Nash Geelong so special. Offering skyline views, lift access, and seasonal cocktails you'd be hard pressed to find a better spot for a drink.
Tip: Visit for Friday Happy Hour between 4 and 6 pm
National Hotel Geelong: 191 Moorabool Street, Geelong

Tues – Thur 1130 am – 10 pm, Fri – Sat 1130 am – 12 am

Phone: (03) 5229 9407
4) Sir Charles Darling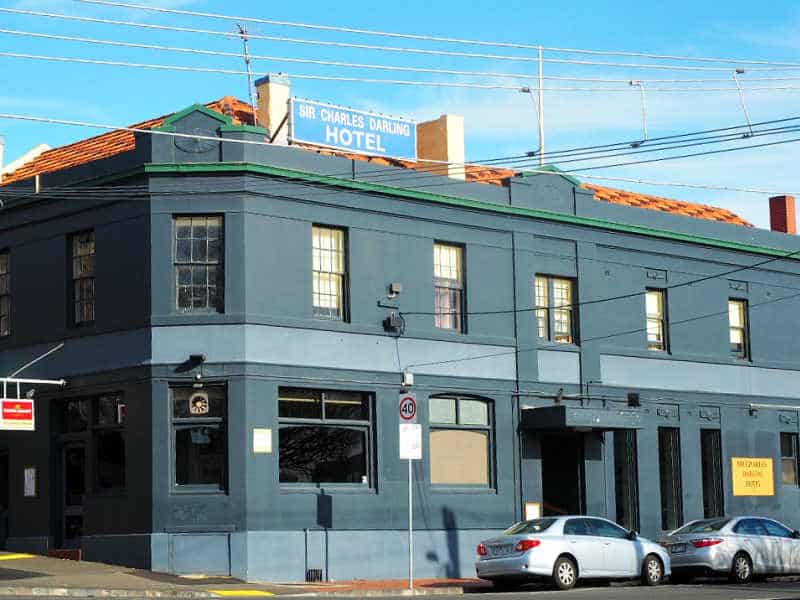 Often overlooked by people looking for places to eat in Geelong the Sir Charles Darling Hotel Geelong is a delightful surprise.
This is a family run bistro pub offering a wide range of good value meals.
The Darling has been around since 1852 and remains one of Geelong's rare traditional pubs. And with its warm and inviting atmosphere, it's perfect for those who want a simple no-fuss pub.
There's nothing over the top about the Sir Charles Darling – except perhaps the name!
Patrons can enjoy their meals in the bistro, bar, beer garden, or sit at the outdoor picnic tables in front of the pub.
Offering weekly specials this is a pub that's sure to leave you with a full belly and a smile on your face.
Tip: Have a traditional Friday night Aussie burger with the lot – including beetroot and pineapple!
Sir Charles Darling Geelong: 38 Bellarine Street, Geelong

Mon – Thur 1130 am – 930 pm, Fri – Sat 1130 am – 10 pm, Sun 1130 – 330 pm

Phone: (03) 5222 1697
5) The Deck Geelong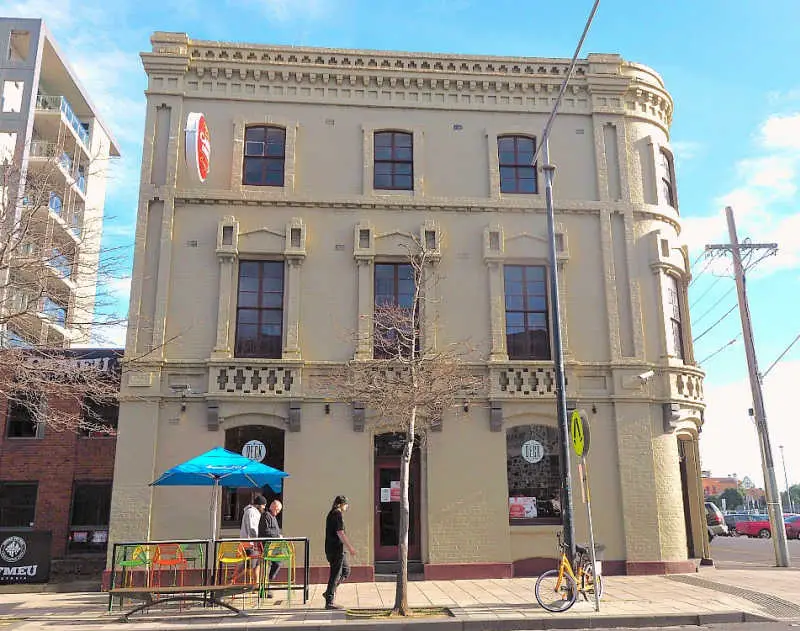 Located just metres from Geelong's Waterfront, The Deck was originally built in 1854 as the Golden Age Hotel.
The hotel was an integral part of the city's social fabric serving as a meeting place in the early years of settlement on Corio Bay.
Since then it's undergone several refurbishments and it was known as The Max Hotel Geelong for several years.
Today The Deck remains true to its roots as a social hub as it's a popular spot for diners and party-goers alike.
This is one of the best pubs in Geelong for a fun night out. With fun events like Karaoke night, all-you-can-eat chicken wing eating competitions, uni night, and live music.
The Deck has some great beers on tap including Geelong's own Furphy.
Tip: Treat yourself to a decadent Warm Nutella Dream martini.
The Deck: 2-4 Gheringhap Street, Geelong

Mon – Tues 11 am – 11 pm, Thur – Sat 11 am – 3 am, Wed & Sun 11 am – 10 pm

Phone: (03) 5229 5504
6) Malt Shovel Taphouse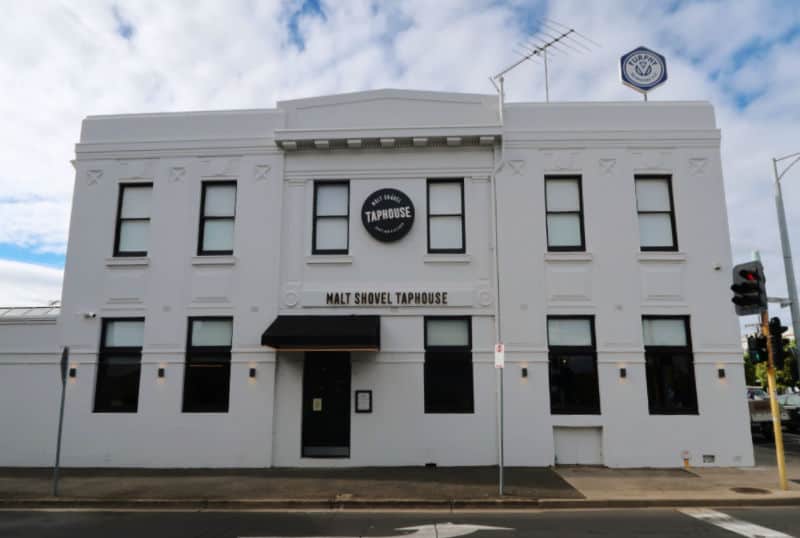 One of Geelong's oldest pubs the Lord Nelson Hotel has been transformed into Lion's craft beer brand, the Malt Shovel Taphouse.
There are five other venues just like it across Australia, so this pub is no longer unique to Geelong like the original Lord Nelson was.
Nevertheless, the new Taphouse has proven to be a hit with its bright modern decor, relaxing booths, huge TVs showing live sport, and outdoor beer garden.
Specialising in rotisserie meats, the food is outstanding. In fact, the Taphouse was awarded Best Hotel Dining at the Golden Plate Awards.
But the focus here is on craft beer. Beer lovers can enjoy a selection of 16 tap beers, private beer tasting zones, roaming beer crews, tasting flights, and beer appreciation classes.
History buffs will love the painting of Admiral Horatio Lord Nelson that sits above the fireplace.
Tip: The rotisserie is always a good choice.
Malt Shovel Tap House: Cnr of Bellerine and Malop Streets

Monday – Sunday 11 am – Late

Phone: (03) 5222 8756
7) Elephant And Castle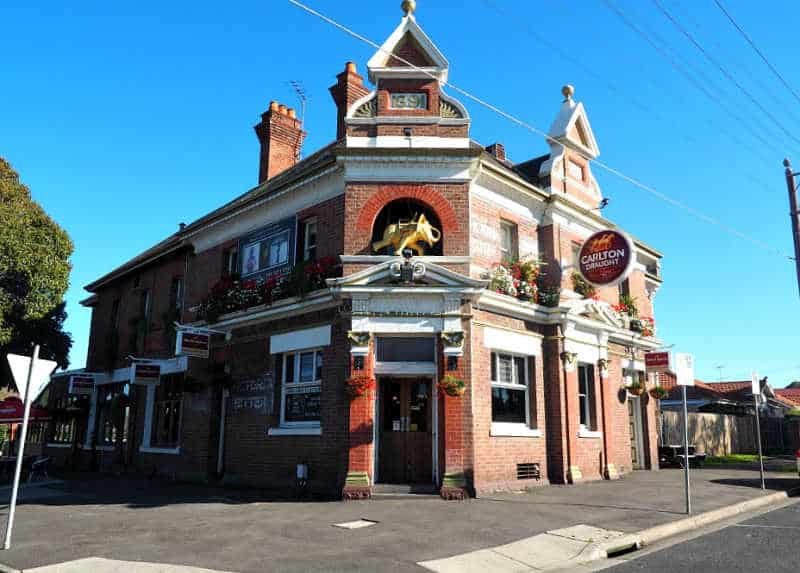 Situated on the fringes of the city, The Elephant and Castle Hotel has been serving cold beer to Geelong locals since 1891.
The hotel's exterior is much prettier than the facades of other pubs in Geelong and it perfectly compliments the delightful interior.
Inside, patrons will find a fantastic collection of photographic art that is worth a visit on its own. The exhibition features many iconic photographs that are available for purchase.
The Elephant and Castle Geelong is a lively and characterful pub offering a range of events on various days of the week.
Every Saturday night from 9.30 pm the pub rocks out to the best cover bands playing tunes from the 70s right up to the latest hits.
On Wednesday nights you can test your knowledge at Jackpot Trivia while enjoying a $20 Parmi and Pot Deal.
Tip: Visit on a Sunday afternoon for a relaxing afternoon with live entertainment.
Elephant and Castle: 158 McKillop Street, Geelong

Mon – Thur 1130 am – 11 pm, Fri – Sat 1130 am – 12 am, Sun 1130 am – 11 pm

Phone: (03) 5221 3707
Geelong Pubs – Suburbs
8) The Barwon Club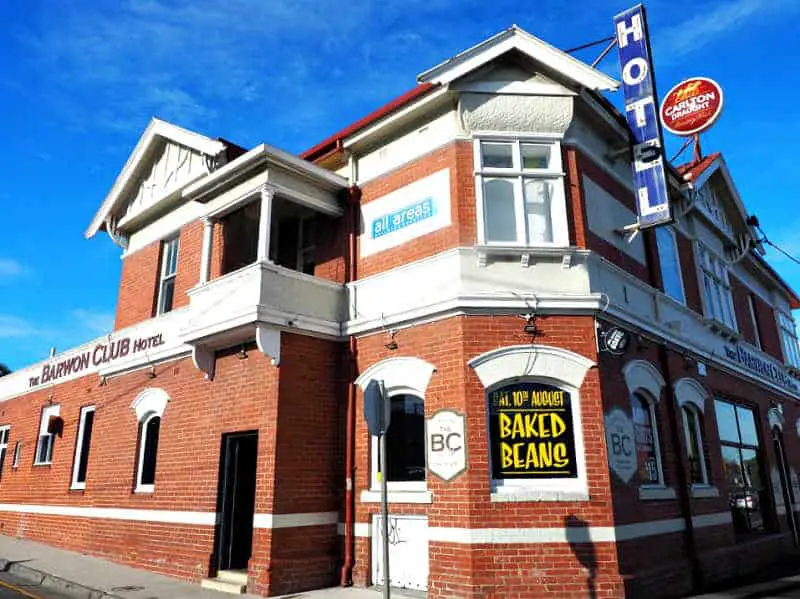 The Barwon Club Hotel has been Geelong's leading venue for live bands since 1990.
Its legendary cult status within the Australian music scene means that if something is worth seeing it will be on at the Barwon Club.
This pub really "rocks" and the Saturday night vibe is unlike anywhere else. You can find its calendar of events by clicking here.
But the Barwon Club is more than a great place to enjoy Geelong nightlife.
Situated opposite GMHBA Stadium The BC is a great footy pub. Stop by before a game and enjoy some of the best cheap food in Geelong. The atmosphere is not to be missed!
The Barwon Club prides itself on its quality affordable meals. It has an extensive menu with daily specials including vegan and vegetarian options.
Tip: Lunch-time deals are particularly good.
Barwon Club: 509 Moorabool Street, South Geelong

Mon – Thur 11 am – 1030 pm, Fri & Sat 11 am – 1 am, Sun 3 pm – 12 am

Phone: (03) 5221 4584
9) Belmont Hotel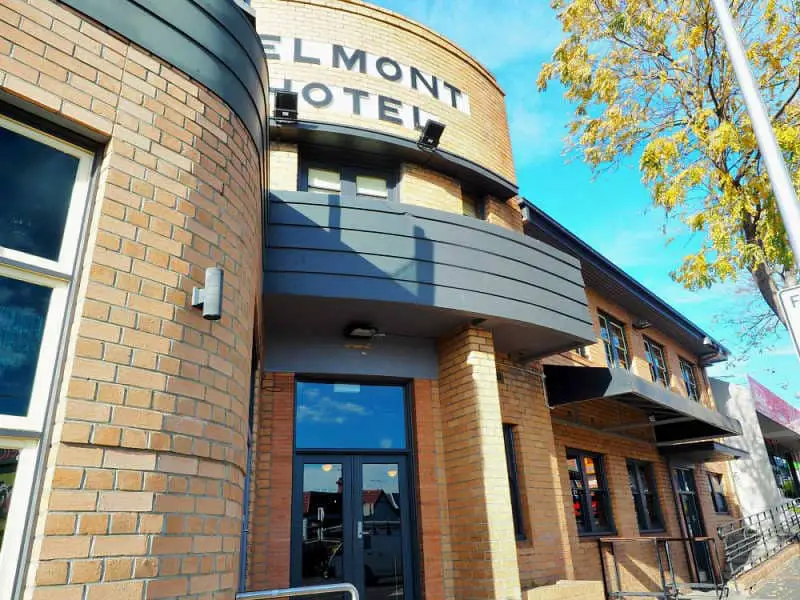 The warm and inviting Belmont Hotel radiates glamorous Art Deco style.
From the exposed floorboards, twinkling chandeliers, and rich blue furniture the hotel entices with a relaxed ambiance.
Named after the suburb it calls home the Belmont Hotel is a favourite watering hole for locals. There are several eating and drinking spaces to choose from each with its own character.
The bar features local bands and DJs every weekend and is great for a casual drink. While the cosy wine lounge will suit those looking for a quiet drink or coffee.
The fabulous rooftop terrace has its own bar, which is handy for ordering a bevy. And with its huge flat-screen TV, it's a top spot to enjoy the footy.
Tip: The lower balcony is smashing on a sunny day.
Belmont Hotel Geelong: 77 High Street, Belmont

Mon – Thur 11 am – 10 pm, Fri – Sat 11 am – 1 am, Sunday 11 am – 11 pm

Phone: (03) 5243 2802
10) Sawyers Arms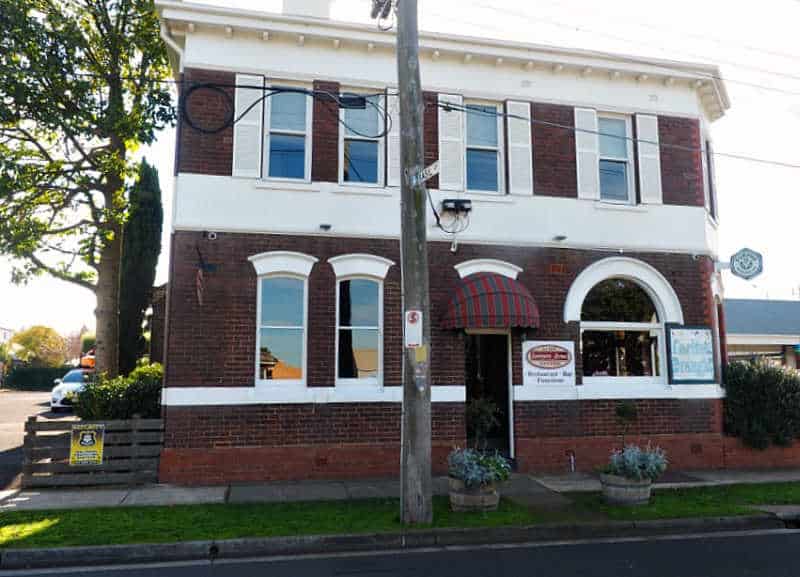 The Sawyers Arms Geelong is a beautiful Australian heritage hotel with lots of dark wood and exposed brick.
One of Geelong's original public houses it's been owned by the Clatworthy family for over 60 years and is often simply called 'Clats' by its local clientele.
Established in 1850 the Sawyers Arms Tavern was often used for political and social gatherings. Today locals still gather here for a drink, a meal, and a catch-up.
It's a lovely little pub with a quality tap selection, that combines casual pub meals, cosy fine dining, and excellent table service with effortless charm.
And as it's conveniently located opposite Kardinia Park it's a good spot for pre-footy bar meals.
Tip: Try one of the scrumptious desserts.
Sawyers Arms: 2 Noble Street, Newtown

Mon – Sat 1130 am – 11 pm, Closed Sunday

Phone: (03) 5223 1244
11) The Barking Dog
Located on trendy Pakington Street the Barking Dog Geelong West is always offering something different and new.
This means visitors can return again and again and never have the same experience twice.
The Barking Dog is one of the more popular pubs in Geelong West. This is especially so on weekends as they have great deals and live music acts.
Who can resist $6 cocktails and $3 pizzas with any drink purchased?
The hotel is also known for its great value pub grub ($15 parmis), and for Mr. Urami's Asian Fusion Restaurant.
The restaurant serves mouthwatering Asian food -think steamed buns, handmade dumplings, and braised duck.
Tip: Keep an eye out for their Bottomless Brunch and Sunday Sessions
Barking Dog: 126 Pakington Street, Geelong West

Mon – Fri 12 pm – Late, Sat – Sun 11 am – Late

Phone: (03) 5229 2889
12) St Lords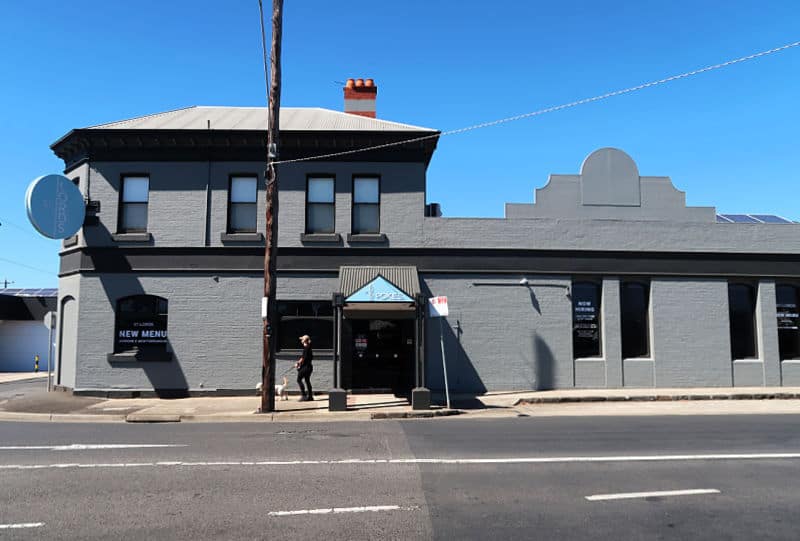 Another Geelong pub that has undergone a revamp the Lord Of The Isles Tavern has been renamed St Lords.
The pub has a rather plain facade but when you walk inside you'll find bubble chandeliers, modern furnishings, and my favourite – private booths with bench seating.
St Lords serves tasty meals that are well prepared with attention to detail, and the accompanying wine list is excellent.
In the past, this bistro has won more than 30 different awards including the best bistro in Australia.
The pub's warm and friendly atmosphere invites you to relax in the lounge with its cosy fireplace.
Or you can chill out with a beer in the courtyard while watching a game on the huge outdoor screen. The bar menu is available in the courtyard.
St Lords has an extensive range of wine, spirits, local and imported bottled beer, and a whopping 12 types of beer on tap.
St Lords: 3 West Fyans Street, Newtown

Mon – Sat 8 am – 4 am, Sunday 9 am – 4 am

Phone: (03) 5224 2522
13) Gold Diggers Arms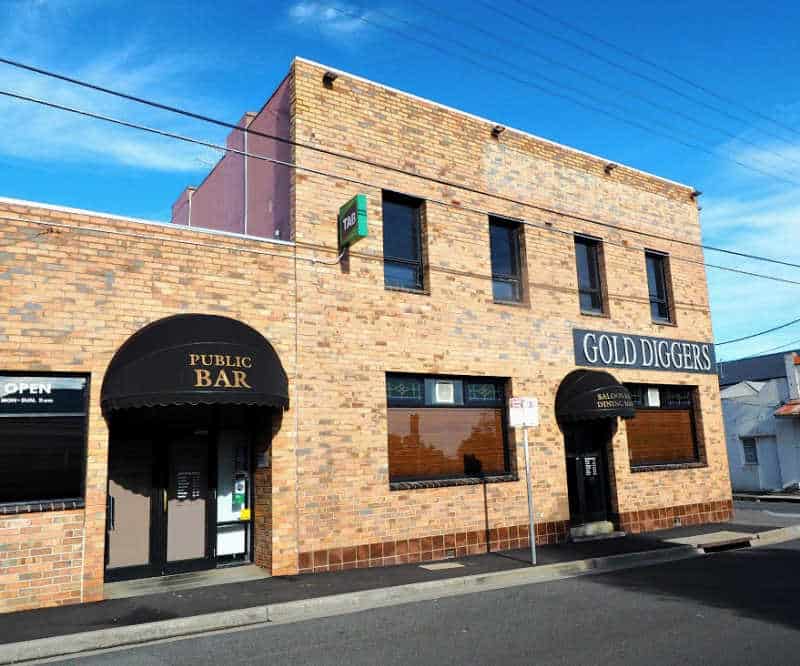 Tucked away from the hustle and bustle of the CBD, the Gold Diggers Arms is an unsung treasure of Geelong.
A truly local pub the Diggers strives to always have an atmosphere of home, and it's been a favourite watering hole for Newtown natives since 1854.
These days patrons pop in after work for a drink and a chat, to catch up on news, or for a quick bite to eat. And it may just be the last of the true neighbourhood pubs in Geelong.
But with its excellent bistro serving Express Lunches and $15 Burger Nights, classic bar, and beer garden The Diggers isn't going anywhere soon.
The hotel also acts as a bottleshop so you can take home your favourite bottle at discount prices.
Tip: Happy hour is Friday & Thursday between 5 pm and 6 pm.
Gold Diggers Arms: 87 Skene Street, Newtown

Open Mondays from 3 pm, Tues – Sun from 12 pm

Phone: (03) 5221 5441
14) Murphys Geelong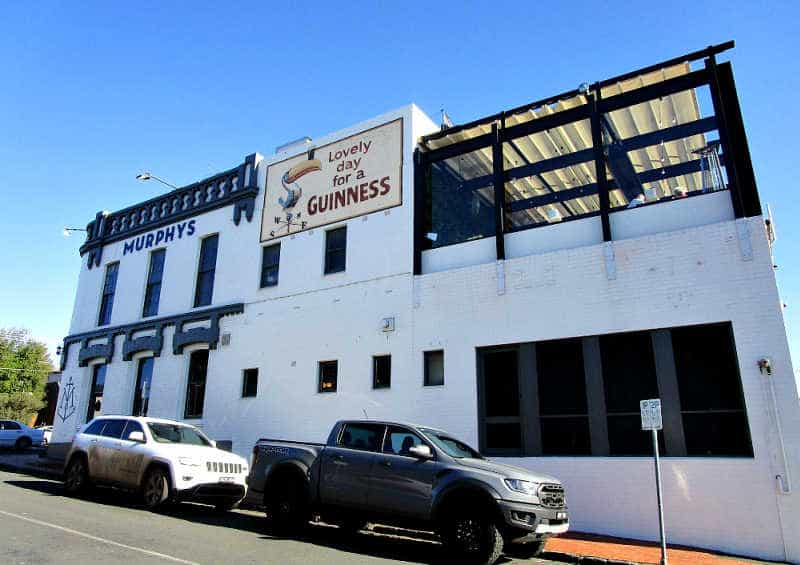 Originally called the Argyle Hotel, Murphys Geelong was built in 1855.
The pub is thought to be the birthplace of the Geelong Football Club as the team once played on an oval behind the hotel.
It wasn't long ago that the Murphys pub was known as Irish Murphys Geelong. Now simply known as Murphys Hotel, the pub still serves its Guinness as it should be – dark with a creamy head.
Described as "Dublin meets Fitzroy" Murphys is a fabulous pub serving flavoursome food and delish drinks.
A highlight of the pub is the rooftop bar and its spectacular views across the rooftops of Geelong all the way to the sparkling Corio Bay.
Tip: There are large screens throughout the pub showing all games live in HD.
Murphys: 30 Aberdeen Street, Geelong West

Sun – Thur 12 pm – Late, Fri – Sat 12 pm – 1 am

Phone: (03) 5221 4335
15) The Sphinx Hotel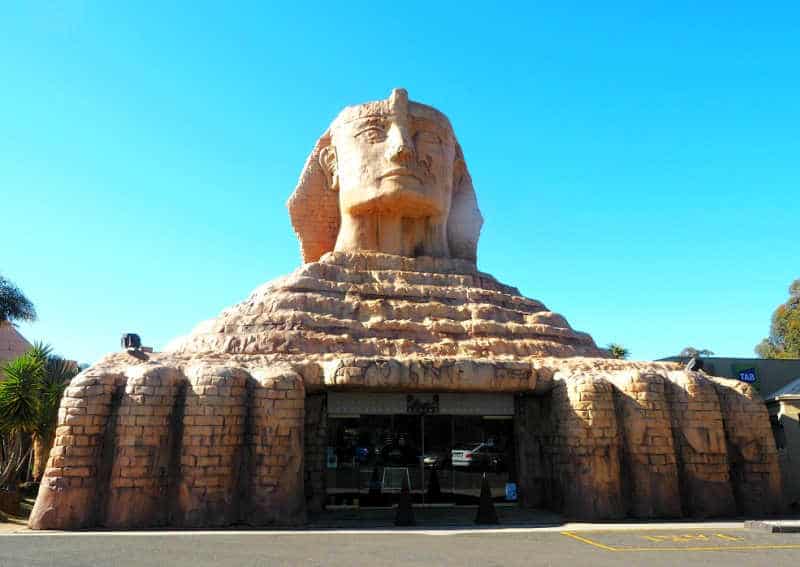 Get a taste of Egypt in suburban Geelong at the Sphinx Hotel your one-stop Geelong entertainment venue.
The Sphinx Geelong offers indoor and outdoor dining, a Pub TAB, Sportsbar, dance club, a function and convention room, and Geelong motel accommodation.
The tacky decor is a bit out there but as a marketing tactic, it works. The memorable venue is hard to miss. And besides that, it's a bit of fun with cheesy names like the Luxor Function Centre, Cazbar, and Pharoah's Bistro.
There's always something happening at the Sphinx. From tribute bands to karaoke nights and comedy shows there's something for everyone.
The Sphinx Hotel Geelong is a family friendly venue with a kids' menu and play area suitable for little ones.
Tip: The Sphinx is a Geelong tourist attraction in its own right.
Sphinx Hotel: 2 Thompson Road, North Geelong

Open 830 am – 430 am 7 days

Phone: (03) 5278 2911
Pubs Geelong Map
Here's a map of our listed best pubs in Geelong for your convenience. You can use the plus and minus tabs to zoom in and out.
So that's our list of 15 awesome Geelong pubs. What other pubs in Geelong would you add?
For more things to do in Geelong check out our posts about the Geelong Wool Museum and Narana Aboriginal Cultural Centre.
And if you're looking for places to stay, then you'll find these posts about the best Geelong accommodation and top Geelong caravan parks useful.
Related Posts: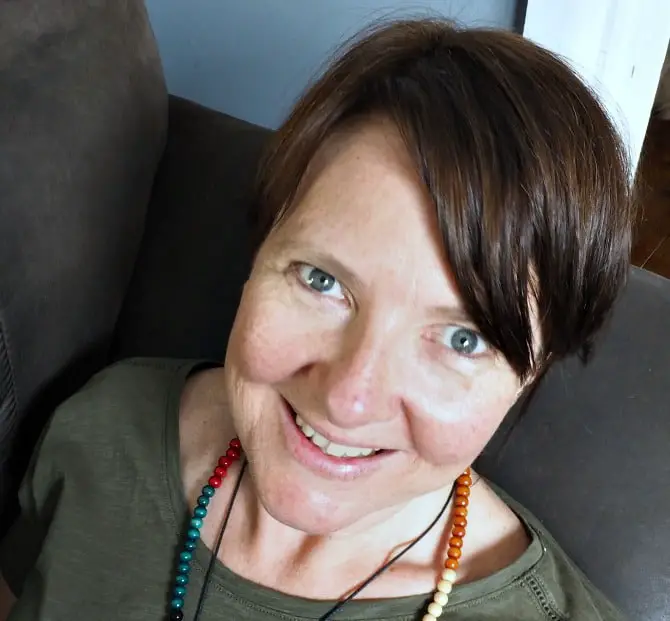 By Audrey Chalmers
Audrey is the principal blogger behind See Geelong. Book Lover | Breakfast Nut | Geelong Gal | She's Usually Craving Coffee.