There are no shortages of Geelong bars for you to have a good time at. Whether you want to party till the break of dawn, meet up with friends or relax with a glass of wine, there's a Geelong bar to suit your needs.
Us Aussies are well known for our love of a good time. So it's no surprise that our bars are up there rubbing shoulders with the best in the world.
And the bars in Geelong are sure to impress with ultra-cool underground haunts, hip laneway venues and sophisticated wine bars.
Some bars are just as serious about food as they are about drinks. A hybrid bar and restaurant they serve delicious dishes and tasty drinks.
An unbeatable combination!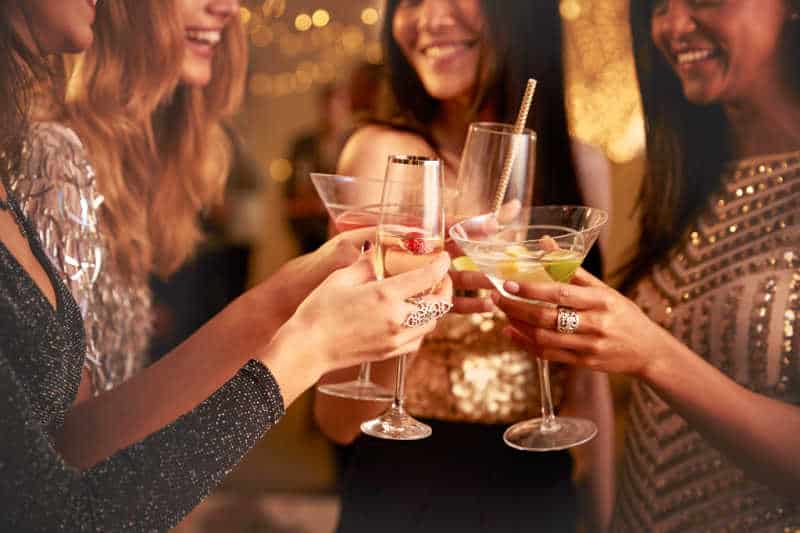 No matter if you're a visitor or local, Geelong pubs and bars are a great way to try Australian beer and wine, support local businesses, and discover unique places.
In this article, you'll find all the information you need to decide which is the best bar in Geelong for you.
Please note: This post is about Geelong bars, not Geelong hotels. If you're looking for a pub then read our post about the best pubs in Geelong for more information. 
It's always hard to come up with a "best of" list and if you think we've missed somewhere special, please leave us a comment we'd love to hear about it!
Either way, we don't think you can go wrong with any of these fabulous bars.
For your convenience, at the end of this post we've added a small section about Geelong nightclubs as well as a map showing the location of each venue.
So without further ado allow us to present our Top Geelong Bars.
10 Of The Best Geelong Bars
1) Beave's Bar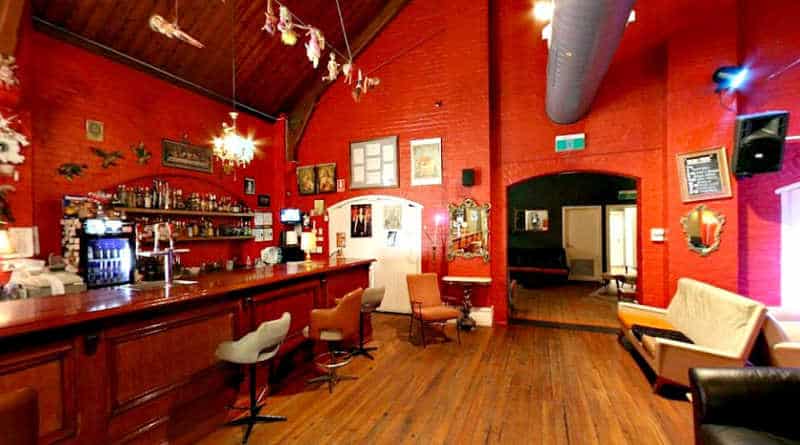 Situated behind a red door in a historic bluestone building Beave's Bar Geelong is a unique venue with an eclectically decorated interior.
The vintage bar with its retro wallpaper, comfy communal couches and coffee tables has a wonderfully relaxed atmosphere.
It's a casual fun space that's great for a beer and a chat while enjoying live acoustic acts.
There are different themed rooms where you can go and hang out if the vibe in the main bar becomes too crowded. And each room has its own fireplace to snuggle up to when it's cold outside.
One of the weirdest features of Beave's is the row of suspended Barbie dolls that are hanging over the bar. Quirky? Freaky? I'll let you decide.
There's a decent drinks list with a good selection of local craft beers and wine and a variety of spirits.
Wednesday nights rock at Beave's with Open Mic and Karaoke. If you love Karaoke then go along and check out their great song list.
Beave's Bar: 77-79 Little Malop Street, Geelong

Wed to Sun 4 pm – 1 am

Happy Hour Friday night from 4 pm – 6.30 pm
2) 18th Amendment Bar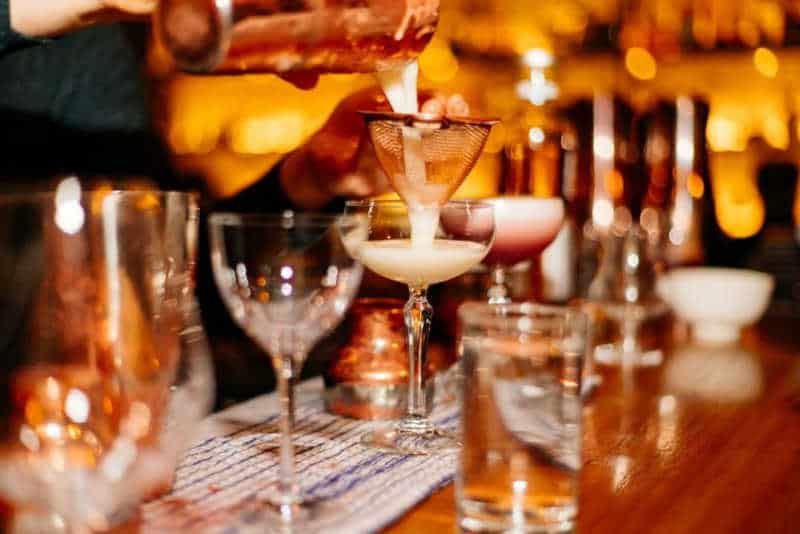 If it's cocktails you're after then you'll be hardpressed to find a bar that can match 18th Amendment for quality of drinks and customer service.
The bar is named after the 18th Amendment to the American constitution that saw the prohibition of alcohol. "Gasp!"
The owner has a fascination for this era when illegal speakeasies popped up all over Chicago and New York.
And the bar is full of memorabilia from this time. Many objects on display are local originals honouring such institutions as the Corio Distillery.
When you look at the mammoth cocktail menu (the drinks list is pages long) it's no surprise 18th Amendment Bar won Best Regional Bar at the 2018 annual bar awards.
If you'd like to check out their drinks list click here.
The bartenders have a passion and love for their craft. And if you're not sure what to order they'll help you find something that suits your tastes.
18th Amendment Bar Geelong doesn't take bookings and offers full table service.
18th Amendment Bar: 82a Little Malop Street, Geelong

Wed & Sun 5 pm – Midnight, Thu to Sat 5 pm – 1 am
3) Piano Bar Geelong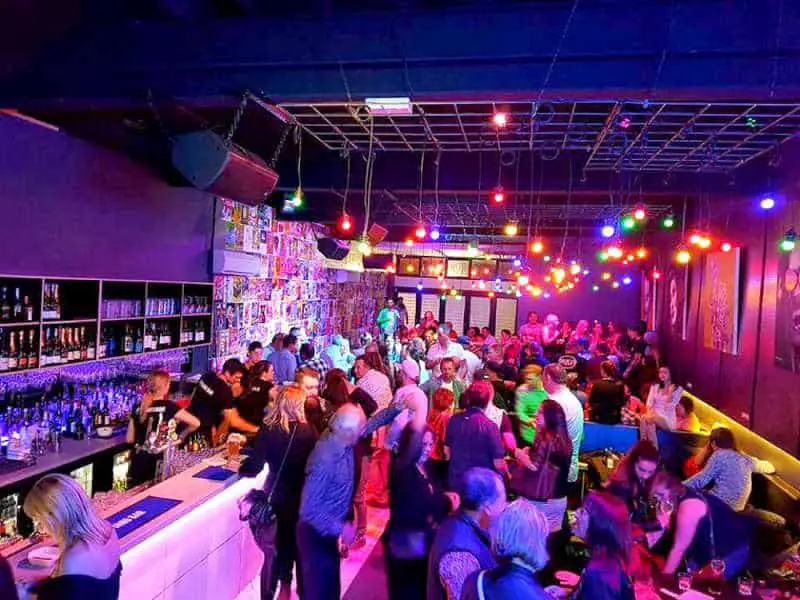 Don't be fooled by its name, the always fun Geelong Piano Bar is not a quiet little piano room. It's a Las Vegas style party piano bar that prides itself on being the city's #bestnightever.
Drop by on any weekend and you'll find a room full of people singing and dancing their hearts out.
The talented piano player and singing wait staff entertain with live music Geelong locals love to party to. The music played is decided by the room with request slips being thrown onto the piano.
It's like a party in your lounge room including dancing on the chairs!
The Piano Bar Geelong has a good selection of drinks on offer, as well as pizza and a grazing menu. But honestly, you'll be too busy singing and dancing to enjoy the food.
Tip: Visit on a Wednesday night for B*tches With Balls – drag queen hosted bingo. Doors open at 6 pm and balls drop at 7 pm.
The Piano Bar: 71 Malop Street, Geelong

Wed 6 pm – 10 pm, Thu 6 pm – 12 am, Fri 5 pm – 1 am,

Sat 6 pm – 1 am, Sun 5 pm – 11 pm
4) Edge Geelong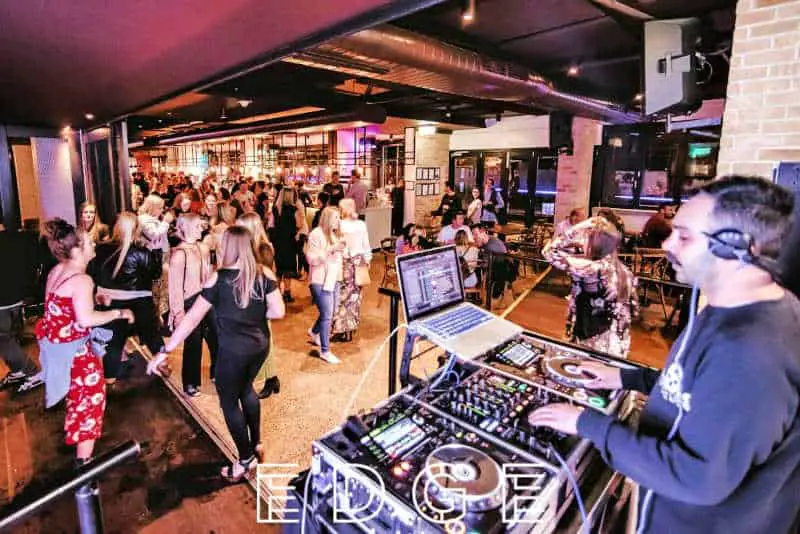 Located in a 1962 factory on the waterfront, the Edge Geelong is an innovative bar-dining experience.
Patrons can choose from grazing plates, tapas, classic pub fare and their favourite tipple while enjoying beautiful bay views from the generous outdoor deck.
Edge is one of the more popular Geelong bars and it makes a great pitstop for anyone enjoying one of the many  Geelong events that are held on the waterfront.
They have all your favourite beers and wines, and Edge Bar offers live music on Friday, Saturday and Sunday nights.
Tip: Enjoy $12 cocktail specials that rotate hourly from 6 pm every Saturday night.
Edge Waterfront: 6-8 Eastern Beach Road, Geelong

Wed 9 am – 11 pm, Thu & Fri 9 am – Late

Sat 8 am – Late, Sun 8 am – Late
5) Wah Bah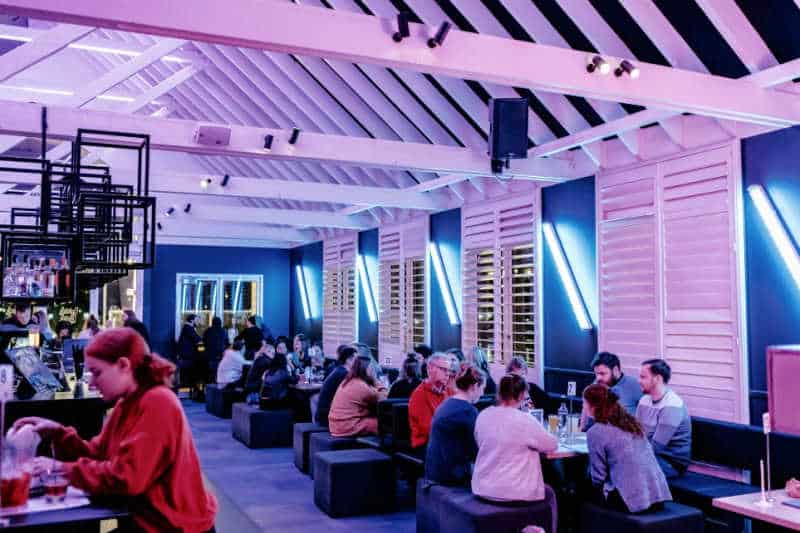 Perched out on Cunningham Pier, Wah Bah is an offshoot of the popular Asian restaurant Wah Wah Gee Geelong.
Cheeky, loud and boisterous it has stunning views and sensational vibes. The central bar has a communal feel that encourages visitors to stay for a while.
The menu at Wah Bah is based on Wah Wah Gee's all-time favourites – blow-your-socks-off tasty Bao Buns.
Geelong food has never been this fun!
I can't think of anything I'd rather be doing than sitting on the deck with a cocktail in one hand and a bun in the other.
Can you?
DJs spin the deck Friday and Saturday nights while Sundays are more chilled with acoustic tunes.
Wah Bah at the end of Cunningham Pier is open Wednesday to Sunday from noon until late
6) Ms Bartronica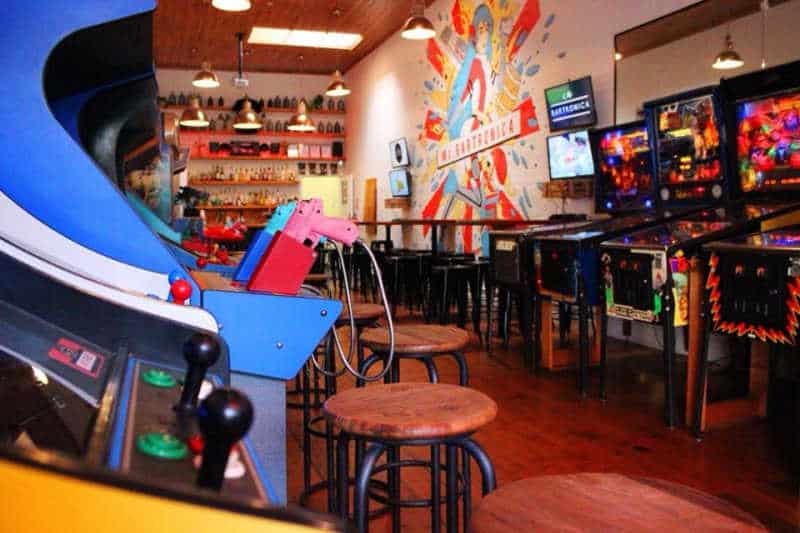 One of Melbourne's famous laneway bars has made it to central Geelong. Ms Bartronica is a cool arcade bar and the sister-venue to Bartronica in Flinders Street.
If you're a gamer (and even if you're not) and want to reminisce about the good old days then this is the place to be.
Old school arcade games and blasts from the past line the walls. Nostalgia buffs will love that the machines are originals and not reproductions.
There's usually something fresh to play as the games are changed semi-regularly.
This is a great alternative for anyone tired of the club scene and looking for something different.
Enjoy a cocktail, beer or wine while playing Mario Kart, Nintendo 64 or an old-fashioned pinball machine.
Tip: Everyone raves about Ms Bartronica's Nachos.
Ms Bartronica: 159 Ryrie Street, Geelong

Wednesday to Saturday 4 pm – Late.
7) Amped Geelong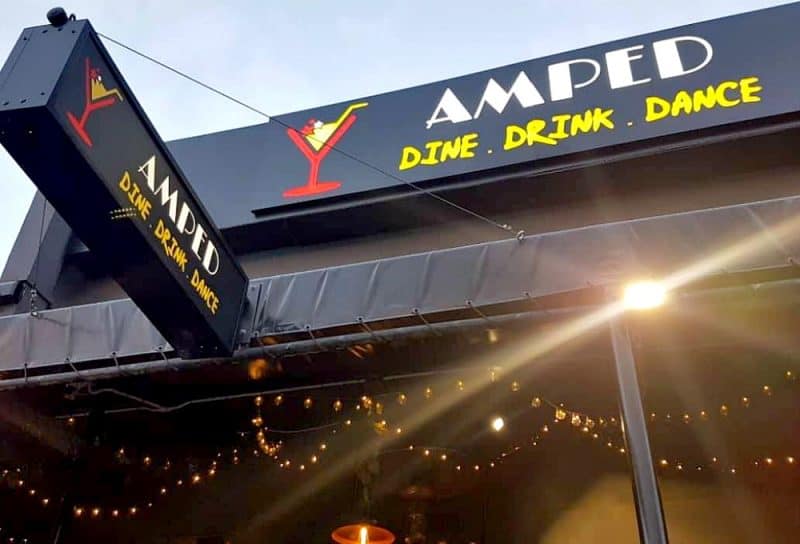 Amped is a bright and fun-filled venue where you are guaranteed to "Dine, Drink and Dance".
And with its extensive range of food and alcohol, it's everything you could wish for in a restaurant and bar.
But while the food is good, Amped Geelong is all about the music. The focus here is on live cover bands playing all your favourites from the 70s, 80s and beyond!
Amped has a different vibe with funky artwork and it's popular with an older crowd. Spread over two levels with a rooftop beer garden, you can party downstairs amongst the action or relax upstairs with a drink.
A great feature is the alfresco dining area on the front terrace. It's a lovely spot on a summer's evening with large open casement windows that bring the outside in.
Amped Geelong: 71 Yarra Street, Geelong

Wed 5 pm – Late Thu and Fri 11 am – Late

Sat 5 pm – 1 am Sun 1 pm – 9 pm
Wine Bars Geelong
8) Cellar Door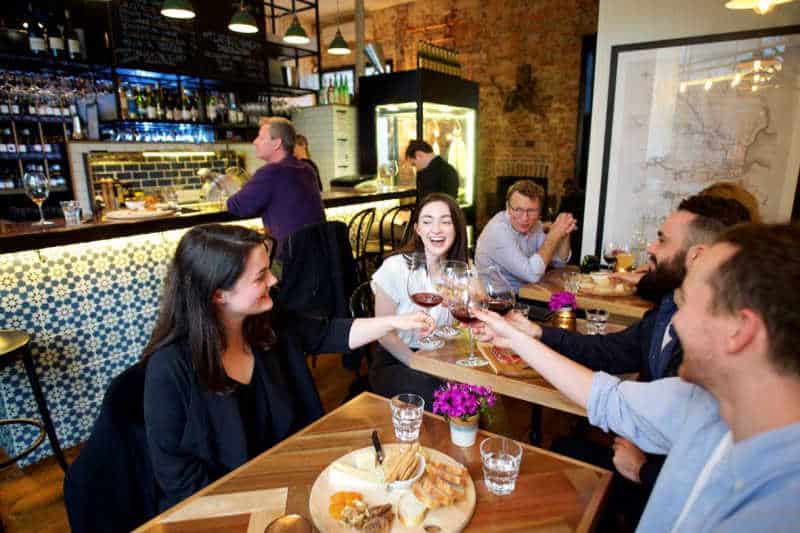 Described as "Paris meets New York meets country industrial" Geelong Cellar Door has an old-world charm.
Housed in a beautifully restored corner building the detailing is stunning with old brick feature walls and copper bar benchtop.
Cellar Door has a cosy open fireplace and shares a private courtyard with two restaurants in the adjoining building.
It's the perfect spot to enjoy summer wining and dining.
There's an extensive range of local wines on offer as well as a selection of local craft beers and ciders. And for wine lovers who travel from out of town, Cellar Door Geelong is a one-stop-shop for all your wine needs.
A highlight of any visit to this fabulous Geelong wine bar (besides the wine) is the amazing quality cheeses and charcuterie platters.
Tip: Cellar Door has regular tastings, feature a local winery each month and you can purchase bottles to take home.
Geelong Cellar Door: 97 – 99 Little Malop Street, Geelong

Tuesday to Sunday 12 pm – 11 pm
9) Union Street Wine Bar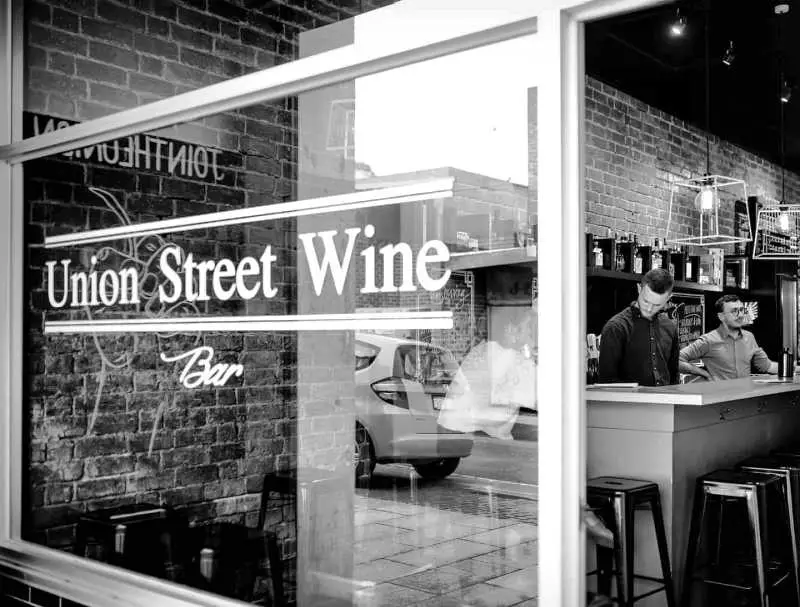 You'll find Union Street Wine Bar hidden down a city laneway under a sign that simply reads "Wine".
The small but comfy space has a simple set-up with a superb bar to sit around and enjoy a tipple or two.
It's always welcoming never pretentious and attracts a diverse range of people who appreciate good wine, good food and great company.
Union Street Wine is both a wine bar and a wine store offering a well-curated selection of local and international wines. There's also a good selection of wine-friendly food to choose from.
And if you have trouble making your selection the friendly staff will help you find something special.
Go on, treat yourself and check out Union Street Wine Bar.
Tip: Stop by for Aperitivo Saturdays – Cocktails, Cheap Beer, Free Snacks between 4 pm & 6 pm.
Union Street Wine Bar: 8 Union Street, Geelong

Tue to Thu 2 pm – 8 pm,  Fri to Sat 12 pm – 11 pm, Sun 5 pm – 11 pm
10) Archive Wine Bar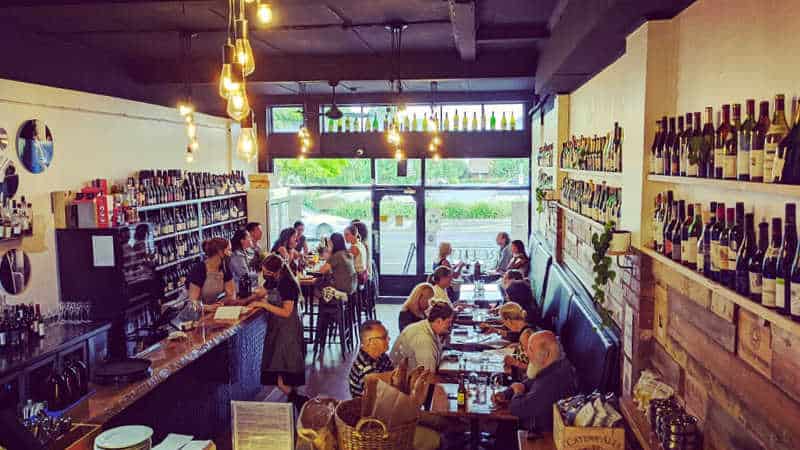 Located across the river in Belmont, Archive is a stylish and sophisticated wine bar.
It has an extraordinary wine list with over 100 wines available by the glass. All matched up with moreish grazing platters made with cheese, meat, seafood and vegan treats.
One of the best things about Archive is the Corevin the owners have invested in. This fabulous device is able to extract wine from the bottle without damaging the cork. This means patrons can try rare and luxury wines they may not normally have the chance to taste.
Archive also has an impressive collection of hard-to-find spirits and craft beers.
You can view Archive's drinks menu here.
Archive Wine Bar: 140 High Street, Belmont

Wed, Thu and Sun 12 pm – 9 pm, Fri and Sat 12 pm – 11 pm
Geelong Nightclubs
While this post is about the best bars Geelong has, we thought we'd include a small section about nightclubs in Geelong.
So put on your party pants and checkout these Geelong nightclubs.

Lambys
Located underground in an 1870's bluestone building Lambys Tavern is a favourite amongst Geelong locals.
Everyone ends up at Lambys!
Offering live music and DJs, the clientele varies in age and no one is out of place.
Lambys Geelong: 66 Brougham Street, Geelong

Friday, Saturday and Sunday night 9 pm – 3 am

Admission Fee $10
Home House
Geelong's premier nightclub, Home House features some of Australia's best DJ music acts like Ruby Rose, Joel Fletcher and Stafford Brothers.
Home House Geelong is based on the best clubs throughout Europe and boasts four stylish and luxurious rooms to party in.
Home House: 40 – 42 Moorabool Street, Geelong
2 Chambers
Feel like getting your groove on?
Then head to 2 Chambers and dance the night away to Hip-Hop and RnB party tunes.
Or enjoy fresh no-frills drinks amongst walls layered with local art inspired by the Melbourne street scene.
2 Chambers 15 James Street, Geelong

Friday and Saturday 9 pm – 3 am

Admission is $10 after 10 pm
Map of Geelong Bars and Clubs
For your convenience, we've included a map of these Geelong bars and clubs. Use the + and – to zoom in and out.
So that's our list of the best Geelong bars. What do you think? What other bars in Geelong would you add?
You can find more information about things to do in Geelong here and for the best places to stay in Geelong click here.
Related Posts: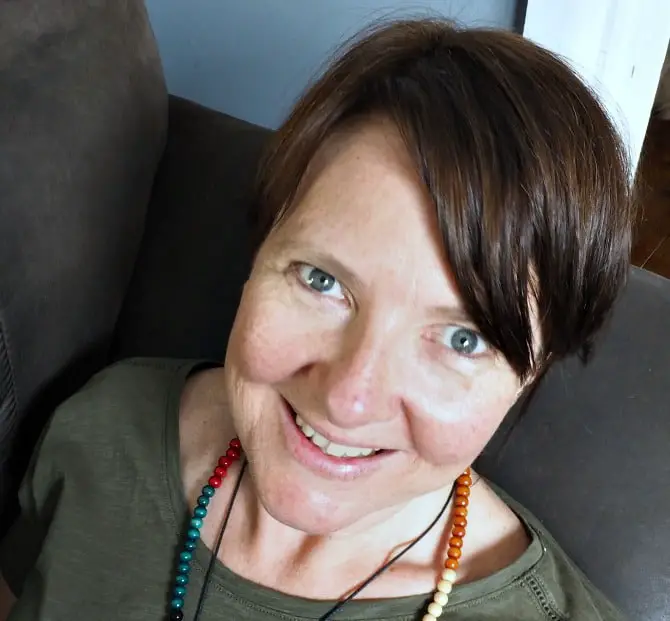 By Audrey Chalmers
Audrey is the principal blogger behind See Geelong. Book Lover | Breakfast Nut | Geelong Gal | She's Usually Craving Coffee.