The Little Malop Street restaurants area can be something of a well-kept secret from visitors to Geelong.
During the evenings and especially at weekends, in-the-know locals gather in the section between Moorabool Street and Gheringhap Street to dine, unwind, drink, dance, and mingle with like-minded people.
This hip part of town is a world away from Geelong's more touristy waterfront and is lined with cool bars, cafes, and restaurants that also spill out into the small lanes that branch off the main drag.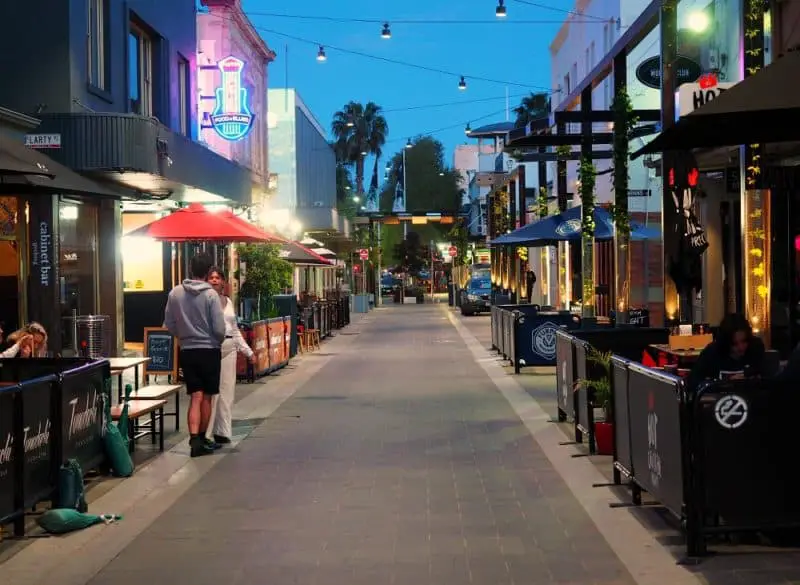 This is Geelong's hip neighbourhood, a world away from the waterfront thronged with tourists.
What Little Malop St restaurants and bars lack in sea views they more than make up for in terms of style and atmosphere – as well as the quality of the food and drinks on offer.
Whether you prefer the idea of sharing a family meal at an outstanding Geelong steakhouse, hanging out in a speakeasy-style bar or dining at an authentic Greek or Italian eatery, Geelong's stylish Little Malop Street district is in the centre of town just a short stroll away from the bay.
What will you discover – a seafood restaurant offering salty, locally-caught fish, a satisfying, steaming hot bowl of ramen, the best burgers or fried chicken available outside the US, or the best Geelong wine bars for after-dinner drinks, live music, or even a sing-along?
Whatever tickles your fancy, read on so you can plan your perfect day or night out in Geelong.
First, we list and review all the top restaurants on Little Malop Street along with some cool bars.
At the end, you'll find a handy map showing the exact location of each bar and eatery we mention.  Hint: They're in Little Malop Street!
Let's start.
Little Malop Street Restaurants & Bars
1) Westend Geelong
This pick of the Little Malop Street restaurants in Geelong is a contemporary bar and eatery in one.
The interior has been specially designed to create a modern interpretation of the classic Australian pub, and the result is a sleek, light-filled space with clean lines and cool industrial elements.
Blonde wood flooring, black framed windows, and modish artworks create a stylish vibe in the main restaurant, where discerning drinkers and diners congregate over sharing platters, substantial mains and decadent desserts.
The food is modern Australian with global influences.
Menu highlights at Westend Geelong include the cheese selections that change on a daily basis and the inventive kids' menu containing the likes of gnocchi and pulled pork burgers.
From seared prawns or pea, potato, and parmesan croquettes via crispy skin salmon or a porterhouse steak to sticky date pudding served with macadamia praline, there's something to please every palate at one of the finest restaurants in Geelong.
Where: 96 Little Malop St, Geelong

When: Sun, Tues & Wed: 12 p.m – 11 p.m, Fri – Sat: 12 p.m – 1 a.m

Phone: (03) 5280 8444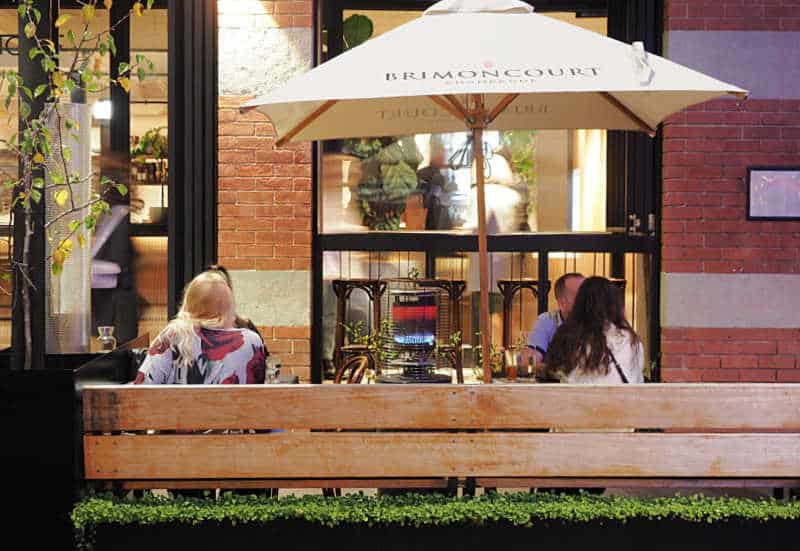 2) The Arborist Geelong
Doing double duty as a Geelong wine bar and restaurant is The Arborist.
For five days a week from Wednesday to Sunday, it's one of the top restaurants on Little Malop Street for lingering over pre or post-dinner drinks.
Cool tiled walls and floor plus cosy olive green leather banquettes, a marble bar and curved black chairs combine to create an elegant yet unfussy space in which to dine and socialise.
The whole place was constructed around a European Ash tree – very unique.
The Arborist in Geelong has a menu based on contemporary Australian favourites with a Middle Eastern twist, and all dishes are designed for sharing between friends.
A night out here could consist of a multi-course meal or a series of dishes to split with your group.
Start, for instance, with curred, pickled cauliflower and white anchovies on sourdough before moving on to falafel with tahini dressing, baba ganoush or a platter of cured meats.
To finish, both cheese and sweet treats such as affogato are available or opt for one of the yummy dessert cocktails.
Where: 75 Little Malop St, Geelong

When: Wed – Sun: Lunch 12 p.m – 2.30 p.m, Dinner 5 p.m – late

Phone: 0409 749 489
3) Mavs Geelong
For fans of halloumi, delicious dips, fresh salads, and grilled meats, Mavs Greek restaurant in Geelong is the place to be.
Serving authentic, homemade Greek specialities, Mavs is a neighbourhood favourite among Little Malop Street restaurants.
Mavs is run by the welcoming Mavromoustakos family who have both hospitality and their particular brand of Greek cuisine nailed.
Lots of bright blue gives this eatery a summery feel, while the lunch and dinner banquets for four or more mean that everyone can sample a range of dishes such as chargrilled seafood, succulent gyros, and more unusual dips served with pitta bread.
As well as all the Greek favourites you might expect, Mavs of Geelong offers a colourful cocktail menu, plus a selection of Greek spirits so you really can pretend you're holidaying on a scenic, sunkissed Greek island.
There are even mocktails made with non-alcoholic spirits that taste just like the real deal.
You can also round things off with baklava or loukoumades, a type of doughnut served with honey, nuts, and chocolate ice cream.
Where: 73A Little Malop St, Geelong

When: Lunch: Wed – Sun 12.00 p.m – 2.30 p.m, Dinner: Wed – Mon from 5 p.m

Phone: (03) 5221 0837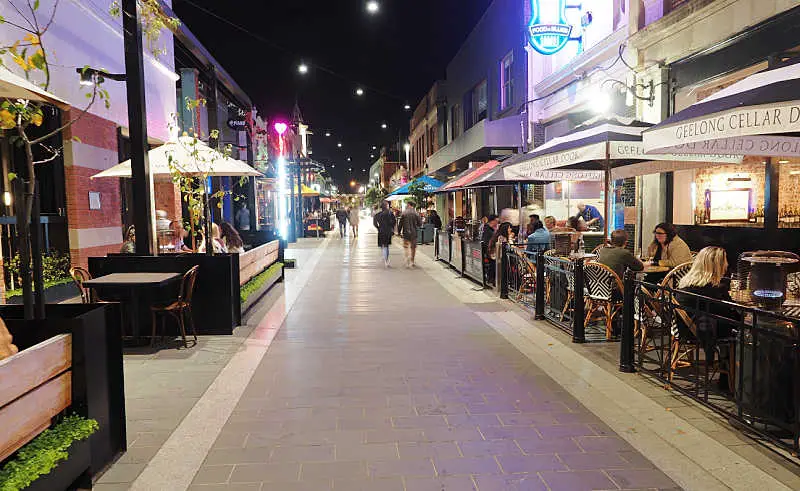 4) Felix Geelong
Felix restaurant, Geelong is tucked away on Downes Lane, just off Little Malop Street.
It's open daily between Wednesday and Sunday and specialises in seafood, fresh vegetable dishes and top quality wines, beers, and spirits.
The focus at Felix Geelong is firmly on offering a chic setting in which to enjoy fabulous food and drinks as well as superb service.
Warm tones help to set the scene, from cream walls to snug chestnut brown leather booths in which to settle down for the afternoon or evening.
For a special occasion, you can splurge on the likes of caviar or a duo of lamb, or opt to take the plunge by sampling an oyster or two.
Inventive and delicious ingredients include burnt butter, Swiss gruyere, and fresh lobster, while the stylish dessert menu offers elegant picks such as a white chocolate and berry macaron or choux pastry prepared tiramisu-style.
Where: 9 Downes Lane, Geelong

When: Wed – Sat 5 p.m – 11 p.m, Sun 12 p.m – 5 p.m

Phone: 0447 288 454
5) Parkers Steakhouse
Another choice located just off Little Malop Street in Geelong is Parkers Steakhouse, a laid-back eatery in town that's perfect for family meals out.
The atmosphere is relaxed, thanks to the farmhouse-type decor featuring exposed brickwork, open wine racks, wooden beams, and warm terracotta walls.
Parkers Steakhouse in Geelong is housed in an original bluestone building dating from the mid nineteenth century, which further adds to the charm and character of this place.
A house speciality is the Gippsland pasture-fed beef found throughout the menu, which is chargrilled to order.
Parkers Geelong serves wines sold by both the bottle and the glass, and there are chicken and seafood grills as well as various cuts of meat including porterhouse, t-bone, and rib-eye on-the-bone.
Desserts veer on the sticky, rich, and creamy side, such as 'death by chocolate crepe' served with hot fudge sauce and Nutella.
Where: 2 Shorts Place, Geelong

When: Tue – Thu 6 p.m – 9 p.m, Fri – Sat 6 p.m – 10 p.m

Phone: (03) 5221 8485
6) Caruggi
If you want to find an Italian restaurant in Geelong, then Caruggi is the local place for you.
The eatery is named for an ancient part of Genoa dating from mediaeval times, dotted with little squares, solid churches, and tiny delis run by local artisans.
As well as the main restaurant, Caruggi Geelong is one of those Little Malop restaurants that's as good for a coffee and cake break as it is for a three course evening feast.
Red brick walls, upholstered armchairs, and velvet scatter cushions in a multitude of colours create a cosy, welcoming ambience by day or night.
The range of specials changes often to showcase different flavour combinations, and may include homemade spinach pasta and salads made with smoked seafood or poultry.
Dishes from Northern Italy to try include Focaccia col Formaggio, a Ligurian speciality and Spaghetti Pesto Genovese with potato and green beans.
Where: 66 Little Malop St, Geelong

When: Tue – Sat: Lunch 12 p.m – 2.30 p.m, Dinner from 5 pm

Phone: (03) 5229 6426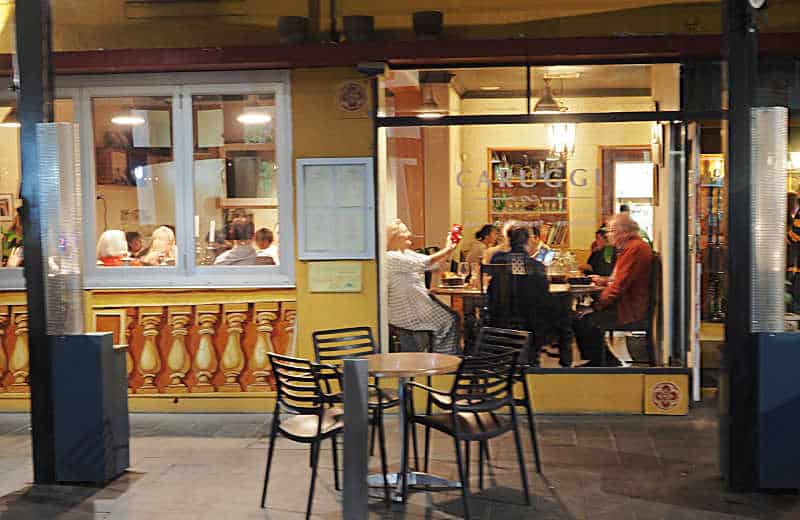 7) The Continental
The Continental Geelong is a European-style eatery that's one of the best places to eat in town.
This casual restaurant offers sharing platters served in a comfortable environment so you can sample seasonal ingredients prepared in delicious, innovative ways.
Like other restaurants on Little Malop Street in Geelong, The Continental is open from Wednesday to Sunday.
Whatever you order, dishes are beautifully presented, and the emphasis on seafood is evident in options such as Sydney rock oysters, cod's roe, octopus or prawn bisque.
The drinks list is comprehensive, containing everything from classic cocktails like a Bellini, Tom Collins, or Aperol Spritz, to sparkling French cremant and champagne, crisp Italian whites, summery rosé wine, and an Australian dessert pick.
This makes The Continental a favourite with those seeking Little Malop Street bars with a great vibe – as well as local restaurants.
Where: 82 Little Malop St, Geelong

When: Wed – Thu: 5 p.m – late, Fri – Sat: 12 p.m – late, Sun: 12 p.m – 4 p.m

Phone: (03) 52222 5677
8) Sober Ramen
Despite the name, Sober Ramen Geelong isn't only for teetotallers, and in fact, it's the top place in town for Japanese eats, great beats, natural wines, and sake.
Diners can try dumplings Japanese-style or go for ramen on three different levels according to personal spice preference.
Appealing starters include tangy fried chicken, oyster mushroom karaage, and the signature wagyu beef tataki, while mains include various ramen bowls and plates, plus the chef's special made with black garlic oil, broccolini and pork broth.
The fact that Sober Ramen also runs a branch in Torquay is testament to this ramen restaurant's success, and you only need to check out their Instagram feed to feel thirsty for one of the elegant cocktails as well as hungry for a bowl of something spicy.
Where: 85 Little Malop St, Geelong

When: Tue – Sun 11.30 a.m – 10 p.m

Phone: 0483 358 312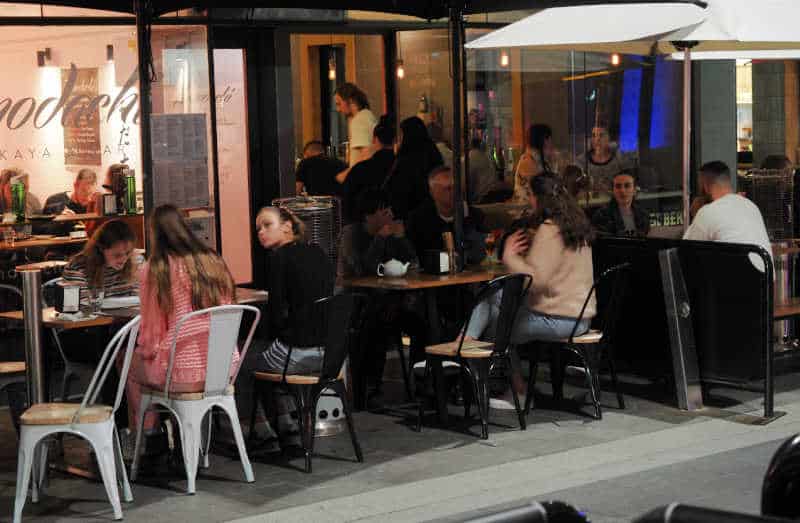 9) Tomodachi Izakaya & Bar
Australians love their Japanese food (well, at least in Geelong they do) and Little Malop St has been blessed by not one but two top-notch Japanese restaurants.
Tucked in beside Sober Ramen, Tomodachi Izakaya pays tribute to the corner bars of Tokyo and it's the perfect place for friends to get together, relax, and enjoy traditional Japanese cuisine.
The extensive menu offers all the classics, as well as a few specials, including fresh sashimi, tempura, slurpy ramen, tataki, karaage chicken, and plenty of vegetarian options.
To wash it all down you can choose from a range of Japanese beers, sake, whiskey, shochu, plum wine, or treat yourself to a delicious cocktail.
Where: 85A Little Malop St, Geelong

When: Mon – Sat: Lunch 11.30 a.m – 2.30 p.m, Dinner 5 p.m – 9 p.m

Phone: 0432 733 092
10) The Hot Chicken Project
'Chicken for the people' proclaims the slogan on the walls at The Hot Chicken Project in Geelong. Served, of course, with a side of hot sauce.
Unlike other Little Malop Street Geelong restaurants, this joint is open every day of the week, so visitors and local residents alike can feast on chicken tenders, wings, pickles, and homemade slaw.
The service is fabulous and the food a must for anyone who likes chicken in all its forms – pick between light and dark meat or munch on a burger with salty shoestring fries, just as you like.
It's also a great place to drop into for a beer, with a laid-back vibe and top-notch wines.
If you want to sample authentic fried chicken that tastes like it came direct from Tennessee – washed down with a glass of craft beer or local wine – then The Hot Chicken Project is a Geelong must.
The Hot Chicken Project Geelong

Where: 84A Little Malop St, Geelong

When: Daily: 12 p.m – 10 p.m

Phone: (03) 5221 8977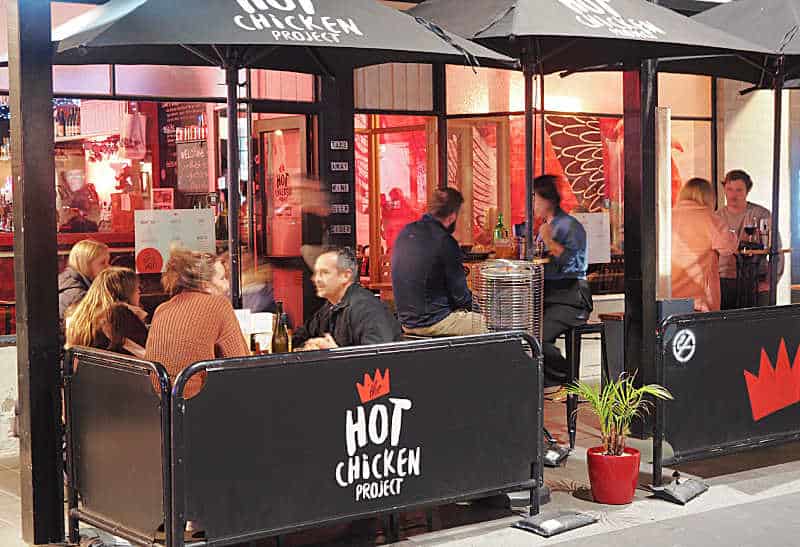 11) Dribbles Burgers & Beers
Dribbles Burgers in Geelong is another of those places located just off the main drag but is well worth wandering down Shorts Place for.
Inside, expect simple monochrome and pale wood decor enhanced by street art silhouettes set against bold slices of tangerine, fuchsia and violet spray paint.
Dribbles Geelong is a relaxed place with a sports bar vibe, and the menu features a choice of hot dogs in addition to burgers with intriguing monikers.
A flat mushroom is the star of Landry's Field, while the Krispy Kanter contains rosti made from pumpkin and potato.
Dribbles Burgers and Beers of Geelong also offers plenty of meaty specials too, such as the Greek Freak with lamb and halloumi, a beefy T-Mac's Trey topped with mac 'n' cheese, or the southern fried chicken Birdman.
There are junior options for kids, plus crispy chicken bites that should please even fussy young eaters.
Children will also love the yummy milkshakes containing cookies, peanut butter, strawberries, or salted caramel, and adults can ask the friendly bar staff for their current recommendations.
Where: 4/6 Shorts Pl, Geelong

When: Tue – Wed: 5 p.m – 9 p.m, Thu – Sun: 11 a.m – late

Phone: (03) 5223 3797
12) Tacos Y Liquor
Tacos and Liquor is surely the only place for tacos in Geelong – what could be more satisfying when you're hungry than a casual Mexican meal, street food style, served in this tiny joint on Little Malop Street in Geelong?
In fact, this little restaurant is so small that it doesn't have a website, but you can whet your appetite by visiting their Instagram page if you feel the urge.
Like the eatery itself, it's very stylishly done, with tasty-looking cocktail concoctions in branded glasses, kegs of craft beer, and of course a taco or two.
Taco fillings available include grilled wagyu beef, shredded chicken, western plains pork, and sweet and smoky mushroom.
The tostadas are also mouthwatering and come with prickly pear cactus, ice-brined scallop or blue swimmer crab.
This is not your average Tex-Mex menu – and all the better for it.
Where: 87A Little Malop St, Geelong

When: Wed – Thurs: 4 p.m – 10 pm, Fri – Sat – Sun: 12 p.m – 10 p.m

Phone: 5222 2066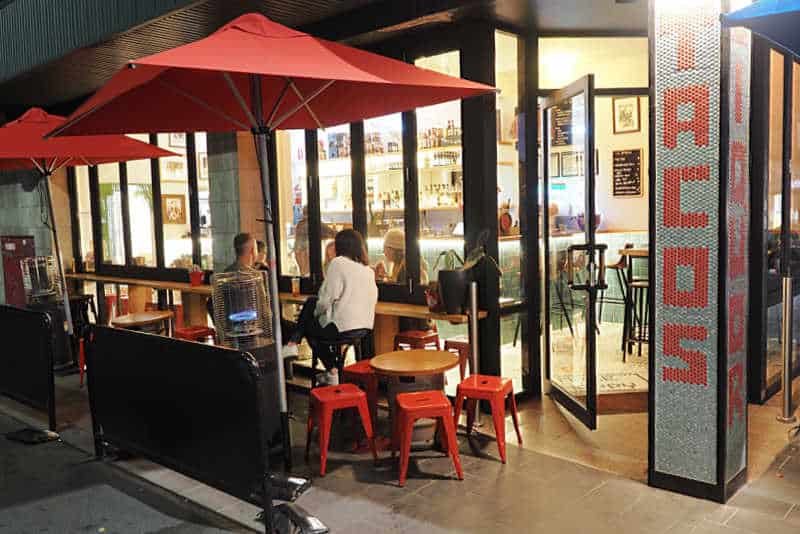 13) OK Smash
Why the ambiguous name? Because OK Smash in Geelong serves the Oklahoma Smash patty, among other things.
All-American is the name of the game here, so diners can devour juicy, stacked burgers oozing with cheese, waffle fries, hot dogs, and sides like slaw, potato salad, and ranch or blue cheese dressing.
As with Tacos Y Liquor, there is no website for OK Smash, so you'll need to rely on social media like their Facebook page to see what's happening.
The decor combines the rustic with pops of deep orange and classic detailing to create a sociable environment for dining and drinking.
All with a stateside feel, of course.
Open on Little Malop Street since 2020, OK Smash has already firmly established itself as one of the best places to eat in Geelong.
Like Tacos Y Liquor, it's the brainchild of Aaron Turner, a local chef-restaurateur who seems to have the magic touch.
Where: 88 Little Malop St, Geelong

When: Wed – Thu: 4 p.m – 10 p.m, Fri – Sat – Sun: 12 p.m – 10 p.m

Phone: (03) 5221 5041
14) Pistol Petes Geelong
Pistol Pete's Food 'n' Blues brings the flavours and music of the deep south to Little Malop Street.
Soul, blues, and jazz music serenade diners and drinkers as they sip local or American beers or munch on delicious dishes from Louisiana.
It's the closest you might well get to New Orleans, Memphis, or Clarksdale without actually setting foot outside Victoria.
The owner is a big fan of the blues, and the eatery and bar is also a favourite amongst those who favour flavoursome, Southern-style dishes like gumbo, fried chicken, PoBoys, or pulled pork.
Live music comes courtesy of bands from all over Australia and even overseas, and on Thursdays diners can take advantage of a tasty deal offering oysters served fresh or fried alongside beers or bubbles.
Where: 93 Little Malop St, Geelong

When: Wed – Sun: 12 p.m – 9 p.m, Live Music: Fri – Sat 9.30 p.m – 11.30 p.m, Sun 3 p.m – 5 p.m

Phone: (03) 5221 0287
The Best Little Malop Street Bars
15) Geelong Cellar Door
The Cellar Door, Geelong is a compact wine bar and shop on Little Malop Street with space for up to 50 people.
Here you can enjoy craft beers and ciders as well as a selection of fine local wines, and can also create your own cheese platter to keep hunger pangs at bay.
White painted, panelled, and tiled walls and ceilings create an airy retail and social space on which to sample a range of Greater Geelong cool climate wines.
Local ciders and beers can also be purchased to accompany charcuterie, chocolate, and cheese platters featuring regional and imported products.
Guest wines are stocked on-site, and the venue showcases a different local winery every month.
Read our complete guide to wineries on the Bellarine Peninsula by clicking here.
Where: 97 – 99 Little Malop St, Geelong

When: Tue -Sun 12 p.m – 11 p.m

Phone: (03) 5229 9568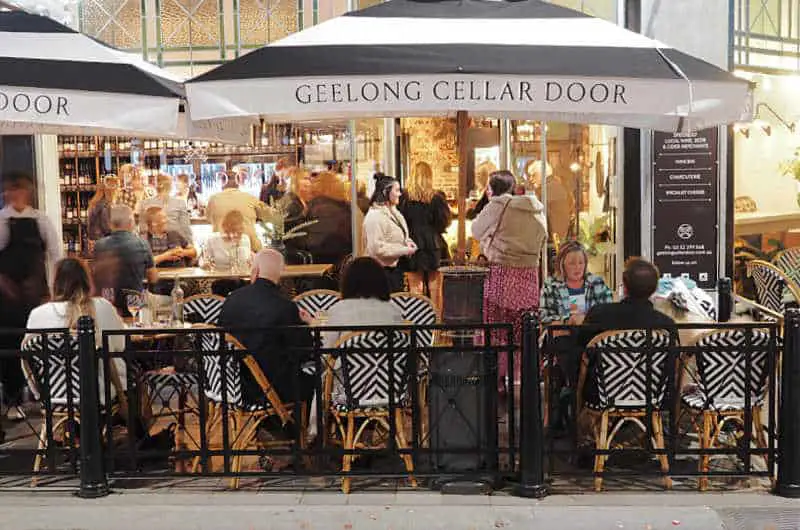 16) The Brewery Geelong
Another hot pick on the Geelong nightlife scene is The Brewery, a Little Malop Street taproom specialising in craft beers.
The bar belongs to Bells Beach Brewing, so there is a laid-back vibe, a coastal slant and of course plenty of the company's own beers to try.
Brews range from the mild, clean Bells Session Ale which has a volume of 3% to Posso's IPA which is twice as strong and packs a more powerful punch.
Beer names also reflect coastal destinations favoured by surfers, such as Birdrock Brown, Southside Saison, and the Endless Summer lager.
Cider lovers, meanwhile, can also sample Sea Cider, a dry concoction made using Pink Lady and Granny Smith apples.
Where: 73B Little Malop St, Geelong

When: Wed – Thu 4 p.m – 10 p.m, Fri – Sat 12 p.m – 11 p.m, Sun 12 p.m – 7 p.m

Phone: (03) 5223 2623
17) Piano Bar Geelong
The Piano Bar in Geelong is ideal for those seeking Geelong entertainment going a little beyond beers, ciders, wines, spirits, and cocktails.
Evenings are often centred around the piano, where singalongs become the soundtrack to memorable evenings out.
(Or perhaps more forgettable occasions when one too many drinks are sunk!)
The fact that there are now five branches of Piano Bar spread across the state reflects the success of the model, which sees guests handing in a request slip so they can grab their dancing shoes and take to the floor.
A choice of sharing starters and casual tapas dishes is also available to fuel those thang-shaking sessions.
Where: 90 – 92 Little Malop St, Geelong

When: Wed: 6 p.m – 9.30 p.m, Fri & Sat: 6 p.m – 1 a.m, Sun: 6 p.m – 11 p.m

Phone: (03) 5229 4086
18) Beav's Bar
Beav's Bar in Geelong occupies three buildings, so it's more sprawling than many of the smaller eateries and bars lining Little Malop Street.
Minimalism isn't the word here; rather, the decor features deep red walls dotted with an eclectic mix of pictures and sloped, wood panelled ceilings.
This welcoming drinking venue offers three function rooms for hire, or you can book out the entire bar to cater for up to 250 guests.
Live music is played on Thursday, Friday, and Saturday evenings, and with no cover charge, the place is often packed to the rafters.
Whether it's karaoke night on Wednesdays or Happy Hour every Friday to welcome the weekend, Beav's Bar is a Little Malop Street hotspot.
Where: 77 – 79 Little Malop St, Geelong

When: Wed – Sat: 4 p.m – 1 a.m, Open Sunday on long weekends.

Phone: (03) 5222 3366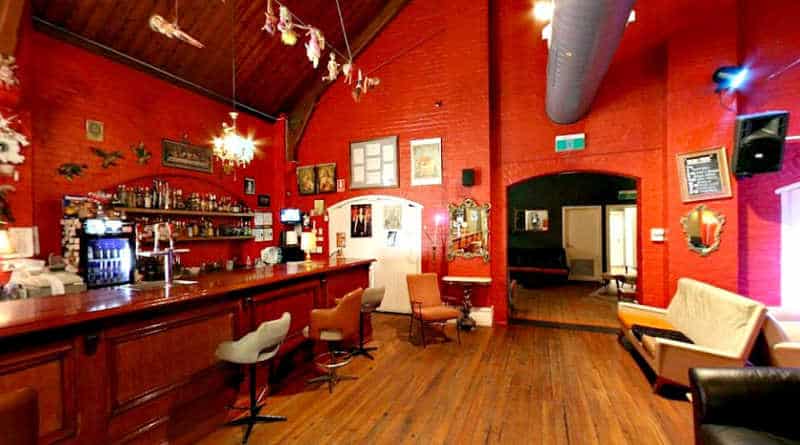 19) 18th Amendment Bar
The 18th Amendment Bar, Geelong is one of the best bars in Geelong for those who love to try new spirits.
Modelled on the Chicago speakeasy bars of the 1920s prohibition era, it operates a spirits club and holds regular masterclass events featuring gin, whisky, and other kinds of liquor.
18th Amendment in Geelong is the sister bar to the Ballarat branch and features a carefully crafted cocktail menu with drinks made using a vast array of premium and more unusual spirits.
With a snug feel and a convivial atmosphere, 18th Amendment is a cocktail bar in Geelong that can transport guests to another place and time.
Where: 82A Little Malop St, Geelong

When: Wed & Sun 5 p.m – 12 a.m, Thu – Sat 5 p.m – 1 a.m
Little Malop Street Geelong Map
Little Malop Street Restaurants – Final Word
Whatever your idea of a fabulous feast or evening out entails, you're sure to find it on or around Little Malop Street.
Why not wander over there when you're next in town, so you can be spoiled for choice when it comes to the best restaurants and bars in Geelong?
You can find more great places to eat in Geelong with this Geelong Waterfront Restaurants guide, this list of cafes on Pakington Street, or our guide to the best Indian restaurants in Geelong.
For more information about Geelong read our travel page here.
Related Posts: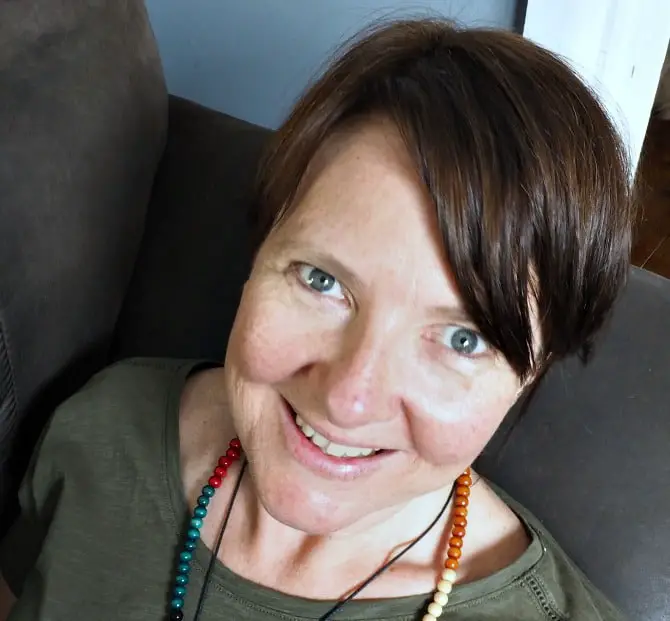 By Audrey Chalmers
Audrey is the principal blogger behind See Geelong. Book Lover | Breakfast Nut | Geelong Gal | She's Usually Craving Coffee.