Looking for the best cafe Geelong has? Then you've come to the right place.
Finding great places to eat in Geelong is a 'piece of cake' since there are heaps of great Geelong cafes.
But it's a bit trickier if you want to find the best Geelong cafe as there are so many options to choose from.
The good news is with so many fab Geelong eateries, eating out in Geelong has never been better.
Most importantly they all serve amazing Geelong coffee.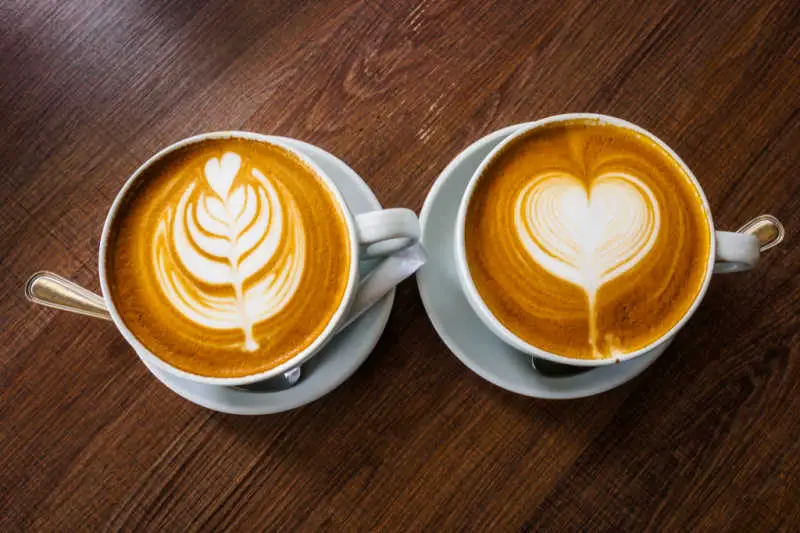 To make things easy for you we've put together this list of the 15 best cafes in Geelong.
So no matter whether you're after the best breakfast Geelong has, the best lunch Geelong has, or the best brunch Geelong has to offer, we've got you covered.
If you are looking for healthy food options we also list these along with a map showing the location of each cafe.
Cafe Geelong: 16 Cool Geelong Cafes
Best Cafes In Geelong City
While the Geelong Waterfront has some amazing cafes, you'll also find hip Geelong coffee shops in laneways, galleries, industrial spaces, and even hidden away in city car parks.
Read our guide to the best cafes in Pakington Street here.
1) Cafe Go Geelong
One of the best places to eat in Geelong and a definite contender for the best cafe Geelong is Cafe Go.
Calling a converted weatherboard house home, Go Cafe Geelong simply oozes character and is a firm favourite amongst locals. It has a unique and quirky feel with stuffed animal table markers, unusual artworks, and personal touches.
There's a secluded courtyard at the rear of the cafe that's filled with lush plants and an abundance of heaters and fans. Inside, diners will find comfy corner spaces, long shared tables, and a beautiful fireplace that warms the whole area.
Serving some of the best food Geelong has to offer, Go Cafe is passionate about using local, free-range, and organic produce. And no matter who is behind the coffee machine, you get the same high quality cup every time.
If you're wondering where to eat in Geelong, then give Go Cafe a go!
Cafe Go Geelong

37 Bellerine Street Geelong

Phone: (03) 5229 4752

Monday – Friday: 7 am – 4 pm

Saturday: 8 am – 4 pm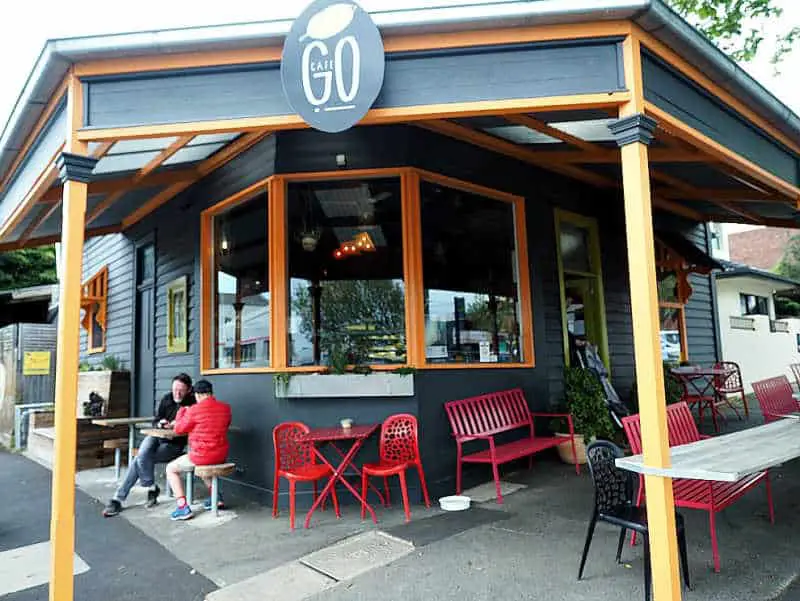 2) James Street Bakery & Cafe
This popular James Street cafe is a delightful bakery, cafe, and store, serving scrumptious sweet and savoury treats.
Everything this little gem creates is made with high-quality ingredients and the utmost attention to detail.
Diners can indulge in decadent delights like flourless chocolate orange cake, Nutella French toast, macaroons, and raspberry coconut slice.
James Street Bakery isn't just about sweets though, they also serve hearty All Day Breakfasts and delicious lunches.
The "Half" small soup and toasted sandwich option is perfect for when it's cold and windy outside.
The cafe has an elegant interior with huge windows that lets the sun shine in. Grab a coffee and cake, pull up a chair and sit back and watch the world go by.
James Street Bakery Geelong

10 James Street Geelong

Phone: (03) 5221 3909

Monday – Friday: 7 am – 4 pm

Saturday: 8 am – 3 pm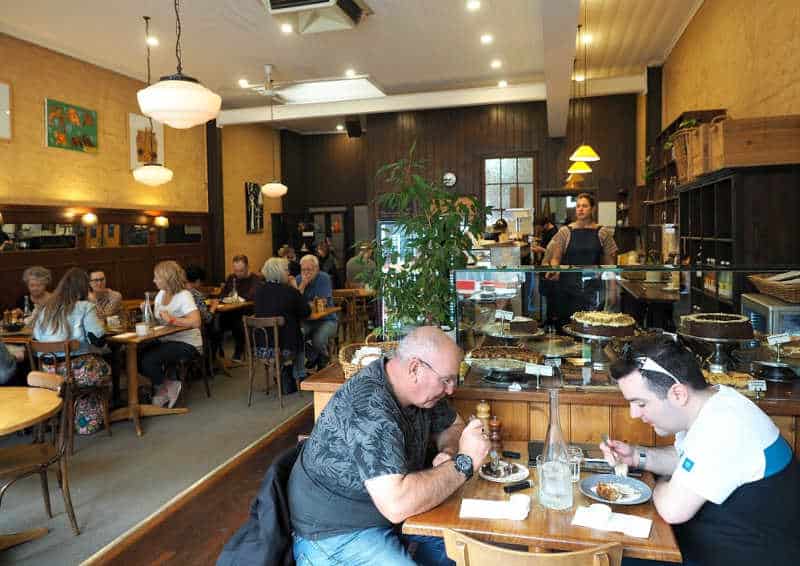 3) Coffee Cartel Geelong Brew Bar
If you're looking for the best coffee in Geelong then you can't go past the Coffee Cartel Brew Bar.
Cartel Roasters is a true specialty coffee roaster dedicated to providing the highest quality, traceable coffees.
The company prides itself in only dealing with quality producers who deliver transparency and traceability throughout the whole process from crop to cup.
These guys are serious about their tea too. With an impressive selection of tea that's been sourced using the same philosophy.
Located in the Little Malop Street precinct, the tiny cafe has just one communal table and a few seats by the window. However, patrons can also enjoy their cuppa outside at the curbside tables.
If you're feeling peckish there are light snacks available such as muffins, toasties, and bagels.
Coffee Cartel Geelong

1/80 Little Malop Street Geelong

Phone: (03) 5222 6115

Monday – Friday: 7 am – 5 pm

Saturday: 8 am – 4 pm

Sunday: 8 am – 2.30 pm

4) Fuel Cafe
Fuel Cafe is tucked away in a laneway behind the TAC building in Gore Place just a few metres from The Inn Hotel.
Housed in a converted garage the cafe has a contemporary industrial theme and inviting atmosphere. The bare brick walls are adorned with an ever-changing array of custom and vintage bicycles.
Serving distinctive Campos coffee, Fuel is popular with CBD workers and uni students and is irresistible to shoppers and passersby.
The menu showcases a range of delicious choices including vegetarian and gluten-free options, and scrumptious cakes and pastries created by a local artisan baker.
Fuel Cafe

2 Gore Place, Geelong

Phone: 0423 224 808

Monday – Friday: 7.30 am – 4 pm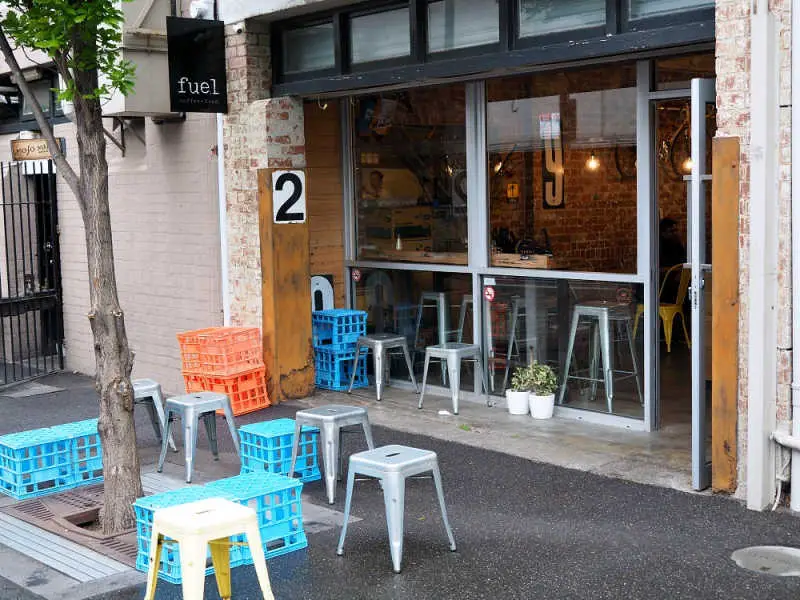 5) A Spot For Joe
Some of the best coffee Geelong has is hidden away in a city car park.
A Spot For Joe is a Melbourne/New York style cafe located in the Little Ryrie Street car park. Patrons a drawn to this Geelong coffee hotspot bytheir excellent goodies, service, and word of mouth recommendations.
The small but fresh and trendy cafe has a simple menu that's fast, easy, and delicious. Think New York bagels, yummy sweet treats, and mouth-watering breakfasts and lunches.
The cafe's exterior is understated with minimal signage, and it takes a little determination (and Google Maps!) to find this chic cafe. But once you walk in and taste their coffee you'll be glad you made the effort.
Tip: Look for the umbrellas out the front.
A Spot For Joe is one of the few cafes in Geelong city centre that opens on Sundays and public holidays.
A Spot For Joe

33 Little Ryrie Street, Geelong

Phone: 0451 419 855

Monday – Friday: 7.30 am – 5 pm

Saturday – Sunday: 8 am – 2 pm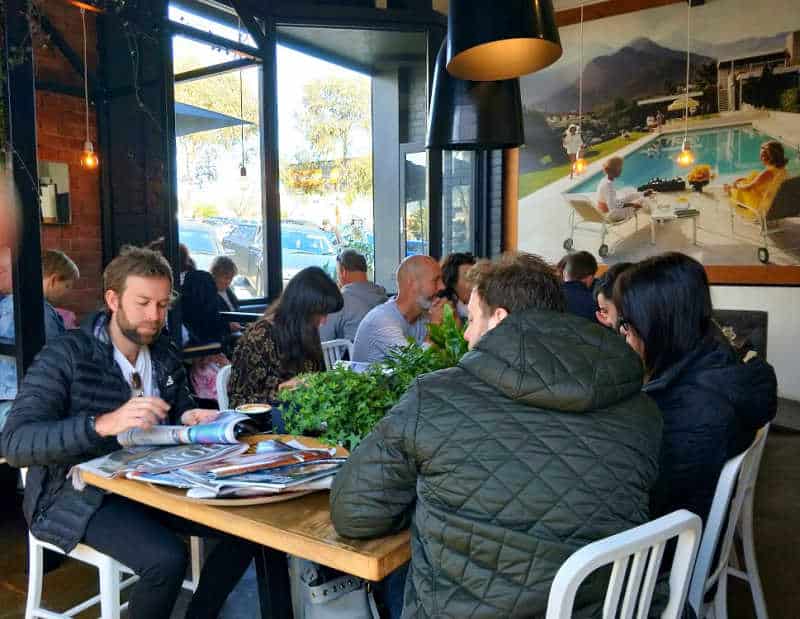 6) Little Green Corner Cafe
Little Green Corner Geelong is located in a beautifully renovated 1850's building that features a takeaway window, communal dining area, and cosy fireplace.
The cafe has three core values: simplicity, sustainability, and thinking and acting locally. The aim is to serve seasonal Geelong food with the least amount of waste.
Their organic milk is delivered in stainless steel pales instead of plastic cartons. Most of the fresh produce and eggs come from the family farm, and locals are encouraged to drop off their homegrown fruit and vegetables in exchange for a cup of coffee.
The building has sustainable features too, with solar panels on the roof and toilets that have a water-saving integrated basin.
Little Green Corner's menu is intentionally simple with 4 breakfast and 4 lunch options that change with the seasons and the availability of produce.
Little Green Corner

42 Little Ryrie Street, Geelong

Monday – Friday: 8.30 am – 2 pm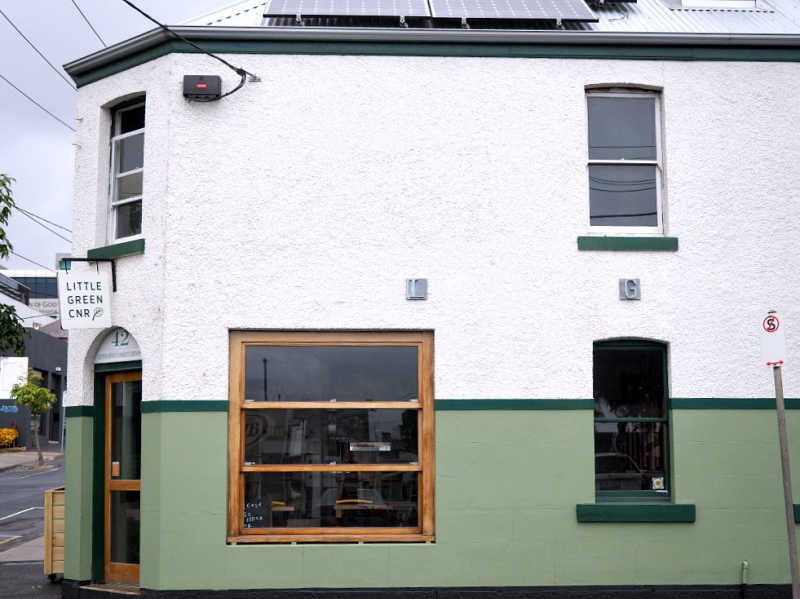 7) Geelong Library Cafe: Public
Located in the Geelong Arts Precinct, Public is a vibrant cafe that sits adjacent to the Geelong Library and Heritage Centre.
The bright modern space has a warm and inviting atmosphere and incredible floor to ceiling windows that overlook the lush greenery of Johnstone Park.
There's also a lovely outdoor area that's perfect for a catch-up with friends on a sunny afternoon.
This popular library cafe has a contemporary menu and a beautiful display cabinet filled with baguettes, paninis, and mouth-watering sweet treats.
Indulge in a coffee and cake or simply relax with a glass of wine or bevvy.
This is a walk-in only cafe – no bookings. But you can pre-order food and beverages via the Public Cafe App.
Simply download the app onto your phone: Apple Store   Google Play 
Public Cafe Geelong

55 Little Malop Street Geelong

Monday – Friday: 8 am – 5 pm

Saturday – Sunday 10 am – 4 pm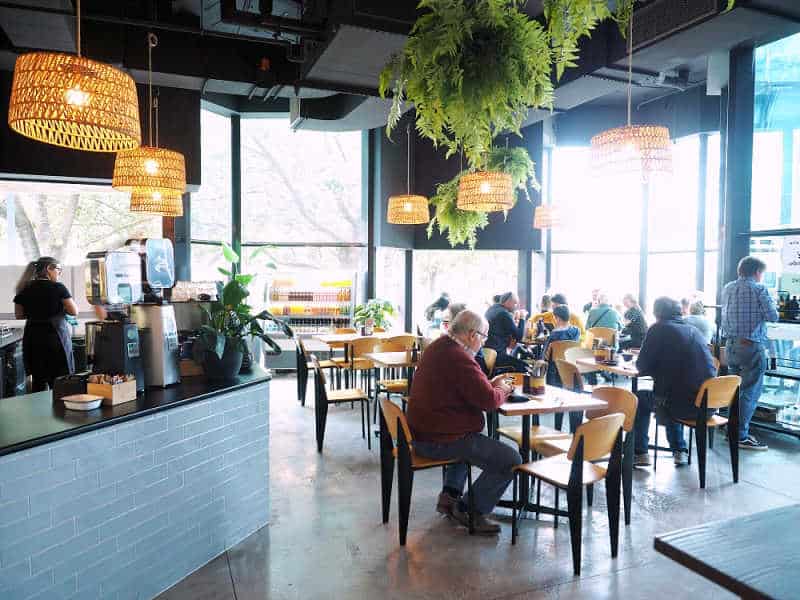 8) Toasty Cafe Geelong
There's nothing better than the crunchy gooey goodness of a perfectly cooked toasty. And Toasty Cafe is dedicated to delivering just that.
The cute light-filled cafe has a fun vibe and a spiffy wall mural complete with neon Simpsons' quote. It's perfect for families with kids with booths to sit in and plenty of room for prams.
There are 10 ginormous toasties to choose from that are guaranteed to blow your tastebuds away.
Tip: Try the Cuban – it'll keep you going all day.
Other menu items include classic milk and thick shakes, sweet treats, and Rosso Coffee Roasters coffee. Fresh sandwiches are also available.
Located on the corner of Ryrie and Gherighap Streets, if you're staying at Rydges Hotel Toasty is just a short walk down the hill.
Stop in for the ultimate comfort food.
Toasty

85 Ryrie Street, Geelong

Monday – Friday: 7 am – 3 pm

Saturday: 8 am – 3 pm

Sunday: 9 am – 3 pm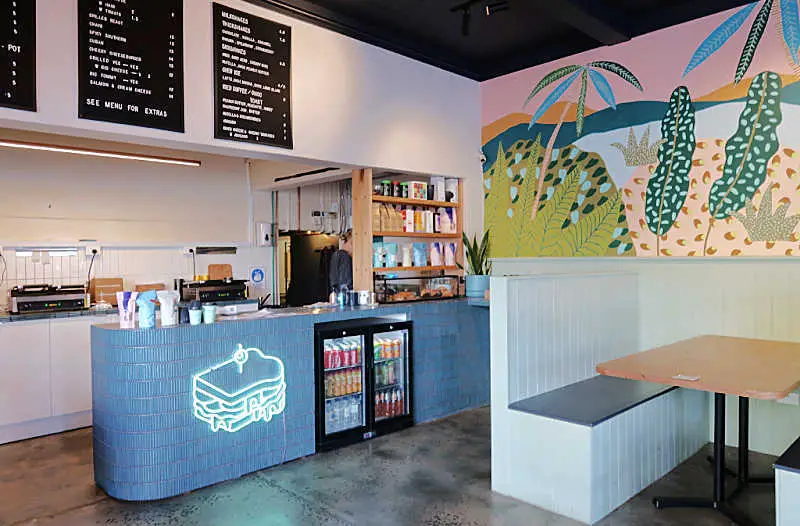 Best Cafes Geelong Area
9) Orchid & Co
Situated in an old weatherboard corner store Orchid and Co is a beautifully quaint Geelong breakfast cafe.
Full of character and charm the modern interior retains its heritage feel and makes the most of its enviable position opposite the leafy green Eastern Park.
An outdoor verandah area provides uninterrupted views of the gardens. And this Geelong dog friendly cafe has hitching posts and water bowls for your four-legged friend.
Formerly Winifred's Corner Store, Orchid & Co has a large breakfast/brunch menu, specialty coffee, and scrumptious treats like homemade apple pies and oversized muffins.
Orchid & Co Cafe

26 Garden Street East Geelong

Phone: 0460 716 133

Monday – Tuesday: 7 am – 2 pm

Wednesday – Friday: 7 am – 3 pm

Saturday – Sunday: 8 am – 2 pm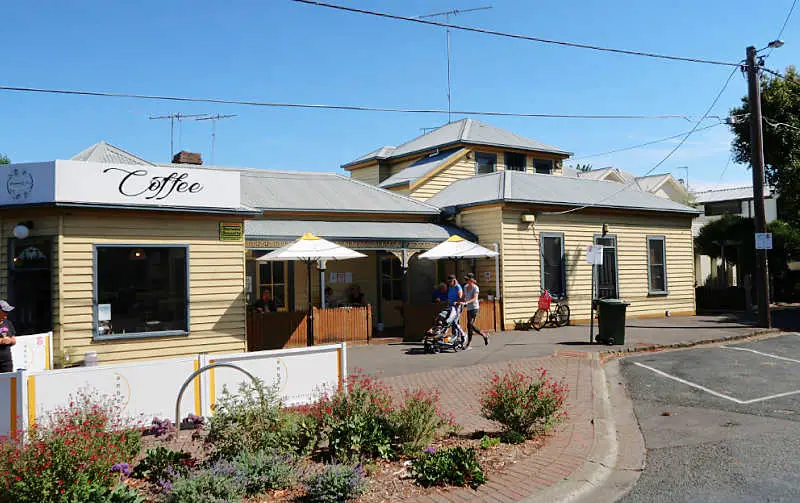 10) Two Sugars On Ryrie
Looking for good places to eat in Geelong?
Then head to Two Sugars Cafe On Ryrie and treat yourself to tasty food and mouthwatering sweets. The coffee is excellent and the huge servings satisfy the hungriest of tummies.
Check out our pic of the Sugars Big Breakfast below!
Calling an old milk bar home, this East Geelong cafe has been stylishly renovated. The bright open space still retains much of its charm with stained glass windows and warm timber flooring.
Outside is a wraparound verandah with alfresco dining and cute olive trees.
The service is excellent and from the moment you walk in the door you're made to feel welcome. Located on the road to Portarlington, Two Sugars Geelong is the perfect place to stop on your way to and from  The Bellarine. 
Two Sugars On Ryrie

404 Ryrie Street East Geelong

Phone: (03) 4222 9094

Monday – Sunday 8 am – 4 pm

11) Narana Geelong Cafe
For something a little different head to Narana Cafe one of Geelong's hidden gems.
The enchanting cafe has created an unusual menu that combines indigenous and non-indigenous ingredients into tantalising flavour combinations.
Along with breakfast and lunch, diners can indulge in indigenous inspired cakes and treats like wattleseed scones with lemon myrtle cream. Yum!
Located at Narana Aboriginal Cultural Centre, the cafe has a natural bush setting that's the perfect escape from the hustle and bustle of town.
Inside the spacious cafe are an open fireplace, kiddies corner, and a distinctive ceiling mural that tells the stories of the land and its people. Outside is a sunny alfresco deck area.
Be sure to allow enough time to explore the centre's art gallery and bush garden filled with kangaroos, emus, and wallabies.
You can read our full guide to Narana Aboriginal Centre by clicking here.
Narana Cafe

410 Surf Coast Highway, Grovedale

Phone: (03) 5241 5700

Monday – Friday: 9 am – 4 pm

Saturday – Sunday 9 am – 3 pm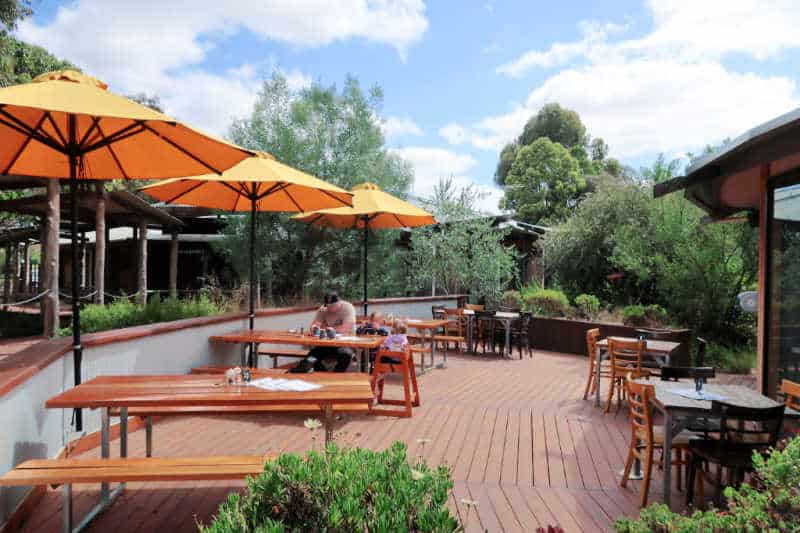 12) The Pickers Union
The back of a vintage market is an unusual place to find a great cafe, but that's where you'll find the Pickers Union Geelong.
Part of the Geelong Vintage Market complex, Pickers Union is a bright and sunny cafe with a relaxed family-friendly vibe.
There are timber tables, lots of greenery, and a huge window where you can have a sneak peek at the goods inside the market.
I love the swinging chairs out the front that are perfect for chilling out with a book on a sunny day.
Along with great coffee, the Union serves a range of fun food with exciting flavour combinations. The focus is on breakfast and lunch with weekly specials adding variety to the menu.
A visit to the Pickers Union cafe makes a great morning out when combined with a trip to the nearby markets.
Pickers Union Cafe North Geelong

Mackey Street North Geelong

Phone: 0447 531 844

7 days a week 8 am – 3.30 pm

13) Geelong Botanical Gardens Cafe
The Tea House Cafe Geelong is a little patch of paradise in the heart of the Geelong Botanic Gardens.
Nestled in a fern glade the beautiful setting is a great place to bring the family. The kids can run amok on the lawn while you relax with a coffee under the trees.
If you're looking for the most dog friendly cafe Geelong has, then this is it since the cafe itself is tiny and most of the seating is outside.
This delightful teahouse offers light lunch and refreshment options, including scrumptious sweet treats and paninis. All of the food is produced by P&G Bakery in Bellarine Street Geelong.
Enjoy a barista-made coffee with a cake or slice before taking a stroll in the enchanting gardens.
Geelong Botanical Gardens Teahouse

Botanic Pl Geelong Victoria

Phone: 0413 706 535

Monday – Friday 10 am – 3 pm

Saturday – Sunday 10 am – 5 pm

Healthy Food Geelong
14) Skinny Dippers Cafe
Skinny Dippers is an amazing wholefoods cafe in suburban Newtown. Serving all things healthy the range of options that are available is incredible.
No matter whether you want paleo, gluten free, dairy free, sugar free, vegan or vegetarian, there's bound to be something to suit your needs.
Everything is made in-house using the best and cleanest ingredients. The food is always fresh and tasty and the barista nails the coffee every time.
Tip: Everyone raves about the Paleo Donuts but I love the chocolate chip cookies. They're healthy, I swear!
Skinny Dippers Cafe Geelong

2 Lambert Avenue Newtown

Phone: (03) 4222 9542

Monday – Friday 6.30 am – 3 pm

Saturday 7 am – 3 pm

Sunday 8.30 – 2 pm

15) Feast Geelong
If you're looking for a top vegan cafe Geelong, then head to Feast cafe. These guys take their food and coffee seriously!
They're environmentally conscious too, with a 'no single-use cup policy'. So if you're after takeaway Geelong coffee remember to bring your keep cup.
The 100% plant-based menu offers an incredible array of delicious food that's prepared by a trained Raw, Plant-Based Chef.
Busy customers appreciate the Grab and Go meals that are available in the fridge. For those with time to relax, this is the perfect place to enjoy lovingly prepared delicious and nutritious food.
Note: Although this is a vegan cafe Feast does have dairy milk available for coffee.
Feast Geelong

5 Ormond Road East Geelong

Phone: (03) 4225 5577

Monday – Friday 8 am – 4 pm

Saturday – Sunday 8 am – 2 pm

16) The Sprout And Bean
The Sprout and Bean is an organic vegetarian cafe in central Geelong.
It serves delicious home-style meals that are created using fresh organic locally sourced ingredients, much of it bought from the Organic Larder next door.
The hearty menu includes warm soups, tasty curries, burgers, wraps, and salads. There are also plenty of options for sweet tooths.
The cosy interior simply oozes character with recycled vintage decor and wall murals for a pop of colour. It's an ideal space to enjoy nutritious food and a chilled-out vibe.
This little gem of a cafe keeps customers coming back again and again.
Sprout And Bean Geelong

163 Malop Street Geelong

Phone: 0447 542 088

Monday – Friday 7.30 am – 4 pm

Map Of The Top Cafes In Geelong
I hope you found this list of best Geelong cafes useful. You can find our complete travel guide to Geelong here.
You can also find great places to stay in Geelong with this guide to the best Geelong accommodation here.
Related Posts: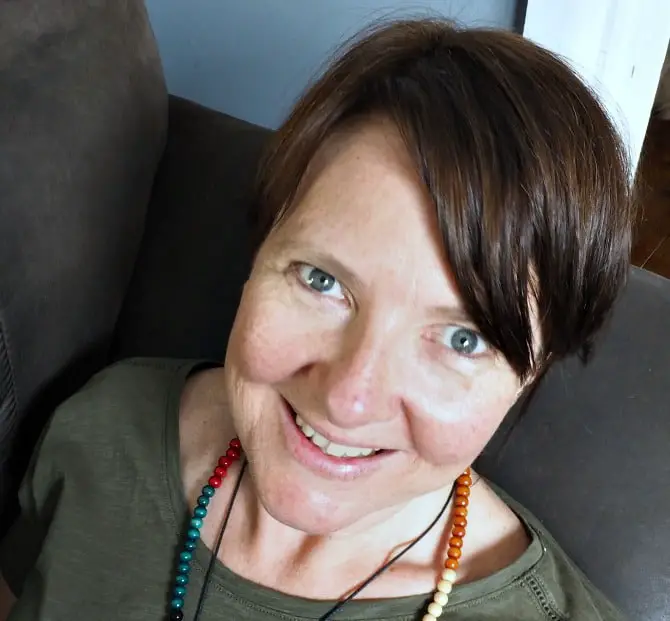 By Audrey Chalmers
Audrey is the principal blogger behind See Geelong. Book Lover | Breakfast Nut | Geelong Gal | She's Usually Craving Coffee.