If you want to find the finest restaurants in Geelong, then you're in luck.
There are great eateries all over town, from the restaurants of Geelong West or a really good family-run Greek restaurant in Geelong on Little Malop Street to the best spot for a bottomless, boozy lunch in Geelong, or the popular spots serving Asian food in Geelong.
This is a town that offers a serious amount of choice! And you'll find them all right here.
From the eateries of Pakington street or Geelong North to Little Malop Street, the waterfront, or Geelong CBD restaurants, this guide will take you to all the good restaurants Geelong has to offer – in a virtual sense at least!
Then you can get on with the important stuff, like booking a table and deciding what to wear.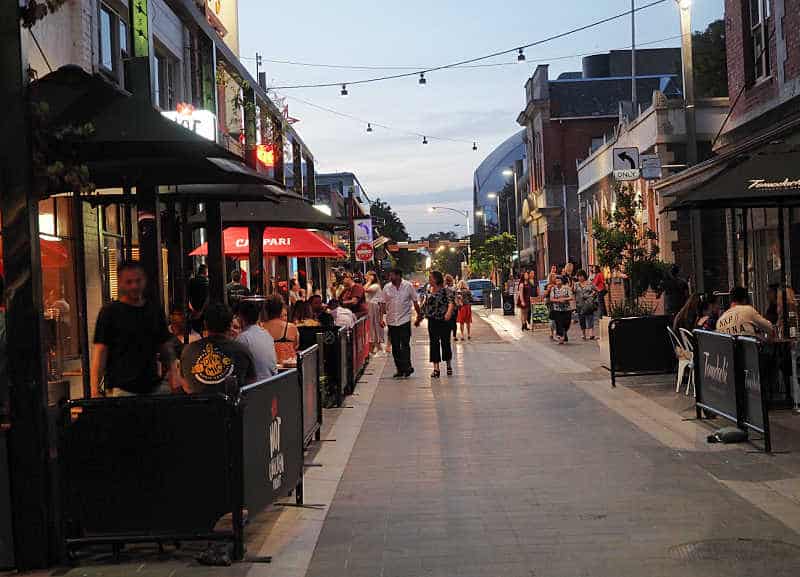 The best places to eat in Geelong include family restaurants in Geelong and Geelong City restaurants that are ideal for a romantic dinner for two.
You can enjoy Geelong dining at its finest establishments like Fishermen's Pier, IGNI, Empire, and Felix, or sample Asian in Geelong by opting for a popular Little Malop Street Geelong ramen joint or trying a Korean BBQ in Geelong.
Whether you want to eat vegetarian in Geelong, find a steak restaurant in Geelong, or enjoy authentic Italian food in Geelong this guide can show you the way.
If you prefer the idea of healthy restaurants in the Geelong area, want to track down a gluten free restaurant in Geelong, or would simply like to see a range of good places to eat in Geelong, read on to discover the right one for your next Geelong dinner, lunch, or brunch.
Let's go!
Best Restaurants In Geelong Reviews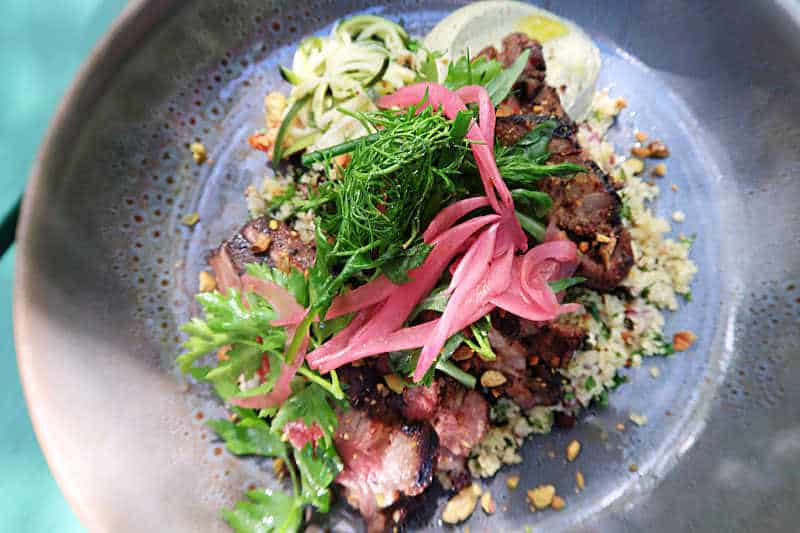 1) Tulip Geelong
Tulip in Geelong West is one of those mega-popular Pakington Street Geelong restaurants, so it pays to get in early by booking ahead.
This boutique-style eatery serves up modern Australian cuisine in a stylish, contemporary setting.
Tulip restaurant Geelong is ultra light and bright, with whitewashed brickwork, pale wood tabletops, and potted plants on the walls.
The menu showcases sharing dishes made from sustainable local produce, and the idea is to provide a sociable space in which to savour food and drinks with friends.
This is one of the best Geelong restaurants when it comes to choice, as it's entirely down to you whether you pop in for a snack, a range of small and large dishes or book a table to sample the tasting menu.
Whatever you go for, ingredients like celeriac, quinoa, turbot, lamb shoulder, and kangaroo keep things interesting.
Tulip Geelong Restaurant

Where: 9/11 Pakington Street, Geelong West

When: Lunch: Fri – Sat 12.30 pm – 2.30 pm, Dinner: Tues – Sat 5.30 pm – 9 p.m

Phone: (03) 5229 6953
2) 1915 Geelong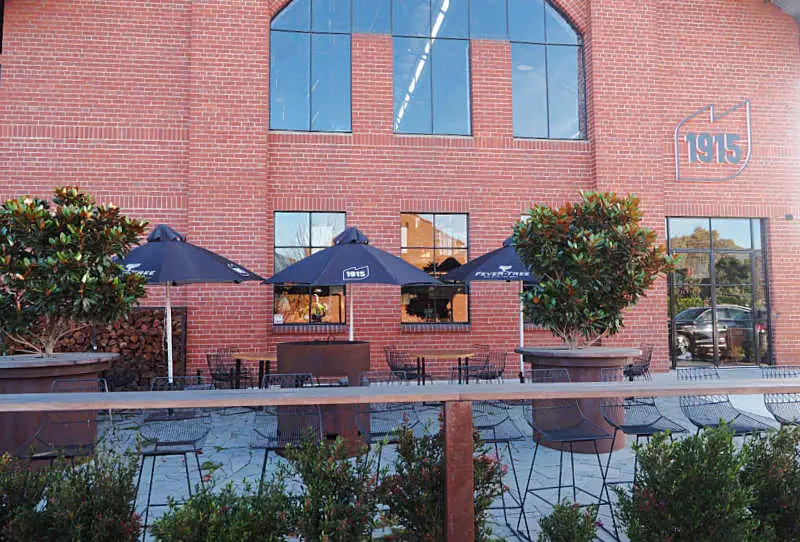 Depending on where you live or are staying you might need to head north to sample this one.
Restaurant 1915 is situated in North Geelong and is an eatery that attracts a clientele from way beyond the local neighbourhood. Which is how you know it's one of the really nice restaurants in Geelong.
Diners flock to 1915 restaurant Geelong to feast on Mediterranean-style fare, all washed down with an appealing range of craft drinks.
The venue is an original redbrick boiler house in the revamped Federal Mills development, and as such the vibe within is very much an industrial one.
1915 Geelong's 'Feed Me' option is a local favourite, where diners must 'trust the chef' to come up with a delicious, 3-course sharing spread.
1915 Restaurant Geelong

Where: PH2, 33 Mackey Street, North Geelong

When: Sun – Wed 12 p.m – 10 p.m, Thu – Sat 12 p.m – 1.oo a.m

Phone: 0499 331 915
3) Alma Geelong
Alma Geelong is not only one of the best restaurants in Geelong, but it's also located centrally in the heart of town.
This place specialises in South American cuisine, so it's the ideal spot when you feel like sampling something new.
Alma restaurant in Geelong has a smart charcoal frontage with stylised teal signage, and this colour scheme continues once you step inside.
There are snug booths separated by dark metal netting, teal leather banquettes, and modern artworks adorning the walls.
The menu here at one of Geelong's best restaurants includes a sizeable vegan selection, and there are some inventive combinations to be found throughout.
Australian ingredients like barramundi and Hopkins River steaks are also used, and the cocktail list even offers the option of trying a 'liquid dessert'!
Alma Restaurant Geelong

Where:  93-95 Ryrie Street, Geelong

When: Lunch: Fri – Sun, Dinner Wed – Sun

Phone: 0498 012 622
4) Mavs Geelong
Mavs of Geelong is the only authentic Greek eatery in town and is run by a delightful and incredibly welcoming family.
But that's not all. Mavs Greek restaurant in Geelong is also positioned on vibrant Little Malop Street, so it's close to all that this hip locale has to offer – by day and by night.
The blue tiling and Greek-style lettering give the restaurant an authentic feel, calling to mind far-off islands, whitewashed buildings, sugary sands, and fragrant hillsides.
Diners love the warmth extended during a visit, where you'll be made to feel like a valued member of the Mavromoustakos family.
For genuine Greek food in Geelong and that European island holiday feel, there's no better place in town than Mavs.
The buzzing Little Malop Street location is an added bonus.
Mavs Greek Restaurant Geelong

Where: 73A Little Malop Street, Geelong

When: Lunch: Wed – Sun 12 p.m – 2.30 p.m, Dinner Wed – Sun 5 p.m – late

Phone: (03) 5221 0837
Fine Dining Restaurants In Geelong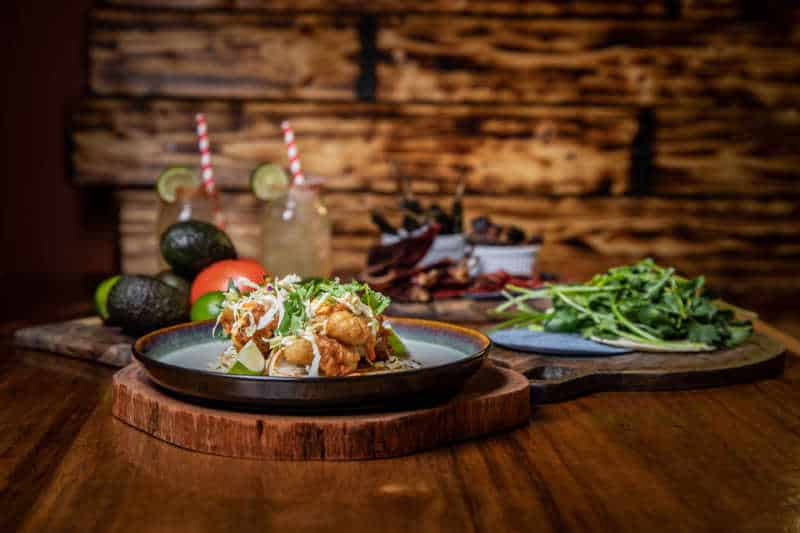 5) IGNI Geelong
Situated in Ryan Place close to busy Moorabool Street and the St John Of God Hospital, IGNI Geelong is one of the top picks for fine dining in Geelong.
The name comes from the Latin term Ingis, which means fire, and this references the wood-fired grill at the centre of the kitchen.
The back alley location makes IGNI feel like something of a well-kept local secret.
Open since the start of 2016, the owners are passionate about what they do – sharing great food and wine with their fortunate guests.
Despite the fine fare, this is a laid-back place to have dinner in Geelong, and you can choose to perch at the bar or take a table – with a good view of the open kitchen.
The set 'surprise' menu is recommended, and this can be accompanied by matched wines or non-alcoholic drinks pairings.
If you're looking for good food restaurants in Geelong, this one must go on your shortlist.
IGNI Restaurant Geelong

Where: Ryan Place, Geelong

When: Lunch from 12 p.m Sat – Sun, Dinner from 6 p.m Thu – Fri

Phone: (03) 5222 2266
6) Felix Geelong Restaurant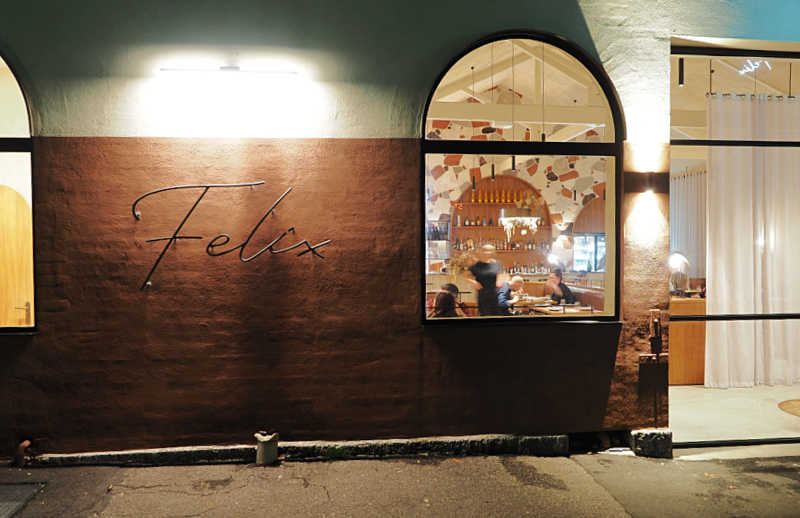 Felix restaurant is one of those places to eat in Geelong that's tucked away on one of the tiny lanes that run off Little Malop Street – the CBD's most fashionable neighbourhood.
The focus at Felix restaurant in Geelong is on fresh vegetables and fish, making it a favourite seafood restaurant in Geelong.
A carefully curated drinks menu has been created to complement the delicious dishes served here.
Diners at Felix can enjoy the likes of a lobster tart or French onion dip to start, followed by pan-seared market fish or orzo with goat's cheese and peas.
There's also a 3-course set menu, plus a trio of tempting dessert options. As upmarket dinner restaurants in Geelong go, this one has something for all tastes.
Felix Restaurant Geelong

Where: 9 Downes Lane, Geelong

When: Wed – Sat 5 p.m – 11 p.m, Sun 12 p.m – 5 p.m

Phone: 0447 288 454
7) Empire Grill Geelong
Established over 30 years ago, Empire Grill in Geelong is a firm favourite on the local foodie scene.
It's located a little further inland on McKillop Street, and the Asian-style dining chairs reflect the fact that this is an eatery serving Australian food with an Eastern twist.
Sometimes European influences are also evident on the menu but whatever you try you can rest assured that only the freshest and finest produce from the Geelong region is used.
The Empire Grill also doubles up as a vegetarian, gluten-free, or vegan restaurant in Geelong. There are also kids', degustation and group menus available, giving diners plenty of choices.
If you want to please a mixed crowd, this place could provide the best dinner in Geelong for everyone.
Empire Grill Restaurant Geelong

Where: 66 McKillop Street, Geelong

When: Lunch & Dinner Tues – Sat

Phone: (03) 5223 2132
8) Fishermen's Pier Geelong
Fishermen's Pier is one of the best places to eat in Geelong when you want a sea view, as it's right on the waterfront.
It's also quite possibly the best seafood restaurant in Geelong, and it has been serving fresh fish dishes since 1971.
There are a couple of alternative options on the Fishermen's Pier menu such as steak or pasta with a vegetable sauce for those who aren't keen on fish, but as you might expect seafood takes a starring role.
Some international influences are present – such as Italian and Japanese – and these are used to show off ingredients like Kingfish, baby barramundi, and lobster to their finest advantage.
Fishermen's Pier Geelong

Where: 1A Yarra Street, Geelong

When: 7 Days for Lunch and Dinner

Phone: (03) 5222 4100
First-Class Geelong French Restaurants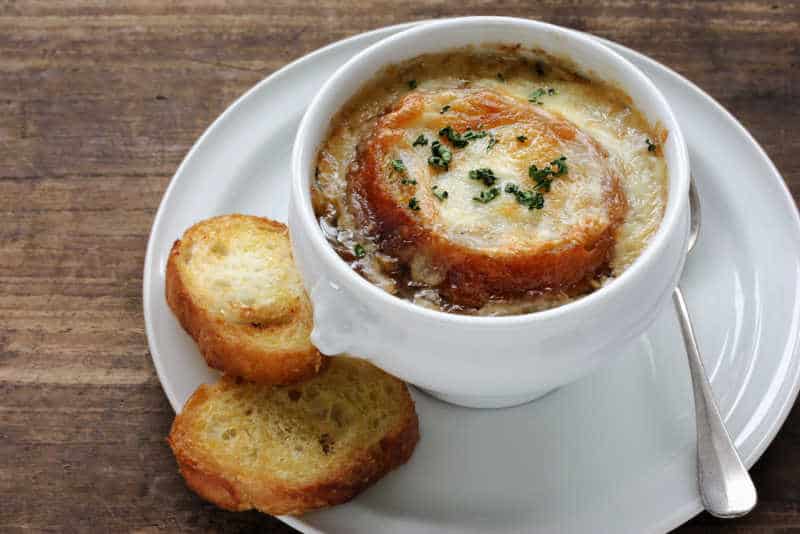 9) Bistrot St Jean Geelong
Bistro St Jean is a French restaurant in Geelong offering a simple, honest take on fine French food. Portions are hearty and the decor rustic, allowing the food and service to take centre stage.
This is one of the top restaurants in Geelong to come to if you fancy escaping to Europe for a few hours, as the owners have styled the place to look and feel just like a Parisian bistro.
They are also committed to offering great value for money, meaning you can sample a superlative French feast for a song.
There's a good selection of local and imported wines to sip as you sample an authentic boeuf bourguignon or slow-roasted lamb in a rich, delectable red wine sauce.
Bistrot St Jean

Where: 239 Moorabool Street, Geelong

When: Mon – Sat  5 p.m – late

Phone: (03) 5298 2408
10) Bistrot Plume
Bistro Plume on Mount Pleasant Road is also ideal for those who fancy eating out in Geelong, French-style.
Based in Belmont, this restaurant provides diners with an elegant setting, complete with marble or wooden tabletops and upholstered teal seating.
The menu at Bistrot Plume is also inspired by France, and local farm and ocean produce is used to great effect.
Diners praise the ambience and the service as well as the food, and menu highlights include French favourites like steak tartare, Chateaubriand and crème brûlée.
Options for non-meat eaters include dishes such as gruyère and leek croquettes or comté soufflé served with a side of hand-cut chips or shoestring fries.
Bistrot Plume 

Where: 56A Mount Pleasant Road, Belmont

When: Thu 6 p.m – 10 p.m, Fri – Sat 12 p.m – 10 p.m, Sun 12 p.m – 4 p.m

Phone: (03) 5245 8483
11) La Cachette Geelong
Located on the waterfront La Cachette is one of the newest restaurants in Geelong opening its doors in June 2021.
Its name translates to 'the hiding place', which is fitting as this lovely little restaurant is tucked away in a little alley off the main waterfront strip.
The 25 seat bistro offers contemporary French dining in a warm and relaxed environment without any of the stuffiness that some French restaurants can have.
Using only the best seasonal produce the fixed price 3 or 4 course menu changes every 3 weeks.
Attention to detail is given to every dish to bring you stunning food like grilled octopus with potato, saffron, and grapes, aged breast and leg of duck, and rhubarb and buttermilk sorbet.
La Cachette is an unexpected treat just steps away from the busy tourist strip. Try it and see for yourself.
La Cachette Restaurant Geelong

Where: Steampacket Place

When: Lunch: Fri – Mon 12 noon – 2 p.m, Dinner: Thu – Sun 5.45 p.m – Late

Phone: 04785 22996
Best Geelong Italian Restaurants
12) Lipari Geelong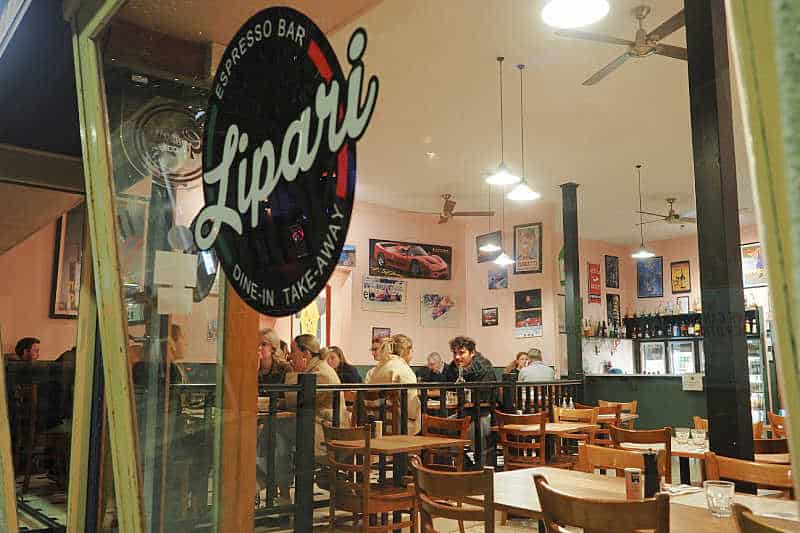 This Italian restaurant in Geelong provides a simple setting in which to enjoy classics from Italy including pasta dishes that have been perfected over a 20 year period.
Fully licensed, this eatery is also an espresso bar by day, so it's somewhere you can also pop into while you're out on a shopping trip.
The informal surroundings of Lipari Geelong make guests feel relaxed and welcome, and the restaurant is named after an Italian island located off the coast of Sicily.
Menus focus firmly on Italian classics done well.
Typical starters include minestrone soup, bruschetta, or breads served with olive oil and balsamic vinegar for dipping, and there are lighter dishes like Caesar salad as well as filling mains like lasagne, cannelloni, veal parmigiana, or schnitzel.
More than a dozen pasta sauces are listed too, ranging from favourites like bolognese or marinara to a chicken, mango, and avocado concoction or the chef's special.
Lipari Restaurant Geelong

Where: 10 Union Street, Geelong

When: 7 Days 5 p.m – late

Phone: (03) 5222 5600
13) Osteria Fiorenza Geelong
Osteria Fiorenza in Geelong presents another opportunity for diners seeking the best Italian restaurant in Geelong.
This cosy laid-back trattoria is furnished with a mix of smart chairs upholstered in grey, dark wood tables and lots of interesting framed pictures on the sunny-toned walls.
It's a lovely spot for a romantic meal for two and is snugly tucked away in Gheringhap Street in the centre of town.
With space for just 20 diners, you'll need to reserve your table early if you want to sample the authentic Italian cuisine served up here.
Osteria Fiorenza is fully licensed, and the menu covers antipasti, prime and second courses as well as risotto, salads, and desserts.
Stand-out options on the menu include three types of bruschetta, handmade pastas served with homemade sauces, a seafood risotto, two barramundi dishes, and desserts that include tiramisu, affogato and panna cotta.
For Italian cooking with flair and authenticity, this is a hot contender for the best food in Geelong.
Osteria Fiorenza Geelong Restaurant

Where: 49A Gheringhap Street, Geelong

When: Tue – Wed 5 p.m – 10 p.m, Thu – Sat 12 p.m – 10 p.m

Phone: 0424 540 576
Top Asian Restaurants In Geelong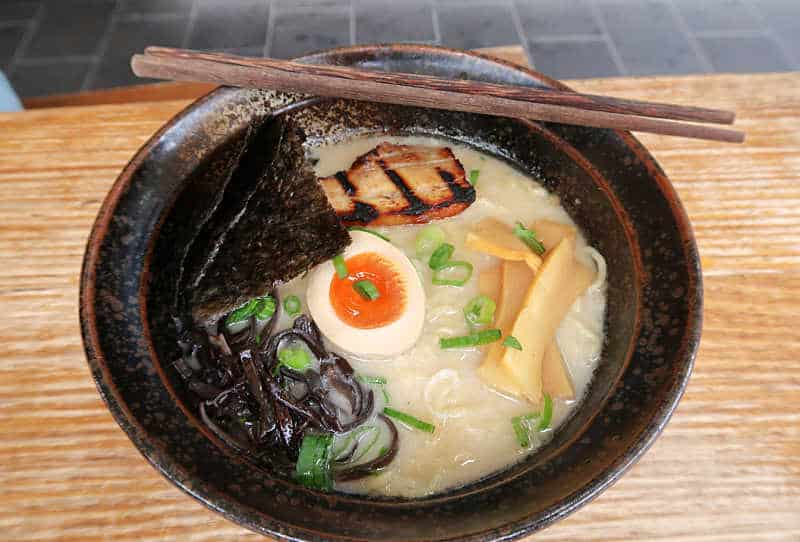 14) Sumi Geelong
Next to Osteria Fiorenza on Gheringhap Street is Sumi Geelong, a casual Asian BBQ place that might just be the best Japanese restaurant in Geelong.
Diners here are treated to an exclusive cultural experience as much as they are to good food, and it all centres around the concept of cooking with fire.
It's worth keeping an eye on this restaurant's Facebook page, as daily specials are advertised there while stocks last.
One posting, for example, described a heavenly-sounding poached crayfish dish with mango salsa, kaffir lime, and honey ricotta. It certainly got our mouths watering.
For grilled food with an Asian twist and an authentic Eastern welcome, Sumi is not to be missed.
Sumi Restaurant Geelong

Where: 47 Gheringhap Street, Geelong

When: Wed – Thu 11.30 a.m – 9 p.m, Fri – Sat 11.30 a.m – 9.30 p.m, Sun 11.30 a.m – 2.30 p.m

Phone: 0430 805 188
15) Sober Ramen Geelong
Another option for Japanese food in Geelong is Sober Ramen.
This Japanese restaurant in Geelong specialises in ramen and dumplings rather than BBQ grills and is one of Little Malop Street's most popular haunts.
The owners of Sober Ramen in Geelong have also taken great care when creating the drinks list, and you can order natural wines or Japanese sake to wash down your food with.
Simple starters include edamame beans served with sea salt, chicken and prawn dumplings, veggie tempura, and even rare wagyu beef served with an egg yolk for dipping.
For mains, you can of course move on to many varieties of ramen, and there are a number of bowls and plates to pick from.
Those who want to find vegan food in Geelong should be happy with Yasi Udon, a vegetable soup based on pumpkin, and with all ramen dishes served here, diners can specify their preferred level of spice.
Sober Ramen Geelong

Where: 85 Little Malop Street, Geelong

When: Tue – Sun 11.30 a.m – 10 p.m

Phone: 0483 358 312
The Greatest Steakhouses in Geelong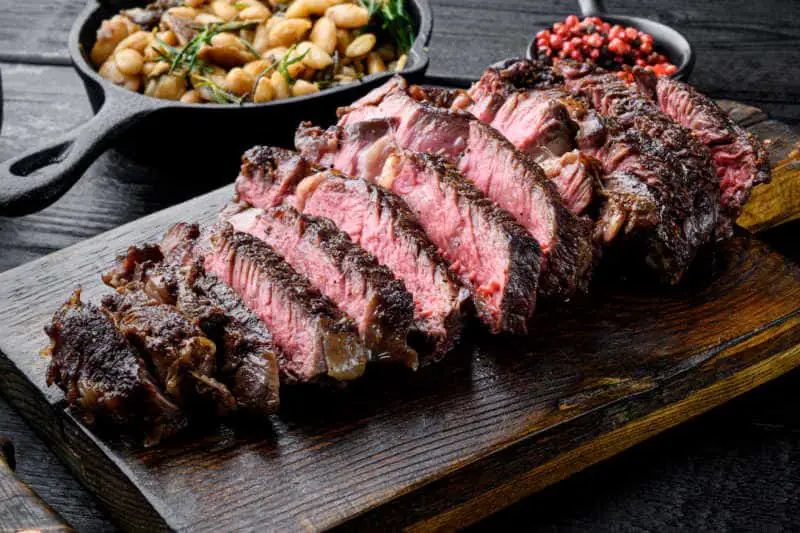 16) Emerge Geelong
While Emerge steakhouse in Geelong does of course focus on freshly char-grilled meat, it's not the only option on the menu.
The vegan in the family or group can order, for example, a vegetable tagine, while seafood fettucine should please a pescatarian and gnocchi with gorgonzola and white wine should delight a cheese devotee.
Meaty mains, meanwhile, include a show-stopper of a beef Wellington, a herb-crusted rack of lamb, a slow-cooked rib of beef, and a stuffed chicken breast.
There's also an impressive range of sides to share, including hand-cut chips cooked in wagyu fat, mac 'n' cheese with bacon and jalapeños, or broccolini with goat's cheese.
On Sundays, Emerge serves what some say is the best lunch in Geelong – a 3-course feast with three options per course, concluding with sticky date pudding, panna cotta, or a rocky road semifreddo.
Inside, Emerge restaurant of Geelong has the look of an upmarket canteen, with curved dining chairs, dark walls and flooring, plus animal prints and rounded lampshades to soften the look.
Emerge Restaurant Geelong

Where: 112 Ryrie Street, Geelong

When: 7 Days 10 a.m – 10 p.m

Phone: (03) 5229 5511
17) Squires Loft Geelong
Squires Loft in Geelong is a smart eatery on Preston Street in the Geelong West locale.
With another branch situated in Torquay, the brand has become associated with some of the best steak you'll find in Victoria. And the best steak in Geelong of course!
Operating for a couple of decades, Squire's Loft prides itself on great service, a friendly welcome, and steaks of unparalleled quality.
Some of the meat is grain-fed for 100 days or more and matured for 8 weeks before reaching the kitchen. Squires' own custom-made chargrills then finish it to perfection.
Cuts you can order include wagyu rump, porterhouse, and the Black Angus eye fillet, or you can pump for pork or beef ribs, grilled prawns, sausage or chicken or lamb chops.
Top among vegan restaurants in Geelong this place is not, and vegetarians are pretty much restricted to the sides menu.
With eight sauces and a selection of superlative steaks offered, this is definitely a place for committed carnivores.
Squires Loft Geelong West

Where: 76 Preston Street, Geelong West

When: 7 Days 5 p.m – 11 p.m

Phone: (03) 5222 5864
18) Parkers Steakhouse Geelong
Another of the Geelong best restaurants for steak lovers is Parkers Geelong. Like some of the other eateries in town, you can find this one in a lane off Little Malop Street.
Inside Parkers Steakhouse in Geelong, you'll find a farmhouse-style restaurant with exposed grey stonework contrasting against warm terracotta paintwork.
Vast wine racks, a corner bar, and wooden dining furniture complete the relaxed look.
This is a family-friendly place to eat with a commitment to using locally sourced produce. Only Gippsland pasture-fed beef is used, and the wine list mainly features vintages from Victoria, other parts of Australia, or New Zealand.
While one 'vegetarian meal' option is offered, again this isn't a place for vegans. There are some fish or poultry options like salmon or chicken, but the majority of the menu concentrates on various cuts of steak and ribs.
The nice selection of desserts should make kids or those with a sweet tooth happy too.
Parkers Steakhouse Geelong

Where: 2 Shorts Place, Geelong

When: Tue – Thu 6 p.m – 9 p.m, Fri – Sat 6 p.m – 10 p.m

Phone: (03) 5221 8485
Healthy Geelong Restaurants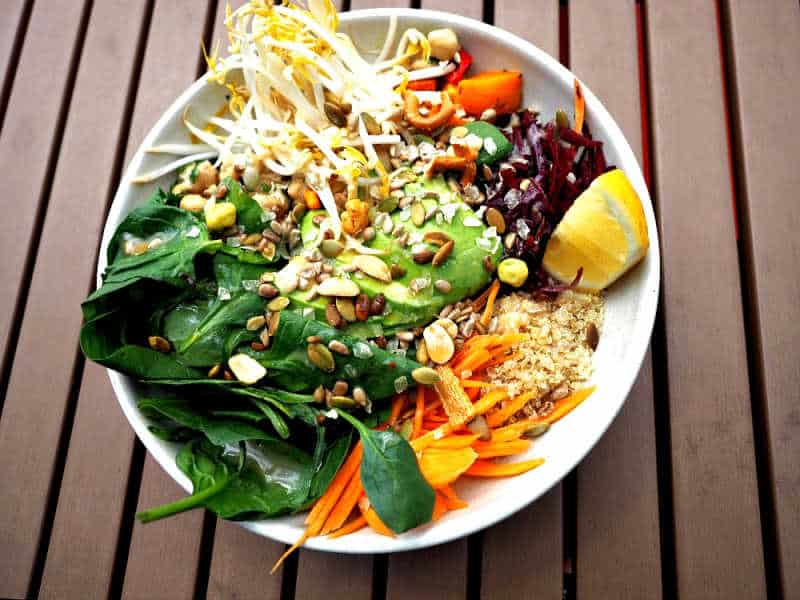 19) Recess Geelong
You want gluten free restaurants in Geelong? You've got it at Recess Bar and Eats. This is the only gluten-free eatery in town, so it's great news for coeliacs seeking good food in Geelong.
The venue also functions as Recess Bar Geelong, so if you want a sneak peek at their gluten-free food before booking a table you could always pop in for a quick drink beforehand.
So what's on the menu? If you want to find out, you could sample the chef's selection, which offers a mixed banquet at a great value price.
There's also a bottomless brunch served here on Saturdays.
There are in fact plenty of options here that could kid you into thinking you're eating gluten – such as the pan-fried gnocchi, buttermilk chicken, or three cheese arancini.
All are designed as sharing plates at this informal, glamorous eatery.
If you're seeking outdoor dining in Geelong you could be in luck too, as this place has a beer garden outside and a balcony too.
Recess Bar & Eats Geelong

Where: 247 Moorabool Street, Geelong

When: Tue – Thu 5 p.m – late, Fri – Sat 11.30 a.m – late

Phone: 0419 584 464
20) Yeah Boy
Yeah Boy also serves healthy food to Geelong residents and visitors and can be found on Preston Street in Geelong West.
A winking emoji sign at the top alerts you to its presence, and once inside you'll find a contemporary eatery with lots of glass, industrial-style light fittings, and sleek wooden furniture.
The food served at Yeah Boy is intended to nourish the mind and soul as well as the body. Whether you're a clean eating devotee or have maybe just overdone things a little of late, Yeah Boy can satisfy both your hunger and desire for wholesome grub.
Not that you have to go healthy – there is a 'feed me' option that includes bottomless booze. Appetising options on the main menu include vegan sashimi, Kentucky-spiced cauliflower, and the 'Sexi Mexi' bowl.
For a healthy eating place, there's a pretty impressive drinks list here too, including cocktails, beer, wine, and cider.
Yeah Boy Geelong

Where: 76 Preston Street, Geelong West

When: Daily from 5 p.m

Phone:  (03) 5222 5864
Best Restaurants Geelong Map
Final Word 
Whether you wanted to find the best lunch in Geelong, dinner places in Geelong for a meal later in the day, or restaurants in Geelong City that are located in the heart of town, there are definitely plenty of top quality options in this part of Victoria!
You can also find the top Indian restaurants in Geelong, Waterfront eateries, and popular pubs in Geelong, with our specialist guides.
Related Posts: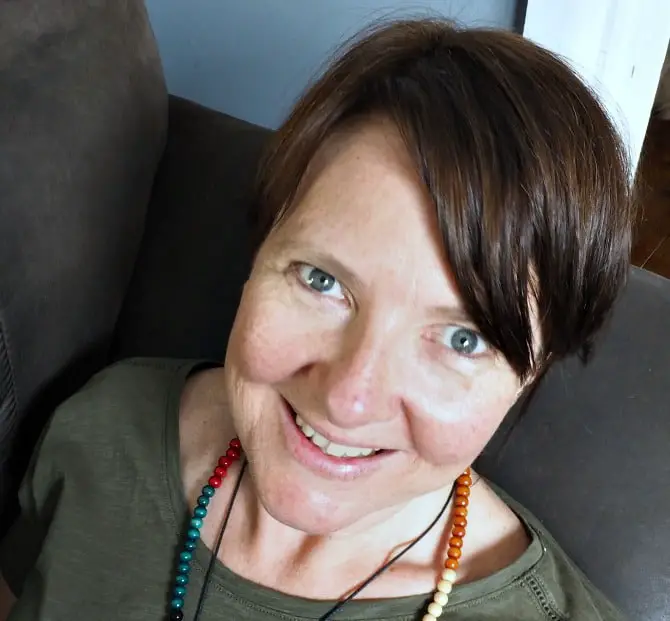 By Audrey Chalmers
Audrey is the principal blogger behind See Geelong. Book Lover | Breakfast Nut | Geelong Gal | She's Usually Craving Coffee.