Wondering where to eat in Geelong? Then head to the Pakington Street cafes and treat your taste buds to delicious Geelong food.
One of the things I love about my hometown is the number of excellent coffee shops Geelong has.
(Seriously, the amount of coffee Geelong has on offer is insane!)
I can't get by without my morning cup of joe and hardly a day goes by when I don't visit a cafe in Geelong.
The Geelong coffee scene is edgy and passionate with specialty roasters and baristas who really know their stuff.
Visitors looking for the best food in Geelong usually head to the Geelong Waterfront Cafes. But there are other great places to eat in Geelong too.
You'll find cool cafes down laneways, in warehouses and industrial sites, and even in old churches and shipping containers.
Below I've listed all the best cafes in Pakington Street so you can enjoy delicious coffee, decadent treats, and a mouthwatering breakfast or lunch.
Let's start!
Click here to read about great Geelong cafes in other parts of the city.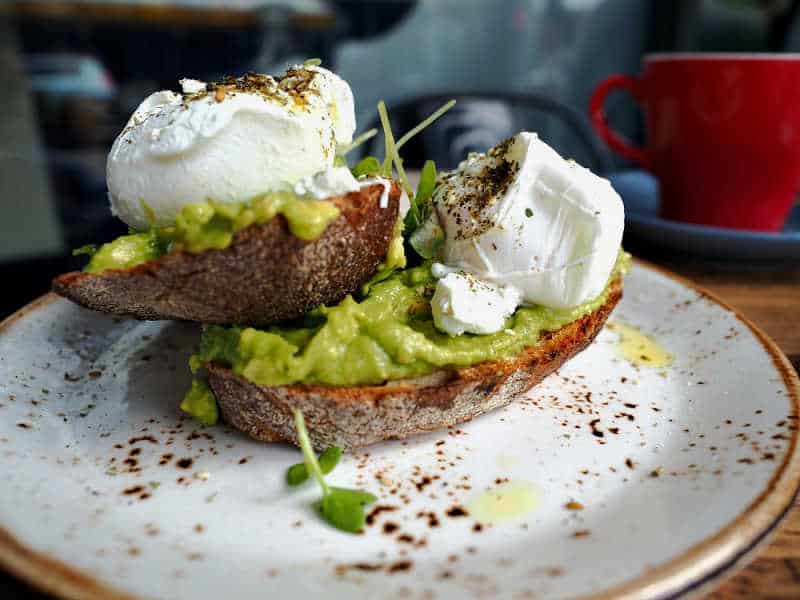 Pakington Street Geelong
Pakington Street Geelong stretches all the way from the Barwon River to Ballarat Road in Geelong West.
It has two distinct ends that are known to have some of the best places to eat in Geelong.
The southern end towards the river in Newtown is ambitiously known as the Paris end. (Although everyone I know calls it the river end.)
Newtown is one of the city's more prestigious neighbourhoods with beautiful heritage homes, chic boutiques, and fab cafes.
The northern end of Pako in Geelong West is the city's multi-cultural heartland and is home to the famous Pako Festa. It's jampacked with Geelong eateries, fabulous shopping, and tasty ethnic food.
So if you're looking for good places to eat in Geelong, do what the locals do and head to Pako.
Pakington Street Cafes Newtown
1) 9 Grams Cafe
This modern and sleek cafe is named for the standard amount of coffee in a single shot – 9 Grams.
But there's nothing standard about this cafe, and like most cafes on Pakington Street 9 Grams serves up delicious food.
We pop in for brekky on a semi-regular basis and I always struggle to choose between the corn fritters or pork benedict. Andrew can't go past the big breakfast.
9 Grams has great coffee too and they use two styles of coffee beans. The Bella blend that's best served with milk and an Ethiopian Single Origin for short blacks.
The cafe is both rustic and trendy with whitewashed wood paneling and huge windows that open onto the street.
Whether you're dropping in for coffee, breakfast, or lunch you won't be disappointed by 9 Grams.
Tip: They have seriously wicked desserts.
When: 7.00 a.m-4.00 p.m 7 Days A Week
Where: 343 Pakington Street, Newtown 3220
Phone: 0352 222 716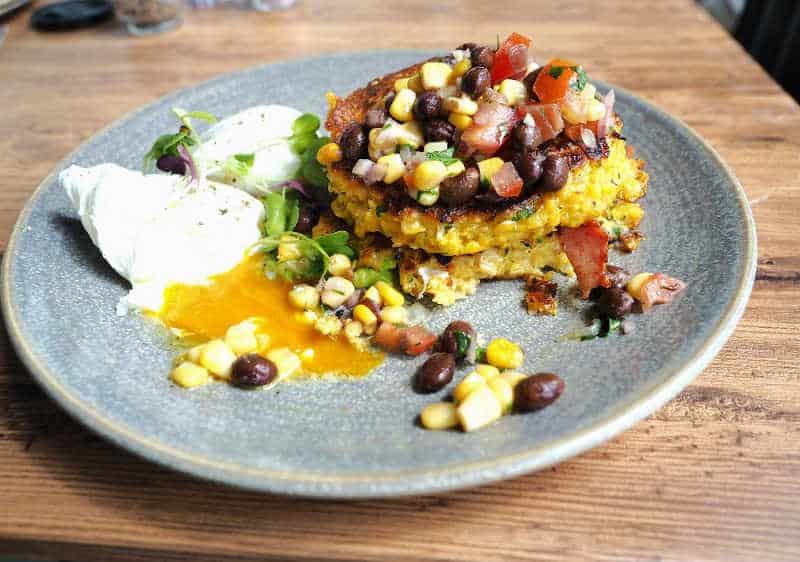 2) Sticks And Grace
A Pakington Street favourite for over ten years, Sticks and Grace must be doing something right.
This is a great Geelong breakfast cafe that cooks your brekky to perfection using organic sourdough, beautiful Istra-style bacon, and free-range eggs.
Sticks and Grace also has an enticing lunch menu and a variety of options for those with special dietary needs.
Their excellent specialty coffee is Allpress.
The cafe interior is comfortable and uncluttered with an easy style. But, we love the al fresco seating area that's off the main thoroughfare.
The whole side of the building is covered with beautiful vines. And it's lovely to sit here with a coffee and soak up the sun's rays.
When: 8 a.m-4 p.m 7 Days A Week
Where: 337 Pakington Street, Newtown 3220
Phone: 0352 242 900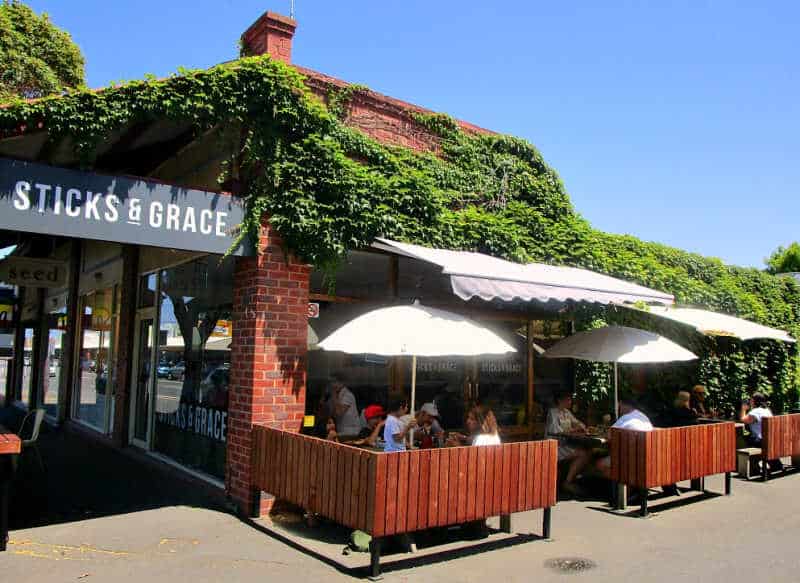 3) Winters Cafe
Winters cafe is synonymous with the food and coffee scene of Pakington Street restaurants.
We hadn't checked it out before but when researching this post, Winters kept coming up as one of the best cafes in Newtown.
It has a fresh, bright and friendly atmosphere and is great for families with plenty of room for prams.
The cafe is known for its incredible service and it didn't disappoint on the day we visited.
It has a funky menu that offers modern and creative meals. Such as Sichuan soft shell crab, taco crumbed chicken burgers, and snickers hotcakes!
Weekends at Winters Cafe Geelong are incredibly busy. And although they'll go out of their way to squeeze you in, it's a good idea to book ahead.
Winter's serves Code Black coffee with St. David's milk and it has vegetarian and gluten-free options.
When: Monday – Saturday 7.30 a.m-3.30 p.m, Sunday 8 a.m-3.00 p.m
Where: 330 Pakington Street, Newtown 3220
Phone: 0352 218 832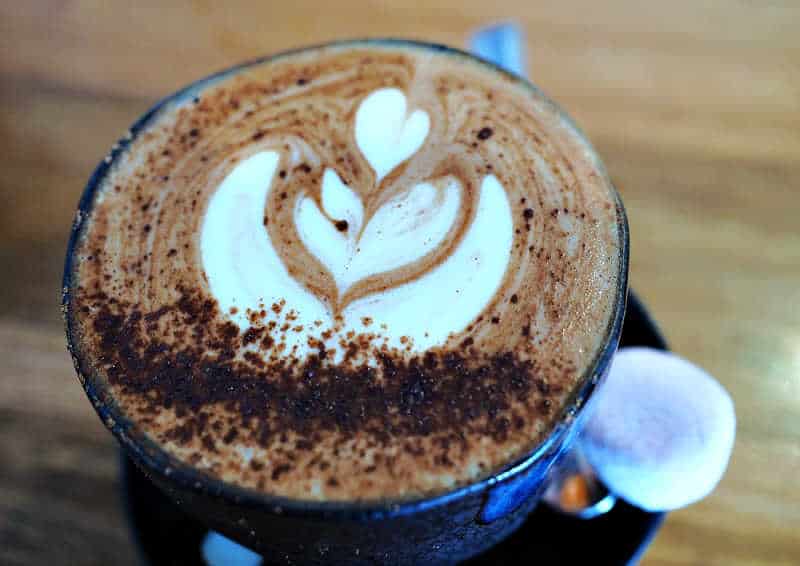 4) Pakington Pantry
With its sleek laneway style and ebony exterior, Pakington Pantry has an edgy urban feel.
A huge open window at the front lets in light and stops the cafe from being too dark. It's also a handy spot to grab a coffee on the run.
This cafe is the go-to place for Newtown locals when eating out in Geelong.
They keep coming back for the excellent service, lively atmosphere, and the amazing Five Senses Dark Horse coffee. Mmmhmmm.
It's a narrow building that's not really suitable for prams. But mum's and dad's don't have to miss out as there's seating available outside.
Tip: Try the Breakfast Burger served with sweet potato chips.
When: 7.30 a.m-3.00 p.m 7 Days A Week
Where: 328 Pakington Street, Newtown 3220
Phone: 0352 233 232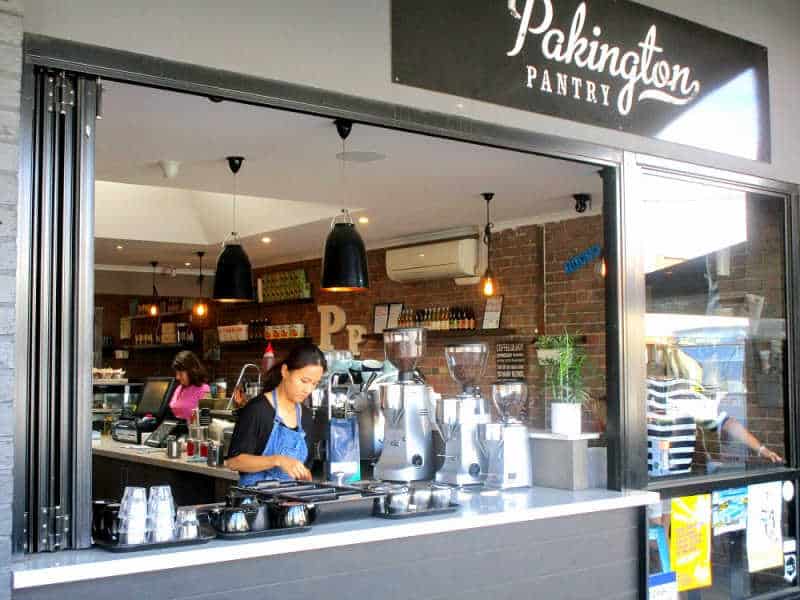 5) Steampocket Pizzeria & Cafe
You'll find this cute cafe tucked behind a metal fence and a huge peppercorn tree. We love it for its beautiful calming atmosphere that's so different from the more modern cafes on the strip.
Thursday and Friday nights are gourmet pizza nights. And it's the perfect setting to enjoy a glass of wine with friends and a mellow tune.
But Steampocket serves more than just pizzas with scrumptious breakfasts, lovely lunches, and sublime sweet treats.
Andrew swears they have the best chocolate brownies.
The coffee here is Di Manfredi.
When: Mon-closed, Tuesday & Wednesday 8 a.m-4 p.m, Thursday & Friday 8 a.m-9 p.m, Saturday 8 a.m-4 p.m, Sunday-closed
Where: 313 Pakington Street, Newtown 3220
Phone: 0352 228 969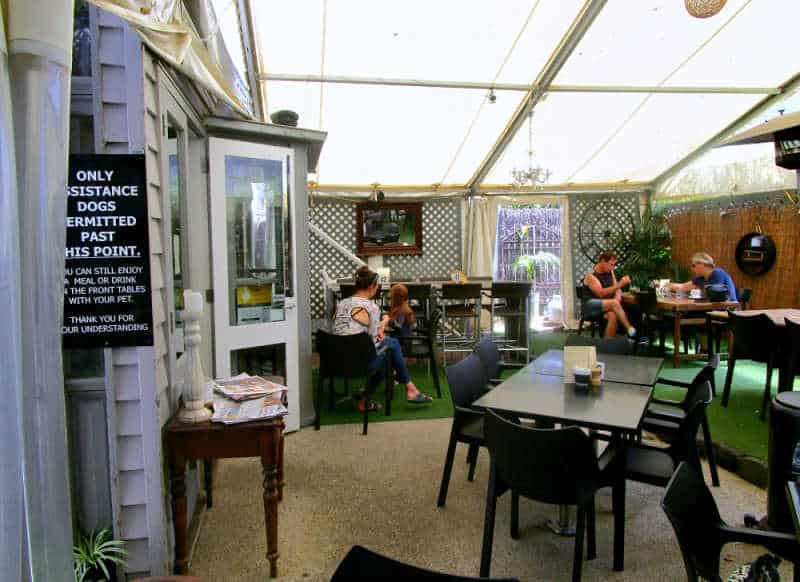 Pakington Street Cafes Geelong West
6) 63 Degrees
63 Degrees Geelong has a wide range of 'Instagram worthy' menu options.
We particularly like that it has paleo meals, but patrons can also choose from vegan and vegetarian dishes.
Serving all day breakfast it's a great choice for brunch in Geelong – the middle eastern eggs are always popular.
The decor is light and airy and the cafe has a comfortable relaxed atmosphere. There's a good-sized outdoor seating area that's sheltered from the street.
63 Degrees serves Clarke Street Roasters coffee.
When: 7 a.m-5 p.m 7 Days A Week
Where: 140 Pakington Street, Geelong West 3218
Phone: 0352 222 889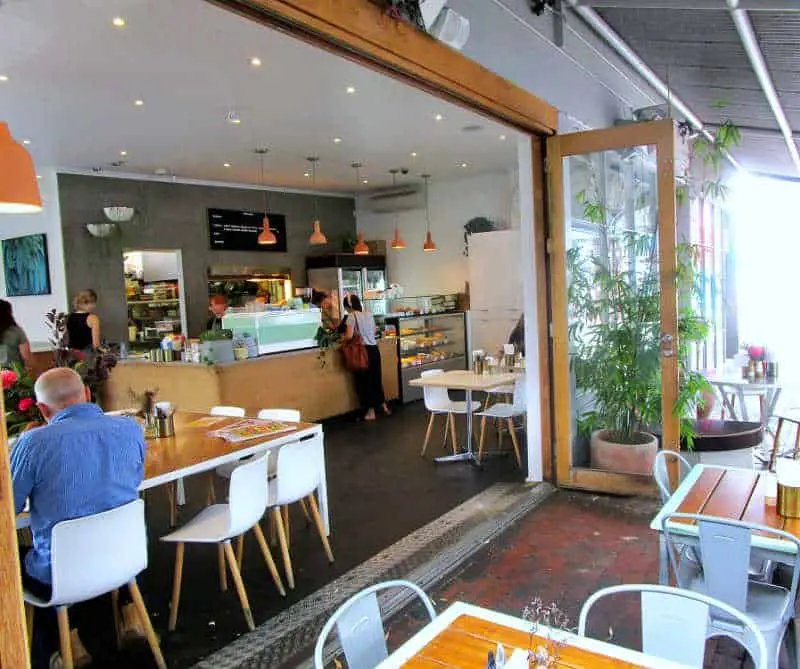 7) Box Office
Housed in a disused paint shed, Box Office is a quirky hidden gem just a stone's throw from Pako.
A little rough around the edges with an eclectic collection of bits and bobs, the vibe is fun and welcoming. It's perfect for families with room for prams and a sandpit and play area for the kids.
The cafe is owned and run by a Geelong local who takes pride in showcasing local produce. He's also serious about coffee having spent time working with Axil Roasters the house specialty brew.
Whether you're on a health kick or looking for a treat the modern menu has something for everyone and flavour is always king.
When: Monday-Friday 7.00 a.m-4.00 p.m, Saturday-Sunday 7.30 a.m-4.00 p.m
Where: 77 Preston Street, Geelong West 3218
Phone: 0417 603 323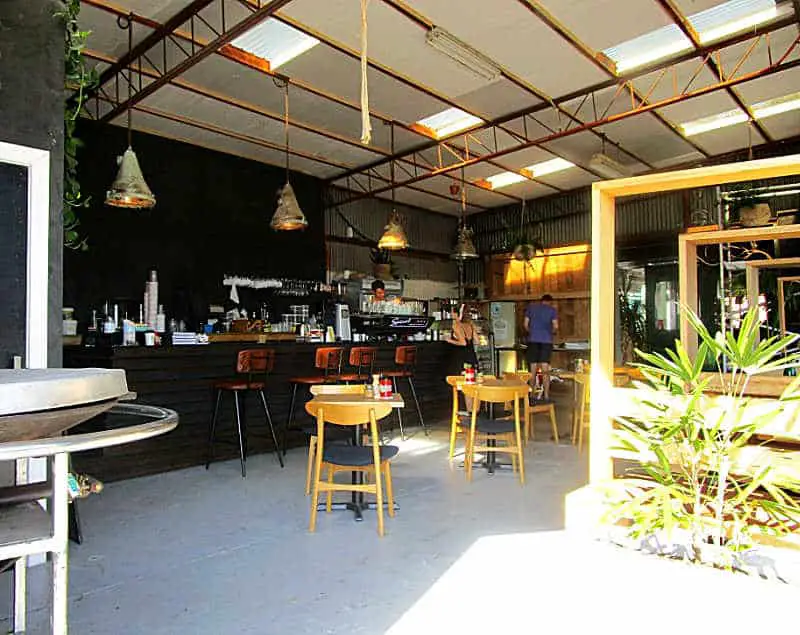 8) Three Little Figs
In a world that's dominated by the hipster cafe set, Three Little Figs Geelong is a breath of fresh air.
This family-run cafe is neither hip nor cool. But from the moment you walk through the door, you're made to feel like a long lost family friend.
It's a small cafe that's been thoughtfully decorated with clean lines and there's a lovely al fresco dining area.
Table water is served with lemon and ice which is a nice touch. And the meals are tasty and beautifully presented.
The robust coffee is from Piazza D'Oro.
Tip: Try the hash stack.
When: 8.00 a.m-4.00 p.m 7 Days A Week
Where: 240 Pakington Street, Geelong West 3218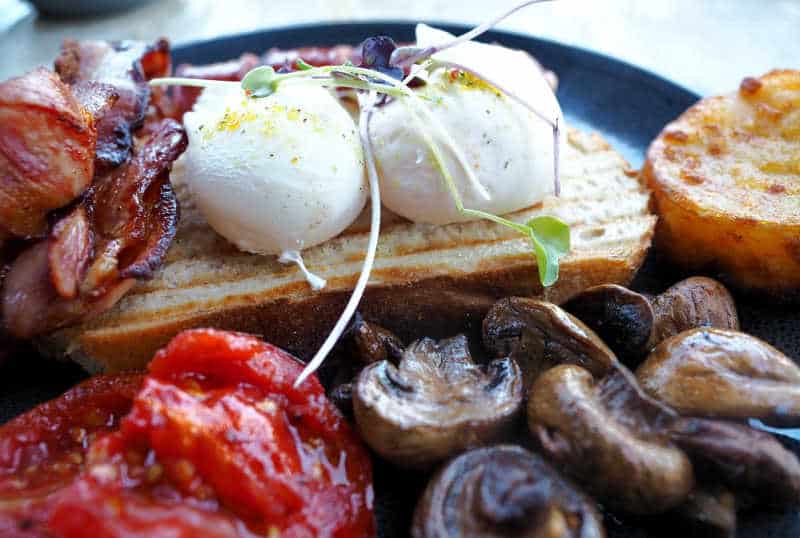 9) King Of The Castle
Set back from the street behind a shipping container that houses a barbershop, King Of The Castle Geelong is easy to miss.
Which would be a shame as this cafe is well worth a visit.
It's housed in an old panel beater's workshop that has been turned into a bright modern cafe with an industrial twist.
Streams of light flood the building through clear panels in the roof giving it a warm and welcoming feel.
And everyone from locals, uni students, tradies, and hipsters to mums and dads, pop in each day to experience the Castle's hospitality.
The menu offers such delights as Vietnamese pork belly tacos, Thai eggs, and maple spiced pumpkin.
King Of The Castle cafe serves perfectly made coffee from Padre.
Tip: Don't leave without trying one of the amazing raw treats.
When: Monday-Saturday 6.30 a.m – 3.30 p.m, Sunday 7.30 a.m-2.30 p.m
Where: 24 Pakington Street, Geelong West 3218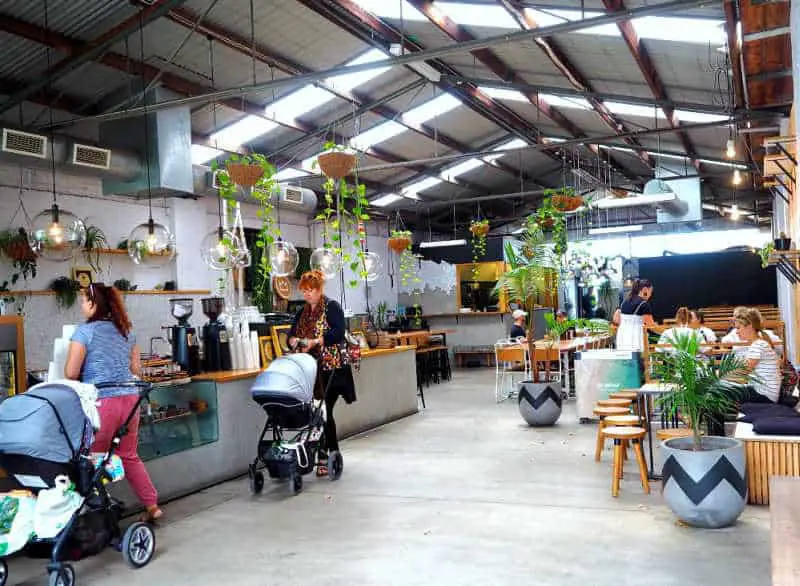 10) Pako Raw
Another fab industrial cafe in Geelong West, Pako Raw is housed in an old paint shop right next door to King of the Castle.
With exposed trusses and steelwork the cafe has an edgy urban feel. That's carried all the way to the back deck that overlooks the railway line.
Pako Raw is unapologetically simple without compromising on quality. Their menu has raw, vegan, and vegetarian options as well as pizza, burgers, and an all-day big breakfast.
The cafe is open and spacious making it suitable for prams and wheelchairs.
Available for functions
When: Tuesday-Friday 11.oo a.m-Late, Saturday 8.30 a.m-Late, Sunday 8.30 a.m-4.00 p.m
Where: 26 Pakington Street, Geelong West 3218
Phone: 0352 228 122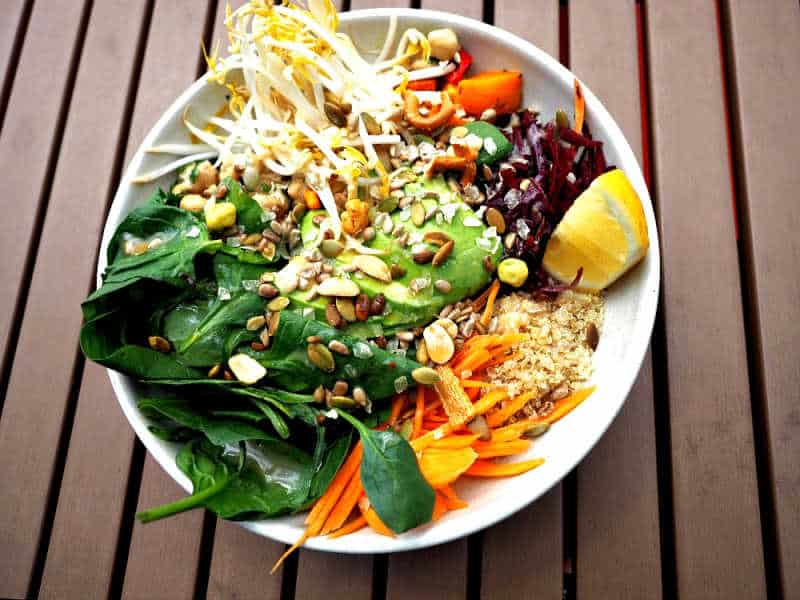 So that's our list of must-visit cafes in Pakington Street. Do you have a favourite cafe you would add?
If you like this post then you might find our list of awesome Geelong pubs or the best Geelong Bars useful.
Looking for something to do in Geelong?
Then check out our guide to the Geelong Wool Museum or for more inspiration read about the 51 top things to do in Geelong.
You can find the best places to stay in Geelong here.
Related Posts: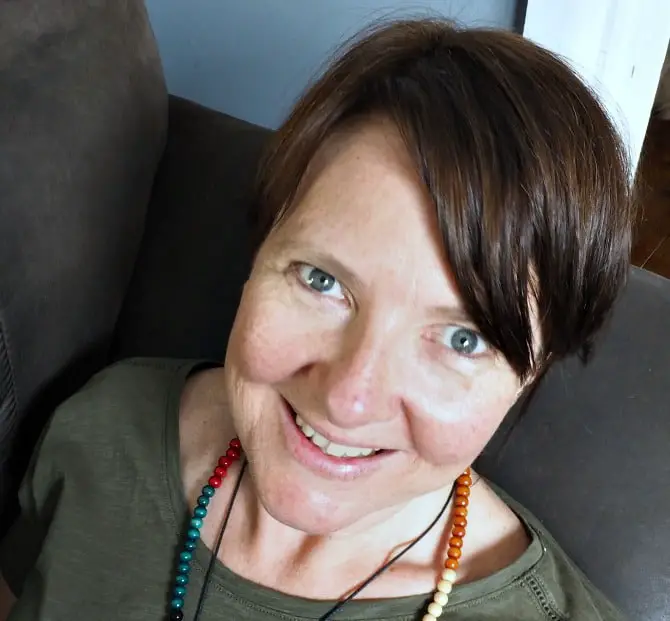 By Audrey Chalmers
Audrey is the principal blogger behind See Geelong. Book Lover | Breakfast Nut | Geelong Gal | She's Usually Craving Coffee.