Top 8 Best Luxury Accommodation In Geelong
Are you planning to spend a few days in Geelong? Terrific! It's a great part of Australia.
The town is well known for its magnificent Waterfront, but it also offers museums, galleries, lively markets, and of course, it's the gateway to the Bellarine Peninsula and Great Ocean Road.
Now that you know you're going, the next step is to book the best Geelong accommodation for you. And if you're looking for the best luxury accommodation in Geelong, then this article has all the information you need.
This article may contain compensated links. For more information read our disclaimer here.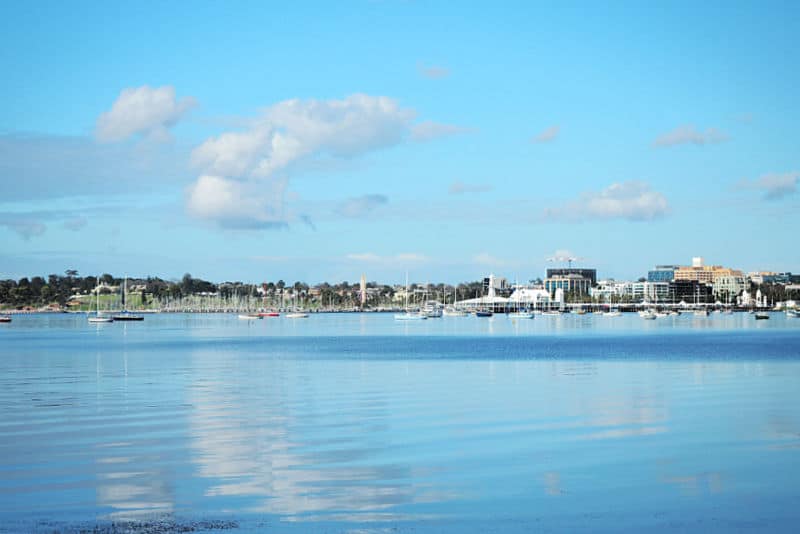 In this article, I will help you find the top Geelong luxury accommodation that best suits your needs.
Whether you're looking for Geelong 5 star accommodation, the best Geelong hotel accommodation, or up-market Geelong accommodation apartments, we have you covered.
Here is our list of the top luxury accommodation Geelong has to offer.
Travelling on a budget and looking for cheap places to stay in Geelong? Read our guide to the best motels in Geelong. 
Comparison Of Luxury Accommodation In Geelong
In the following best accommodation Geelong list, find all our top options for the best accommodation in Geelong Vic.
Top 8 Geelong Luxury Accommodation
Below, you will find full reviews of each of our choices for the best Geelong holiday accommodation.
Luxury Hotels In Geelong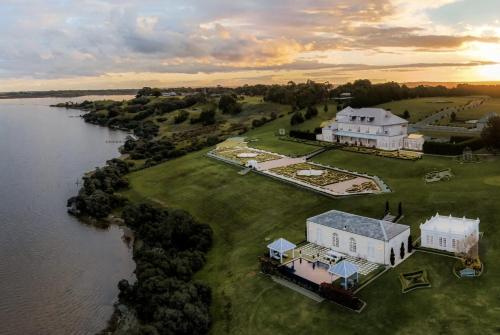 Nestled on the northern shore of Lake Connewarre, Campbell Point House offers outstanding luxury accommodation.
Inspired by a French chateau, this exceptional boutique hotel is perfect for anyone that wants privacy, peace, and pampering.
The hotel is ultra-private, accepting no more than 30 guests at any one time. Guests have a variety of accommodation options including Mansion Suites, The Master Suite, The Lake House, The Cottage, and The Stables.
All rooms have their own private ensuites with a walk-in shower, The Master Suite also features a luxurious bath.
Click here to see the latest prices.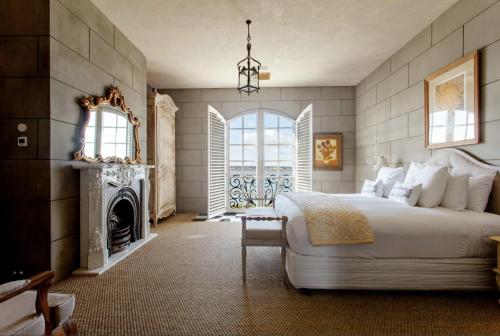 Rooms are decked out with quality fixtures and furnishings that have been sourced from around the globe. Enjoy glorious king-size beds, lavish linens, opulent lounge chairs, and grand marble accents.
In addition, Campbell Point House features an infinity pool, tennis court, billiards room, and a day spa.
The hotel restaurant offers fine dining with an unforgettable 8-course chef selection degustation menu option.
This is easily our pick for the best hotel in Geelong.
Click here for more information.
Watch this video to see why this is the best 5-star accommodation Geelong, Victoria has.
Best Things?
The emphasis on quality and outstanding service. The ambience, lush surroundings, and picturesque setting.
Worst Things?
The hotel is not within walking distance of attractions, shops, or other facilities.
Summary
Campbell Point House offers luxury boutique accommodation near Geelong. This is the best option for anyone looking for Geelong resort accommodation.
Treat yourself to a night in elegant million dollar luxury accommodation!
Click here for the latest prices.
With its top location and fantastic views, the Novotel Hotel is one of the best places to stay in Geelong.
Situated right on the Waterfront it's surrounded by cafes, restaurants and bars, as well as some of Geelong's top attractions.
All the 109 guest rooms have balconies, the best with water views. Other room amenities include complimentary wifi, iPod docking station, air conditioning, and a flatscreen TV with cable channels.
This top-class Geelong hotel also offers a 24-hour In Balance fitness centre, a steam room, and an indoor heated pool.
Click here for more information.
The Waterfront Restaurant on the ground level serves a Mediterranean influenced menu and has a lovely outdoor terrace overlooking Steampacket Gardens and the bay.
Best Things?
It's top location, stunning views, and full hotel service with fast easy check-in.
Worst Things?
Having to pay for the onsite parking.
Summary
This Geelong Waterfront accommodation has everything you want from a first-rate hotel – views, location, pool, and service.
Click here for the latest prices. 
Luxury Accommodation, Geelong Waterfront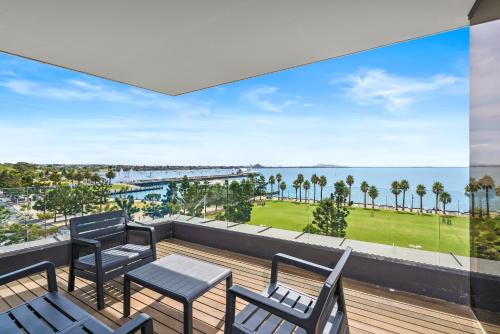 This top luxury accommodation in Geelong Waterfront offers spectacular water views and the location to match.
Sitting right on Eastern Beach Road, the Edgewater Apartments Geelong has easy access to cafes, restaurants, nightlife, shopping, and popular attractions.
The spacious penthouse has 3 separate bedrooms with queen size beds, a designer kitchen with a fridge and microwave, and euro laundry.
Best of all, the open plan living and dining opens onto a decked balcony with to-die-for bay views.
Guests are welcome to take advantage of the indoor pool, well-equipped gym and steam room, and the rooftop garden and barbecue area. While the free secure parking offers peace of mind.
Click here for more information.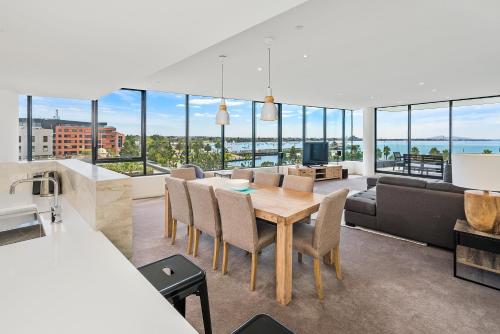 Best Things?
The unbeatable location, the balcony, and panoramic views.
Wort Things?
Check-in can be a bit annoying as it takes place in a different building.
Summary
A spacious designer styled penthouse apartment with stunning views that's close to everything. If you're wanting the best luxury Waterfront accommodation Geelong, then this it.
Click here for the latest prices.
The Vue serviced apartments Geelong has accommodation options to suit everybody. On offer are studio, one and two-bedroom apartments, and family rooms.
The stylish apartments have an open plan design with well equipped European style kitchens and luxury bathrooms with rain showers.
Other features include big comfy beds, free Wifi, LCD TVs with Foxtel channels, and secure undercover parking.
The Vue Geelong is ideally located in the Waterfront precinct and guests can enjoy wonderful views over the city, gardens, and Eastern Beach from their private balconies.
Click here for more information.
Best Things?
The comfort and style, views, and the excellent location that's close to everything.
Worst Things?
The car parking bays can be a bit small for large vehicles.
Summary
Contemporary self-contained serviced apartments in a great location with balconies and views, that are suitable for all types of travellers.
Click here for the latest prices.
Geelong Accommodation Apartments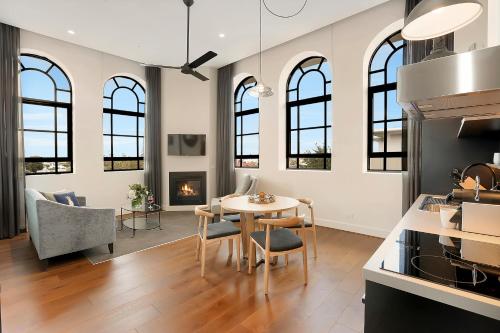 If you're looking for stylish Geelong apartment accommodation, then the Devlin Apartments are a great choice.
Housed in an old heritage listed technical school building these sophisticated apartments have 3 distinct styles – Modern, Industrial, and New York.
There are 27 fully self-contained one and two-bedroom apartments. Guests can enjoy the comfort of electric blankets, a rainfall shower, a coffee machine, a washer and dryer, and a well-equipped kitchen.
Some rooms have added extras like a spa bath and a private balcony. Other amenities include free wifi and complimentary car parking.
Click here for more information.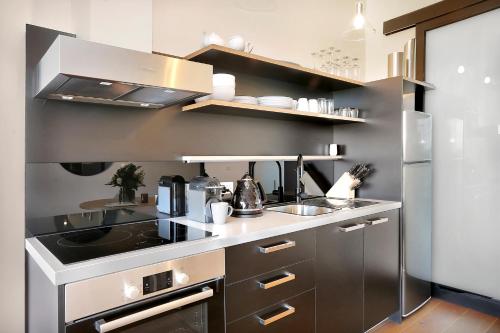 Devlin's is located on the edge of the Geelong CBD close to the Geelong Cats Football Ground.
Best Things?
The clean modern design with elegant finishes, and the convenient free car parking.
Worst Things?
It's on busy Moorabool Street and some rooms may get some traffic noise.
Summary
If you're looking for self-contained accommodation Geelong Vic, then the Devlin Apartments are a smart and contemporary choice. A stay here will not disappoint.
Click here for the latest prices.
The Quest Apartments Geelong are ideally located close to the Waterfront within an easy walk of restaurants and cafes.
There are 35 serviced apartments offering a range of room types from studio to 1, 2, and 3 bedroom apartments. The Studios are furnished with kitchenettes and are perfect for solo travellers and those looking for an alternative to the hotel accommodation Geelong offers.
The modern apartments boast fully equipped kitchens, laundry facilities, and private balconies with outdoor furniture. They're ideal for families and groups travelling together.
The spacious and spotless rooms are well-appointed with daily housekeeping service, LCD TVs with Foxtel channels, and high-speed internet access. Guests have access to free secure underground parking.
Click here for more information.
Best Things?
The spotlessly clean modern rooms and the helpful and friendly staff who go the extra mile.
Worst Things?
The balconies don't have any views.
Summary
With its ability to accommodate both solo travellers and groups of people, the Quest Apartments are the perfect option for a range of travellers.
Click here for the latest prices.
Luxury Accommodation Geelong CBD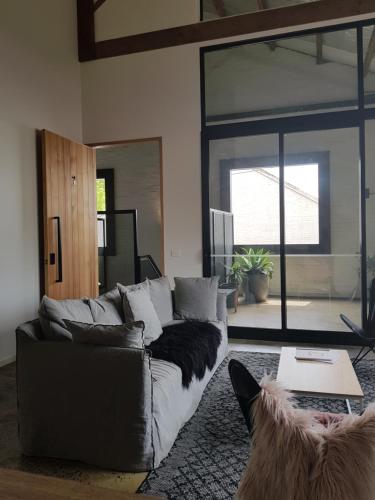 Tucked away in the Western Wedge Art Precinct, The Warehouse provides chic industrial style accommodation in an old cough medicine factory.
The stylish two-bedroom apartments have natural light, slick polished concrete floors, and soaring ceilings. There are three to choose from and each one offers split system heating and cooling, a well-appointed kitchen, a flat-screen television, washing machine, and comfortable beds.
Other features include a patio or terrace and free private parking.
The apartments are well located within walking distance of the Waterfront and many Geelong tourist attractions, as well as the train station.
Click here for more information.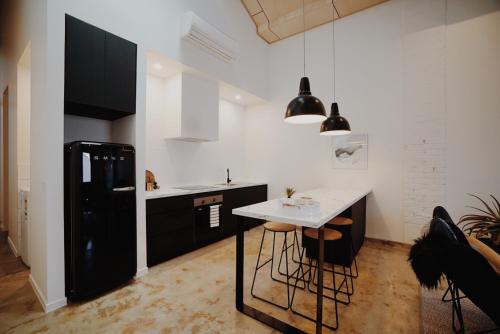 Best Things? 
The cool contemporary design and helpful hosts.
Worst Things?
Wifi is not available.
Summary
The Warehouse Apartments are perfect for anyone looking for Geelong CBD accommodation that's quiet enough for a good night's sleep.
Click here for the latest prices.
Nomads Nest offers the best value for money luxury short term accommodation, Geelong area has. There are 4 stylish purpose-built self-contained units that are ideal for both couples and singles.
Each option offers well stocked kitchens, luxury ensuite bathrooms with toiletries, free Wifi and Netflix, and complimentary rear parking.
As an added bonus guests can enjoy patios and balconies with city views.
Nomads Nest is close to a range of restaurants, cafes, and the Geelong nightlife. As well as the Waterfront, Kardinia Park and the AFL Football Ground.
Click here for more information.
Best Things?
The helpful hosts and great location on the Gheringhap Street hill. You can leave the car behind and walk everywhere.
Worsts Things?
This accommodation is not suitable for families.
Summary
This is a great choice for travellers wanting luxury apartment-style accommodation in a convenient location. Put Nomads Nest at the top of your list of places to stay, Geelong.
Click here for the latest prices.
I hope you've found this guide to the best luxury accommodation in Geelong useful. You can also find other Geelong accommodation options here.
Want to read more about Geelong? Find all the top things to do here.