Only an hour's drive from Melbourne, Geelong is a fabulous waterside retreat where you can get away from the urban madness of the big city.
It may be Victoria's second-largest city but it retains a distinct town-like quality, with friendly locals and a relaxed social vibe.
You could easily spend a week exploring all the things to do around Geelong. And its location makes it the perfect base to see the best tourist attractions in Victoria.
However, there are plenty of things to do in Geelong itself, and we've created a huge list of 51 things for you to enjoy.
So if you're wondering what to do in Geelong Australia, then this blog post is for you.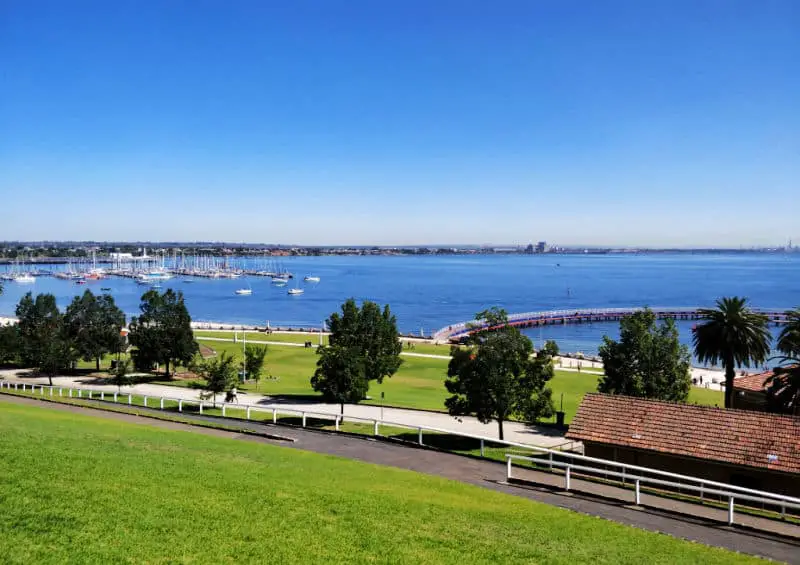 This post may contain compensated links. For more information read our disclaimer here.
If you're travelling on a budget we've got you covered with this guide to the free things to do in Geelong.
51 Things To Do In Geelong:
The Geelong Waterfront
Most people on holiday want a chance to relax, unwind, and spend time having fun.
And the Geelong Waterfront is the perfect place to do just that.
Overlooking the shimmering waters of Corio Bay it's one of the most spectacular waterfronts in Australia.
It's hard to believe it started life as a humble port. As it's now a cosmopolitan area full of restaurants, cafes, bars, and beautifully landscaped gardens.
It's easily one of the best things to see in Geelong.
Read our complete guide to Waterfront Geelong here.
1) Visit Eastern Beach Geelong
Eastern Beach is one of the most popular places to visit in Geelong.
It was built in the Art Deco style during the 1930s and boasts an abundance of history and charm.
It's a wonderful space to cool down on a summer's day, picnic or barbecue, have fun and relax.
The best way to enter is from the top of the gorgeous palm-tree-lined staircase. From this vantage point, you'll see the fountain, pool, promenade, and stunning Corio Bay.
Be sure to pause and take in the incredible vista spread out before you.
Click here to read our epic guide to Eastern Beach Geelong.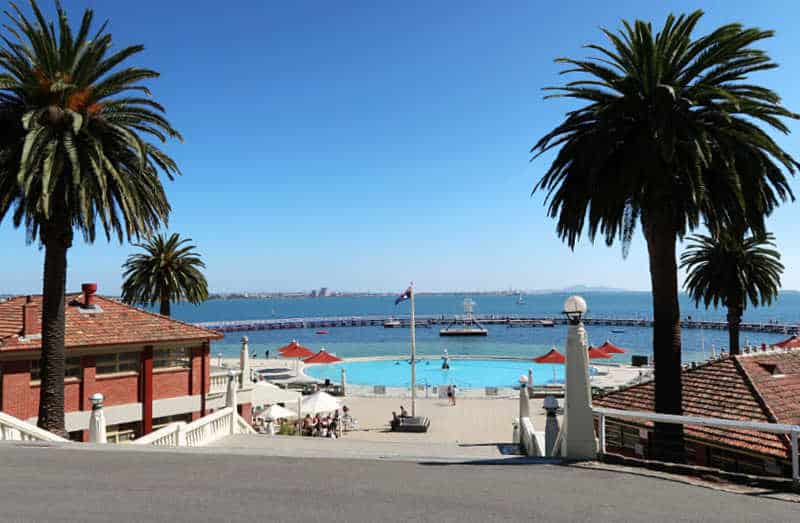 2) Stroll The Eastern Beach Promenade
On a warm day, it's lovely to buy an ice cream and take a stroll along the art deco promenade.
It's just as nice in winter but you might like to swap the ice cream for a hot coffee instead!
As you walk along you'll notice that each plank has a bronze plaque.
The plaques recognise local individuals, families, and businesses that helped fund the promenade's restoration in the 1990s by buying a plank.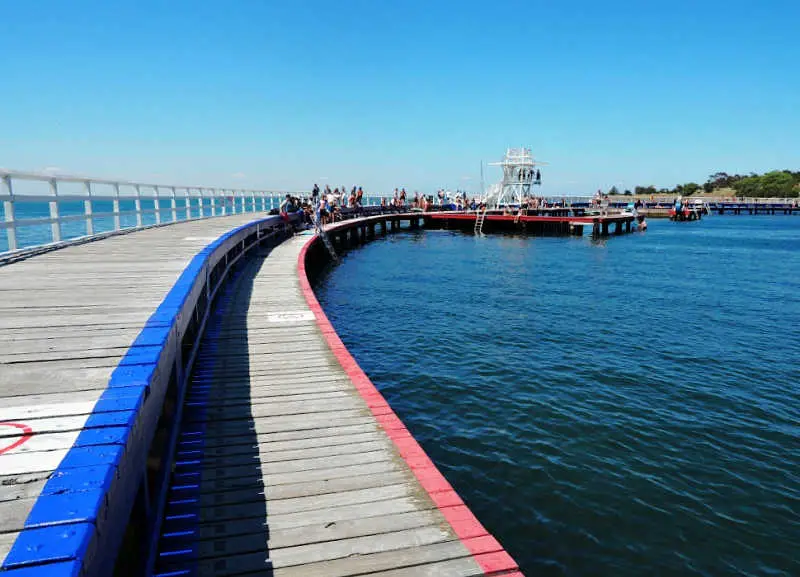 3) Snap A Pic With The Geelong Bollards
Local artist Jan Mitchell was commissioned to transform old timbers and piles from a damaged city pier into unique pieces of art.
The quirky artworks chronicle the city's past by focusing on some of its unique characters. From the original indigenous inhabitants to 1930s bathing beauties, to English explorer Matthew Flinders.
The Baywalk Bollards are located along the Waterfront from Rippleside Park to Limeburners Point and the Botanical Gardens.
See if you can find all 104 of them!
Don't forget your camera for that iconic Geelong photograph.
Click here to read our guide to the Geelong Bollards.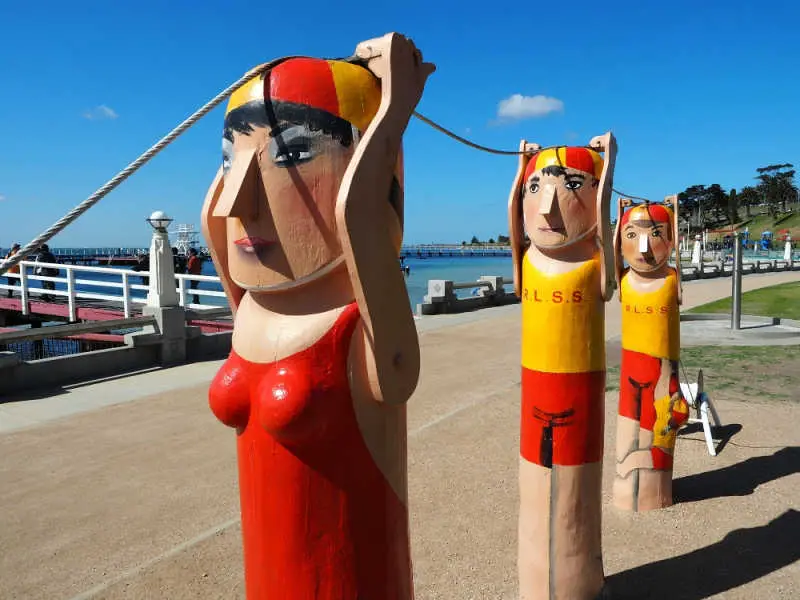 Fun Geelong Activities For Families
4) MoPA: Museum of Play and Art, Children's Museum
One of Australia's most acclaimed Children's Museums, MoPA, is based in a stunning heritage building at the top-end of the city on McKillop Street.
Highly popular among families with young children, this truly beautiful museum is packed with interactive exhibits that celebrate play-based learning.
The prices are reasonable, the cafe makes great coffee (Yay!), and the building is fully air-conditioned. An absolute must if you have young children.
It's a good idea to book ahead as MoPA is sold out on most days.
Click here to visit the MoPA website and view live ticket availability. 

5) Take A Dip In The Eastern Beach Swimming Enclosure
The Eastern Beach swimming enclosure is the perfect spot for families to visit.
Teenagers and kids love to spend hours enjoying the beautifully maintained facilities.
There are diving towers and platforms to jump off into the water below. And when they've used up all that energy, there are floating islands to laze on.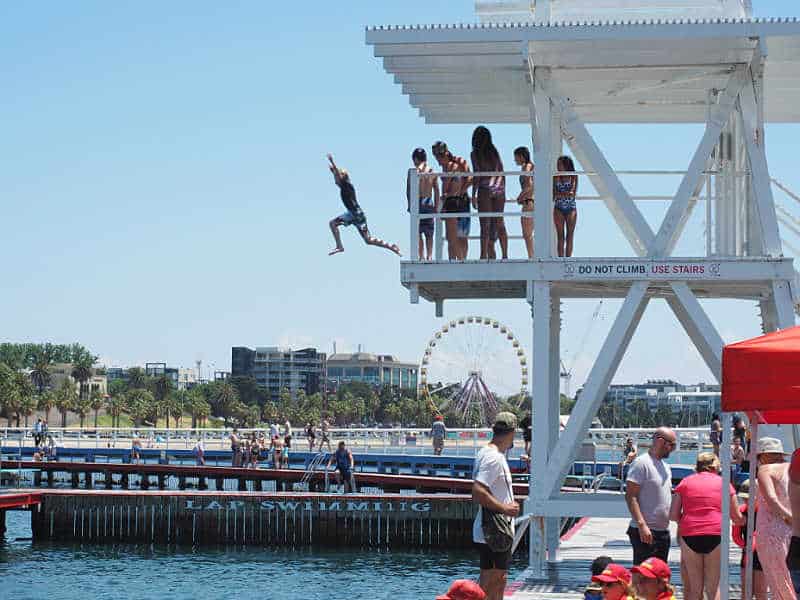 6) Catch The Views From The Top Of The Geelong Ferris Wheel
Summer in Geelong wouldn't be the same without the Sky Wheel dominating the skyline.
Each year the southern hemisphere's largest Ferris Wheel makes the Geelong Waterfront its home, bringing a dollop of carnival magic with it.
Take a ride and check out the spectacular views of Corio Bay from its heady heights.
In the evenings there's a glorious night show as the Wheel comes alive with over 24 stunning light patterns.
You'll find the Sky Wheel sitting on a patch of grass beside the Geelong Yacht Club – you can't miss it.
A ride takes between 7 and 10 minutes.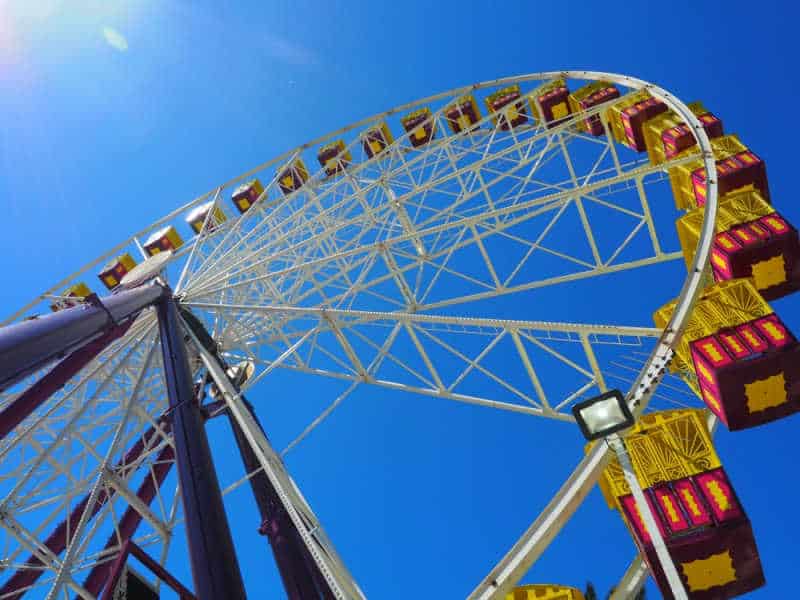 7) See An Outdoor Movie
During the month of December Steampacket Gardens becomes an open-air cinema.
Bring a picnic or grab a bite from one of the nearby eateries. Then find a spot to sit back, relax and enjoy a family movie.
8) Take A Helicopter Ride
Without a doubt, a helicopter ride will make your Geelong holiday a more memorable experience.
And what better way to see Geelong (see what I did there?) than from the air?
Sights include Corio Bay, Geelong CBD, Barwon River, Torquay, and the famous Bells Beach.
Geelong Helicopters operates daily from the Yarra Street Pier.
Prices vary according to time and the destination. There's no need to pre-book, you can just turn up on the day.
9) Ride The Waterfront Train
The hop-on-hop-off train is fun for the whole family.
Hop on at the carousel and it will take you on a leisurely ride to the Eastern Beach pools.
The journey takes about 20 minutes and the train leaves every half hour. (Every quarter-hour at peak times)
The train operates at weekends, and school and public holidays.
Cost: $9.00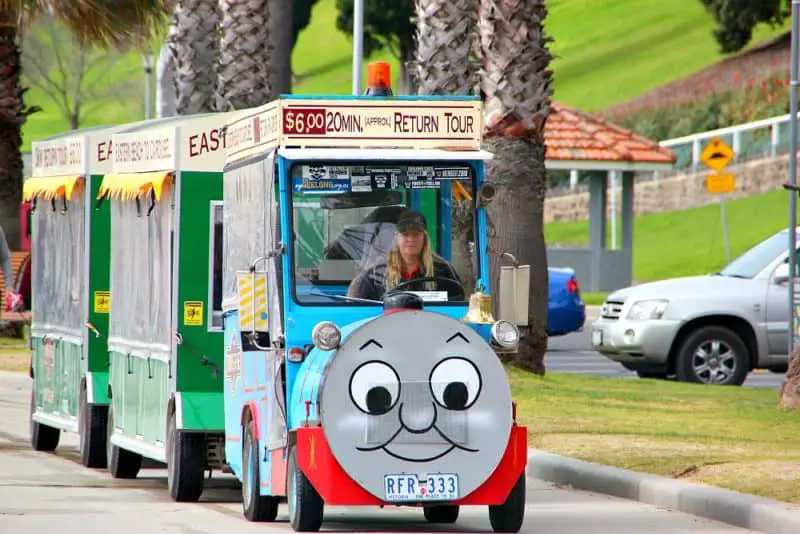 10) Have Fish And Chips At Geelong Boat House
Perched over the water on a secure barge is the award-winning Geelong Boat House serving top-notch fish and chips.
Dine-in on the 100-year-old barge, or borrow a picnic rug and chow down on the grass embankment.
Spending the day on your boat? Don't worry the helpful staff will lower your lunch right into your craft.
How cool is that?
You'll find the Boat House at Western Foreshore Road, Western Beach – look along the water.
Phone (03) 5222 3642 to order ahead.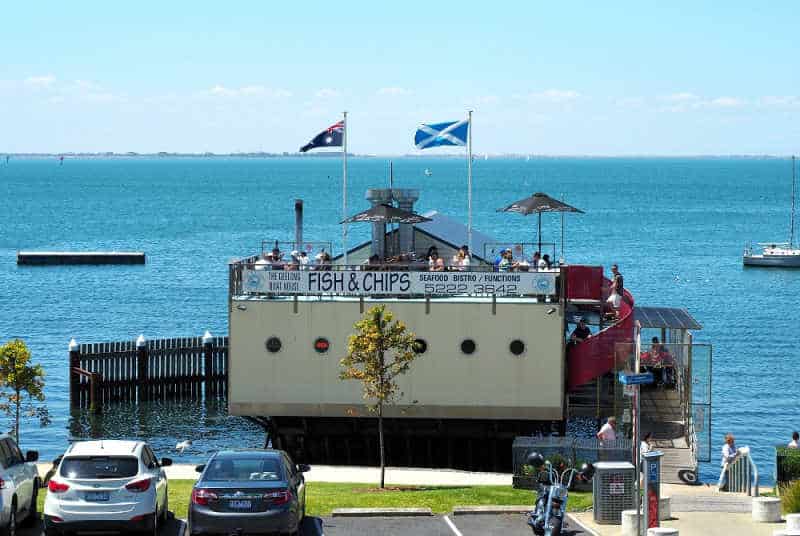 Art And Culture
11) Browse The Geelong Library And Heritage Centre
The Geelong Library and Heritage Centre are located in the heart of the city's cultural precinct.
The pride of Geelong, the building features a unique geodesic dome made from glass and reinforced concrete. And honestly, as much as I love the library it does remind me of a giant golf ball!
There are five levels available to the public including an entire floor dedicated to children and young people.
The library houses a range of print, multimedia, and heritage items. There are reading rooms, comfy chairs to curl up in, free Wifi, and high-speed internet access.
If you fancy a bite the Geelong library cafe named "Public" serves delicious food, wine, and coffee.
Complimentary tours of the library and heritage centre run daily at 11 a.m.
Tip: Be sure to take in the spectacular views from the level 5 balcony.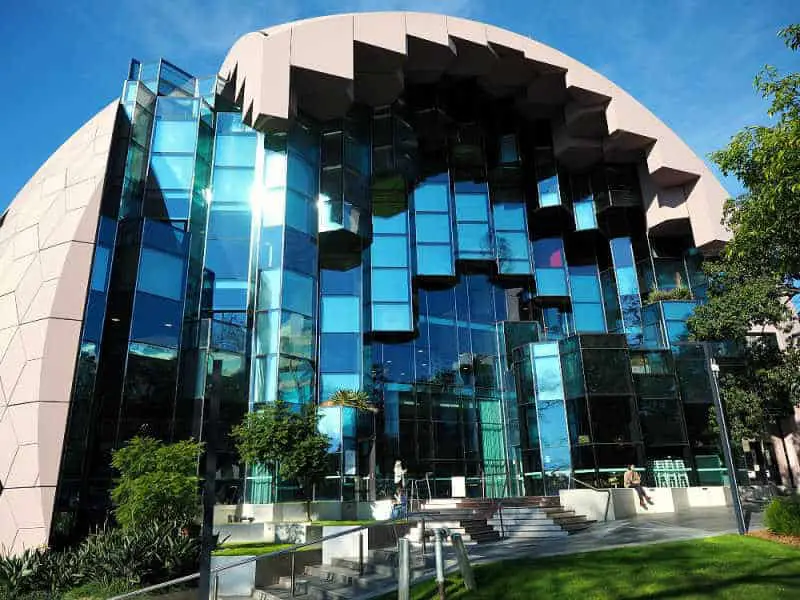 12) Visit the Geelong Art Gallery
Established in 1896, the Geelong Gallery is considered one of Australia's oldest and leading regional Art galleries.
It boasts an impressive collection of 19th and 20th century Australian and European artworks. Along with contemporary Australian paintings, prints, sculpture, and ceramics.
A focal point of the collection is early images of Geelong Victoria.
Of particular note is the iconic Eugène von Guérard's 'View of Geelong' (1856), and Frederick McCubbin's 'A bush burial' (1890).
The gallery has a dynamic program of temporary exhibitions, as well as a range of workshops, lectures, and activities.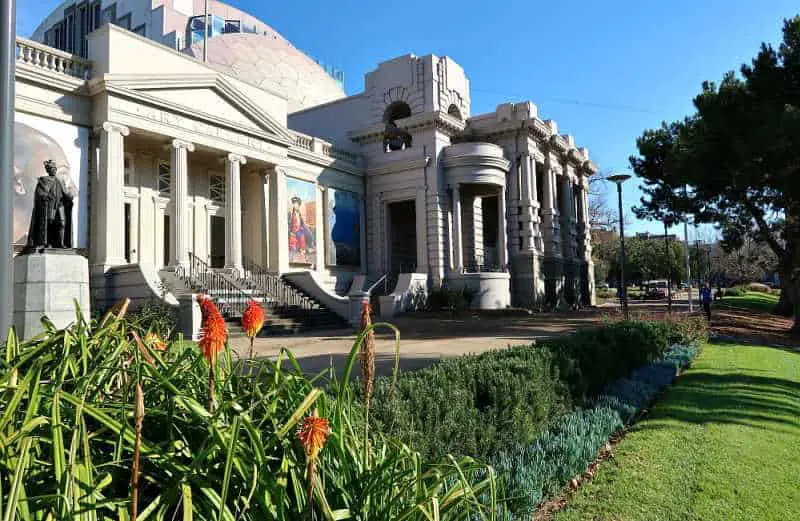 13) Enjoy Geelong Public Art
The City of Geelong proudly boasts a large number of public artworks in its collection.
Pieces are scattered throughout the town and tell local stories that enhance cultural identity.
A good example of this is the Barcode Fountain, which features a barcode from an original and iconic Geelong product – Noddy's Soft Drink.
And the Reflection Seat that's dedicated to the thousands of children placed in orphanages and children's homes across the region.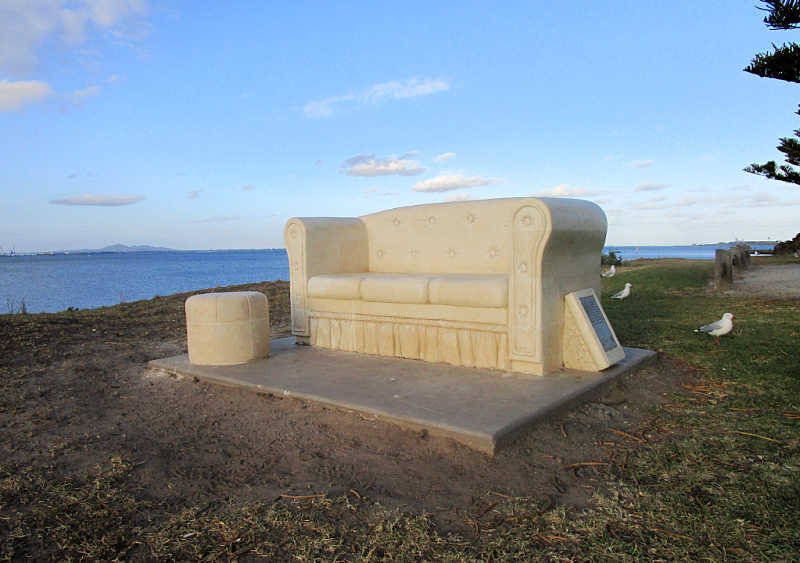 14) Check Out The Geelong Street Art
Take a walk through Central Geelong and see the many murals and graffiti art that add a splash of colour to the city's walls.
Not to be missed are:
To The Unknown Mariner by Cam Scale – This impressive artwork will take your breath away. Depicting the weathered face of an old man at sea it pays tribute to Geelong's maritime history. It's located on the side of the former Port of Geelong Authority in Brougham Street.
Moi-Yo-Miller by Michael Cassar – Geelong girl Moi Yo Miller was a famously beautiful magician's assistant in the 1930s. This marvelous mural sits on the corner of James St and Mimms Lane.
Union Street Mural – A designated community art space where colourful works of art are created by local artists.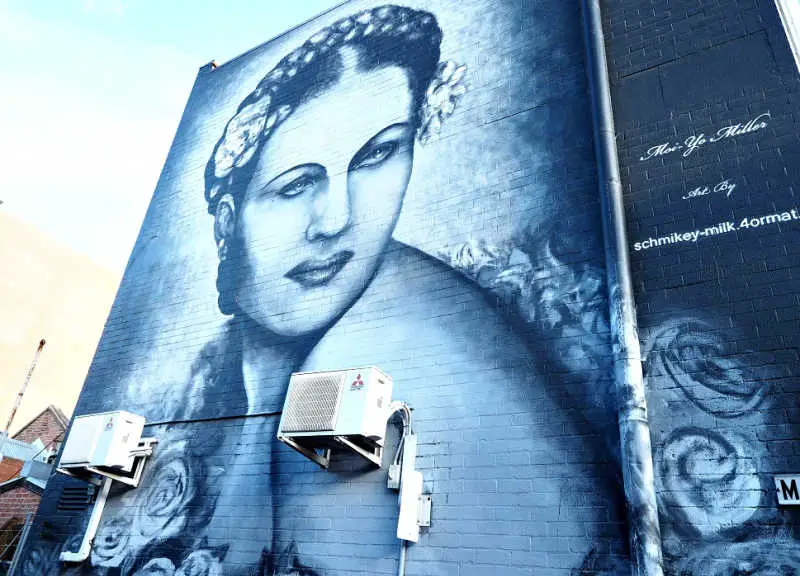 15) Visit Narana Aboriginal Cultural Centre
Narana is an award-winning Aboriginal centre that offers an authentic cultural experience.
A visit here gives you the chance to learn about the World's Oldest Living Culture through songlines, artworks, and cultural artifacts.
Narana's Art Gallery features work from both emerging and internationally acclaimed Aboriginal and Torres Strait artists.
The buildings are surrounded by lovely native gardens, where you can meet the resident emus, wallabies, and kangaroos.
Have a wander around before popping into the cafe for a taste of some Aussie bush tucker.
Educational programs are available for groups or you can explore on your own.
Read our post to find out more about Narana Geelong.
Open Monday-Saturday at 410 Surf Coast Hwy Grovedale. ph (03) 5241 5700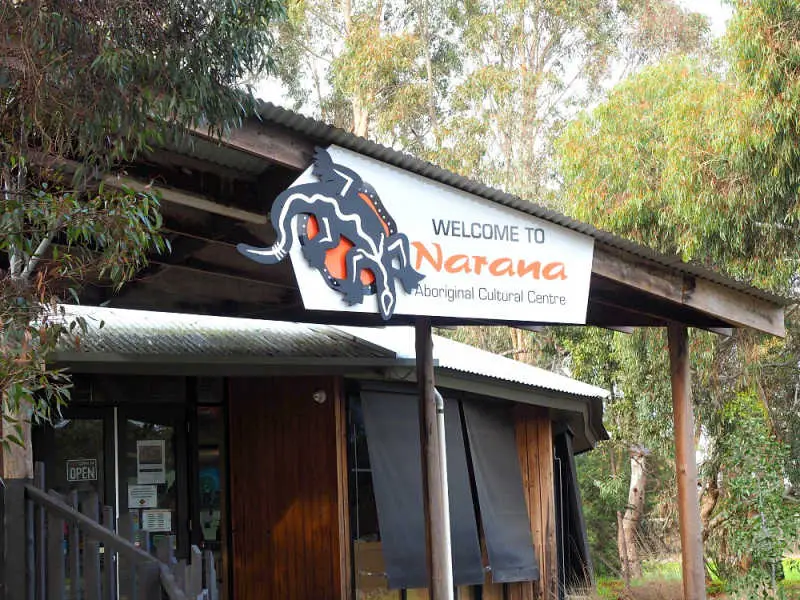 16) Learn About Our History At The National Wool Museum
Housed in a beautiful old bluestone wool store, the National Wool Museum Geelong is an Australian cultural treasure.
The museum tells the story of the wool industry since the arrival of sheep with the First Fleet in 1788.
The first woolen mills opened in Geelong in 1868 and the city's wool industry boomed. So much so that it became known as the "wool centre of the world".
The museum was established in 1988 and shows, amongst other things, how fleece is selected and turned into textiles.
There are lots of hands-on displays to keep the kids amused and school holiday activities.
Temporary exhibitions and programs provide extra value and we particularly enjoyed the Wildlife Photographer of the Year exhibition.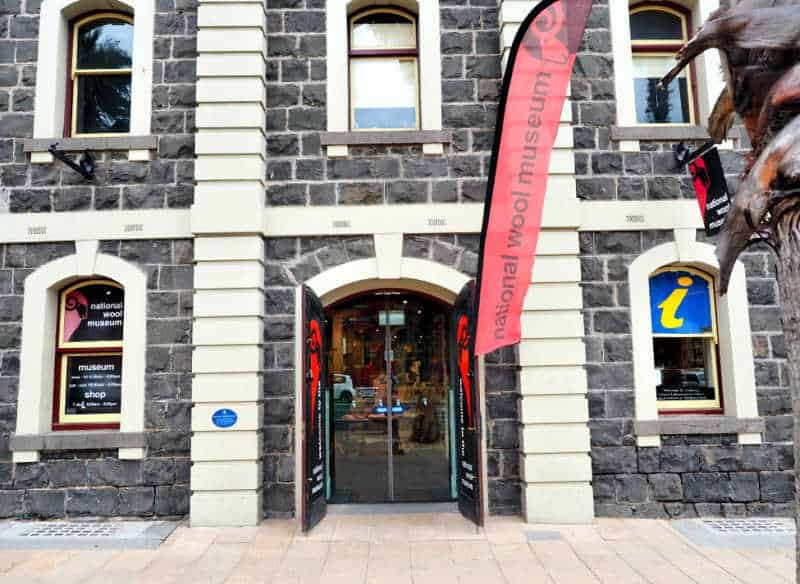 17) Take In A Show At Geelong Performing Arts Centre
The Geelong Performing Arts Centre (GPAC) is where people from throughout the region come to enjoy live entertainment.
Known for having some of the best performers, people are entertained with Family Magic, Musical Mornings, and theatre season programs. There are also film festivals, touring productions, concerts, and local theatre.
The centre has two major theatres, conference rooms and event spaces, a bar and a cafe.
GPAC is part of the Geelong Cultural Precinct in Little Malop Street.
You can find out more about Geelong Performing Arts Centre events by clicking here.
18) See A Film At The Pivitonian Cinema
The delightful Pivotonian is an independent boutique art-house cinema. It screens Australian, foreign, and independent films hand-picked from around the globe.
The cinema is also host to Metropolitan Opera and National Theatre Live productions. And there's a fully-licensed candy bar that offers local beer and wine along with delicious snacks.
Moorabool St and Verner St, South Geelong. 
Fun Fact: In the Gold Rush era Geelong was known as Pivot City and a person from the town was known as a Pivotonian.
Geelong Wineries
There are over 60 boutique wineries in the region producing premium quality handcrafted wines.
The area has three sub-regions – Moorabool Valley, the Surf Coast, and the Bellarine – each with its own microclimate.
The family-owned operators produce handcrafted wine that allows distinct regional characteristics to develop.
With so much amazing wine flowing in the area, why not try some of Victoria's best cellar doors?
19) Taste Some Fabulous Geelong Wine
Thanks to early Swiss settlers, the Geelong district is the largest grape-growing region in Victoria.
It's undergone a revival in the past couple of decades as winemakers re-discover the unique climate and rich soils.
Award-winning wines are produced from vineyards surrounded by some of Victoria's best scenery.
Many of the wineries have cafes and restaurants where you can enjoy a superb meal with a perfectly matched wine.
Click here for more information about the best Geelong winery tours.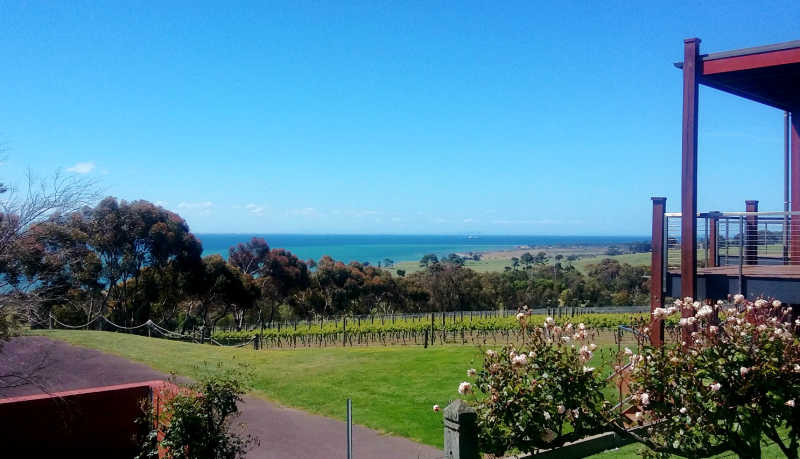 Geelong Breweries
Craft beer drinkers are spoilt for choice in Geelong.
As the beloved brew has become a large part of the food and beverage scene in the town. And breweries, cider houses, and distilleries are popping up all over the place.
20) Try A Furphy
Geelong's own beer Furphy is a refreshing ale made from 100% Victorian hops and malt.
Originally only available in Geelong pubs it's quickly becoming Victoria's most beloved beer brand.
The best place to try Furphy beer is at Little Creatures Brewery Geelong.
You'll find Little Creatures at 221 Swanston St Geelong. Ph: (03) 5202 4009
Fun Fact:  Furphy is Australian slang for a rumour or story that isn't true.
Other favourite venues:
White Rabbit Brewery
Little Creatures sister brewery. It has an impressive barrel hall for ageing beers and has a lovely Provedore.
221 Swanston Street Geelong.
Saturday-Thursday 11 a.m-5 p.m, Friday-Saturday 11 a.m-9 p.m
Flying Brick Cider House
Located at the entrance to the Bellarine, the Flying Brick has a wonderful grass al fresco dining area. Enjoy cider tasting paddles, and the fabulous beer and wine selection.
1251-1269 Bellarine Hwy Wallington.
Open 7 days.
Lunch from 1130 a.m. Dinner Friday-Saturday from 6 p.m.
Read our guide to find the best Geelong breweries and distilleries.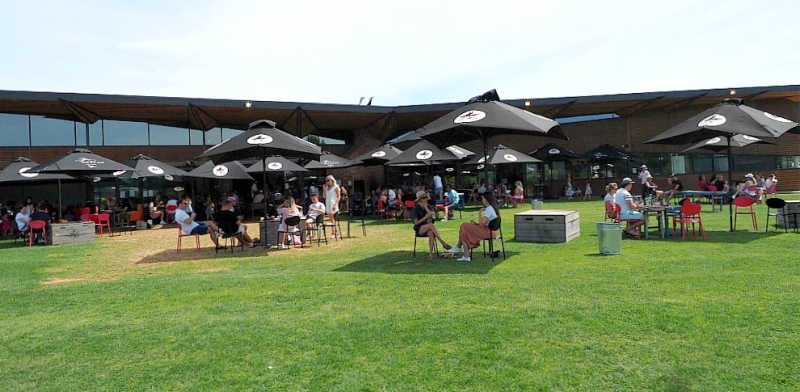 Activities In Geelong
21) Be Terrified At Geelong Gaol Ghost Tours
If you're looking for things to do in Geelong at night, then how about a ghost tour?
This tour takes you through one of Australia's most intact convict prisons.
The three-story blue stone gaol opened in 1853 and the primitive conditions inside made it hell on earth.
The building has had various uses from an industrial school for young girls, a prison for the ill, to a military detention barracks.
Be haunted by stories of convicts, murderers, and lunatics on an after-dark ghost tour. You'll be taken through punishment cells, shower blocks, exercise yards, kitchen, infirmary, and operating theatres.
Tours are led by costumed guides, take 90 minutes, and are available seven nights a week at 8 p.m.
Ticket Prices: Adults: $33.00 Children $22.00 Family $115.00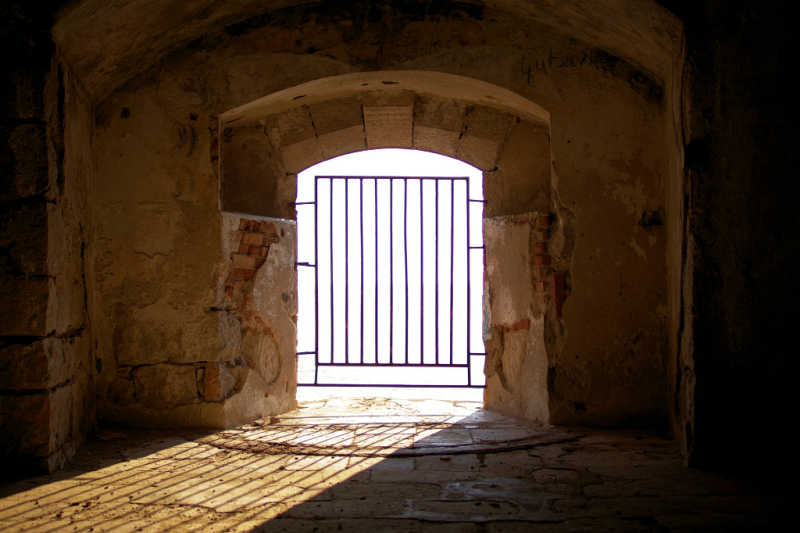 22) Explore With Segway Geelong
Segway Geelong operates on the waterfront and out of Leura Park Estate Vineyard on the Bellarine.
Leura Park Estate tours are a 90-minute tour amongst the vines. You can simply do the tour, or add a beautiful lunch at the end.
The Geelong Waterfront tour is a fun 60 minute Segway ride around the picturesque Geelong Waterfront and Eastern Park.
For more information click this link.
23) Attend An Australian Football League Match
Soak up the electric atmosphere at a live AFL match at Kardinia Park starring the Geelong Cats.
One of the oldest Australian Rules Football teams and beloved by the people of Geelong. Attending a match is one of the most iconic local things you can do.
The stadium itself is impressive with the 'Cats Claws' rising from the side of the building. And the spectacular stadium lights that can be seen all over town.
There's nothing more thrilling than game day. When the stadium comes alive with 35,000 fans cheering the Cats on to win.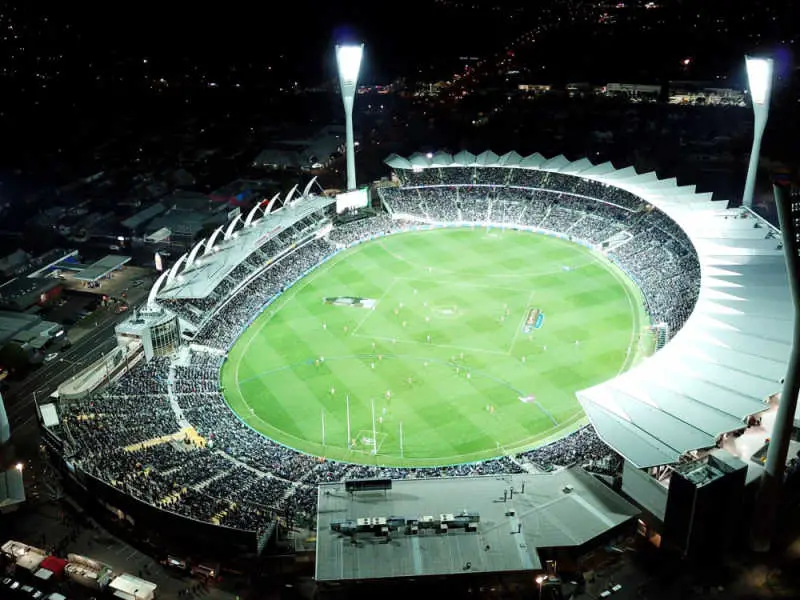 24) Go Sailing
The Royal Geelong Yacht Club invites visitors to take advantage of Welcoming Wednesday VRCA Twilight Sailing.
This is a great opportunity to meet skippers and crew, and most importantly have an enjoyable evening on the water.
If you would like help in finding a boat to sail phone 5229 3705.
Held weekly from October to March.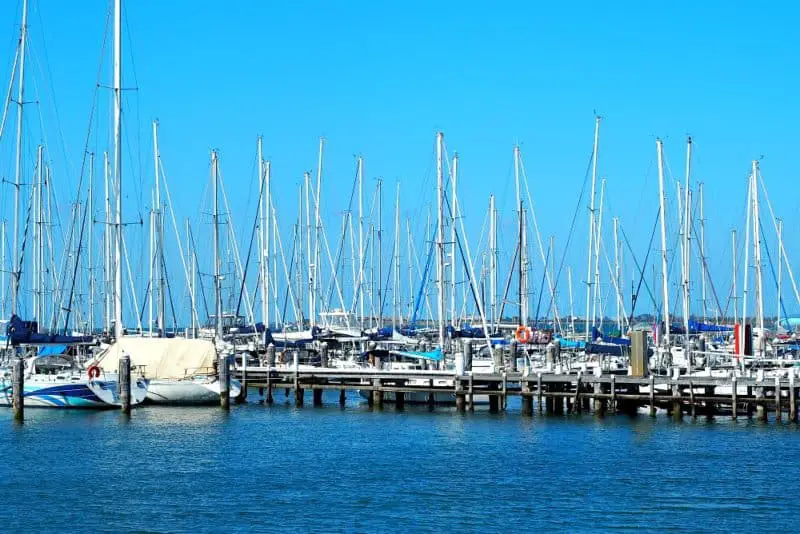 25) Test Your Problem-Solving Skills At Escape Room Geelong
Test your problem-solving skills at the Escape Room and unravel the mystery of a hidden room to escape from.
Mad Scientist: Find clues, solve puzzles, and progress from stage-to-stage until you escape.
Located in Belmont Geelong Victoria
Prison Break: With optional handcuffs and shackled together you have 45 minutes to pick your cuffs and work together to escape your Prison Cell.
Located in Old Geelong Gaol 202 Myers Street Geelong 3220
Vault Heist Geelong: With 50+ puzzles, you get 45 minutes to heist as much loot as you can.
Located in Old Geelong Gaol As Above.
By appointment only. For more information go to their website here.
26) Learn How To Stand Up Paddle Board
The calm (usually) flat waters of Corio Bay make it perfect for Stand Up Paddle Board novices.
And the Geelong Waterfront is an excellent spot for lessons in a safe, fun, and protected environment.
WSUP offers lessons – weather permitting. Phone 0439 113 457.
27) Play A Round Of Golf
Some of Australia's best and most challenging golf courses are found in the Geelong region.
Many of the courses have spectacular views of the bay or ocean and are a fantastic way to relax over a round of golf.
Here are some golf courses in Geelong itself.
Queens Park Golf Club: Scenic Road, Highton. Phone – (03) 5222 1772
Barwon Valley Golf Club: Barwon Heads Road, Belmont. Phone – (03) 5243 5443
East Geelong Golf Club: Eastern Park, East Geelong.  Phone – (03) 5229 3634
Geelong Golf Club: Ballarat Road, North Geelong. Phone – (03) 4210 1010
Click here for our full review of the best Geelong golf clubs.

28) Explore The Barwon River
The Barwon River is a wonderful area for water sports, walking, cycling, fishing, and relaxing.
Stroll along the riverbank and enjoy the beautiful old river gums and natural wildlife. Bird lovers can try to spot the endangered orange-bellied parrot or if you make it as far as Buckley's Falls you may even spot a platypus.
There are plenty of spots to stop and enjoy a quiet moment. Bring a picnic or enjoy a bite at Barwon Edge Boathouse.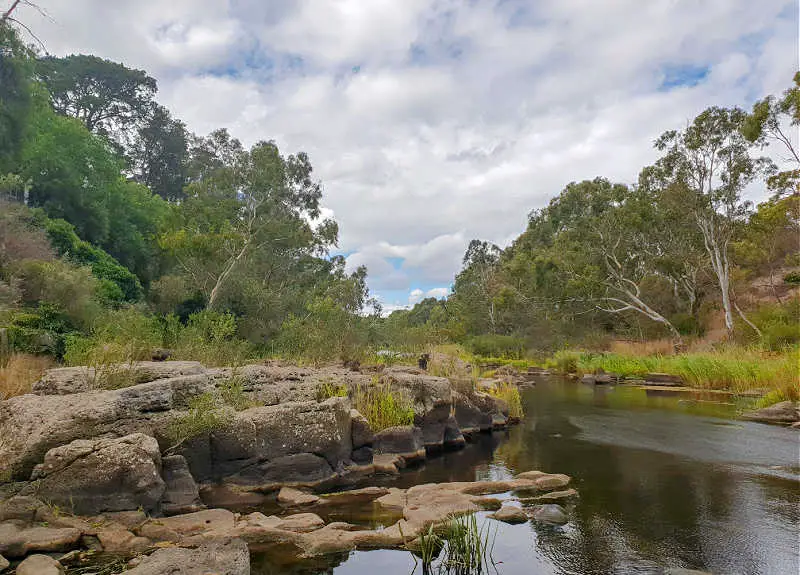 29) Order Lunch From The Mussel Boat
If all that Geelong sightseeing has made you hungry, then head to the Mussel Boat!
Selling fresh mussels at reasonable prices you can also buy take away seafood and paella.
The menu has a variety of offerings and all the food is cooked right on the boat.
There's an undercover area with tables and chairs or find yourself a picnic spot along the Waterfront.
You'll find the Mussel Boat next to the helipad behind Fisherman's Pier Restaurant.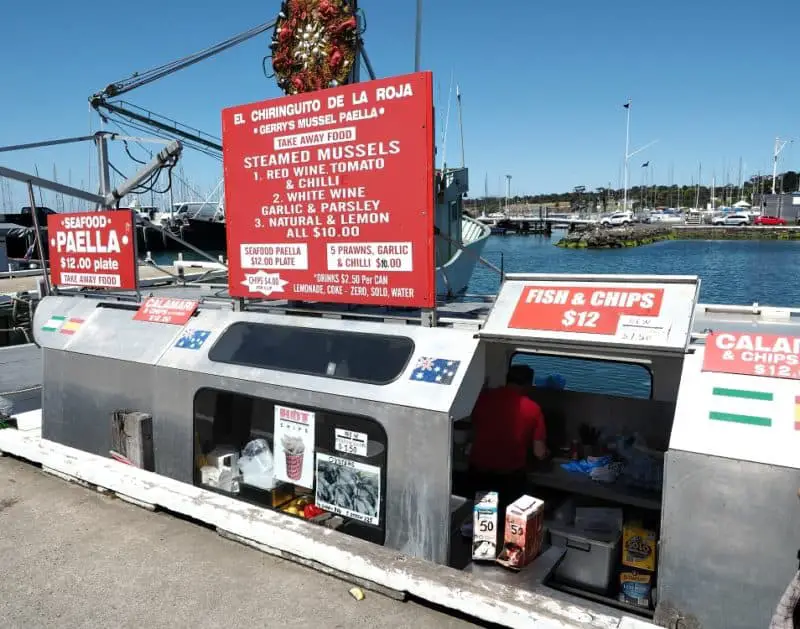 Kids Activities Geelong
There are heaps of fun things to do with kids in Geelong. And the city has lots to offer families with its great location by the water.
Here are just a few of the many things to do in Geelong for families.
30) Ride The Geelong Carousel
The enchanting carousel Geelong is a restored Armitage-Herschell portable steam-driven, hand-carved wooden carousel. (Try saying that 3 times fast)
Built in 1892, it's one of only 200 in operation around the world and features 36 Dare horses and two chariots.
It took more than 300 hours of work to restore each horse, and 40 layers of paint were scraped off each one to reveal the original colours underneath.
Tucked in beside the Carousel is a pipe organ that plays Dixieland tunes creating a carnival-like atmosphere.
You'll find the historic Carousel next to Steampacket Gardens in a specially designed enclosure. The modern steel and glass pavilion has huge windows with spectacular views over the bay.
Entry into the pavilion is free and tickets to ride the Carousel cost $5.00.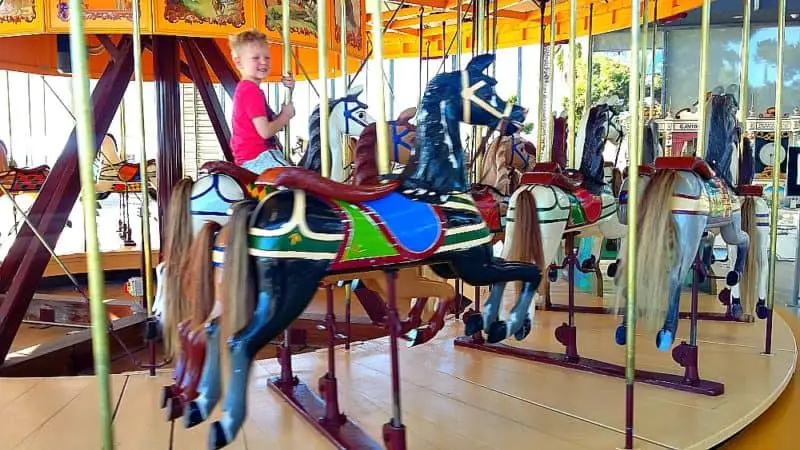 31) Have Some Playground Fun
There are two playgrounds along the waterfront.
One is located at Eastern Beach and has lots of physical challenges to keep the kids busy.
The other is the Poppy Kettle Playground that features a unique pyramid climbing net and an interactive water feature.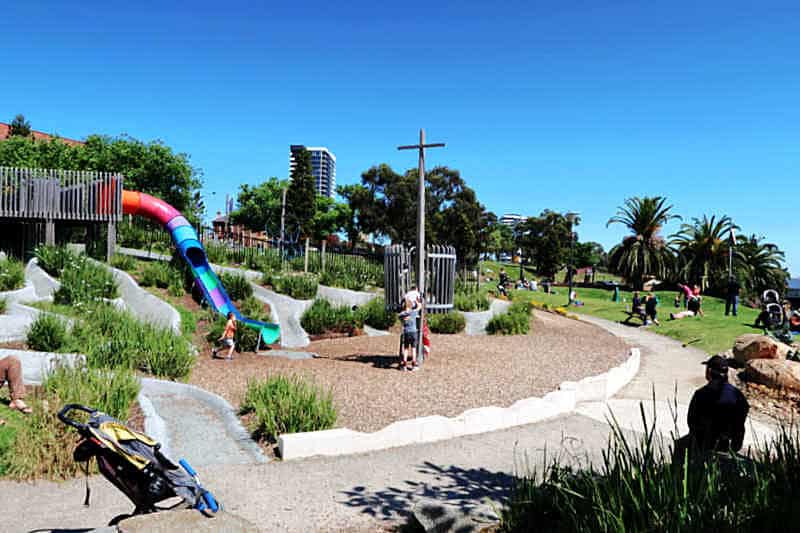 32) Visit LaserQuest
LaserQuest offers a range of state-of-the-art arcade games and experiences such as bowling in a bright family-friendly space.
Great for when it rains.
89 Malop Street Geelong.
33) Eastern Beach Swimming Pool
Located at the bottom of the Eastern Beach "Spanish Stairs" is a free public swimming pool.
The pool is great for children as it isn't deep and it's patrolled by lifeguards in the summer months.
This Geelong beach pool is open all year round. But, in the winter months, it's mostly used by local footy players as part of their recovery sessions. Brrr!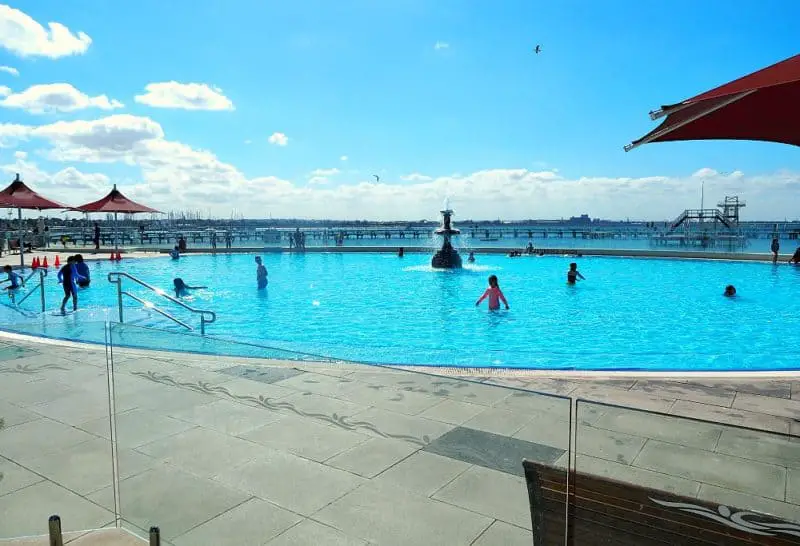 34) Go Skating At Geelong Skate Park
An outdoor plaza-like park with speakers and lights, an iPod cable, basketball hoop, and a sitting area.
The well-constructed park is suitable for skaters, BMX riders, and scooters with many different street obstacles. Such as ledges, stairs, rails, and bank ramps.
There's often stereo music playing.
Aimed at 12 – 25-year-olds.
Located west of Cunningham Pier.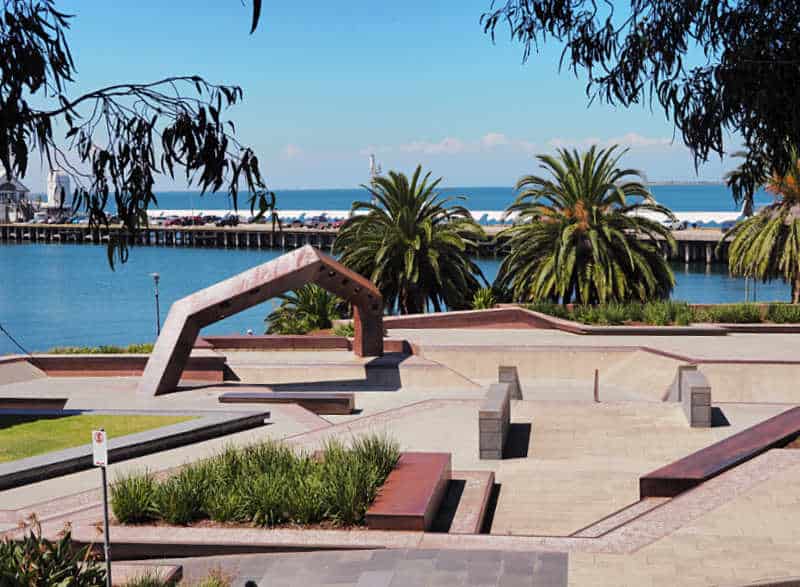 35) Have A Fun Day Out At Geelong Adventure Park
Visit Victoria's largest water theme park for a fun-filled family day out.
The park has 24 rides and attractions including waterslides and aqua play zones. However, there are dry attractions too like the Crazy Coaster and Ferris Wheel.
But it's the gigantic Tornado that everyone talks about. It's a thrilling ride on the state's biggest, longest, and most epic Tornado waterslide.
The tiny tots aren't forgotten either with tipping buckets, spray jets, and fountains providing endless water fun.
Open during the warmer months. End of October – April.
1249 Bellarine Hwy, Wallington. Ph: (03) 5250 7200.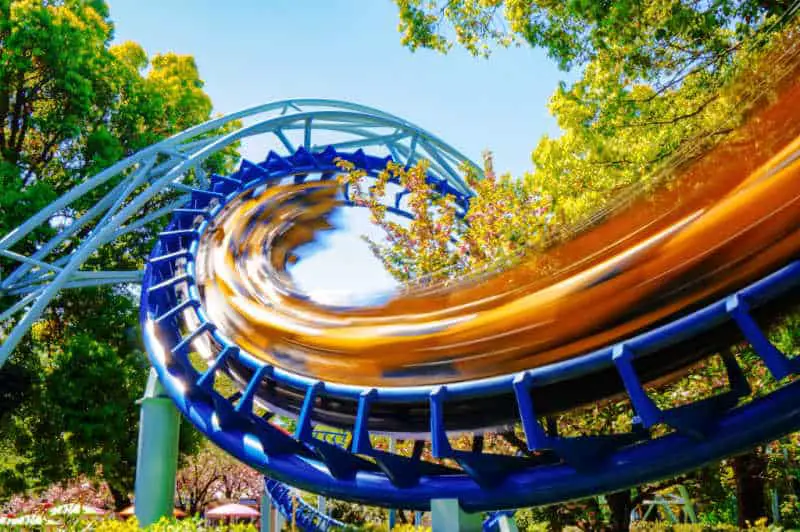 36) Go Skating At Rollerway Newtown
Rollerway is one of Australia's oldest skating rinks, having opened its doors in 1975.
It offers public and private General Skating Sessions, inline hockey, as well as classes and training programs.
General Public Skating: Friday night, Saturday, and Sunday.
6-8 Lambert Avenue, Newtown.
37) Have Some Bouncing Fun At Bounce Geelong
Bounce is a massive custom-built indoor mega trampoline and activity complex.
Let the kids run wild on 50+ interconnected trampolines, dodgeball courts, an air-mat, dunking area, supa climb arena, and five-storey playground.
There are a number of tables where parents can plug in and power up with free Wifi.
Entry fees are for participants only.
174 Torquay Road, Grovedale.
Open 7 days a week.
38) Get Lost At A Maze N Games
Lose the kids and get lost in Australia's largest timber maze.
Renowned for its clever design, challenge yourself to complete Australia's trickiest maze.
Then put your putting skills to the test at the 24-hole mini-golf course. Surrounded by trees and greenery the course has two difficulty levels that the whole family can enjoy.
There's a cafe where you can treat yourself to a coffee and delicious home-made cake. As well as a great undercover barbecue area.
Open 7 days 10 a.m. – 6 p.m.
1570 Bellarine Hwy, Wallington.
Geelong Parks And Gardens
39) Smell The Roses At The Geelong Botanical Gardens
Just a short walk up the hill from Eastern Beach you'll find the beautiful Geelong Botanic Gardens. One of our favourite places to visit in Geelong.
Built in 1851, the gardens feature plants from all over the world including some magnificent old trees. Several of the trees are registered on the National Trust Significant Tree Register.
The gardens have an air of history with a number of heritage buildings in good repair. The most popular being the cute Tea House that sells coffee, tea, cakes, and snacks.
A highlight of the grounds is the glorious rose garden and impeccably maintained lawn areas.
Open daily the gardens are a favourite setting for weddings and wedding photography.
Best in spring when the roses are in bloom.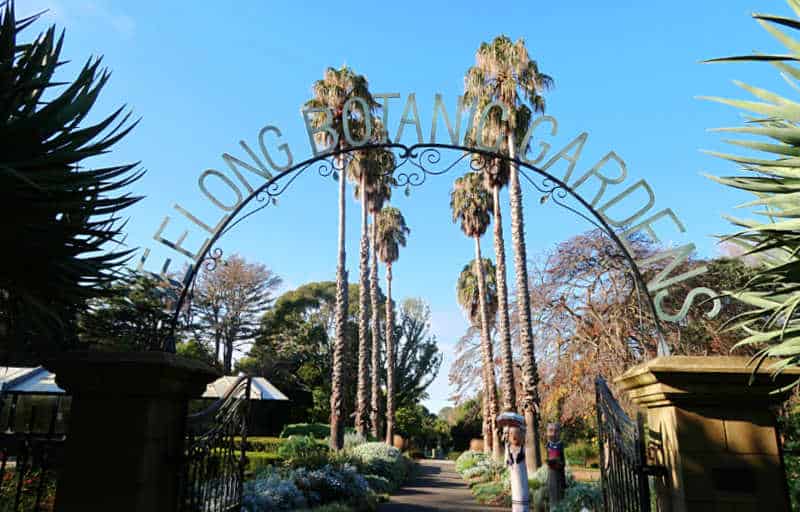 40) See The Bats In The Eastern Gardens
The Eastern Gardens is a great spot to enjoy the fresh air and outdoor activity. With over 185 acres of sporting facilities, walking tracks, parkland, and recreation space.
Used by locals for jogging, walking, and cycling it encompasses the Geelong Playspace, Botanic Gardens, Limeburners boat ramp, and East Geelong Golf Course.
A unique feature of the park is the colony of bats that have made it their home. One of the largest species in the world, the Grey-Headed Flying-Fox, you can see (and hear) them near the golf course.
Signs provide interesting information.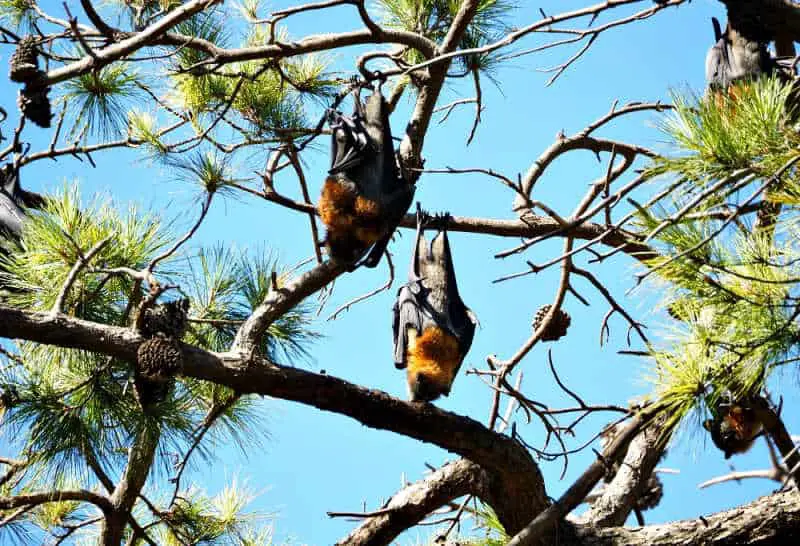 41) Meet Australian Wildlife At Jirrahlinga
Jirrahlinga is Aboriginal for "Seek a home for a kangaroo".
And Jirrahlinga Koala & Wildlife Sanctuary is a home for sick and rescued koalas, dingoes, kangaroos, and other unique Australian animals.
Run entirely on donations, it's not a large sanctuary but it has a big impact on the animals it rescues.
It's a wonderful place for adults and children alike to learn about Australian wildlife. And visitors are given the opportunity to get up close to some incredible native animals.
Open 10 a.m – 5 p.m 7 days a week.
Encounters are at 11 a.m, 1 p.m, and 3 p.m.
Taits Road, Barwon Heads.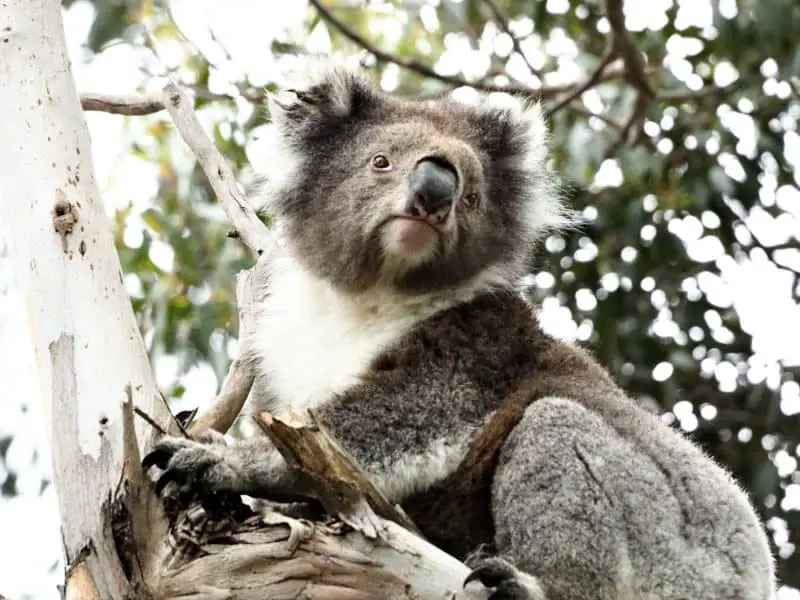 42) Go Hiking At The You Yangs
The You Yangs name comes from the Wathauraong People, meaning "Big mountain in the middle of a plain".
And the You Yangs are hard to miss rising from the flat plains between Geelong and Melbourne.
Popular for its magnificent views, You Yangs Park has fantastic walking, biking, and rock-climbing opportunities.
This is typical Australian bushland that holds plenty of wildlife. Keep your eyes peeled for koalas, kangaroos, wallabies, and if you're lucky an echidna.
Be sure to climb Flinders Peak, a challenging walk with 450 steps that take you to the highest point.
There are several picnic areas within the You Yangs Regional Park, as well as free barbecues.
Access to You Yangs National Park from the Princess Highway is clearly signposted via Lara.
Open 7 days. 7 a.m – 5 p.m outside daylight savings. 7 a.m – 6 p.m during daylight savings.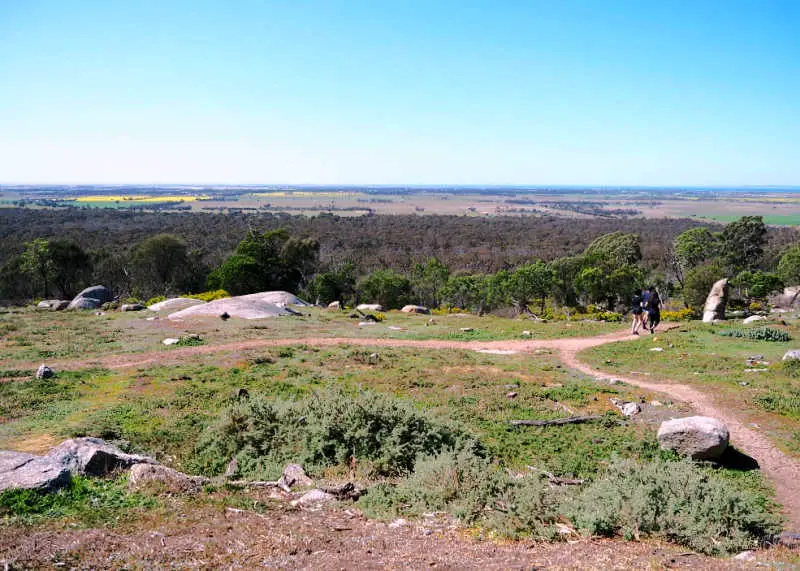 43) Take A Walk On The Wild Side At Serendip Sanctuary
This idyllic sanctuary nestled in the Lara bushland is a fantastic place to get close to Australian native animals.
There are several walking tracks of various lengths. The most popular is the Wildlife Walk which takes you past grazing emus, kangaroos, and wallabies.
With 150 different species of birds, the park is ideal for bird lovers. And there are viewing areas, bird hides, and flight aviaries perfect for bird watching.
See if you can spot the Tawny Frogmouth!
The park has an information centre, picnic tables, free barbecues, and toilets. Please take your rubbish with you.
Entry is free.
100 Windermere Road, Lara.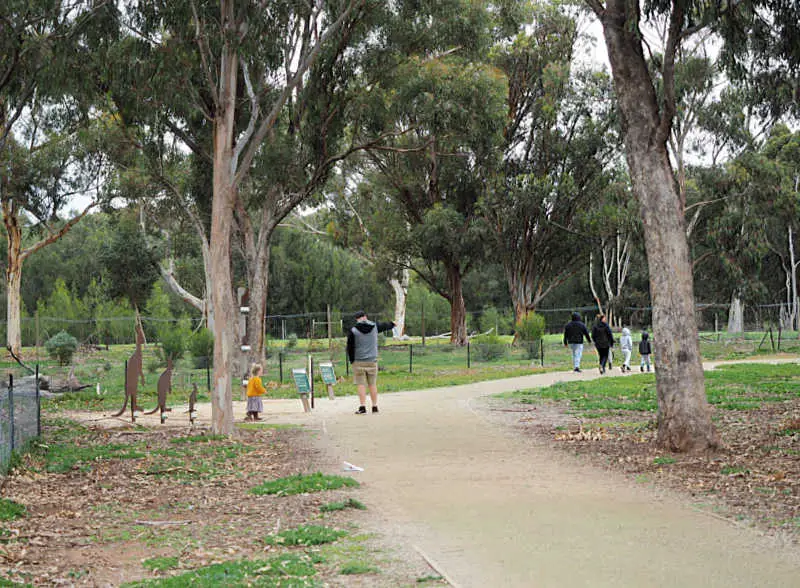 44) See The Brushtail Possums In Johnstone Park
Johnstone Park on Geelong's western edge was once a swamp that became a dam before it was transformed into a park in 1872.
It's edged on one side by the historic Town Hall, Geelong Gallery, Peace Memorial, and the Regional Library.
The park is used as a venue for several festivals throughout the year, including the Nightjar market and White Night festival.
A new 150 square metre rain garden enhances the lush feel of the garden. And helps remove stormwater pollutants through a series of terraced ponds and filtration system.
Visit at dusk on a warm night and you're bound to see brushtail possums fossicking around on the lawn or climbing trees.
Cnr Gheringhap and Mercer Streets.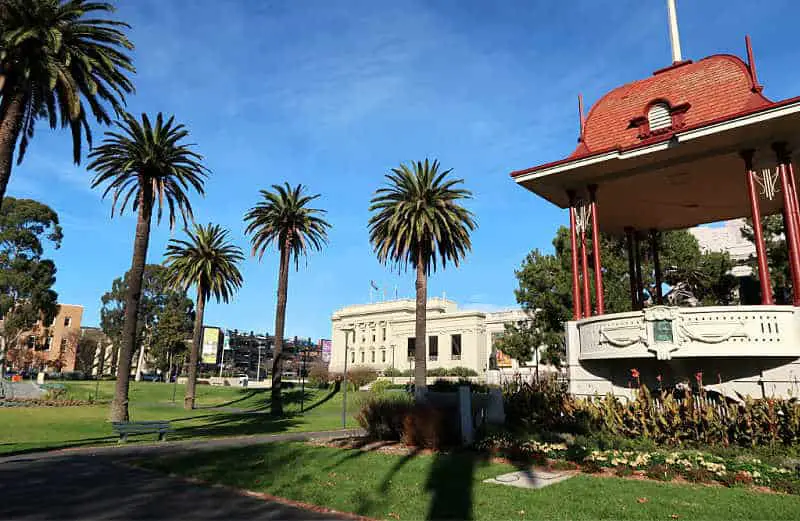 45) Have Family Fun At Rippleside Park
Rippleside Park is a beautiful foreshore reserve with stunning views over Corio Bay.
The park has a little sandy beach and a great walking track along the foreshore.
There's plenty of open space for a game of cricket or footy, and for the kids to run around.
As well as a fenced fort style playground.
There are barbecue facilities and No. 42 cafe where you can grab a coffee or a meal.
42 Bell Parade, Rippleside.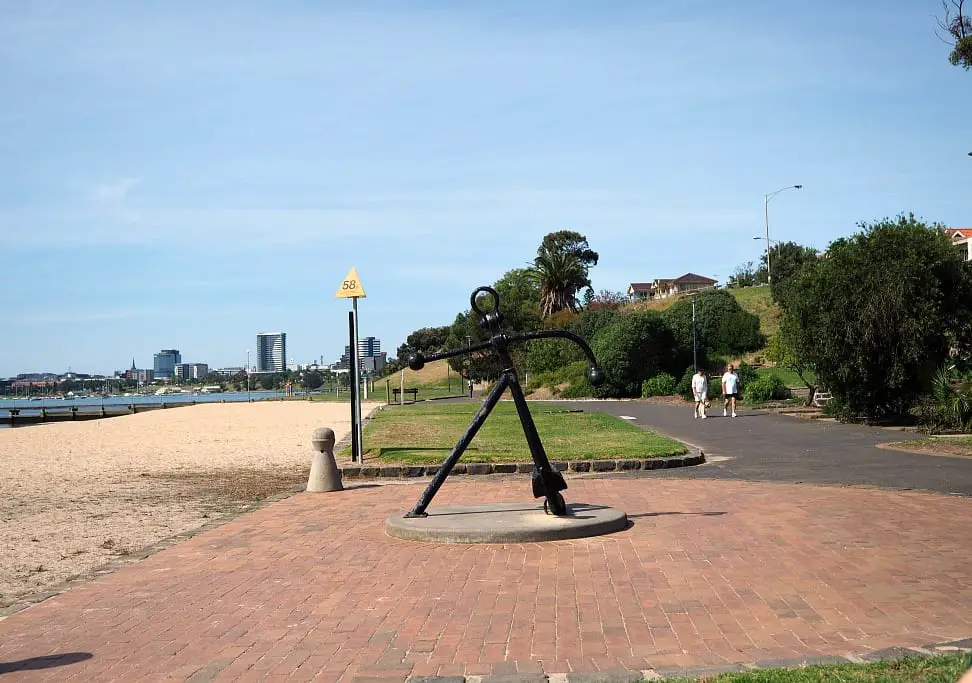 Find A Bargain At Geelong Markets
Everyone loves a market, whether art and craft, trash and treasure, flea market, or a fabulous farmers' market.
Here are a few Geelong Markets for you to choose from.
46) Find Unique Crafts At Geelong Waterfront Makers & Growers Market
This delightful Sunday market has been run by the Geelong Central Rotary Club for 23 years.
It's a combination of two markets, the Geelong Farmers Market and Geelong Waterfront Market.
Also known as Steampacket Market it offers beautiful artworks and handicrafts, fresh local produce, and gourmet treats.
This is a lovely relaxed market with live music in a waterside setting.
First Sunday of every month. 
10 a.m. – 2 p.m  Autumn/Winter, 10 a.m – 3 p.m Spring/Summer.
Steampacket Gardens, Eastern Beach Road, Waterfront Geelong.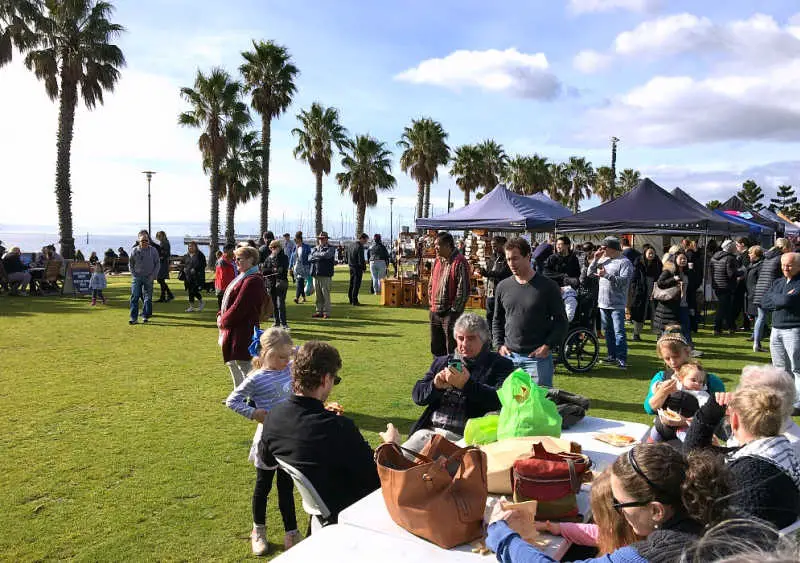 47) Stock Up At The Beckley Park Market
With two huge undercover areas as well as outside stalls, this market has everything you'll ever need.
It offers a large range of local arts and crafts, fresh fruit and vegetables, deli goods, dumplings, homewares, and industrial items.
Visit the honey man for some fabulous Manuka honey or try some homegrown Orange Blossom.
This is a great local market.
Saturdays 8 a.m – 1 p.m
Beckley Park,
Broderick Road, Corio.
48) Fossick Through Bric-A-Brac At Belmont Market.
With indoor and outdoor stalls, the Belmont Market is open rain, hail, or shine.
This popular bric-a-brac market draws huge crowds looking to snap up a bargain. It offers a wide selection of products on offer, including new and pre-loved goods, fresh fruit and vegetables, plants and flowers, toys, hot food, and confectionery.
Open every Sunday 8 a.m – 1 p.m.
Barwon Valley Activity Centre, 1 Barwon Heads Road, Belmont.
49) Take A Trip Back In Time At The Geelong Mill Market
The Mill Markets are a treasure trove of all things old.
With hundreds of different stallholders, there's something for everyone who visits. From vintage clothes and furniture, memorabilia, art, jewellery, books, and antiques and collectables.
The market is a step back in time that makes a change from brightly lit shopping centres.
There's an onsite cafe serving coffee, toasted sandwiches, and cakes.
The Mill Market Geelong is open 7 Days a week 10 a.m – 6 p.m.
114 Bellarine Hwy, Newcomb.
Click here for our full review of the best Geelong markets.
50) Dance And Shop At The Nightjar Festival.
Shake out your picnic rug and immerse yourself in the magical atmosphere of the Nightjar Market.
Part artisans market, part music festival, part food, wine, and beer extravaganza.
It's a celebration of talented artisans, emerging designers, local producers, and performers.
Be entertained by amazing musicians, roving performers, and buskers. While enjoying yummy food washed down with local beer and wine.
The Nightjar is fun for the whole family with a delightful storytelling tent for the kids.
There isn't a better way to enjoy a hot Friday night in the city.
Entry is $5.00 per person. Children 12 years and under admitted free of charge.
Every Friday throughout February 4 p.m – 10 p.m.
Johnstone Park, Gheringhap Street, Geelong.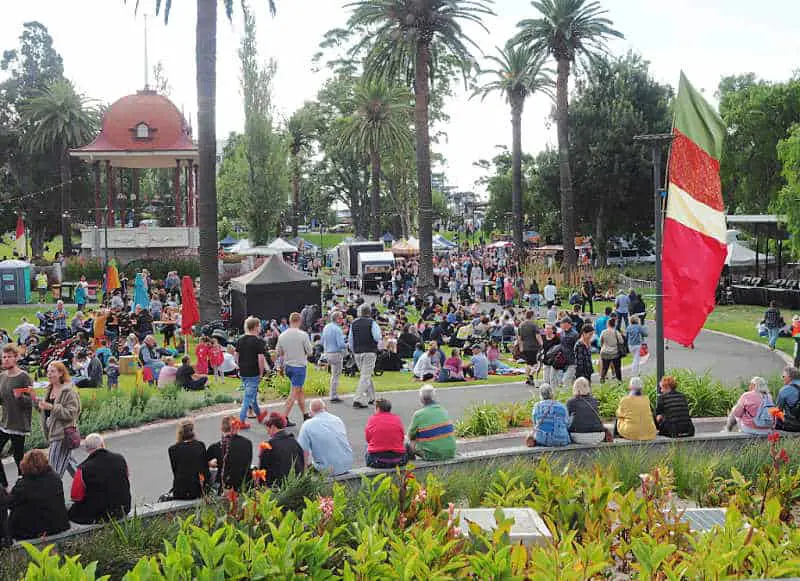 Geelong Events
51) Join The Celebrations At A Local Geelong Event
The Geelong region has a full calendar of events that are fun for the whole family.
The spectacular Geelong foreshore holds some of the biggest celebrations throughout the year. From Australia Day festivities to triathlon and cycling events, auto shows and festivals, and fairs.
Some of our favourite events are the Pako Festa, Festival of Sails, and the incredible White Night Geelong.
For more information read our post on the top 20 Geelong events you can't miss.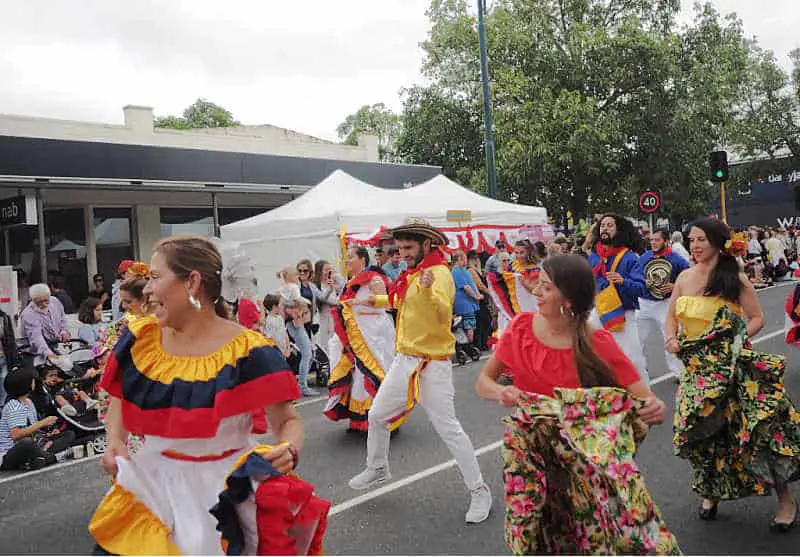 So there you have it, 51 of the hottest things to do in Geelong. As I said earlier you could easily spend a week exploring all the Geelong attractions.
Read this post to find the best Geelong accommodation and this, for all our guides to Geelong.
And while you're here check out our post on the top  Pakington Street cafes for great coffee and tasty food. Or enjoy a tipple at a Geelong pub or one of our fantastic Geelong bars.
And if you're wondering how to get here, read our guide to travelling from Melbourne Airport to Geelong. It includes Avalon Airport too.
Related Posts: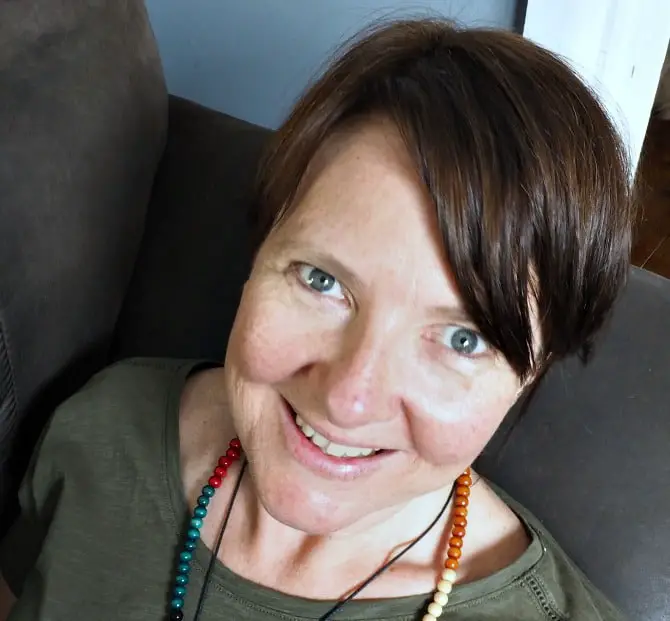 By Audrey Chalmers
Audrey is the principal blogger behind See Geelong. Book Lover | Breakfast Nut | Geelong Gal | She's Usually Craving Coffee.