Narana Aboriginal Cultural Centre – formerly Narana Creations – is one of the more unusual Geelong attractions. This is especially true for anyone interested in learning about Australia's Indigenous history.
There's no need to go all the way to Outback Australia to find out about Aboriginal Culture. You can learn about the heritage of our land and its First People right here at Narana Geelong.
The Geelong region is home to the Wathaurong tribe, part of the Kulin Nation, and Narana is located on Wadawurrung Country in Grovedale just 10-minutes from the Geelong city centre.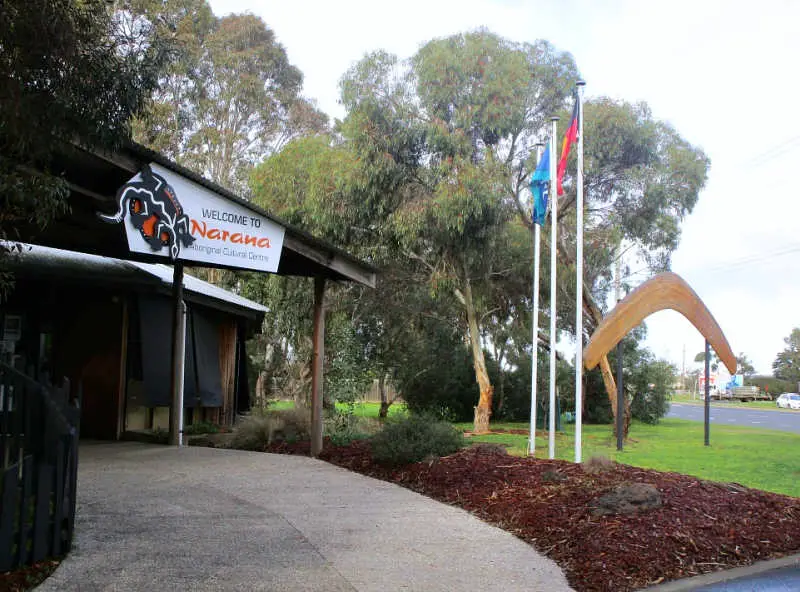 Narana is a great place to learn about Aboriginal cultural heritage as the centre was developed to promote Reconciliation by fostering a better understanding of Aboriginal Culture in the wider community.
The word "Narana" means to deeply listen and understand what you take in and give out.
And it's this concept of listening and understanding that underpins Narana's mission to be a destination for cultural education and tourism activities.
The not-for-profit organisation offers self-guided tours, cultural educators, visitor programs, a cafe serving traditional foods, and a cultural art gallery.
It's a welcoming and relaxed space for those who want to learn about indigenous Australian culture. And it should be on every visitor's list of things to do in Geelong.
Below you will find all the information you need to decide if you would like to visit Narana. And what you need to know for a great visit including what you'll see and do, opening hours and how to get there.
Essential Information For Narana Aboriginal Cultural Centre 

Address: 410 Surf Coast Hwy, Grovedale Vic 3217 (see map below)

Ph: (03) 5241 5700

Email: [email protected]

Hours: Monday to Friday 9 am – 5 pm, Saturday 10 am – 4 pm

Entry: Free

Boomerang Hire: $3.00

Aboriginal Culture History
Aboriginal cultural heritage is one of peace with the land, the animals, and the sea.
It's considered the oldest recorded living culture in the world, with artefacts in Northern Australia dating back an amazing 120,000 years.
There are over 750 different Aboriginal countries in Australia, with each country having its own beliefs, systems, and way of living.
Each country can have up to 15 different tribes or family groups.
And contrary to popular belief Aboriginal people were not nomads. They stayed within the borders of their own country living off what the land provided.
The name Wathaurong (Wadda-Warrung) is a recognised tribe that forms part of the Kulin Nation of Aboriginal people.
For more than 25,000 years the Wathaurong people have lived within the traditional boundaries of the Werribee River, Lorne, and inland towards Ballarat.
Within these boundaries, there were 25 different tribes each with a tribe headman called an Arweet.
For more information about the Wadawurrung People and Culture click here.
Good To Know:
The word "Aboriginies" is derogatory. The preferred term is "Aboriginal People" or "First Nations People".
Women hunted too – some Aboriginal countries were tiny with only a few older men and young boys.
Not all Aboriginal people have dark skin. What makes an Aboriginal person is their heart, knowledge, and spirit.
It's estimated there are up to 5,000 native food species that were used by Aboriginal people.
Narana Aboriginal Cultural Centre
Narana Aboriginal Centre is an education and tourism focused destination for people from all community backgrounds.
It offers authentic cultural experiences and is a great introduction to today's Indigenous Culture.
Visitors can learn about Australian Aboriginal Culture, Connection to Country, Dreaming Stories, and spirituality.
You can even learn how to throw a boomerang!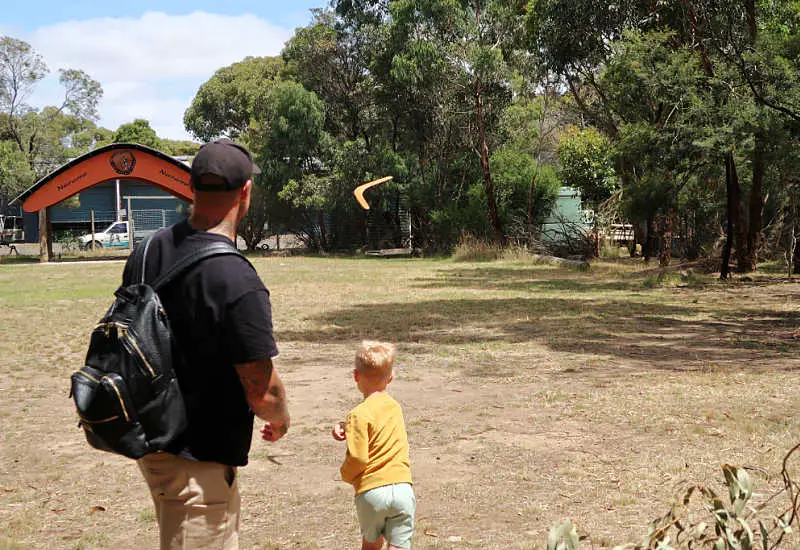 Despite its suburban location Narana has a distinct bush-like feel with native trees, wooden walkways, and resident wildlife.
Scattered throughout the property are wonderful examples of Aboriginal rock art.
Aboriginal rock paintings used artistic designs and symbols to tell important cultural stories and messages. They could also act as a traditional type of map.
For example, a painting of a fish indicated a river filled with fish was nearby – a possible source of food and water.
Narana Aboriginal Art
Aboriginal art is based on storytelling, using symbols to communicate stories of cultural importance and pass on knowledge of survival and land management.
It is regional in character and style, so different areas with different languages approach art in different ways.
Some artworks are designed to go on the wall, others are healing mats for people to sit on, burnt into animal skins, or painted on weapons, tools, and even the body.
The Narana Art Gallery boasts one of Victoria's largest ranges of Indigenous Art from traditional to modern and abstract styles.
The gallery is committed to supporting Indigenous artists from across Australia in providing both provenance and equitable returns to artists and their communities.
Artworks on display are available for purchase and not only does each piece come with a certificate of authenticity, but it includes an explanation of the story behind the painting as well as the artist.
I don't think you could find a better Australian souvenir. Do you?
Please note photography is prohibited in the Narana Aboriginal Gallery. 
Narana Cafe
Narana Cafe is a bright modern cafe serving the most unusual food in Geelong. It offers an extensive menu including all-day breakfast and lunch featuring dishes inspired by indigenous ingredients.
Snuggle up by the roaring fire with delicious Wattleseed Scones and lashings of lemon myrtle cream. Or chow down on a tempting Bush Tucker Tasting Plate served with indigenous inspired dips.
While you're enjoying all this tasty indigenous Geelong food be sure to look up. The artwork on the ceiling is a feast for the eyes!
The striking Narana ceiling mural tells of the impact of colonisation on all indigenous peoples of the world.
Narana's dining area has a lovely native garden setting with a sunny alfresco deck area. I especially like the extra room between tables that allows for social distancing, private conversation, and space for prams.
Kids are made to feel welcome too. A designated Kids Corner comes complete with a chalkboard, books, and other bits and bobs to play with.
This is a popular cafe Geelong locals love to visit.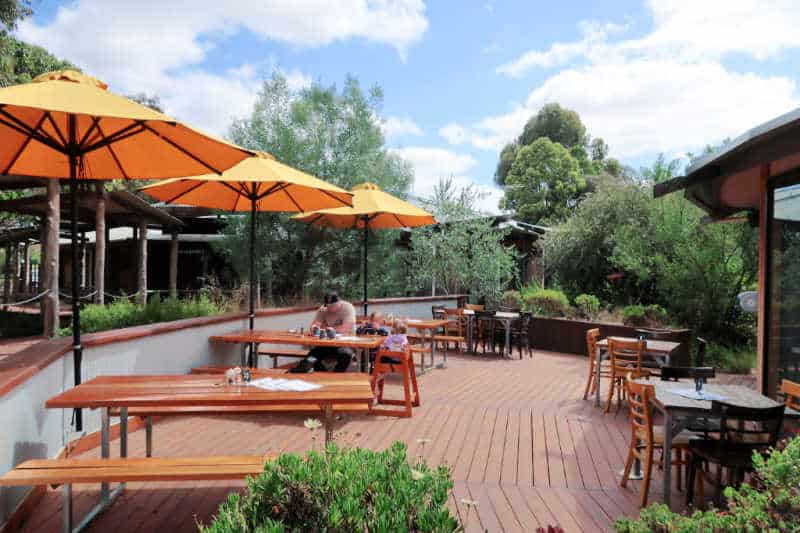 Narana Garden And Wildlife
The Curragundi Native Garden is one of the top places to visit in Geelong to see wildlife. It's a beautiful native bush-land garden that's spread out over four acres.
Visitors can expect to see a waterhole, local birdlife, and animals including Swamp Wallabies, Emus, and Eastern Grey Kangaroos. Here you'll meet Nigel the emu, who is picked on by his big sisters, and Jo the friendly kangaroo who loves a pat.
On display near the waterhole is an Aboriginal humpy. Sometimes called a 'lean-to' a humpy is a temporary shelter that uses a tree as its main support.
There's also a boomerang range where visitors can practice their boomerang throwing skills!
Entry into the Garden is free but as Narana is a non-profit enterprise a gold coin donation is requested. All donations are used to revegetate and replant native species (as evidenced in the photo below) and help to care for the resident wildlife.

Aboriginal Culture For Kids
Narana Aborignal Centre is a great place to take the family. The centre has some of the best kids activities Geelong tourists love.
Kids can listen and learn about Ancient Dreaming Stories, and connect to Country through songlines, and cultural artefacts.
It's perfect for keeping young kids entertained during school holidays. Programs include boomerang throwing and painting, Aboriginal dancing, bush tucker, and didgeridoo performance.
A highlight of any visit is meeting the friendly wildlife and kids always enjoy burning off energy at the Adventure Playground.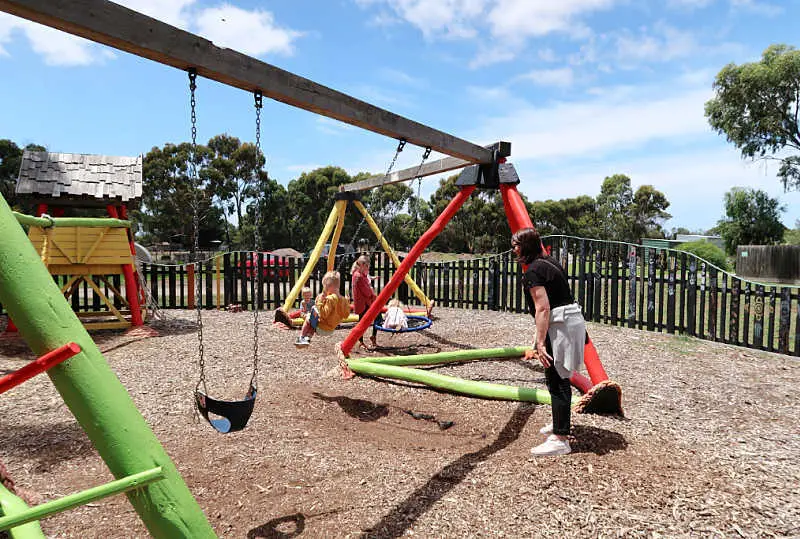 Gift Shop
The Narana gift shop is well stocked with gifts and souvenirs to suit all budgets.
It has a wide range of handmade indigenous items including arts and crafts, didgeridoos, boomerangs, and other cultural artefacts.
Shoppers will also find clothing, fashion accessories, books, health and beauty products, homewares, and native herbs and spices.
An informative Cultural Pamphlet is also available to purchase for a small donation.
How To Get To Narana Aboriginal Centre
It's easy to catch a public bus to Narana if you don't have your own transport for getting around.
From the Moorabool Street Bus Interchange catch either of these buses:
Bus No 50 Geelong to Jan Juc via Wombah Park
Bus No 51 Geelong to Jan Juc via Torquay
There is a bus stop right outside Narana. You'll know you're there when you see the giant boomerang!
We've provided a map for your convenience. Use the plus and minus signs to zoom in and out.
Narana Aboriginal Cultural Centre is one of the best, Geelong tourist attractions for anyone wanting to learn about Australia's Indigenous history.
It's also great for kids and families or even to stop by for a cup of coffee – and scones!
You can find more information on Geelong places to visit across this site.
For places to eat and drink check out our guides to the best Pakington Street cafes and awesome Geelong pubs.
Related Posts: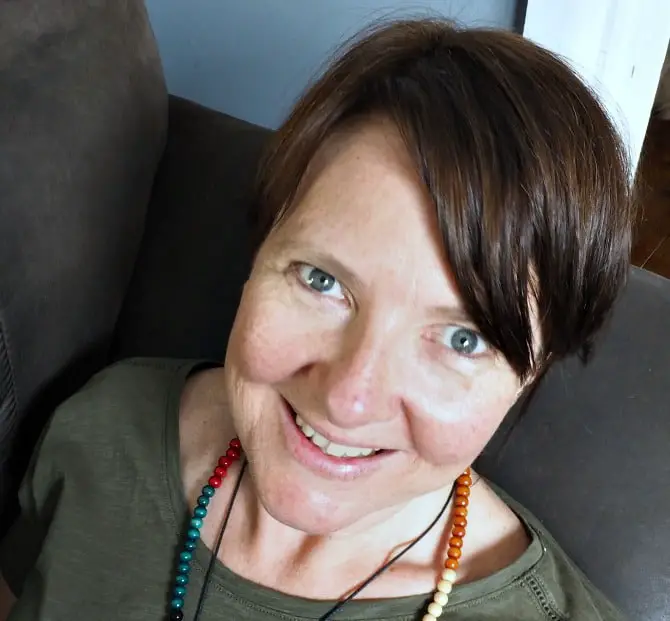 By Audrey Chalmers
Audrey is the principal blogger behind See Geelong. Book Lover | Breakfast Nut | Geelong Gal | She's Usually Craving Coffee.