Looking for things to do in Geelong for kids? You're in the right place.
Below we share all the fun things to do in Geelong with kids with everything you need to know about the top Geelong kids' activities.
Whether you're wondering what to do in Geelong because you live locally or are visiting the area, the good news is that there are plenty of fun things to do for kids in this part of Victoria.
Geelong, the Surf Coast, and the Bellarine Peninsula are packed with fabulous natural and man-made attractions for people of all ages.
In the following guide, find the pick of the indoor play centres in Geelong for kids with additional sensory needs.
You can also discover Anakie Fairy Park and a hidden adventure playground positioned by a pretty little stretch of beach.
If you want to find out why you should visit the waterfront or wool museum in Geelong, read on to find out all about what each one offers.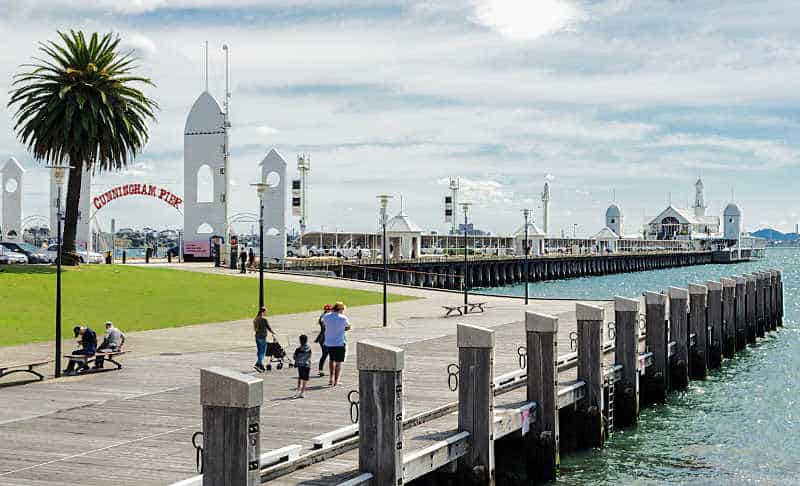 29 other Geelong attractions are also detailed, so you can decide how to spend that precious family time that's snatched during weekends and school holidays. Making the most of every moment.
The attractions of the waterfront and Eastern Park Geelong can also keep everyone amused for days at a time. Assuming the weather is kind!
For less than optimal outdoor conditions, there are plenty of family activities that are placed undercover in the Geelong area too.
From finding all the Geelong bollards or Kardina pool which Geelong theme park to visit or a Geelong Gaol ghost tour, here are 31 of the best things to do in Geelong for kids and their grown-up companions.
Fun Things To Do In Geelong For Kids
1) Eastern Beach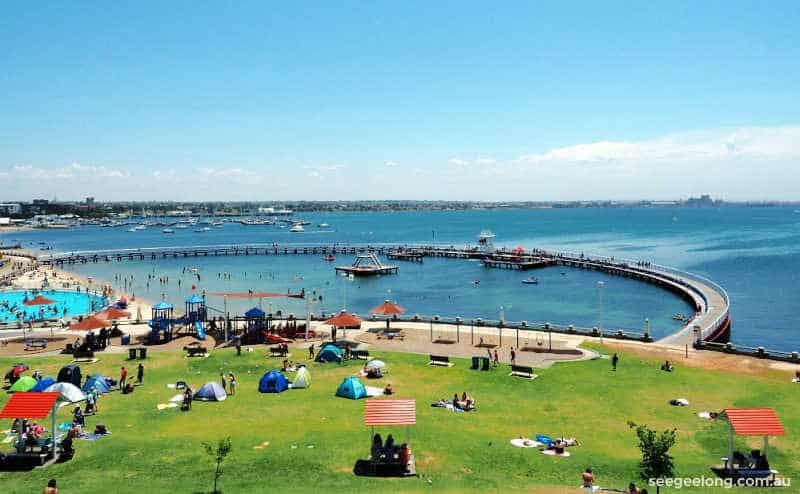 Sometimes the simplest pleasures are the best. What could be more child-friendly than a safe, enclosed sea water pool, for starters? Then there's the heritage of the area. Eastern Beach Reserve dates back to the art deco days of the 1930s.
As well as the shark-proofed pool, there's the boardwalk, a dedicated children's pool, diving platforms, a play park, a kiosk, a series of terraced lawns, changing rooms, and even floating islands.
Eastern Beach Geelong is patrolled by lifeguards during the summer months and for that al fresco meal, there are barbecue grills and picnic tables provided.
The beach reserve is free to enter, dogs on leads are permitted, and there's plenty of parking available too.
Located on Geelong waterfront near the corner of Eastern Beach Road and Hearne Parade, the beach is also conveniently situated for shopping and dining in the centre of town.
 Click here for the full lowdown on Eastern Beach Geelong.
2) Giant Skywheel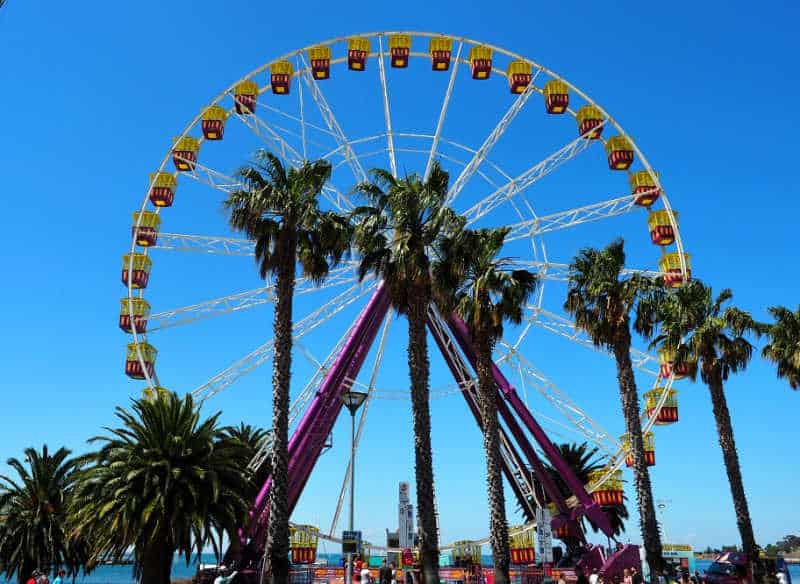 Visit Geelong and you can hardly miss the gigantic structure on the waterfront. This Geelong ferris wheel is the biggest in the entire Southern Hemisphere and was built in Europe.
A trip on the wheel is one of the really fun things to do with kids that offers the adults something extra too. Namely panoramic, picture-postcard views over Corio Bay.
By night, the wheel is illuminated by colourful lights, making this one of those Geelong tourist attractions that truly has the wow factor.
Dating back to 2005, the ferris wheel soon became an iconic sight of Geelong's waterfront. It's now an integral part of the city's skyline.
You'll find the giant wheel next to the Geelong Yacht Club. Each ride takes just around 10 minutes.
Giant Sky Wheel

Where: 1 Eastern Beach Road, Geelong

When: Mon – Thu: 12 pm – 8.30 pm, Fri: 12 pm – 10.30 pm, Sat: 10 am – 10.30 pm Sun: 10 am – 8.30 pm

Tickets: Over 2 years: $10, Group of 4: $35
3) Geelong Carousel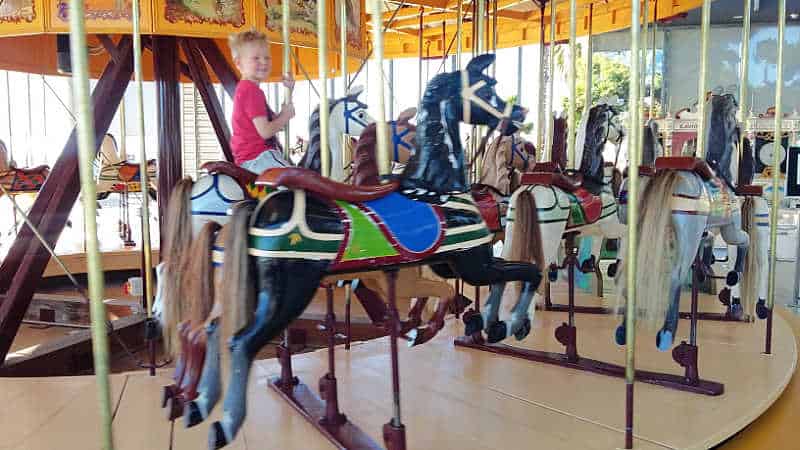 Also capitalising on the somewhat traditional feel of the waterfront is the Geelong carousel.
In fact, its history goes back much further than many other Geelong attractions for families as it was built back in the late 1800s. Now there are only 200 or so of these beauties spread across the entire world.
The Armitage-Herschell carousel was hand-carved from wood and has been beautifully restored to its former glory.
It's protected by a contemporary glass structure reinforced with steel, which also provides cover on a rainy day.
The carousel has even been made accessible for all, thanks to a special lift allowing those in wheelchairs to take a ride.
Thanks to all the glass, the pavilion is light and airy, and it's free to wander in and take a look while deciding whether to mount your own 1890s horse.
Taking a ride on this perfectly preserved piece of the past is among the top activities in Geelong for younger kids, and provides an unmissable photo opportunity for parents or grandparents.
Geelong Carousel

Where: 1 Eastern Beach Road, Geelong

When: Mon – Fri: 11 am – 4.30 pm, Sat – Sun: 10.30 am – 5 pm

Tickets:  Single ride: $5, Multi-rides: $45
4) Waterfront Train
Why not begin your list of things to do with kids in Geelong by taking a 20-minute tour of the waterfront? This train trip lasts for about 20 minutes and sets off from beside the carousel.
The destination is Eastern Beach, where the train will turn around before making the same journey in reverse.
The train also passes the giant sky wheel en route, so look up if you dare and try to decide whether you could conquer your fear of heights.
Travelling along the palm-lined path by miniature train has the novelty factor. And kids will have great fun waving to passers-by as they ride along in timeless style.
Hopping on board is a must for fans of Thomas the Tank Engine, as the little train's face resembles that of the popular character very closely.
Weather permitting, the train runs daily. Departures are half hourly, or more frequent during peak season.
Geelong Waterfront Train

Where: 95 Easstern Beach Road, Geelong

When: Mon – Fri: 10.30 am – 3.30 pm, Sat – Sun: 10.30 a.m – 5 pm, Extended times during peak season.

Tickets: $8.00
5) Geelong Bollards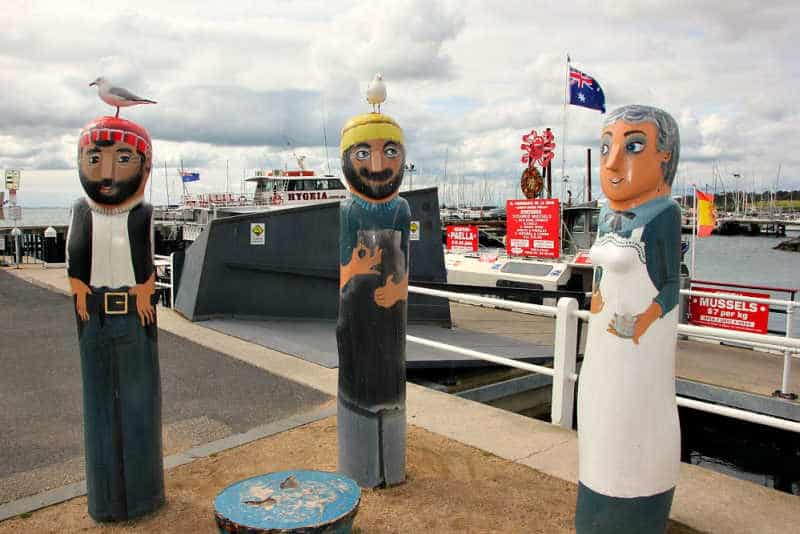 If you think that a series of bollards doesn't sound like one of the best free things to do with kids in Geelong, then you haven't seen these colourful beauties!
In fact, kids adore having their picture taken with the famous Baywalk Bollards and searching for the rabbits at their feet.
City authorities commissioned the artworks, and they're made using pieces of timber from a pier that was demolished during the 1980s.
This is more than just a few characters dotted around the waterfront. In all, there are 48 sites to visit and over 100 painted wooden statues to admire.
The whole Geelong Bollard Trail Walk takes two hours, so it's a great way to tire active kids out.
Along the way, children and adults can see a brightly painted group of Eastern Beach lifeguards, a quartet of bathing beauties, a five piece Volunteer Rifle Band, some seafaring sailors and captains, and even a 19th century Sunday school group.
If you're seeking kids' playgrounds in Geelong that will teach them history at the same time, then seeing the Geelong Bollards is a must.
Read our complete guide to the Geelong Baywalk Bollards here.
6) Poppy Kettle Playground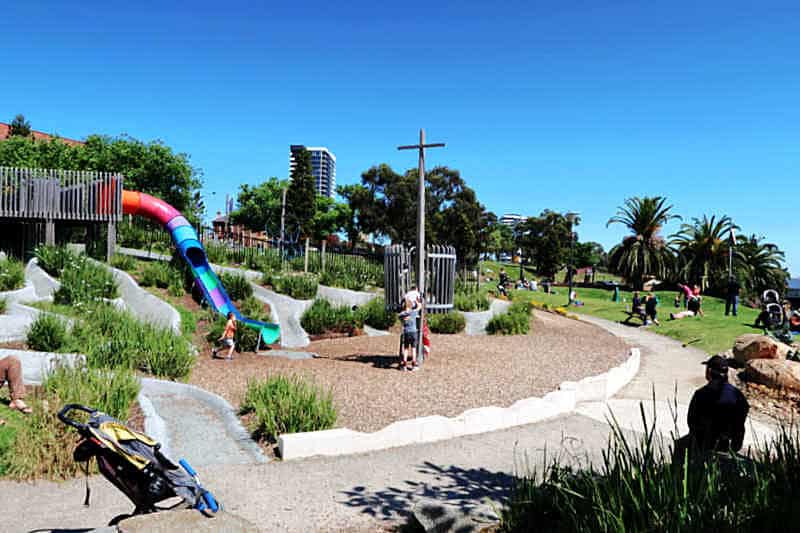 The slightly unusual name of this Geelong playground comes from a local writer, artist, and designer named Robert Ingpen.
He was awarded the Hans Christian Andersen Medal in 1986 for his enduring contribution to children's illustration.
A published book he wrote was called The Voyage of the Poppy Kettle, where the miniature characters set sail from Peru in an old kettle, and ended their voyage of discovery here in Geelong.
This most famous of all Geelong playgrounds also enjoys a stupendous waterfront location. It's a spacious site too, with plenty of space for picnicking and relaxing in the sun.
Statues of the miniature people from the Poppy Kettle story are dotted around the park, and the copper used when casting them has now turned green with age, adding character.
A big pyramid-shaped climbing net, a long slide, and a water fountain are among the biggest attractions of the Poppy Kettle playground for kids.
7) Rippleside Park
Rippleside Park is further from many of the main attractions of the waterfront. Located on the western side, it's a natural foreshore reserve with a peaceful atmosphere.
Adults will appreciate the sweeping views from this vantage point while the kids should be wholly occupied by the play park.
If you're looking for an adventure park in Geelong, then you've just found it!
With walkways, steps, ramps, and all manner of wooden components, the playground can keep kids of various ages amused for some time.
The idyllic spot also boasts a small but perfectly formed beach and is overlooked by No. 42 cafe offering magnificent views over the reserve and coastline.
Rippleside in Geelong even has lots of wide, open spaces for kids who need to burn off excess energy.
Yet it's something of a well-kept local secret, and mostly off the beaten tourist path. Get there before it's discovered and you could have a large patch of lawn all to yourself.
To learn more about the Geelong Waterfront read our full guide here.
Rippleside Park

Where: 42 Bell Parade, Rippleside

When: Park: Always open, Cafe: Tue – Sun 9 am – 3 pm
8) MoPA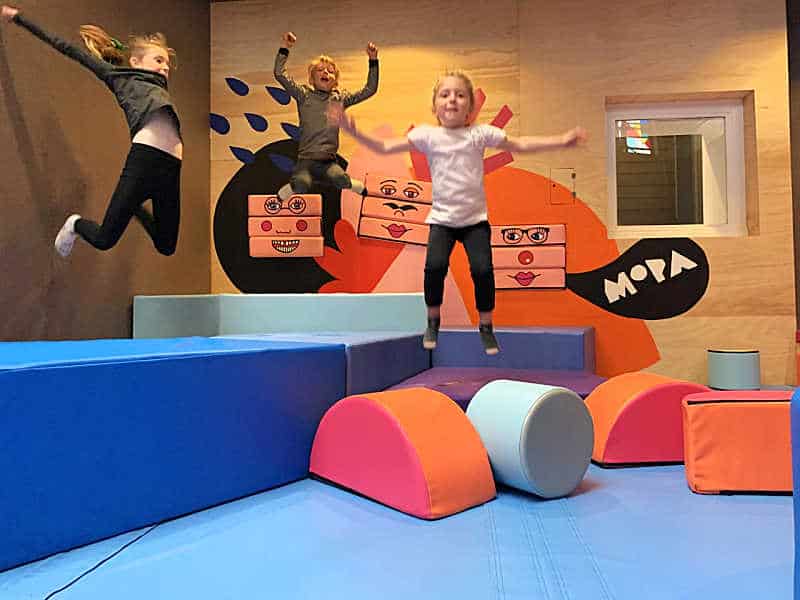 If it's blowing a gale, raining cats and dogs, or you simply fancy a break from all that fresh sea air, why not pay MoPA Geelong a visit?
The Museum of Play and Art is all about learning through fully immersive play, so it's somewhere kids can enjoy a hands-on experience while learning at the same time.
They won't realise that though unless you tell them!
Don't be in hurry to leave either, as the cafe on site provides plenty of options when it comes to healthy meals, snacks, and drinks.
MoPA is widely regarded as one of the best kids' museums in the world, let alone Australia.
Encouraging and nurturing creativity through play is the name of the game, making this one of the top things to do in Geelong with kids. And not just in bad weather.
MoPA is open daily from mid-morning to late afternoon and is air-conditioned throughout. You must pre-book tickets, as walk-ins are not allowed.
MoPA Geelong

Where: 51 McKillop Street, Geelong

When: Weekdays: 9.30 am – 4.30 pm, School Holidays & Week Ends: 9 am – 5 pm

Tickets: Book Here
9) We Rock The Spectrum
While it's a little out of town in Grovedale, We Rock The Spectrum is well worth heading inland for.
This inclusive venue is terrific at providing sensory experiences, and is aimed at all kids in addition to those with autism.
The owners themselves are parents, and one of their own kids has been diagnosed with autism.
This is therefore a place where behaviour some may see as naughty is fully understood, and the on-site kids' gym is the ideal place to vent frustration and let off some steam.
A dozen larger pieces of sensory play equipment have been selected because of the benefits each offers.
The zip line's ideal for developing upper body strength, while the crash pit provides a safe space for those who need to take some time out.
Other pieces include a bouncy trampoline, a tactile tunnel, a rope bridge, bolster, hammock, and carpet swings, and several climbing areas.
We Rock The Spectrum

Where: 170 Marshalltown Road, Grovedale

When: 7 Days: 9.30 am – 5.30 pm

Tickets: Book Here
10) Adventure Park Geelong
If you or those you're caring for love the water but are tired of the beach, then give Adventure Park in Wallington a try. It's one of the fun things to do in Geelong for water babies of all ages.
Geelong Adventure Park is open from November to March, so it's ideal if you're visiting during the summer season.
New rides and other family attractions are being added each year. Some of the latest additions include air balloons for riding high, treetop cabanas to chill out in, and the Tsunami triple funnel waterslide.
Some rides at this Geelong water park are designed for braving alone, while others mean the whole family can enjoy being transported through the water for the thrill ride of the summer.
There are some fairground-style rides at the park too, including a rollercoaster, miniature airplanes, and a ferris wheel. As well as the Aqua Racer and Tornado slides, plus the lazy river and play splash zones.
Adventure Park Geelong

Where: 1249 Bellarine Highway, Wallington

When: 7 Days Nov – March

Tickets: Book Here
11) Fairy Park
As it's situated in Anakie, Fairy Park Geelong is admittedly a little out of town. But it's only a half hour drive from the Geelong CBD and little kids love it.
It's hard to believe you're that close to the city, once you arrive at the sprawling site. It's set amongst the rolling green countryside that Victoria is famous for.
So what's there to do at Fairy Park Anakie? This place is all about fairy stories, folklore, and more than just a touch of magic.
Here kids can see the very fairytales their parents grew up with brought to life, complete with dragons, fantasy castles, mermaids, and more.
Harry Potter has of course had an influence, which is ideal when you're wondering what to do in Geelong with kids and there's a fan in the family.
They can even have their photo snapped while sitting astride a life-sized hippogriff.
Fairy Park

Where: C141/2388 Geelong – Ballan Road, Anakie

When: 10 am – 4.30 pm

Tickets: Book Here
12) Geelong Wool Museum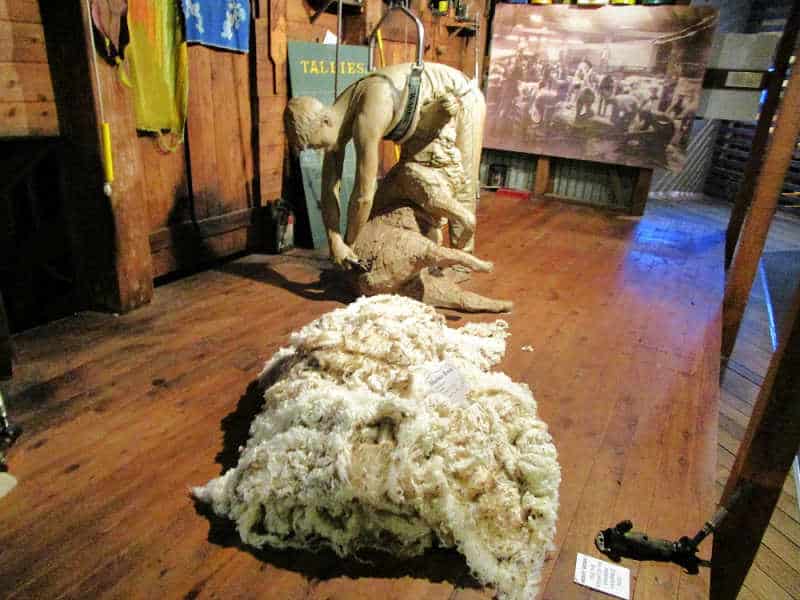 Geelong once played a pivotal role in the Australian wool industry, and there's nowhere better to learn about the country's sheep rearing and shearing past than at the National Wool Museum in Geelong.
The Geelong Wool Museum can be found on the corner of Moorabool Street in the centre of town. It dates back to 1988 when it was formed during the Australian Bicentennial Celebrations.
Created within an old bluestone building that once housed a wool store, the museum offers a modern take on the story of wool via permanent exhibitions and special events.
Crafting classes and explorative experiences really help to bring the past to life in an interesting and informative way.
Geelong Wool Museum

Where: 26 Moorabool Street, Geelong

When: 7 Days 10 am – 3 pm

Entry: Adult: $10, Child: $6, Family: $30, Concession: $8
Read our complete guide to the Geelong Wool Museum by clicking here.
13) Geelong Gaol Museum
A visit to the old Geelong Gaol Museum allows kids and adults to trace the footsteps of those who were first sent to Australia as convicts.
The jail was constructed during the mid 19th century, and is based on the same design principle as Pentonville Prison in north London, England.
It's fascinating to see how the layout allowed the guards in the central tower to see into every single cell within the circle surrounding it.
This was the brainchild of Jeremy Bentham, a prominent British theorist, and philosopher of the time.
Geelong Gaol ghost tours are just one of the options here for those who want to explore further or experience more.
Visitors can also book paranormal investigations, escape tours, and even tours for the deaf.
Exhibitions and events often centre on some of the Victorian institution's most notorious inmates and often feature original artworks, letters, photographs, and other documents from their times.
It's a fascinating place to visit, and for kids who are just learning about Australia's past, a real eye-opener.
Geelong Gaol Museum

Where: 202 Myers Street, Geelong

When: 12 pm – 5 pm Wednesday, Weekends, School & Public Holidays

Entry: Adults: $18, Children: $10, Family: $55, Concession: $12
14) Narana Geelong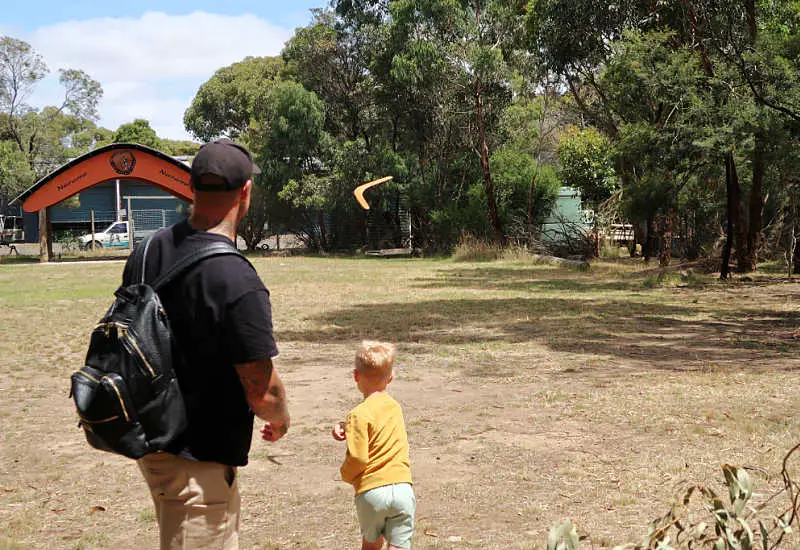 Also out in Grovedale on the Surf Coast Highway, is Narana Geelong. This venue showcases Aboriginal arts and culture.
The name translates to the process of really listening in order to fully understand another culture, as well as giving back as much as you take.
Narana Aboriginal Cultural Centre is a great place to see and buy Aboriginal artworks, and the site includes a shop, exhibition centre, and a cafe as well as an art gallery.
This place is also good news for kids who need to let off some steam, as there's a playground to run and jump around in plus a native garden to explore.
This not-for-profit organisation exists to introduce visitors and locals to the indigenous culture of modern times, based on the oldest living civilisation on the planet.
Here kids may see native animals bounding across the grounds, hear a didgeridoo being played, or marvel at colourful canvases created by Torres Strait Islanders and Aboriginal people.
There's no cost to enter Narana and it's one of the great free places to visit in Geelong.  A small fee is charged for boomerang hire and for pellets to feed the animals.
Click here to find out everything you need to know about Narana Aboriginal Centre.
Narana Geelong

Where: 410 Surf Coast Highway, Grovedale

When: Weekdays: 9 am – 5 pm, Weekends: 9 am – 4 pm

Entry: Free
15) LaserQuest Geelong
LaserQuest, formerly TimeZone, is another of those Geelong activities that are ideal for wet or windy days.
This video game arcade that offers so much more can be found right beside Westfield Geelong on Malop Street.
As well as a large selection of arcade games, visitors can play laser tag or try their luck on the bowling lanes here.
There are various packages available, so it's easy to set a limit on what each child (or adult) spends. You can load a card with a set sum of money, or buy 30-minute or hourly sessions.
Kids aged seven plus can take part in a laser tag game, or you can use one of the slightly shorter bowling lanes here. That makes play at LaserQuest Geelong a little easier for kids than at the average bowling venue.
LaserQuest Geelong

Where: 89 Malop Street, Geelong

When: 10 am – 10 pm
16) Geelong Library
On hip Little Malop Street in town is the local library. This library is more than just a book depository.
Its official name is the Geelong Library and Heritage Centre, due to the fact that it stores far more than just works of fiction.
It's actually Victoria's largest regional archive and heritage resource centre.
There's always lots going on at the library, including writers' workshops, author-led sessions, and the discussion of literature or poetry.
For older kids these may be of interest, while the youngest kids can get more hands-on about books via the vast picture book collection.
A large playmat gives them space to spread out while flicking through the pages.
There's a whole floor dedicated to children and young people where they can enjoy digital technology, activity spaces, a video wall, gaming machines, mobile devices, smart tables, virtual reality, and 3D printing.
And of course books, lots and lots of books.
Whether you and the kids want a place to explore technology, borrow a new title to read, or delve deeper into the local literary scene, Geelong Library is the perfect place in which to cosy up for a while with a good read.
You could also dip into one of Little Malop Street's cool cafes before or after your visit.
Geelong Library & Heritage Centre

Where: 51 Little Malop Street, Geelong

When: Weekdays: 9 am – 5.30 pm. Weekends: 10 am – 5 pm

Entry: Free
17) Geelong Chocolaterie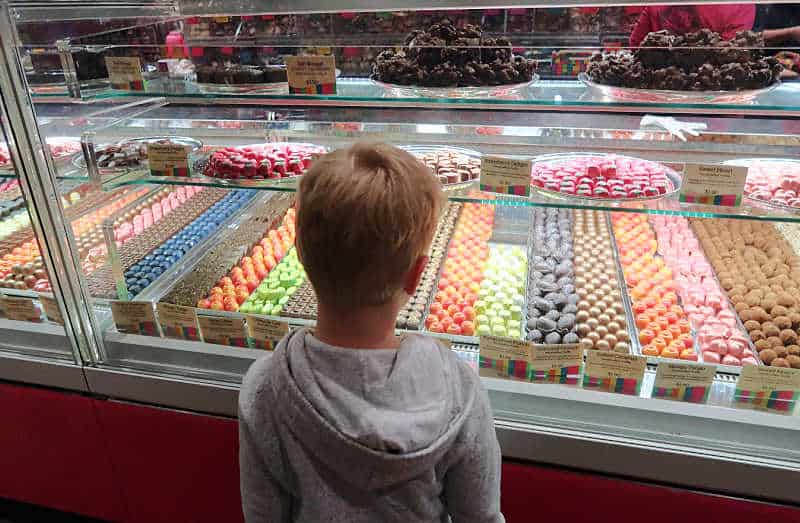 May we whet your appetite by suggesting a visit to a Geelong Chocolaterie?
It's one of the most delicious things to do around Geelong, that's for sure. There are several options in town to choose from too.
Moorabool Valley Chocolate, for example, is located a little inland, in the Batesford district. This cafe and chocolaterie on Ballarat Road is open daily between Tuesday and Saturday.
On Wednesday, Thursday, and Friday, guests can observe the chocolatiers at work, so it's a good time to visit if you want to see a Geelong chocolate factory in action.
As it's located on a working horse farm, kids can also see animals from the outdoor deck or from inside the building.
Other options in the area include Hahndorf's Fine Chocolates on Pakington Street or Chocoholics Anonymous on Little Fyans Street.
If you don't mind venturing a little further than a chocolate factory in Geelong, you could also try the Great Ocean Road Chocolaterie and Ice Creamery (GORCI).
Moorabool Valley Chocolate

Where: 320 Ballarat Road, Batesford

When: Tue – Sat: 10.30 am – 5 pm

Entry: Free
18) Geelong Botanical Gardens
No great Australian city would be complete without its own botanical garden, and Geelong Botanical Gardens are one of the best in the land.
This is also one of the oldest gardens in Australia with only three having been established earlier.
The botanical gardens in Geelong show off species of flora from around the world, and the sights and scents of plants, large and small, is a delightful sensory experience.
Everyone can come and enjoy the gardens. There's no fee to enter which puts this among the top free things to do for kids and adults alike.
The Geelong botanical gardens cafe is also a highlight for many who visit. It's recently been overhauled during the winter season to make it even better than before.
Pick up a map at the visitor centre so you can track down features like Camellia, Bunya, Rose Garden or Walnut lawns, the Forgotten Garden, the Sunken Glass House, and Pacific Rim Gymnosperms.
The 21st Century Garden also has interesting plants and cacti and a small lake to relax by.
Geelong Botanical Gardens

Where: Eastern Park, East Geelong

When: 7 Days: 8 am – 5 pm, Daylight Savings: 8 am – 7 pm

Entry: Free
19) Geelong Play Space
Spending time at Geelong Playspace is also one of the best things to do in Geelong for families.
This is not an indoor play centre in Geelong, however, it's an outdoor playground in Eastern Park.
The play zone is situated close to the botanic gardens and can easily be included in a visit there.
Its design has won awards and was drawn up to ensure kids of all abilities and ages could be included in the fun.
A liberty Swing, for instance, lets wheelchair users experience swaying back and forth for themselves.
This central playground within the Eastern Park Circuit offers barbecue grills, a picnic area, a rotunda, toilets, and free parking.
Geelong Play Space

Where: Eastern Park Circuit, East Geelong

When: 7 Days

Entry: Free
20) Bats At Eastern Park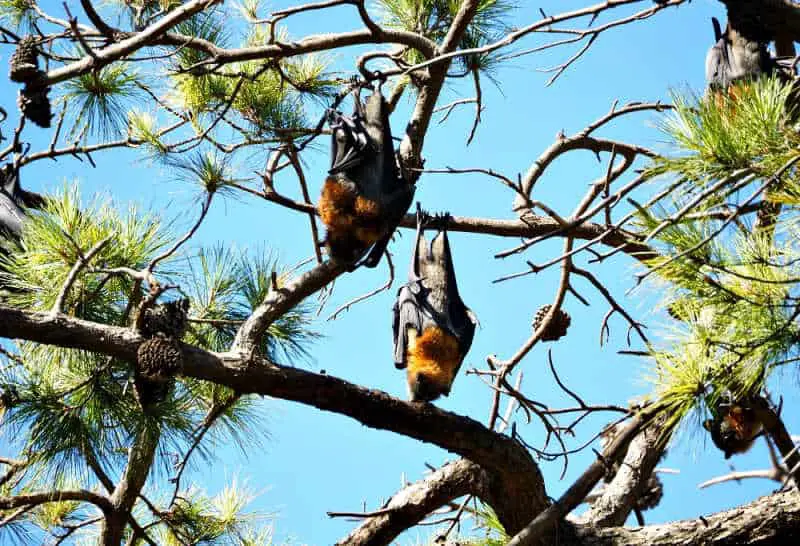 Before you leave Eastern Park Circuit after visiting the Botanical Gardens and the Play Space, don't forget to look out for the nocturnal, winged local residents!
There is a Grey-headed Flying-fox colony living within the park. These mammals have a wingspan that can reach up to a metre in width.
If you visit during the day make sure to look up and you might just spot one hanging from the trees.
By night they leave their perches to hunt for food, swooping around the neighbourhood as they do so.
Eastern Park is also home to some other bat species. As they are smaller, these can be harder to spot.
Head to the area by the golf course to find out more about these fascinating creatures. As well as what to look out for when you want to spot one.
21) Geelong Mini Golf
For something a little different that can hone kids' skills, why not have a go at mini golf in Geelong?
While there's adventure golf in Geelong to be found at the nearby water park, the dedicated site at Bellarine Adventure Golf cannot be bettered.
This Geelong mini golf activity is also located in Wallington, and has not one but two courses to choose between.
The setting is lovely, with the soothing sounds of running water and a glorious, green garden surrounding the courses.
The obstacles are more interesting here than at the average mini golf facility, making it more absorbing even for experienced players. Named The Mountain and The Mill, you can pick your course before commencing play.
Bellarine Adventure Golf

Where: 1532 – 1540 Bellarine Hwy, Wallington

When: Term Time : Thu – Mon 10 am – 5 pm, School Holidays 7 Days 10 am – 5 pm

Entry: One Course: Adult $16, Child $11, Under 5 $5, Family $44
22) Barrabool Maze
The Barrabool Maze Estate is also located a little out of town, to the west of central Geelong.
You can reach it via a 15 minute drive from the centre of the city. It's like being transported to another world of rolling green landscapes.
A large hedge maze here is the star attraction. This dates from the 1990s, but by 2010 had fallen into a state of disrepair.
The current owners took over in 2015, carefully restored it, and now it is pruned by hand three to four times a year.
To see the garden maze from above, head to one of the lookout points. The estate also offers an on site cafe, plus acre upon acre of scenic gardens to explore and relax in.
Barrabool Maze Estate

Where: 35 Walter Road, Barrabool

When: From September

Entry: Adult $12.50, Child $8.50, Concession $5, Garden Only $5
23) The Rock Geelong
If you and the kids want to sample rock climbing in Geelong, head out to The Rock Adventure Centre in the Pakington Street neighbourhood.
This venue has offered Geelong rock climbing since 2001, and provides a great indoor climbing gym for active types.
In total there's a whopping 1,000 square metres of climbing wall here. Some are up to a dozen metres in height!
Whether you're a complete beginner or an experienced climber, the perfect route is ready to test your skills of ascent at The Rock.
The Rock Adventure Centre

Where: Rear of 403 Pakington Street, Newtown

When: 

Entry: 
24) Rollerway Newtown
Located in an industrial area of Newtown, Rollerway Geelong is the number one spot for rollerskating in Geelong.
Here you can don boots or inline rollerblades and take to the floor. There are public skating sessions offered in addition to classes, parties, and private meets.
Inline hockey is a big thing, with leagues for junior players as well as adults. If the kids really get into it, you can pick up the right kit at the skate store on site.
Sessions last between two hours and six-and-a-half, and you can pay to skate for as long as you like.
Rollerway Newtown

Where: 6-8 Lamber Ave, Newtown

When: Fri: 6 pm – 9.30, Sat: 10 am – 4.30 & 6.30 – 8.30, Sun: 10 am – 4.30 pm

Entry: Standard Ticket: $14, Long Ticket: $16, Skate Hire: $4
25) Waterfront Skate Park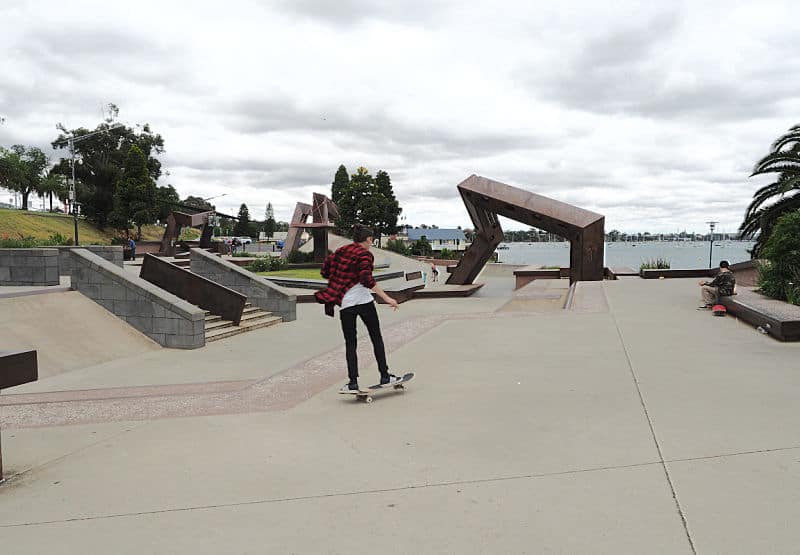 If you have teens in tow, you might well be looking for Geelong skate parks.
A visit to Geelong waterfront skate park should please all members of the family or group, not least because of the scenic views from the site.
The skate park is also renowned for its innovative design, and there are various structures to challenge even experienced boarders. These include stairs, banks, rails, and ledges.
The sleek, geometric design is sure to please any architects, and it's a nice spot to relax in by the water while the youngsters take to their boards.
 26) Bounce Geelong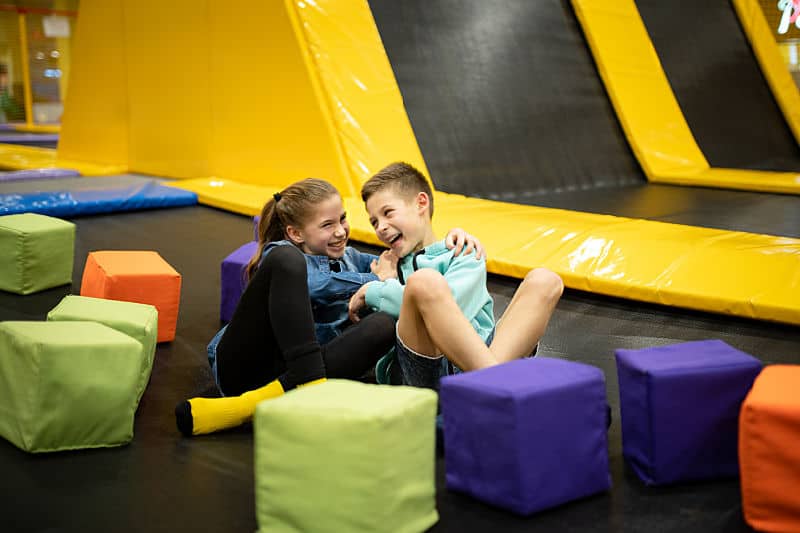 Bounce Geelong is another attraction that's ideal for a rainy day, and another that's situated in the Grovedale locale.
This trampoline park in Geelong is enormous and was formerly known as Supaworld Geelong.
If you want to trampoline in Geelong this place is obviously perfect, but there's more to it than that.
Bounce trampoline park also features a climbing wall, slam dunk basketball rings, a ball pool, a Ninja warrior course and more.
Children may also like to take part in a fun game of dodgeball, or simply bounce around the 50 trampoline free jump arena.
Bounce Geelong

Where: 174 Torquay Road, Grovedale

When: Mon – Thu: 9 am – 5 pm, Fri: 9 am – 9 pm, Sat: 9 am – 6 pm, Sun: 9 am – 4 pm

Entry: Book Here
27) Kardinia Pool
It's not only about saltwater swimming pools in Geelong.
Kardinia Aquatic Centre in South Geelong also offers outdoor pools, including a 50 metre heated pool, a diving pool with platforms and springboards, and a group of kids' pools for all age ranges.
Experienced young swimmers can go thrill-seeking with the 75 metre waterslide too.
If you don't fancy taking a dip, you can spread out on the shady lawn while watching all the action in this Geelong pool.
There's parking, changing rooms, lockers, a kiosk, spectator seating, and disabled changing facilities on site.
Kardinia Pool

Where: 25 Park Crescent, South Geelong

When: Session Times

Entry: Adult: $8.20, Child/Concession: $6.15, Swim/Slide daily unlimited $12.30
28) Barwon River
There's lots to do on the water or along the banks of the Barwon River in Geelong. It's paradise for hikers, cyclists, fishing fans, and water sports enthusiasts on a fine day.
Native birds and animals may also be spotted in the locale, including Nankeen Night Herons, swamp wallabies, and the odd platypus.
Rare trees and grasses also thrive in the area, so it's as good for naturalists who are more focused on flora as well as children who will adore seeing the local fauna.
At the centre of it all is the Barwon Valley Fun Park a facility in Belmont that offers play equipment, picnic areas, and barbecue facilities.
There are shady zones for hot weather, plus a basketball court and fitness apparatus.
29) Serendip Sanctuary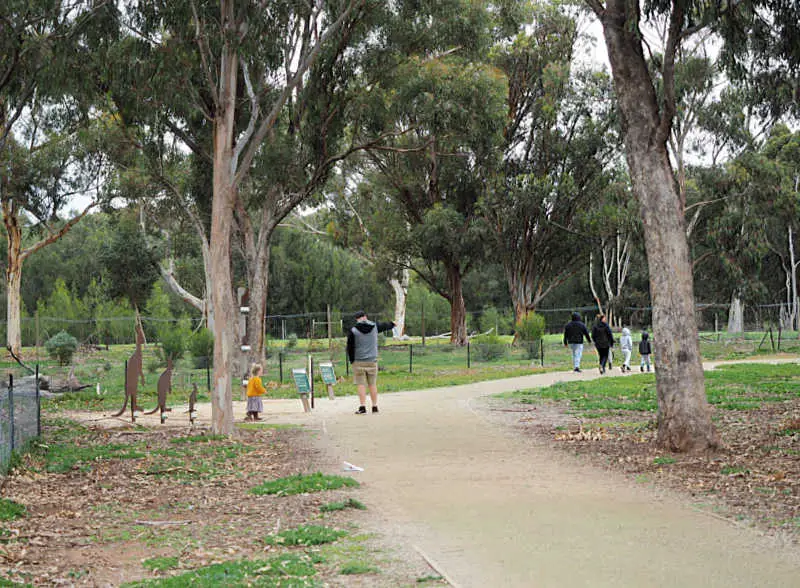 Serendip Sanctuary is part of Parks Victoria and is a 25 hectare site just over 25 kilometres north of Geelong.
Lots of native birds and mammals can be seen here, delighting kids of all ages. Resident species to spot include kangaroos, wallabies, and emus.
More rare creatures you may be lucky enough to see are the Bearded Dragon and the Spotted Tail Quoll. These threatened creatures are native to the Volcanic Western Plains of Victoria.
The chance to learn about endangered species and life on the wetlands is a big draw, and this is brought to life when taking a Wildlife Walk or visiting a bird hide.
Barbecues, drinking water, picnic tables, and toilets mean you can make a full day of it at Serendip Sanctuary.
30) You Yangs
You Yangs regional park is also overseen by Parks Victoria.
People come here for a variety of reasons. To take a You Yangs hike through the bushland, ride a bike or horse, go bird-spotting, or simply to soak up the scenery.
Take a You Yangs walk with the kids and who knows what you might discover? It should thoroughly tire them out before bedtime too. Which is definitely an added bonus!
Teens may appreciate the mountain bike tracks, which cover more than 50 kilometres of park ground.
You Yangs National Park has nine picnic areas spread across the site and you can bring your dog along if it's kept on a lead.
Look out for snakes if you're walking in the bush. They can be spotted from time to time but they tend to stay well away from humans.
If you need guidance, find the visitor centre near Big Rock and the Yellow Gum Picnic Area.
31) Geelong Ice Cream
If the children need a more restful day or a break from the heat, or you're craving something sweet and creamy yourself, why not track down a Geelong ice cream shop?
There are a few great places to go for deliciously chilly ice cream in Geelong, and it makes the perfect treat in summer.
Augustus Ice Cream is one of the most popular places in Geelong. This gelatery is open 7 days a week and can be found on Gheringhap Street.
All the ice cream is freshly made on site and there are more than 30 flavours to treat your tastebuds with.
Augustus gelatery isn't the only Geelong ice cream shop though. There are some delicious alternatives you can try out too.
You can sample the frozen desserts available at the Curls and Swirls Ice Cream Cafe on Ryrie Street, Bliss Ice Cream on Eastern Beach Road, or even Miss Gina Gelato in Clifton Springs.
Things To Do In Geelong For Kids | Final Word
From an indoor or outdoor Geelong swimming pool to a fascinating Geelong museum, a range of water or land based theme parks in Geelong, or play centres in the Geelong area that are free to use, there's lots to keep you busy in this part of Victoria.
What will you and your little ones do first?
Find out much more about the area with See Geelong, including guides to the best waterfront restaurants to dine at, the top places to stay in town, and the finest art galleries in the area.
Related Posts: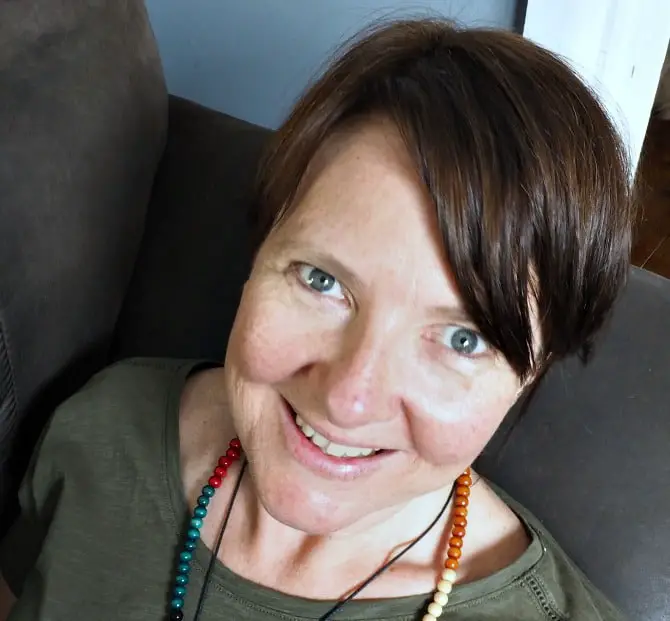 By Audrey Chalmers
Audrey is the principal blogger behind See Geelong. Book Lover | Breakfast Nut | Geelong Gal | She's Usually Craving Coffee.