5 Crazy Good Geelong Caravan Parks
There may be many reasons why you are heading to Geelong, it could be for a weekend getaway, to catch up with family and friends, or perhaps you're coming to attend a festival or sporting event.
Whatever the reason is, holidays should be a time for fun and relaxation and the type of accommodation you choose can play a big part in its success.
For many people that means staying in one of the fabulous Geelong caravan parks.
While hotel rooms can offer a luxury stay with lots of bells and whistles, staying in a holiday park can actually be a lot more rewarding.
And more people are choosing Geelong accommodation cabins, camping, and caravan parks than ever before.
This article may contain compensated links. For more information read our disclaimer here.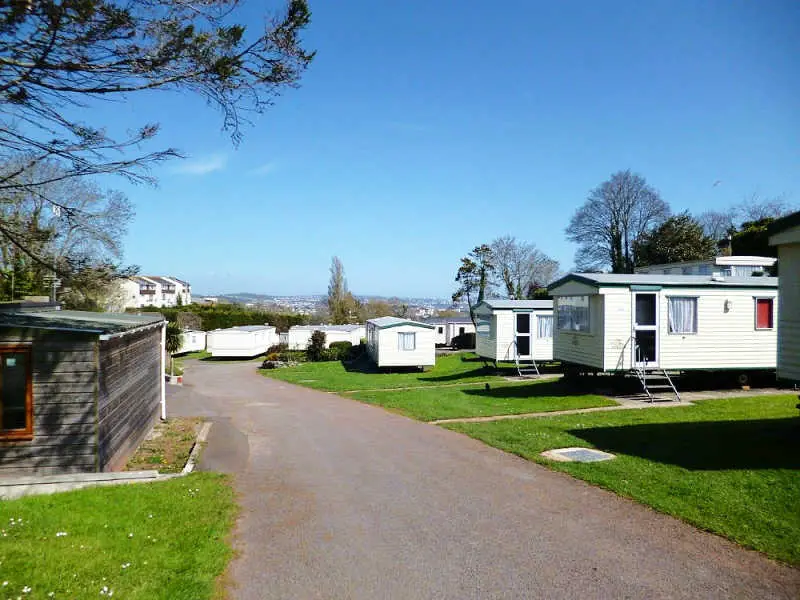 Geelong camping grounds have space for kids and families to play and offer the best Geelong family accommodation with play equipment and other amenities designed with kids in mind.
Looking for the best cheap accommodation Geelong has to offer? Then why not try one of the value-for-money caravan parks Geelong has to offer?
They are perfect for those on a budget and if you love meeting people, they have a great sense of community.
There are a few caravan parks in Geelong and I will share the best ones with you here.
So whether you're looking for the best caravan parks for kids, camping Geelong, holiday parks in Geelong, or Geelong cabins, you'll find it in this list.
5 Awesome Geelong Caravan Parks Victoria
Location Of The Best Caravan Parks In Geelong
One of the things that make Geelong such a great place to visit is the sparkling Barwon River that meanders through the town.
Popular with locals for its walking tracks, rowing regattas, and natural surrounds, this is where you'll find the top caravan parks Geelong Victoria.
From this location you'll find:
Few Minutes By Foot: Barwon River, Rowing, Boating, Lawn Tennis, Lawn Bowls, Golf, Walking and Cycling Tracks, Shopping, Bars, Cafes/Restaurants, Cats Stadium at Kardinia Park, Children's Playgrounds, Public Transport
5 Minutes By Car: Geelong CBD, The Waterfront, Eastern Beach, the National Wool Museum, Narana Aboriginal Centre, Geelong Library and Art Gallery, Markets, Pakington Street Shopping and Cafes
30 Minutes By Car: The Bellarine Peninsula, Great Ocean Road, Wineries, Surf Beaches, National Parks, Adventure Park, Queenscliff to Sorrento Ferry, Country Towns, You Yangs, Serendip, Fairy Park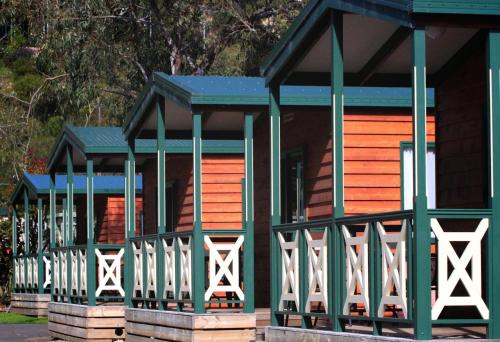 Riverglen Holiday Park Geelong is ideally located in a quiet area on the banks of the Barwon River.
Set amongst gorgeous gum trees, it offers a variety of accommodation options.
Guests can choose from spa cottages, holiday cabins, cedar cottages, powered sites, unpowered sites, and private ensuites.
Riverglen Caravan Park Geelong also offers fully accessible accommodation for people with mobility difficulties.
All cabins and cottages are fully self-contained with reverse cycle air-conditioning and lovely wide verandahs where you can sit and enjoy your morning cuppa.
Additionally, there are two well-equipped campers' kitchens, undercover barbecue areas, and a T.V room.
Riverglen has a strong family focus and the kids will enjoy the two swimming pools, giant jumping pillow, playground, and games room.
Offering personalised customer service Riverglen Caravan Park is one of only a few family-owned and operated caravan parks near Geelong.
Click here for more information.
ACCOMMODATION:
Deluxe Cedar Spa Cottages
Deluxe Cedar Cabins
Fully Accessible Deluxe Cottage (wheelchair friendly)
Shady powered sites with concrete slabs
Drive-Thru powered sites for easy access.
Private Ensuite Sites
PARK FEATURES:
2 Swimming Pools
Large Jumping Pillow
Colourful Playground
TV and Games Room
2 Campers Kitchens
Laundromat
Wifi Internet Available
Irons and Hairdryers Available
LPG Bottle Refills
Click here for the latest prices.
This top Geelong accommodation caravan park was once known as Geelong Riverview Tourist Park and Big 4 Discovery Parks – Geelong.
It offers a family-friendly accommodation base from which to enjoy all the delights the Geelong region has to offer.
Discovery Parks Australia Caravan Parks strive to offer diversity and variety in accommodation, from unpowered campsites to cosy cottages you're sure to find something that suits you.
Set amongst the natural beauty of the Barwon River, Discovery Parks Geelong is close to shops and nearby eateries.
This holiday park offers self-contained cabins with air-conditioning and kitchen facilities, some cabins boast a spa bath and additional bedding.
Visitors can expect to find friendly service, clean and comfortable accommodation, and a cheerful community atmosphere.
Click here for more information.
ACCOMMODATION:
Standard Cabin
Deluxe Cabin
Superior Family Cabin
Deluxe Spa Cabin
Deluxe Studio – Accessible
Ensuite Powered Site
Powered Sites – grassed, gravel, or paved
Unpowered camping and caravan sites
PARK FEATURES:
Swimming Pool
Playground
Activity Room
Camp Kitchen
Barbecue Area
Laundromat
Click here for the latest prices.
Another great option for those looking for a Geelong holiday park is the Barwon River Caravan Park.
Situated on ten acres the park offers a great range of clean and cosy accommodation options to suit both families and couples.
Guests can choose from superior deluxe cabins to budget cabins and ensuite sites, or shady powered caravan and tent sites.
This Barwon caravan park has plenty to keep the whole family entertained with an outdoor solar heated pool, kids wading pool, giant jumping pillow, two playgrounds, and pedal go-karts.
For additional convenience, extra facilities include a fully accessible family bathroom suitable for the mobility challenged, and an extra amenities facility in the camping area.
With its attentive staff and spotless facilities, this Belmont caravan park Geelong is sure to please.
Click here for more information.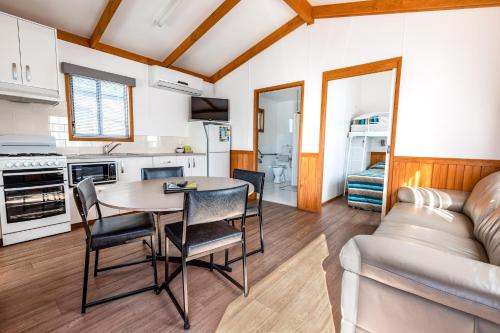 ACCOMMODATION:
Superior Cabins
Deluxe Cabins
Standard Cabins
Ensuite Powered Sites
Powered Sites
Drive-Thru Powered Sites
PARK FEATURES
Solar Heated Swimming Pool
Children's Wading Pool
Playground
Pedal Go-Karts
2 Undercover Barbecue Areas
Camp Kitchen
Kiosk
3 Amenities Blocks
Sewer Dump Point
Free Wireless Internet
Click here for the latest prices.
Nearby Options For The Best Caravan Parks Victoria Geelong
Below are the best options for Geelong holiday accommodation and camping near Geelong.

Located in Mount Duneed, Geelong Surfcoast Holiday Park is only a few minutes from the Great Ocean Road and the Geelong CBD.
This picturesque park offers a choice of motel style units, deluxe cabins, and ensuite powered sites.
And as one of a few pet friendly caravan parks Victoria has, it's perfect for anyone looking for pet friendly accommodation in Geelong.
The clean and comfortable cabins are fully self-contained with reverse cycle air-conditioning and can accommodate up to six people.
There is a camp kitchen, a barbecue area, a bright colourful playground, and a games and TV room.
A highlight of this park is the terrific swimming pool, shaded baby pool, and outdoor spa.
Whether you're looking for pet friendly accommodation, a cabin for the night or a lovely shady spot for your tent or van Geelong Surfcoast Highway Holiday Park has something to offer.
Click here for more information.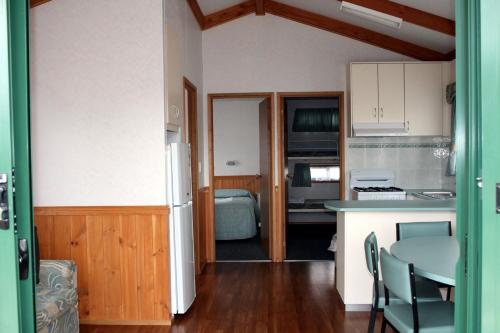 ACCOMMODATION
Deluxe Cabins
Self-Contained Motel Style Units
Holiday Cabins
Ensuite Powered Sites
PARK FEATURES
Swimming Pool
Shaded Baby Pool
Outdoor Spa
Playground
TV And Games Room
Camp Kitchen
Sheltered Barbecue Area
Laundromat
Pet Friendly
Click here for the latest prices.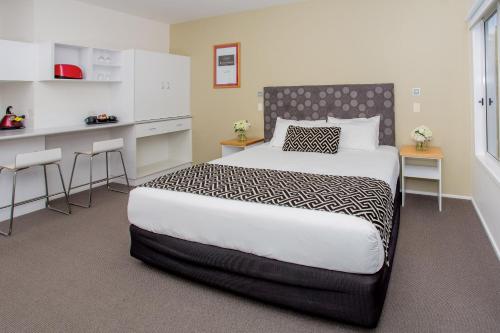 Big 4 Caravan Parks Victoria, offer family holiday heaven. And if you're looking for a Big 4 Geelong or kid friendly accommodation then head to the Bellarine Peninsula.
Located at Marcus Hill, Big 4 Bellarine Holiday Park is one of the best caravan parks Bellarine Peninsula has to offer.
And as it's just a 15-minute drive from Geelong it's close to all that the region has to offer, including Adventure Park – Victoria's biggest water park.
This Bellarine Big 4 ticks all the boxes when it comes to comfortably holidaying with kids.
Offering a kids club, playground, giant jumping pillow, heated indoor pool, water playground, TV and movie room, tennis court, and toy room (and more), kids of all ages will be entertained for hours.
Guests at this big four caravan park can relax in superb units and camp on enormous sites.
Families looking for a unique experience will enjoy the safari tents while couples can luxuriate in the deluxe vineyard suites.
For couples, big groups, and families looking to explore Geelong and the Bellarine this Big 4 caravan park Geelong is a perfect choice.
Click here for more information.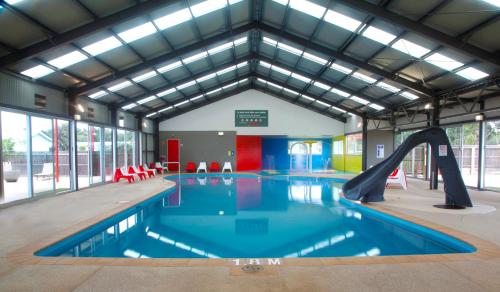 ACCOMMODATION
2 & 3 Bedroom Units
Vineyard Suites
Safari Tents
Huge Grassed Powered Sites
Ensuite Sites
Drive-Through Sites
Large Motorhome Friendly Sites
PARK FEATURES
Heated Indoor Pool
Water Playground
Adventure Playground
Basketball Court
Giant Jumping Pillow
TV And Movie Room
Toy Room
Bike Hire
Go Karts
Camp Kitchen
Disabled And Family Bathroom
Kiosk (Coffee!)
Barbecues
Net 4 Wireless Internet
Walking Tracks
Click here for the latest prices.
Map Of The Top Caravan Parks In Geelong
Looking for other places to stay in Geelong?
Then read our full guide to the best Geelong motels here or click here to find more top Geelong accommodation.
Find out what to do in Geelong here.