Top 11 Best Geelong Accommodation  
Travelling to Geelong? Lucky you! It's a beautiful part of Australia with its stunning waterfront, local wineries, and gorgeous coastal regions.
Now that you know you're going, it's time to find your top pick for the best Geelong accommodation so you can have a fantastic trip.
And that's exactly what we're going to help you with!
Geelong is a great place to visit thanks to its beautiful waterfront, fantastic cafes, interesting history, and dazzling festivals and sporting events.
In addition to its attractions, Geelong Victoria is an ideal base for exploring The Bellarine and Great Ocean Road.
This article may contain compensated links. For more information read our disclaimer here.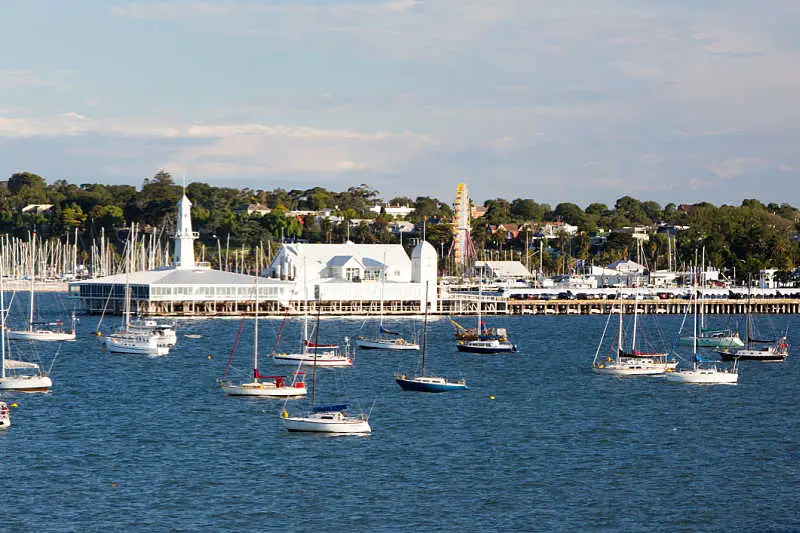 There is a wide variety of accommodation in Geelong to suit all tastes and budgets.
From Geelong accommodation apartments to Geelong hotel accommodation and top Geelong motels it's easy to find the best places to stay in Geelong that are perfect for you.
In this article, I will help you find the top hotel in Geelong for your needs no matter what you are looking for.
So whether you need a holiday house Geelong, Geelong waterfront accommodation or B&B Geelong, we have you covered with the best accommodation Geelong has for you.
Here is our list of the top Geelong accommodation as well as some information about where to stay in Geelong.
Geelong Accommodation Comparison Chart
In this table, you will find a comparison of all the top choices for accommodation in Geelong Vic.
Where To Stay For The Best Hotel In Geelong
When it comes to choosing the best accommodation in Geelong we recommend you stay as central as you can to the waterfront. This way you can enjoy many Geelong attractions, nightlife and foodie haunts without the hassle of driving.
Luxury Accommodation Geelong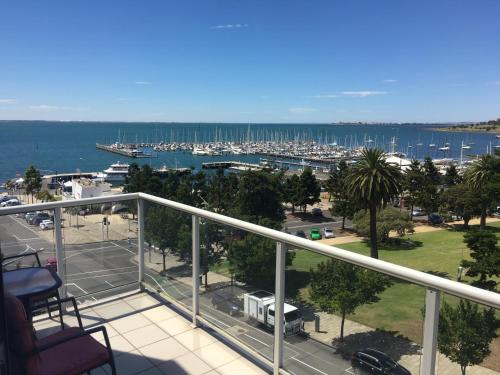 Looking for the best Geelong accommodation that's both convenient and luxurious?
One of the top places to stay in Geelong is the Waterfront Penthouse Apartment .
This luxury three-bedroom apartment is located right on the foreshore and is within walking distance of everything you need for a fantastic holiday.
One of the best things about the apartment is the private balcony that overlooks lush parklands, Eastern Beach, and the glorious Corio Bay.
It's the perfect spot to sit back, relax with a drink, and let your worries melt away.
Click here for more information.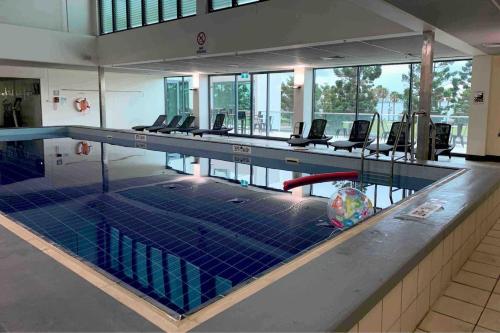 The spacious apartment has sleeping for 6 people in 3-bedrooms with two ensuites and a powder room.
Offering a fully equipped kitchen with all the mod cons, the open plan kitchen/dining/lounge area makes the most of the views with double glass sliding doors that open onto the balcony.
There's a handy laundry with a washing machine and dryer to keep your clothes lovely and fresh.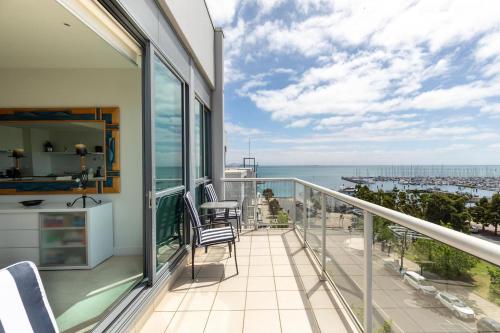 As an added bonus when you stay at the Geelong Waterfront Penthouse you have full use of the Novotel Hotel facilities.
So you can swim in the indoor heated pool, work out in the gym, or sweat it out in the steam room.
There's also a big communal courtyard with barbecue facilities available for you to use.
The apartment also comes with 2 complimentary secure undercover car parks and fast free Wifi to keep you online.
Best Things?
The balcony with unforgettable bay views.
Worst Things?
The road traffic can be a bit noisy at times.
Summary
This outstanding Eastern Beach Geelong accommodation has everything you want in a luxury apartment.
Do yourself a favour and book this place for a Geelong trip you'll never forget!
Click here for the latest prices.
You can read our full guide to the best luxury accommodation in Geelong by clicking here.
Accommodation Geelong Waterfront
The Novotel has one of the best locations in Geelong, right on the waterfront and close to all the popular attractions.
From this modern hotel, you're just a short walk to Westfield shopping centre, Eastern Beach, restaurants and fabulous nightlife.
The Novotel Geelong has numerous on-site facilities to keep you entertained.
Here you will find a heated indoor pool (perfect in winter!), fitness centre and relaxing steam room, all conveniently open 24 hours a day.
This Novotel Australia hotel has 109 newly refurbished guest rooms with comfortable beds and pillows.
Designed to be the perfect retreat, each room comes with a balcony, complimentary WiFi and iPod docking stations.
The best rooms have stunning water views.
Click here for more information.
Best Things?
The stunning views of Corio Bay from the hotel, make it one of the best hotels Geelong Waterfront has to offer.
Worst Things?
There really isn't much wrong with this Geelong hotel. The only negative I can come up with is that the buffet breakfast is not quite as sumptuous as it used to be.
Summary
The Novotel Geelong Waterfront hotel is the perfect hotel for travellers who want a full-service hotel with great facilities and a top location.
Simply cross the road to enjoy all that the Waterfront precinct has to offer.
Click here for the latest prices.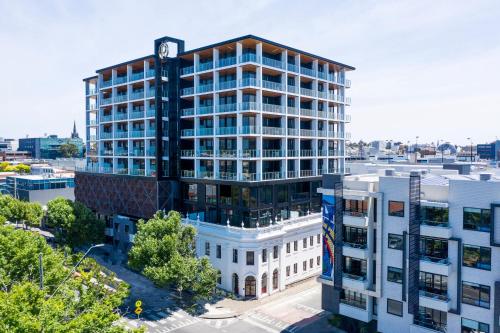 Situated just 300 metres from Eastern Beach, the R Hotel Geelong, is ideally located for any trip to Geelong.
Nearby you'll find cafes, restaurants, bars, the Carousel and Skywheel, as well as shopping centres, and the Geelong Botanical Gardens.
Dating back to the 1850s this stunning building has been redeveloped into a 9 storey hotel offering apartment style accommodation.
There are 128 accommodation options to choose from, including hotel rooms and 1 and 2 bedroom apartments. Most have balconies with fabulous water views.
Click here for more information.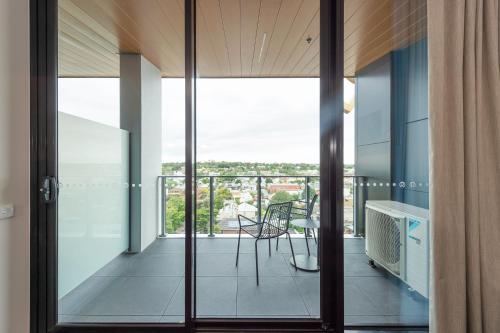 All room types are spacious and bright with modern decor, sound proof windows, keyless access technology, and a daily housekeeping service.
The apartments feature an open plan living, dining, and kitchen area with a full size fridge, espresso coffee machine, reverse cycle air-conditioning and laundry facilities.
Car parking is available, and you can stay online with the fast free Wifi.
There's an onsite cafe "Le Cafe" downstairs for your morning cup of Joe.
Best Things?
Everything is brand new. The balconies and views. The location.
Worst Things?
You have to pay for parking.
Summary
A brand new aparthotel in a top location with balconies and water views.
Click here for the latest prices.
Just a 5-minute drive from the city centre the Quality Hotel Geelong is located in a quiet residential area on the Geelong Esplanade.
Offering glorious views it's ideal for walkers and cycling enthusiasts with well-maintained paths just across the road from the hotel.
Also known as Quality Inn Geelong, the hotel has a great selection of rooms to choose from.
Guests have the choice of economy, executive, family and apartment-style rooms designed for both short and long term stays.
Apartments have all the benefits of hotel rooms with the added bonus of full kitchen facilities and separate living room.
As part of the Quality Hotel Group, features include an outdoor heated pool, free high-speed wireless internet and complimentary onsite parking.
Click here for more information.
Best Things?
The Quality Hotel has great Geelong family accommodation with rooms large enough for families and groups of up to four people.
Worst Things?
Parts of the hotel could do with some freshening up. However, we've been told the Quality Bayside Geelong is scheduled for refurbishment soon.
Summary
Quality Bayside Hotel Geelong is a fantastic place to stay for those looking for a relaxing Geelong Waterfront hotel.
With a wide variety of rooms and excellent service, this is a great choice for short term accommodation in Geelong.
Click here for the latest prices.
Geelong Holiday Apartments
On the lookout for the best Geelong accommodation waterfront apartment? Then the Vue apartments may be just what you've been looking for.
Located conveniently in Bellerine Street, the Vue Apartments Geelong have balconies with superb views over Eastern Beach and Austin Park.
Comprising 60 modern and stylish apartments, guests can choose from studio and one and two-bedroom options.
The building's contemporary design is reflected in the open plan living/dining/kitchen and quality fixtures and fittings.
All apartments come with award-winning King Koil beds, fully equipped European style kitchens and for coffee lovers Nespresso machines.
Onsite parking is available.
Click here for more information.
Best Things?
The Vue Apartments Geelong Vic are in near new condition. The excellent housekeeping keeps things spic and span.
Worst Things?
There is a surcharge for car parking.
Summary
The Vue Apartments has some of the best self-contained accommodation Geelong has to offer. Great location. Great views. Comfy beds and stylish rooms.
What more could you ask for?
Click here for the latest prices.
Tired of the usual "block" style apartment complexes?
Looking for a quiet place to stay that's away from the busy tourist area?
Then take a look at Barwon Valley Lodge.
The resort-style complex is situated across from the beautiful Barwon River and has a relaxing parkland setting.
Set on 8 acres the tastefully landscaped grounds blends in with the natural surrounds providing a feeling of space and tranquillity.
The ground floor apartments are fully serviced and have 2 bedrooms and a bathroom with a full-size bathtub and separate shower.
Other features include a contemporary kitchen with all amenities, a private patio, a flat-screen TV with Foxtel, and a laundry with a washer and dryer.
Each apartment has a handy car space out the front.
Click here for more information.
Barwon Valley Lodge is an ideal place for families to stay.
Kids love the swimming pool and spa as well as the Island Adventure Playground, cubby house, and swing set.
There are kayaks for paddling the lake and bikes suitable for the whole family available free of charge.
Other amenities include an impressive full-size synthetic grass tennis court and an undercover barbecue area.
The Lodge is a 5-minute drive from Geelong city centre and 20-minutes from Torquay and the Great Ocean Road.
Belmont Shopping Centre is within walking distance.
Best Things?
The beautiful relaxed natural setting, swimming pool, and amenities.
Worst Things?
If you want to be in the middle of all the action then this is not for you.
Summary
Fully self-contained apartments in a natural resort-style setting with a pool, playground, and barbecue area. Suitable for families.
Click here for the latest prices.
Accommodation Geelong CBD
Looking for the best affordable hotel accommodation Geelong has? Then Rydges is a great option for you.
Situated just a few blocks back from the waterfront, this Rydges Hotel is only minutes from Kardinia Park, and within walking distance to the city's vibrant restaurant and bar scene, museums, and galleries.
This Geelong city accommodation offers 138 guest rooms, a pool area and spa, and sweeping views of Corio Bay, the You Yangs and Kardinia Park.
There's an onsite restaurant serving fresh modern Australian cuisine and a hearty buffet breakfast.
Click here for more information.
Best Things?
Definitely the location. Rydges is within easy walking distance of Little Malop Street, Geelong train station and it's just two minutes from the Gull Bus.
Worst Things?
The hotel doesn't have any balconies to enjoy the fabulous views from.
Summary
The Rydges Hotel has all the essential amenities needed to be comfortable and connected.
It's the perfect place to take in all the city of Geelong has to offer.
Click here for the latest prices.
Looking for cheap Geelong accommodation that's neat, clean, and central to everything? Then take a look at Geelong CBD Accommodation.
Tucked in across the road from University Hospital Geelong, this value-for-money accommodation is just a 10-minute walk from the Waterfront, Geelong Botanical Gardens, major shopping centres, and Geelong's top eateries.
A 7-Eleven store is just a 1-minute walk away for your morning paper or midnight munchies!
Click here for more information.
There are 5 studio-style units including a fully accessible apartment with everything you need for a stress-free holiday.
Each unit is equipped with a kitchenette with tea and coffee making facilities, a cooktop, fridge, and micowave oven, a flat-screen TV and DVD player, a seating area, and comfy king size beds.
All rooms have private ensuite bathrooms, the accessible room with a walk-in shower.
There's safe electronic keypad entry, complimentary Wifi, and designated free off-street parking for your car.
Best Things?
The great location. Neat and clean. Value for money.
Worst Things?
Some people may be disturbed by the noise of the helicopter landing at the hospital at night.
Summary
For travellers on a budget who are looking for cheap accommodation, Geelong CBD Accommodation is a great option.
Click here for the latest prices.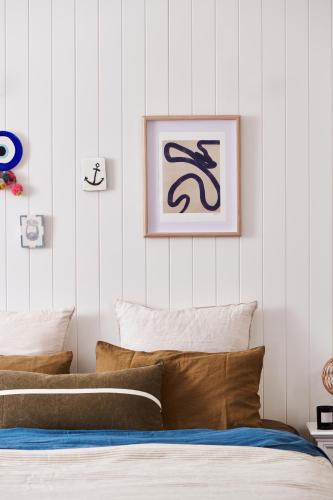 Anchor Geelong has eight bright and airy studio-style rooms for you to choose from.
The individually designed rooms are fitted out in a nautical theme with beautifully appointed furnishings.
Each unit features a kitchenette equipped with a microwave and bar fridge.
Guests at Anchor are treated to comfy beds with quality linens and luxurious rainforest showerheads.
Extra features include off-street parking, wireless internet, smart TVs and outdoor courtyard areas.
The superb Geelong Botanical Gardens is less than a kilometre away, and the Son Of An Elk cafe is handy for a coffee or quick bite to eat.
Click here for more information.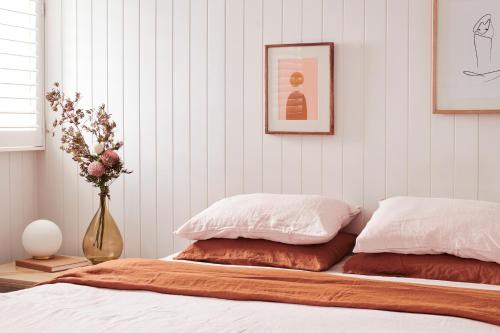 Best Things?
The Anchor accommodation at Geelong has an easy check-in system and keypad door locking.
Worst Things?
It's located on a busy road opposite Geelong University Hospital.
Summary
Anchor is an excellent place to base yourself while you explore all the attractions this fab city has to offer. All for a great price!
Click here for the latest prices.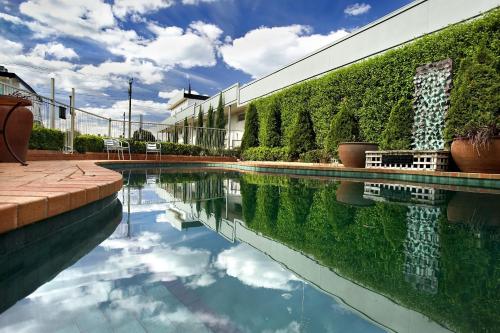 For travellers looking for accommodation near Geelong Gull bus, the Best Western Admiralty Motor Inn is ideal.
Located in McKillop street it's just a short walk from the Gull's main drop-off point.
The Admiralty Motor Inn has 41 air-conditioned rooms with queen size beds, free Foxtel cable TV and wireless internet.
Some rooms are available with a spa.
Other facilities at the Admiralty Inn Geelong include an outdoor saltwater pool, free on-site parking and luggage storage area.
Breakfast is available either in your room or in the poolside breakfast room.
A highlight of this good value hotel is the award-winning Empire Grill restaurant.
Located on-site the restaurant has been serving delicious food Geelong residents for over 30 years.
Click here for more information.
Best Things?
The excellent welcoming staff will bend over backwards to help you.
Worst Things?
No views or bells and whistles.
Summary
This is great motel style accommodation with comfortable clean rooms on the city's edge.
Click here for the latest prices.
If you are looking for a holiday house in Geelong, then you should take a look at Quartz Cottage.
This delightful three bedroom heritage cottage has a homey feel and provides sleeping for up to five people.
The clean and practical space has lots of little touches to make your stay really special, including extra blankets and heating on those cold winter nights.
A highlight of this property is the lovely garden that's perfect for relaxing on a sunny day.
Hidden away in a side lane, the cottage is well situated in the city centre close to everything you need.
Including local pubs and cafes and popular tourist attractions.
Quartz cottage has undercover parking on the premises.
Click here for more information.
Best Things?
Only a ten-minute walk to Little Creatures Brewery, you'll have this fabulous property all to yourself.
Worst Things?
The carport can be a bit tricky for large vehicles.
Summary
Quartz Cottage is perfect for anyone looking for a unique place to stay that's a more homely alternative to standard apartment-style accommodation.
Click here for the latest prices.
Where To Find A Top Hotel In Geelong
Looking for a more relaxed style of accommodation?
Then read our article about the top caravan parks in Geelong or our guide to the best Geelong motels here.
You can find more information about Geelong activities here.