Travelling to Geelong? Lucky you! It's a beautiful part of Australia with its stunning waterfront, local wineries, and gorgeous coastal regions.
Now that you know you're going, it's time to find your top pick for the best Geelong accommodation so you can have a fantastic trip. And that's exactly what we're going to help you with!
Geelong is a great place to visit thanks to its beautiful waterfront, fantastic cafes, interesting history, and dazzling festivals and sporting events. In addition to its attractions, Geelong Victoria is an ideal base for exploring The Bellarine and Great Ocean Road.
There is a wide variety of accommodation in Geelong to suit all tastes and budgets. From Geelong accommodation apartments to Geelong hotel accommodation and top Geelong motels it's easy to find the best places to stay in Geelong that are perfect for you.
In this article, I will help you find the top hotel in Geelong for your needs no matter what you are looking for. So whether you need a holiday house Geelong, Geelong waterfront accommodation or B&B Geelong, we have you covered with the best accommodation Geelong has for you.
Here is our list of the top Geelong accommodation as well as some information about where to stay in Geelong.
This article may contain compensated links. For more information read our disclaimer here.
Geelong Accommodation Comparison Chart
In this table, you will find a comparison of all the top choices for accommodation in Geelong Vic.
Where To Stay For The Best Hotel In Geelong
When it comes to choosing the best accommodation in Geelong we recommend you stay as central as you can to the waterfront. This way you can enjoy many Geelong attractions, nightlife and foodie haunts without the hassle of driving.
Accommodation Geelong Waterfront
The Novotel has one of the best locations in Geelong, right on the waterfront and close to all the popular attractions. From this modern hotel, you're just a short walk to Westfield shopping centre, Eastern Beach, restaurants and fabulous nightlife.
The Novotel Geelong has numerous on-site facilities to keep you entertained. Here you will find a heated indoor pool (perfect in winter!), fitness centre and relaxing steam room, all conveniently open 24 hours a day.
This Novotel Australia hotel has 109 newly refurbished guest rooms with comfortable beds and pillows. Designed to be the perfect retreat, each room comes with a balcony, complimentary WiFi and iPod docking stations.
The best rooms have stunning water views.
Click here for more information about the Geelong Novotel.
Best Things?
The stunning views of Corio Bay from the hotel, make it one of the best hotels Geelong Waterfront has to offer.
Worst Things?
There really isn't much wrong with this Geelong hotel. The only negative I can come up with is that the buffet breakfast is not quite as sumptuous as it used to be.
Summary
The Novotel Geelong Waterfront hotel is the perfect hotel for travellers who want a full-service hotel with great facilities and a top location.
Click here for the latest prices and to read more reviews for the Novotel Geelong.
Just a 5-minute drive from the city centre the Quality Hotel Geelong is located in a quiet residential area on the Geelong Esplanade. Offering glorious views it's ideal for walkers and cycling enthusiasts with well-maintained paths just across the road from the hotel.
Also known as Quality Inn Geelong, the hotel has a great selection of rooms to choose from. Guests have the choice of economy, executive, family and apartment-style rooms designed for both short and long term stays.
Apartments have all the benefits of hotel rooms with the added bonus of full kitchen facilities and separate living room. As part of the Quality Hotel Group, features include an outdoor heated pool, free high-speed wireless internet and complimentary onsite parking.
Click here for more information about the Quality Inn.
Best Things?
The Quality Hotel has great Geelong family accommodation with rooms large enough for families and groups of up to four people.
Worst Things?
Parts of the hotel could do with some freshening up. However, we've been told the Quality Bayside Geelong is scheduled for refurbishment soon.
Summary
Quality Bayside Hotel Geelong is a fantastic place to stay for those looking for a relaxing Geelong Waterfront hotel. With a wide variety of rooms and excellent service, this is a great choice for short term accommodation in Geelong.
Click here for the latest prices and to read more reviews for the Quality Bayside Hotel.
Geelong Apartments
On the lookout for the best Geelong accommodation waterfront apartment? Then the Vue apartments may be just what you've been looking for. Located conveniently in Bellarine Street, the Vue Apartments Geelong have superb views over Eastern Beach and Austin Park.
Comprising 60 modern and stylish apartments, guests can choose from studio and one and two-bedroom options. The building's contemporary design is reflected in the open plan living/dining/kitchen and quality fixtures and fittings.
All apartments come with award-winning King Koil beds, fully equipped European style kitchens and for coffee lovers Nespresso machines.
Click here for more information about the Vue Apartments.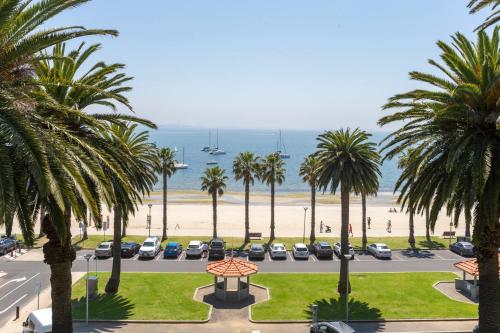 Best Things?
The Vue Apartments Geelong Vic are in near new condition. Rates include secure car parking.
Worst Things?
Not all apartments are serviced so it's best to check when booking.
Summary
The Vue Apartments has some of the best self-contained accommodation Geelong has to offer. Great location. Great views. Comfy beds and stylish rooms. What more could you ask for?
Click here for the latest prices and to read more reviews for the Vue Holiday Apartments.
This Geelong beachfront apartment is located smack bang on Eastern Beach Road, just a few steps from the Carousel, Bay City Marina and Geelong Yacht Club.
Edgewater Geelong 108 is a spacious two-bedroom apartment featuring ducted heating and cooling, a fully equipped kitchen with microwave and dishwasher, luxurious deep soaking tub and a furnished balcony. Weekly housekeeping is available for longer stays.
On those lazy days when you don't want to leave your Geelong accom, guests can enjoy the brilliant lap pool, fitness centre and breathtaking views from the outdoor entertainment area.
Click here for more information about Edgewater 108.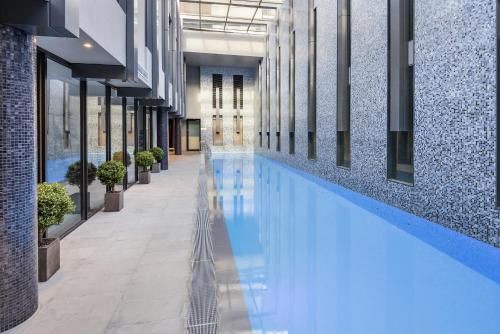 Best Things?
The outdoor garden with incredible water views and a barbecue entertainment area. Contact the manager for access.
Worst Things?
There is no front desk, guests receive an email with instructions for check-in after booking.
Summary
For convenient Eastern Beach Geelong accommodation, the Edgewater Apartments Geelong ticks all the boxes. Simply cross the road to enjoy all that the waterfront precinct has to offer.
Click here for the latest prices and to read more reviews for Edgewater 108 Geelong.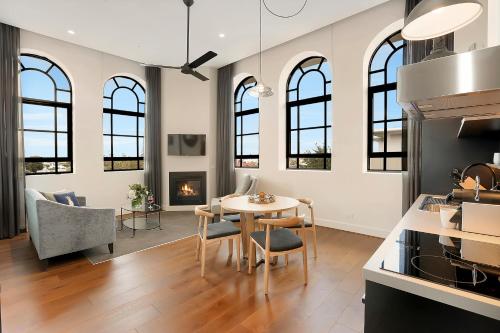 For the best self-contained accommodation Geelong has, you can't go past The Devlin.
Whether you need a night or two in Geelong for a long weekend, if you're visiting for the football, or if you're a corporate in need of longer-term accommodation, Devlin Apartments Geelong is perfect for your needs.
These chic apartments are located in the iconic heritage-listed Gordon Junior Technical School just 300 metres from Kardinia Park on Moorabool Street. Boasting Geelong's first 4 1/2 star luxury accommodation there's nothing else like them in Geelong.
Apartments are available in four distinct designs. Guests can choose between modern, industrial and New Yorker style accommodation. Rooms are available with a private balcony, gas log fire, rainfall showers and spa.
This is some of the nicest accommodation in Geelong Victoria.
Click here for more information about the Devlin Apartments.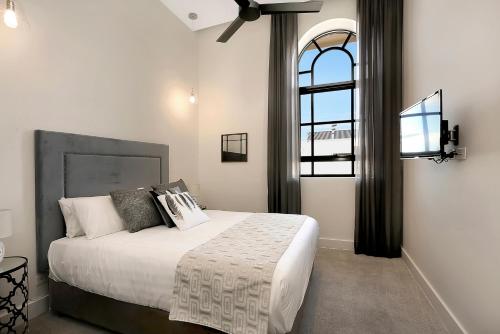 Best Things?
The gorgeous heritage-listed building, unique windows and natural light make these apartments a favourite of ours.
Worst Things?
It takes a bit longer to walk to any of Geelong's attractions (except the AFL football ground) as the Devlin Apartments are located on the edge of the city.
Summary
One of the most luxurious accommodation options that will suit all types of travellers to Geelong. A stay here will not disappoint!
Click here for the latest prices and to read more reviews for the Devlin Apartments Geelong.
Accommodation Geelong CBD
Looking for the best affordable hotel accommodation Geelong has? Then the Rydges is a great option for you.
Situated just a few blocks back from the waterfront, this Rydges Hotel is only minutes from Kardinia Park, and within walking distance to the city's vibrant restaurant and bar scene, museums, and galleries.
This Geelong city accommodation offers 138 guest rooms, a pool area and spa, and sweeping views of Corio Bay, the You Yangs and Kardinia Park. There's an onsite restaurant serving fresh modern Australian cuisine and a hearty buffet breakfast.
Click here for more information about the Rydges Hotel. 
Best Things?
Definitely the location. Rydges is within easy walking distance of Little Malop Street, Geelong train station and it's just two minutes from the Gull Bus.
Worst Things?
The hotel doesn't have any balconies to enjoy the fabulous views from.
Summary
The Rydges Hotel has all the essential amenities needed to be comfortable and connected. And it's the perfect base to take in all the city of Geelong has to offer.
Click here for the latest prices and to read more reviews for the Geelong Rydges Hotel.
The Gatehouse Bed and Breakfast Geelong is a unique and traditional Victorian era guesthouse. It has all the grace and charm of a bygone era that makes a refreshing change from the usual hotel room.
This value for money Geelong city accommodation, offers comfortable rooms with televisions, DVD players and free internet access.
There's also a laundry and kitchen and delightful garden and barbecue area. Other features include a help-yourself continental breakfast, balcony access and luggage storage area.
The Gatehouse Geelong is ideal for large groups with bed availability for up to twenty people.
Click here for more information about the Gatehouse Geelong.
Best Things?
The captivating 1897 building and the easy-going and laid back atmosphere.
Worst Things?
Shared facilities.
Summary
For travellers on a budget who are looking for cheap accommodation in Geelong, The Gatehouse is a great option. From its comfortable rooms to its excellent location and old world charm it's sure to delight the most discerning traveller.
Click here for the latest prices and to read more reviews for Gatehouse On Ryrie.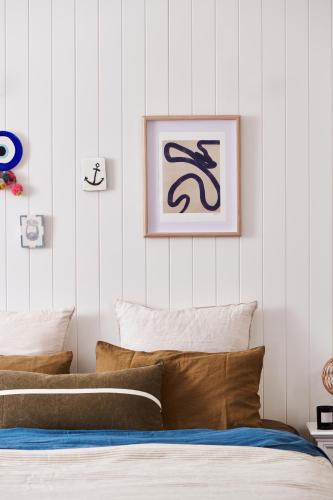 Anchor Geelong has eight bright and airy studio-style rooms. The individually designed rooms are fitted out in a nautical theme with beautifully appointed furnishings.
Each unit features a kitchenette equipped with a microwave and bar fridge.
Guests are treated to comfy beds with quality linens and luxurious rainforest showerheads. Extra features include off-street parking, wireless internet, smart TVs and outdoor courtyard areas.
The superb Geelong Botanical Gardens is less than a kilometre away, and the Son Of An Elk cafe is handy for a coffee or quick bite to eat.
Click here for more information about Anchor Geelong.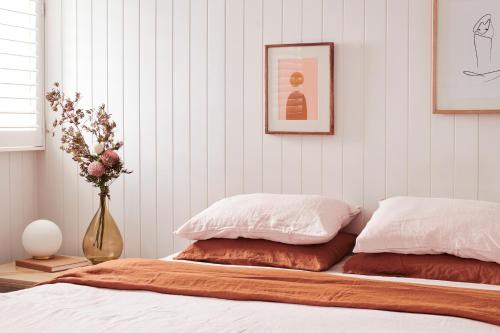 Best Things?
The Anchor accommodation at Geelong has an easy check-in system and keypad door locking.
Worst Things?
It's located on a busy road opposite Geelong University Hospital.
Summary
Anchor is an excellent place to base yourself while you explore all the attractions this fab city has to offer. All for a great price!
Click here for the latest prices and to read more reviews for Anchor Geelong.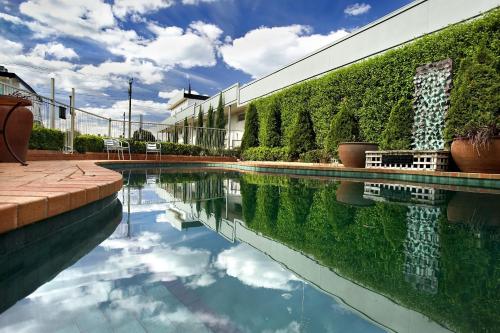 For travellers looking for accommodation near Geelong Gull bus, the Best Western Admiralty Motor Inn is ideal. Located in McKillop street it's just a short walk from the Gull's main drop-off point.
The Admiralty Motor Inn has 41 air-conditioned rooms with queen size beds, free Foxtel cable TV and wireless internet. Some rooms are available with a spa.
Other facilities at the Admiralty Inn Geelong include an outdoor saltwater pool, free on-site parking and luggage storage area. Breakfast is available either in your room or in the poolside breakfast room.
A highlight of this good value hotel is the award-winning Empire Grill restaurant. Located on-site the restaurant has been serving delicious food Geelong residents for over 30 years.
Click here for more information about the Admiralty Inn. 
Best Things?
The excellent welcoming staff will bend over backwards to help you.
Worst Things?
No views or bells and whistles.
Summary
This is great motel style accommodation with comfortable clean rooms on the city's edge.
Click here for the latest prices and to read more reviews for the Admiralty Motor Inn Geelong.
If you are looking for a holiday house in Geelong, then you should take a look at Quartz Cottage. This delightful three bedroom heritage cottage has a homey feel and provides sleeping for up to five people.
The clean and practical space has lots of little touches to make your stay really special, including extra blankets and heating on those cold winter nights. A highlight of this property is the lovely garden that's perfect for relaxing on a sunny day.
Hidden away in a side lane, the cottage is well situated in the city centre close to everything you need. Including local pubs and cafes and popular tourist attractions.
Quartz cottage has undercover parking on the premises.
Click here for more information about Quartz Cottage.
Best Things?
Only a ten-minute walk to Little Creatures Brewery, you'll have this fabulous property all to yourself.
Worst Things?
The carport can be a bit tricky for large vehicles.
Summary
Quartz Cottage is perfect for anyone looking for a unique place to stay that's a more homely alternative to standard apartment-style accommodation.
Click here for the latest prices and to read more reviews for Quartz Cottage Geelong.
Luxury Accommodation Geelong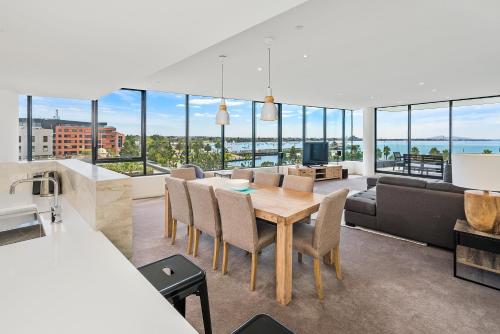 Looking for the best Geelong accommodation that's both convenient and luxurious? One of the top places to stay in Geelong is the Edgewater Penthouse on Eastern Beach Road.
This three-bedroom apartment has the finest fixtures and fittings, designer kitchen with marble benchtops, opulent bathroom and ducted heating and cooling.
Guests can enjoy the swimming pool, gym, steam room, rooftop garden and their own furnished balcony. And of course incredible views. Other features include car parking and excellent security.
Click here for more information about the Edgewater Penthouse.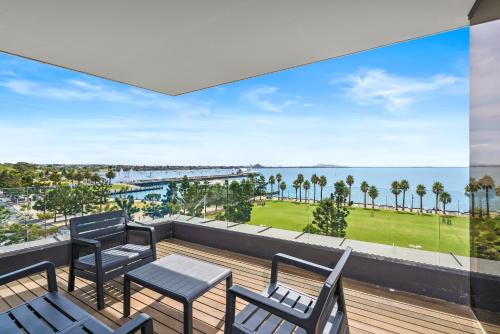 Best Things?
The unforgettable water views that will have you falling in love with Geelong.
Worst Things?
The check-in process can be a little tricky as it takes place in another building.
Summary
The Edgewater Penthouse has everything you could want in a luxury apartment. Do yourself a favour and book this place for a Geelong trip you'll never forget.
Click here for the latest prices and to read more reviews for the Edgewater Penthouse.
You can read our full guide to the best luxury accommodation in Geelong by clicking here.
Where To Find A Top Hotel In Geelong
Looking for a more relaxed style of accommodation? Then read our article about the top caravan parks in Geelong or our guide to the best Geelong motels here.
You can find more information about Geelong activities here.