Travelling to Geelong on a budget and want to know all the best free things to do in Geelong?
Are you wondering what to see in Geelong when money is tight?
Then you're in the right place. Below you'll find our guide to all the best Geelong things to do that won't cost you a cent.
Let's face it, whether you're a local or an overseas tourist Australia is a crazy expensive place to visit. But this doesn't have to be the case when you visit Geelong. As many of the best Geelong attractions are completely free!
So put your wallet away and keep reading to find out what to do in Geelong at absolutely no cost to you!
15 Free Things To Do In Geelong
1) Wander The Geelong Waterfront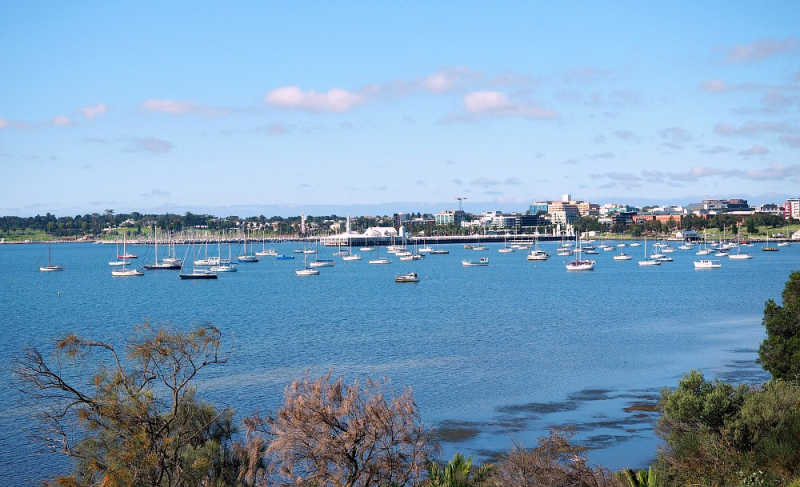 Most visitors start their Geelong sightseeing at the Waterfront. It's one of the most popular places to visit in Geelong, and it's possible to spend hours here without spending a cent.
Take a wander along the Baywalk and soak up the sea air while gazing at the sparkling blue water.
Along the way, you'll pass yachts bobbing in the breeze, lush gardens, colourful painted bollards, public art installations, kids playgrounds and a youth activity centre, piers, jetties, and promenades, a historic carousel, giant sky wheel, and mind-blowing views.
Bring a picnic or barbecue and make a day of it.
Staying a few days? Find the best Accommodation in Geelong here. 
2) Take A Dip At Eastern Beach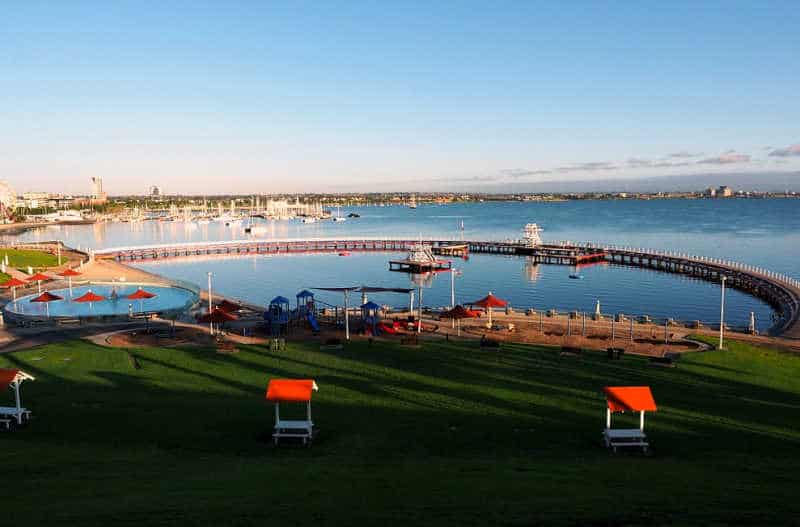 At the most eastern end of the Waterfront, you'll find the aptly named Eastern Beach. The jewel in the Waterfront's crown, this amazing space is one of the best Geelong attractions for families, kids, and adults alike.
Here you'll find wide expanses of lush lawns with picnic tables and barbecues, change rooms, and a cafe and kiosk.
The main focal point of the area is the 200-metre art-deco promenade that encloses the sea baths. It was beautifully restored in the 1990s, and a stroll around this iconic attraction is one of the must-do activities in Geelong.
There is plenty of free fun to be had with diving boards, a huge diving tower, floating islands, pontoons, a kiddies pool, and a playground.
Let the kids go wild!
For more information about Eastern Beach read our full guide by clicking here.
3) Walk The Geelong Bollards Trail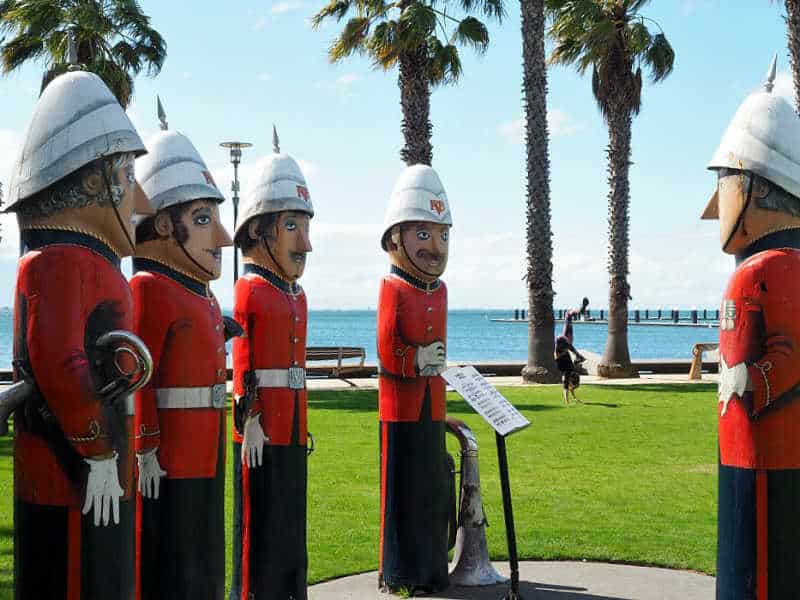 Dotted all along the Geelong foreshore are colourful wooden characters known as the Baywalk Bollards.
These whimsical pieces were created by a local artist using old timber pylons from a demolished city pier. Each one tells a story about the people who helped make Geelong the city it is today, from opera singers to the original indigenous inhabitants.
Over 100 of these artworks feature along the 3 kilometre Geelong Baywalk Bollards Trail. One of the fun things to do in Geelong is to slip on your walking shoes and discover them all!
The walk takes around 2 hours one way, but there are plenty of spots to stop and have a rest. Remember to bring snacks and a drink with you.
Tip: Keep an eye out for the hidden rabbits that lurk at the bollards' feet.
For some interactive fun download the free Activate Geelong App.
4) Find The Bats In Eastern Park Geelong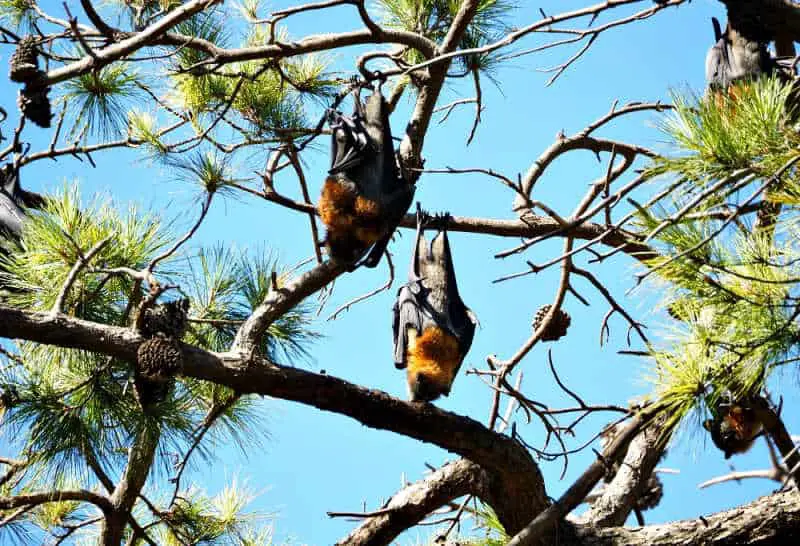 With over 185 acres of parkland, walking tracks, picnic areas, and sporting facilities, Eastern Gardens Geelong is the perfect place to escape the hustle and bustle of the city.
Located within the parklands are rotundas and barbecues, the Geelong Playspace, Geelong Botanical Gardens, East Geelong Golf Course, and the Eastern Park Circuit.
These secluded Geelong gardens are also home to a colony of bats that spend the day hanging from the trees. At night they go looking for food and you'll often see them flying over the Geelong rooftops.
For a closer look, you'll find these creepy critters along the walking track near the golf course. Your nose will let you know you're getting close!
1-4 Garden Street, Geelong 3220 
5) Unwind At The Geelong Botanic Gardens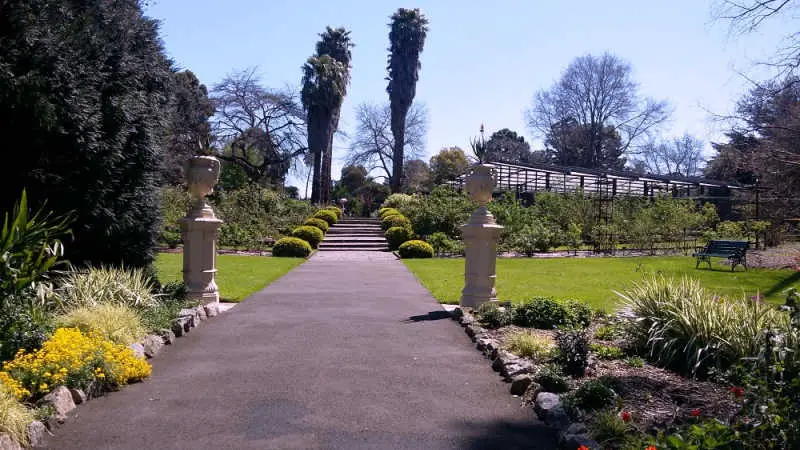 The Geelong Botanical Gardens are considered one of Australia's finest regional gardens. And it's one of the most beautiful things to see in Geelong.
Built in 1851, the gardens are home to some breathtaking old trees, several of which are registered on the National Trust Significant Tree Register.
There are also manicured lawns, flowering garden beds, a hothouse, and pond. And a number of heritage features including statues and fountains, and a historic Cabman's Shelter.
Of particular interest is the unique 21st Century Garden. This modern and innovative garden has been designed to adapt to the challenges of global warming and climate change.
Featuring plants from Australia and other low rainfall countries, it challenges the idea of what a botanic garden should actually look like.
On-site is the charming Geelong Botanical Gardens Cafe or "Tea House", serving light refreshments.
Garden Street, East Geelong 3219

Open 7 Days a week.

Entry is free.
6) Enjoy The Festivities At A Free Geelong Event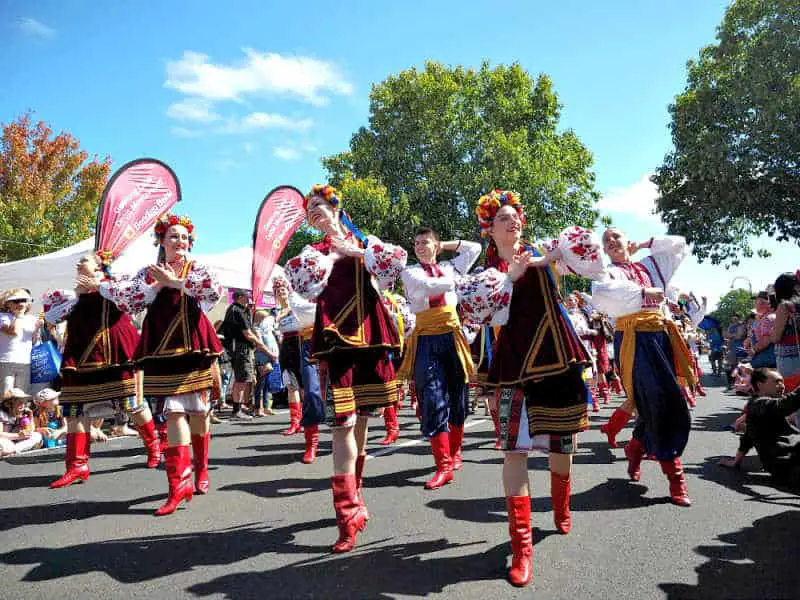 Geelong Victoria boasts a number of high profile festivals and events. Fortunately, many of the events in Geelong are free to attend.
These fabulous Geelong events are held throughout the year and feature everything from sporting spectacles to music festivals and cultural celebrations.
Here are a few great Geelong festivals that won't cost you a cent:
Festival Of Sails: Enjoy thrilling yacht races at the largest annual keelboat regatta in the southern hemisphere.
Pako Festa: A vibrant street festival that celebrates multi-cultural Geelong. Don't miss the dazzling parade!
Geelong After Dark: A curated artistic event that uses central Geelong as its canvas.
White Night Geelong: See the city transformed with projections, street performers, illuminations, and mesmerising music.
7) Learn About Aboriginal Culture At Narana Geelong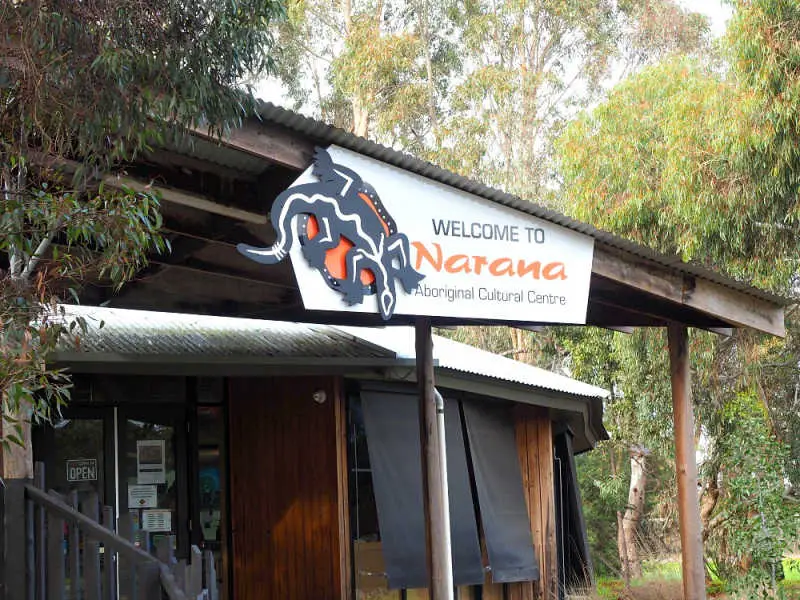 If you're looking for Geelong tourist attractions with a cultural focus, then Narana Aboriginal Cultural Centre is a great choice.
Narana is also terrific if you're looking for fun things to do in Geelong with kids.
It's a not for profit organisation that was developed to promote Reconciliation through education. Visitors can enjoy self-guided tours, cultural educators, indigenous art, a gift shop, and cafe.
The centre is surrounded by beautiful native trees, wooden walkways, and a native garden that's home to local wildlife.
A wander through the garden will reveal swamp wallabies, emus, and eastern grey kangaroos. Many of whom are friendly and will come up to you looking for a pat!
Kids love it here.
410 Surf Coast Hwy, Grovedale 326

Entry to Narana Aboriginal Centre is free.

Open Monday to Friday 9 am – 5 pm

Saturday 10 am – 4 pm.
8) Visit The Geelong Gallery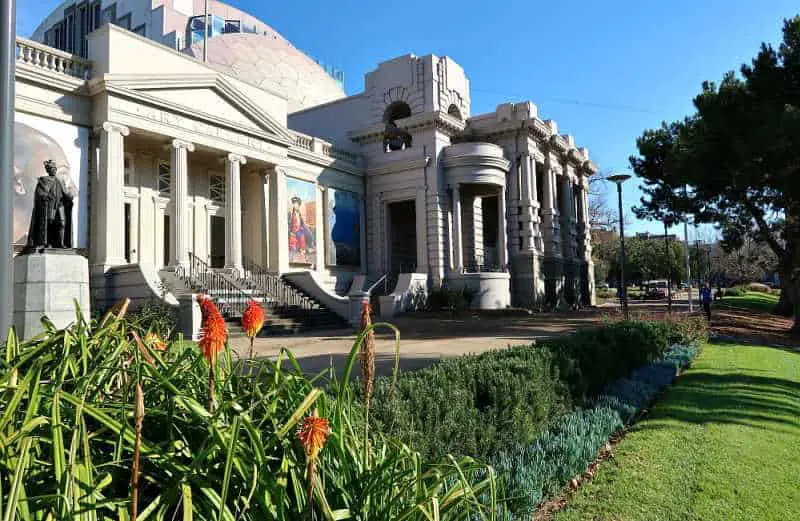 Another of the great things to do around Geelong is to visit the Geelong Art Gallery.
Established in 1896 it's one of the country's leading regional galleries with over 6,000 works of art.
The impressive collection includes Australian and European paintings, prints, sculptures, and decorative arts dating from the 18th century to the present day.
A key focus of the collection is early images of the Geelong region detailing the progression of this remarkable city. Keep an eye out for my favourite, the haunting 1890 'A Bush Burial' by Frederick McCubbin.
The gallery offers a range of workshops, lectures, and activities. And boasts a dynamic program of temporary exhibitions.
You can read our full guide to the best Geelong galleries by clicking here.
55  Little Malop Street, Geelong 3220

Art Gallery Geelong Times: 7 Days 10 am – 5 pm
9) Join A Geelong Library Tour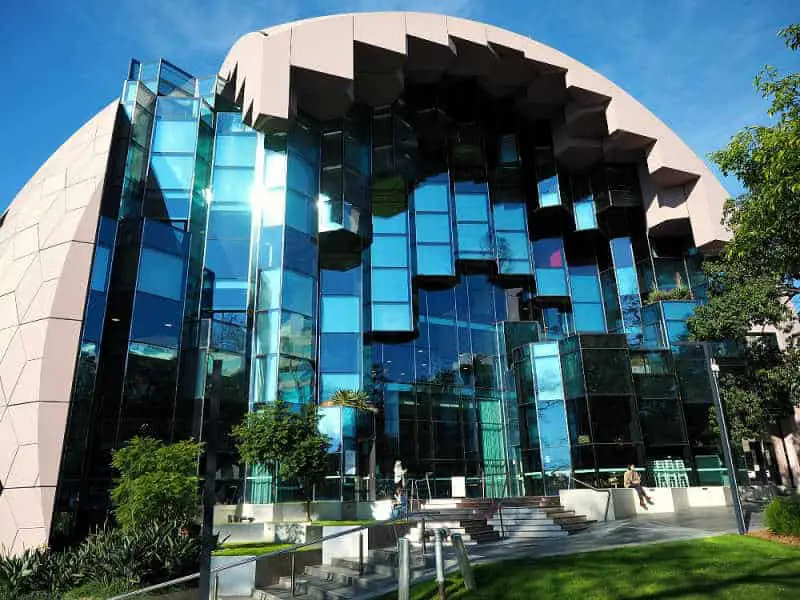 Located in the heart of the city's cultural precinct the Geelong Regional Library is a stunning architectural jewel.
This extraordinary building is made from glass and reinforced concrete and features a one-of-a-kind geodesic dome.
It sits adjacent to Johnstone Park and the building's beauty is enhanced by a clever design that embraces the greenery outside.
Inside there are 5 levels including a dedicated children's floor, reading rooms and comfy chairs, highspeed WiFi, a cafe, and a range of print, multimedia, and heritage items.
The crowning glory of this architectural masterpiece is the 5th-floor balcony that offers eye-popping views across Corio Bay.
51 Little Malop Street, Geelong 3220

Complimentary tours of the Geelong Library And Heritage Centre run daily at 11 am.

The tour takes around 45 minutes.
10) Have A Picnic In Johnstone Park Geelong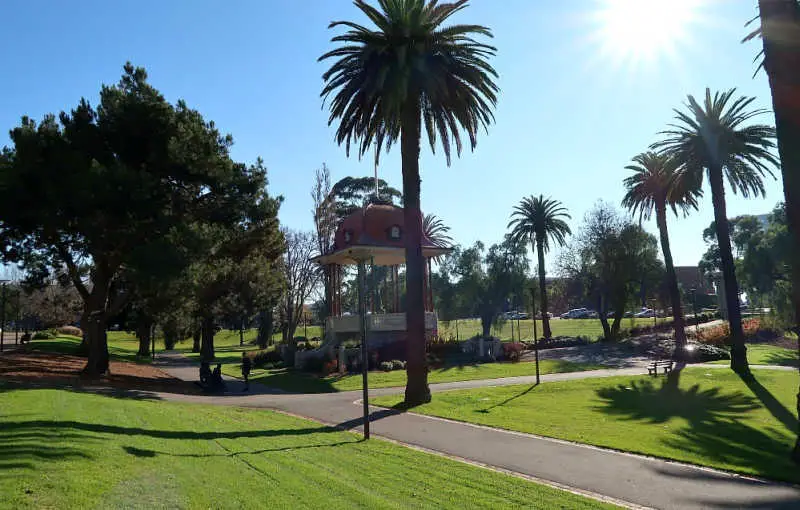 Johnstone Park sits on the western edge of Geelong's city centre. It was originally a swamp that was turned into a dam until it was transformed into a park in 1872.
This beautifully landscaped area has several historic features such as the Peace Memorial and Bandstand, Apex sculpture, King George statue, and the Hitchcock Memorial Gateway.
Of particular interest is the lush rain garden that filters stormwater through a series of terraced ponds. The filtered water is then used to irrigate the park.
This is a really pretty park with large expanses of thick green lawn. It sits adjacent to the library and art gallery and a picnic here is the perfect stop after a visit to these free Geelong attractions.
24-28 Gheringhap Street, Geelong 3220
11) Climb Flinders Peak At The You Yangs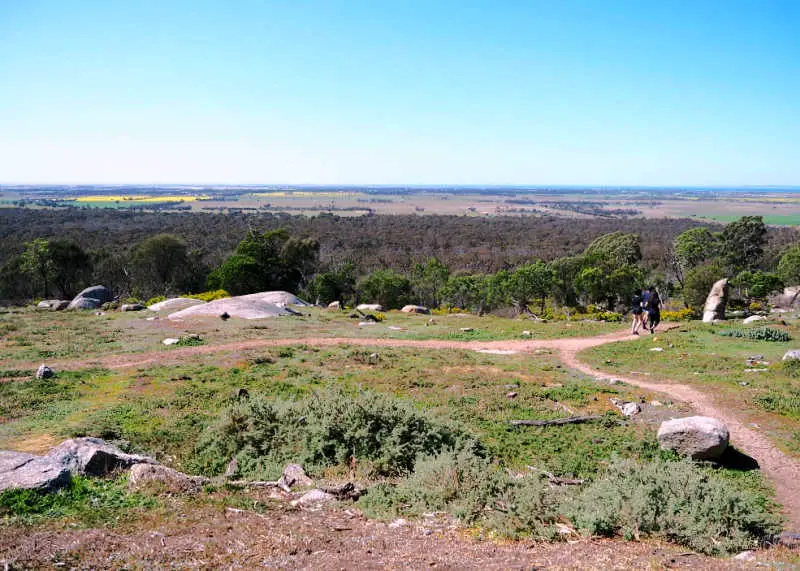 Rising from the flat plains north of Geelong, the unmistakable granite peaks of the You Yangs Regional Park are impossible to miss.
The boulder strewn bushland setting offers over 50 kilometres of purpose-built mountain bike trails as well as several walking tracks and horse-riding paths.
Abseiling and rock climbing is also popular with a number of excellent sites throughout the park.
A favourite You Yangs walk for visitors is the hour-long hike to the summit of Flinders Peak. This can be a challenging walk with over 450 steps and some steep gradients but the incredible views from the top make it worth the effort.
Other You Yangs walking tracks include the Big Rock Walk, the East-West Walk, and the Branding Yard Trail.
There are 9 designated picnic areas within the You Yangs National Park with tables, toilets, and free barbecues.
5 Branch Rd, Little River Vic 3211

Open 7 days a week.

7 am – 5 pm during non-daylight savings time.

7 am – 6 pm during daylight savings time.
12) See The Wildlife At Serendip Sanctuary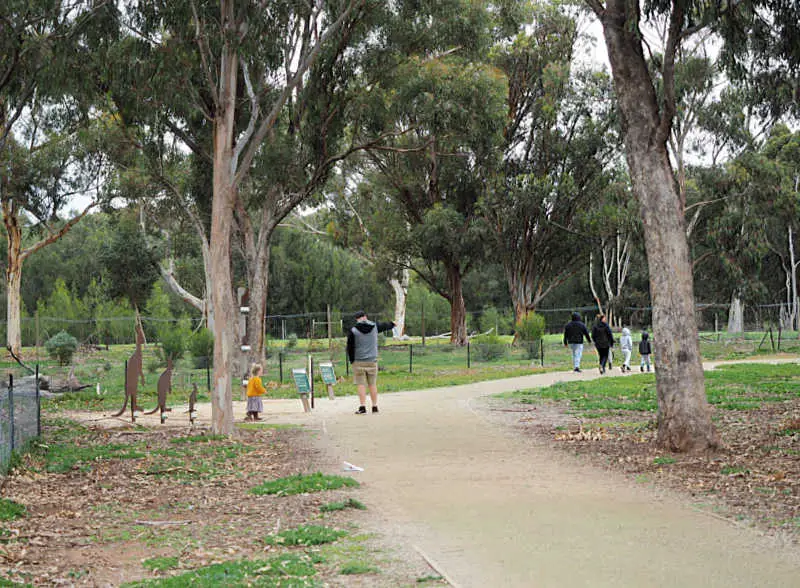 If you're looking for free things to do with kids in Geelong, then Serendip is a great option. Nestled in the grassy woodlands of Lara, this managed nature reserve is a tranquil hidden gem.
It covers 250 hectares of idyllic habitat for native birds and wildlife such as kangaroos, emus, and wallabies.
For bird lovers, this park is heaven, with aviaries and bird hides offering a 'bird's-eye-view' of the wetlands. Dancing brolgas, magpie geese, and yellow spoonbills are just a few of the birds that live, breed and visit Serendip Sanctuary, Lara.
This place is definitely off the tourist trail and it's a great spot for the kiddies to get up close to the animals and learn about their environment.
There's a picnic ground, barbecues, and toilets near the visitor car park.
100 Windermere Road, Lara 3212

Open 8 am – 4 pm everyday except Christmas Day and Good Friday
13) Discover Free Geelong Art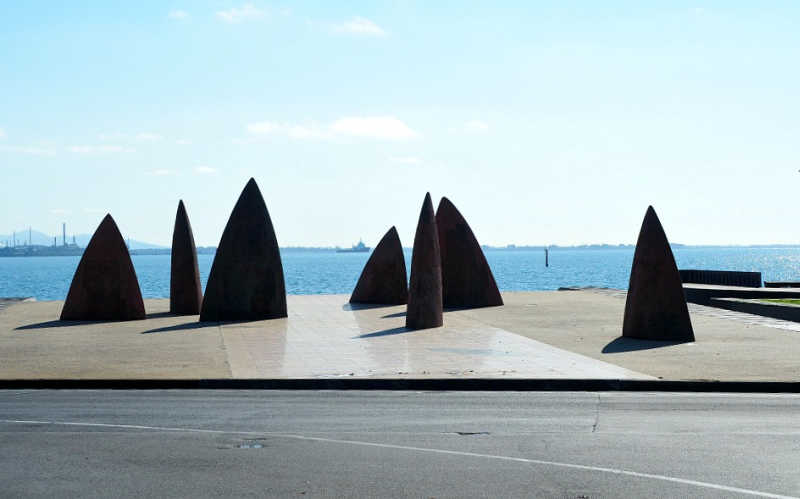 Geelong boasts a large number of public artworks that are spread throughout the town and Waterfront. As you wander the city keep an eye out for sculptures, installations, and colourful Geelong street art.
Tucked into lanes and alleyways, on bridges, and grassy knolls, there's a piece of art in Geelong at just about every turn.
Many of the artworks tell local stories but sometimes a work's meaning is "open to interpretation" or is a "conversation starter".
Key pieces to look out for include 'North' at the bottom of Moorabool Street, 'To The Unknown Mariner' mural on the side of the Port of Geelong Authority building in Brougham Street, and 'The Buoys' sculpture at Steampacket Gardens.
14) Explore The Barwon River, Geelong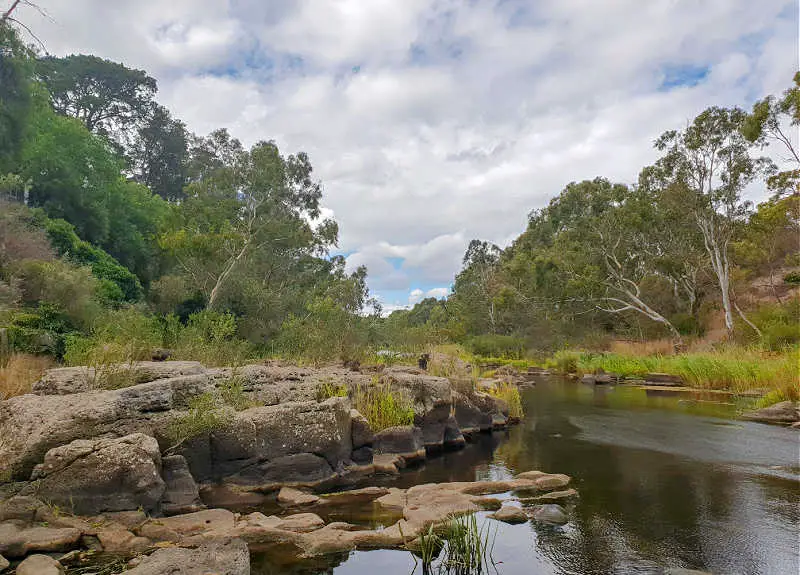 The meandering Barwon River begins its journey in the Otway Ranges passing through the heart of Geelong on its way to the sea.
It's a fantastic place for watersports, walking and cycling, fishing, and chilling out away from the concrete jungle.
The riverside is home to magnificent trees such as river red gum, blackwood and native silver wattle. There's also an abundance of birdlife with over 100 species having been found.
A 20-kilometre network of sealed paths allows pedestrians and cyclists to easily move through the picturesque scenery. Along the way are fascinating wetlands, picnic areas, a golf course, the Yolinko Aboriginal Gardens and the Barwon Valley Adventure Playground.
Visitors who make it as far as Fyansford can watch the water flow over Buckley's Falls and if they're lucky, spot a platypus!
15) See The Colours Change On The Geelong Christmas Tree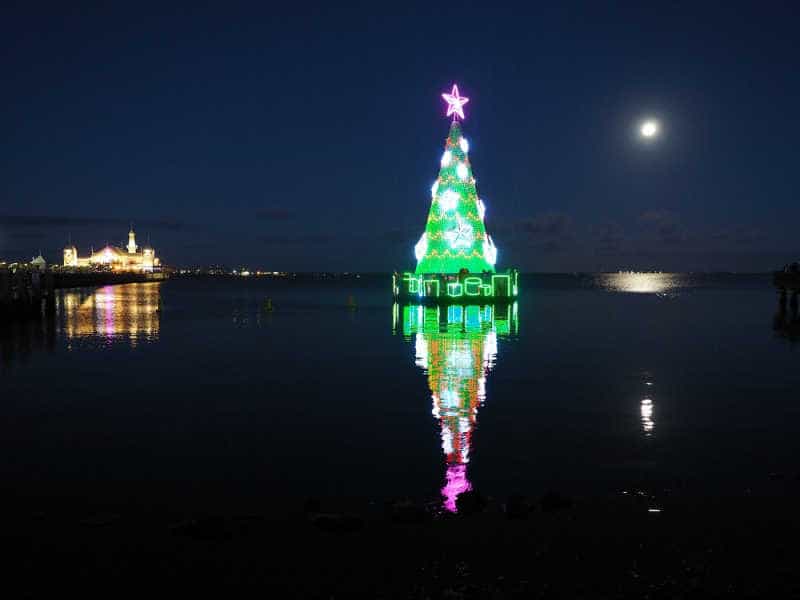 If you're visiting Geelong in December, then head to the bay for some free festive cheer.
Moored on a special barge in Steampacket Quay you'll find Australia's only floating Christmas tree. The conical silver structure stands at a whopping 25 metres high and is designed to reflect the sparkling bay during the day.
At night it transforms into a kaleidoscope of colour with a lighting display that's synchronised to music. Thousands of people from all around flock to the Waterfront throughout December to see the 6-minute shows.
Geelong Waterfront Christmas Tree: Each night in December 8.30 pm – 12.00 am.
Final Words
Geelong is an easy fun place for a holiday. It has an amazing Waterfront, museums and galleries, outdoor spaces and there's plenty of Geelong free stuff to do!
I hope you've found this post useful and enjoy all the free things to do in Geelong.
If you are looking for cheap places to stay in Geelong then click here to find our guide to the best motels in Geelong.
Alternatively, click here for information about the top Geelong caravan parks.
You can find our full travel guide to Geelong here.
Related Posts: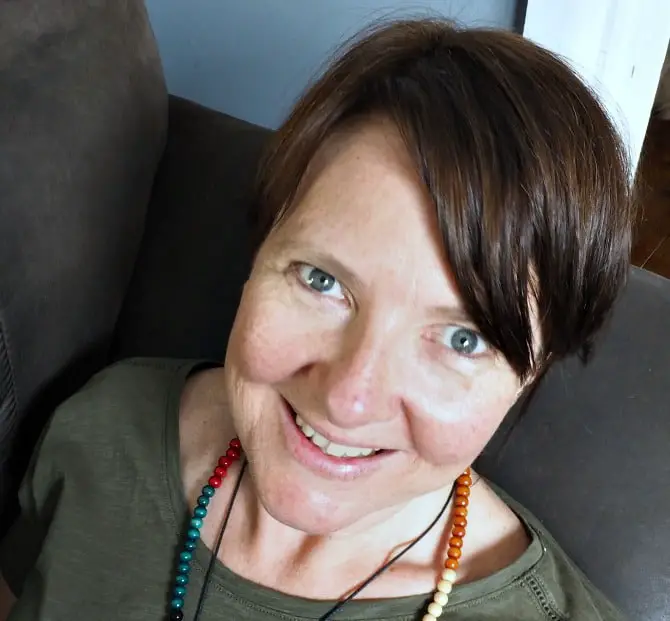 By Audrey Chalmers
Audrey is the principal blogger behind See Geelong. Book Lover | Breakfast Nut | Geelong Gal | She's Usually Craving Coffee.