If you're looking for the best wineries to visit in Geelong, this article will help you find the right places to add to your shortlist.
Whether you want to find a Torquay winery on or near the Great Ocean Road and Bell's Beach, or Geelong wineries with restaurants that are close to town, or even within easy reach of Melbourne – you'll find it here.
Wineries in the Geelong area can also be found in the Moorabool Valley region, where you're spoiled for choice with 7 of the best Geelong wineries to choose from.
Another of the vineyards near Geelong is located in the Werribee area, and the on-site restaurant with its own kitchen garden makes this one well worth the trip.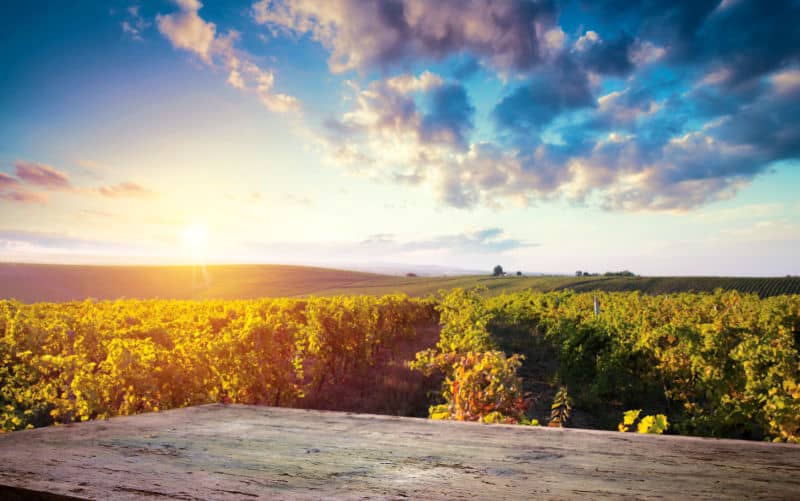 From a vineyard located right there on the Great Ocean Road to the fabulous Moorabool Valley wineries, this guide details 16 of the best wineries in Geelong and the surrounding areas.
As well as a warm welcome and cellar door prices, some offer a cafe, bistro, or restaurant, and one even has guest accommodation in cabins scattered across the Victorian bushland.
Just imagine. A glass of delicious wine in hand while you gaze out over the picturesque landscape, seeing the very vines on which the grapes used to make your drink were grown.
Learning all about wine from the experts who've made it their life's work, dining on the freshest seafood or seasonal produce, or tucking into a satisfying wood-fired pizza.
If this whets your appetite for visiting those Geelong wineries, read on to find your little piece of heaven.
First, we review all the top wineries in Geelong, then at the end, we provide a handy map so you can see exactly where each winery is located.
Please note this article is about the wineries in Geelong, the Moorabool Valley, and Surf Coast. If you'd like information about wineries on the Bellarine Peninsula then click here to read our complete guide.
Otherwise, let's start!
4 Top Wineries In Geelong
Geelong wineries in and around town include Nicol's Paddock and the Mt Duneed Estate in Waurn Ponds, as well as Barwon Ridge in the Barrabool Hills and Provenance in the Fyansford area.
1) Nicol's Paddock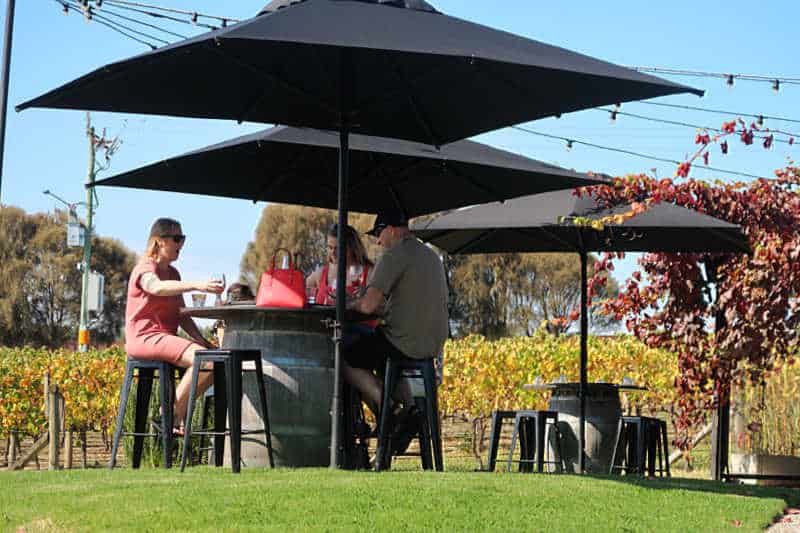 Nicol's Paddock is a Geelong winery that's surely in the perfect location.
Located close to town and the Surf Coast, it's a family-run winery in the Geelong wine region with a restaurant as well as its cellar door.
Nicol's Paddock can be found in the Waurn Ponds area, on the outskirts of town.
The grapevines growing here were initially planted in 1997, where the limestone-rich soil ensures luscious Pinot Noir, Chardonnay, and Shiraz fruits ideal for wine-making.
Four years later, the first batch of Nicol's Paddock Saint Regis Shiraz was produced, and within a few years, the family had added Pinot Noir and Chardonnay to the list.
In fact, Nicol's Paddock was then known as Saint Regis and was rebranded in 2018, several years after the next generation took over the day-to-day running.
The cellar door allows visitors to sample fine Nicol's Paddock wines while overlooking the rolling vineyards.
At the welcoming all-day dining restaurant, meanwhile, guests can feast on seasonal, locally sourced produce.
There is a dedicated vegan menu to ensure everyone can enjoy delicious, freshly-prepared dishes – washed down with local wines of course!
Where: 35 Waurn Ponds Drive, Waurn Ponds 3216

When: Thu: 11 a.m – 5 p.m, Fri – Sat: 11 a.m – Late, Sun: 11 a.m – 5 p.m

Phone: 0432 085 404
2) Provenance Wines Geelong
The clue to the Provenance Winery ethos is in the name – at this pick of the Australian wineries in the Geelong area it's all about where the grapes come from.
At the lovingly restored restaurant, this also applies, just as at the cellar door.
So there's a firm sense of place at Provenance Wines, and it's located at the Old Paper Mills in Fyansford.
Premium wines are the name of the game here. The range includes whites like Chardonnay, Riesling, and Pinot Gris, plus the sparkling Henty Blanc de Blanc.
There are also reds made with Pinot Noir or Shiraz grapes and a Western Districts Rosé.
Staff offers a warm, friendly welcome and there are light, airy spaces in which to socialise while you sip during the signature 45-minute tasting experience.
This includes a wine flight featuring six to eight wines, plus a carefully matched selection of small plates.
You can also dine at the Provenance restaurant, where modern Australian dishes are prepared with artistry as well as a firm focus on flavour.
The options include lunchtime and evening tasting menus, ranging from two courses to the eight course Chef's Selection.
Wine pairings are also available, showing off Provenance Wines of Geelong to their full advantage.
Where: 100 Lower Paper Mills Road, Fyansford 3218

When: Wed – Thu: 11 a.m – 4 p.m, Fri – Sat: 11 a.m – 10 p.m, Sun: 11 a.m – 5 p.m

Phone: (03) 5222 3422
3) Mt Duneed Estate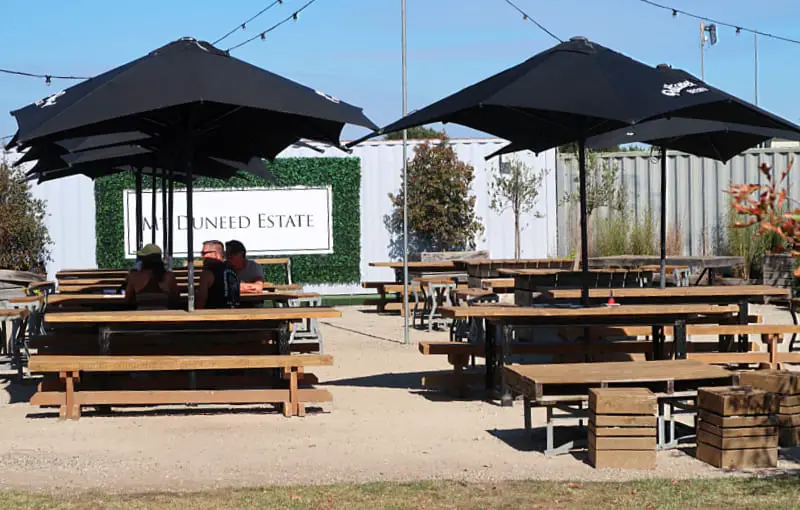 Also in the Waurn Ponds area, Mount Duneed Estate is located only 15 minutes by car from Geelong, and around an hour from Melbourne.
This is not only one of the best wineries in the Geelong area, it's also home to the Barrel Hall restaurant.
In fact, the Mount Duneed winery in Geelong serves as an all-purpose venue for the local area too.
Concerts are held here, hosting big names in music like Crowded House, The Killers, and even the Red Hot Chilli Peppers!
Mt Duneed Estate also has a range of spaces for private events and can also be booked as a wedding venue.
The range of local Geelong wine produced on site includes reds like Shiraz and Pinot Noir, whites such as Chardonnay and Sauvignon Blanc, and the estate grown Rosé.
Further varieties from across the Yarra Valley are also used in the making of regional and single vineyard ranges, so there are lots to try when you visit.
The Barrel Hall at Mt Duneed winery is a relaxed eatery combining rustic country style with a thoroughly modern menu.
Here, dishes based on local ingredients like kangaroo and artisan cheeses contrast against global-inspired dishes with influences from countries in Asia, the Middle East, and more.
Where: 65 Pettavel Road, Waurn Ponds 3216

When: Thu – Sun from 12 p.m

Phone: (03) 3266 1244
4) Barwon Ridge Geelong Winery
The Geelong vineyards of Barwon Ridge in the Barabool Hills produce Shiraz, Cabernet Sauvignon, Marsanne, Pinot Noir, and Chardonnay grapes.
These are used to produce vegan-friendly, sustainable and palate-pleasing wines at this winery, which is located just a 10-minute drive from Geelong and about an hour south west of the state capital.
This spot offers wine tasting in Geelong from a site perched above the Barwon River, with panoramic views over the vineyards.
The cellar door at this five star winery is open during weekends for tastings, and the history of grape-growing here stretches back to the 1840s.
In addition to the range of red and white Barwon Ridge wines, the vineyard produces fortified Shiraz, champagne-style sparkling Chardonnay Pinot Noir, and Rosé.
The winery also supplies other local farm produce and makes wine vinegars. In 2017, Pinot Meunier was also reintroduced at Barwon Ridge.
As well as tending carefully to the land and making the best use of its bounty, Barwon Ridge Winery operates a wine club and a shop where you can purchase their affordable fine wines.
Guided tastings also take place here at weekends, so you can fully appreciate every last drop.
Where: 50 Mcmullans Road, Barrabool 3221

When: Sat – Sun: 11 a.m – 4 p.m

Phone: 0418 324 632
7 Top Wineries In The Moorabool Valley
There are seven great boutique wineries in the Moorabool Valley region, including Murgheboluc, Lethbridge, Anakie, Moorabool, Sutherlands Creek, and Bannockburn wineries.
1) del Rios Winery & Restaurant
Del Rios winery and restaurant is a welcoming, family-run pick from all the wineries near Geelong.
Positioned on the slopes of a now-defunct volcano, the property has a tasting room and restaurant.
Sharing good wine and food with those you love is one of life's greatest pleasures, and that's precisely how the team at this Anakie winery wants you to experience what they offer.
The Saturday Night Dinners at the restaurant are a particular feature, serving delicious food and wine as the sun sinks over the horizon.
A family of five comprising Esther and Gus del Rio and their three sons ensure things run smoothly at del Rios.
They planted the first vines here in 1996, and are dedicated to creating wines and dishes that showcase the Moorabool Valley region and reflect its unique varietal character.
Incredibly, Gus del Rios is wholly self-taught.
In addition to running one of the finest Geelong wineries restaurants, the winery caters for events and runs a wine club.
The vineyard and eatery are around 20-minutes' drive from town, and whether you dine indoors or out you can marvel at magnificent vineyard views while you eat and drink.
Where: 2290 Geelong-Ballan Road, Anakie 3213

When: Fri: 5.30 p.m – 9.30 p.m, Sat: 11.30 a.m – 9.30 p.m, Sun: 11.30 a.m – 5 p.m

Phone: 1300 171 259
2) Clyde Park
Unlike its Scottish counterpart bearing the same name, this Bannockburn winery near Geelong is no battleground.
Rather, it's an important inclusion on any list of wineries for the Moorabool Valley region and is conveniently located on the Midland Highway.
The setting of the Clyde Park winery is also nothing like Scotland. It's a landscape characterised by rolling green hills and the Bannockburn vineyards, and as a visitor, you can sip on award-winning wines while enjoying the sweeping views over the area.
The produce from this land is put to good use in making Clyde Park wines crafted from Pinot Noir, Sauvignon Blanc, Shiraz, Pino Gris, and Chardonnay grapes.
Weddings are also held at the venue, and there is a club for fans of Clyde Park wines too.
Dining at the bistro is also a highlight of a visit to Clyde Park, with wood-fired pizzas and local cheeses being a specialty. Yum!
Where: 2490 Midland Hwy Bannockburn 3331

When: Wed – Fri: From 11.30 a.m, Sat – Sun: From 10.30 a.m

Phone: (03) 5281 7274
3) Lethbridge Wines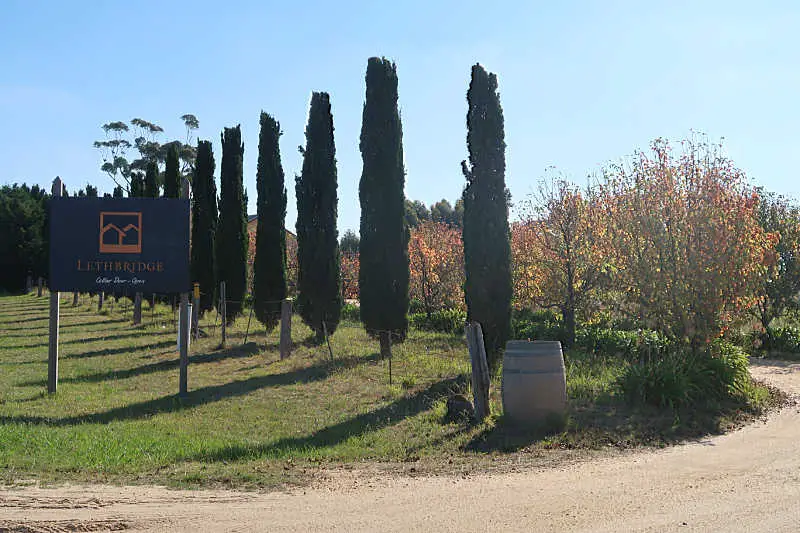 Lethbridge Winery has been producing an impressive range of wines for over two decades, and during that time has earned a formidable reputation.
The vineyard has won international acclaim, as well as within Australia, and Lethbridge wine is sold globally.
The Lethbridge Estate makes Australian boutique wines from a variety of grapes, including Chardonnay, Riesling, Pinot Gris, Pinot Noir, Shiraz, Merlot, Malbec, and more.
Their Between Five Bells range includes amber and naturally sparkling wines, while the II Modo selection includes Frizzante and Fiano wines.
If you love fizz, look out for the Nadeson Collis name.
Lethbridge is one of the wineries of the Geelong district offering cellar door tastings, and special events are also offered such as a Vintage Experience or 'Story of Lethbridge' Masterclass.
Originally planted in 1874 by immigrants from Switzerland, the vineyards of Lethbridge Wines were replanted in 1996. At first glance, however, you might just believe you're actually in Tuscany…
The owners are committed to sustainability, using biodynamic and organic methods in their winemaking.
They offer not one but a range of wine clubs, including Domaine, Village, Museum, and Estate options. Pretty impressive stuff.
Where: 74 Burrows Road, Lethbridge 3332

When: Mon – Fri: 11 a.m – 4 p.m, Sat: 11 a.m – 5 p.m, Sun: 11 a.m – 4 p.m

Phone: (03) 5281 7279
4) Moorabool Ridge Winery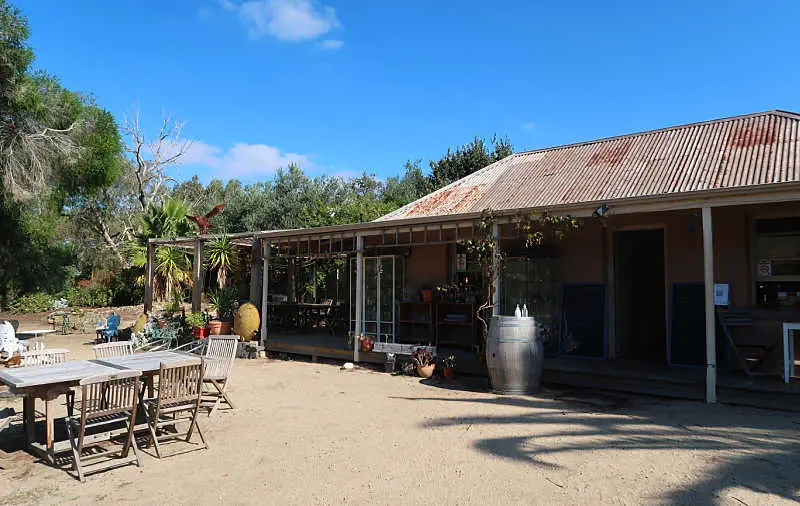 Moorabool Ridge Winery also makes a welcome addition to any list of Geelong wineries.
Situated in Lethbridge, the local micro-climate here creates perfect growing conditions for half-a-dozen grape varieties – Cabernet Sauvignon, Merlot, Shiraz, Cabernet Franc, Chardonnay, and Semillon.
The historic building has an appealing rustic look, emphasising the fact that here it's all about the wine.
As it's nestled within a valley, the grapevines here are largely protected from extreme temperatures, allowing the fruit to develop and ripen naturally.
The glorious bushland setting really helps to make a day here special, as you can watch the local kangaroos bouncing around while relaxing at the cafe.
This is also a family-run winery, where great care is taken to produce a top drop every time while using organic processes and as few preservatives as possible.
The fact that an 18th century Shepherd's Hut acts as the cellar door here is the ideal finishing touch, giving this place by the Moorabool River an authentic and timeless quality.
Where: 37 Spiller Road, Lethbridge 3332

When: Sat – Sun & Public Holidays: 11 a.m – 5 p.m

Phone: (03) 5281 9240
5) Spence Wines
After being inspired by a European holiday, it took the team behind Spence Wines three years to source the perfect site for their vineyard.
Like some other wineries around Geelong, it has now been established since the late 1990s.
This is a relatively small-scale operation. Only grapes from Spence's own vines are used, and just small batches of each vintage are produced.
Spence Wines is working hard towards biodynamic certification, already harnessing such practices while avoiding herbicides and using only organic sprays.
When making the wines, as little intervention as possible is the ethos at the Spence winery.
Processes such as natural fermentation using yeast already present on the fruit are adhered to, and the barrels used are made from French oak.
The range produced by Spence Wines includes a natural sparkling Rosé, Viognier, Shiraz, Chardonnay, and Pinot Noir.
There is also a Rosé made using Shiraz grapes, and many varieties are suitable for vegans.
Where: 760 Burnside Road, Murgheboluc 3221

When: First Sunday of the month: 11 a.m – 5 p.m, or by appointment

Phone: (03) 5265 1181
6) Austin's Wines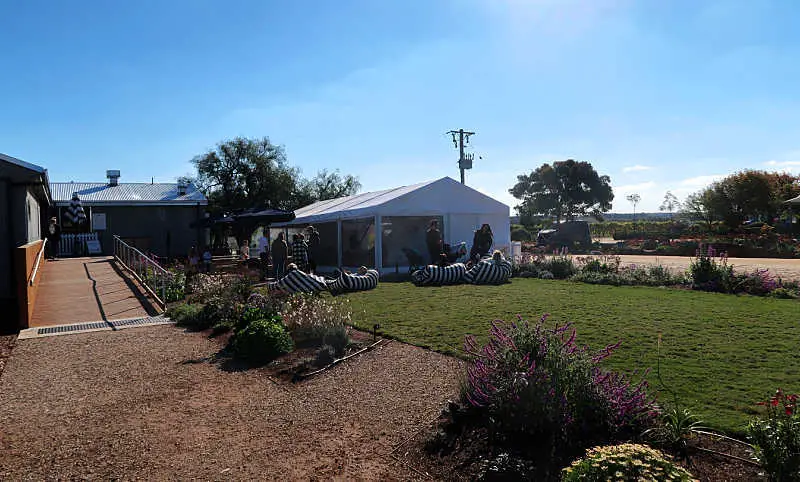 The Austin Winery near Geelong, is also set in the Moorabool Valley, with its unique cool climate and fertile limestone soil.
It's overseen by a second generation of winemakers and is all about sharing great wine with family and friends.
Unusually among wineries in the Geelong region, Austin's makes both white and rosé Prosecco, which is perfect for drinking at any time or to be used in making cocktails.
Other varieties sold include Pinot Gris, Chardonnay, Sauvignon Blanc, Riesling Pinot Noir, Shiraz, and the sparkling limited edition Austin's Cuvee.
The winery caters for weddings and other special events, and even offers locals the opportunity to 'rent a vine' via a 12 month tuition program.
This includes every step, from tending the vines to harvesting, crushing, blending, and bottling.
Regular events are also held to whet your appetite, such as Pinot Piazza, Easter weekends with BBQs, cheese boards, and egg hunts, or the Toast To The Coast that takes place on Geelong pier.
Where: 870 Steiglitz Road, Sutherlands Creek 3331

When: Thu – Mon: 11 a.m – 5 p.m

Phone: (03) 5281 1799
7) Idyll Wine Co
The Idyll winery near Geelong is one of Australia's largest producers, and wine is just one of the beverages made here.
Private label and branded wines are among the drinks offered, alongside ginger beer, cider, and other drinks.
Idyll offers a complete service to its customer base, from development and production to canning, bottling, kegging, and logistics.
Despite the scale of production, responsible use of resources and sustainable practice is all part of the process.
The cellar door is open on weekdays and hosts occasional one-off wine sales for those who'd like to bag a bargain.
Idyll and Arcadian branded wines are available, including Shiraz, Pinot Grigio, Merlot, Sauvignon Blanc, Cabernet Sauvignon, Durif, Blanc de Blancs, and a Brut Cuvée.
As this winery is just a ten-minute drive from Geelong and offers a range of Victorian wines at great value prices, it's well worth a visit. Cheers!
Where: 265 Geelong-Ballan Road, Moorabool 3213

When: Mon – Fri: 10 a.m – 4 p.m

Phone: (03) 5228 4888
4 Top Wineries On The Surf Coast
1) Bellbrae Estate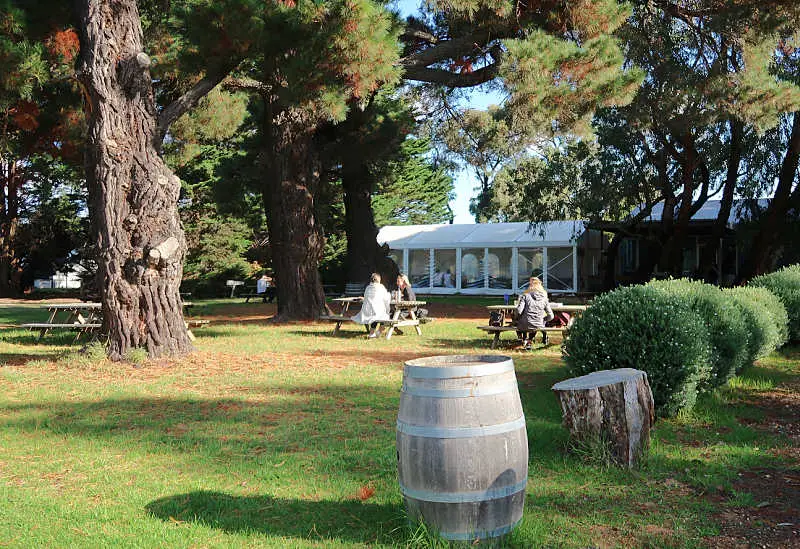 If it's Great Ocean Road wineries you want, then the Bellbrae winery can barely be bettered – it can be found right on the famous highway itself, just five minutes from Bell's Beach.
As the only vineyard on the coastal route, the location is unique.
This 5 star winery's cellar door is open between Wednesday and Sunday and offers tastings and sales.
Special tasting flights can be secured via advance booking and may be accompanied by food such as local wood-fired pizzas, seafood, local produce, and cheese, or chocolate platters.
The range of tasting events includes the Winkipop Wine Pairing Experience, the Surf Coast Tasting Experience, and Bellbrae Estate Picnic Table events.
The latter can be booked for up to 10 guests and includes the winery's longboard bottles and pizza.
If you just pop in for a visit to the cellar door at Bellbrae, you can also pick between a range of tasting flights featuring up to four wines, and can also order pizzas plus chocolate or cheese platters.
Wines are divided into the Bellbrae Estate, Longboard, and Cellar Release ranges, which have been aged for longer.
The selection includes a matured sparkling Shiraz as well as wines made from Semillon, Chardonnay, Sauvignon Blanc, Pinot Gris, Pinot Noir, and Syrah grapes.
Where: 520 Great Ocean Road, Bellbrae 3228

When: Wed – Sun: 12 p.m – 5 p.m

Phone: (03) 5264 8480
Read our guide to the Torquay Surf Museum by clicking here.
2) Brown Magpie Wines
Another option for those seeking a Great Ocean Road winery is Brown Magpie Wines in the Modewarre area.
It's located close to the famous seaside drive in the Surf Coast hinterland region.
The Brown Magpie winery uses only hand-harvested grapes, age-old techniques, and oak barrels to produce its beverages.
The idea is to let the unique properties of the vineyard shine through in each and every drop.
Open daily during January and at weekends between November and April, the cellar door offers sales and tastings of the wine range.
If you're fortunate, you might even catch a glimpse of the rare brown magpies that call this place home. Lucky creatures!
A range of red, white, and rosé wines is available for sale and tastings, and these are made from Pinot Grigio, Chardonnay, Pinot Gris, Sauvignon Blanc, Pinot Noir, and Shiraz grapes.
Brown Magpie's history can be traced back to 1998 when the friendly owners Shane and Loretta discovered the 20 hectare site.
Where: 125 Larcombes Road, Modewarre 3240

When: 11 a.m – 4 p.m Sat & Sun November – April, Everyday 27 December – 31 January

Phone: (03) 5266 2147
3) Dinny Goonan Wines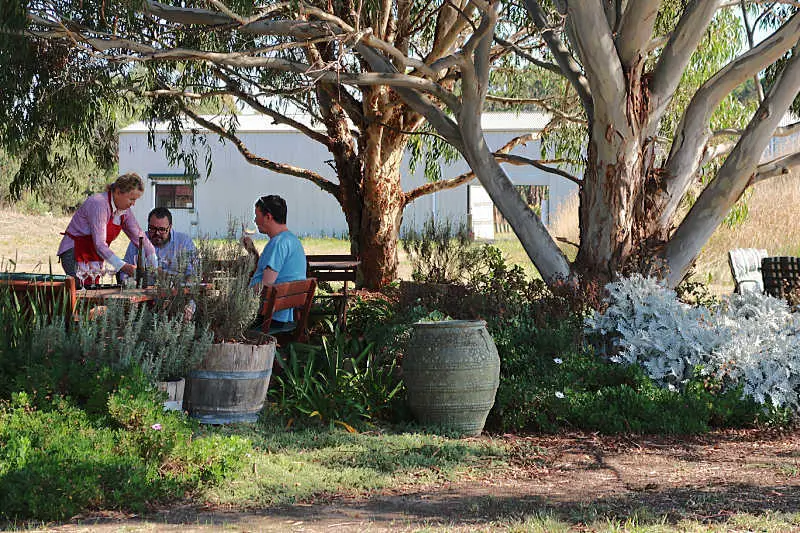 The Dinny Goonan winery predates many of the other wineries near the Torquay area, as it was established in 1988.
It enjoys a glorious bushland setting and serves up some seriously impressive wines to boot.
Riesling, Chardonnay, Shiraz, and Pinot Noir grapes are those the vineyard specialises in, and the cool climate of this part of Victoria is reflected in each bottle.
These can be sampled via the cellar door, which opens daily between Boxing Day and Australia Day, as well as during public holidays and weekends throughout the year.
More interesting picks among the wine range include a sweet Botrytis Semillon dessert wine, the limited edition Bambra sparkling, and a Proserpina based on Reisling.
During your visit, you can also enjoy a cheese platter, Kasbah Coffee from Birregurra, hot chocolate, or tea.
This winery is ideally placed for those exploring the Otways or the Great Ocean Road, as it's on the Lorne route between Winchelsea and Deans Marsh.
Where: 880 Winchelsea-Deans Marsh Road, Bambra 3241

When: Weekends & Public Holidays: 11 a.m – 5 p.m, Every day from Boxing Day through to Australia Day.

Phone: (03) 5288 7100
4) Wolseley Wines
The Wolseley Winery in Paraparap is positioned close to the Great Ocean Road and specilises in boutique wines.
Winemaker Will Wolseley often oversees tastings himself at this small vineyard among the gently rolling hills of Paraparap.
Wolseley Wines is run purely on off-grid solar power and the fact that it's also 100% organic should be good news for those who like to give pesticides and other additives a wide berth.
The range includes some more unusual varieties too, such as the Semillon Muscadelle and Botrytis Semillon wines in addition to reds made from Pinot Noir, Shiraz, and Cabernet Sauvignon.
Certain Wolseley Wines vintages can in fact only be purchased at the cellar door, which is perhaps enough of an excuse to visit – should you even need one!
There are three cabins providing guest quarters at the vineyard too – ideal for those seeking Geelong winery accommodation.
These are kitted out for those who love to cook, eat, and drink wine, and can be opened up along one side to experience the natural beauty of the Australian bush.
There is also a party and wedding venue, with a huge outdoor deck jutting out over the dam.
Where: 1790 Hendy Main Road, Paraparap 3240

When: Everyday: 11 a.m – 5 p.m

Phone: 0412 990 638
1 Top Winery In Werribee
Don't overlook Werribee when you're seeking a Geelong wine tasting venue.
Shadowfax Wines is an easy drive down the highway and offers a restaurant and event facilities as well as a range of boutique wines.
1) Shadowfax Wines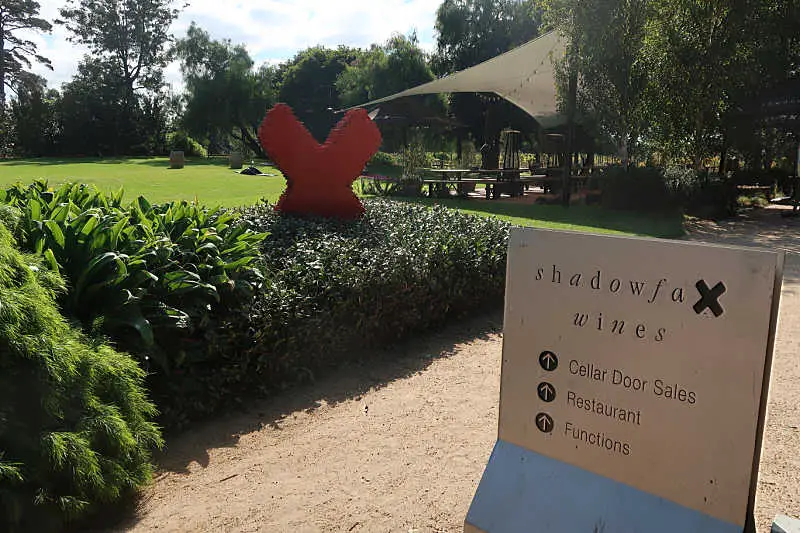 Shadowfax Winery in Werribee is just a half an hour's drive from Melbourne, so it's ideal for city-dwellers as well as Geelong residents and visitors.
This makes a refreshing change for those who normally travel twice as far to reach Surf Coast wineries or Moorabool Valley wineries.
The Shadowfax vineyard produces grapes that make high quality, boutique-style wines.
If you're looking for Geelong wineries for a lunch spot you're also in luck, as Shadowfax has a restaurant on site.
Some of the produce for this is even grown in their kitchen garden. How does Moreton Bay Bug linguine, Werribee Barramundi, or a wood-fired pizza sound?
Lots of fresh herbs and vegetables are used to create mouthwatering combinations showcasing local ingredients, and this can all be washed down with Victorian beers or spirits as well as Shadowfax wines.
At weekends, live music is played during the afternoons, serenading guests as they feast on the finest local food.
Shadowfax also caters for weddings and other functions and has a broad range of cocktail, sit-down reception, and drinks packages to offer.
Corporate tastings can also be arranged, and there is a wine club offering special deals and discounts to members – including free tastings at the cellar door.
Where: K Road, Werribee South 3030

When: Mon – Sun 11 a.m – 5 p.m

Phone: (03) 9731 4420
Geelong Wineries Map
Below we've included a map that shows you the exact location of each winery listed, so you can easily plan your Geelong winery itinerary.
Best Wineries, Geelong – Final Word
We hope this Geelong wineries list comprising our local favourites has inspired your wine tasting travel in Victoria.
From wineries near Geelong for lunch to those offering incredible cellar door deals, a trip to a vineyard is always worthwhile.
Those viticulturists and winemakers often have a few fascinating tales to tell too.
What could be better than fine wine, good food, great company, stunning views, and entertainment – as well as a spot of the very best sort of shopping?
Looking for more fun activities in Geelong? Read all our Geelong travel guides by clicking here, or discover everything you need to know about the Bellarine here.
Related Posts: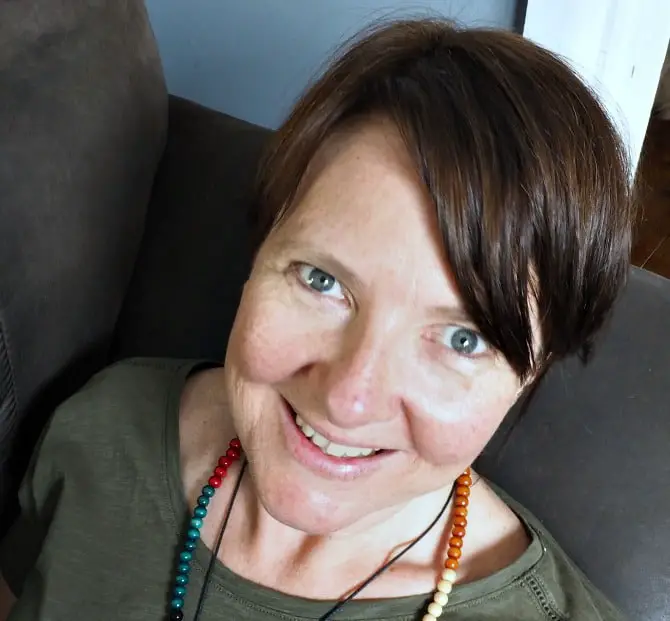 By Audrey Chalmers
Audrey is the principal blogger behind See Geelong. Book Lover | Breakfast Nut | Geelong Gal | She's Usually Craving Coffee.